Who are we?
National Park Obsessed is developing into the go planning site for visitors to the national park. Planning a national park has always been a segmented process between different websites and books. National Park Obsessed uses first-hand knowledge to create comprehensive guides to the national parks.
Jennifer readily admits she has an addiction to the United States National Parks. She has about 3 years of blogging and social media experience under her belt. Thru her personal blog, Made all the Difference, she has worked with many brands and hotels for social media marketing and blog promotion.
Our website and social media are rapidly growing and our audience is highly engaged.
Our Audience:
National Park Obsessed is producing content for the adventure traveler looking to explore the national parks. Most of our readers are young professionals looking to get outdoors and maximize their national park adventure.
Our audience is from the United States (88%) and 80% female. About 37% is between the ages of 25-34 and 23% is between 34-55.
Website Statistics:
Statistics for April 2019** tracked through Google Analytics.
Contact us for further and more in-depth statistics/screenshots.
Monthly Visitors: 6,300 +
Monthly Pageviews: 8,400 +
Newsletter Subscribers: 144
Newsletter Open Rate: 51%
Newsletter Click thru Rate: 19%
Domain Authority: 22
Page Authority: 29
**Google had a de-indexing bug which affected my website and cause a minor dip of traffic.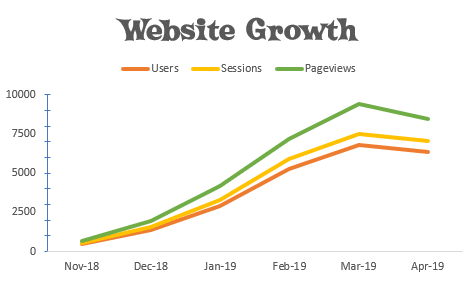 Social Media Statistics:
We have a highly engaged and organic following across a variety of different social media platforms, and an incredibly strong social media presence which continues to grow rapidly. Statistics last updated May 1, 2019. All averages are done using the previous 30 posts.
Instagram
Followers: 6,751 +
Avg. Engagement: 9.84%
Avg. Likes per Photo: 632
Avg. Comments per Photo: 7.64
Avg. View per story: 655
#NationalParkObsessed uses: 7,700 +
Twitter
Followers: 1,746 +
Monthly Impressions: 15,900
Engagement Rate: 3.40%
Pinterest
Followers: 1,700 +
Avg. Daily Impressions: 7,768
Avg. Daily Saves: 57
Avg Daily Clicks: 87
Facebook
Facebook Fans: 263
Avg Post Reach: 17
Avg. Engagement: 2.39%
What we can offer YOU:
If we are to work together, here are some of the coverage options.
Social media coverage including Instagram photos and stories, Facebook (including Facebook live), and Twitter.
Search Engine Optimized Blog Posts, complete with Photos.
Partnership Opportunities:
Advertising/Sponsored Posts:
We offer a range of options from sponsored social media promotion, to sponsored posts, and are happy to discuss your needs. We are always open to discussing long term partnerships and Brand Ambassadorships. Rates available upon request.
Press and Social Media Trips:
We started this blog because we love our national parks, the outdoors and to travel. Depending on the destination/trip value, we are open to both paid and in-kind press trip partnerships that focus on adventure travel, nature, and wildlife.
Product Reviews:
We love to provide reviews of a variety of related products/services on our blog, and are happy to accept sponsored reviews should you have a product you would like featured.
Contests/Giveaways:
We are happy to promote related products thru contests and giveaways. We are happy to discuss a campaign to promote your product and give you maximum exposure.
Freelance Content:
Love what we write? Would you like custom content for your website. We are happy to draw on our wealth of experience to create content to meet your needs.
Previous Partnership:
Gear Reviews
Rental Reviews
Accommodations Reviews
Sponsored Posts
Disclosure Notice
In accordance with ethical blogging practices and FTC regulations, all reviews/promotion hosted on National Park Obsessed will be 100% truthful and include a sponsorship notation somewhere in the post. We do not guarantee positive coverage.
Upcoming Travel Plans
Jennifer
June 2019 – Arizona
July 2019 – Alaska
August 2019 – Alaska and Michigan
September 2019 – Montana
October 2019 – Kenya, Uganda, Rwanda
December 2019 – Antartica
When not traveling, Jennifer is currently calling Tennessee home.
Chelsea
When not traveling, Chelsea is at home in California.