Post Summary: Visiting Redwood National Park
If you are planning a trip to Redwood National Park and need some help planning your trip, this is our started guide for visiting Arches National Park. We often have detailed in-depth guides reached to Redwood National Park trip planning and will link to these where appropriate to make your trip planning as easy as possible.
If you are feeling overwhelmed with trip planning and would like a national park expert to help plan your trip, we offer a Custom National Park Itinerary Planning Service. Fill out a simple questionnaire and let us do the planning for you.
The Quick Guide to Visiting Redwood National and State Parks
Map of Redwood National Park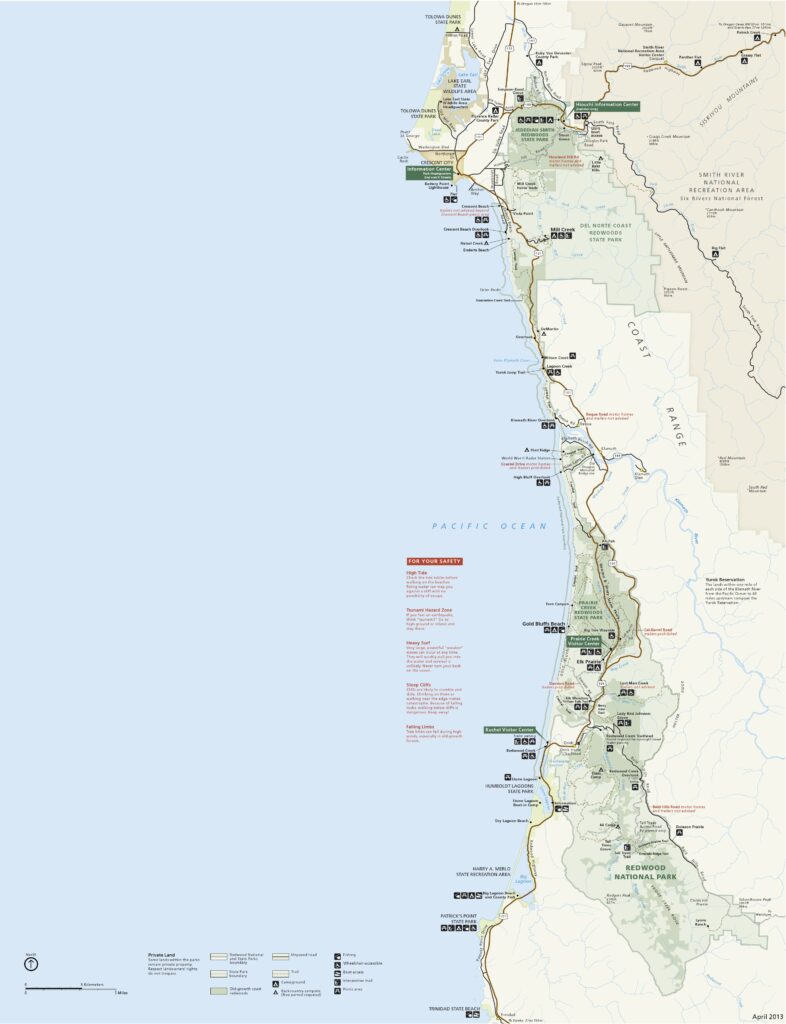 Click on the Redwoods Map above to download the official brochure map. If you'd like a PDF copy of this Redwoods Map click here.
Redwood National and State Parks Basics
Region: Pacific-West / West Coast / Pacific Northwest
State: State of California
Park Size: 138,999 acres (217.19 sq miles) (562.51 sq km)
Location: Humboldt and Del Norte counties
Closest Cities: Crescent City, California
Busy Season: April to October
Visitation: 504,722 (in 2019)
Official Website: NPS.gov
How much does Redwood National and State Parks Cost?
Redwoods National Park is free, but several of Jedediah Smith, Del Norte Coast, and Prairie Creek Redwoods State Parks charge an entrance fee.
When is Redwood National and State Parks Open?
Redwoods National and State Parks is open year-round.
Are dogs allowed in Redwood National and State Parks?
Yes, pets are welcome in Redwood National Park but are allowed in developed areas such as roads, parking areas, picnic areas, and campgrounds. They are also allowed on Freshwater, Gold Bluffs and Crescent Beach. Pets are not allowed on trails. Please review the Redwoods Pet Policy before bringing your dog to Redwoods.
Where are Redwood National and State Parks' visitor centers?
Hiouchi Visitor Center – Open Year Round
Jedediah Smith Visitor Center – May to September
Crescent City Information Center – Open Year Round
Prairie Creek Visitor Center – Open Year Round
Thomas H. Kuchel Visitor Center – Open Year Round
Land Acknowledgment for Redwood National and State Park
The National Park known as Redwood National and State Parks sits on Monacan and Manahoac land.
Thank you to the Native Land Digital for making the Indigenous territories accessible to all. They have mapped the known territories to the best of the current knowledge and is a work in progress. If you have additional information on the Indigenous nations boundaries, please let them know.
Native Land Digital is a registered Canadian not-for-profit organization with the goal to creates spaces where non-Indigenous people can be invited and challenged to learn more about the lands they inhabit, the history of those lands, and how to actively be part of a better future going forward together.
When was Redwood National Park Created?
Redwood National and State Parks share in the perpetual stewardship of ancient coast redwood forests, streams, coastal ranges, and coastline; for the enjoyment, education, and inspiration of people forever; with a commitment to watershed scale restoration of damaged landscapes.

Redwood National and State Park Foundation Document
National Park Obsessed's Detailed Guides to Redwood National Park
Redwood Wildlife Viewing Guides
Other Articles featuring Redwood National and State Parks