Post Summary: Visiting Congaree National Park
Congaree National Park is a wonderful place to visit. Located just outside of Columbia, SC, Congaree National Park provides visitors with an opportunity to enjoy the beauty and wonder of the natural world in a largely untouched setting. The park features large expanses of pristine floodplain forest, unbroken by roads or railroads, where one can walk in solitude and observe wildlife. Hiking trails provide access for all levels and time constraints and offer views that are both scenic and educational about this little-known treasure on the banks of the Congaree River. This makes visiting Congaree National Park a unique and fun opportunity.
In this guide, we will be exploring Congaree National Park and providing helpful hints and tips for planning a trip to Congaree. We will help you avoid the crowds as well as find the best Congaree hikes, and where to stay.
Best of Conagree National Park in a Nutshell

MUST SEE: 5 Things You CAN'T MISS in Conagree National Park

GETTING THERE: How to Get to Congaree National Park

NEARBY PARKS: Great Smoky Mountains, Mammoth Cave, New River Gorge, and Shenandoah.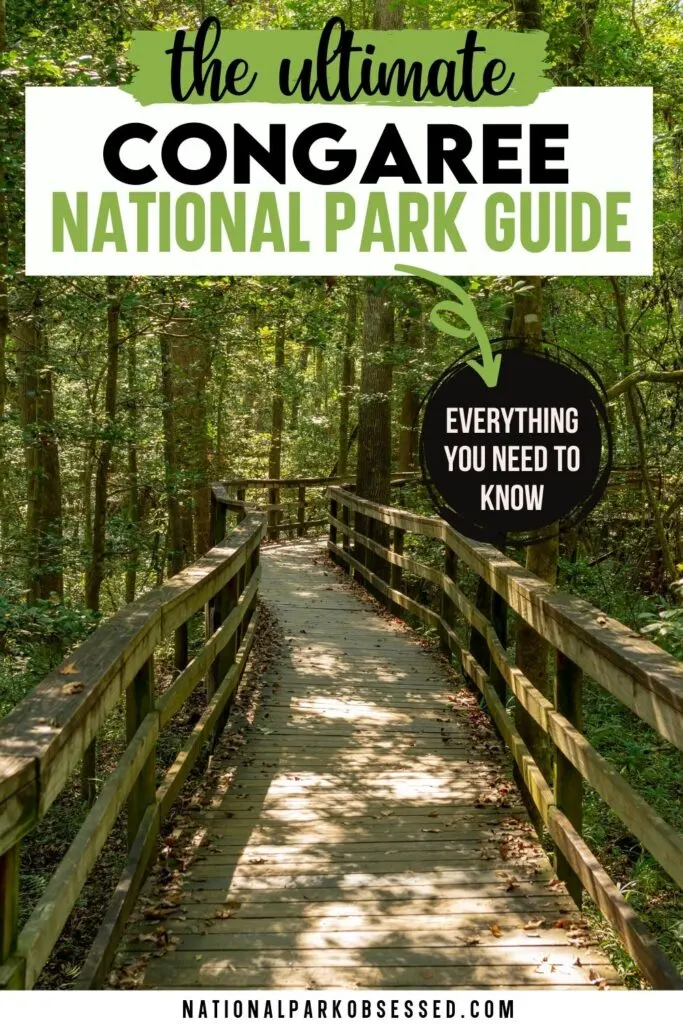 The Quick Guide to Visiting Congaree National Park, SC
Map of Congaree National Park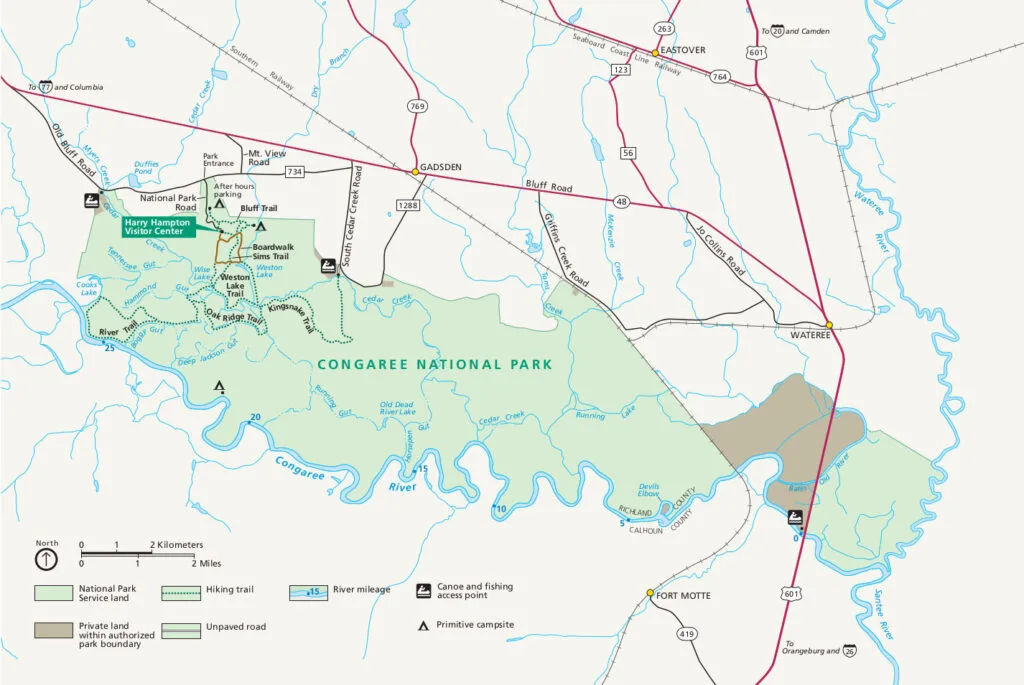 Click on the Congaree Map above to download the official brochure map. If you'd like a PDF copy of this Congaree Map click here.
Congaree National Park Basics
Region: Southeast
Park Size: 26,276 acres (41.06 sq miles) (106.34 sq km)
Location: Richland County
Closest Cities: Eastover, South Carolina
Busy Season: March to May
Visitation: 159,445 (in 2019)
How much does Congaree National Park Cost?
Congaree National Park does not charge an entrance fee.
When is Congaree National Park Open?
Congaree National Park is open year-round.
Are dogs allowed in Congaree National Park?
Yes, pets are welcome in Congaree National Park and are allowed on the trails. Please review the Congaree Pet Policy before bringing your dog to Congaree.
Where are Congaree National Park's visitor centers?
Harry Hampton Visitor Center – Open Year Around
Land Acknowledgment
The park now known as Congaree National Parks is on Santee, ᏣᎳᎫᏪᏘᏱ Tsalaguwetiyi (Cherokee, East), Wateree, and Congaree land.
Thank you to the Native Land Digital for making the Indigenous territories accessible to all. They have mapped the known territories to the best of the current knowledge and is a work in progress. If you have additional information on the Indigenous nations boundaries, please let them know.
Native Land Digital is a registered Canadian not-for-profit organization with the goal to creates spaces where non-Indigenous people can be invited and challenged to learn more about the lands they inhabit, the history of those lands, and how to actively be part of a better future going forward together.
When was Congaree National Park Created?
Congaree National Park was created on October 18, 1976, as a Congaree Swamp National Monument. It was elevated to National Monument status on November 10, 2003 and the misleading "swamp" was dropped from the name.
In 1983, Congaree became an International Biosphere Reserve. In 2003, it was designated an Important Bird Area.
Congaree National Park protects, studies, and interprets the resources, history, stories, and wilderness character of the nation's largest remaining tract of southern old-growth bottomland forest and its associated ecosystems.

Congaree National Park Foundation Document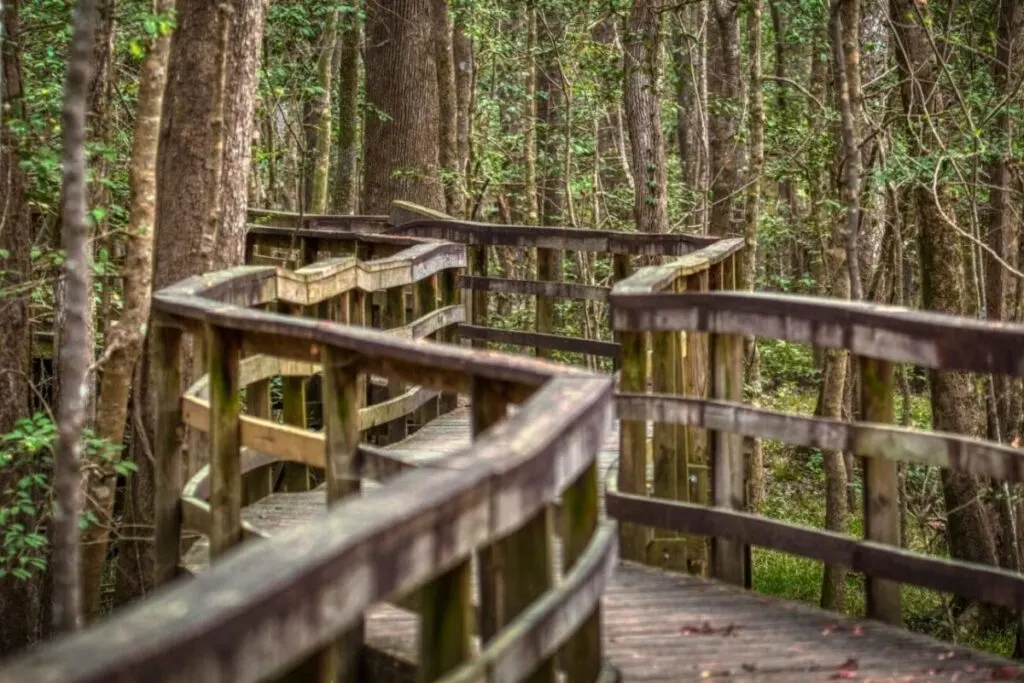 Fun Facts about Congaree National Park
The highest point in Congaree National Park is Old Bluff Road which is 140 feet (43 m) above sea level.
The lowest point in Congaree National Park is Congaree River which is 80 feet (24 m) above sea level.
The highest temperature recorded at Congaree National Park was 104 degrees F in 1999.
Congaree's floodplain forest has one of the highest temperate deciduous forest canopies in the world, with an average height of over 100 feet.
Congaree's has the US's tallest Pine Loblolly. It is 168 ft tall and has a circumference of 181 inches. There are several other trees which are South Carolina campion trees.
Congaree is champion trees. Champion trees are trees which are the tallest or largest in either the state or nation.

National Champion Trees

Deciduous Holly (Ilex decidua) – 38 ft tall
Loblolly Pine (Pinus taeda) – 168 ft tall

State Champion Trees

Cherrybark Oak (Quercus pagoda) – 162 ft tall
Baldcypress (Taxodium distichum) – 127 ft tall
Pawpaw (Asimina triloba) – 42 ft
Congaree by the numbers

25 miles of hiking trails
When to Visit Congaree National Park
Congaree National Park Visitation
Congaree is one of the least visited National Parks so the park isn't all that busy even during the busy season. Visitation peaks from March to May.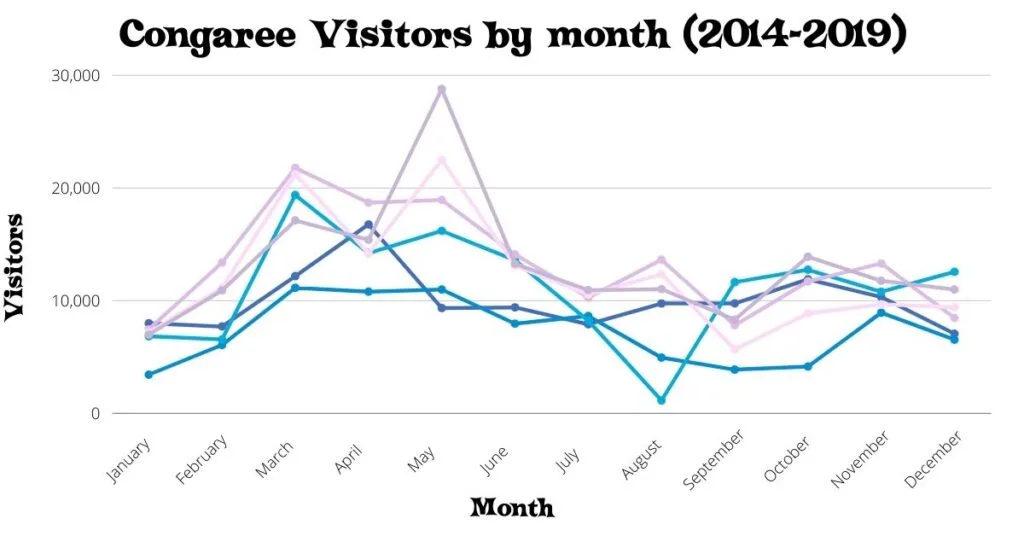 Congaree National Park Weather
Congaree National Park is in the Middle Atlantic coastal region and has a humid subtropical climate. The park has mild winters with warm, wet summers. The summers see temperatures in the up 90s degrees Fahrenheit with high humidity making it seem much hotter. The spring and fall see temperatures in the 70's. Winter is mild and the flooding is frequent.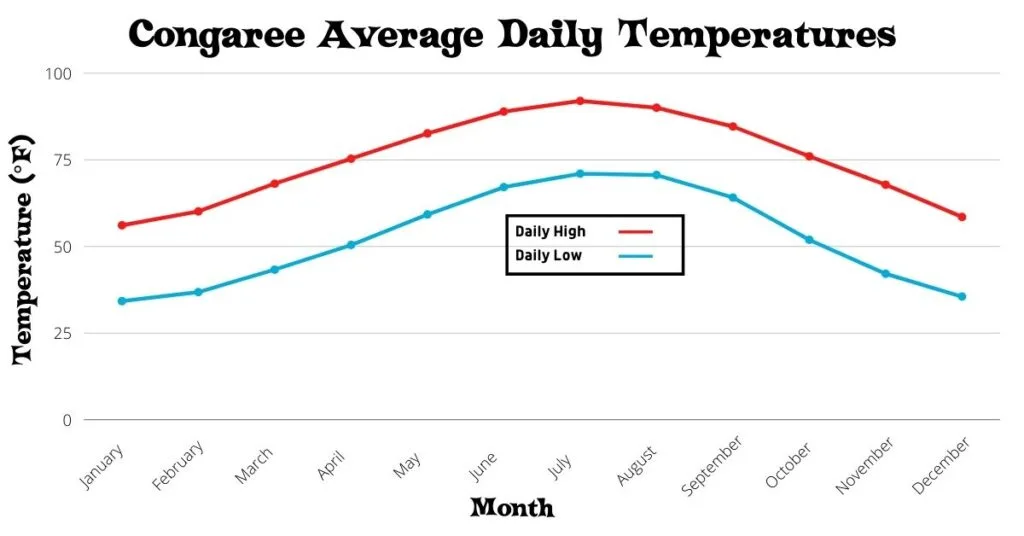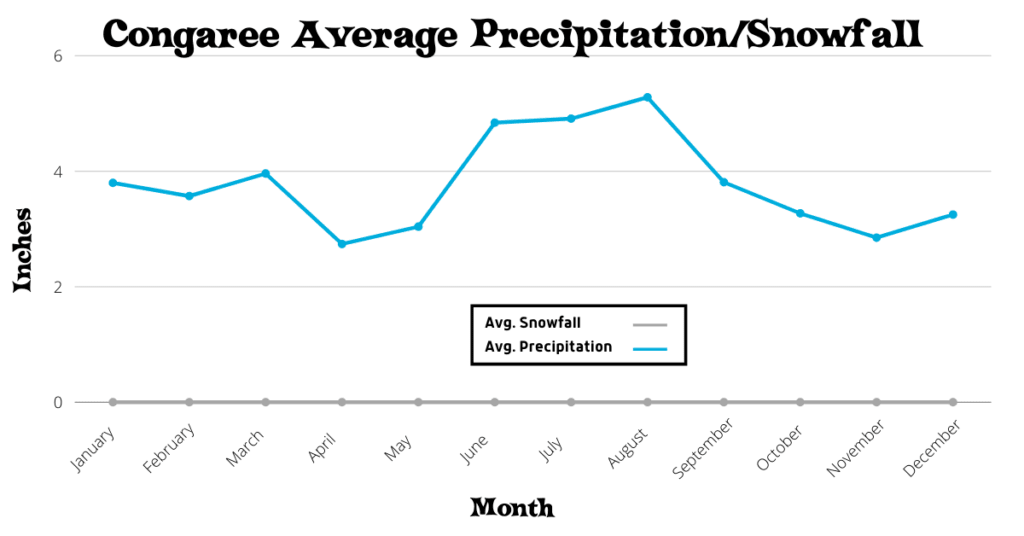 Where to stamp your National Parks Passport Book in Congaree National Park?
Looking for a cheap National Park souvenir? The National Park Passport Books is one of the best and cheapest souvenirs. If you have don't have a National Park Passport Book click here to learn more about the program or click here to buy.
IMPORTANT: Do NOT stamp your government issued passport.
There are 2 official stamps in Congaree National Park.
Firefly Festival (only found during the Firefly Festival)
Hopkins, SC
Congaree National Park Passport Stamp Locations
Here are all the locations where you can find the Congaree National Park Passport Stamp.
Harry Hampton Visitor Center
Harry Hampton Visitor Center
Harry Hampton Visitor Center is located at 100 National Park Rd, Hopkins, SC 29061. It is open year-round. Stamps located here: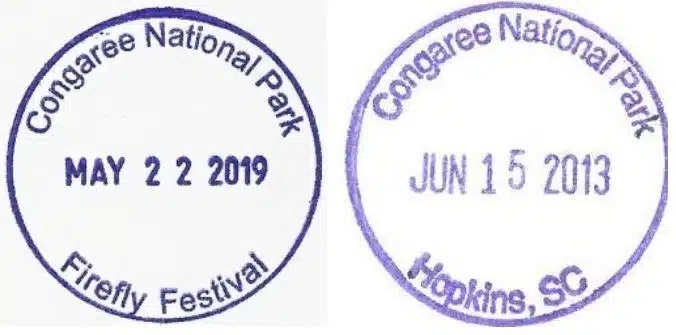 National Park Obsessed's Detailed Guides to Congaree National Park
General Information on Visiting Congaree National Park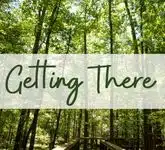 Congaree National Park Activity Guides
Frequently Asked Questions about Congaree National Park
What is special about Congaree National Park?
Congaree National Park is a unique and special place. It is the largest tract of old-growth bottomland hardwood forest in the United States. The park is home one of the largest concentrations of champion trees. Champion trees are trees that are extremely large or tall for their species.
Is Congaree National Park worth visiting?
Yes, Congaree is worth visiting. It is a special place and worthy of being a National Park. I get why this park often makes people's worst national parks or they ask why Congaree is a National Park. Personally, I think they have missed the point on Congaree, but I get where they are coming from. It is a unique place and one of the last of its kind in the US.
With Congaree National Park, you need to change your scope of reference. Which most parks, we are enjoying these massive sweeping vistas. In Congaree, you need to think on a smaller scale. There is a beauty to this area, it's just on a smaller scale. Pick a quiet area along the boardwalk and stop moving and just look around you. On a wide glance, you will see an old-growth forest with some of the largest and tallest trees of their species. Keep looking and you will start to notice smaller details and see the wildlife. It might an otter swimming in the river. It might be a deer silently moving in the woods. It might be a snake slithering up a tree. The area has amazing biodiversity.
There is a reason that Congaree is of the few National Parks to be a UNESCO biosphere reserve. This is a park where you want to slow your roll and enjoy the little things.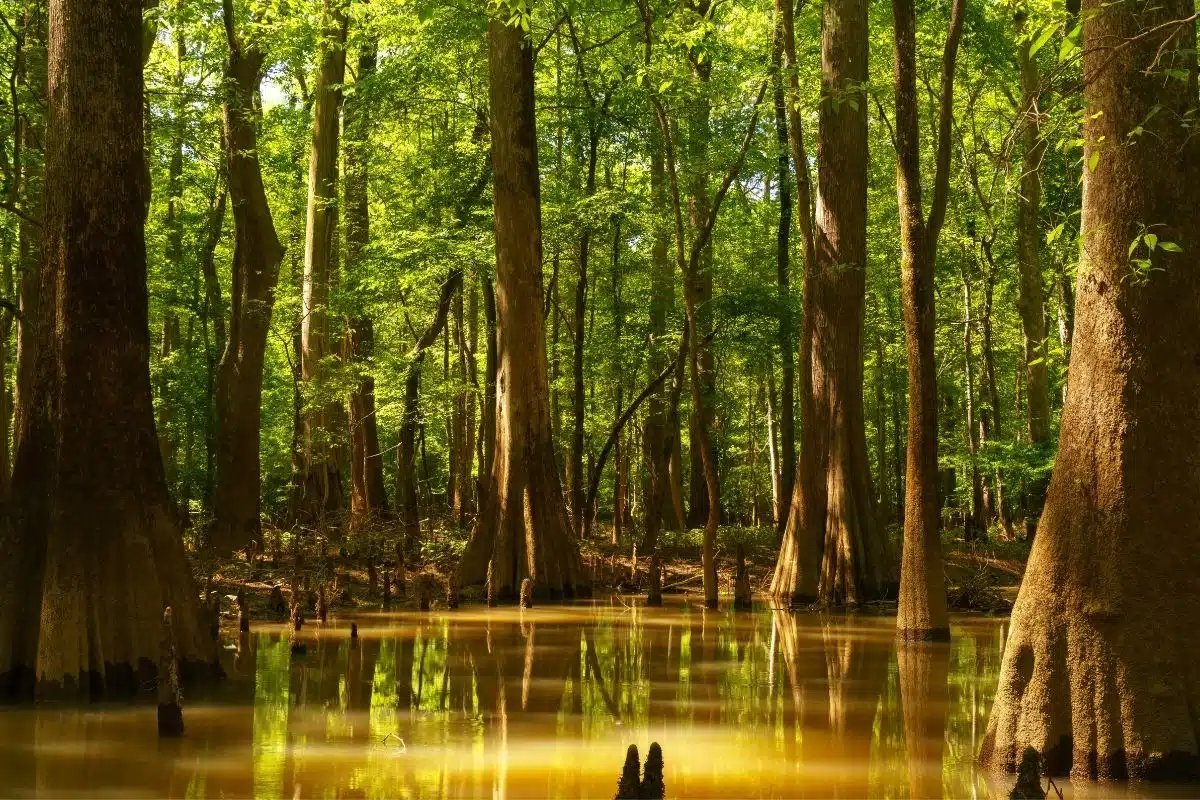 Is Congaree the worst national park?
It depends. Personally, Congaree isn't the worst National Park. But I'm just one National Park Obsessed person and I think the worst National Park is Gateway Arch. But I will admit that Congaree isn't my favorite but I did have fun exploring the park and I do make a point to stop and visit it when I'm in the area.
Once I visit all the national parks, I'll sit down and rank them. I expect that Congaree will be in the bottom 75% but I don't have a passionate dislike. It's more of a casual indifference. Outside of going to see the fireflies, I wouldn't make a special trip to visit but I would stop for another visit if I was in the area.
Are there alligators in Congaree National Park?
Yes, alligators can be found in Congaree National Park, but they are not common. The area isn't great habitat for them as the area isn't marshy or swamping unless the river is flooding. When alligators are seen, they are usually found at the southern end of the park along the river.
Are there snakes in Congaree National Park?
There are 18 confirmed species of snakes in Congaree. There are another 3 species that are likely present within the park as they are known to occur in the region but haven't been confirmed within the park. Of those 23 present and possible species, only three*** are venomous. Those are the Copperhead, Canebrake Rattlesnake (Coastal Plain of the Southeast Timber Rattlesnake), and the Water Moccasin (Cottonmouth).
While these snakes are venomous and if bitten you could be killed, bites are extremely rare and are almost always provoked. The main way to prevent a negative snake encounter is to keep an eye on where you are walking and take care in tall grass and around downed logs. If you see a snake, give it space and don't mess with it. If it is on a trail, find a route around it or wait for it to move on its own.
If you are bitten by a snake, try to get a picture of it and then head for the nearest hospital. If and when you get cell service, call 9-1-1 and let them know which hospital you are headed to. I can only find reports of one venomous snakebite in the park and that was to a poacher who was handing a copperhead. So it was totally the poacher's fault.
*** I have seen venomous coral snakes listed as possible in the park in other sources but they are not on NPS's official wildlife list so I don't think they are in the park. Coral snakes have a VERY similar coloration to the kingsnake which is found in the park. Both snakes have red, black, and yellow color bands on their body and telling them apart is a little confusing. It has to do with the color order but at the end of the day, it shouldn't matter while in the park, just take a picture and look it up later.
Final Thoughts on Congaree National Park
Do you have any questions about Congaree National Park, let us know in the comments below or need help planning your National Park trips. Let me know in the comments or join me in my National Park Trip Planning Community!
More Information for your trip to South Carolina
Pin for Later: Visiting Congaree National Park: The Complete Guide (2021 Update)