Post Summary: Visiting Olympic National Park
There are few national parks where one can spend the morning viewing tidepools, then go for a walk in the rainforest, and end the day playing in the snow. In Olympic National Park, you can do just that. This diverse and unique National Park is located on Washington's Olympic Peninsula. The park is a wilderness park that is conveniently located near Seattle. This makes the park a popular national park weekend getaway and when combined with Washington's other National Parks a great road trip stop.
Olympic National Park is made of up several different regions and there is a lot of park to explore. This guide is designed to given you an overview to help get you started planning your visit to Olympic National Park.
This post may contain affiliate links, meaning if you book or buy something through one of these links, I may earn a small commission at no extra cost to you! Read the full disclosure policy here
The Quick Guide to Visiting Olympic National Park
Map of Olympic National Park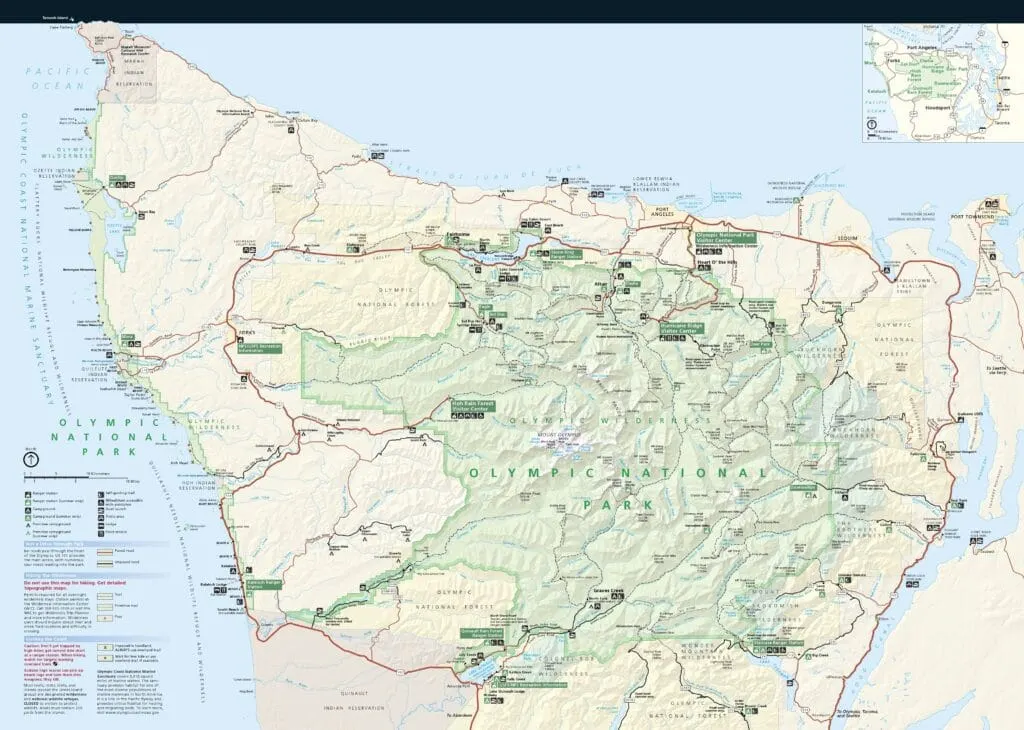 Click on the Olympic Map above to download the official brochure map. If you'd like a PDF copy of this Olympic Map click here.
Olympic National Park Basics
Region: Pacific-West / West Coast / Pacific Northwest
Park Size: 922,650 acres (1,441.64 sq miles) (3,733.83 sq km)
Location: Jefferson, Clallam, Mason, and Grays Harbor counties
Closest Cities: Port Angeles, Washington
Busy Season: May to September
Visitation: 3,245,806 (in 2019)
How much does Olympic National Park Cost?
Olympic National Park costs the following:
7-day Passenger Vehicle Pass – $30
7-day Motorcycle Pass – $25
7-day Individual Pass – $7
An annual Olympic National Park Pass costs $55 but it is not recommended you buy this pass. For an extra $25 you can get an American the Beautiful Pass. This $80 pass offers free admission to all 116 fee-charging National Park Units.
When is Olympic National Park Open?
Olympic National Park is open year-round.
Are dogs allowed in Olympic National Park?
Yes, pets are allowed in Olympic National Park. Dogs are welcome on most of the park's trails and carriage roads. Please review the Olympic Pet Policy before bringing your dog to Acadia.
Where are Olympic National Park's visitor centers?
Olympic National Park Visitor Center – Open Year Around
Wilderness Information Center – Open Year Around
Hurricane Ridge Visitor Center – Open during summer
Hoh Rain Forest Visitor Center – March to December
Kalaloch Ranger Station – Open during Summer
Land Acknowledgments for Olympic National Park
The National Park known as Olympic National Park sits on Coast Salish, S'Klallam, Quinault, ChalAt'i'lo t'sikAti (Chalat'), and Quileute lands.
Thank you to the Native Land Digital for making the Indigenous territories accessible to all. They have mapped the known territories to the best of the current knowledge and is a work in progress. If you have additional information on the Indigenous nations boundaries, please let them know.
Native Land Digital is a registered Canadian not-for-profit organization with the goal to creates spaces where non-Indigenous people can be invited and challenged to learn more about the lands they inhabit, the history of those lands, and how to actively be part of a better future going forward together.
When was Olympic National Park Created?
Olympic National Park was created by President Theodore Roosevelt on March 2, 1909 as Mount Olympus National Monument. It was re-designated as Olympic National Park in June 29, 1938 by President Franklin Roosevelt.
Olympic National Park was designated as an International Biosphere Reserve in 1976, and in 1981 as a UNESCO World Heritage Site.
The purpose of Olympic National Park is to preserve for the benefit, use, and enjoyment of the people, a large wilderness park containing the finest sample of primeval forest of Sitka spruce, western hemlock, Douglas fir, and western red cedar in the entire United States; to provide suitable winter range and permanent protection for the herds of native Roosevelt elk and other wildlife indigenous to the area; to conserve and render available to the people, for recreational use, this outstanding mountainous country, containing numerous glaciers and perpetual snow fields, and a portion of the surrounding verdant forests together with a narrow strip along the beautiful Washington coast.

Olympic National Park Foundation Document
Fun Facts about Olympic National Park
The highest point in Olympic National Park is Mount Olympus which is 7,962 feet (2,427 m) above sea level.
The lowest point in Olympic National Park is the Pacfici Ocean which is 0 feet (0 m) in elevation.
Olympic by the numbers

611 miles of hiking trails
60 named glaciers
Over 650 archeological sites
There are 130 historical structures
Over 3,000 miles of rivers and streams
at least 16 kinds of endemic animals and 8 kinds of endemic plants
The park has 3 distinct ecosystems – sub-alpine forest with wildflower meadow, temperate forest, and the Pacific Shore
The Olympic Mountains formed over 30 million years ago.
Olympic's Hoh Rain Forest receives over 12 feet of rain a year.
You can see over 60 ft down in Lake Crescent. This is due to the lack of nitrogen in the water.
The world's largest dam removal took place in Olympic National Park. The 210-foot-high Glines Canyons dam and 108-foot-high Elwha dam were removed from the Elwha River in 2014.
Olympic National Park is International Biosphere Reserve and a UNESCO World Heritage Site.
Where to stamp your National Parks Passport Book?
Looking for a cheap National Park souvenir? The National Park Passport Books is one of the best and cheapest souvenirs. If you have don't have a National Park Passport Book click here to learn more about the program or click here to buy.
IMPORTANT: Do NOT stamp your government-issued passport.
There are 29 official stamps in Olympic along with a handful of bonus stamps in the park.
Eagle R.S.
Eagle Ranger Station
Eagle RS Was
Elwha Ranger Station
Hoh Rain Forest
Hoh Rain Forest, WA
Hoodsport WIC
Hurricane Ridge
Hurricane Ridge, WA
Kalaloch Ranger Station
Kalaloch, WA
Lake Crescent
Mora Ranger Station
Mora, WA
NPS Centennial
Port Angeles Visitor Center
Port Angeles WIC
Port Angeles, WA
Quinault Rain Forest
Quinault Rain Forest (Upside Down)
Quinault Ranger Station
Sol Duc Hot Springs
Solduck, Wash
Staircase R.S.
Staircase Ranger Station
Storm King
Storm King Ranger Station
Storm King, WA
WIC P.A. WA
Olympic Bonus Stamps:
Banana Slug
Bird
Fern
Hoodsport Visitor Center
Owl
Sea Otter
Discover Your Northwest
Discover Your Northwest is located at 3002 Mount Angeles Road, Port Angeles, WA 98362. It is open from summer. Stamps located here:
Eagle Ranger Station
Eagle Ranger Station is located at Soleduck Rd, Port Angeles, WA 98363. This Ranger Station is also known as the Sol Duc Ranger Station It is open during the summer. Stamps located here: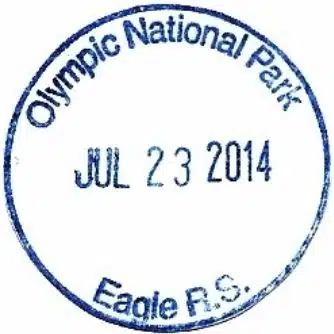 Hoh Rain Forest Visitor Center
Hoh Rain Forest Visitor Center is located at 18113 Upper Hoh Road Forks, WA 98331. It is open from March to December. Stamps located here:
Hoodsport USFS NPS Ranger Station
Hoodsport USFS NPS Ranger Station is located at 150 N Finch Creek Rd, Hoodsport, WA 98548. It is open year-round. Stamps located here:

Kalaloch Lodge Gift Shop
Kalaloch Lodge Gift Shop is located at 157151 Highway 101, Forks, WA 98331. It is open year-round. Stamps located here: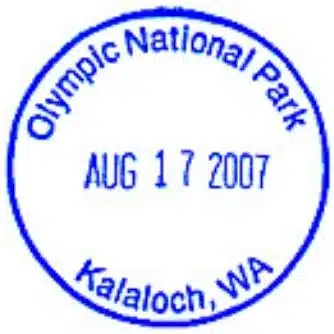 Kalaloch Ranger Information Station
Kalaloch Ranger Information Station is located at 156954 U.S. Highway 101. It is open from spring and summer. Stamps located here:

Hurricane Ridge Visitor Center
Hurricane Ridge Visitor Center is located at Hurricane Ridge Road, Washington 98362. It is open year-round Stamps located here: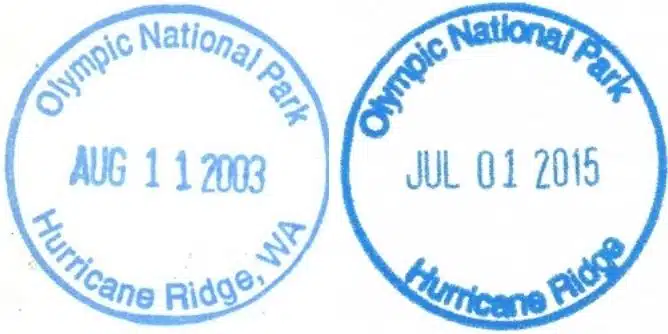 Lake Crescent Lodge Registration Desk
Lake Crescent Lodge Registration Desk is located at 712 Lake Cresent Rd, Port Angeles, WA 98363. It is open from May to January. Stamps located here: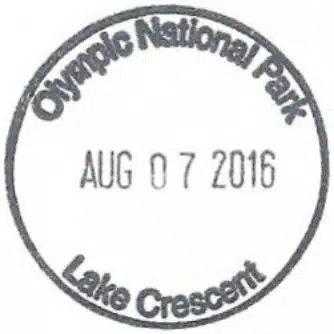 Mora Ranger Station
Mora Ranger Station is located at 2619 Mora Rd, Forks, WA 98331. It is open in summer. Stamps located here: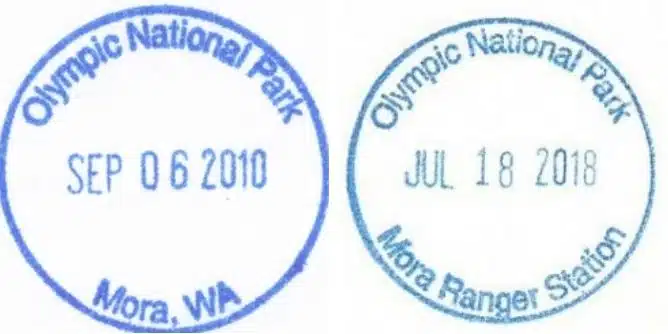 Olympic National Forest Quinault USFS NPS Ranger Station
Olympic National Forest Quinault USFS NPS Ranger Station is located at 351 S Shore Rd, Quinault, WA 98575. It is open year-round. Stamps located here:
Olympic National Park Visitor Center
Olympic National Park Visitor Center is located at 3002 Mt Angeles Rd, Port Angeles, WA 98362, USA. It is open year-round. Stamps located here:

Quinault Rain Forest Ranger Station
Quinault Rain Forest Ranger Station is located at 913 N Shore Rd Amanda Park, WA 98526. It is open during the summer. Stamps located here: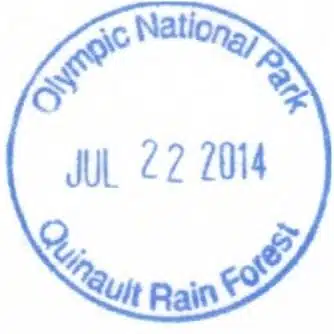 Sol Duc Entrance Station
Sol Duc Entrance Station is located at Sol Duc-Hot Springs Rd, Port Angeles, WA 98363. It is open year-round. Stamps located here: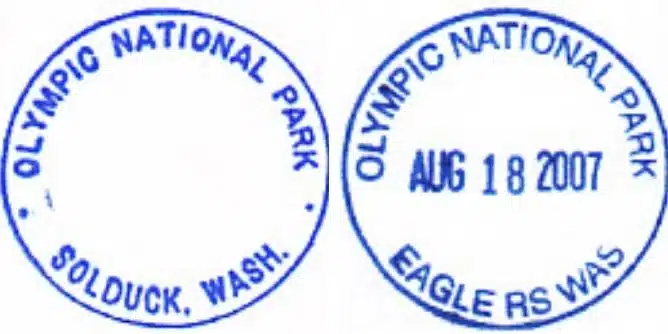 Sol Duc Hot Springs Resort Registration Desk
Sol Duc Hot Springs Resort Registration Desk is located at 12076 Sol Duc Hot Springs Rd. Port Angeles, WA 98363. It is open from April to October. Stamps located here: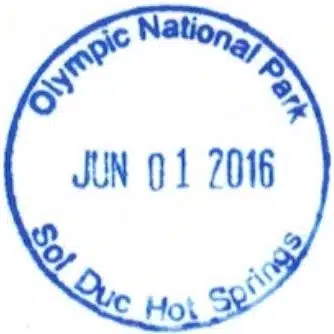 Staircase Ranger Station
Staircase Ranger Station is located at Natl Forest Develop Road 24 Rd, Hoodsport, WA 98548. It is open from May to September. Stamps located here: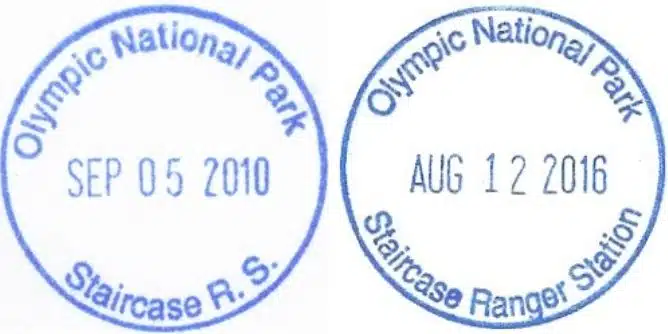 Storm King Ranger Station
Storm King Ranger Station is located at 227769 Olympic Hwy, Port Angeles, WA 98363. It is open during summer. Stamps located here:

National Park Obsessed's Detailed Guides to Olympic National Park
Itineraries for Olympic National Park
Other Articles featuring Olympic National Park
Pin for Later: Visiting Olympic National Park: The Complete Guide