Post Summary: Visiting Zion National Park
Zion National Park is one of the ICONIC American National Parks. This sweeping canyon park provides some of the most scenic views in any National Park. Two of its hikes are regularly found on people's hiking bucket lists. All this combined makes for one spectacular National Park that has significant crowds. This makes visiting Zion National Park a must-do for even the most casual National Park explorer.
In this guide, we will be exploring Zion National Park and providing helpful hints and tips for planning a trip to Zion. We will help you avoid the crowds as well as find the best Zion hikes, and where to stay.
Best of Zion National Park in a Nutshell

SHUTTLE: Zion Shuttle

HIKES: Best Zion Hikes

TRAIL GUIDES: Angels Landing

SWIMMING: Zion Swimming Holes

THINGS TO DO: Near Zion

ONE DAY: One day in Zion

LODGING: Zion Campgrounds, Zion Hotels, Zion Glamping, Zion Airbnbs

ROAD TRIPS: Utah National Parks

NEARBY PARKS: Bryce Canyon, Grand Canyon, Capitol Reef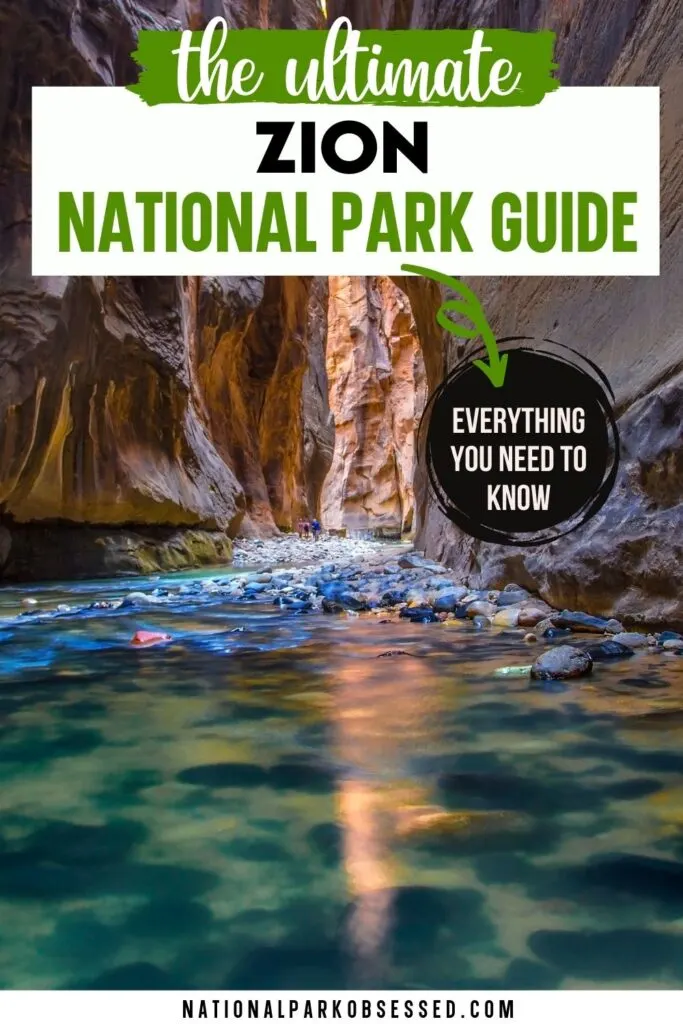 This post may contain affiliate links, meaning if you book or buy something through one of these links, I may earn a small commission at no extra cost to you! Read the full disclosure policy here

The Quick Guide to Visiting Zion National Park National Park
Map of Zion National Park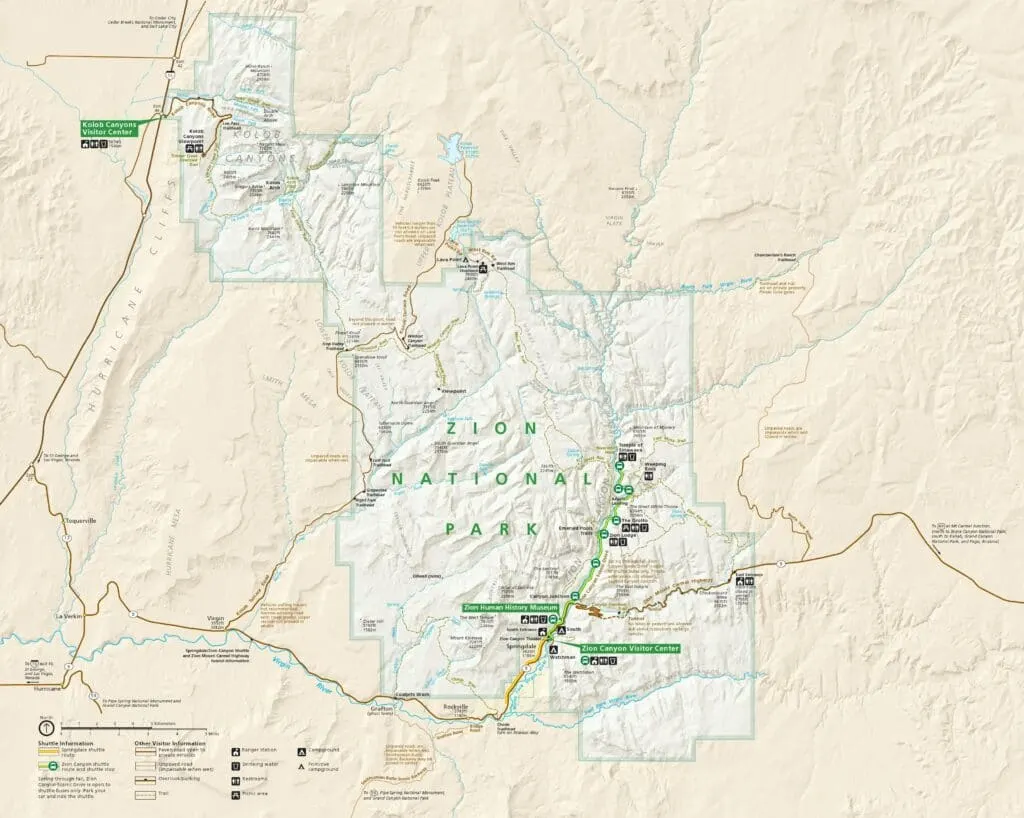 Click on the Zion Map above to download the official brochure map. If you'd like a PDF copy of this Zion Map click here.
Zion National Park Basics
Region: Intermountain / Rocky Mountains / Southwest / West Coast
Park Size: 146,597 acres (229.06 sq miles) (593.26 sq km)
Location: Washington, Kane, and Iron counties
Closest Cities: Springdale and Orderville, Utah
Busy Season: May to September
Visitation: 3,437,286 (in 2019)
Funniest 1-Star Review:
Official Website: Click Here
How much does Zion National Park Cost?
Zion National Park costs the following:
7-day Passenger Vehicle Pass – $35
7-day Motorcycle Pass – $30
7-day Individual Pass – $20
An annual Zion National Park Pass costs $70 but it is not recommended you buy this pass. For an extra $10 you can get an American the Beautiful Pass. This $80 pass offers free admission to all 116 fee-charging National Park Units.
When is Zion National Park Open?
Zion National Park is open year-round.
Are dogs allowed in Zion National Park?
Yes, pets are welcome in Zion but are limited to developed areas such as roads, parking areas, picnic areas, campgrounds, and Pa'rus Trail. Pets are not allowed on any other trails in the park. Please review the Zion Pet Policy before bringing your dog to Zion.
Where are Zion National Park's visitor centers?
Zion Canyon Visitor Center – Open Year Around
Zion Human History Museum – Open Year Around
Kolob Canyon Visitor Center – Open Year Around
Land Acknowledgment
The National Park known as Zion National Park sits on Southern Paiute and Pueblos land.
Thank you to the Native Land Digital for making the Indigenous territories accessible to all. They have mapped the known territories to the best of the current knowledge and is a work in progress. If you have additional information on the boundaries of the Indigenous nation, please let them know.
Native Land Digital is a registered Canadian not-for-profit organization with the goal to creates spaces where non-Indigenous people can be invited and challenged to learn more about the lands they inhabit, the history of those lands, and how to actively be part of a better future going forward together.
When was Zion National Park Created?
Zion National Park was created on July 31, 1909 as Mukuntuweap National Monument by President Howard Taft. In 1918, Horace Albright, then acting director of National Park Service, proposed expanding and renaming the monument to Zion National Monument. In 1919, the park was elevated to National Park status as Zion National Park.
The Kolob section of Zion National Park was proclaimed a Zion National Monument in 1937 (the second Zion National Monument to exist). In 1956, it was incorporated into the existing Zion National Park.
The purpose of Zion National Park is to preserve the dramatic geology including Zion Canyon and a labyrinth of deep and brilliantly colored Navajo sandstone canyons formed by extraordinary processes of erosion at the margin of the Colorado Plateau; to safeguard the park's wilderness character and its wild and scenic river values; to protect evidence of human history, and to provide for scientific research and the enjoyment and enlightenment of the public.

Zion National Park Foundation Document
Fun Facts about Zion National Park
The highest point in Zion National Park is the summit of Horse Ranch Mountain which is 8,726-foot (2,660 m) above sea level.
The lowest point in Zion National Park is Coal Pits Wash which is 3,666-foot (1,117 m) above sea level.
At the time of completion, the Zion – Mount Carmel Highway was the longest non-urban road tunnel in the United States.
Zion National Park protects 527 archeological sites.
Zion by the numbers

36.6 miles of paved roads

2.4 miles of unpaved roads
89.4 miles of hiking trails
When to Visit Zion National Park
Zion National Park Visitation
Zion is busiest from May to September.
Zion National Park Weather
Zion National Park is located at the intersection of the Colorado Plateau, the Great Basin, and the Mojave Desert. As such the park is a desert National Park. Its summers are hot and its winters are relatively mild. Snow can be expected at higher elevations.
During the summer, the park regularly sees temperatures exceed 90 degrees Fahrenheit. Hiking during the summer should be done in the mornings or late afternoons and all hikers should carry lots of water.
How to Get to Zion National Park
Getting to Zion depends on where you live and how much time you have for your visit. If you live within 6-8 hours of Zion National Park, you are better off driving to the park. Outside of the 6-8 hour radius, flying may be your better option time-wise.
Unless you are taking a day tour from Las Vegas, there is no public transportation to Zion National Park.
I recommend weighing the time you have versus the costs before deciding to fly vs. driving.
Flying to Zion National Park
There are really two main options if you are looking to fly to Zion National Park.
Option 1 – McCarran International Airport (LAS) in Las Vegas, Nevada is about two and three-quarters of an hour away from Zion National Park. Las Vegas generally has a good number of flight options and is a hub for Allegiant Air, Frontier Airlines, Southwest Airlines, and Spirit Airlines. The US legacy carriers offer direct flights to Vegas from most of their major hubs.
Option 2 – Salt Lake City International Airport (SLT) in Salt Lake City, Utah is about four and a half hours from Zion National Park. Salt Lake City is a hub for Delta's west coast operations and most of the other US airlines offer flights to Salt Lake City.
If you are planning a road trip to visit other Southwest or Southern California National Parks, you may want to consider the cities of Phoenix, Los Angeles, San Francisco, or Denver.
What kind of rental car do you need in Zion National Park?
For Zion National Park, any rental car you want will work. Unless there has been major flooding in the Kolob Canyon region, all the park roads are accessible for 2wd vehicles.
I book most of my rental cars through RentalCars.com. They have a great selection of rental cars from most major agencies and the best prices – check prices here.
How to use Zion National Park's Shuttle
Zion is one of the most popular National Park. The VAST majority of visitors to Zion come to explore the 8 mile Zion Canyon Scenic Drive. Due to the massive crowding along this road
From March to October, access to Zion Scenic Canyon Drive is to the Zion Shuttle. This free shuttle helps reduce traffic jams and congestion in the park. Learn more about the Zion Shuttle.
The park shuttles depart from the park visitor center in Springdale, Utah. This lot will fill early in the morning and you may need to find parking within the town of Springdale. The city offers a free shuttle from town to the visitor center. Be prepared to pay to park in Zion.
Recommend Reading for Zion National Park
Stories from Zion National Park
Best Zion National Park Guide Books
Zion National Park Gift Ideas
National Park Obsessed's Detailed Guides to Zion National Park
Zion National Park Lodging
Zion National Park Activity Guides
Zion National Park Activity Guides
Road Trips that Include Zion National Park
Zion Wildlife Viewing Guides
Other Articles featuring Zion National Park
Frequently Asked Questions about Zion National Park
What is the best month to visit Zion National Park?
The best months to visit Zion are during the shoulder seasons. The best time to visit is March and April and September to November.
How many days should you spend in Zion National Park?
It depends on how much of a hiker you are. Zion is a hikers paradise and there are several must do trails in Zion. Hikers looking to keep there hiking less than 5 miles a day will want at least 2-3 day to explore Zion. More serious hiker will want 5-7 days.
If you are short on time and want to make the most of 1 day in Zion, click here.
Is it safe to visit Zion National Park?
Yes, it is usually safe to visit Zion National Park. Occassionally there are road and trail closures for safety reasons. Here are the current conditions in the park.
Can you drive through Zion National Park right now?
Please check the current conditions for current road closures. From April to October, Zion Canyon Scenic Drive is closed to private vehicles. This road is shuttle bus only during this time. All other roads are open to private vehicles pending weather.
Where should I stay when visiting Zion National Park?
If you are looking to stay in the park there are two campgrounds near Zion's scenic drive and the Zion National Park Lodge is located within the park. Outside the park, consider staying in Springdale, Utah.
Check out these amazing Zion Airbnbs.
How do you avoid crowds in Zion National Park?
The best way to avoid the crowds in Zion is to not going during the summer. The other way is to hike early or late in the day along with visiting areas like Northwest area of the park.
Pin for Later: Visiting Zion National Park: The Complete Guide for 2022