Planning a trip to Channel Islands National Park and need some help planning your trip?
Here is the National Park Obsessed guide for visiting Channel Islands National Park, California.
The Quick Guide to Visiting Channel Islands National Park
Channel Islands National Park Basics
Region: Pacific-West / West Coast / Pacific
Park Size: 249,561 acres (379.94 sq miles) (1009.94 sq km)
Location: Santa Barbara and Ventura Counties
Closest Cities: Oxnard and Ventura, California
Busy Season: March to September
Visitation: 409,630 (in 2019)
How much does Channel Islands National Park Cost?
Channel Islands National Park does not have an entry fee. Ferries and flights to the islands are an separate fee.
When is Channel Islands National Park Open?
Channel Islands National Park is open year-round.
Are dogs allowed in Channel Islands National Park?
Due to the unique ecosystem in the park, pets are not allowed in this national park. Please see the Channel Islands Pet Policy for more details.
Those with service animals wishing to visit the park are asked to contact the Chief Ranger for more information about planning your visit.
Where are Channel Islands National Park's visitor centers?
Robert J. Lagomarsino Visitor Center – Open Year Around
Land Acknowledgment
The park now known as Channel Islands National Parks is on Chumash, 'Anyapax, Michumash, Limuw, Wi'ma, Tuqan, Tongva, Payómkawichum (Luiseño), and Kizh land.
Thank you to the Native Land Digital for making the Indigenous territories accessible to all. They have mapped the known territories to the best of the current knowledge and is a work in progress. If you have additional information on the Indigenous nations boundaries, please let them know.
Native Land Digital is a registered Canadian not-for-profit organization with the goal to creates spaces where non-Indigenous people can be invited and challenged to learn more about the lands they inhabit, the history of those lands, and how to actively be part of a better future going forward together.
When was Channel Islands National Park Created?
Channel Islands National Park was created on April 26, 1938 as Channel Islands National Monument. The Monument only protected the islands of Anacapa and Santa Barbra Islands. At the time Santa Rosa and Santa Cruz were privately owned and San Miguel was owned by the US. Navy. The monument was expanded in 1949 to include one nautical mile of the shoreline of Anacapa and Santa Barbara Islands. In the 1960s, the movement to expand the monument and include the islands of Santa Rosa, Santa Cruz, and San Miguel.
It wasn't until March 5, 1980 that Channel Islands National Park was created and expanded to its current size. At the time of creation, Santa Rosa and Santa Cruz remained privately owned. San Miguel remained US Navy property but managed by NPS which is true to this day. In 1986, Santa Rosa was purchased by NPS from Vail and Vickers. In the 1990s, NPS acquired 10% of Santa Cruz. In 2000, the Nature Conservancy donated 8,500 acres of their Santa Cruz holding to NPS. Today, NPS owns about 24% of the island of Santa Cruz and the Nature Conservancy owns the other 76% of the island.
Fun Facts about Channel Islands National Park
The highest point in Channel Islands National Park is the summit of El Montañon on Santa Cruz Island which is 1,812 feet (552 m) above sea level.
The lowest point in Channel Islands National Park is the Pacific Ocean which is at sea level.
Channel Islands National Park is home to more than 150 unique species found nowhere else in the world.
Channel Islands National Park is home to the largest breeding colonies of seabirds in southern California.
The park has more than 1750 miles of pristine undeveloped coastline.
The oldest human remains in North America, dating to 13,000 B.C., were discovered on Santa Rosa Island in 1959.
San Miguel Island is home to one of the largest seasonal gatherings of pinnipeds of wildlife in the world. You can see northern elephant seals, California sea lions, harbor seals, and northern fur seals on this island.
The Channel Islands by size

Santa Barbara – 639 acres

San Miguel – 9,325 acres
Santa Rosa – 52,794 acres

Santa Cruz – 60,645 acres.
Channel Islands by the numbers

0 miles of unpaved roads
115 miles of hiking trails
When to Visit Channel Islands National Park
Channel National Park Visitation
Channel Islands is busiest from March to September.
Islands ranked by visitation. These ranks are in due to island accessibility and ferry visits.
Santa Cruz
Anacapa
Santa Rosa
San Miguel
Santa Barbara
Channel Islands National Park Weather
Each island has its own individual average tempature and rain fall. While the tempature and rainfall are similar and maintain similar trends. We have selected to only showcase the average temperatures and rainfall of Anacapa as it has the most frequent and consistent weather data collection set-up.
Where to stamp your National Parks Passport Book?
Looking for a cheap National Park souvenir? The National Park Passport Books is one of the best and cheapest souvenirs. If you have don't have a National Park Passport Book click here to learn more about the program or click here to buy.
IMPORTANT: Do NOT stamp your government issued passport.
There are 7 official stamps in Channel Islands along with a handful of bonus stamps in the park.
Official Passport Stamps
Anacapa Island
Juan Bautista de Anza NHT
San Miguel Island
Santa Barbara Island
Santa Cruz Island
Santa Rosa Island
Ventura, CA
Bonus Stamps
Anacapa Island Lighthouse
Anacapa Island Lighthouse 1932
National Park Service Square
NPS Centennial
Outdoor Santa Barbara Visitor Center
Outdoors Santa Barbara Image
Passport 25th Anniversary
Shell
Anacapa Island Visitor Center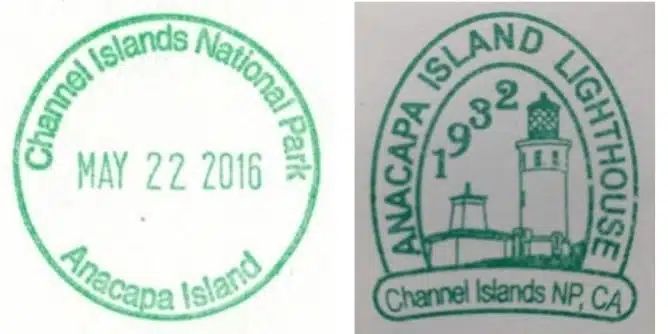 Robert J Lagomarsino Visitor Center
Located at 1901 Spinnaker Drive, Ventura, CA 93001. Open year-round.
Santa Barbara Maritime Museum
Located at 113 Harbor Way, 4th Floor, Santa Barbara, CA 93109. Open year-round
Outdoor Santa Barbara Visitor Center
Located on the Fourth Floor
Santa Barbara Maritime Museum Gift Shop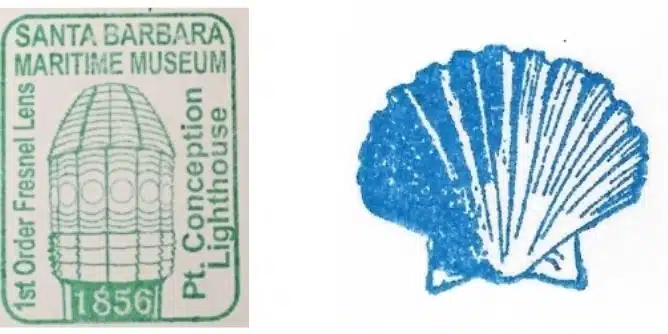 Santa Barbara Visitor Center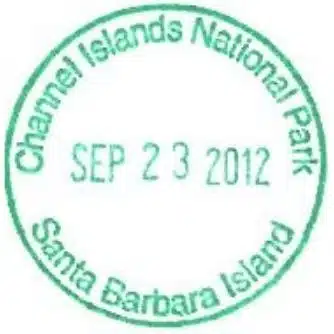 Santa Cruz Visitor Center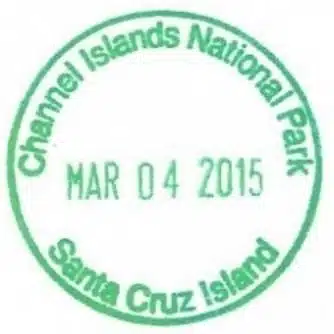 San Miguel Ranger Station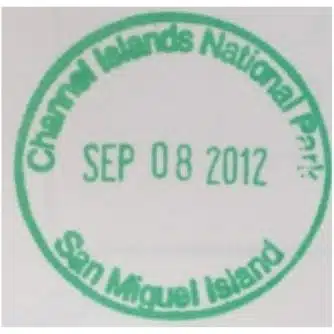 Channel Islands National Park Lodging Guides
Channel Islands National Park Activity Guides
Other Articles featuring Channel Islands National Park
Pin for Later: Visiting Channel Islands National Park: The Complete Guide