Visiting Grand Teton National Park: The Complete Guide
Post Summary: Visiting Grand Teton National Park
Planning a trip to Grand Teton National Park and need some help planning your trip? Grand Teton National Park is often considered to be Yellowstone National Park's little sister. While these two national parks are less than 10 miles apart, these two parks are worlds apart. Very little geothermal activity is found in Grand Tetons National Park, but the impressive peaks of the Teton Mountain Range and the numerous lakes that form the upper watershed of the Snake River more than makeup for it. Visitors will often see herds of elf in the valleys while the moose hang out in the marshland. Activities include mountain climbing, hiking, and scenic driving tours.
Here is the National Park Obsessed guide for visiting Grand Teton National Park, Wyoming.
The Quick Guide to Visiting Grand Teton National Park
Map of Grand Teton National Park
Click on the Grand Teton Map above to download the official brochure map. If you'd like a PDF copy of this Grand Teton Map click here.
Grand Teton National Park Basics
Region: Intermountain / West Coast / Rockies
Park Size: 310,000 acres (484.38 sq miles) (1,254.53 sq km)
Location: Teton County
Closest Cities: Jackson, Wyoming
Busy Season: June to September
Visitation: 3,405,614 (in 2019)
How much does Grand Teton National Park Cost?
Grand Teton National Park costs the following from May to mid-December:
7-day Passenger Vehicle Pass – $35
7-day Motorcycle Pass – $30
7-day Individual Pass – $20
Grand Teton Fees from mid-December to late April
An annual Grand Teton National Park Pass cost $70 but it is not recommended you buy this pass. For an extra $10 you can get an American the Beautiful Pass. This $80 pass offers free admission to all 116 fee-charging National Park Units.
When is Grand Teton National Park Open?
Grand Teton National Park is open year-round.
Are dogs allowed in Grand Teton National Park?
Yes, pets are welcome in Grand Teton National Park but are limited to developed areas such as roads, parking areas, picnic areas, and campgrounds. Pets are not allowed on trails, pathways or to swim in park waters. Please review the Grand Teton Pet Policy before bringing your dog to Grand Teton.
Where are Grand Teton National Park's visitor centers?
Craig Thomas Discovery & Visitor Center – April to October
Laurence S. Rockefeller Preserve Center – June to August
Jenny Lake Visitor Center – May to September
Jenny Lake Ranger Station – June to August
Colter Bay Visitor Center – May to October
Flagg Ranch Information Station – June to September
Land Acknowledgments for Grand Teton National Park
The National Park known as Grand Teton National Park sits on Shoshone-Bannock, Apsaalooké (Crow), Eastern Shoshone, and Cheyenne land.
Thank you to the Native Land Digital for making the Indigenous territories accessible to all. They have mapped the known territories to the best of the current knowledge and is a work in progress. If you have additional information on the Indigenous nations boundaries, please let them know.
Native Land Digital is a registered Canadian not-for-profit organization with the goal to creates spaces where non-Indigenous people can be invited and challenged to learn more about the lands they inhabit, the history of those lands, and how to actively be part of a better future going forward together.
When was Grand Teton National Park Created?
Then Yellowstone National Park superintendent Horace Albright was concerned about the further developments of dams in the region south of Yellowstone and tried to add the Teton Range to Yellowstone National Park. He was opposed by locals but was able to work out a solution to have a separate National Park created. Grand Teton National Park was established on February 26, 1929. The original park was 96,000 acres that protected the Teton range and the six lakes at the base of the mountains.
While Albright won a small victory but he knew more was needed. Albright found a partner in philanthropist John D. Rockefeller. Rockefeller started buying outside the park with the purposes to donate the land to NPS at a later date. When locals discovered Rockefeller's plan, congressional efforts prevent the donation. By 1942, Rockefeller feared that the donation would never happened and threaten to sell. That threat got President Franklin Roosevelt used the Antiquities Act to declare Rockefeller's 210,00 acres land holding Jackson Hole National Monument.
In 1950, Jackson Hole National Monument and Grand Teton National Park were combined to form the modern Grand Teton National Park
Fun Facts about Grand Teton National Park
The highest point in Grand Teton National Park is Grand Teton Summit which is 13,770 feet (4,200 m) above sea level.
The lowest point in Grand Teton National Park is Fish Creek which is 6,310 feet (1,920 m) above sea level.
The 40-mile Teton Range is are the youngest mountain range in the Rocky Mountains.
Grand Teton National Park is the ONLY National Park with a commercial airport within park boundaries.
Grand Teton by the numbers

152 miles of paved roads
65 miles of unpaved roads
242 miles of hiking trails
7 moraine lakes
When to Visit Grand Teton National Park?
Grand Teton National Park Visitation
Grand Teton is busiest from June to September.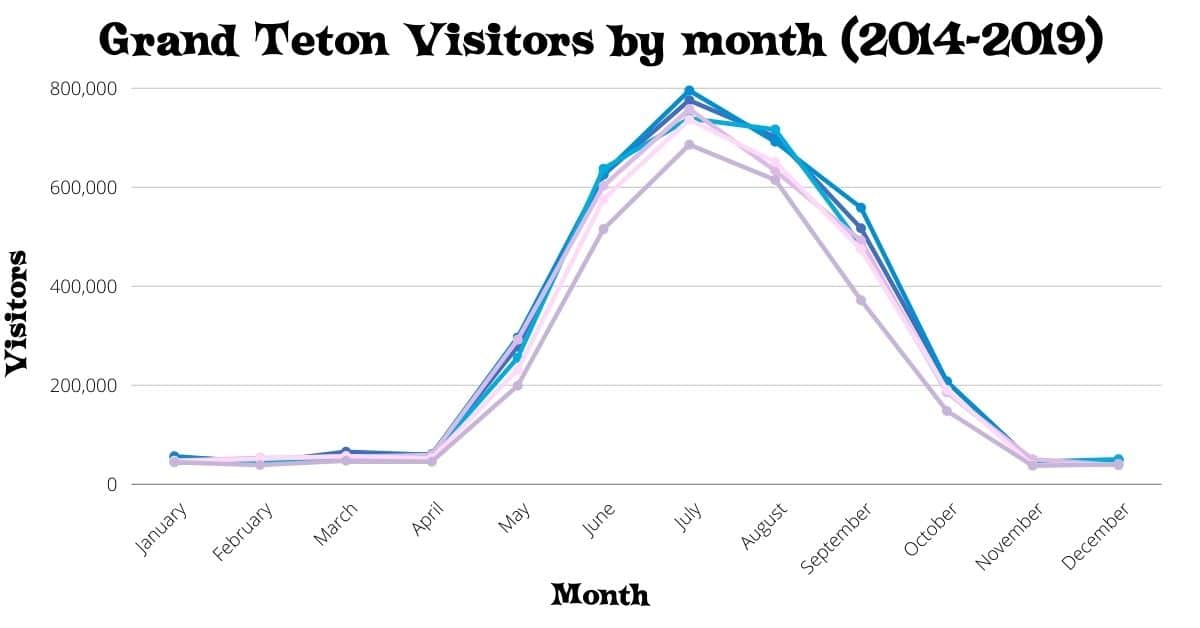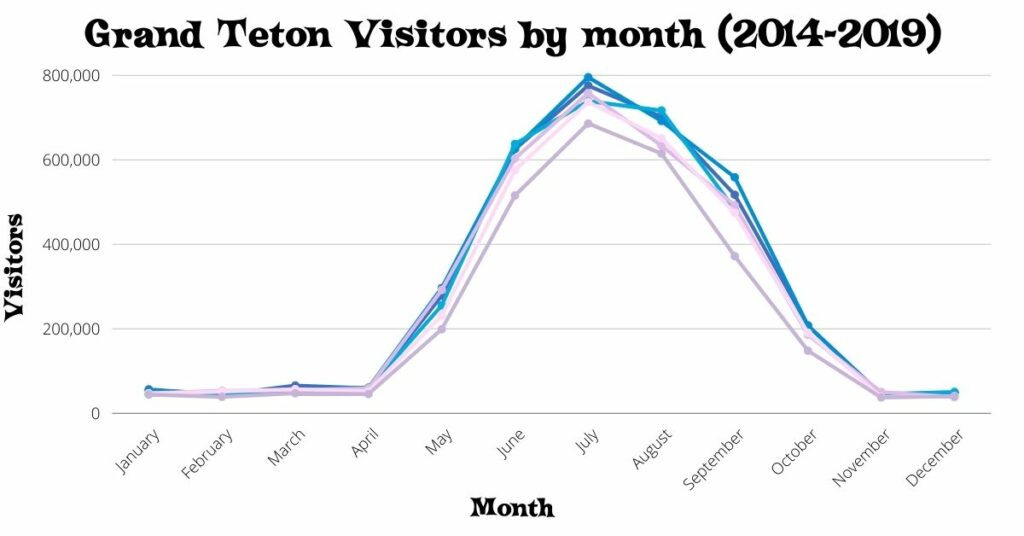 Denali National Park Weather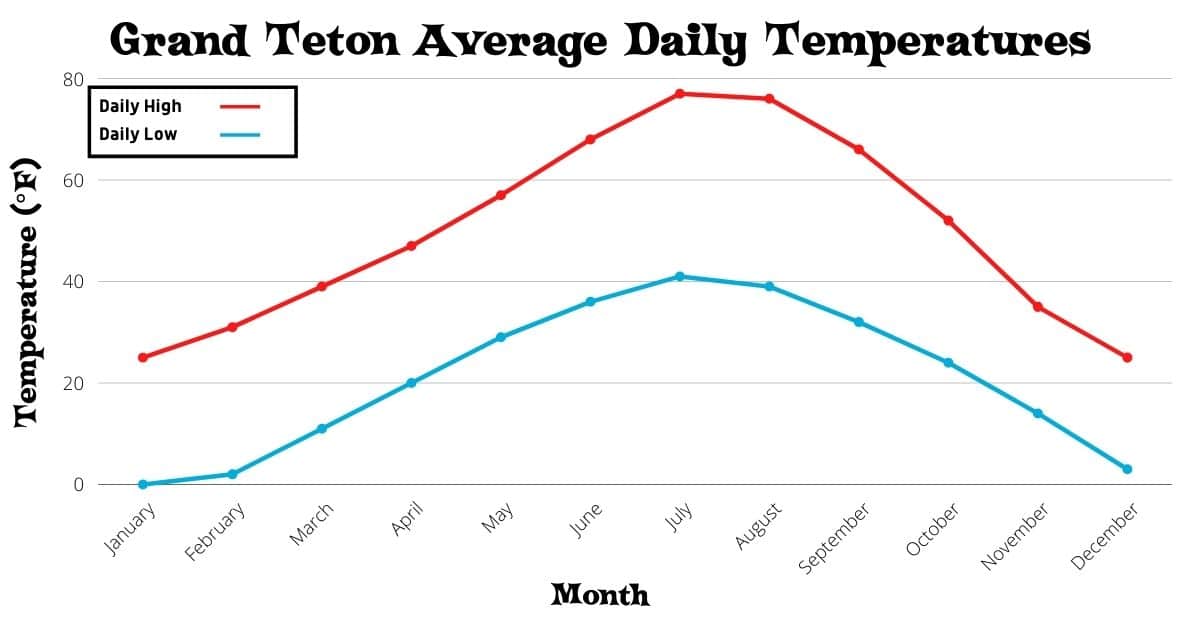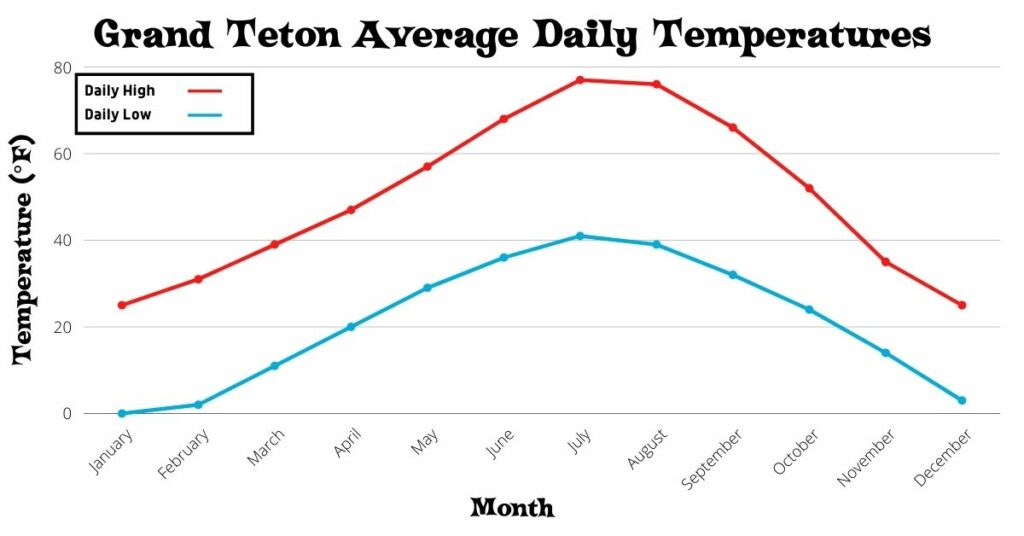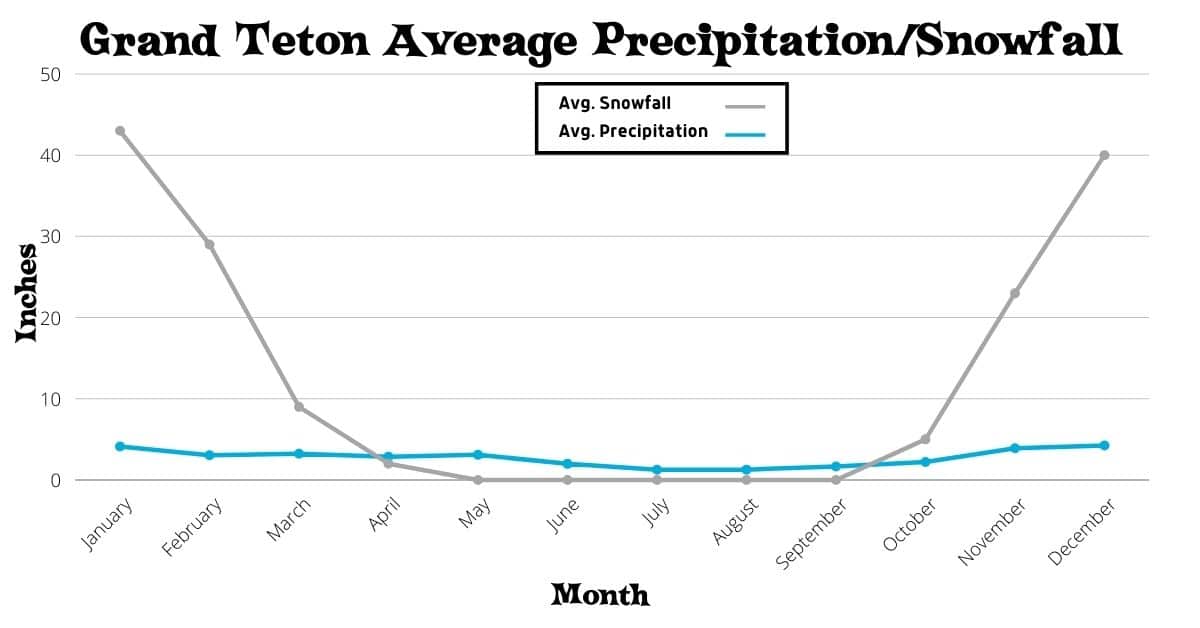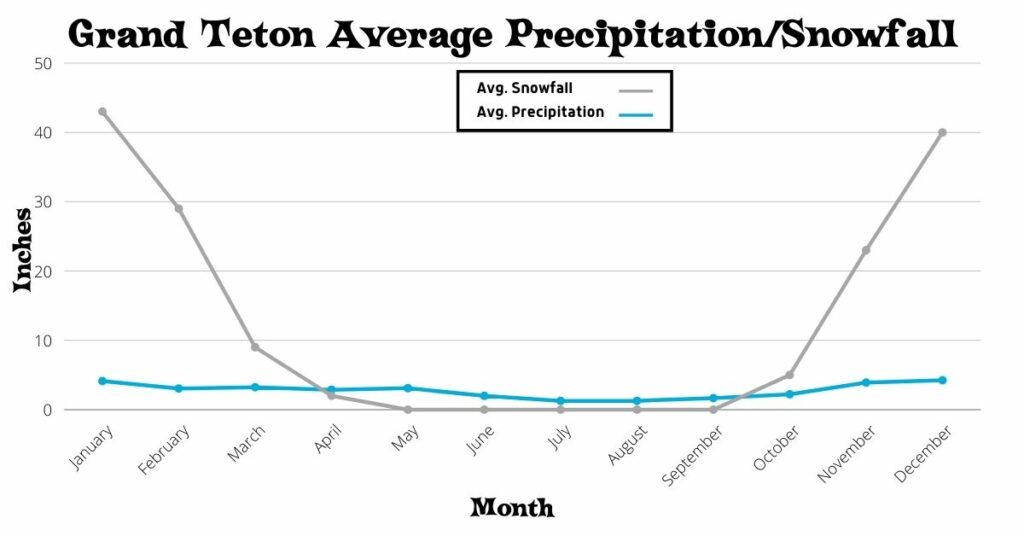 National Park Obsessed's Detailed Guides to Grand Teton National Park
Grand Teton National Park Lodging