Who doesn't love mail? Never mind, there is a stack of bills on my desk. I don't love mail BUT I do love packages that come in the mail. There is this amazing rush when you get a package and opening it is like a surprise even if you know what is in the package. I'm sure you have seen the ads for these monthly boxes where each month you get a box full of stuff related to a theme. I have always been curious as to these boxes but was never sure what I thought of the concept. So the last couple of months, I have been getting the Cairn Subscription Box. Each month, I get a surprise box full of outdoor-related gear. Here is my Cairn Subscription Box Review.
Disclaimer: Cairn provided me with a complimentary subscription for the purpose of this review. All opinions are 100% my own.
This post may contain affiliate links, meaning if you book or buy something through one of these links, I may earn a small commission at no extra cost to you! Read the full disclosure policy here
What is Cairn Subscription Box?
Cairn Subscription Box is a subscription box service that curates a monthly/quarterly box of outdoor gear and mails it directly to the consumer. With each box, the subscriber gets the chance to check out a range of outdoor gear that has been selected for them to try.
Cairn works hard to provide a quality seasonally relevant outdoor subscription box. When you sign up they have a great questionnaire to fill out. So they can get to know you and helps them curate a box just for you. I hate coffee with a passion so I love that they specifically ask about coffee.
The questions cover your preferences and lifestyle like are you vegetarian, do you like alcohol, do you have a dog, do you like coffee. They ask about what activities you would like to see products for a range of outdoor activities such as hiking, mountain biking, snowshoeing. They want to know what your frequent outdoor activities are and a bit about your outdoor personality and how you do the outdoors.
While most boxes are similar, some months have unique items that might only fit someone who has a dog and they ask so that way you don't get products for a dog when you don't have a dog. Or like me, I will 100% never use a coffee-based food item.
What's in the Monthly Cairn Box?
Cairn offers two different subscription box services. A Monthly Collection and a Quarterly Collection.
The first is the Cairn Monthly Collection. This box ships on a monthly basis and includes 3-6 items with a value up to $50. These are full-sized items and each box consists of one big item (or two mid-sized items that go together), 1-3 small items, and 1-2 food/drink items. Each box costs 29.95 and products range from apparel to food to emergency medical products. If you are willing to prepay for 6 months or 12 months, the price drops to $28.25 or $27.45 per box.
The second is the quarterly Cairn Obsidian Box. The Obsidian Box contains 5-10 premium outdoor products with a retail value over $300. These boxes are customized based on your specified interests and size availability. These boxes cost $249.95 each.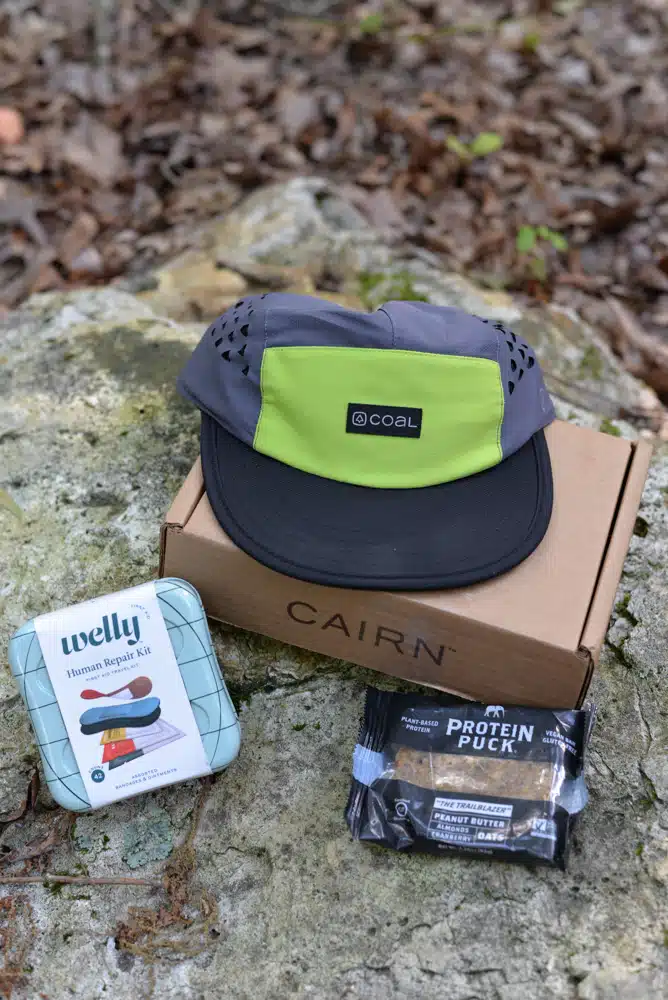 Monthly Cairn Subscription Box Review
Disclaimer: Cairn provided me with a complimentary subscription for the purpose of this review. All opinions are 100% my own.
Before I tried Cairn, I had my doubts about the concept. I am an experienced outdoorswoman. I have a walk-in closet full of outdoor, just outdoor gear. I have a separate much smaller closet for everyday clothing. In terms of outdoor gear, I have it all from an Ice Axe that hasn't seen action in like six years to a Kelty external frame backpack that is older than I am. I have acquired a lot of gear over the years and when I need something, I generally know EXACTLY what I want and need. I wasn't sure that a monthly box of outdoor gear that I didn't know what was would be for me.
With those thoughts, I started my 3-month trial of Cairn Subscription Box. On a rare occasion, Cairn runs a special Welcome Box where they tell you what is in the Welcome Box to encourage you to sign-up and check it out. My first box was one of those special welcome boxes, April 2020. So I knew what was coming but it was still like opening a birthday present when the box actually arrived. I might have known what was in the box but it was still great fun to open up the box and check out this new gear.
My next two boxes were complete surprises so it really was like my birthday came in May and June. I opened these boxes and it was great fun pulling out each item and checking out what it was and then thinking about how I was going to put it to good use. Here is a breakdown of my three boxes.
[go_pricing id="classic-gr_5f090159c8af9″]
Of those 11 items, I personally would have purchased the hammock, associated tree straps, and the Cliff Bar. It is highly likely that I would never have acquired the other 8 items.
BUT and it's a big but: I might not have purchased a few of those items but was excited when I found them in the box. For example, I would have never bought the Gregory Nano Waistpack Mini but it is the perfect size for those short less than 1.5 mile trails where I want to take a second camera lens with me but don't want to carry a full pack. Same thing with the 30ft Camping Light, but as an outdoor blogger it will be great fun to put lights on my tent for night photography.
I am rather unadventurous when it comes to buying things like energy bars for hiking. I stick with what I know for ease of effort. I know and love Cliff Bars so they are my go-to bar. I see all the new energy bar brands but don't want to take the risk fo buying them and not liking them from REI. Cairn on the other hand just mails me them and says try these. I like both Kate's Real Food and Protein Puck energy bars. I even ordered a box of Kate's Real Food Bars for an upcoming weekend camping/hiking trip.
I didn't love or find the remaining four items useful. For items like the Welly Human Repair Kit, I have a really nice MyMedic MyFAK first aid kit that lives in my car and a super lightweight kit for my backpack. I gave it to one of my hiking buddies
The real question is would I be happy if I had paid 89.85 for these three Cairn Subscription boxes would I be happy. The answer is Yes, I would. I might not have been happy paying that in one go for all 11 items but as a subscription box I think it is a reasonable price. Each month, I got to have fun opening the box and finding out what is in it, and in the end, I got some useful outdoor gear. I didn't love / like every item but I can safely say there were more winning items than losses.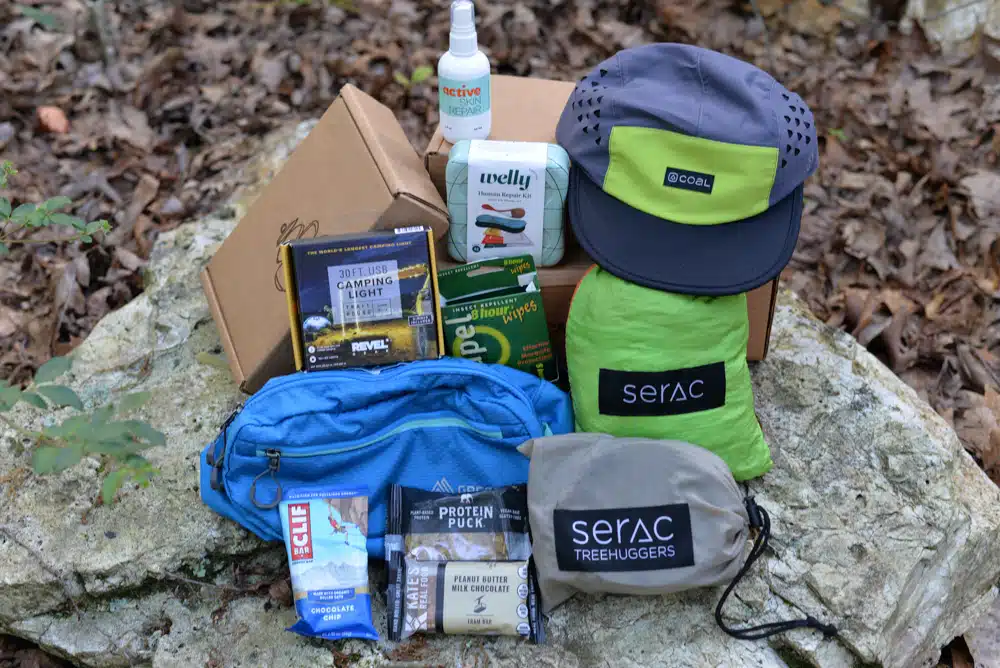 Should you get a Cairn Subscription Box?
If you are expecting to love 100% of every box, then Cairn isn't for you. No matter how hard they try and how many questions they ask, they are never going to know what's in your closet and what gear you really need.
If you like surprises and get a thrill out of opening a box and finding out what's in it and more often than not getting some useful outdoor gear then Cairn if or you. I didn't love 100% of every box I got but I like/could use/loved about 70-80% of every box. I'm not super active on the water anymore so a baseball style hat that floats isn't the most useful item plus I have a National Park of American Samoa hat that I basically live in when visiting National Parks.
If you aren't sold on Cairn and check out the other Outdoor Subscription Boxes on the market.
My Favorite Cairn Subscription Box Items
Serac Classic Hammock and Straps
I was super excited to get a new hammock in one of my Cairn boxes. I had been needing a new hammock for a while. I especially loved that it came with webbed straps. Webbed straps are important to protect trees when hanging a hammock.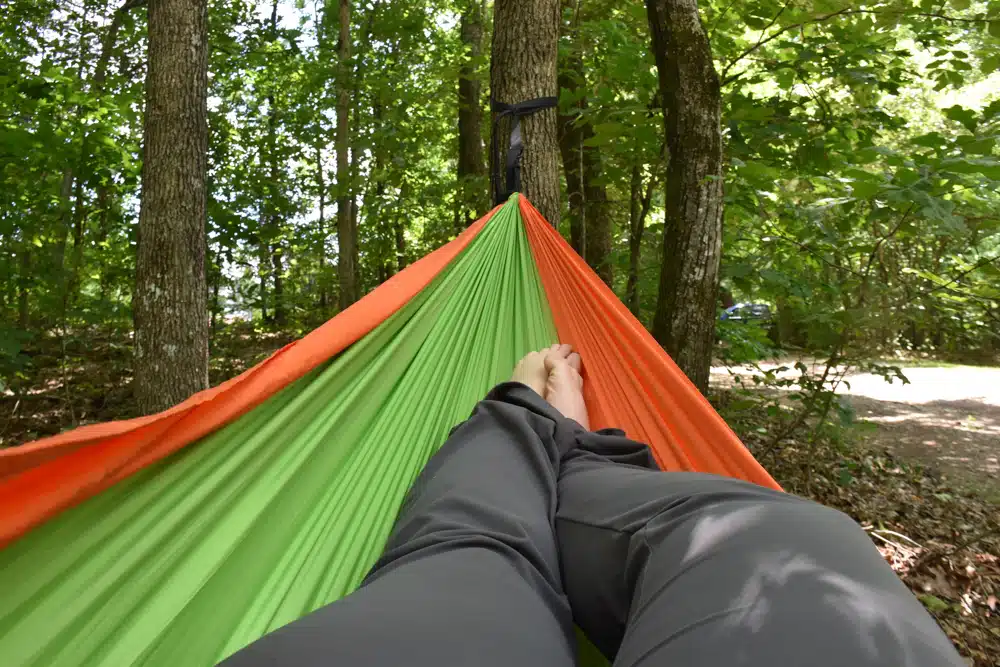 Gregory Nano Waistpack Mini
I'm not a fanny pack person but I really like this Gregory Nano Waistpack Mini. It is large enough to hold my camera, a spare lens, extra batteries, and SD cards when I'm taking those short hikes. I wear it as a shoulder bag and it works perfect. I also love that it fits right in my day pack so I don't have to switch gear between the bags.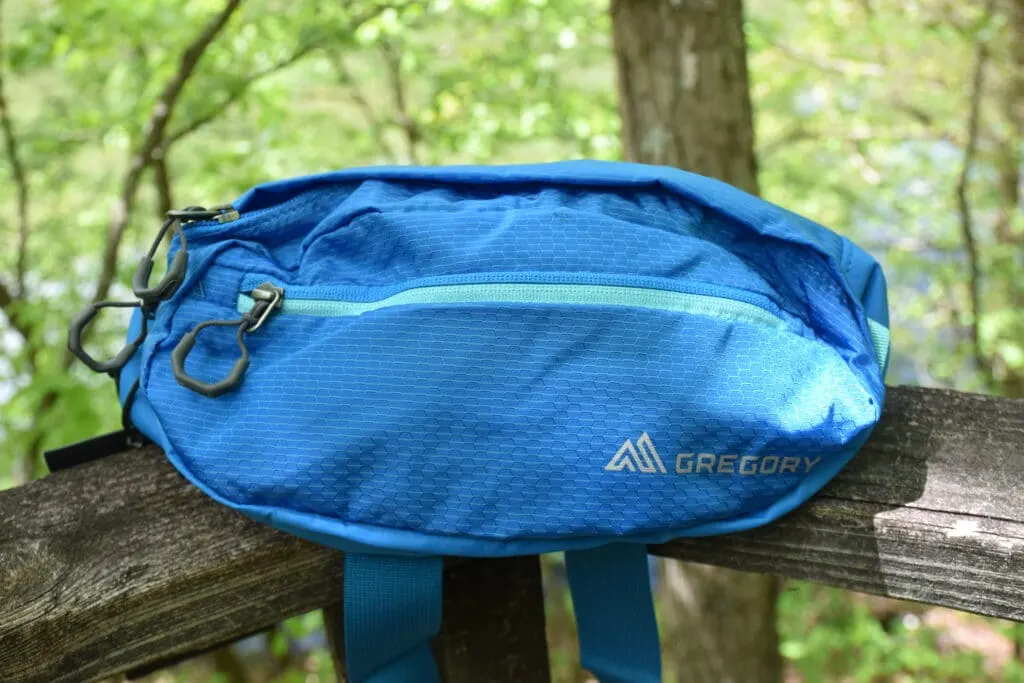 Revel Gear Trail Hound 30 Camping Light
I haven't been camping since I got this string of camping lights but I can't wait for fall camping and working on my night photography.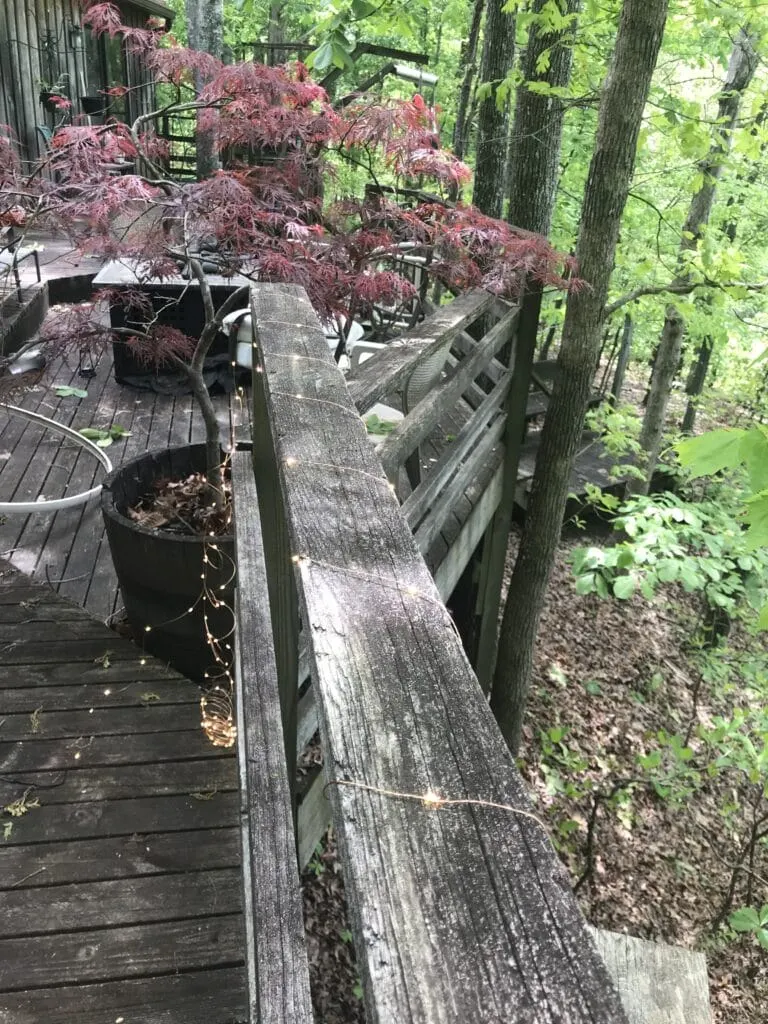 Pin to share: Cairn Subscription Box Review