Hiking Chesler Park Loop Trail in Canyonlands National Park
Some posts on this site contain affiliate links, meaning if you book or buy something through one of these links, I may earn a small commission at no extra cost to you! 5% of all site revenue is donated to support the National Parks.
---
One of the best trails in Canyonlands National Park is the Chesler Park Loop Trail. This stunning 11-mile long loop features, colorful spires, mushroom-like formations, caves, and boulders. The hike is one of a kind that will keep you mesmerized throughout the trail. Even though the trail is located in The Needles District, which isn't as popular as the Island in the Sky District, it shouldn't deter you from enjoying this hike. Not only is the trail captivating, the lack of visitors is the cherry on top. Keep on reading on for an in-depth guide to Chesler Park Loop Trail located in Canyonlands National Park.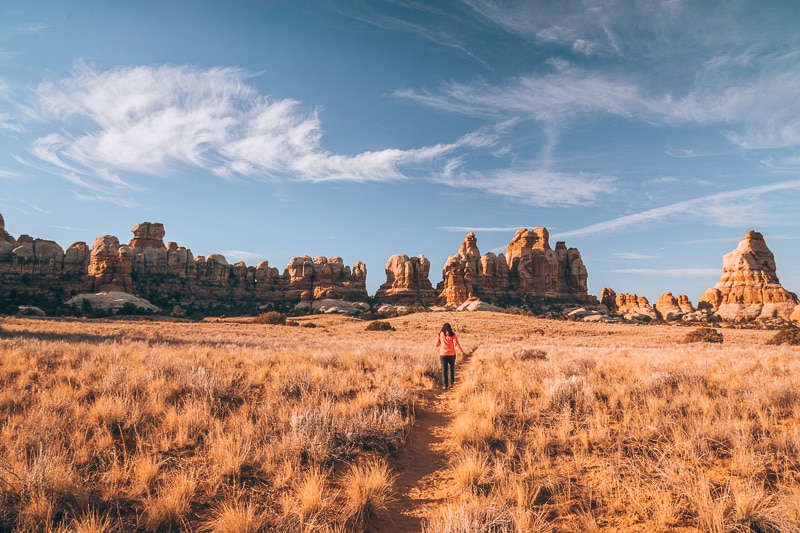 About Canyonlands National Park
For millions of years, the Rockies and the Appalachian Mountains helped create Canyonlands National Park. The two mountains ranges were broken down over the years and carried in small pieces over by wind and water creating layers of rock called sedimentary rock. Eventually, rivers helped carve out the national park we all know today.
In the 1950's Bates Wilson advocated for Canyonlands to become a national park. He showcased the park by leading government officials on jeep tours. After some years of advocating, President Lyndon B. Johnson signed the documents, establishing Canyonlands National Park in 1964. In 1971, the national park grew in size by adding The Maze, The Land of Standing Rocks, Davis and Lavender canyons. As of right now, the park is about 527 square miles and has the highest point at Cathedral Rock in The Needles District (7,120 ft).
Canyonlands National Park consist of four districts which are separated by the Colorado River and the Green River. The four districts are as follows: Island In The Sky, The Needles, The Maze and The Rivers. The most accessible areas of the park are The Island In The Sky and The Needles districts. Chesler Loop trail is located in The Needles District.
Getting to The Needles District in Canyonlands
Airports
The closest airport to The Needles District is Canyonlands Field which is about 21 minutes away from Moab. Flying into Moab is likely too expensive regardless of time and season. Another option is to fly into Salt Lake City International Airport. The drive to Moab from Salt Lake is about 3 hours and 45 minutes. Grand Junction Regional Airport located in Colorado, is another great option and it is only an hour and 45 minute drive to Moab.
Drive From Moab
The Needles is about an hour and a half away from Moab. You have to drive south on highway 191 for 40 miles. Then get on highway 211 (take a right) for about 37 miles. Follow the signs to Squaw Flat campground and Elephant Hill.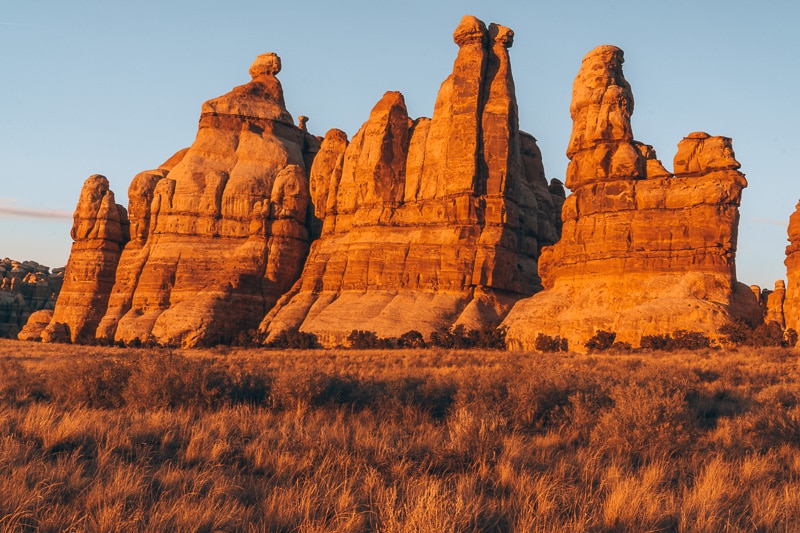 Where to Stay
The Needles Camping
The Needles District has 27 individual sites and 3 group sites. Some sites can be reserved in the Spring and Fall. The campsites come with a fire pit, toilets, and picnic tables.
Hotels
There are no hotels within the park so your best bet is to stay in Moab if camping isn't your cup of tea. The city of Moab has plenty of hotels to stay in, all of which are relatively close to the national park. Here are some great suggestions.
Red Cliffs Lodge has the best sunset views of the Colorado River, especially with your own private patio. Free wifi, a refrigerator, living area, microwave, and dining table are included. The area includes a winery, a western film museum, a horse corral, and an outdoor pool and gym.
SpringHill Suites by Marriott Moab has more of a modern feel and offers a hot tub, free wifi, a fitness center, mountain views, outdoor pool, and is at a top rated location.
Expedition Lodge is a budget-friendly hotel with free wifi, a swimming pool with a waterslide, and a hot tub. There is also an option for private rooms for up to 6 people.
When To Go
The best time to visit Canyonlands is in the Fall (mid-September through October) and the Spring (April and May) when the temperatures are not so extreme. The temperature during these times are between 60°F(16°C) and 80°F(27°C) but the temperature can drop to 30°F(27°C) at night. So bring a jacket. The summer highs can be around 100°F(38°C).
Map of the Trail
Below is a highlighted version of Chesler Park loop but for an official park map of The Needles click here.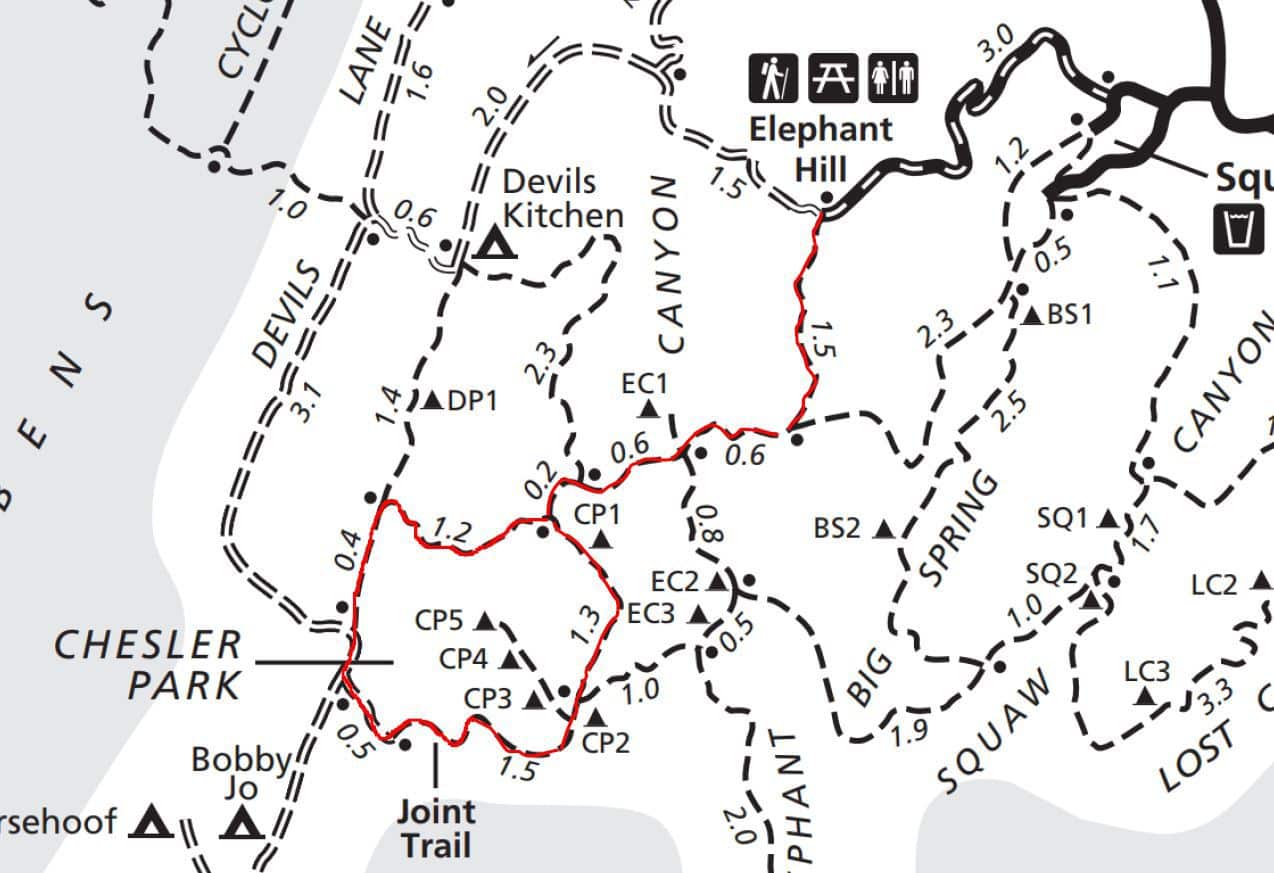 The Chesler Park Loop Trail
The Chesler Park Loop Trail is a strenuous, 11-mile loop located in The Needles District. The loop shows off the best parts of the Needles district which includes, grassy meadows, crazy looking rock spirals, caves, and narrow passageway hikes. The views are incredible the whole way through. This hike is a perfect weekend hike that will blow your mind.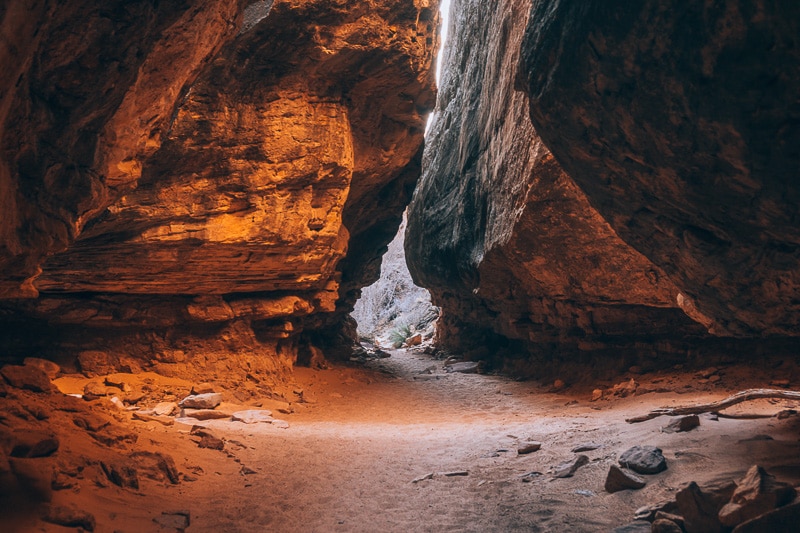 Where to park
Parking is located at the Elephant Hill. The road from Squaw Flat to Elephant Hill is a 2.7 miles windy dirt road. There are restrooms at the trailhead. Drinking water is located at Squaw Flat Campground if you need to fill up. I highly advise to fill up and bring a ton of water. Hiking through the desert in the sun can be exhausting. It is better to be safe than sorry.
The Trail
The trail does NOT have official trail markers, but rather some stones stacked on top of each other. Be careful and keep a watchful eye out for them. It is easy to miss them. We had times when we got lost. Canyonlands is a dangerous place to get lost at due to the dry heat, no cell service, and lack of resources.
The first mile and a half are spent going through some rock formations like sculpted rock pinnacles and knobs. The beginning of this trail is a quick glimpse of how bizarre and fun this hike will be.
Eventually (1.5 miles), you hit a junction and you turn right towards Chesler Park. In between this junction and Chesler Park lookout is EC1 campground. From EC1 to Chesler Park there begins to be a steep climb. The elevation gain/loss from EC1 to Chesler Park Lookout is about 500feet. But once you pass all this, you are met with the best views of Chesler Park. This lookout is a good turn around spot if you are not wanting to do the whole loop.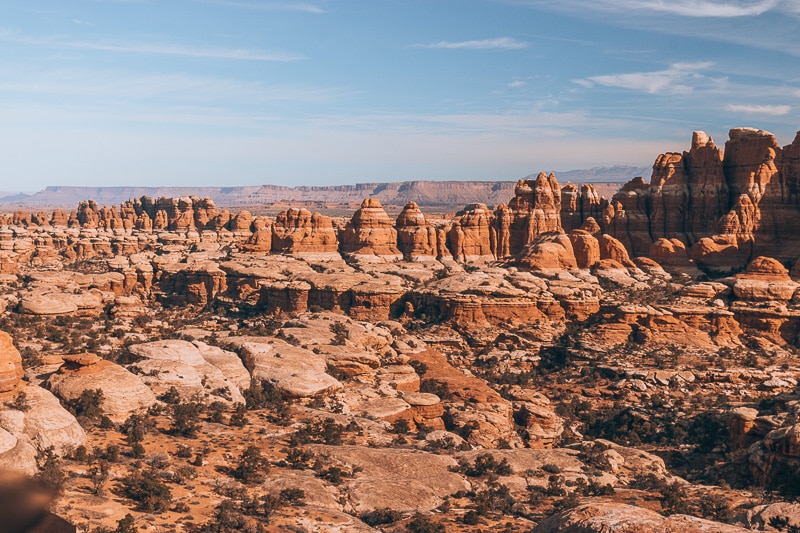 When you first set eyes on The Needle formations, you can't believe a place like this exists. The tall tangy, orange glow of the formations with take your breath away.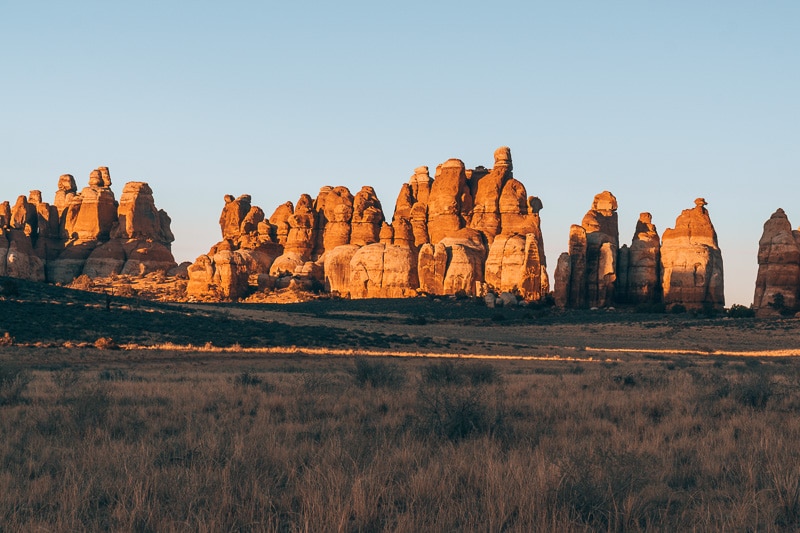 After you have soaked in all the views, take a left at the viewpoint and head towards Chesler Park backcountry sites (CP1 and CP2). Hike through the grassy, yellow fields and take in all the scenic views until you get to the Joint Trail.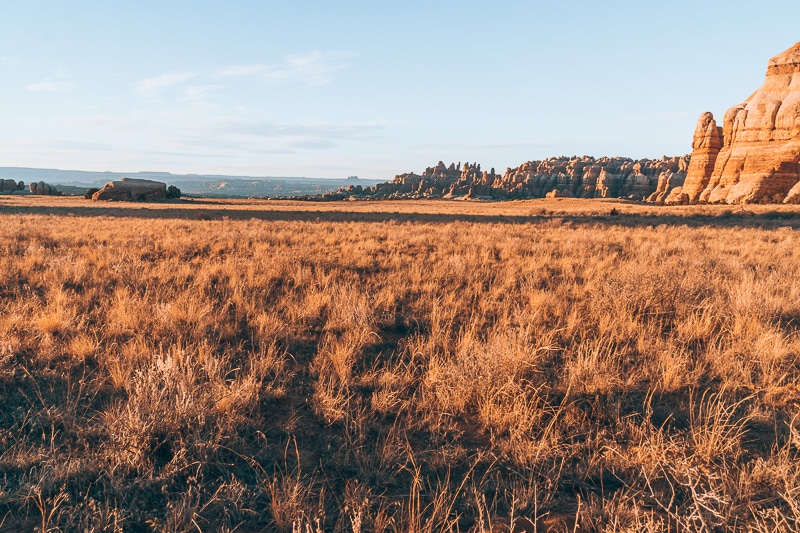 Around the Joint Trail, you can climb up some rocks to see another view of the Needles from an elevated position. When you are done taking pictures of the Needles, head down into the Joint Trail and you can see a drastic change. You will be surrounded by boulders basically hugging you, giving you a small sense of claustrophobia.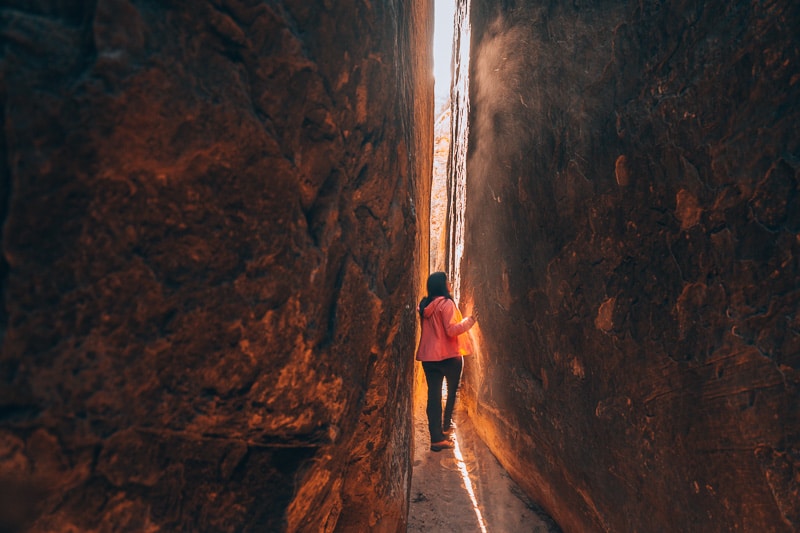 Eventually, the interesting boulder area opens up and you are on the 4 WD Trail around the 5.7-mile mark. On the trail, there is a picnic area with shade, picnic table, and a pit toilet. Near the picnic area, turn right at the junction. Hike on the trail for about 0.5 miles and you will eventually hit another junction on the 4 wheel drive road. Turn another right.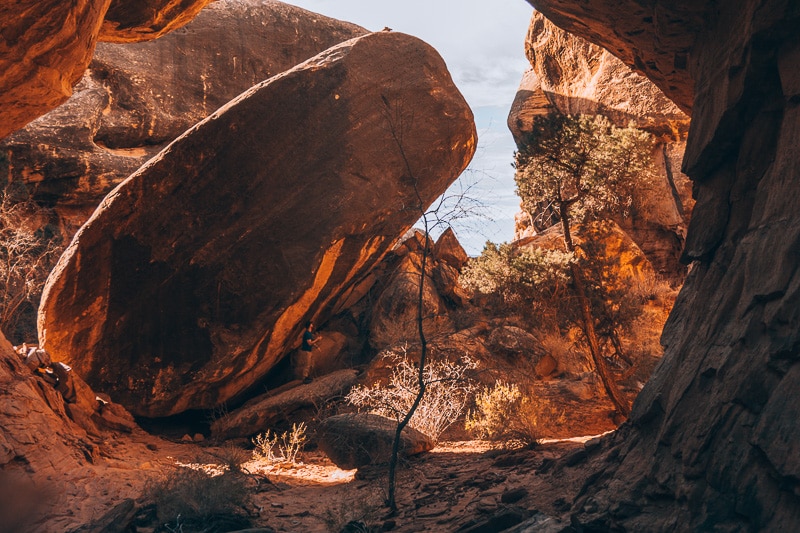 After you leave the 4WD area, the trail starts to ascend yet again. Keep hiking on for about 0.4 miles until the next junction. Keep right and head towards Chesler Park Lookout. Make sure to keep a lookout for the trail. It is easy to get lost in this area. Eventually, you are lead back to the Chesler Park Lookout. Turn left at the junction and follow the signs to Elephant Hill where your car is parked.
Conclusion
This stunning trail is a one of kind hike, showcasing the beauty and uniqueness of Canyonlands National Park. Filled with mushroom-like features, spires, caves and boulders, this unique hike will be one that you will never forget. Have you ever been to Canyonlands?
Check out some of our favorite Canyonlands National Park and National Park Obsessed Products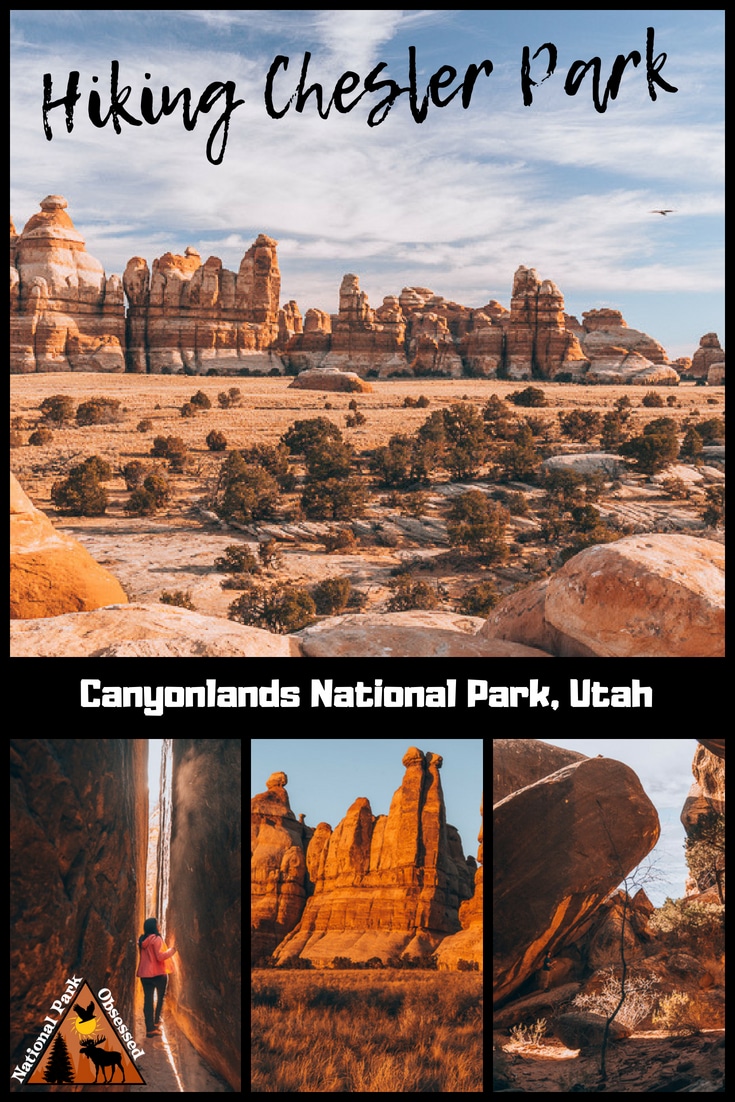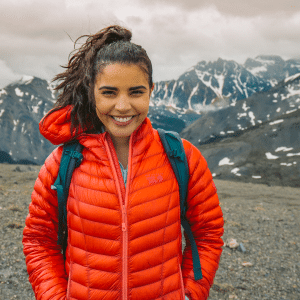 I am a true Travel Queen that got bored with having a regular life. After realizing that I had barely seen the world, I decided to become an adventuress. I managed to learn photography, learned to travel once a month, learned to hike, backpack, camp and climb. I am doing all this while still working as a full time engineer in Texas.