This post may contain affiliate links, meaning if you book or buy something through one of these links, I may earn a small commission at no extra cost to you! Read the full disclosure policy here
---
When I walk into a National Park Visitor Center, the first thing I do every single time is located the passport stamp cancellation station. I NEED my stamp. It is kind of like a park visit can't start until I get that stamp. My National Park Passport Book is my favorite National Park souvenir. It showcases my route though the 419 US National Park. Here is everything you need to know about a National Park Passport Book and how to use it.
Help support this site by purchasing one of our National Park Shirts, Poster, and other gear. Every purchase includes a donation to the national parks and helps keep National Park Obsessed's website free to use and producing more national park guides.
Looking for more help planning your next adventure? Join the National Park Obsessed Facebook Group here to connect other national park lovers, trade advice, or see inspiring photos of the National Parks?
Cover Photo Credit: Statue of Liberty/Ellis Island Instagram Account
What is a National Park Passport Book?
The National Park Passport Book is the cheapest and best souvenir of your national park adventures. The Passport to the Parks program was started in 1986. It was designed to help park visitors track their adventures thought the parks and celebrate park anniversaries. Remember, these were the days before everyone had a camera and the ability to take hundreds of selfies. So documenting your travels was a little different back then.
While the times have changed, the Passport program is still one of the most popular national park souvenirs.
The program is simple. You purchase a passport book and then at each NPS unit you collect the passport cancellation stamp to mark the date and location of your visit. The only cost to visitors is that initial book purchase.
What are National Park Cancellation Stamps?
National Park Cancellation Stamps are 32mm round stamps. They have the park unit along the top edge, the date in the center, and the location at the bottom. The stamps are usually found in Ranger Stations and Visitor Centers. Look for the Passport Stamp Cancellation Stations. The stations are usually near the park's bookstores.
Some parks have multiple stamps or have stamps from other units. They often have a unique stamp per visitor center. Special cancellation stamps are commissioned for special events like the 2016 NPS centennial or the 2017 Solar Eclipse.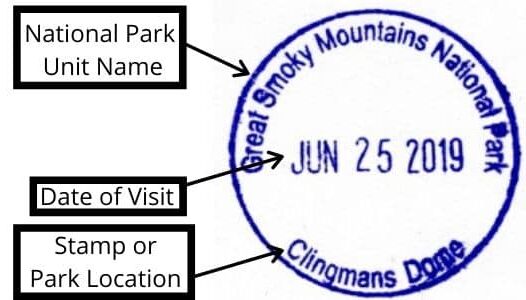 For example, the Great Smoky Mountains National Park has 11 stamps. They are for the following locations.
Cades Cove, TN
Elkmont, TN
Gatlinburg, TN
Sugarland, TN
Townsend, TN
Tremont, TN
Bryson City, NC
Cataloochee, NC
Clingmans Dome
Deep Creek, NC
Oconaluftee, NC
In addition to its own stamps, some visitor centers in the Great Smokies offer stamps from Appalachian National Scenic Trail and Trail of Tears National Historic Trail
If you are looking to collect all the National Park Cancellation Stamps, join the National Park Travelers Club for access to their database of National Park Stamps. Membership costs $10 for the first year and $5.00 a year after that.
** Note: most of the 423 National Park Service units participate in the Passport to the Parks Program, but NOT all. There are NPS units that do not offer a stamp. For example, Arizona's Hohokam Pima National Monument does not offer a stamp.
Why should you collect the National Park Passport Stamps?
The simple answer is that it is fun and addictive. Getting your stamp is like a rite of passage when visiting any NPS unit. You would be hard-pressed to find someone who is National Park Obsessed who doesn't collect stamps. They are the most universal collectible in the National Park lover community.
Passport Stamps are FREE. Other than the price of the book and cost to visit the parks are a great low-cost souvenir. There are stickers that can be placed into the passport book, but these are optional.
It is a chronological record of your national park journey. Each stamp has a date on it. It records when you visited that park.
How to use a National Park Passport?
The National Park Passport is really simple to use.
Locate the cancellation station.
Turn to a black page in your passport.
Place stamp in your book.
Tips and Trick to National Park Stamp Collecting
Some National Parks have more than one passport cancellation stamp.
ALWAYS, ALWAYS check the date before you stamp.

Sometimes the dates on the stamps get changed so double-check and make sure the date is actually today's date.

Do a test stamp.

I always to a test stamp on a scrap piece of paper before stamping in my book. It also allows me to check the date and how much pressure is needed to get a clean image

Make sure to close the ink pad before leaving.

The next person will appreciate this.
What to do if you are missing a stamp?
Oh no, nothing is worse than getting home and discovering you forgot to get a passport stamp. It happens. Or sometimes, you visit a park and the park visitor center is closed and you can't get a stamp. This happened to me in Lake Clark National Park.
Don't worry, you don't have to run back to the park just to get the stamp. It does make for a good excuse to go back but it is possible to get the stamp.
Step to get your missing passport stamp
Find the park's mailing address (usually found on their website)
Send them a letter including the following

Stamped Self-addressed envelope
The date you visited
The Stamp you need
I have used this trick several times to get missing stamps. It almost always works. If it doesn't, call the park and follow up.
Types of National Park Passport Books
Passport to Your National Parks©: Classic Edition
The Classic Edition is the most commonly used National Park Passport. The book is a small softcover spiral bounded notebook that is 6″ x 4″. The book has 112 pages with plenty of space to get started collecting stamps. Each stamp page has space for the parking sticker and 4 stamps or 8 stamps if you don't want the park sticker. You will need 3-4 of these National Passport books if you are going to collect the stamps and stickers from all 419 units.
These notebooks are small, lightweight and easy to carry. The pages are firmly attached so they can't disappear on you.
The book comes with a map and list of each National Park Service unit in that region. The regions are color-coded to match the stamp color.
The Classic Edition is around $10.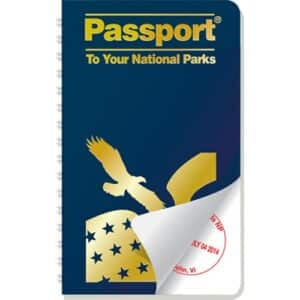 Passport to Your National Parks©: Collector's Edition
The Collector Edition is a slightly larger passport stamp book. It is a spiral-bound hard-cover notebook. The book is 7.5″ by 10″ and has a dedicated space for each National Park Service Unit***. This means that this book can help you easily track which NPS units you have visited and how many you still have to go. The book has 192 pages and color-coded by region. It offers maps of each region.
*** Depending on the edition, the Collector Edition may not have been updated to account for all the recent changes in the National Park System. There is extra space in this book for new units and stamps.
The Collector Edition is around 25.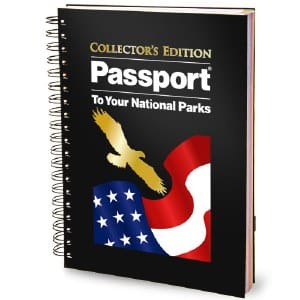 Passport to Your National Parks©: Explorer Edition
The Explorer Edition is the most expensive and complete of the National Park Passports. This book is like the Classic Edition on steroids. The Explorer is a sturdy weatherproof portfolio with an inner binder. The binder allows users to add extra pages to accommodate more park stamps than the other editions. All you need to do is buy the Expanadar Pack.
The Explorer is 9″ by 8.5″ and weighs about 2 lbs so it isn't the lightest book to carry around but it is possible to leave the book at home and just carry a few pages on your adventures. The binder has a photo pocket, mesh compartment, and a pen slot.
The book comes with a map and list of each National Park Service unit in that region. The regions are color-coded to match the stamp color. You are welcome to rearrange the book any way you would like.
The Explorer Edition is around $55.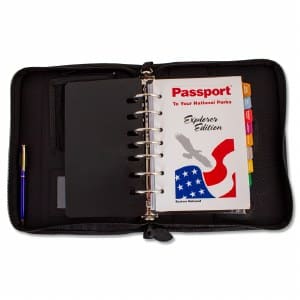 Passport to Your National Parks©: Junior Ranger Edition
National Park Passports aren't just for the adults, junior rangers love passports stamps as well. The Junior Ranger Edition is perfect for kids to start their own stamp collection and collect the Junior Ranger program stamps in the same book. There is a range of education activities included.
The Junior Ranger is a softcover spiral-bound notebook is 9″ by 7." It has 100 pages and a sticker set.
These notebooks are small, lightweight and easy to carry. The pages are firmly attached so they can't disappear on you.
The Junior Ranger Edition is around $15.
Other National Park Passport Options
Personalized Leather Journal
Portland Leather is an Oregon based leather manufacturer who makes personalized leather journals with refillable insets. These journals make for the perfect custom national park passport. Their journals come in 3 different sizes and let you choose the size you would like to carry.
Each journal has a handmade leather cover with a custom firebrand image. Portland Leather has over 100 images to choose from. The leather strap holds the journal closed and wood or polished gemstone clasp. It is possible to get your name or initials firebrand into the journal as well.
Portland Leather Journals start at $22.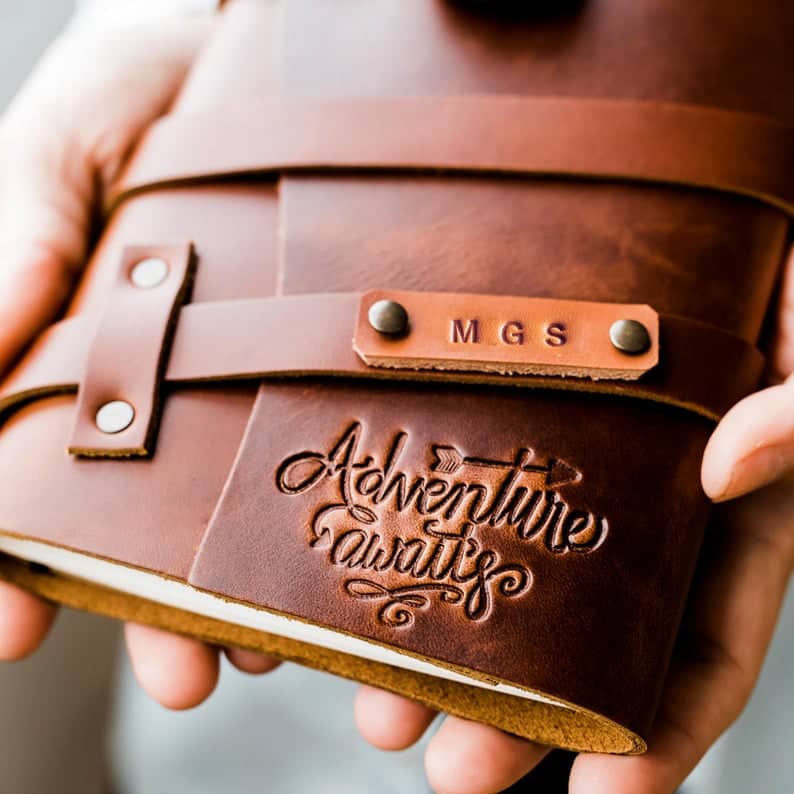 Get your National Park Obsessed Gear!