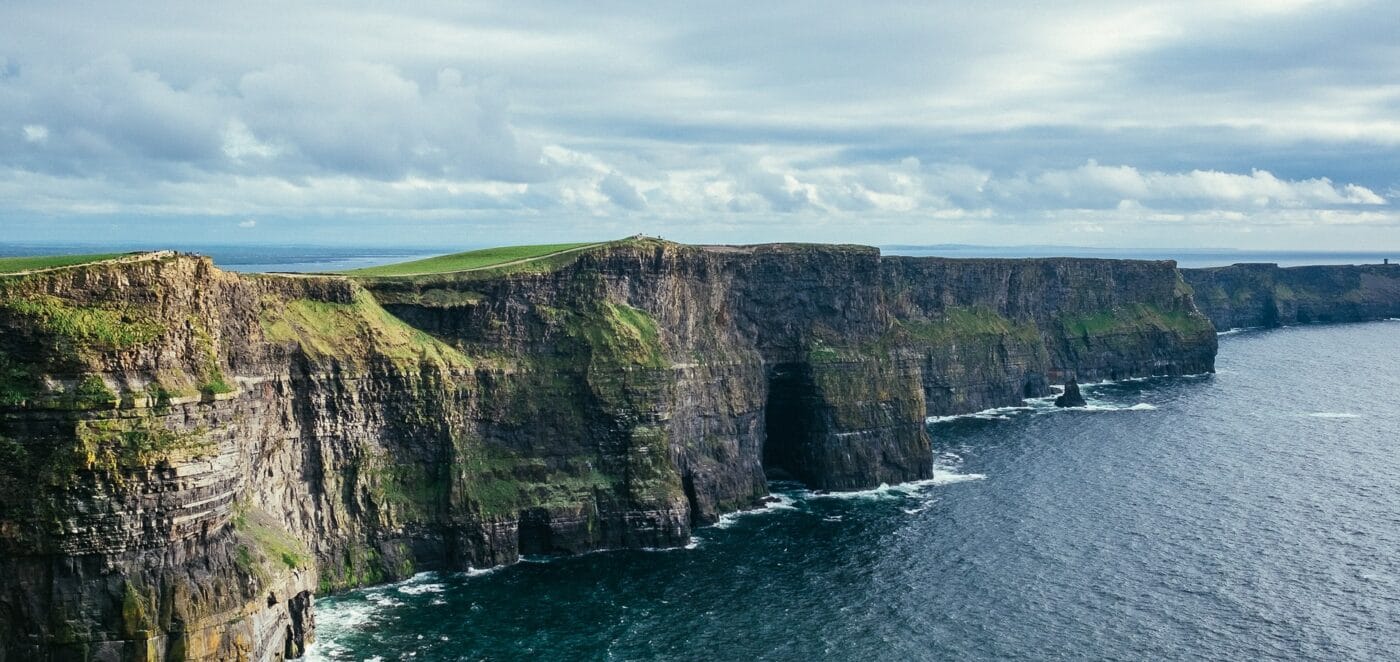 National Parks of Ireland
There are currently six National Parks in Ireland.
Official National Parks of the Republic of Ireland
Ballycroy National Park (Páirc Náisiúnta Bhaile Chruaich)
Burren National Park (Páirc Náisiúnta Boireann)
Connemara National Park (Páirc Náisiúnta Conamara)
Glenveagh National Park (Páirc Náisiúnta Gleann Bheatha)
Killarney National Park (Páirc Náisiúnta Cill Airne)
Wicklow Mountains National Park (Páirc Náisiúnta Sléibhte Chill Mhantáin)
Ireland
Ireland National Parks
Ballycroy National Park
Ballycroy National Park is located in the County Mayo in western Ireland. The park's main features are its large expanse of peatland and the Owenduff / Nephin Mountains. This peatland is one of the largest in Europe and is made up of 45.5 square miles of Atlantic blanket bog.
The peatland provides a unique habitat with diverse flora and fauna. This included black bog rush, sundrew, and purple moor grass. The alpine mountains are home to rare plants such as purple saxifrage, alpine meadow rue, least willow, and stiff sedge. The park is home to foxes, badgers, mountain hare, and otters. The Owenduff and Tasaghaun rivers a spawning habitat for salmon and sea trout. The bog pools help raise generations of dragonflies and damselflies. Ballycroy is filled with birdlife such as woodcocks, meadow pipits, and whooper swans.
Visitors to Ballycroy should start at the visitor center where they can learn about the park and take in the view along the 1.2-mile loop. The most popular hiking trail in the park is the 1.2-mile Claggan Mountain Coastal Trail. This trail is a loop trail where 0.6 miles of it is on a boardwalk making it handicap accessible. There are longer trails such as the Letterkeen Loops. Letterkeen a series of trails that can be combined to form a hiking trail from 3.7 miles to 7.5 miles. Expert hikes should consider the 25-mile Bangor Trail.
This park was created on November 1, 1998 as part of the European Union Habitats Directive. The park is a Special Protection Area and a member of the Natura 2000 network.
By Jennifer of National Park Obsessed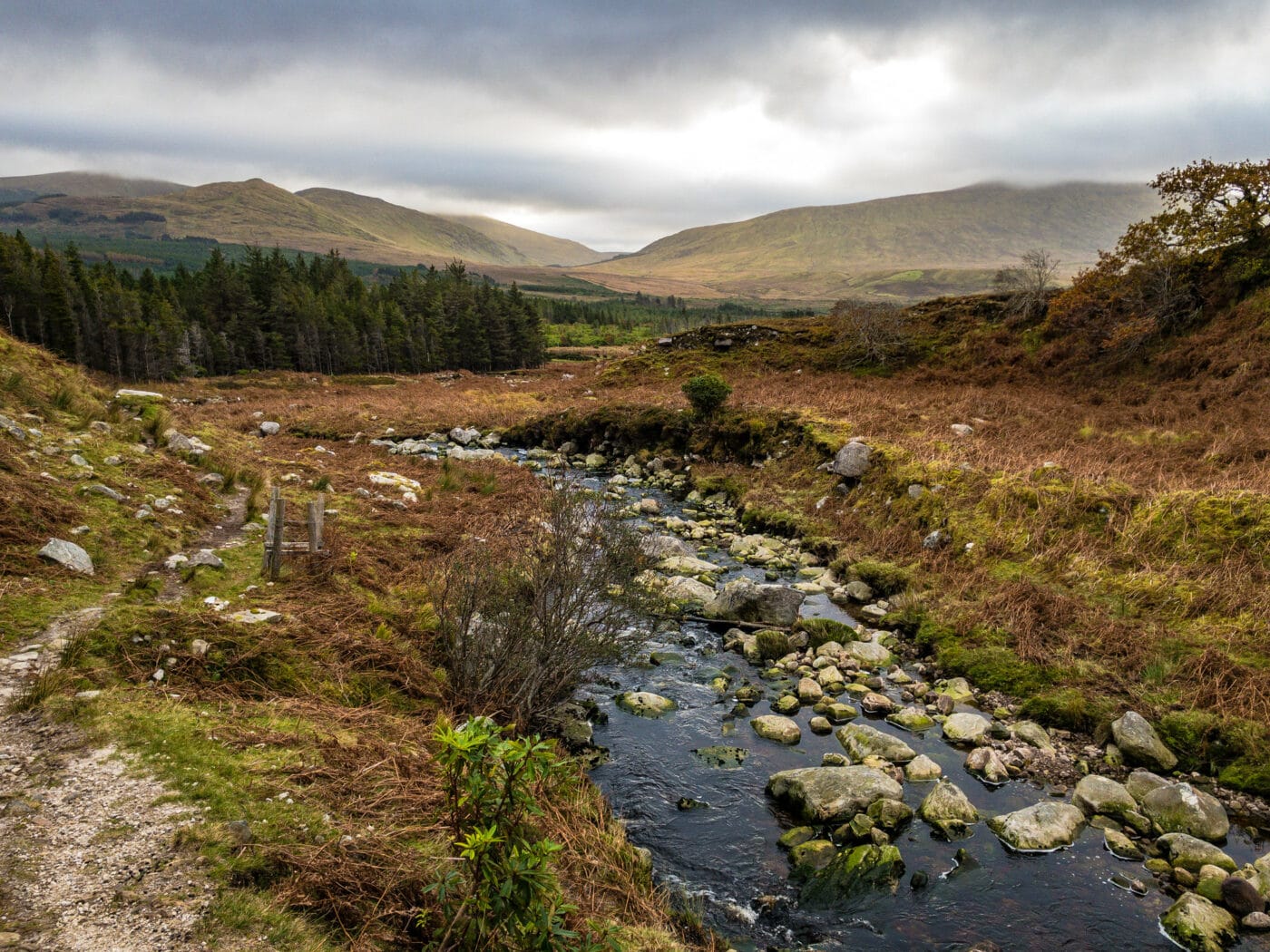 Burren National Park
Ireland, in general, is one of those places that never stops taking your breath away. Every castle, every ruin, every dramatic cliff – they all leave you pinching yourself and wondering if any of it is real. Burren National Park, or "the Burren," is a whole other ball game. This piece of Ireland is straight up otherworldly. The word 'burren' comes from a Gaelic word which translates to rocky place and that's exactly what it is. The Burren feels like you stepped foot on another planet with its huge exposed limestone landscape.
The Burren mostly consists of a special conservation area as its important to protect the extremely abnormal habitat. The Burren is open year-round and free to visit. On my three-week road trip around Ireland, this park wasn't even on my itinerary as I wasn't aware of its existence. Upon learning about it during the trip, my travel partner and I moved around our schedule because we knew we had to see it with our own eyes. Was it worth it? Absolutely!
The best way to experience the park is by the many walking trails. The best option is probably the White Arrow Route – or nature trail – for those short on time or not very experienced. This is a loop trail (meaning you'll end where you started) which features woodlands, meadows, and that magnificent open limestone. Make sure to wear appropriate footwear as it is rough terrain and rocky.
By Ashley of Wild Hearted (formerly A Southern Gypsy)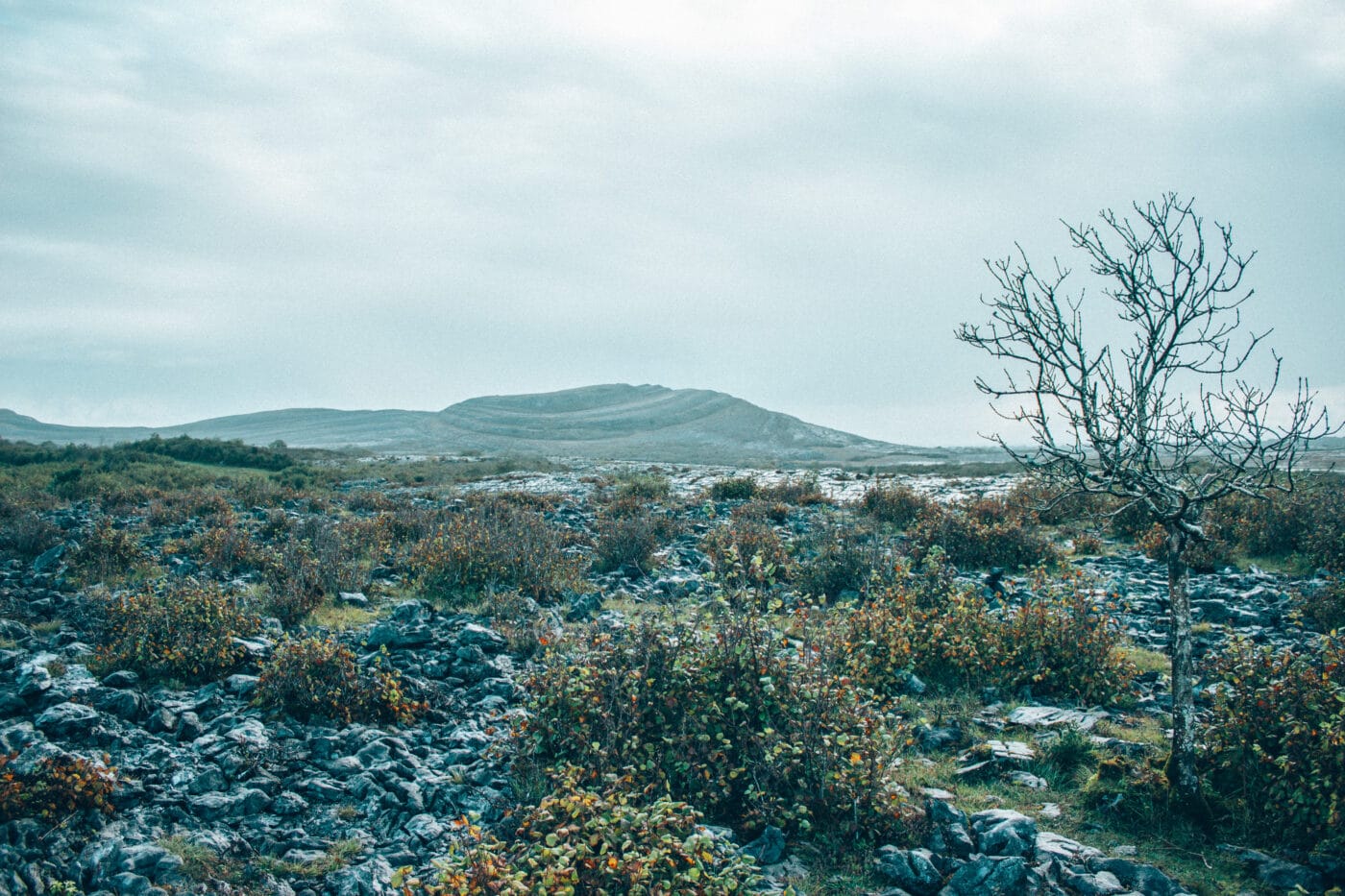 Connemara National Park
The Connemara National Park is the second smallest national parks in Ireland with only 30 square kilometers area size. It is located in the Connemara region which is the center of Irish culture and traditions. The park opened in 1980 and it's one of the most important national treasures of Ireland.
Aside from its nature trails, the Connemara National Park has several remnants of an ancient civilization that includes megalithic tombs, ancient graveyards, and historical castles.
Among its popular nature trails are Diamond Hill and Benbaun, Galway's highest peak and the highest of the Twelve Bens. The mountain trails of Muckanaght, Tully, Bencorr, Letterbreackaun are also among local hikers' favorites. The region is also popular for its beautiful lakes; Ballynahinch, Lough Fee, and Derryclare Lough, and the only fjord in Ireland, Killary Fjord.
If you are a fan of archaeology and ancient histories, the Knockbrack Megalithic Tomb can also be found in Connemara. This tomb housed the ancestral dead and was used as a meeting place for important events 4500 years ago. There are also few ancient graveyards scattered a few miles around the area which includes Crocknaraw and Gleninagh tombs. These ancient graveyards were constructed related to events surrounding the changes of the year and they were erected over the cremated remains of tribal elders.
Kylemore Castle and Clifden Castle are among the historical castles that can be found in Connemara National Park.
Because of Connemara's rich biodiversity, the national park is most popular for the diversity of birds in the area.
By Christine of Ireland Travel Guides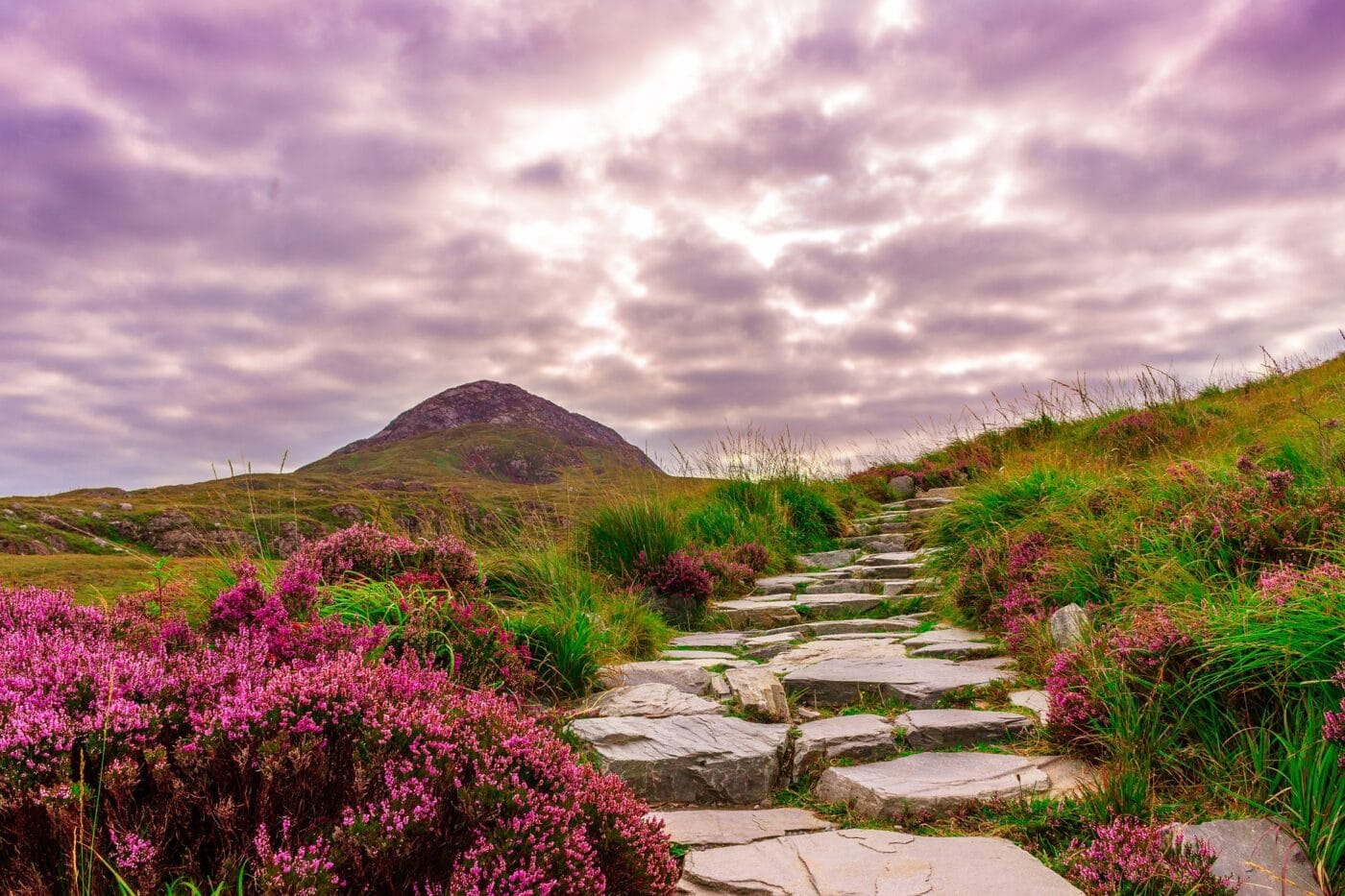 Glenveagh National Park
Ireland's largest national park is an absolute must for photography lovers as green-hued landscapes make a beautiful contrast with the sky and lakes. Nestled between the Poisoned Glen, the Derreveagh Mountains, and part of the Errigal Mountain, who sees these stunning views, can't even think of the dark past this estate has.
In 1857, this estate belonged to the businessman John Adair, and the legend has it that he was tired of the tenants in his lands and made a law so he could evict every single one of them. Among children, women, and men, over 240 farmer families were removed in April 1861. Without having a shelter or anywhere to go, many young adults were sent to Australia, which was better than starving in Derryveagh.
Back to today, Glenveagh is a remote and stunning wilderness which has 40k acres of incredible scenery composed of lakes, valleys, beautiful gardens, and the Glenveagh Castle Museum. Besides hillwalking, there are six trails available, and the two most beautiful ones are the View Point (only 0.62 miles) and Lough Inshagh Walk (4.3 miles). The former is a simple looped trail with a privileged view over the lake, while the latter connects Glenveagh to Church hill village, St. Colmcille's birthplace, and has stunning views of the lakes and Muckish Mountain.
Glenveagh Castle holds its former owner's story and many others as well as decorated rooms. Note: Castle tours can only be booked at the Castle itself, so arrive early to avoid missing it since tickets are limited.
Although the entrance to the park is free of charge, you still have to pay for other services, such as the shuttle bus to and from the Castle and its entry. The restaurant at the visitor center only opens between Easter and September, but the Castle's tearoom is open all year round (and have delicious cakes).
Know that the northernmost Irish national park is around 4hs away from the capital. So maybe while heading there, you might want to treat yourself with a stay in a castle hotel. It's an unforgettable experience.
By Bruna & Frank of Maps 'N Bags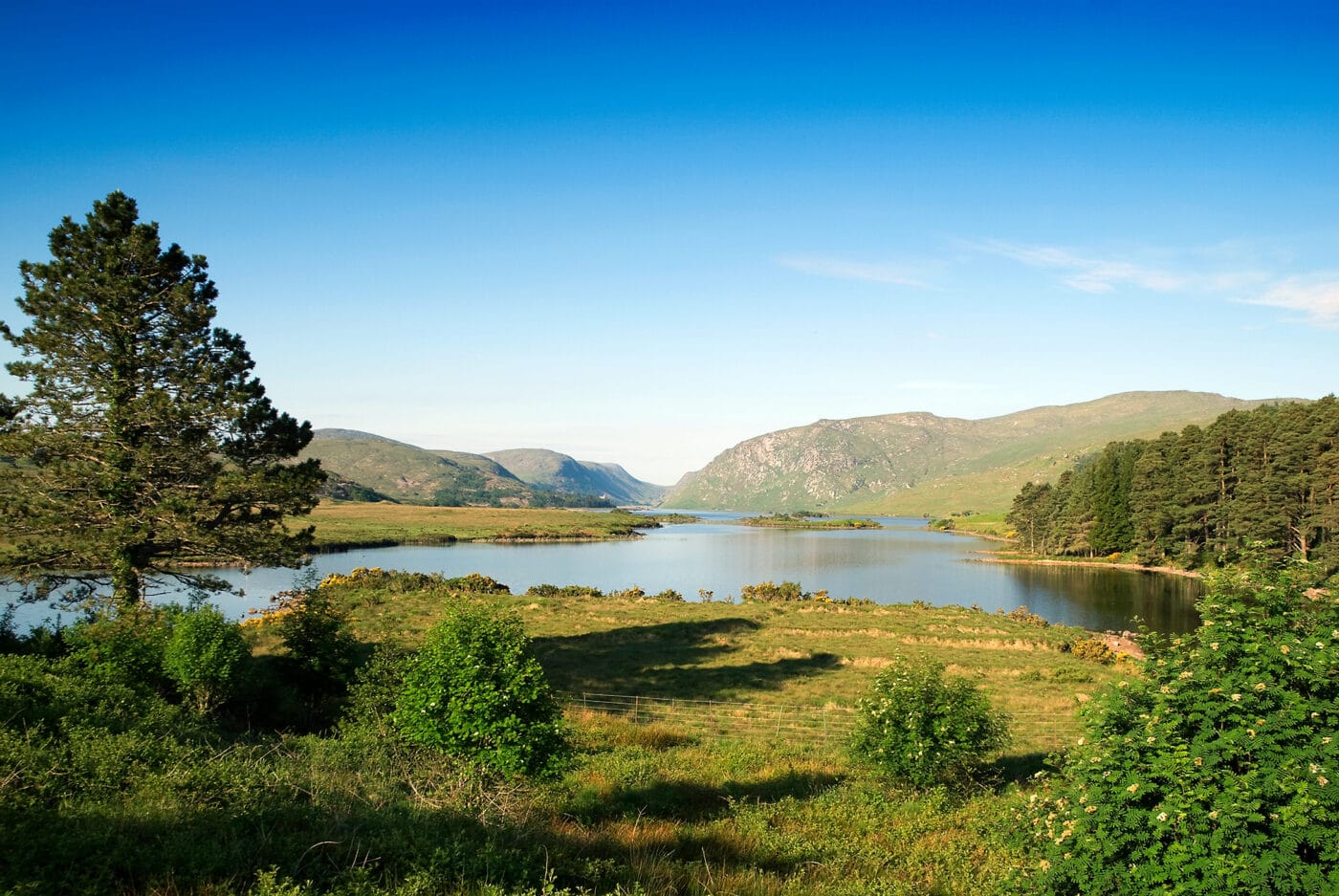 Killarney National Park
Killarney National Park is located in the south west of Ireland in County Kerry. It is easily accessible from the town of Killarney as one of its main entrance points is across from St. Mary's Cathedral. Famous for its natural beauty with the highest mountain range in Ireland, McGillicuddy's Reeks, its three lakes and Torc Waterfall, Killarney National Park spans 26,000 acres. The park was Ireland's first national park and was created in 1932. It became a UNESCO Biosphere Reserve in 1981.
Roaming these acres is plenty of wildlife, most famous among them is the Red Deer. The Red Deer have lived here since the last ice age. If you're lucky enough, as I was, you may spot a herd of deer grazing in the grass. Always keep your distance, but especially if you spot them during their mating season in September or October.
In addition to its ample natural beauty, Killarney National Park also offers plenty of medieval history. Located in the park is Muckross Abbey where you can find a large yew tree standing the center. Additionally, you'll find the historic Ross Castle, Muckross House, Killarney House, and Dinis Cottage. All of which draw many visitors!
There are a number of ways to see the park, I highly recommend hiring a bike in Killarney and biking the Muckross-Dinis loop. On this loop, you will see Muckross House, Muckross Abbey, Ross Castle, and Old Weir bridge (where the three lakes of Killarney meet). You'll also be able to simply enjoy the beautiful surrounds of this park. There are a number of hikes in the area. Torc waterfall is an easy 10-minute hike from the road, although if you continue on from the waterfall it joins a longer hiking trail that begins with "cardiac steps" which lives up to its name!
If you aren't up for so much physical activity, you could also hire a jaunting car or take a boat ride from Ross Castle. Killarney National Park is also on the famous Ring of Kerry, so if you're driving or cycling that loop, make sure you stop off to explore Killarney National Park.
By Katie of Just Chasing Sunsets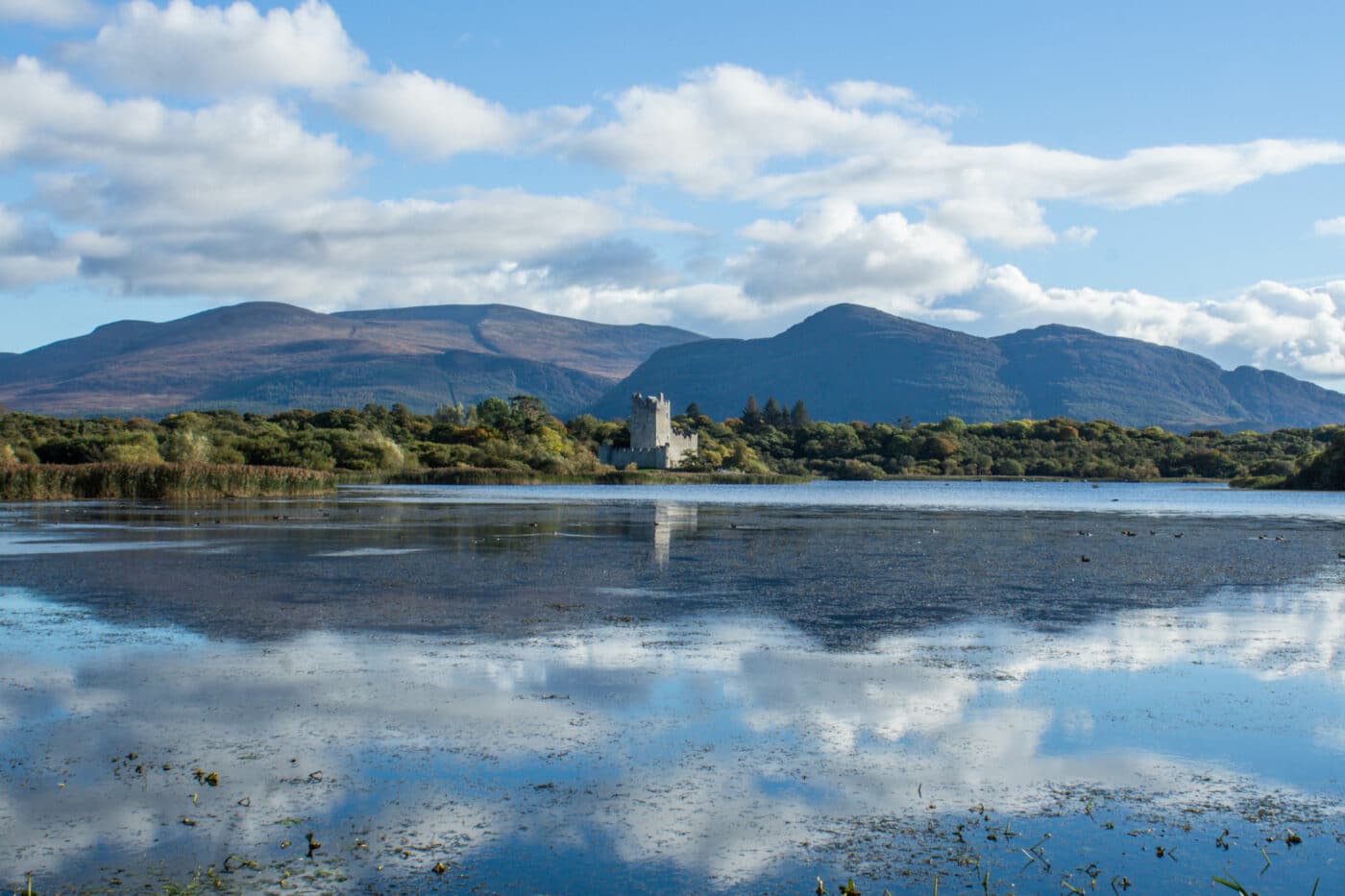 Wicklow Mountains National Park
The Wicklow Mountains National Park is located in the East of Ireland, immediately to the South of Dublin. It was established as a National Park in 1991 and is a place of great beauty as well as an important area of natural conservation.
The park stretches over 20,000 hectares and has a mountainous landscape. The area is famous for hiking opportunities, some short and some multi-day, but the park also offers driving routes and recreational spaces that make it popular for family excursions. Access to the park is free and the best time to visit is the summer when mountain roads are easily accessible and the hiking paths clear.
The park was created to protect both its natural and historical heritage. The park was established in 1988 and officially opened in 1991. In terms of human presence, the most important part of the park is the Valley of Glendalough. The valley has two beautiful lakes and hosts the famous and atmospheric ancient Glendalough monastic village dating back to the VI century AD.
More recent but historically significant is also the Military road. Constructed between 1801 and 1809 to make this area more accessible for military operations this road is nowadays a wonderful scenic route across the park.
One of its most beautiful viewpoints is the Sally Gap which offers stunning views over the dark waters of Lough Tay and all the way to the Irish sea. Nature lovers will find in the park peculiar flora that is typical of this part of Ireland. The most unique areas here for natural species are the Liffey Head Bog, which is an active growing mountain blanket bog, the Coronation Plantation and the Glendalough Valley, where you can find respectively native deciduous oak woodland and Scot's pine.
By Marta of Learning Escapes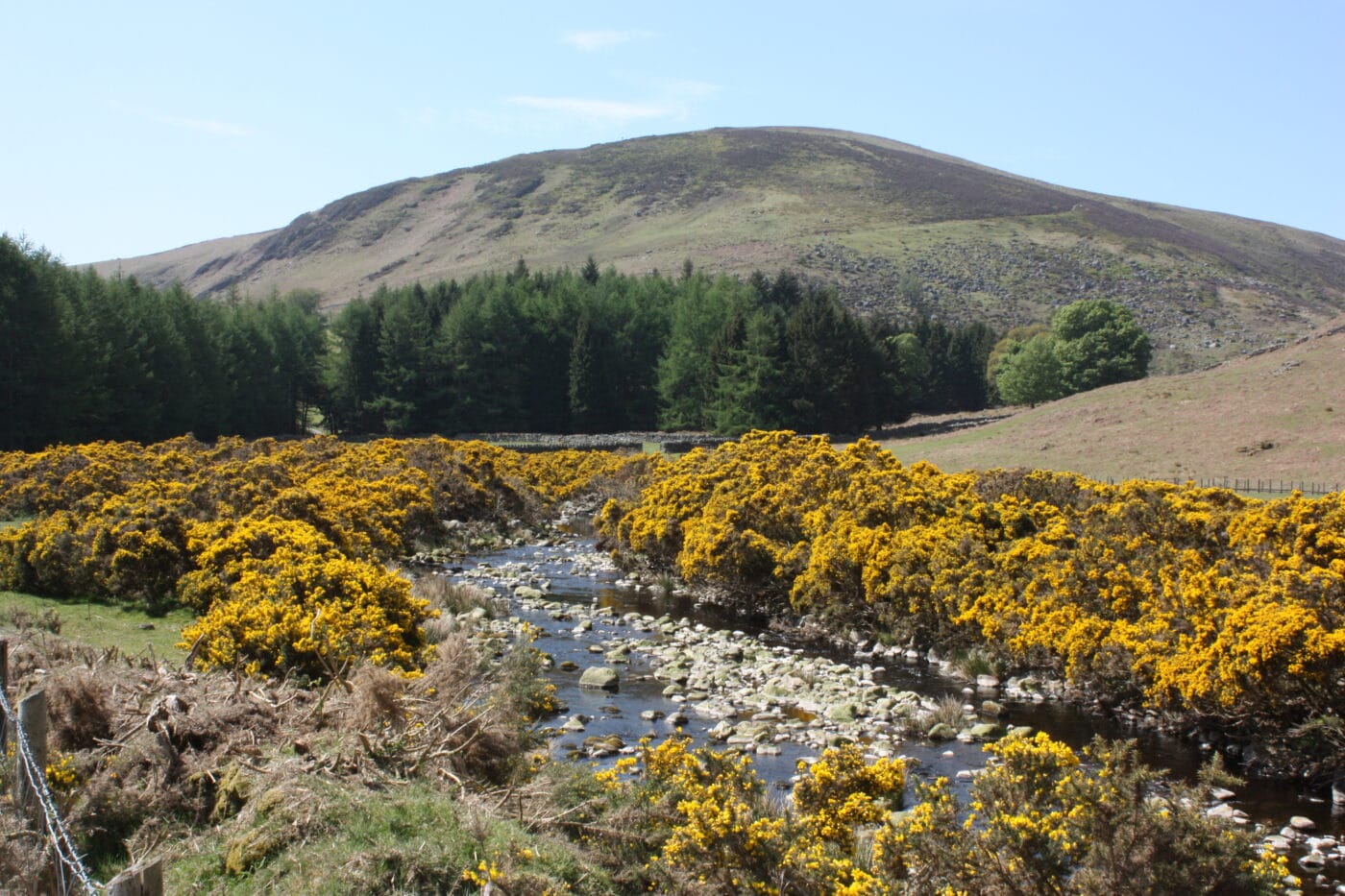 View all the National Parks in neighboring countries:
Pin it to share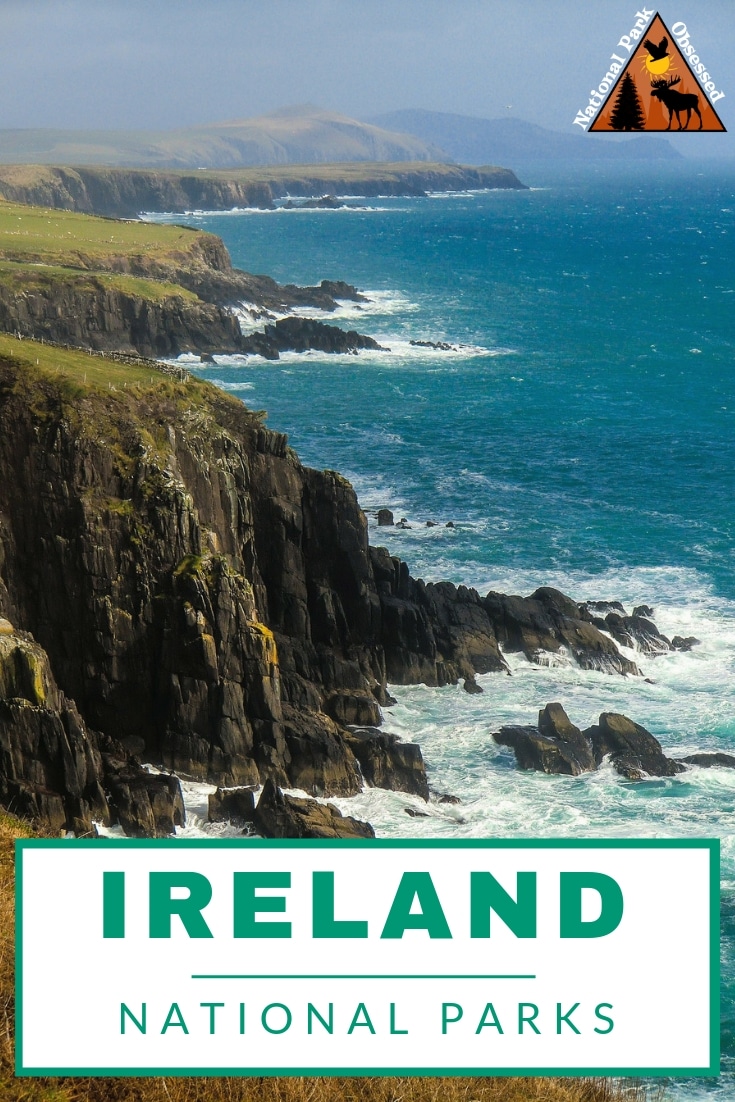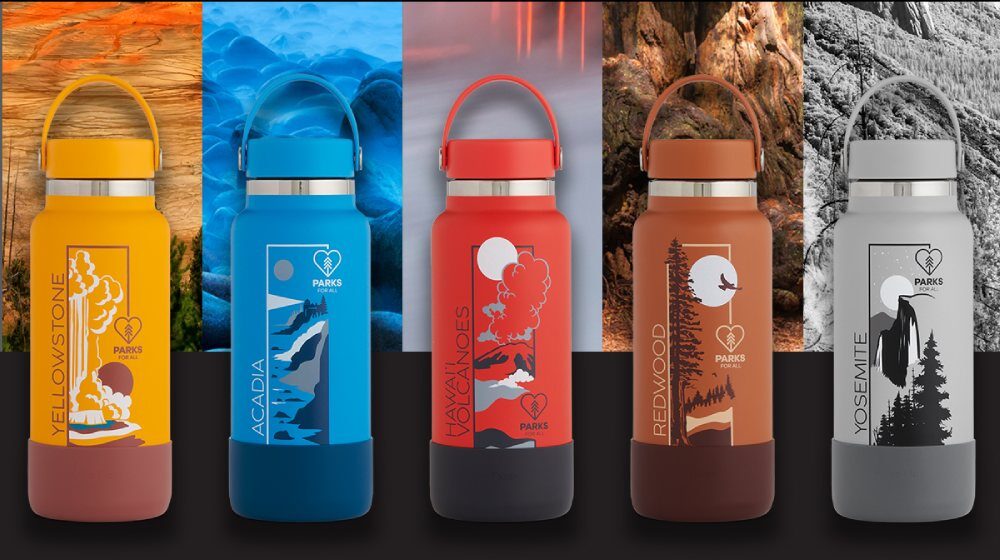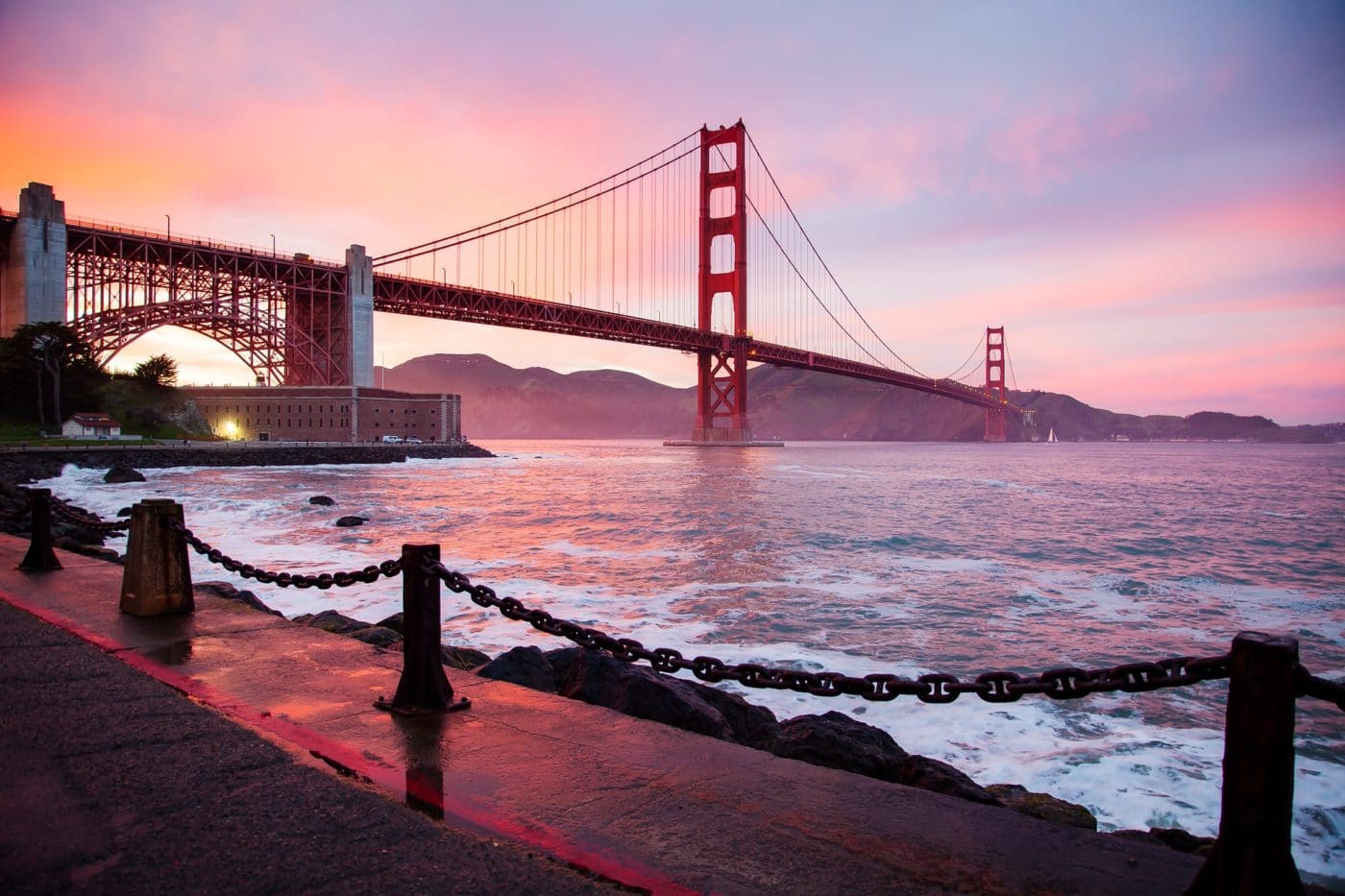 On this site, we promote travel to the United States and beyond that are the traditional lands of  Indigenous and First Nations peoples.
With respect, I make a formal land acknowledgment, extending my appreciation and respect to these lands' past and present people.
To learn more about the people who call these lands home, I invite you to explore Native Land.
National Park Obsessed assumes no responsibility or liability for any errors or omissions in the content of this site (NationalParkObsessed.com). The information contained in this site is provided with no guarantees of completeness, accuracy, usefulness or timeliness. You are encouraged to conduct your own due diligence before acting on the information provided on this site and should not rely on the opinions expressed here.
There is an inherent risk in all outdoor recreation activities, the reader assumes all responsibility for their own personal safety.
We are a participant in the Amazon Services LLC Associates Program, an affiliate program designed to provide a means for us to earn fees by linking to Amazon.com and affiliated sites.
Get a FREE 63 National Park Checklist