Post Summary: Zion National Park Swimming
Zion National Park is the crown jewel of Utah's National Parks. This desert National Park is surprisingly lush with its main feature being the Virgin River and the canyon this river has carved. Two of the park's bucket list hikes are known to be water hikes where one expects to spend the day hiking in water anywhere from ankle to chest-deep.
With all this water, it is natural to wonder if there is anywhere to swim in Zion National Park. The answer is yes, you can swim in Zion National Park. In this article, we are going to share the best places for swimming in Zion as well as a few water safety tips and other things we think you need to know about Zion National Park swimming.
This post may contain affiliate links, meaning if you book or buy something through one of these links, I may earn a small commission at no extra cost to you! Read the full disclosure policy here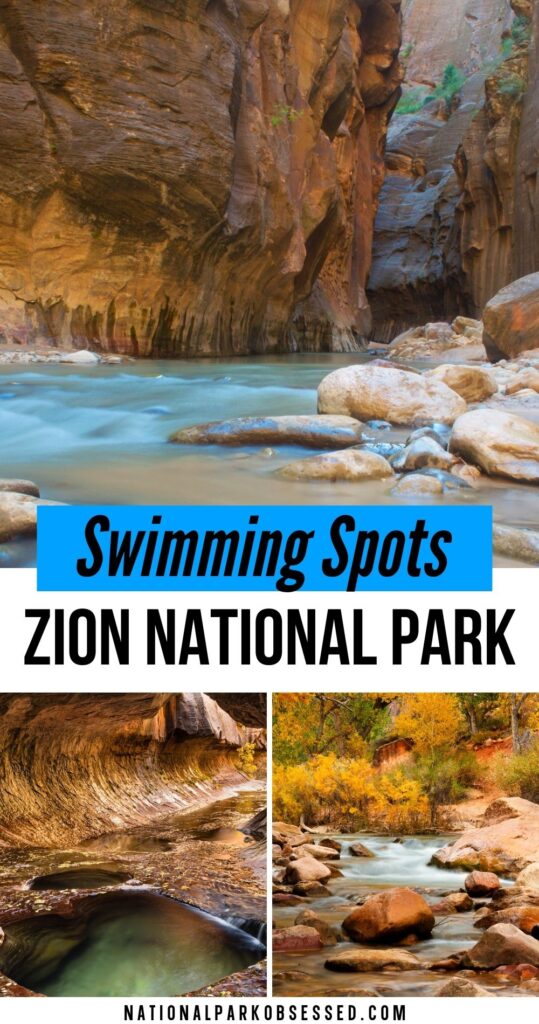 WARNING: Toxic Cyanobacteria Bloom in Zion
Since July 2020, there has been a bloom of cyanobacteria in the Virgin River and its three major tributaries – North Fork of Virgin River, North Creek, and La Verkin Creek. This toxic cyanobacteria bloom has been producing toxins such as anatoxin-a, nodularin, and cylindrospermopsin. People who are exposed to cyanotoxins via their skin can experience a range of short-term health effects such as skin rashes and respiratory and gastrointestinal distress. Drinking contaminated water can result in kidney or liver damage with the possibility of death.
December 29, 2021 UPDATE: A recent toxin sample has been colected that was above the Danger Adcisior threshold on North Creek and connected upstream tributaries and recreators should avoid all contact with water.

There is a Health Watch advisory for the North Fork of the Virgin River and La Verkin Creek.
During a Health Watch:
Do not submerge your head in the water. Toxins can enter the body by swallowing water or through the nose, eyes, or open wounds.
Children are especially vulnerable to cyanotoxins. It is recommend that kids avoid contact with the water at this time.
Do not drink any instream water in Zion NP until further notice. There is no known recreational water filtration method that is effective at clearing water of cyanotoxins. If you must filter water for drinking while in the Wilderness, filter and disinfect water directly from a spring orifice.
Dogs must be kept on a leash. If pets get into the river, remove them from the water immediately, rinse off their fur thoroughly, and monitor for symptoms of toxin poisoning. A dog can die in as little as 15 minutes from anatoxin-a poisoning.
>>> Here is the latest update on the cyanobacteria blood.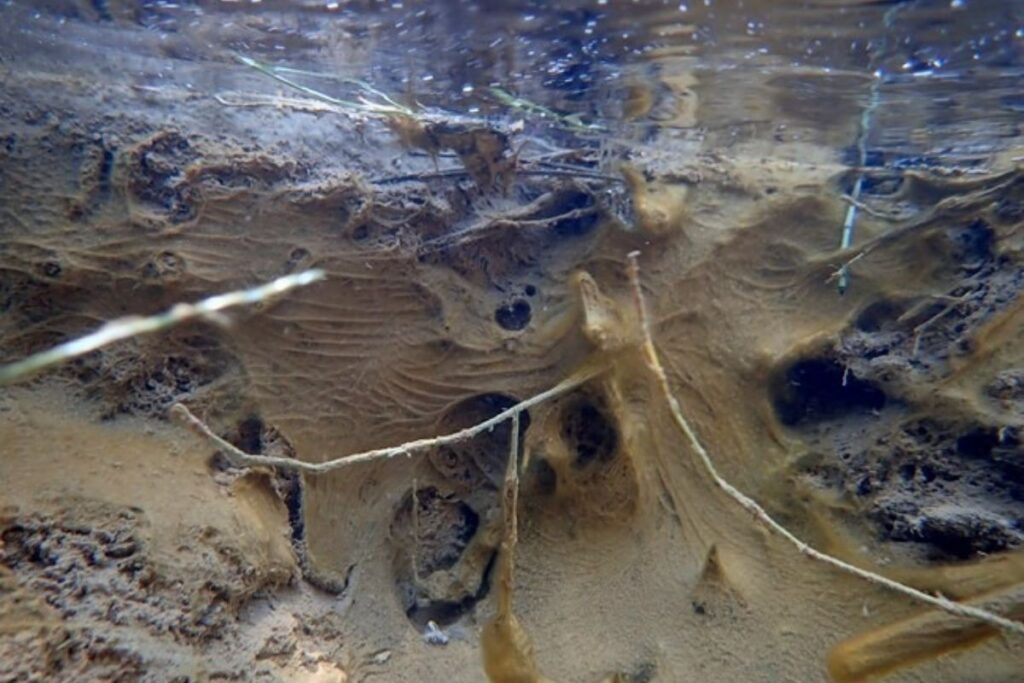 Places to go Swimming in Zion National Park
There are plenty of places to swim in Zion National Park. The water level at these swimming holes will vary by season and depend on the snowmelt and upriver storms.
Virgn River Swimming Hole
Probably the best and biggest spot for swimming in Zion is the Virgin River Swimming Hole. This Zion Swimming spot was created when a small dam collapsed leaving behind a large pool that is great for swimming. The remains of the dam slow the water down and allow for swimming. Above the dam, the water is shallow and is a perfect place for younger kids to splash around. Below the dam remains, is a pool of water that is usually 3 to 4 ft deep.
This spot is located near the Canyon Junction Shuttle Stop. From shuttle stop follow the signs. It is a short walk.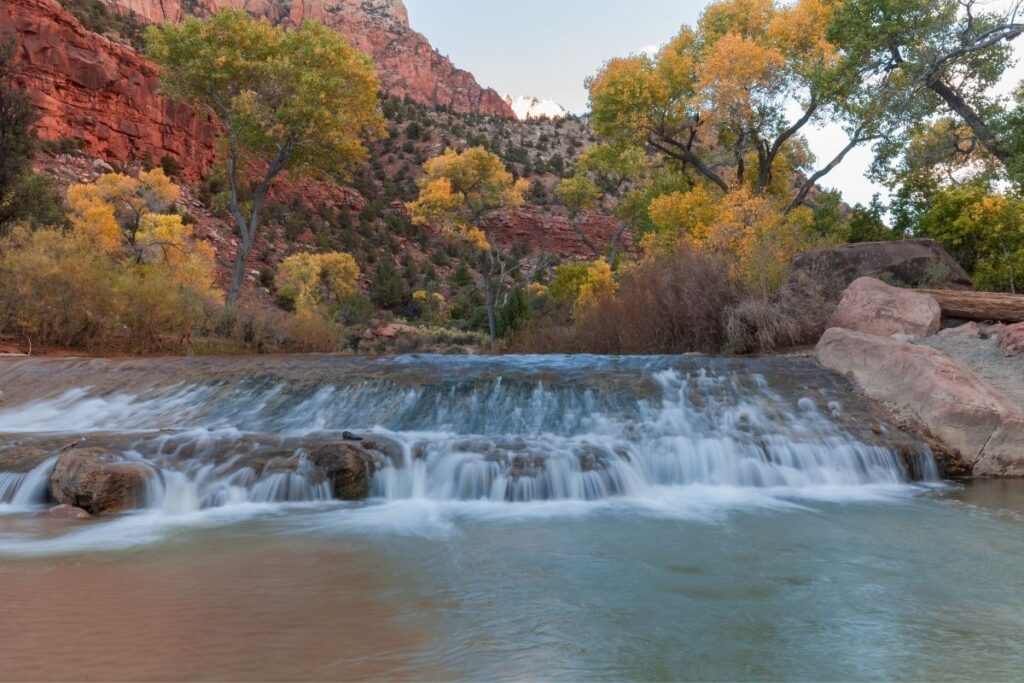 Virgin River inside Zion
The Virgin River is usually a shallow rocky river, but there are several other spots where the water gets deep enough to swim beside the dam site mentioned above. As you take the Zion Shuttles or walk along the Pa'rus Trail and look for areas where others are swimming or for areas with calmer water that looks deep. Please do not jump into the river. Most swimming holes in the Virgin River are between 3 and 5 feet deep with a rocky bottom.
Tubing isn't allowed inside the park.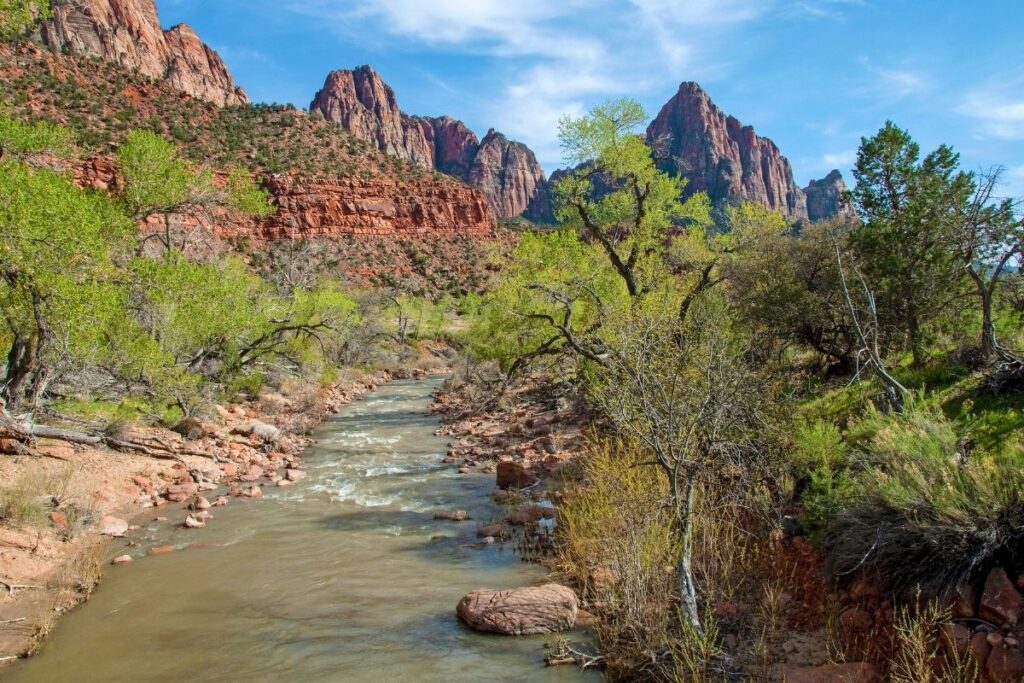 Pine Creek Waterfall
Pine Creek is one of the best swimming holes in Zion. This Zion swimming spot is a short half-mile hike up Pine Creek Canyon to reach a small waterfall with a nice swimming pool at the base. The hike can be rocky and muddy depending on the water level.
The trailhead for Pine Creek is a little tricky to find and parking is limited. The trailhead is located at the westernmost switchback as you head from the Mt. Carmel tunnel towards Zion Canyon Scenic Drive.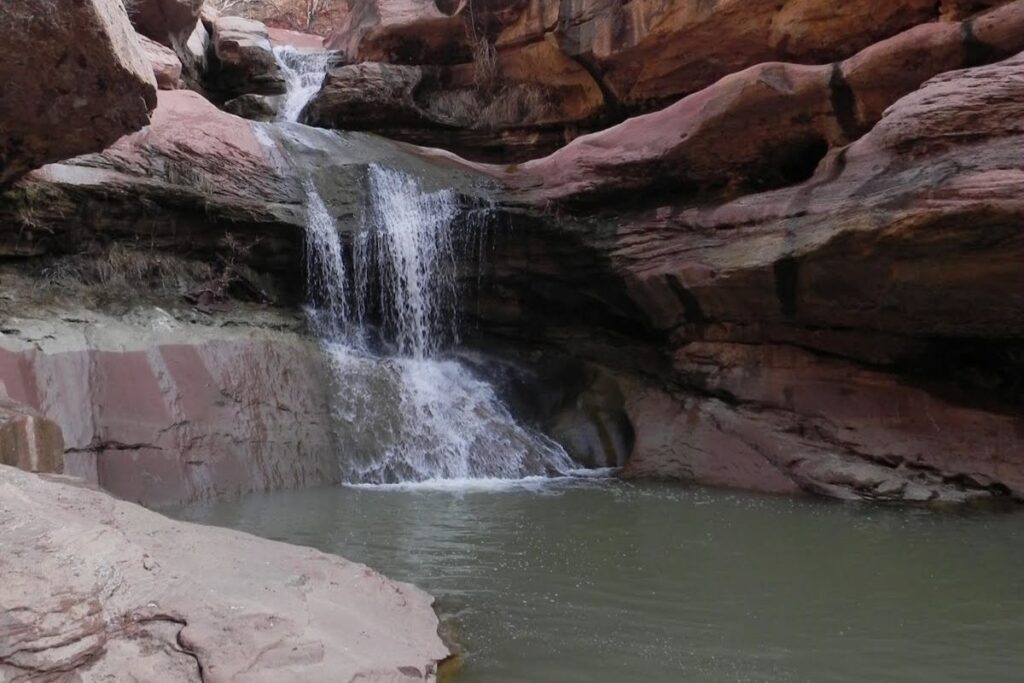 Subway
Subway Canyon is one of the most amazing canyons in Zion. This narrow canyon looks like a Subway tunnel and is a popular photography spot. The canyon often has water in it and several areas form holes deep enough to swim in.
The challenge with going swimming in Subway is that you have to get a permit to hike/canyoneer in Subway. These permits are issued on a lottery basis and need to be gotten in advance of your trip. To do the full Subway hike you will need climbing gear. But you can hike from the bottom up and explore a potion of this canyon where canyoneering isn't necessary.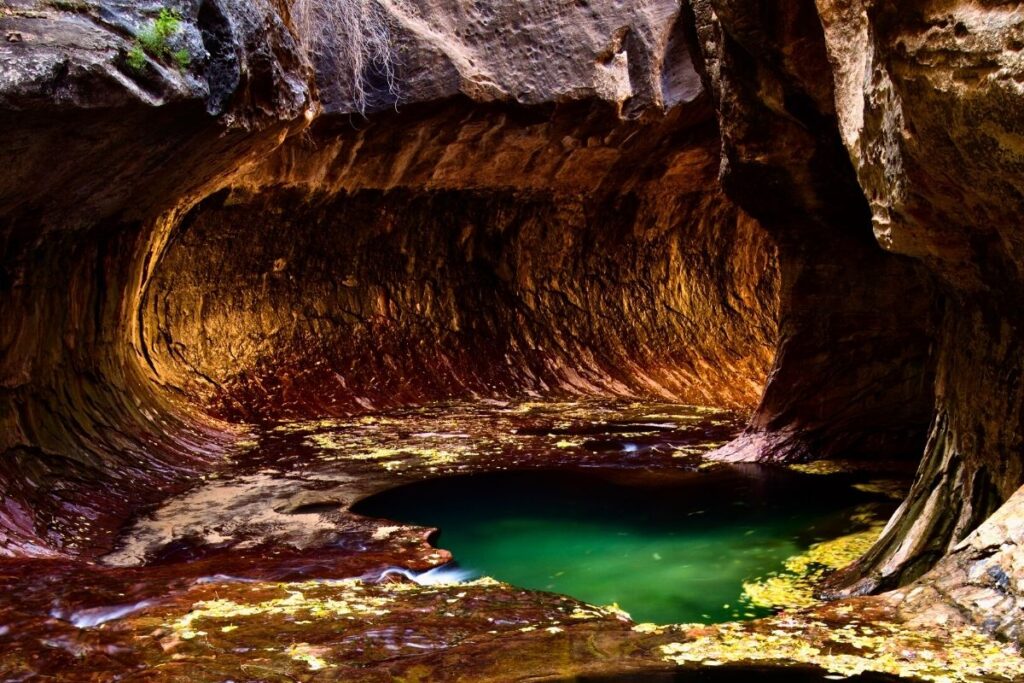 Places to go Swimming near Zion National Park
Virgin River Outside of the Park
If you are looking to go tubing in Zion National Park, you are going to have to go tubing outside the park. The Virgin River flows outside the park and once the river is outside the park you are free to go tubing. There are several operations that rent/sell tubes for a float down this river.
Please note that the Virgin River is a rocky river and you will have to pay attention and actively work to avoid rocks and other hazards as you float down the river.
Where Swimming is NOT allowed in Zion National Park
Emerald Pools
Emerald Pools is a series of 3 natural pools that cascade down to each other in the Zion Canyon. As pretty as the pools are swimming/playing in the water in them is banned. This ban is in place to protect the ecosystem around these natural pools.
These pools are one of the most popular hikes in Zion National Park. The trail to these pools offers three hiking options. The Lower Emerald Pools is less than a half-mile and the trail is paved. The Middle and Upper Emerald Pools are a little bit more of a difficult hike and the elevation increases.
Please respect the rules and keep out of these pools and do your part to preserve them in their natural state.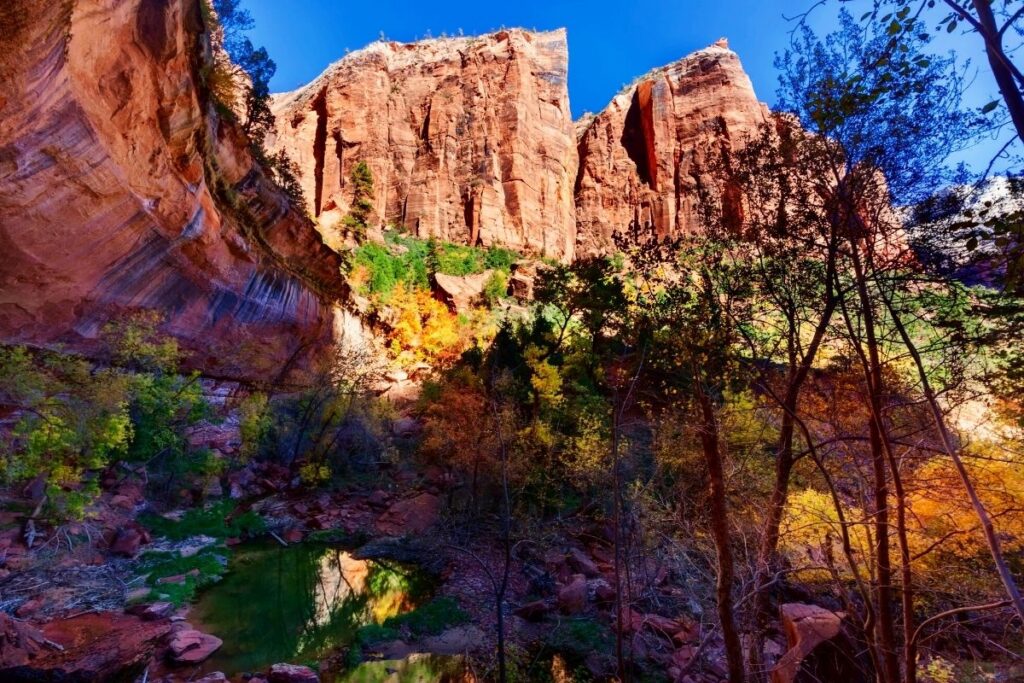 Staying safe while at Zion Swimming Holes
There is an inherent level of risk when swimming in any body of water. Here are a few tips to have a safe and fun time swimming in Zion National Park.
Check the water level. The Virgin River is a steep river and at high water can flow at an unsafe speed. Check the water flow rate before swimming.
Pay attention to the weather. Many of these Zion swimming holes are in slot canyons and prone to flash flooding. Head any weather warning issued by the park.
Watch childern at all times. It doesn't take but a second for childern to drown so don't take your eyes off them when swimming.
Do not jump off rocks. It can be hard to tell how deep pools are and there may be underwater hazards so avoid jumping into the water.
Final Thoughts on Swimming in Zion National Park
I hope this helps you find the best Zion National Park Swimming hole for your Zion adventure.
Pin for Later: Zion National Park Swimming: Can You Swim in Zion National Park? (2021 Update)