Post Summary: Banff to Jasper Road Trip
Banff National Park is Canada's first and most popular national park. Adjoining Jasper National Park is every bit as beautiful and with a less touristy vibe. Connecting the two is the Icefields Parkway. Dotted with turquoise lakes and considered one of the most beautiful drives in the world, it is begging to be road tripped.
This Banff to Jasper road trip itinerary is tailor-made for anyone who has a full week off and wants to experience the best that these two Canadian Rockies national parks have to offer.
This post may contain affiliate links, meaning if you book or buy something through one of these links, I may earn a small commission at no extra cost to you! Read the full disclosure policy here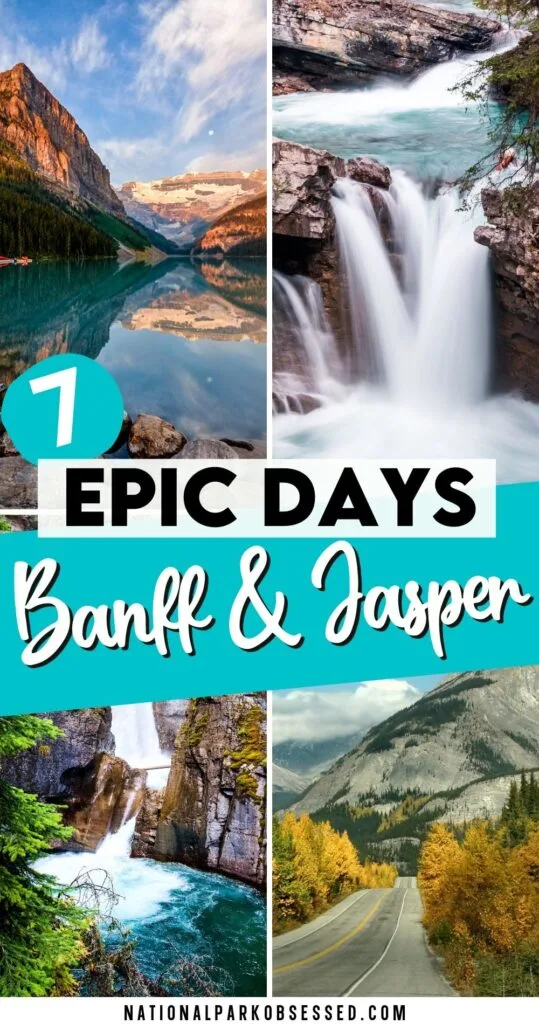 Getting to Jasper and Banff National Parks
Jasper is a 3.5-hour drive from Edmonton, the provincial capital of Alberta, while Banff is a 1-hour drive from Calgary, the largest city in Alberta.
Because Calgary is the closer of the two major Alberta cities to the mountains, it only makes sense to start your trip there, unless you happen to live elsewhere in Alberta or neighboring British Columbia.
If Vancouver looks close on the map, well, note that it is an 8.5- or 10.5-hour drive from Vancouver to Jasper or Banff, respectively.
Coming in from elsewhere in Canada or the US, flying into Calgary's international airport, and renting a car there is ideal unless you have the time to add several days' worth of driving to your trip.
Banff & Jasper Road Trip Route Options
Because there is only one highway connecting Jasper and Banff National Parks, there is only one route option for this trip. However, once you reach Jasper, you'll have three different options for the final travel day.
Option 1: Finish in Edmonton
From Jasper, the shortest option is to take the Yellowhead Highway through to Edmonton. If you have the extra time, there are loads of things to do in Edmonton to justify spending a few days there.
However, if you need to get back to Calgary for a flight or because you live there, this route option will actually be the longest one. Also, keep in mind that it can cost quite a bit more to rent a car in one city and drop it off in another.
Option 2: Backtrack to Calgary
The shortest route from Jasper back to Calgary is actually the same way you came. If you don't mind driving back down through Jasper and Banff again, it will only take five hours for the return journey.
By choosing this route, you can make any stops that perhaps you missed on the way up.
Option 3: Return to Calgary via Nordegg and the Cowboy Trail
A final option for returning to Calgary takes a little longer than option 2, but allows you to explore different parts of Alberta on the way back.
This option involves returning down the Icefields Parkway through Jasper National Park, but then turning east onto the David Thompson Highway through the beautiful Nordegg region.
Reaching Highway 22, the Cowboy Trail, you then drive south toward Calgary through Alberta ranchland, with the Rocky Mountains visible in the background the whole way.
What kind of rental car do you need for a Jasper to Banff Road Trip?
For this trip, get whatever vehicle is best suited to you and your group. The entire highway is fully paved, and there are so many sections or even side trips requiring 4×4 capability. I book most of my rental cars through RentalCars.com. They have a great selection of rental cars from most major agencies and the best prices – check prices here.
It is important to note, however, that if you plan to do this road trip in winter, conditions can vary wildly. While the Trans-Canada and Yellowhead highways tend to be fine, the Icefields Parkway through the mountains can become dangerously slippery. In rare cases, it can even be closed due to avalanche or blizzard.
For these reasons, it is essential to get a vehicle that has winter tires. It is also a good idea to prepare emergency supplies just in case, and familiarize yourself with your car's emergency features.
>>> Book your rental car with RentalCars.com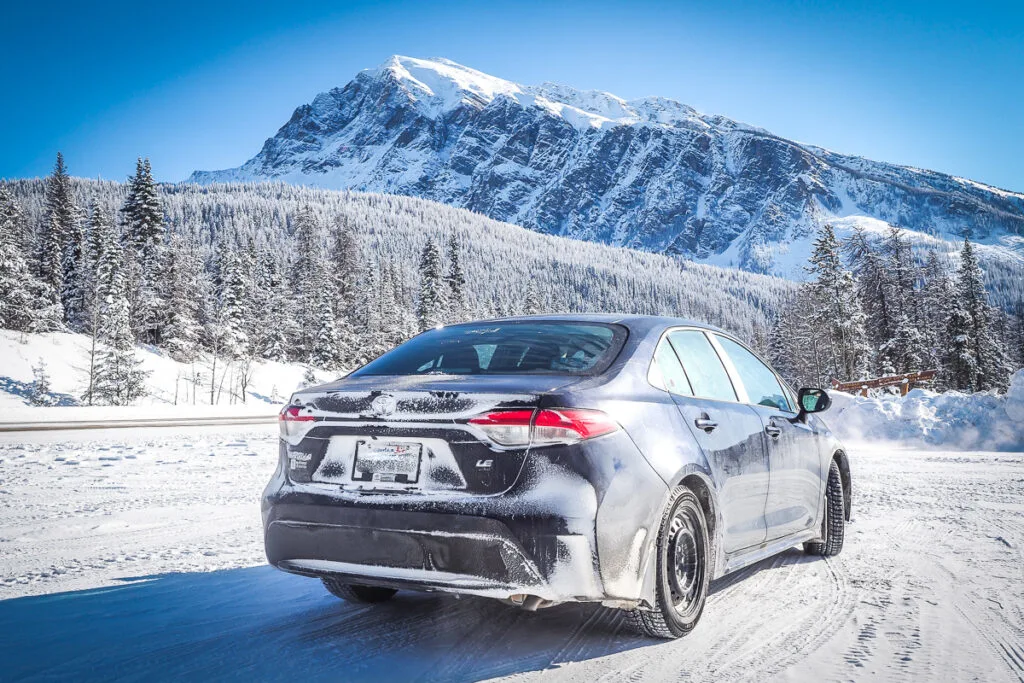 What is the best time to do a Banff to Jasper Road Trip?
This road trip is possible any time of the year, and each season comes with ups and downs. All things considered, June and September are probably the best months.
Summer – The months of July and August are by far the busiest time in Banff and Jasper. The weather tends to be undeniably gorgeous (though it can still get cold even in summer).

Popular stops like Lake Louise and Moraine Lake can become so swamped with people that they'll close the access roads, and you can't even get in unless you take the public shuttle.

Fall – September is simply gorgeous in the Rockies, with all the autumn foliage colors. However, there is a mini rush to see the larches, the only conifer to change colors, in the last two weeks of September, but it is limited to locations known to have these trees, such as Larch Valley (accessed from Moraine Lake parking lot).

October and November are less inspiring times to visit, though. The autumn colors are past, but the snowy landscape has yet to arrive. It's too late for summer activities, but too early for winter ones. One plus is the lack of crowds.

Winter – Hello ski season! And showshoeing, skating, cross-country skiing, dog-sledding, and so on. Doing this road trip in winter is more of an adventure. The whole region becomes a winter wonderland, but a little more preparation (and careful driving) is needed. And despite the ski season, the crowds are still much tamer than in summer.
Spring – Winter lasts longer in the mountains than elsewhere, so spring doesn't actually come until May and June, and even then can still be quite chilly. By June, wildflowers start growing in the mountains, making this a lovely month to visit before the onslaught of tourists in July.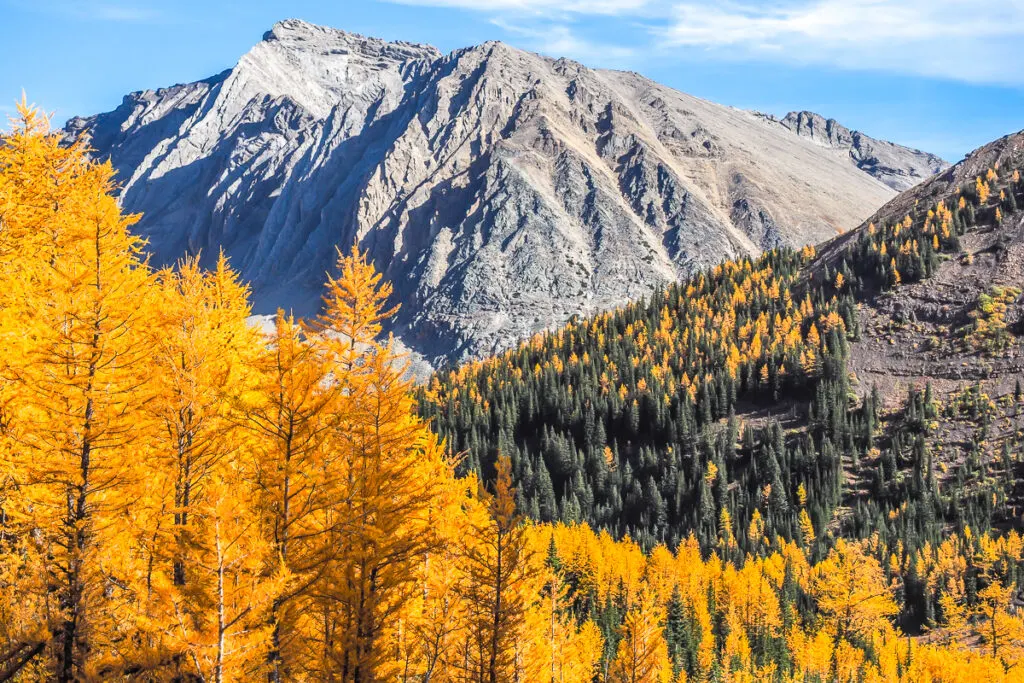 Where to Stay on a Banff to Jasper Road Trip?
In both Banff and Jasper National Parks, accommodations are mostly limited to Banff and Jasper townsites along with a few more at Lake Louise in Banff National Park. To maximize your adventure time, here is my suggested accommodation schedule for this itinerary:
Night 1: Canmore (optional)
Nights 2,3,4: Banff townsite
Night 5: Lake Louise
Nights 6, 7, 8: Jasper townsite
Where to Stay in Canmore? (Suggested Stay 1 Night)
Canmore Camping
If you are planning on camping during your Banff to Jasper Road Trip, skip spending the night in Canmore and plan to camp in Banff for 4 nights.
Canmore Hotels
Canmore Rocky Mountain Inn

– Canmore Rocky Mountain Inn is a budget friendly modern hotel.

Rooms from $57/night; book on Booking.com or Hotels.com.
A Bear and Bison Inn

– A Bear and Bison Inn is a comfortable guest house located in Canmore.

Rooms from $137/night; book on Booking.com or Hotels.com.
The Malcolm Hotel by CLIQUE

– The Malcolm is midrange mountain hotel with outdoor pools.

Rooms from $189/night; book on Hotels.com.
Canmore Airbnbs and Vacation Rentals
Mountain View Retreat – Mountain View Retreat has mountain views and is a 1 BR apartment that sleeps 4. Rooms from $113/night; book on VRBO.
Penthouse at Blackstone – The Penthouse is a luxuray top floor apartment that sleeps 6. Rooms from $229/night; book on VRBO.
Townhouse with Panorama Views – This townhouse sleeps 12 and has wraparound mountain views. Rooms from $113/night; book on VRBO.
Where to Stay in Banff? (Suggested Stay 3 Nights)
Banff Camping
There are 2,462 campsites located within 14 campgrounds in Banff National Park. There are spaced out around the park. For this Banff to Jasper Itinerary, it is recommended to camp in Two Jack or Tunnel Mountain.
Banff Hotels
Fairmont Banff Springs – Banff Springs hotel is a historic National Park Lodge that is well worth the splurge. Rooms from $347/night; book on Booking.com or Hotels.com.
Rundlestone Lodge

– The Rundlestone Lodge

is a high-end budget friendly hotel option. Rooms from $83/night; book on Booking.com or Hotels.com.
Peaks Hotel and Suites

– Peaks Hotel and Suites is a modern boutique hotel in Banff.

Rooms from $137/night; book on Booking.com or Hotels.com.
Banff Airbnbs and Vacation Rentals
Cozy Rockies Escape – This cozy rental sleeps 4. Rooms from $184/night; book on VRBO.
Banff Mountain Suite – The Mountain suite is a perfect getaway options that sleeps 4. Rooms from $258/night; book on VRBO.
Penthouse Banff Views – This penthouse sleeps 8 and comes with views of Banff. Rooms from $403/night; book on VRBO.
Where to Stay in Lake Louise? (Suggested Stay 1 Night)
Lake Louise Camping
Being able to jumpstart your day at Lake Louise is totally worth setting up for 1 night of camping at the Lake Louise Campgrounds.
Lake Louise Hotels
Fairmont Chateau Lake Louise

– Chateau Lake Louise is THE HOTEL in the Banff/Jasper area. This hotel sits on Lake Louise and is amazing.

Rooms from $274/night; book on Booking.com or Hotels.com
Lake Louise Inn

– The Lake Louise Inn is a budget friendly option near Lake Louise.

Rooms from $67/night; book on Booking.com or Hotels.com.
Lake Louise Airbnbs and Vacation Rentals
Cozy Room at Lake Louise – This cozy room is provides shuttle access to the lakes and sleeps 3. Rooms from $101/night; book on VRBO.
Cozy Lake Louise Retreat – This apartment retreat sleeps 7 . Rooms from $358/night; book on VRBO.
Where to Stay in Jasper? (Suggested Stay 3 Nights)
Jasper Camping
There are 10 different campgrounds in Jasper National Park. You can choose any campground for this Jasper to Banff Road Trip.
Jasper Hotels
Jasper Airbnbs and Vacation Rentals
Downtown Jasper Suite – The Downtown Jasper Suite sleeps 4 and is located in downtown Jasper. Rooms from $130/night; book on VRBO.
Bear's Den – The apartment sleeps 4 offers mountain views. Rooms from $202/night; book on VRBO.
Executive Mountain Chalet – The Mountain Chalet is a private Chalet located on the edge of the park. Rooms from $726/night; book on VRBO.
What to pack for a Banff to Jasper Road Trip?
Parks Canada Discovery Pass – The Park Canada Discovery Pass is the annual pass for the Canadian National Parks. The annual pass is the same price as seven days of daily pass. You can buy this upon arrival.
Kananaskis Conservation Pass – Kananaskis Conservation Pass is a $15 pass that is needed for the recommend hikes in Canmore.
Refillable Water Bottles – Help reduce litter in the parks and bringing a refillable water bottle with you. Here are my favorite water bottles >>>National Park map water bottle >>> Hydro Flask >>> Nalgene Bottle
Hydration Bladder – For longer hikes, a hydration bladder is the best way carry water. >>> Buy a hydration reservoir
Snacks – Pick up a few snack before heading into the park.

Fruit: Pick hard fruits such as apples or pears. These hold-up in the heat and in packs without getting squished to mush. Another option is freeze-dried fruit. Freeze-dried strawberries are the BOMB. They are crunchy, sweet and the best part is they are lightweight and yummy. These are my new favorite trail snack.
Vegetables: Cucumbers and carrots hold up well during hiking and in a hot car.
Granola Bars: Take your favorite non-coated in chocolate granola bars. Anything coated in chocolate will melt and be a sticky mess. My favorite is a selection of Cliff Bars. They are great even when squished.

Sunscreen – Even in the mountains, sunscreen is important. While Banff doesn't have coral reef's, it is recommend to use reef-friendly sunscreen help protect the park's freshwater ecosystems. >>> My favorite sunscreen.
Lip balm – Just like our skin, our lips need protections too. >>> Check out my favorite Sunscreen Lip Balm
Sunglasses – Similar to sunscreen, you need a good pair of polarized sunglasses to protect your eyes from the glare of the sun. >>> Buy Polarized Sunglasses
Hat – A hat can keep the sun off your face and neck and help minimize the need for sunscreen while on the trail. >>> Buy a wide-brimmed hat
First aid kit – As with any outdoor adventure, accidents happen. It is better to be prepared and have a compact first-aid kit ready to help with any accidents. >>>Buy a Solo First Aid Kit >>> Buy Mulit-person First Aid Kit
Headlamp – Always keep a headlamp handy. You never know when you might want it. It can be used for midnight bathroom runs to sunrise/sunset hikes. A good headlamp makes it easy to operate in the dark. >>> Buy my headlamp.
Shoes – Shoes are probably the most important piece of gear to any hiker. Hiking shoes should be seen as an investment. On the trail, your feet are your transportation and a solid pair of hiking shoes help support your feet and can prevent injury. >>> Pick out a quality hiking shoe. >>> Buy quality hiking socks.
Hiking Day Pack – I highly recommend getting a dayback that is designed for outdoor use since these packs come with handy pockets and straps. My 40 L day pack has a pocket for my water bladder and a clip to hold the water line in place. >>> Buy my REI Women's Day Pack >>> Buy REI Men's Day Pack
National Park Obsessed Shirt – Share your love of the National Parks and support National Park Obsessed with a National Park Obsessed T-Shirt. >>> Get your National Park t-shirts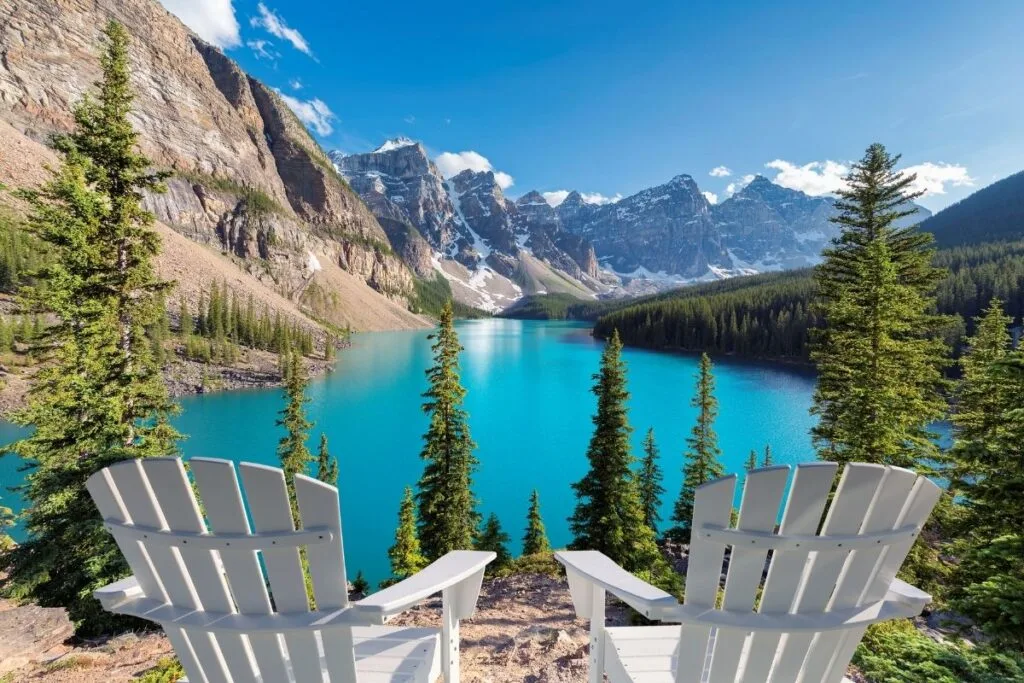 How to Spend 7 Days in Banff & Jasper National Park?
Banff and Jasper Road Trip Map
<iframe src="https://www.google.com/maps/d/u/0/embed?mid=1PP7F_efxcVlA1xuZ3slu97_obgDSY3u2" width="100%" height="480"></iframe>
Banff & Jasper Road Trip Itinerary Summary
Here is the basic itinerary for this road trip, including a day of travel on either end.
Travel Day: Arrive in Calgary and drive to Canmore
Day 1: Canmore / Banff
Day 2: Sulphur Mountain in Banff
Day 3: Lake Minnewanka Loop in Banff
Day 4: Johnston Canyon & Lake Louise in Banff
Day 5: Icefields Parkway from Banff to Jasper
Day 6: Exploring Jasper
Day 7: Maligne Canyon in Jasper
Travel Day: Return to Edmonton or Calgary
7 Day Banff & Jasper Itinerary
Travel Day: Arrive in Calgary and drive to Canmore
Drive Time: It takes 1 – 1.5 hours to drive from Calgary to Canmore.
This is mainly included as a travel day because you may not have much time, depending on what time your flight is arriving or you are able to depart from Calgary. If you are short on days, you can skip this travel day and go right to Day 1 below.
If you do have the time, however, I recommend stopping to do some hiking in Kananaskis country before reaching Canmore. Here are my recommended easy hikes in Kananaskis. Note that in order to do any of these hikes, you'll need to register your car's license plate for Kananaskis Conservation Pass online ($15/day).
After arriving in Canmore, take some time to explore the town's many art galleries, laid-back vibe, and excellent restaurants to choose from. There are also three breweries and one spirit distillery in town.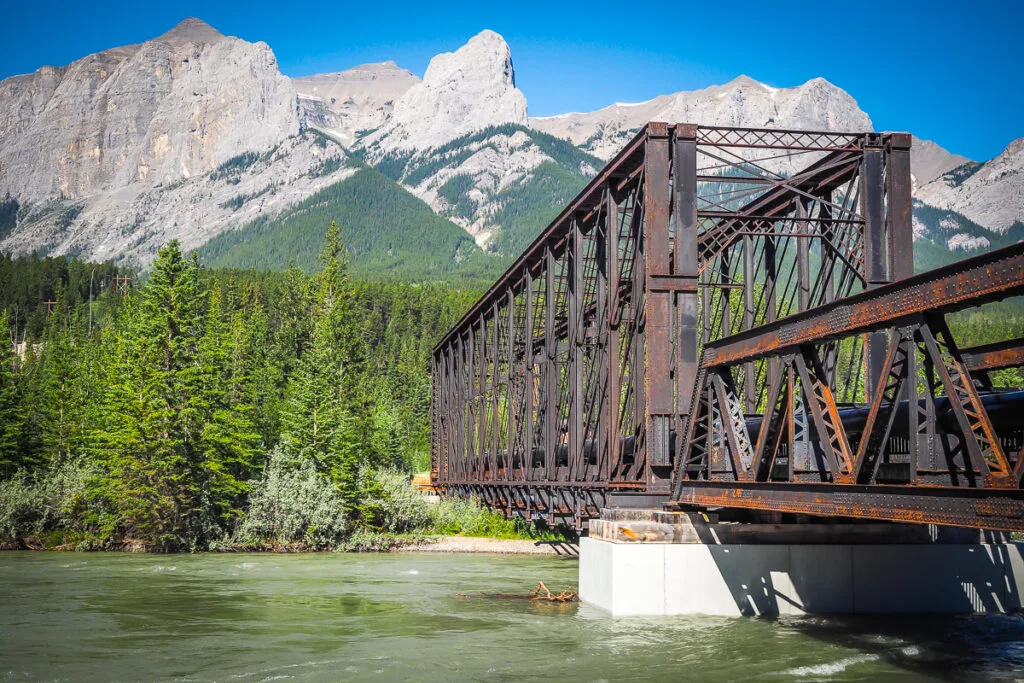 Day 1: Canmore / Banff
Drive Time: It's a 30-minute drive from Canmore to Banff.
In the morning, wake up early to do the hike to Grassi Lakes 10 minute drive out of Canmore town.
This easy hike leads to two gorgeous, vibrantly colored lakes at the base of two iconic Canmore mountains: Rundle Mountain and Ha Ling Peak on Mt. Lawrence Grassi. The hike takes two hours, and a Kananaskis Conservation pass is required.
After you check out from your hotel, it's time to head to Banff National Park. You can purchase your National Park Discovery Pass when you drive through the national park gates. Banff townsite is only 30 minutes away, so you'll have some time to kill.
Park your car in Banff townsite, have lunch, then stroll to explore the town's many shops, cafés, art galleries. Cross the bridge at the south end of town to visit Buffalo Nations Museum, which highlights local indigenous culture.
Next, follow the lovely walking trail along the south side of the Bow River east to Bow River Falls. Alternatively, take the trail on the north side of the river to Surprise Corner, an epic view of the iconic Banff Springs Hotel.
Check into your hotel, then choose from one of the many great dining options in town. For an evening drink, try Banff Ave Brewing or Park Distillery. After diner, take a stroll around Banff with Banff Ghost Tours and learn about some of the dark and spooky history of Banff (and the Banff Springs Hotel).
>>> Book your Banff Ghost Tours HERE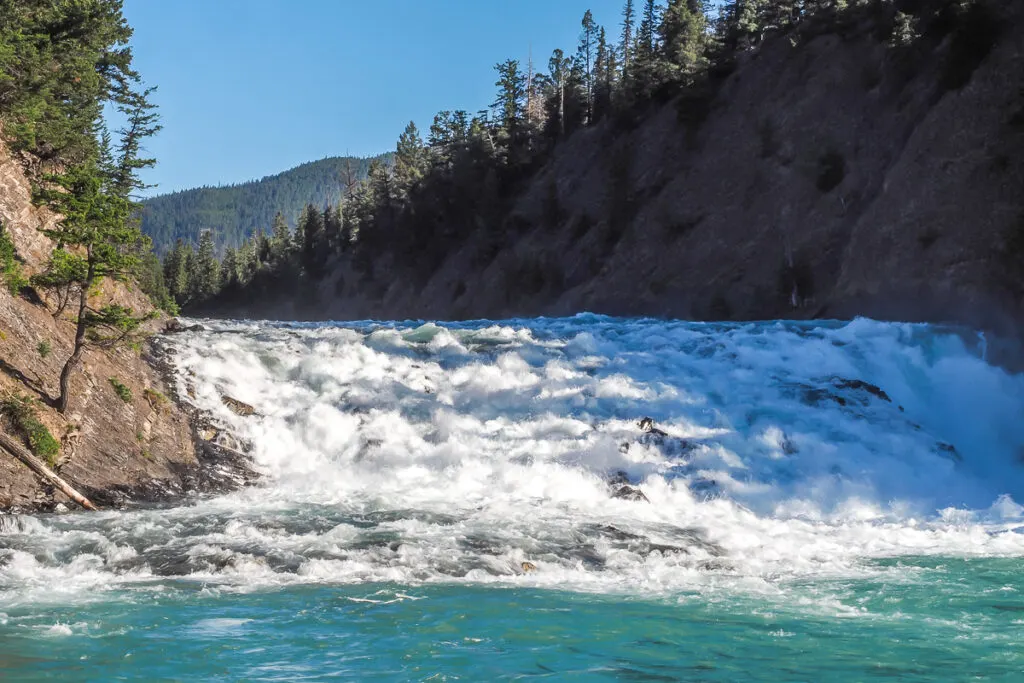 Day 2: Sulphur Mountain in Banff
Drive Time: Less than 1 hour.
Today you'll get a bird's eye view of Banff and soak up (both literally and figuratively) the national park's history.
Drive up the side of Sulphur Mountain to Banff Gondola, where you'll hitch a ride up to the peak. It's best to reserve your tickets online, and there are special deals for families and early departures.
>>> Book your Banff Gondola Ticket on Viator or Get Your Guide.
At the summit, there's a small museum, restaurant & café, and boardwalk trail to the proper peak. The views are outstanding. Most people spend around 1.5 hours at the summit (add more time if you plan to eat there); you need to choose a return time for your gondola, but they are flexible.
Pro tip: If you don't want to splurge on pricey food, pack a lunch.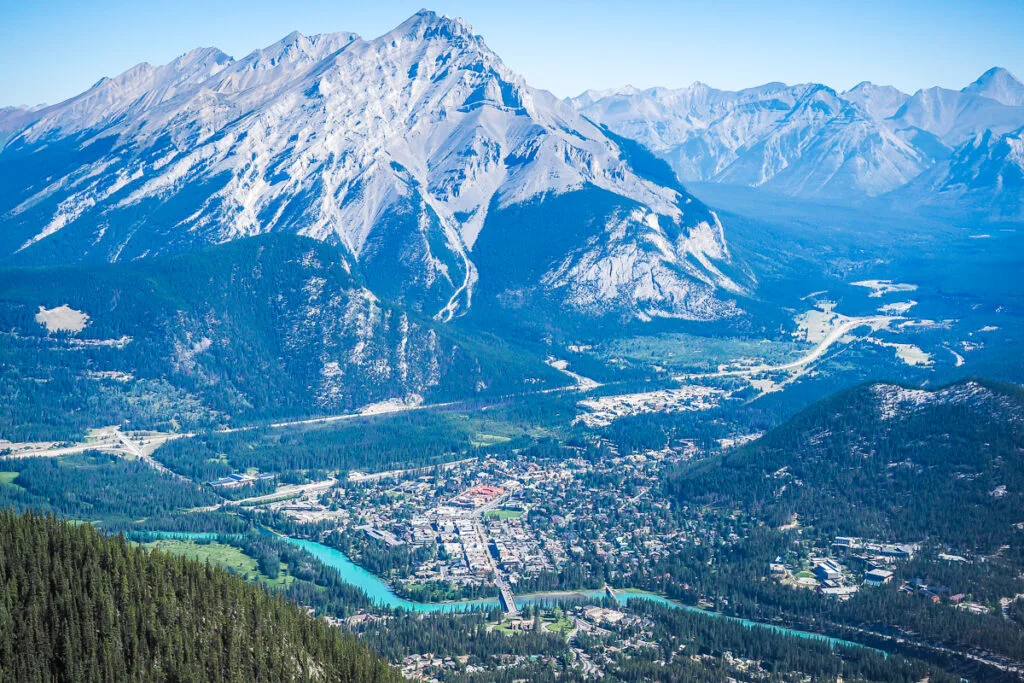 After your return gondola ride, drive a few minutes to Upper Hot Springs, the only public natural hot spring spa in Banff National Park. Enjoy the mountain views all around you as you soak in the thermal waters.
Next, drive back down the mountain and visit Cave & Basin National Historic Site, or "Lower Hot Spring." This cave hot spring was Banff's first attraction and the whole reason that Banff National Park, Canada's first, was created.
While you can no longer bathe at Cave & Basin, you can still see the original spring, home to an endangered species of snail. The museum details the park's history, and there are some children's activities and walking trails outside.
Day 3: Lake Minnewanka Loop in Banff
Drive Time: Around 1 hour, with lots of stops
On day three, if you're willing to wake up early enough, take in the sunrise from Vermillion Lakes, a few minutes' drive (or 30-minute walk) out of town. Next drive the Minnewanka Loop just north of town. Go in a clockwise direction, stopping first at Bankhead Ghosttown, the remains of a former mining town.
Next you'll reach beautiful Lake Minnewanka, where you can enjoy a picnic or stroll by the lake, or take one of the famous cruises on the lake (advance reservations are recommended). There's a small food shack, but don't count on it being open; pack some food just in case.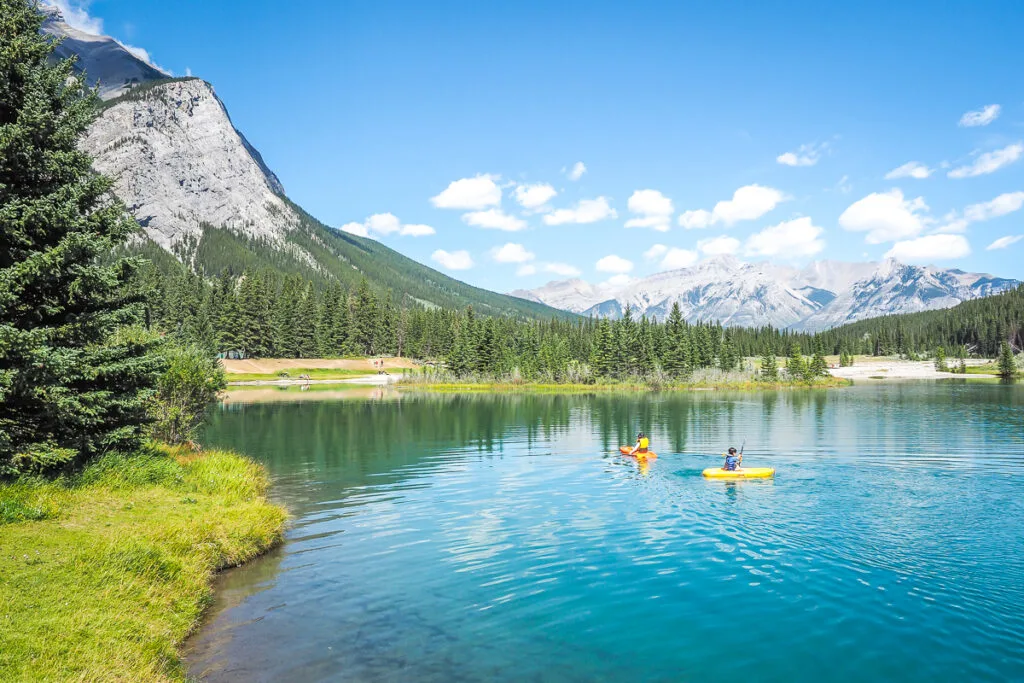 Further along the road, Two Jack Lake is another beautiful lake that also has a popular campground. After that, a side road leads to Johnson Lake, one of the best places to go swimming in Banff. It is a non-glacial lake, so it isn't as freezing as the others.
Finally, Cascade Ponds features gorgeous mountain views across a series of ponds, perfect for a picnic or simply basking in the sun.
Day 4: Johnston Canyon & Lake Louise in Banff
Drive Time: It's a 1-hour drive from Banff to Lake Louise (via Johnston Canyon) and 40 minutes (return) drive from Lake Louise to Moraine Lake.
>>> Avoid parking issues with the Banff National Park hop-on-hop-off Bus
Check out of your hotel and follow the Trans-Canada highway out of town toward Banff. Turn onto the Bow Valley Parkway (Highway 1A) to reach Johnston Canyon. Johnston Canyon is a popular hike through a narrow canyon to a series of waterfalls. You can budget about an hour return to Upper Falls, or continue even further to the Ink Pots.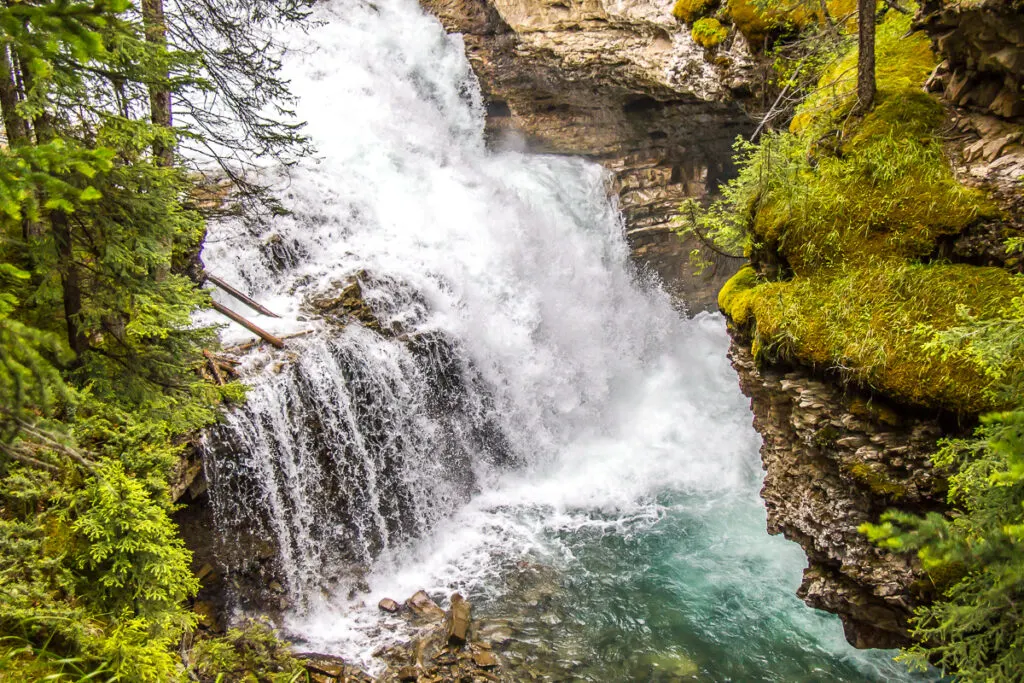 Next, continue on to Lake Louise, often considered the most beautiful lake in all of Canada. Besides walking the lakeside trail, a number of more difficult hiking trails begin there, you can canoe or kayak, or in winter skate on the lake.
Lake Louise's twin, Moraine Lake, also makes a claim for the most beautiful lake in Canada. A side road (40 min return) leads to Moraine Lake, but the road closes in winter.
It's important to note that the parking lots at both lakes can get so full that they get barricaded and you can't even access them. This can even happen in the early morning for the sunrise rush! If you're visiting in summer, you should consider parking your car and taking the official shuttle bus from a parking lot nearby. The shuttle does a loop to both lakes.
Finally, check into your hotel and enjoy a quiet evening.
Day 5: Icefields Parkway from Banff to Jasper
Drive Time: It's a 3-hour drive from Lake Louise to Jasper, not counting all the stops.
From Lake Louise, you'll turn off the Trans-Canada and onto Highway 93, the Icefields Parkway. This route features some of the most gorgeous scenery in the Rocky Mountains.
Some stops you may want to make along the way include Herbert Lake, Bow Lake, Peyto Lake (which is particularly beautiful from the elevated parking lot), and Waterfowl Lake in Banff National Park.
After that, the highway enters Jasper National Park, and the first noteworthy stop is Athabasca Glacier on the mighty Columbia Icefield. You can walk right up to the glacier, or take a ride right on it in one of the Snow Coaches. There's also a package deal that includes a trip to the Columbia Icefield Skywalk.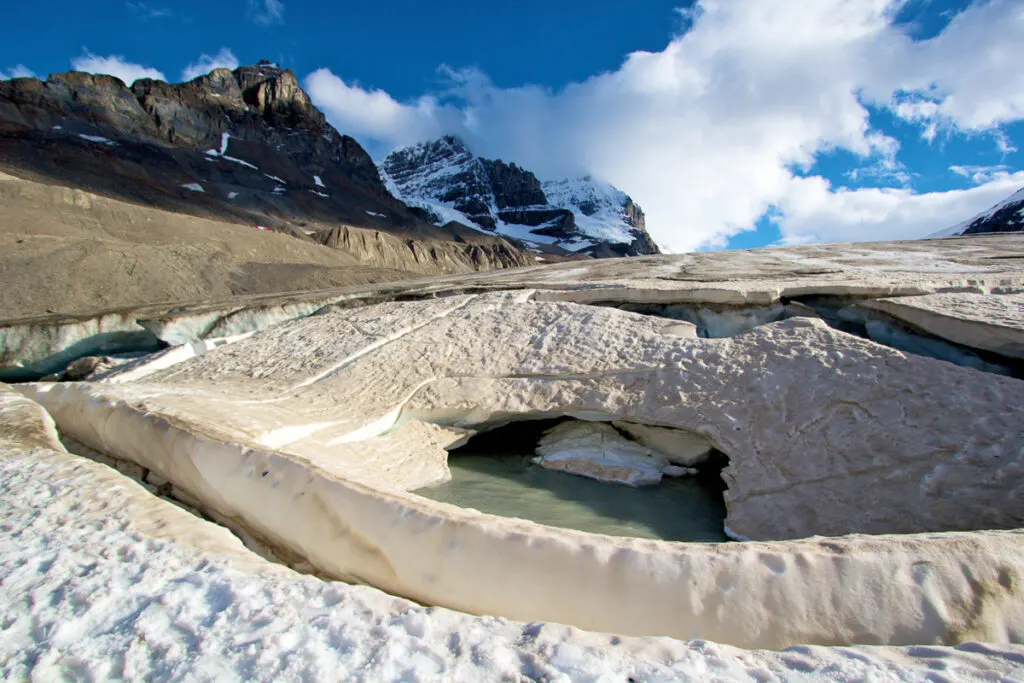 After that, other possible stops before reaching Jasper townsite include Tangle Falls, Sunwapta Falls, Athabasca Falls, and Horseshoe Lake, where you can jump off the cliffs into the water.
Day 6: Exploring Jasper
Start your day by choosing from one of several local hikes. The Valley of the Five Lakes is easy and beautiful, while Edith Cavell Meadows Trail is a little more challenging and includes a gorgeous glacial lake with chunks of ice floating in it, even in summer.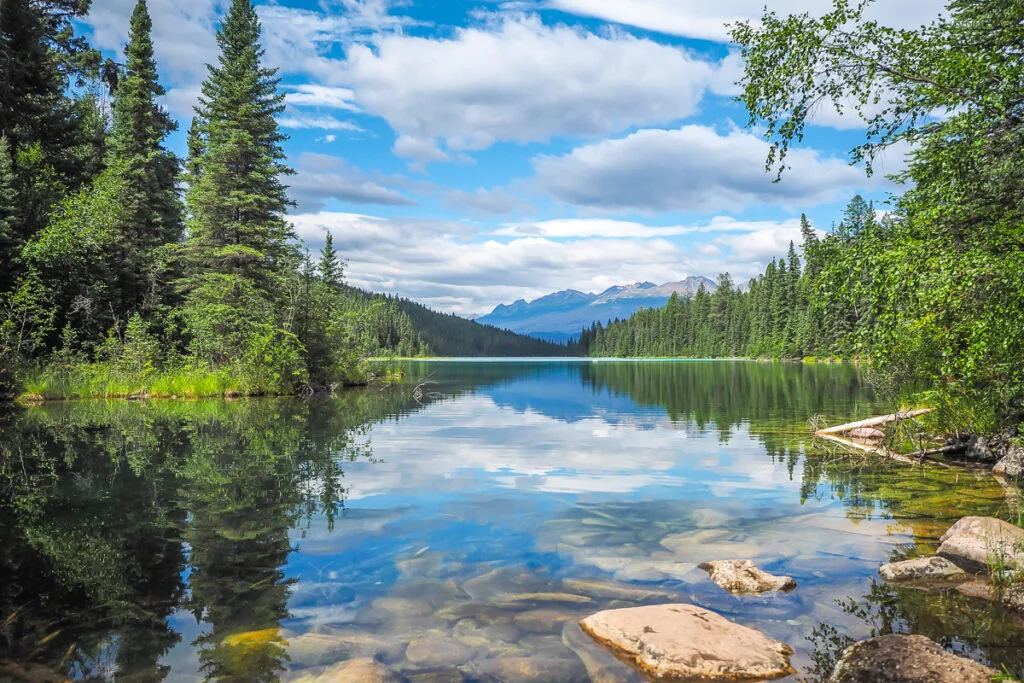 After lunch in town, choose one or several lakes to explore. Patricia Lake and Pyramid Lake offer stunning views of Pyramid Mountain and several trails. Around Jasper Park Lodge, Beauvert Lake, Mildred Lake, Annette Lake, and Edith Lake are each beautiful and have trails around them. Lake Annette also has a beach.
In the evening, explore the shops in Jasper townsite or go for a sun-downer at Jasper Ave Brewing.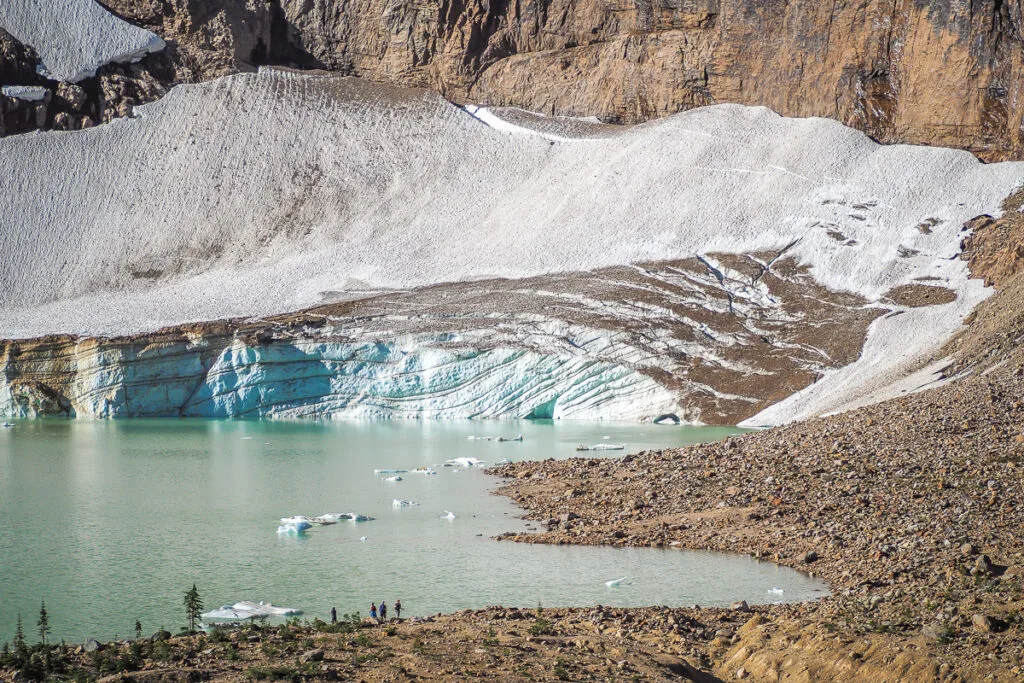 Day 7: Maligne Canyon in Jasper
Drive Time: It's a 1.5-hour return drive from Jasper to Maligne Lake.
For your final full day in Jasper, drive Maligne Lake Road to Maligne Canyon, Jasper's answer to Johnston Canyon in Banff.
Like Johnston Canyon, this is a narrow canyon with a trail through it, but the two canyons have different views and are both worth exploring. If you happen to be visiting at the peak of winter, when the ice is thick enough, the Maligne Canyon Icewalk (in which you walk through the canyon right on the frozen creek) is unbelievably beautiful.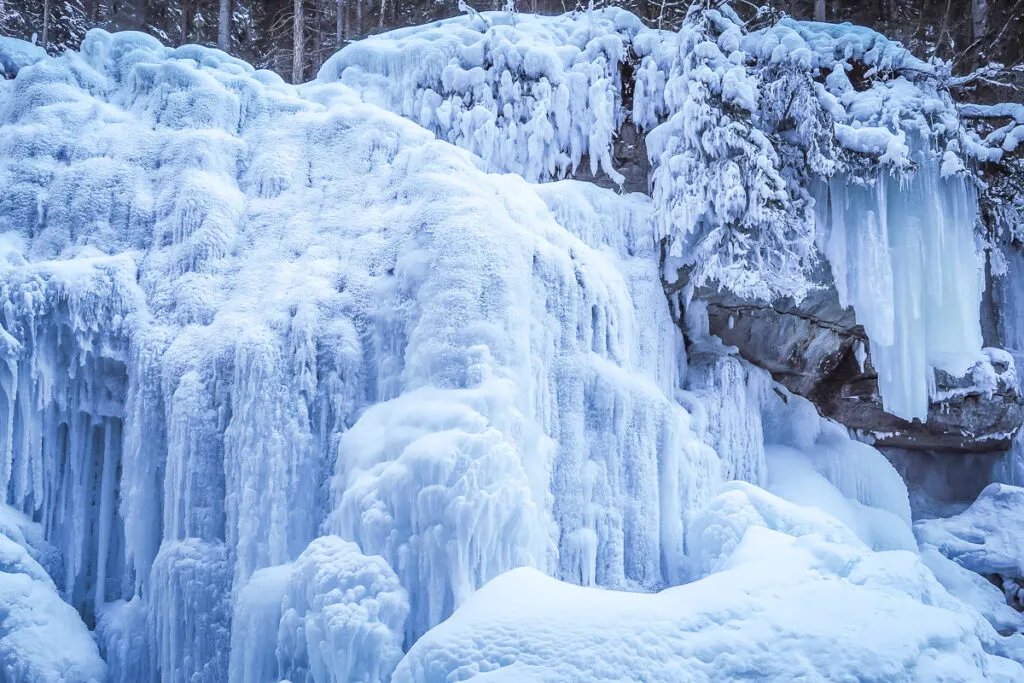 Next, keep following Maligne Lake Road to Medicine Lake and finally Maligne Lake, where cruises depart to Spirit Island, one of the most famous scenes in the Canadian Rockies. Book your tickets early!
Travel Day: Return to Edmonton or Calgary
For your final return day, choose one of the three options I mentioned above. These are to finish in Edmonton, backtrack to Calgary, or take the slower route back to Calgary via Nordegg and Cowboy Trail.
Final Thoughts on a Banff to Jasper Road Trip
I hope you enjoy your trip to Jasper and Banff National Parks!
Check out these other popular National Park Roads.
Pin for Later: The Ultimate Banff to Jasper Road Trip: 7 Day Itinerary for Alberta's Top National Parks