Post Summary: Best Places to See Grizzly Bears in the USA
One of the most feared and impressive animals in North America is the grizzly bear. Once commonly found throughout the Western United States and Canada, these large omnivores were the apex predator in their range. Due to hunting in the late 1800s and early 1900s, the bears have been eliminated from much of their former range. This reduction of range makes viewing these majestic animals a little bit of a challenge at a time but it isn't impossible. There are a couple of places where I can almost guarantee you will see a brown bear if you visit.
In this article, I'm going to focus on the best grizzly bear viewing in the US. I selected these locations for their high concentration of grizzly bears and/or their accessibility. I will also be covering.
The difference between a grizzly bear and a brown bear
The difference between a grizzly bear and a black bear
How to stay safe while viewing grizzly bears
Tips for seeing grizzly bears in the wild
Gear for grizzly bear viewing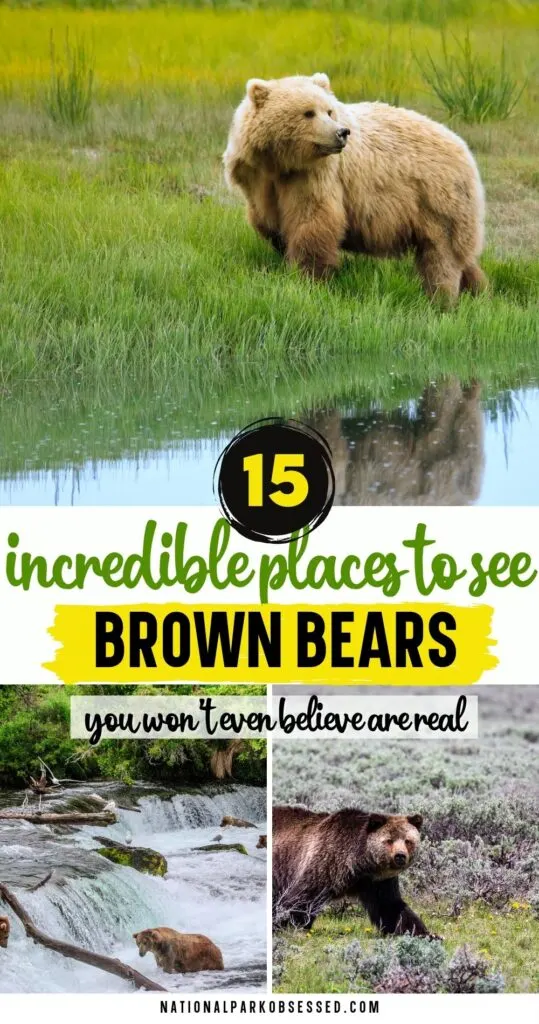 This post may contain affiliate links, meaning if you book or buy something through one of these links, I may earn a small commission at no extra cost to you! Read the full disclosure policy here
Is it a Brown Bear, or is it a Grizzly Bear?
This is a fun little question whose answer is a bit on the complex side and is often poorly understood. Let's find out what's the difference between brown bears and grizzly bears?
First off, all grizzly bears are brown bears BUT not all brown bears are grizzly bears. The grizzly bear (Ursus arctos horribilis) is a North American subspecies of the brown bear (Ursus arctos). Brown bears were once found throughout Eurasia, North American, and Northern Africa. Today the range is limited to northern North American and Eurasia with ranges descending into the mountains regions of Asia. In the United States, the bears are found in Alaska, Wyoming, Montana, Idaho, and Washington.
There is some scientific debate as to the number of subspecies of brown bears (Ursus arctos). But in the United States, there are two main subspecies. These main two subspecies can be divided by location and primary food sources. Grizzly bears are bears that are located inland so interior Alaska and the lower 48 with limited marine food sources. Brown bears are coastal bears that live on the coastline and islands of Alaska and primarily feed on marine food sources Within the coastal brown bear group, there are three subspecies based on location within Alaska. These are:
Alaska Peninsula Brown Bear (Ursus arctos gyas) – Bears living on the Aleutian Islands as far west as Unimak, the Alaska Peninsula to the Kenai Peninsula.
Kodiak bear (Ursus arctos middendorffi) – Bears living on Kodiak, Afognak and Shuyak Islands
Sitka brown bear (Ursus arctos sitkensis) – Bears living Admiralty Island, Baranof Island and Chichagof Island (ABC islands)
In truth, this is all just technical B.S. Most people just call all the bears "brown bears". Hunters and photographers may lump the Alaska Peninsula and Sitka bears together and differentiate the Kodiak bears. The Kodiak bears are larger than the other two coastal brown bear subspecies so they get special status.
To generalize:
Brown bears typically bigger and found in coastal southern Alaska with access to marine food sources such as salmon and clams. These bears are typically less aggressive to humans.
Grizzly bears are a subspecies of brown bear found in interior regions without marine food sources. These bears are smaller that the coastal bears and are slighly more territorial.
Brown bear and grizzly bear are used interchangeably and while not quite technically correct, it's not technically wrong. In some areas like Wrangel-St. Elias National Park, the line between grizzly bear and brown bear is blurry. The park is 12 million acres extends from the coastline along Prince William Sound into interior Alaska. Without DNA testing, figuring out when the bears stop being brown bears is almost impossible.
In other areas like Katmai National Park and Denali National Park, it is pretty obvious which type of bear you are seeing. Katmai is a coastal park in southwest Alaska. Every bear there is a brown bear. Same thing with Denali. Denali is located in the middle of Alaska. Every bear there is a grizzly bear.
Don't sweat it, if you aren't sure. How you handle a bear interaction doesn't change. Respect their space and don't approach them.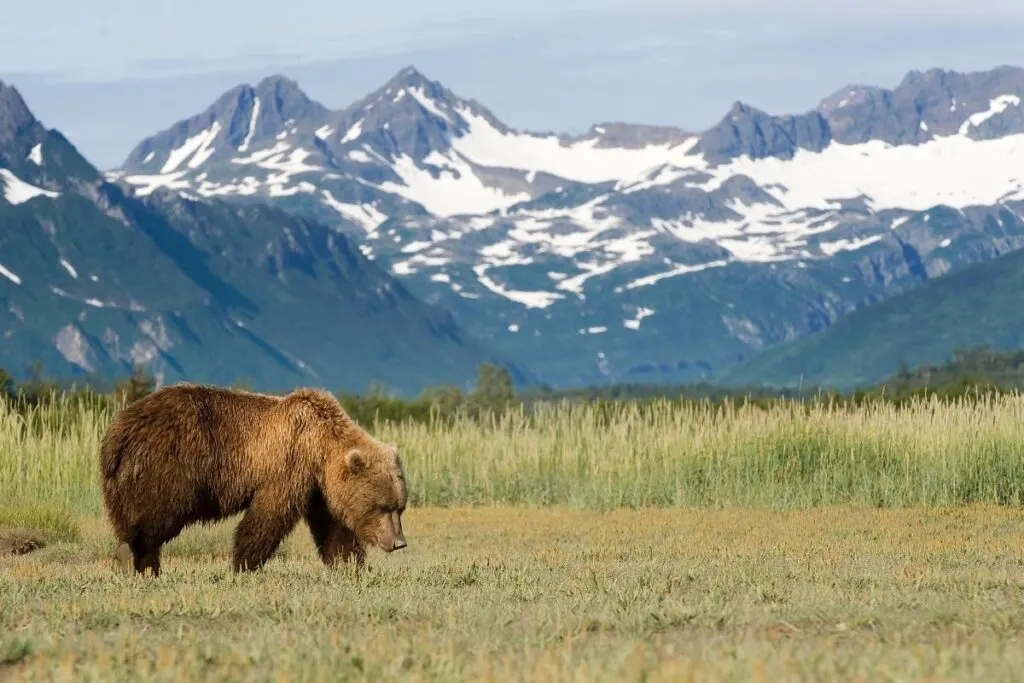 Grizzly Bear or Black Bear?
There is a fair amount of overlap between the range of the black bear and the grizzly bear. If you exclude the Alaska Peninsula and the ABC islands, grizzly bears share their entire range with black bears. Telling the bears apart sounds easy. One is black and one is brown. Look at the color and you are done.
This isn't the case at all.
Both these bear species come in a range of colors. The COLOR OF THE BEAR does not matter. Black bears can range in color from white or light grey to light brown to deep black. Brown bears can range from blonde to dark black/brown. There is a lot of overlap in color and I don't care how big, you claim that "brown" bear you saw in Great Smoky Mountains National Parks was; it is NOT a grizzly bear. The Smokies doesn't have grizzlies. They have cinnamon black bears.
The easiest way to tell the bears apart is to look for the shoulder hump. Grizzly bears have a very pronounced shoulder hump. If it doesn't have a shoulder hump it's a black bear. If the bear is standing on a rock or an upward on an incline, this can hide the hump so make sure to check the facial features.
The next two ways to tell depend on how the bear is facing you. If you are looking at the bear straight on, look at the ears. Do they seem very pronounced like cat ears or do they look more like teddy bear ears? Cat ears mean a black bear. Teddy bear ears is a grizzly. If you are seeing the profile, look at the face. If the face is straight, then it's a black bear. If you can see a dished profile, then it's a grizzly.
The rules of bear viewing don't change based on species. Keep your distance. If the bear's behavior changes you are too close. Respect their space and they will leave you alone. The only thing that changes is how you handle it should you be attacked.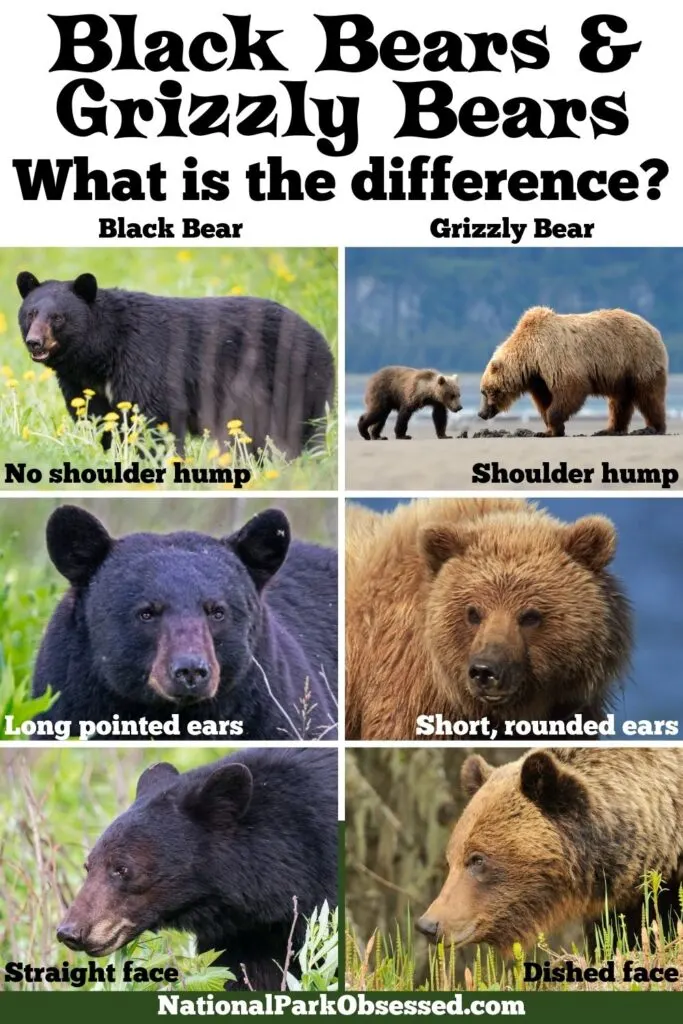 Map of Grizzly Bear and Brown Bear Range in United States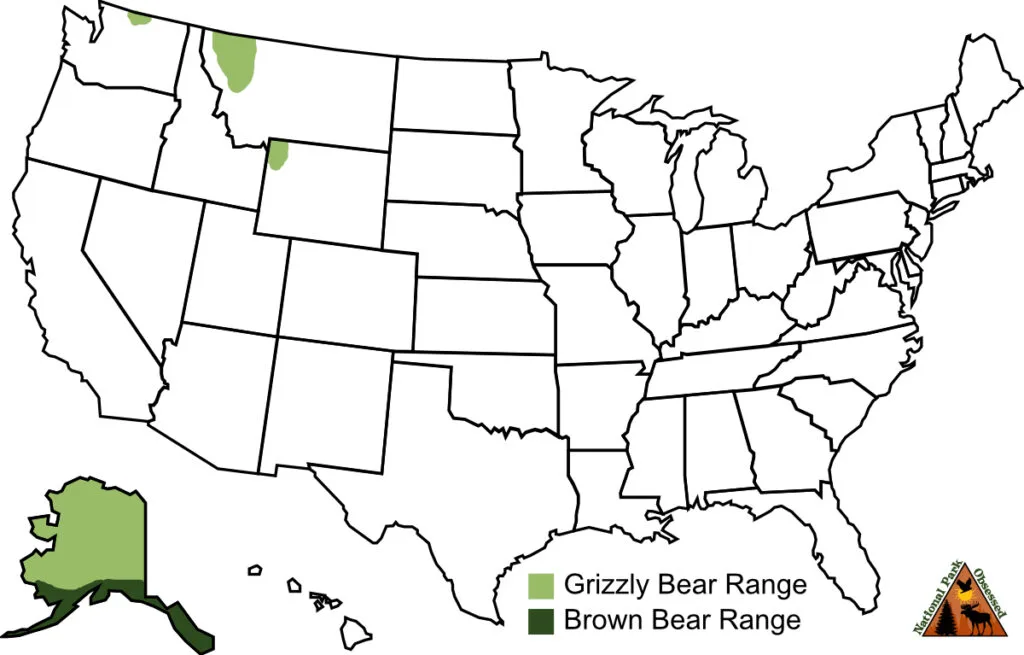 4 Best Places to See Grizzly Bears
Grizzly Bears still inhabit much of their original habitat in Alaska but they have been hunted out of all but a few areas of the lower 48. These pockets of grizzly bears are mostly found within the U.S. National Parks. Here are a few of the best grizzly bear-watching locations in the lower 48 and Alaska. All of these western National Parks have regular grizzly sightings and if you spent a couple of days exploring your odds are good that you will see a grizzly bear. If you are looking to see brown bears skip to the next section where I break down the best places to see them.
Yellowstone National Park, Wyoming
There are few places better in the United States to go wildlife watching than Yellowstone National Park. This park is unparalleled in its' collection of resident wildlife and migratory birds. It isn't uncommon to hear Yellowstone compared to Africa's Serengeti. The park is home to eight ungulate species – bighorn sheep, bison, elk, moose, mountain goats, mule deer, pronghorn, and white-tailed deer. Plus there are SEVEN large carnivores – black bears, Canada lynx, coyotes, mountain lions, wolverines, wolves, and the grizzly bear.
Yellowstone National Park makes up a significant portion of the Greater Yellowstone Ecosystem and was one of the last strongholds of Grizzly bears in the lower 48. In 1975, the bears were protected as part of the Endangered Species Act. At the time of passage, there were 136 grizzly bears in the ecosystem.
Today, many of Yellowstone's 4 million visitors will see a grizzly bear walking wild while in the park. Most sightings occur in Lamar and Hayden Valleys.
Yellowstone Grizzly Bear population is around 150 individual bears. The Greater Yellowstone Ecosystem's population was 728 bears as of 2019.
Where to see Grizzly Bears in Yellowstone National Park
Lamar Valley
Dunraven Pass
Hayden Valley
Swan Lake Flats
Northern slope of Mount Washburn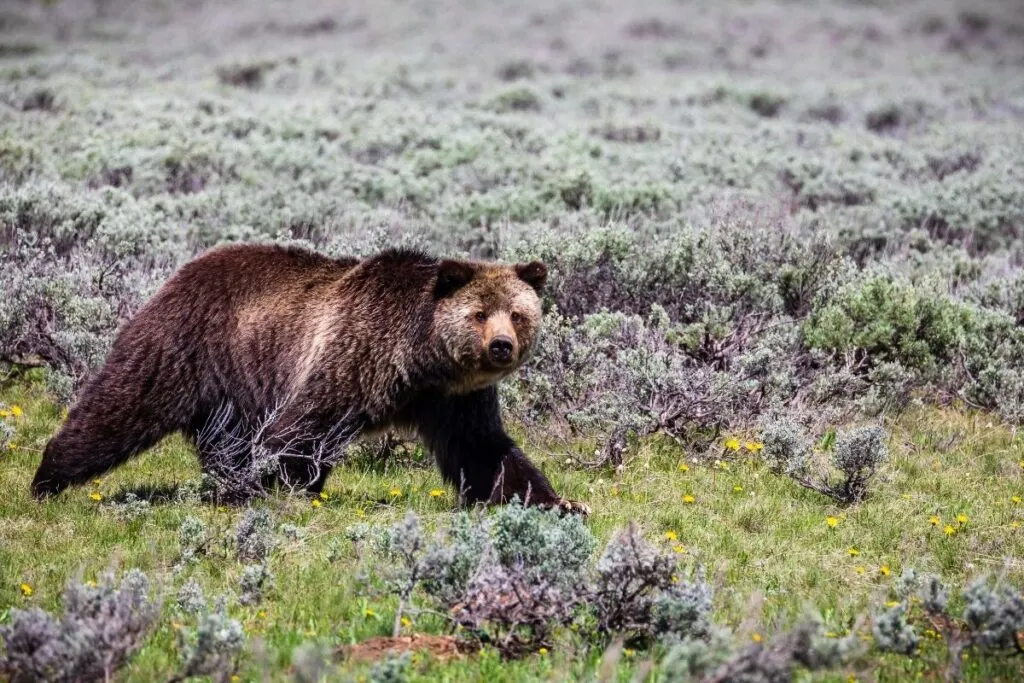 Grand Teton National Park, Wyoming
In recent years, Grand Teton National Park has become famous for its grizzly bears. More accurately Bear 399 and her four cubs (the cubs are yearling in 2021 and will likely separate from their mother in 2022). Grand Teton is part of the Greater Yellowstone Ecosystem so most of the animal species overlap with Yellowstone National Park.
Grand Teton's has a lot of wide valleys and open fields interspersed with lakes, marshes, and woodland. The region is prime bear viewing so chances are good that you will be able to see a grizzly bear in this park.
Grand Teton National Park is significantly smaller than Yellowstone so many of the park's grizzly bears range outside of the park so there is no real estimate of the number of bears living within the park.
Where to see Grizzly Bears in Grand Teton National Park
Willow Flats
Oxbow Bend
Jenny Lake
Cascade and Death Canyon
Two Ocean and Emma Mathilda Lakes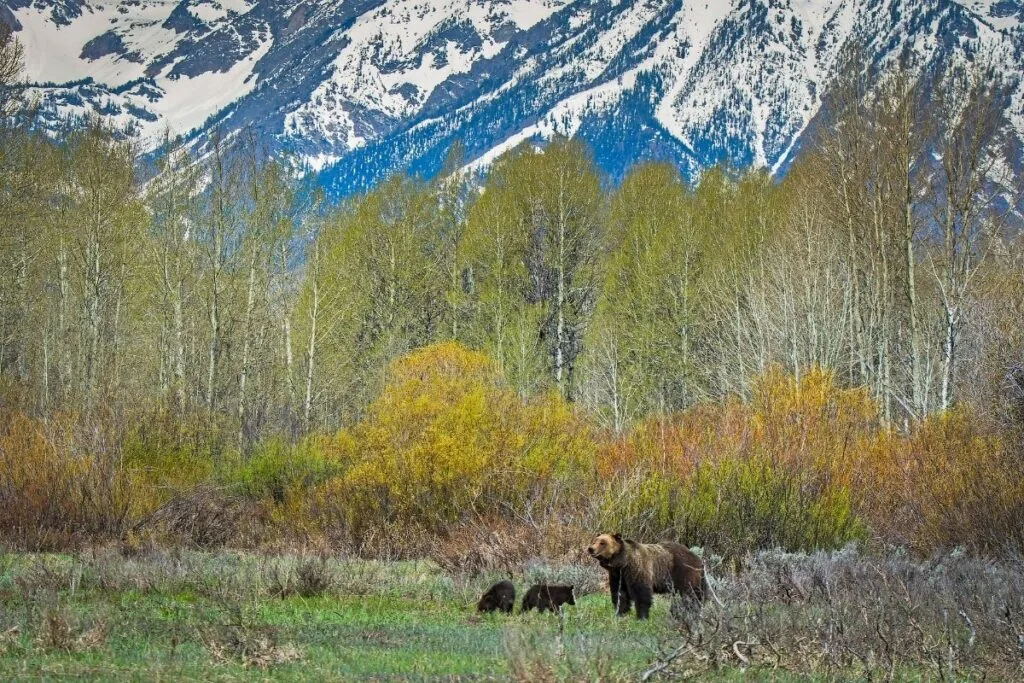 Glacier National Park, Montana
Glacier National Park is nicknamed the "Crown of the Continent." Glacier is part of the Glacier-Waterton Lakes International Peace Park (includes Canada's Waterton Lakes National Park) which is a UNESCO World Heritage site and part of the Crown of the Continent Biosphere Reserve.
This mountainous park is home to great bear habitat and it isn't uncommon to see them hanging out on the slopes or ridgelines along the Going-to-the-Sun Road as near as Glacier's many trails.
Of all places to see grizzly bears in the USA, Glacier has the worst reputation in terms of bear attacks most notably the infamous "Night of the Grizzlies" where two women were killed in separate grizzly bear attacks. Those two bear attacks changed the way National Park Service reevaluated its trash management and implemented a no-feeding the bear policy. Today, negative bear interactions in the park are rare.
Glacier National Park is home to about 300 grizzly bears. These bears are part of the Northern Continental Divide Ecosystem population and this population is estimated to be about 1,000 bears.
Where to see Grizzly Bears in Glacier National Park
Logan Pass Area (Highline Trail, Gunsight Lake, and Hidden Lake)
Many Glacier Area (Iceberg Lake, Cracker Lake and Grinnell Glacier)
Two Medicine Area
Around St. Mary Lake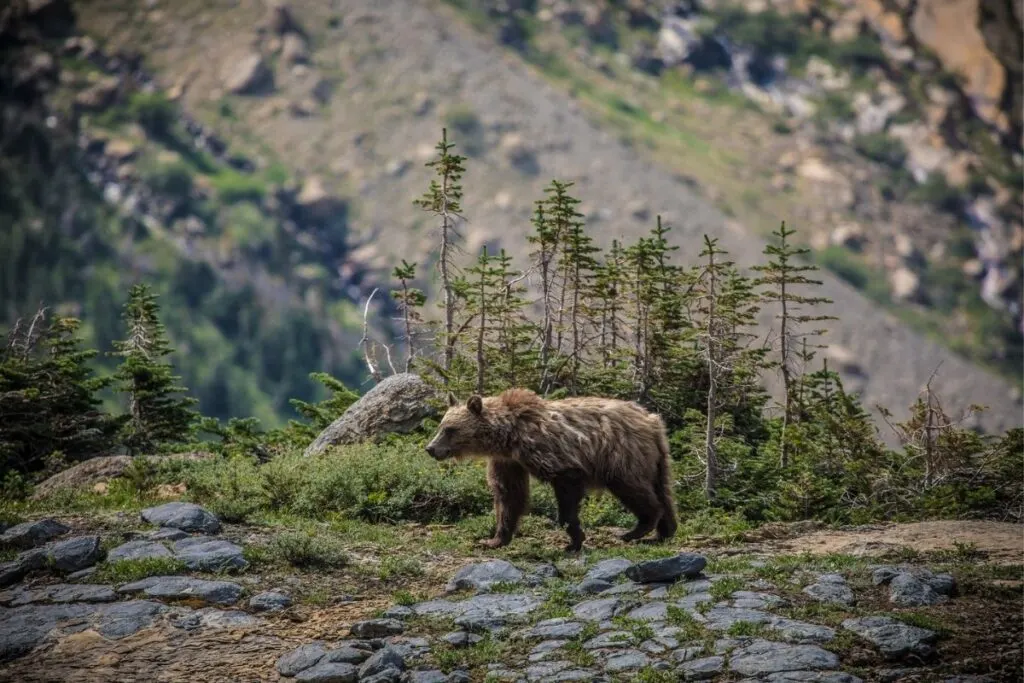 Denali National Park and Preserve, Alaska
Denali National Park and Preserve is Alaska's oldest National Park and one of the best places to see wildlife. The park is home to most of Alaska's terrestrial wildlife – black bear, Canadian lynx, caribou, Dall sheep, moose, wolverines, wolves, and grizzly bears.
Access to Denali is limited to the 92-mile Denali Park Road, and there are few established trails in the park so most grizzly bear viewing is done from the road. Grizzlies are typically found in the valleys or mountain slopes particularly around Sable Pass.
There are between 300 – 350 grizzly bears in Denali National Park.
Where to see Grizzly Bears in Denali National Park and Preserve
Sable Pass
Just after the Toklat River
Telklanika RIver
Savage River
Highway Pass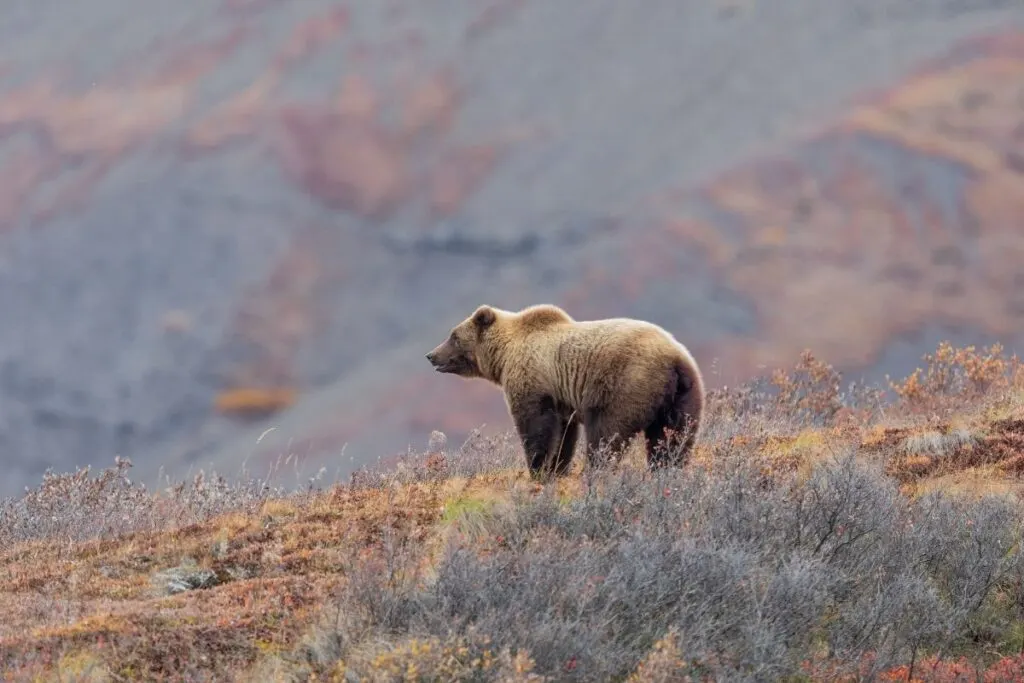 Other places to see Grizzly Bears
These locations don't have as high of a chance to see a grizzly bear but it can't hurt to keep an eye out for them while visiting.
7 Best Places to See Brown Bears
The only place to see brown bears in the USA in the state of Alaska. With one exception, all of the places on this list are off the Alaskan Road System and will require a boat or a floatplane to reach. This can make getting to some of these locations a little bit difficult but you are almost guaranteed to see bears when you make the effort to visit these national parks and protected areas if visiting between June and August.
McNeil River State Game Sanctuary
McNeil River State Game Sanctuary is the absolute BEST PLACE in the United States to see brown bears for a couple of reasons. The first is that McNeil is home to the highest concretion of brown bears anywhere in the world. There have been summers where researchers have spotted up to 144 identifiable bears and 74 bears congregating at the McNeil River Falls. The second is the unique situation at McNeil.
McNeil River and its bears have been protected and managed since the early 1950s. Over time, McNeil bears have become "habituated" to humans. Unlike Yellowstone bears that were fed by humans in the early years of the park. McNeil bears have learned that humans are a neutral part of their environment. This allows for some of the closest bear viewing in the world. It isn't uncommon for visitors to McNeil to find themselves less than 20 ft from a brown bear. All bear viewing is done in a small group with Alaska Department of Fish and Game staff.
McNeil is the most difficult place on this list to visit. Bear viewing in McNeil is by permit only. The Sanctuary is only open from June 7 to August 25 and there are 185 individual guided viewing and 57 stand-by viewing available each year. Permits are for a 4-day viewing block. On average the odds of wining a permit vary depending on which block you apply for. These range from 2% to 18%. The prime dates are the blocks in July. July is peak bear viewing.
McNeil Lottery application must be submitted by March 1 and permit winners are notified by mid-March. The application fee is $30 and the guided viewing permit is $225 for Alaska Residents and $525 for non-residents.
Where to see Brown Bears in McNeil River State Game Sanctuary
Lower McNeil River
McNeil Lagoon
McNeil River Falls
Mikfik Creek
Sedge Flats
Tide Flats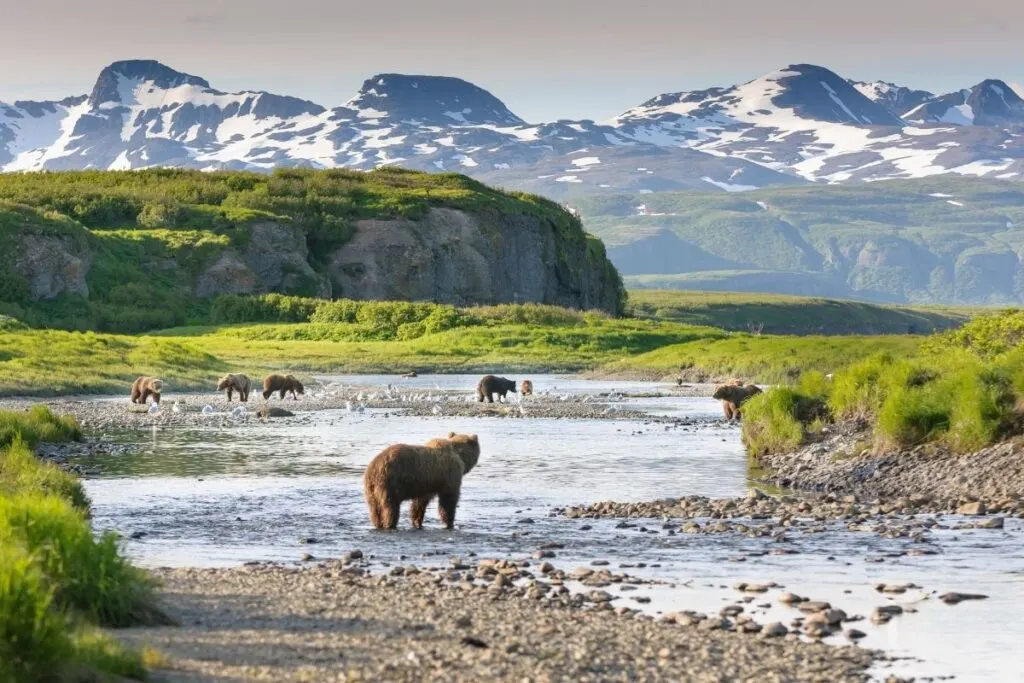 Katmai National Park and Preserve
Katmai National Park and Preserve is the National Park to see brown bears. It is probably the only National Park I would guarantee a bear sighting in. The park is located in Southwestern Alaska on the Alaska Peninsula and is only accessible via boat or floatplane. This mountainous park is home to a high concentration of volcanoes, a large amount of coastline, and numerous rivers.
Every year the salmon return in large numbers to Katmai's rivers to spawn. The main salmon runs are in July and September. It is during these runs when Katmai's bear congregate along the park's rivers. One of the best viewing spots is Brooks Camp/River and the famed Brooks Falls. It isn't uncommon to see 5 to 30 bears congregated at the falls fishing for salmon. To a lesser extend, bears can be seen in June and August around Brooks Camp. Other popular viewing spots is Hallo Bay or Moraine Creek.
In its over 100 year history as a National Monument/Park, Katmai has had 1 fatal bear attack. Timothy Treadwell and his girlfriend were malled in 2003. Treadwell was an overconfident bear enthusiast who failed to follow any of the basic bear safety regulations. The award-winning documentary "Grizzly Man" dives into Treadwell's 13 summers in Katmai and his death.
Katmai is home to one of the highest concentrations of brown bears in the world with over 2,200 brown bears.
Where to see Brown Bears in Katmai National Park and Preserve
Brooks Falls
Hallo Bay
Moraine Creek
Funnell Creek
Geographic Harbor
Kaflia Bay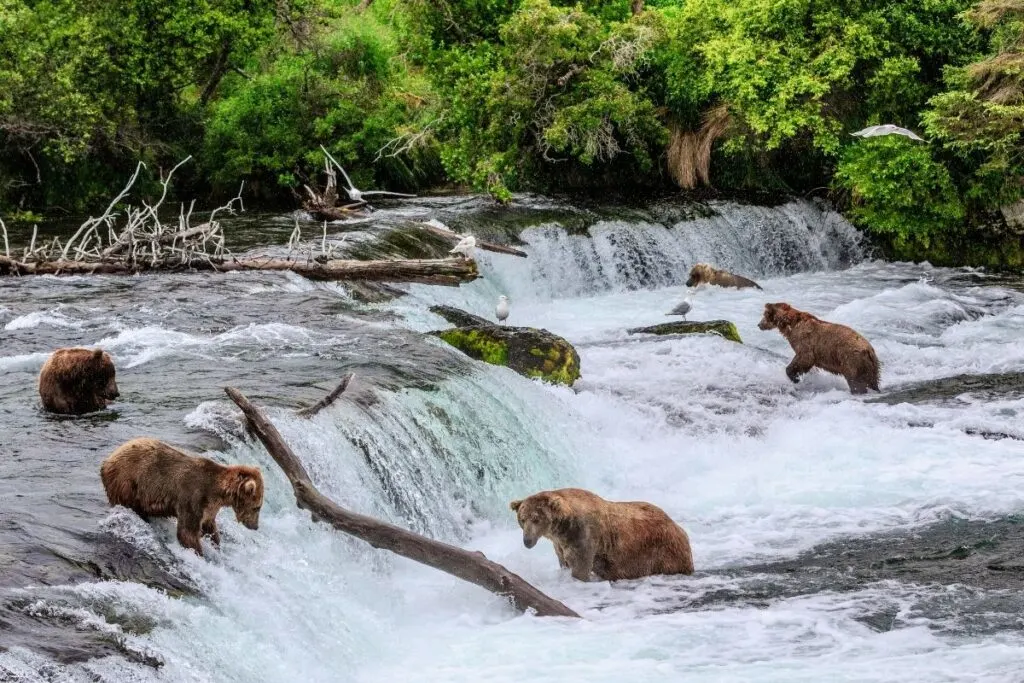 Kodiak National Wildlife Refuge
Kodiak National Wildlife Refuge is the best place to see Kodiak brown bears. Kodiak Refuge is located on Kodiak Island. The island is known as the Island of the Great Bear. The bears on this island are genetically isolated from the other brown bear populations in Alaska. Living on a small island means more compensation for food and mating rights so these bears have evolved to be larger than their mainland counterparts. These bears are a subspecies of brown bears. The Refuge was created in 1941 to protect these amazing bears. The refuge is 1.9 million acres that are full of misty fjords, glacial valleys, and lofty mountains.
During the summer and fall, salmon runs the Kodiak brown bears congregate at the rivers and lake and fish for salmon.
It is estimated that there are about 3,000 Kodiak brown bears within the Wildlife Refuge.
Where to see Brown Bears in Kodiak National Wildlife Refuge
Karluk Lake
Thumb River
O'Malley River
Frazer Lake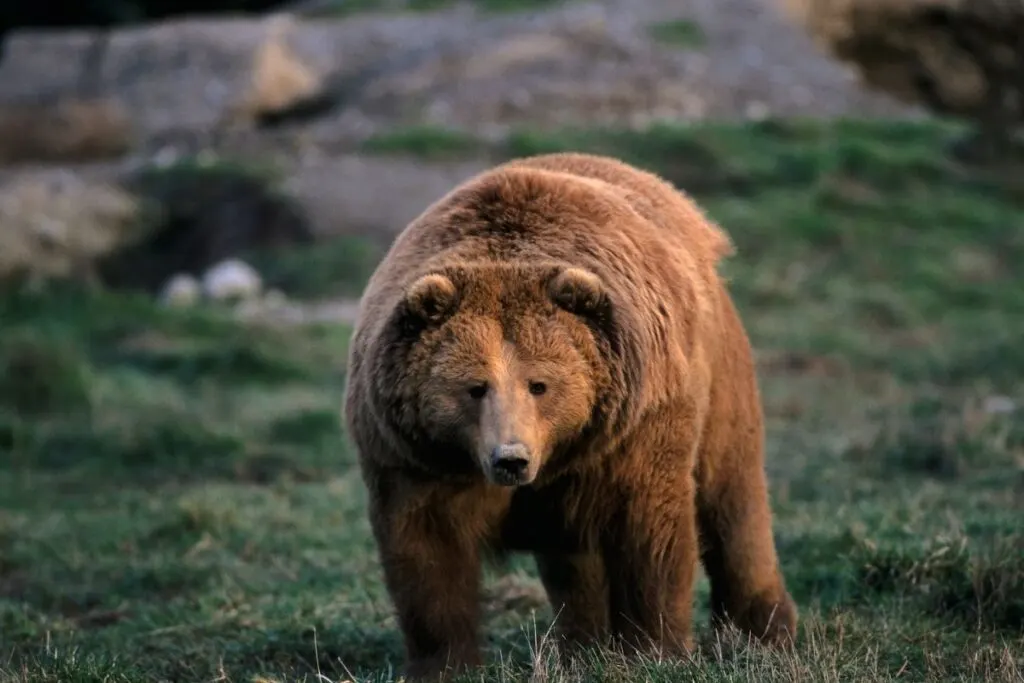 Lake Clark National Park and Preserve
Lake Clark National Park and Preserve is a southwestern Alaskan National Park that protects the coastline along the Cook Inlet, alpine tundra, glaciers, rivers, lakes, plus two volcanoes. Lake Clark is most famous for being the home of Richard Proenneke. Proenneke built himself a cabin in the future National Park. He lived and worked the land. In 1973 with the help of a friend, Proenneke wrote "One Man's Wilderness: An Alaskan Odyssey" about his experience. Proenneke also filmed his life. this footage was made into a documentary "Alone in the Wilderness.
Like Katmai, Lake Clack can only be reached by boats or small aircraft.
Lake Clark's brown bears can be found around the park's rivers during the summer and fall salmon runs. During other parts of the summer, the bears are found hunting for marine life along the coastline.
Park biologists are still surveying the brown bear population in the park. They have counted as many of 219 brown bears within 54 square miles of Lake Clark coastline.
Where to see Brown Bears in Lake Clark National Park and Preserve
Silver Salmon Creek
Chinitna Bay
Crescent Lake
Shelter Creek and Tuxedni Bay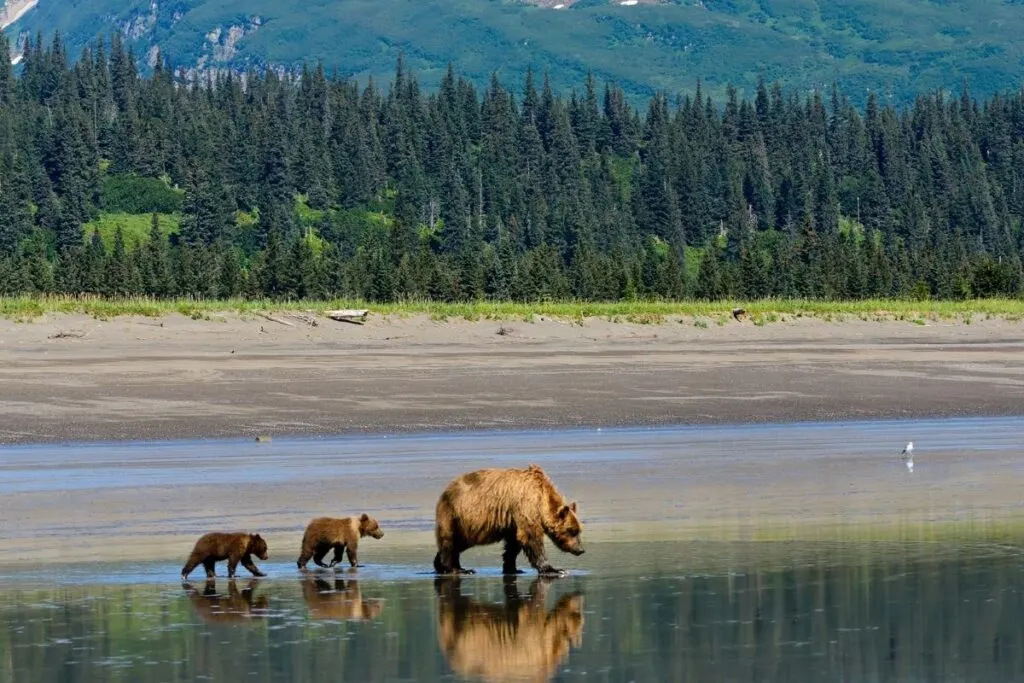 Admiralty Island National Monument
Admiralty Island National Monument is located in Southeast Alaska and part of the Alexander Archipelago. The island is home to the Angoon Tribe of Tlingit people. In terms of wildlife, the most famous residents are bald eagles, Sitka black-tailed deer, and brown bears. The rainforest islands are full of western hemlock, Sitka spruce, and western redcedars.
The most popular bear viewing area within the National Monument is the Pack Creek Brown Bear Viewing Area and is only accessible by boat or float plane.
There are an estimated 1,600 brown bears in Admiralty Island National Monument. It is said that this is the highest concentration of brown bears anywhere in the world.
Where to see Brown Bears in Admiralty Island National Monument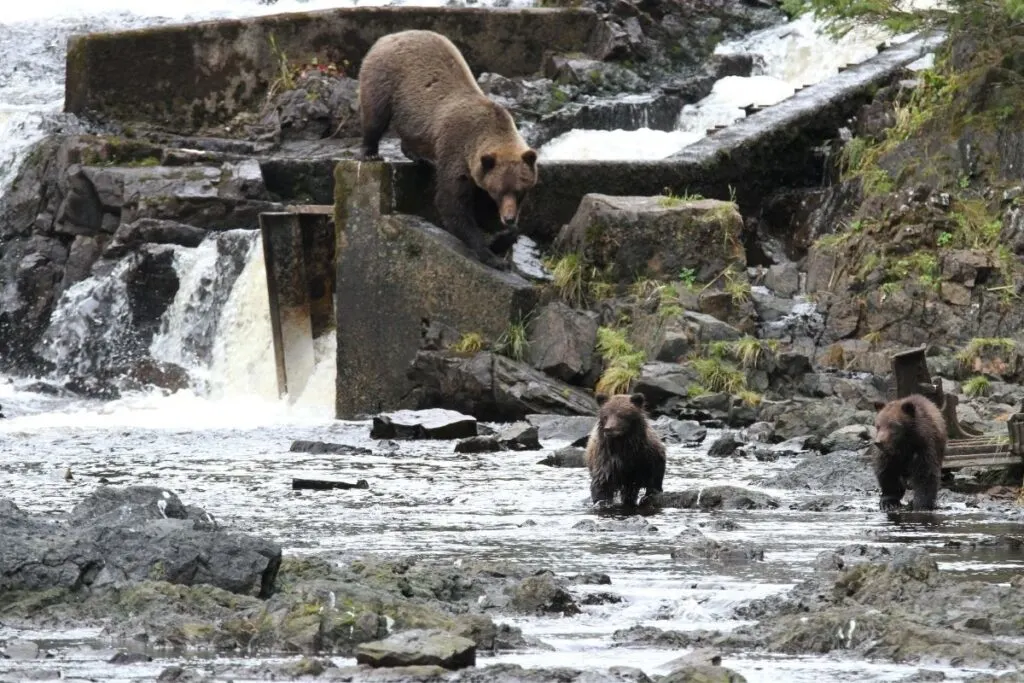 Other places to see Brown Bears
Staying Safe in Grizzly Bear Country
Grizzly Bears are as terrifying as they are fascinating. Seeing a bear in the wild is an amazing experience and it is easy to lose your head in your excitement. For your safety and the safety of the bear, you can't do this.
The outdoors isn't a zoo. These are free-roaming wild animals. They are not behind a fence or glass. While they might seem like the bear is this cute cuddly calm animal, they are anything but.
These bears can kill. They are stronger and faster than you are.
While attacks are extremely rare and millions of people visit the national parks without incident. There are several things you can do to prevent a negative encounter with a grizzly bear.
When you see a bear keep your distance. Do NOT apporach the bear.
Make sure the bear has an escape route.
Back up when you see a bear change its behavior due to your presense.
In almost all national parks with grizzly bears, you must keep a MINIMUM DISTANCE of 100 yards.
You should always carry bear spray when hiking in grizzly bear country.
Tips and Tricks for Spotting Grizzly Bears
Bring Binoculars – You might get lucky and spot a bear within eyesight range but not always. Having a pair of binoculars can help you spot bears high on the cliff sides. It also helps you get a closer look at bears that are within eyesight.
Stop and look – Most of my bear sightings come when I am looking for it.
Look for things that look out of place – When I'm looking for a bear, I start by scanning the area. I'm looking for anything that looks odd. It might be a funny colored rock/bush. Once I find that, I'll break out the binoculars to check and see if that spot is a bear or a bush (it is usually a bush but its worth looking)
Have patience – It takes a little bit of look to spot grizzly bears.
Things to pack when going Grizzly Bears Viewing
Binoculars – As mentioned above, a pair of binoculars increases your odds of spotting a bear. >>> Get my binoculars.
Bear Spray – Bear Spray is an important safety tool when in grizzly bear country. >>> Get Bear Spray
Recommended Books on Grizzly Bears
Recommended Documentaries on Grizzly Bears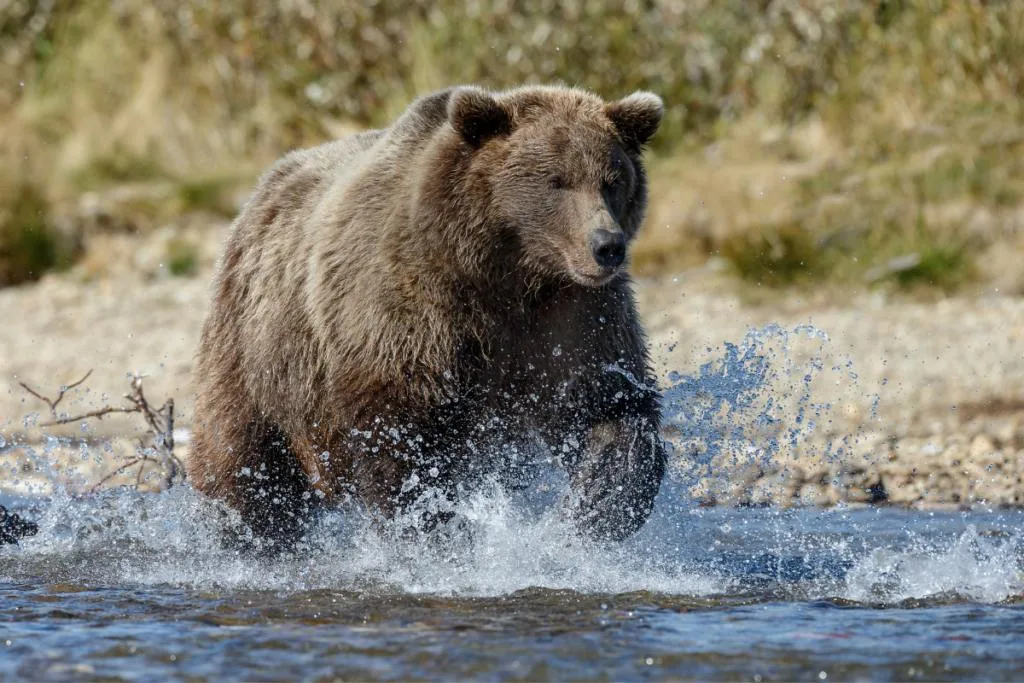 Frequently Asked Questions about Grizzly Bears in America
Where can you see grizzly bears in America?
You can see grizzly bears in several different places in the United States. Most sightings are in Wyoming, Montana, and Alaska. It is also possible to see them in a small region in north-central Washington and southwestern Idaho.
Which state has most grizzly bears?
Alaska has the most grizzly bears. It is estimated that there are about 55,000 grizzly bears in North America. Of that, about 31,000 (56%) are found within Alaska. About 600 bears are found within the Greater Yellowstone Ecosystem and 1000 bears in Northwestern Montana.
Where are grizzly bears mainly found?
Today, grizzly bears are found in Alaska, western Canada, Wyoming, Montana, Idaho, and Washington. They once ranged across the entire west coast.
Do grizzly bears eat humans?
Yes, grizzly bears have eaten humans. That said, it is extremely rare for a grizzly bear to hunt humans. Most attacks are defensive attacks where the bear is defending their kill or cubs from a perceived threat.
What is the friendliest type of bear?
You shouldn't be making friends with bears. Respect them and keep your distance. Black bears are the least aggressive of the three North American bear species. While they are omnivorous, their diet tends to lean more herbivore and they aren't big on hunting other animals for food.
Which type of bear is the most aggressive?
Polar Bears are the most aggressive North American bears. They are the only species that is frequently seen stalking humans.
Is a Kodiak bear a grizzly?
Yes and no. They are a subspecies of brown bear and brown bears are often referred to as grizzly bears. Grizzly bears are a subspecies of brown bear.
Final Thoughts on Seeing Bears in the Wild
Seeing a grizzly bear in the wild should definitely be on your wildlife bucket list. Let us know in the comments below your favorite grizzly bear sighting or place to see bears.
Looking to see other National Park Wildlife? Check out our other wildlife guides:
Pin for Later: 11 Best Places to See Grizzly Bears in the USA