If you are searching for the best family camping, Colorado might not be the most obvious choice. But there is actually so much to appreciate here, and you'll have plenty of peace while you do it. Many are scared away by the dry climate, hot summers, and cold winters. However, the landscapes here are unlike anywhere else on the planet.
You can visit archaeological sites, a World Biosphere Reserve, and a dune ecosystem near some of the best camping sites. After camping in Rocky Mountain National Park, you'll be a family favorite if you include these free activities in Denver.
We discuss more family-friendly options for the best camping in Colorado below.
This post may contain affiliate links, meaning if you book or buy something through one of these links, I may earn a small commission at no extra cost to you! Read the full disclosure policy here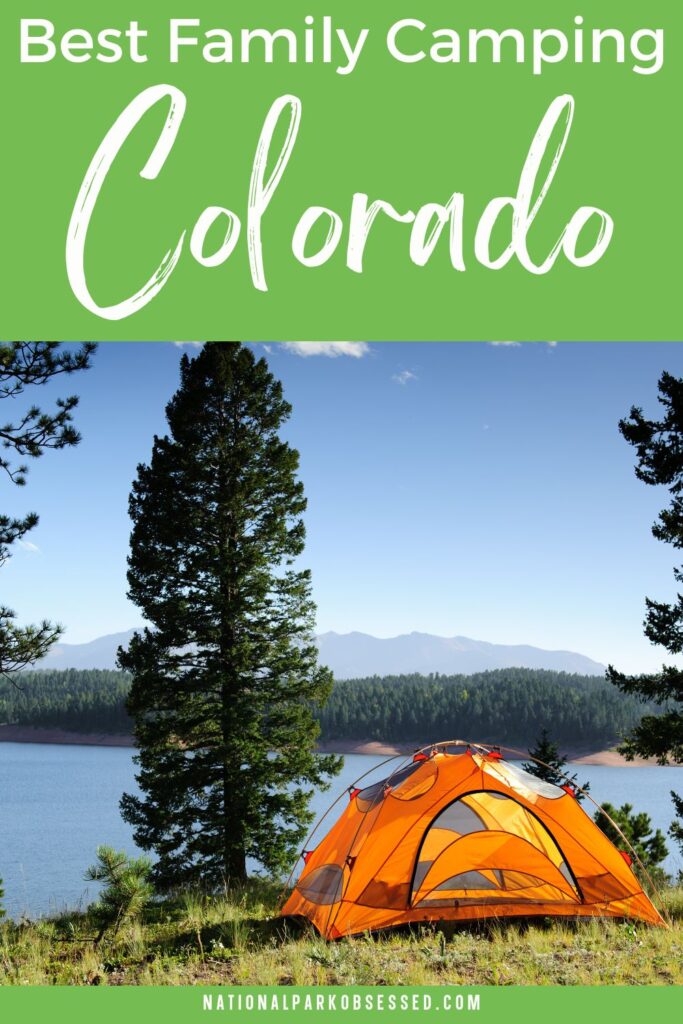 Family Camping in Colorado's National Parks
Colorado's campgrounds in each national park offer your family a real escape from the city. You can leave the iPad at home, knowing there will be no shortage of activities to do during the day. So, set off on vacation to the following campsites in Colorado's national parks.
Mesa Verde National Park
Mesa Verde National Park preserves the archaeological sites of Ancestral Pueblo people who built semi-permanent rock shelters still visible today. The most notable attraction is the cliff dwellings built during the 12th-century.
The agricultural systems, ceremonial structures, and artifacts give insight into the past, making this an exciting vacation for you and your children.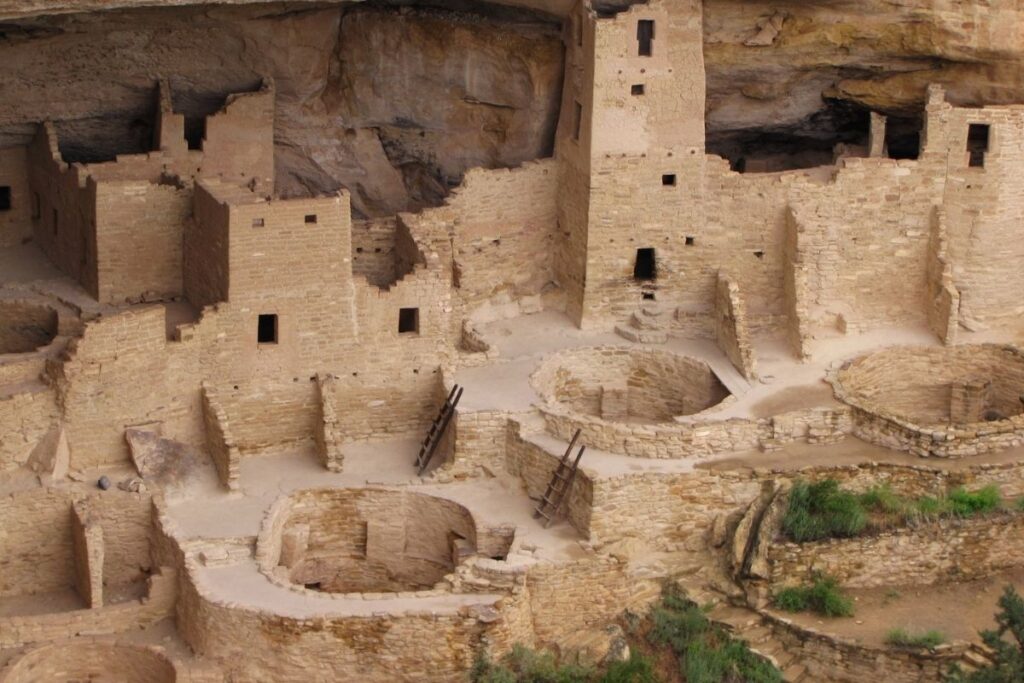 Morefield Campground
This Mesa Verde campground lies four miles inside Mesa Verde and always has plenty of space, thanks to the 267 sites. The wild landscape consists of expansive vistas with native Gambel oaks and wildflowers. Most of the sites have fire pits and a picnic table, perfect for a game of cards.
The trails are well maintained, and the routes to the cliff dwellings are must-see options. This is the perfect camping location for families in Southwestern Colorado.
Rocky Mountain National Park
Stand in awe of Colorado's spectacular range of mountain environments from the campgrounds in Rocky Mountain National Park. This is the perfect place for an outdoor family adventure with inspiring rock-climbing routes, trails, and lakes.
Cub Lake Backcountry Campsite
If you are excited to hike with the kids, camping in a backcountry campsite like Cub Creek is a great option. The camp is a 2-mile hike from the Moraine Park trailhead, making it a perfect outdoor activity for any first-time campers. While there are only two campsites available, they are well-positioned beneath pine trees near the east end of Cub Lake.
Every fall, large herds of elk congregate in the meadows nearby to graze. You'll be kept on your toes with wildlife like coyotes, bobcats, and raptors in the area.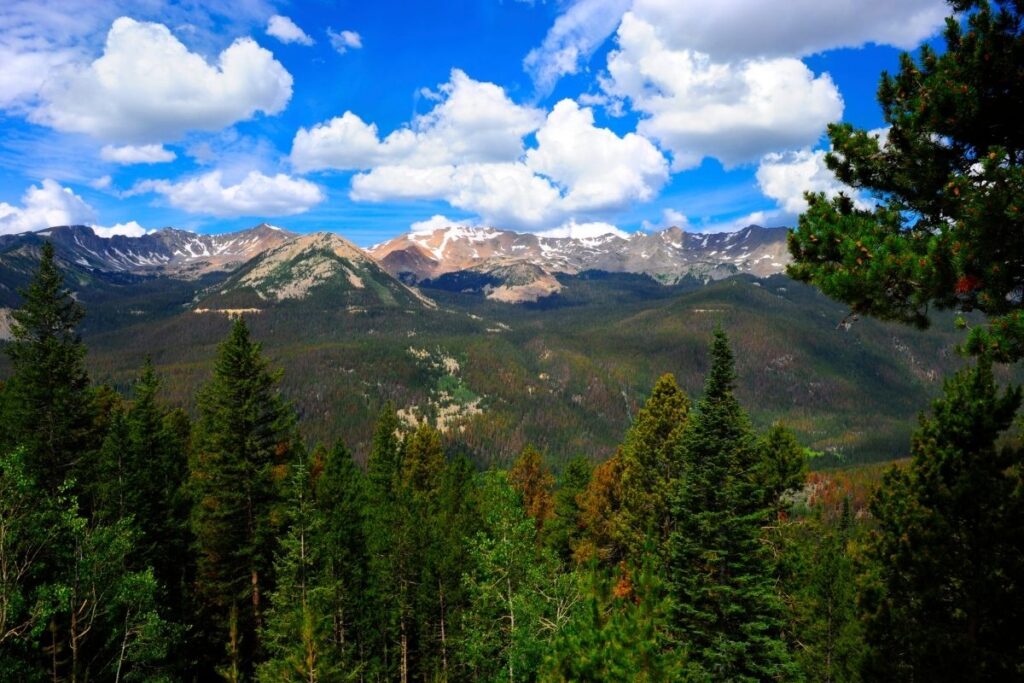 Moraine Park Campground
This well-established campground is located just inside the national park through the Estes Park entrance. It offers incredible views of the 14,000 ft peaks and lets you enjoy the Moraine Park activities like hiking, fishing, horseback riding, and wildlife viewing. The lush meadows and tall Ponderosa pines make this the perfect setting for your weekend away.
Great Sand Dunes National Park
Hike up and marvel at the tallest dunes in North America (up to 700 feet tall) in the San Luis Valley at Great Sand Dunes National Park and Preserve. You can rent a sandboard outside the park to carve down the slopes for an exhilarating experience. The campground is located in a quiet corner of the valley and is accessible by car. The park is scenic and has forests and rivers ideal for outdoor activities.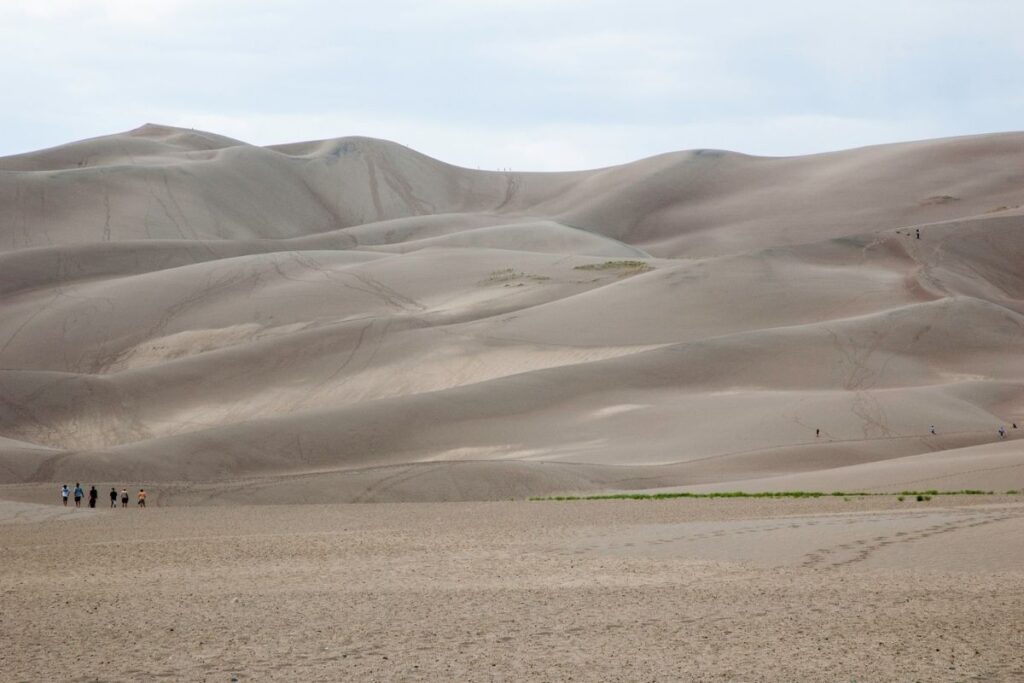 Piñon Flats Campground
The Piñon Flats Campground is located one mile north of the Visitor Center and is an ideal family camping spot between April and October when the weather is suitable. However, April is still a snowy time to visit, so be prepared with warm clothing.
Each site has a fire grate and a picnic table to make your outdoor family dinner a pleasant one. The pinon trees offer shade for many sites, and a campground store provides food, firewood, and supplies. Pets are welcome, as long as they are not left unattended.
Black Canyon of the Gunnison
Black Canyon of the Gunnison National Park is a breathtaking destination to go camping with family. The steep-walled gorge is the result of the Gunnison River sculpting the cliffs of the Precambrian rock over two million years. Pleasant nature trails near the campsites offer sightings of wildlife, guideposts describing the plants, and shade beneath the Gambel oak trees.
North Rim Campground
The North Rim campground is a fantastic place to escape with your family. The thirteen sites are first-come, first-served, and are spacious and spread out beneath the pinon and juniper trees. However, it's important to note the campground is closed to vehicles in winter, and the water is turned off between fall and spring.
The campground is 11 miles southwest of Crawford, and the last 7 miles are unpaved.
South Rim Campground
The South Rim Campground is an equally lovely place to stay with your family. The campground is one mile from the South Rim Visitor Center and has partially shaded sites beneath Gambel oak trees.
While the dramatic elevation of 2500 feet above the valley floor offers incredible views, the weather can be unpredictable at the South Rim Campground.
East Portal Campground
Resting at the bottom of the Black Canyon of the Gunnison National Park is the secluded East Portal Campground. It has ten seasonal campsites beneath box elder trees in the Curecanti National Recreation Area. Due to its location along East Portal Road, it is inaccessible and closed during winter. The position deep in the valley does let you escape the summer heat.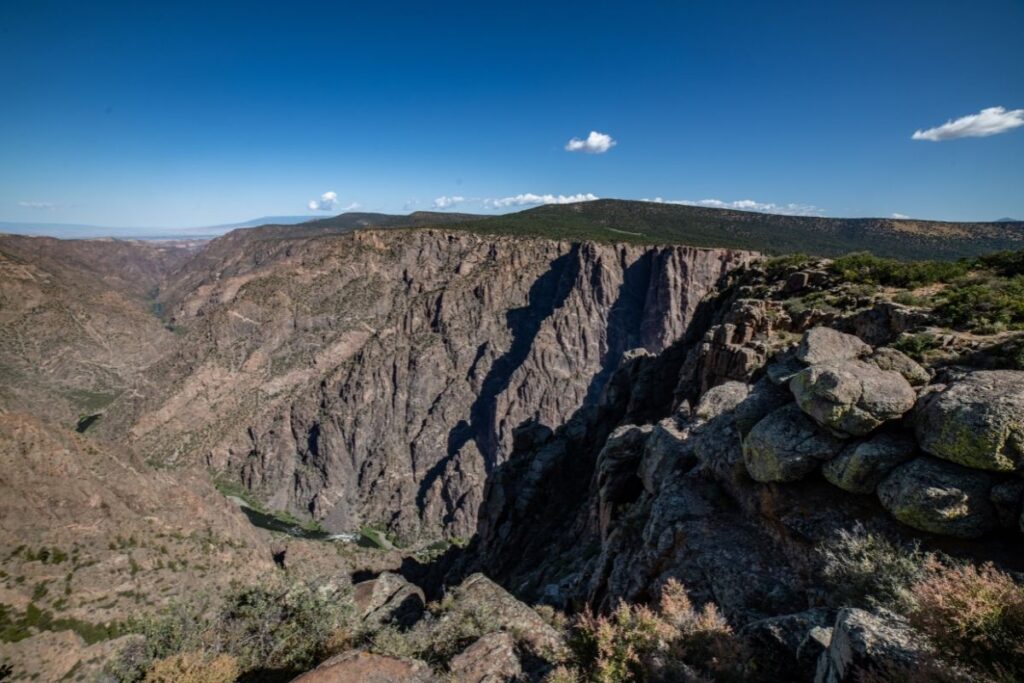 Best Family Camping Colorado
With hundreds of great locations to camp outside of the above national parks, you may want to consider one of the following family-friendly campsites in Colorado.
Mountain Park Campground, Fort Collins
Mountain Park is the ideal getaway for a family camping trip to the Rockies. The lush meadows, forests, and surrounding mountain peaks make Mountain Park Campground one of our favorite places to camp in Colorado. It is only 40 miles from Fort Collins, yet the sounds of the Poudre River help make it feel completely isolated from civilization.
The area offers fishing, white water rafting, hiking, and a playground. Each site contains a pad for your tent, a fire grate, and a picnic table.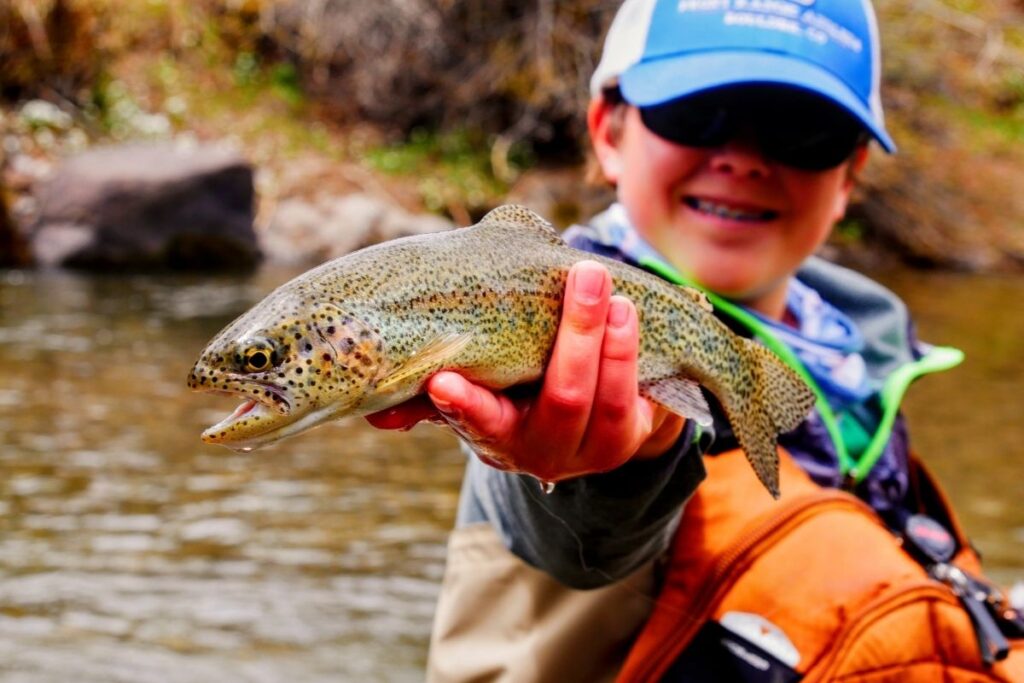 Green Mountain Reservoir Camping, White River National Forest
Green Mountain Reservoir is the ideal area for families who love water-based activities. In addition to hiking and biking, you can launch your boat, stand up paddleboard, or swim.
Hiking in the White River National Forest is impressive, with Bush Creek, Eaglesmere, Elliot's Ridge, Lost Lake, and Surprise Lake trails, to name a few.
The site offers some of the best camping and fishing in Colorado, with brown trout, rainbow trout, and salmon available for sport fishing.
Jack's Gulch Campground, Roosevelt National Forest
This is a firm favorite when camping with kids in Colorado. The campground is set amongst pine forest, aspen, and in season, wildflowers. A meandering hiking trail around the campsite includes an easy nature hike.
You'll find the outdoor space relaxing, while activities include fishing in the stream, mountain biking, and hiking. The campground is off of Pingree Park Road and offers beautiful mountain views.
Chambers Lake, Bellevue
This campground is located along Highway 14 and is a popular getaway from Bellevue. The sites are established, and primitive camping is possible along the lake. Here you can fish, swim, and launch small crafts.
The natural surroundings make your stay more enjoyable, with moose and elk often sighted near the grounds.
Chinn's Lake, Idaho Springs
Reaching Chinn's Lake requires a high-clearance vehicle and is a perfect off-road family adventure. You will want to tackle the difficult trail once the snow has melted. The location offers dispersed camping, so you can find a suitable campsite along the lake.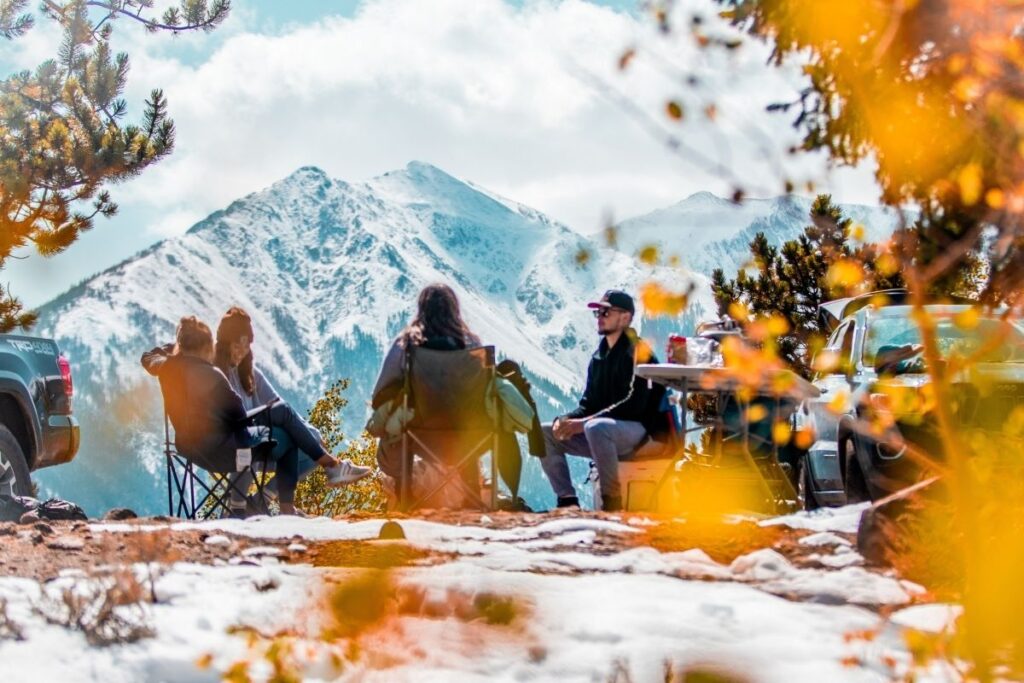 Best Camping Cabins in Colorado
It's okay if your idea of a camping trip with the family includes a Colorado cabin with a hot tub. With some of the best scenery and hiking trails surrounding these cabins, it is still an incredible way to experience the outdoors. Consider some of the campsites with cabins below.
Dolores River Campground
The Dolores River Campground is a down-to-earth cabin and camping location along the Dolores River. The tree-filled sites and the sound of the river create a tranquil backdrop to this family-friendly location.
A small cafe, a variety of bespoke cabins, and two wonderful hosts make this a notable family escape. You can even spend the night in a Conestoga Wagon.
Mueller State Park, Divide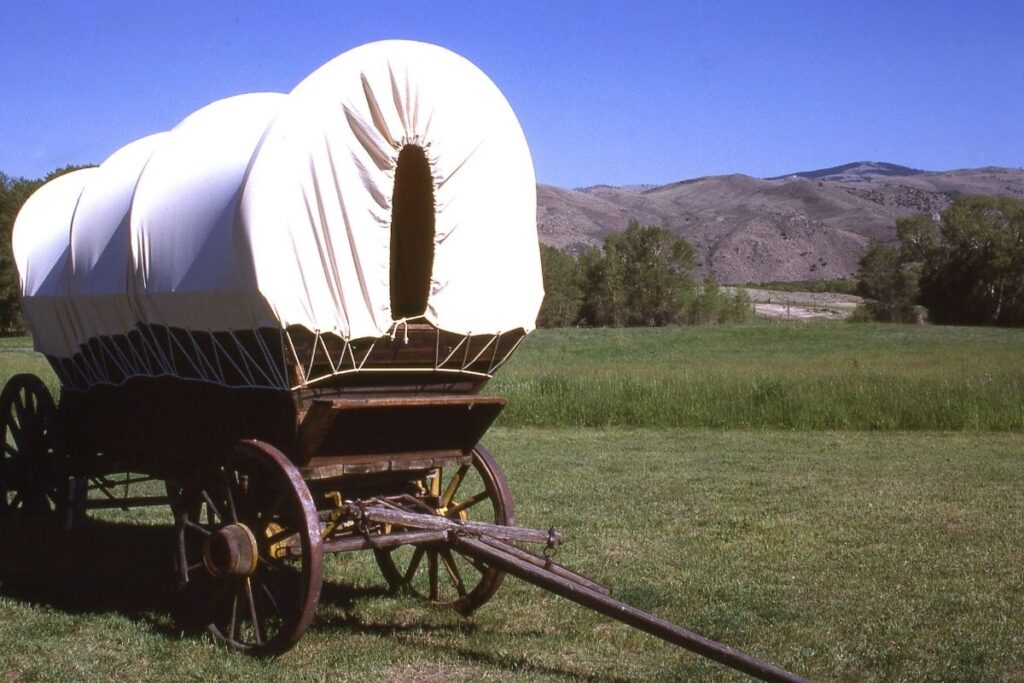 While this site is not the most remote campground, it is excellent for families hoping to stay close to the Front Range cities. You'll enjoy views of Pikes Peak while your kids can make the most of the amenities and playground. Staying in one of the three log cabins is a great way to keep warm if you decide to go camping in the colder months.
Final Thoughts on Family Camping in Colorado
We hope you feel confident about camping with your family in Colorado with so many incredible places to stay. Whether you decide to visit one of the national parks or simply settle into a cabin along the river, you can rest easy knowing you have chosen one of the best campgrounds for kids in Colorado.
Know of a fantastic Colorado camping site we have missed out on? Share it with us in the comments below.
Frequently Asked Questions about Colorado Family Camping
Where can I camp with a baby in Colorado?
Having a baby doesn't limit your camping options in Colorado. Assuming you'd like to camp with your baby. If you are camping with a baby, you need to make sure that you have everything you need for your infant to take care of your infant, including sleeping, eating, and other unmentionable issues.
How much does a camping trip to Colorado cost?
It varies based on where you are camping. If you are dispersed camping in the National Forests, then it's free. If you are staying in a National Park or National Forest campground, expect to pay between $6-30 per night.
Colorado State Park campgrounds range from $14-18 for tent sites and $32-41 for full hookups.
Private campgrounds run the gamut but expect to pay at least $25 per night for a tent site and $35 plus for a full hookup.
Can you just camp anywhere in Colorado?
No, the camping options in Colorado vary depending on where you are. Typically, dispersed camping is allowed anywhere in the National Forests or BLM land. National Parks generally require you to be in a campground. Always check the local regulations.
Pin for Later: Best Family Camping in Colorado – Campgrounds, Parks & More