Post Summary: Things To Do in Cape Lookout
Are you planning a trip to Cape Lookout National Seashore? Cape Lookout National Seashore is created from many of the barrier islands off the coast of North Carolina. What sets this national park unit apart from many others is that it requires a boat to access, there are no paved roads, and it is one of the last remote areas on the eastern coast. Here are the best things to do in Cape Lookout National Seashore, NC.
This post may contain affiliate links, meaning if you book or buy something through one of these links, I may earn a small commission at no extra cost to you! Read the full disclosure policy here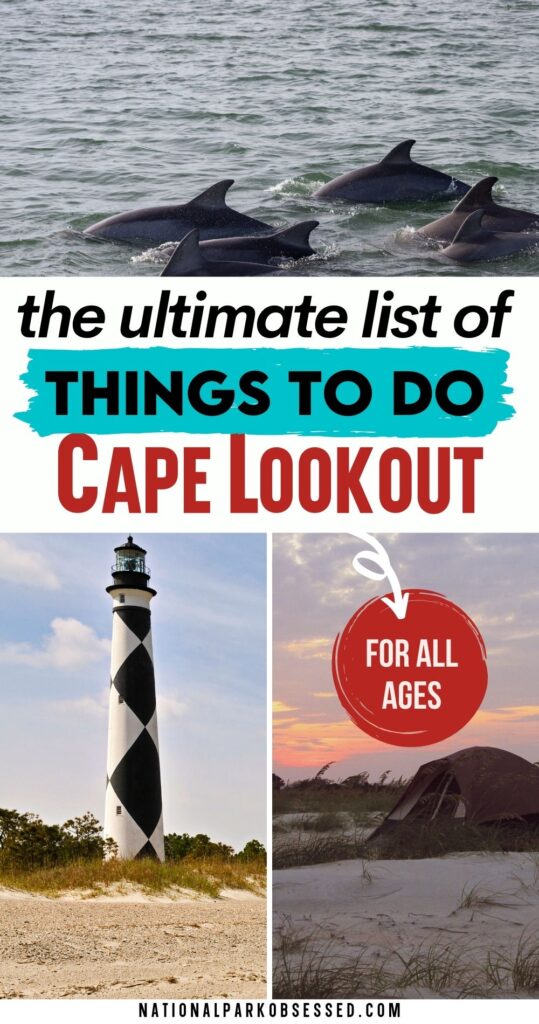 How to Get to Cape Lookout National Seashore?
The majority of Cape Lookout can only be accessed by ferry. The Harker's Island and Beaufort Visitor Centers are located on the mainland and do NOT need a ferry to access. The majority of ferries operate from April to November. Outside of these months ferry service is irregular and limited. Pets are not allowed on all ferries. If traveling with a pet, be sure to book a pet-friendly ferry.
Cape Lookout Ferries Destinations
How to get around Cape Lookout National Seashore?
All of the roads in Cape Lookout National Seashore are sand roads. It is STRONGLY recommended that you bring and 4WD or AWD vehicle to Cape Lookout. It is recommended that you bring an "Off-Road Driving" Kit including a Tire Pressure Gauge, First Aid Kit, Shovel, Spare Tire or a can of Fix-A-Flat, Air Pump, Tow Rope, Traction Boards, Water, and Fire Extinguisher.
You will need an ORV Beach Driving Permit to drive on the beach. The permit costs $25 before March and $50 after March and is valid for 1 year.
Please note that most major rental car companies do NOT allow their vehicles on sand or dirt roads. So if flying in or have a non-4WD/AWD, your best option is to rent a side-by-side vehicle. Island Express Ferry Service specialized in Cape Lookout side-by-side rentals.
Where to stay in Cape Lookout National Seashore?
There are only two options for accommodations in Cape Lookout National Seashore. Visitors can choose to either camp or stay in a rustic cabin when looking for a place to stay on Cape Lookout.
Beach Camping
All camping in Cape Lookout is primitive beach camping, meaning there are no designated campgrounds or spaces. Visitors are allowed to camp in any kind of vehicle; however, they must be set up on the oceanside of the beach between the dunes and the "high-tide line".
Rustric Cabins
If camping is not the thing for you, or you are looking for more of a getaway there are two cabins camps at Cape Lookout. The cabins are located at Long Point on North Core Banks and Great Island on South Core Banks. These are rustic cabins where visitors will need to provide all cookware and linens. More information on planning a visit to Cape Lookout's Rustic Cabins can be found here.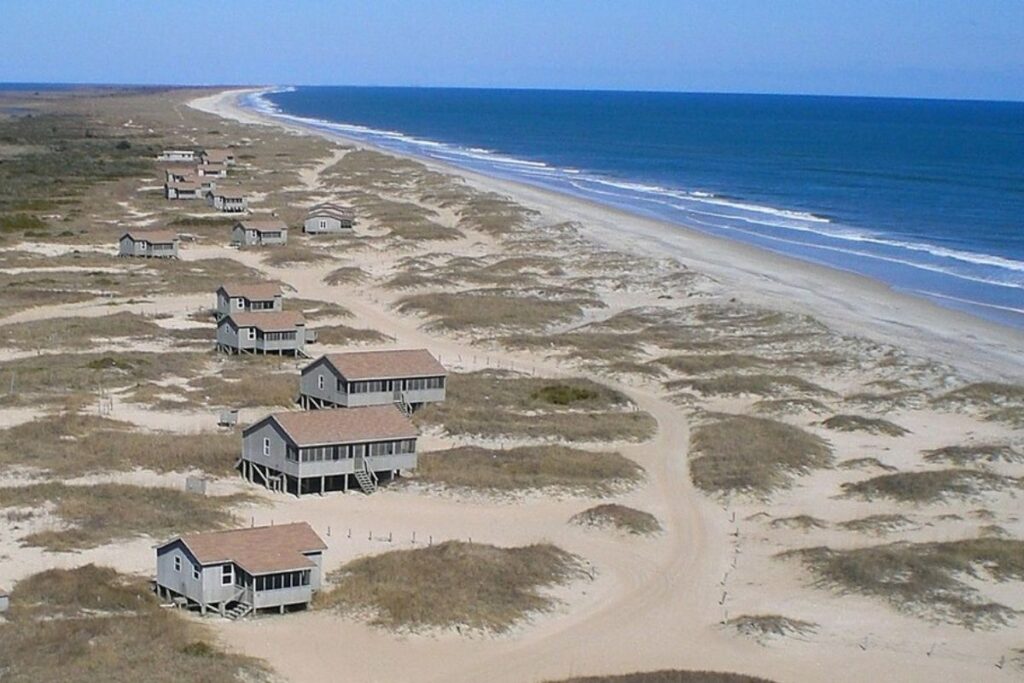 Lodging Near Cape Lookout National Seashore
Hotels near Cape Lookout
Bask Hotel at Big Rock Landing – Bask Hotel is a modern budget friendly option near Cape Lookout. Rooms from $87/night: Book on Hotels.com or Booking.com
Inlet Inn NC – Inlet Inn is a classic beach front inn with rooms that have balconys and sea views. Rooms from $103/night: Book on Hotels.com or Booking.com
Beaufort Hotel NC – Beaufort Hotel is a beachy modern hotel near several ferry ports. Rooms from $116/night: Book on Hotels.com or Booking.com
Vacation Rentals near Cape Lookout
Core Sound Lodge – Core Sound Lodge is beach cabin with lighthouse views. Sleeps 6. Rooms from $153/night: Book on VRBO.
Harkers Island Home – Harkers Island Home is a waterfront condo with picture windows. Sleeps 6. Rooms from $180/night: Book on VRBO.
Cozy Home – This cozy home is great for families with lots of fun amentities. Sleeps 8. Rooms from $233/night: Book on VRBO.
Things to do in Cape Lookout National Seashore
Climb the Cape Lookout Lighthouse and the Keeper's Quarters
The Cape Lookout Lighthouse is part of a larger facility of buildings known as a 'Light Station'. Visitors can explore the oil house, cisterns, sheds, and other buildings that complete the entire 'light station'. During peak season visitors can explore the Keeper's Quarters Museum that was once a home for the Assistant Keepers in 1873.
The Light Station and Keeper's Quarter Museum are open. The cupola of the lighthouse is CLOSED until 2023 to complete major structural repairs.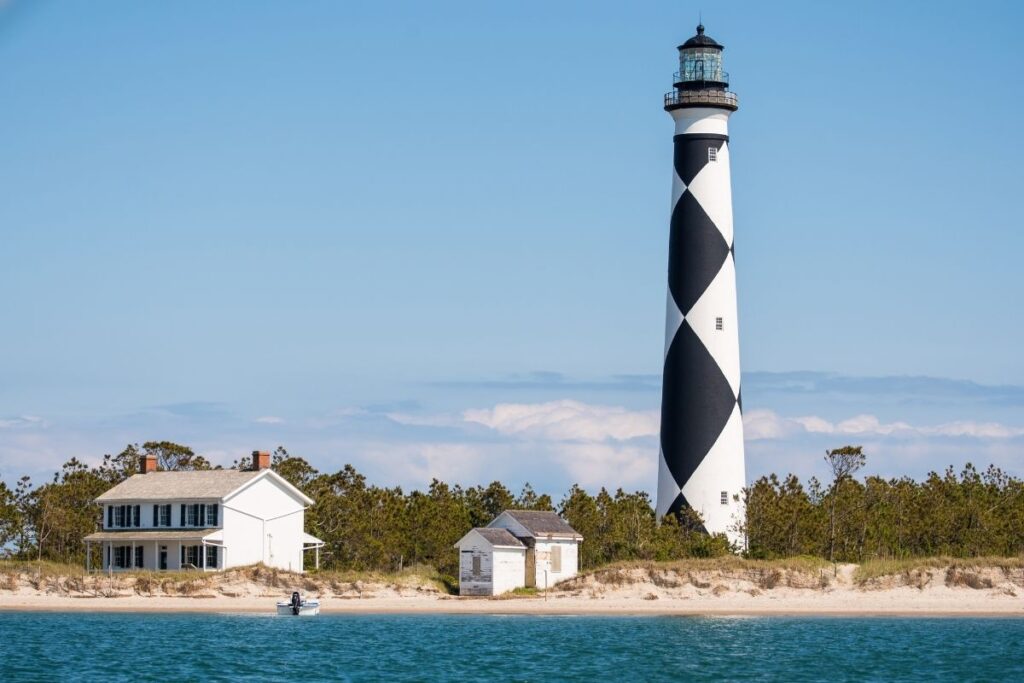 Go Swimming at Cape Lookout
One of the most popular things to do in Cape Lookout is swimming along the beach. During the summer the water temperature can reach up to 80 degrees. This is ocean swimming and there are NO lifeguards. All swimming is at YOUR OWN RISK.
Be aware of currents, wind, and waves when selecting places to swim. Keep a close eye on children and nonswimmers should wear Coast Guard flotation vests.
Be alert for boats. Boats can come into anchor and may not see swimmers.
Swimming is allowed except within 50 ft of the passenger ferry dock in the lighthouse area.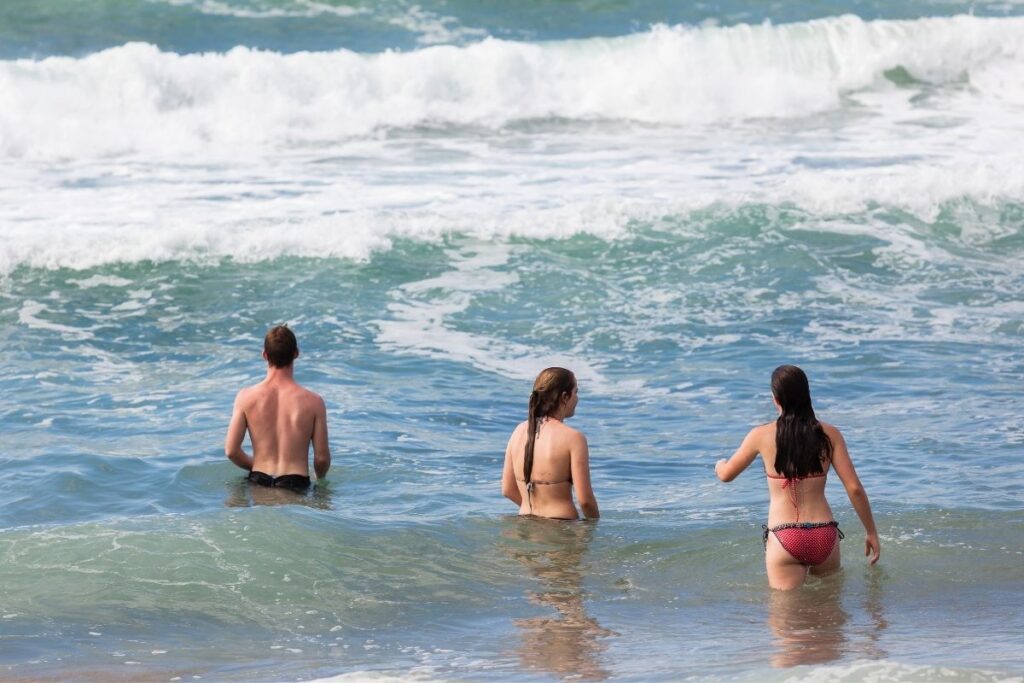 Guided tour of Portsmouth Village
Portsmouth Village was once an east coast sea village that represents a time that has passed. Within the village are displays about the daily community life and lightering, the process of removing oil and other hazardous materials from compromised vessels. Guided tours of the village are offered seasonally or you can take a self-guided audio tour. Within Portsmouth Village are various buildings from a school, post office, general store, Methodist Church, and many houses that all work to tell the story of Portsmouth Village.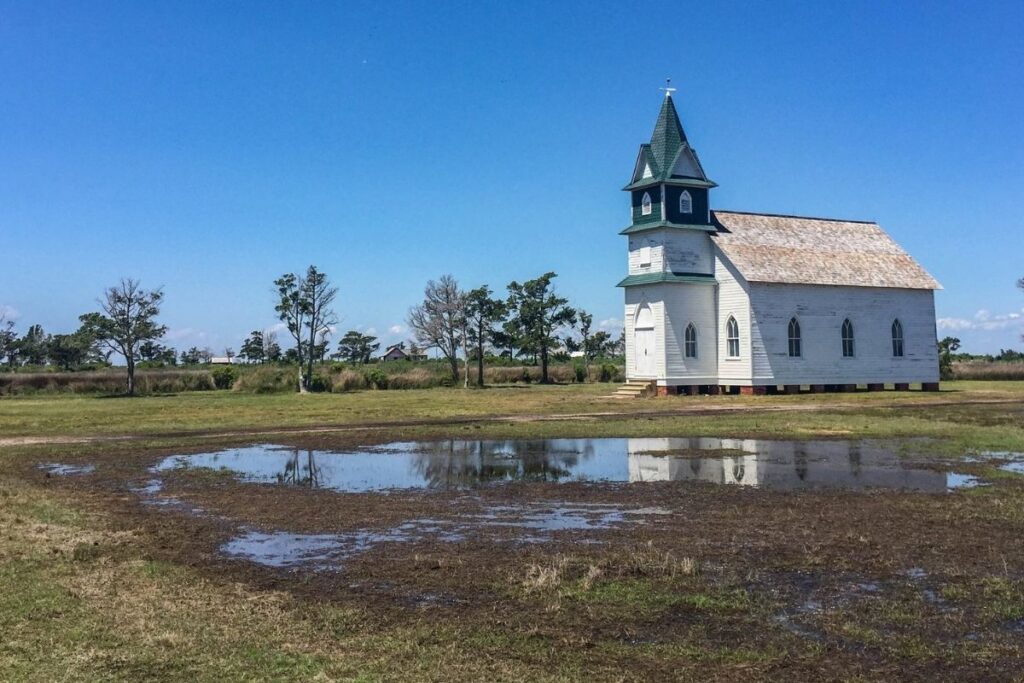 Get your Junior Raner and Junior Ranger Adventurer Badges
Cape Lookout National Seashore has a junior ranger program that has two parts. The first is the standard junior ranger booklet where kids can earn their junior ranger badge. Once they have their junior ranger badge, kids can attend 2 scheduled ranger programs. and get their junior ranger patch.
Junior ranger books cand be obtained at Cabin Camp Offices. the Harkers Island Visitor Center, or the Light Station Visitor Center. 5 to 7 year olds will have to completed four activities and those older than 8 will need to complete 8 activities.
While aimed at kids, anyone can become a junior ranger and many adults collect junior ranger badges.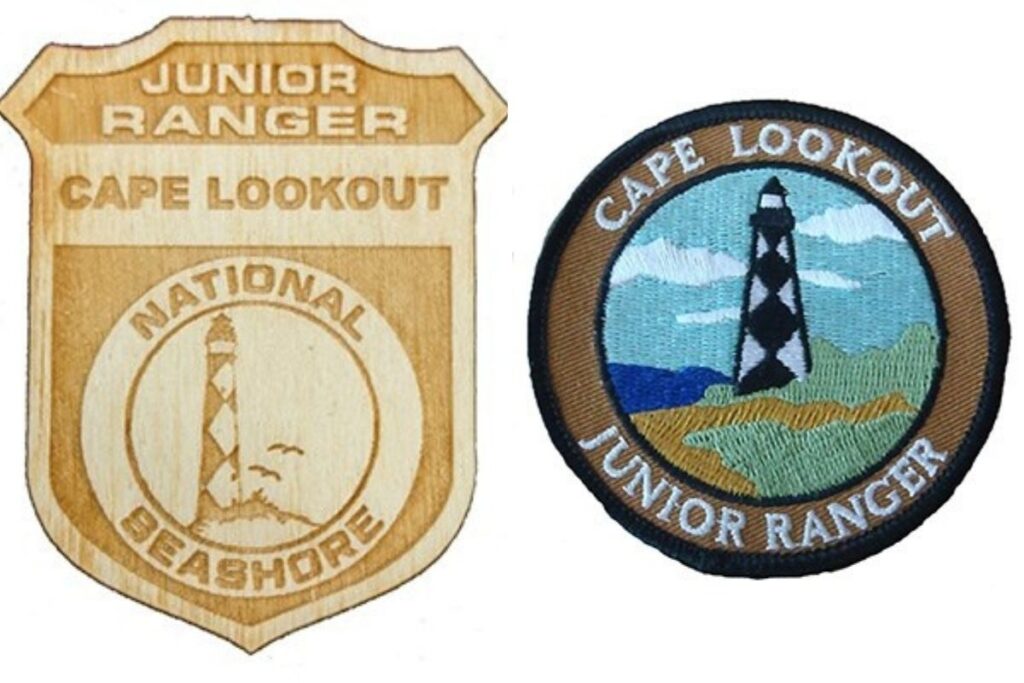 Wildlife Watching at Cape Lookout
Birdwatching at Cape Lookout
Cape Lookout National Seashore is home to over 250 species of birds throughout the four seasons. The winter months is the best time to observe ducks and geese along with the smaller inland marsh ponds. During the warmer summer months, terns and herons can be spotted through the marshlands and rivers. Spring and summer are the best time to observe shorebirds, songbirds, and hawks. Year-round common gulls and pipers can be seen darting up and down the beaches.
Common Bird Species seen
American Oystercatcher
American White Ibis
Black Skimmer
Brown Pelicans
Eastern Willet
Laughing Gull
Least Tern
Marsh Wren
Osprey
Piping Plover
Snowy Egret
Wilson's Plover
Related Article: Best Binoculars for Wildlife Watching.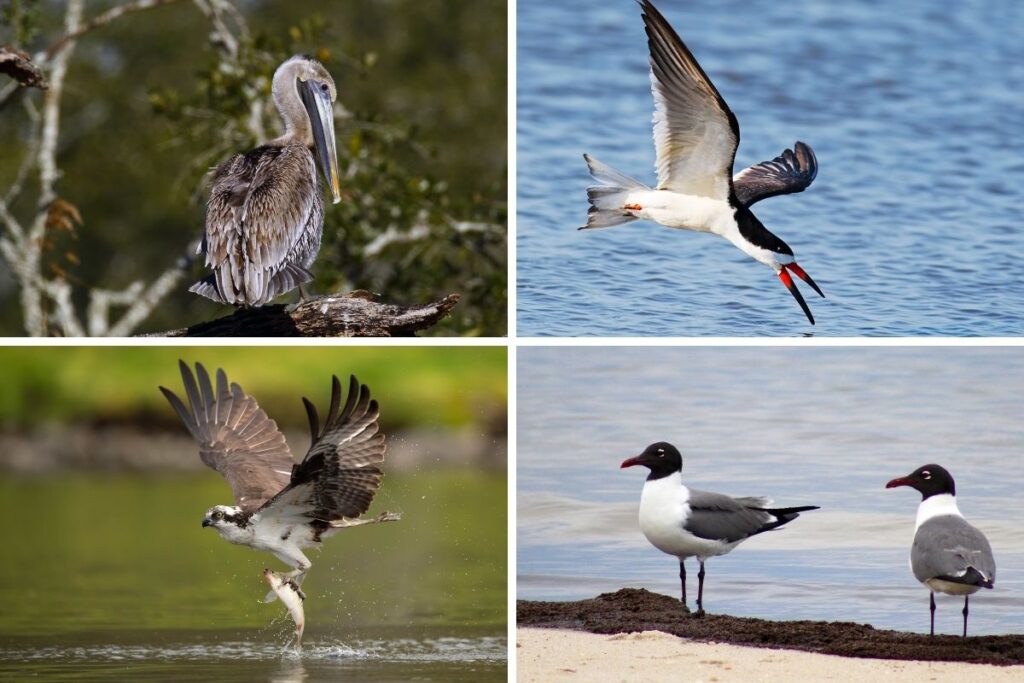 Horse Watching at Cape Lookout
Wild horses are only found on Shackleford Bank which is the southernmost barrier island in Cape Lookout. There are about 100 wild horses living on the island. The exact origins of this horse heard are unknown. Legend says they swam ashore from sinking ships but nothing is proven. Written records track the heard back to the 1520s. These horses are classed as Colonial Spanish and are referred to as Banker Ponies. These horses are considered to be wild and feral.
The Shackleford Bank horse graze all around the island so you may have to explore a bit to find one of the herds. The horses are typically found in herds of about 30. These herds consist of either a stallion with mares and foals (harem) or a stallion group (bachelor band).
These are wild animals and you should NOT approach them. Federal law requires you to stay at least 50 feet from the horses. No NOT disturb their natural activities. They have been known to bite, kick or charge if their space is invaded.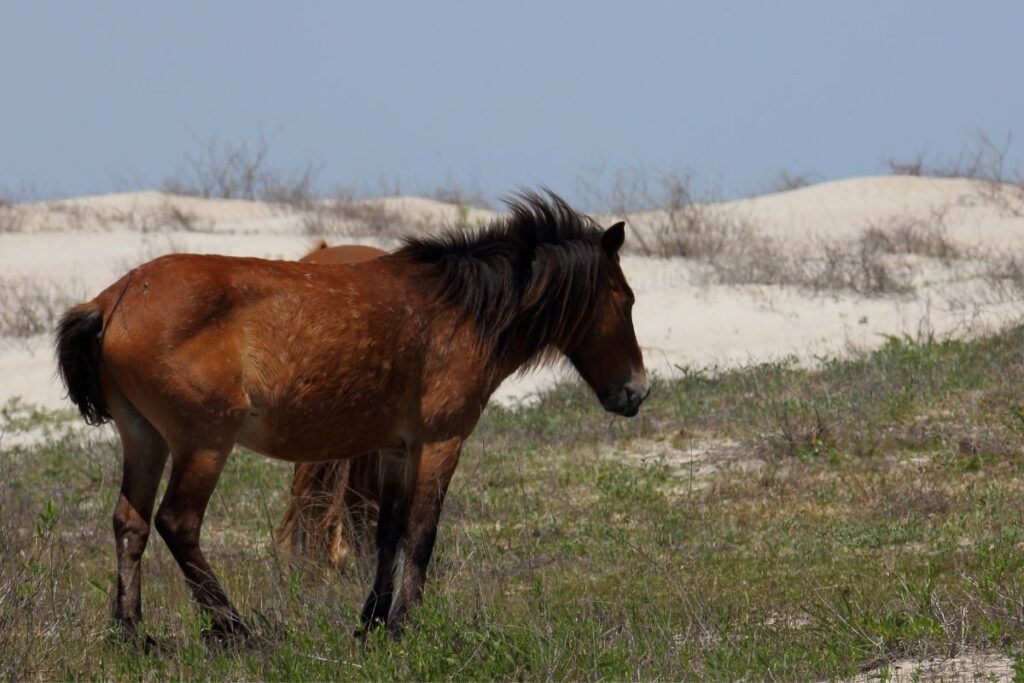 Explore in a kayak or canoe
Cape Lookout National Seashore is one of the top paddling destinations along the Atlantic coastline with over 100 miles of shoreline. Cape Lookout lies about 3-miles from the mainland, which is accessible to most novice paddlers depending on weather conditions. If launching from National Park property, it is REQUIRED to leave a copy of a float plan with park staff in the Harker's Island Visitor Center. Trail maps have been created by the Crystal coast Canoe & Kayak Club that can be viewed at the Visitor Center.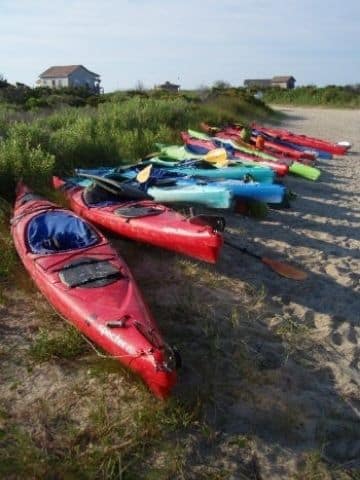 Fishing at Cape Lookout
The best fishing in Cape Lookout is in the spring and fall months. Visitors are allowed to fish within the park's beaches and sounds. Fishing is NOT allowed from the piers and docks within the park.
All fishermen will need a North Carolina Coastal Recreational Fishing License. State fishing regulations apply this includes all bag and size limits. It is recommended that you purchase your fishing license before you arrive but if not fishing license can be purchased at the visitor centers or cabin offices. Visitors must bring all fishing tackle with them.
Nearby charter fishing services are also available from Beaufort, Morehead City, and Atlantic City, NC.

Shelling at Cape Lookout
The uninhabited barrier islands are known for their vast numbers of shells. The best shelling times are around low tide, winter months, and early mornings. If an animal is still inhabiting the shell, please leave it on the beach. The collection is only allowed for NON-commercial use and visitors are allowed to collect up to 5 gallons of shells per person per day.
Commonly collected shells include:
Knobbed Whelks
Bay Scallops
Scotch Bonnets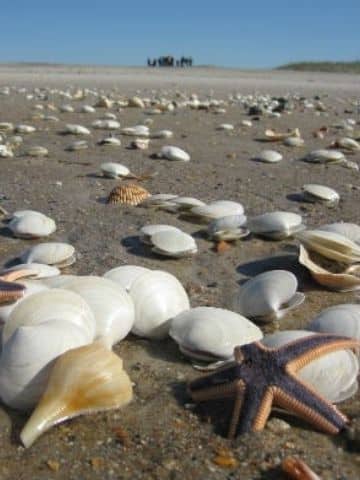 Stargazing at Cape Lookout
Cape Lookout is the first International Dark Sky Park on the Atlantic Coast. This certification recognizes the exceptional night skies for stargazing.
Once a month Crystal Coast Stargazers holds an Astronomy Night at the Harker's Island Visitor Center allowing visitors to gaze into the night sky above. This program is weather-dependent, and more information can be obtained by contacting the Harker's Island Visitor Center during the summer months.
Personal telescopes are allowed year-round at any location in the park.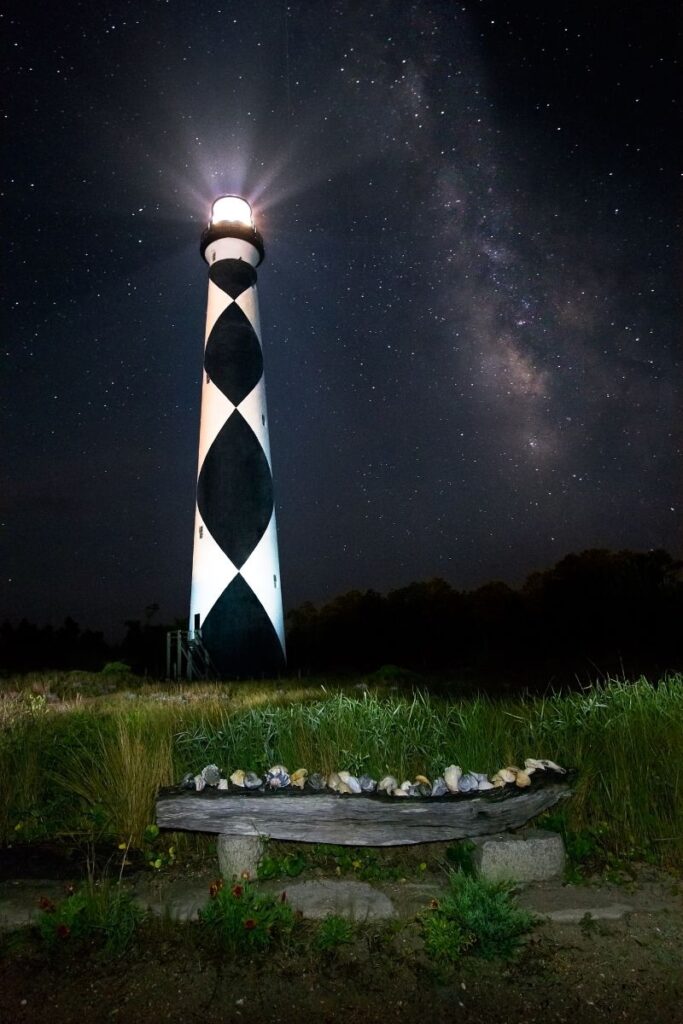 Final thoughs on the best things to do in Cape Lookout NC
Visiting Cape Lookout National Seashore offers many the chance of a lifetime to explore an uninhabited barrier island in the Atlantic Ocean. After following this guide, it will guarantee an adventure of a lifetime with opportunities to go swimming, fishing, birding, shelling, and beach driving along on of the last uninhabited barrier island on the eastern coast. Let's go to Cape Lookout National Seashore in North Carolina.
Do you have any questions about Cape Lookout National Seashore or need help planning your National Park trips. Let me know in the comments below or join me in my National Park Trip Planning Community!
Pin for Later: 9 Things To Do in Cape Lookout National Seashore in 2022