Imagine building your house on a top of a cliff? Now imagine building your house on a ledge on the side of that cliff? Seems crazy. The Ancestral Puebloans did just that. They built their home and villages on the sides of cliffs. For about 700 years, the men and women built a range of cliff dwellings, pithouses, pueblos, masonry towers, and farming structures before abandoning the region. Today, Mesa Verde National Park protects their archeological history. Over 4,700 sites have been discovered in the park. Mesa Verde National Park is a unique national park protecting both a gorgeous mesa and archeological record of the early human inhabitants.
Camping in Mesa Verde National Park is a perfect way to get a jump on your day and explore the park.
Mesa Verde Camping
Things to Know about Mesa Verde Camping
There is NO year-round camping. The campground is only open from April to October.
Reservations are available for most sites. A reservation is recommended on holidays and weekends. Sites fill up fast and any remaining first-come-first-serve spots will be claimed by early afternoon during the height of summer.
The Morefield Village Kennel is available from mid-April to mid-October for dog boarding.
Each tent campsite can have up to 9 people. There is space for three tents and two vehicles at the campsite. The campsite has a picnic table. Many of the campsites have a fire pit. Please double check the fire regulations and ensure your fire is completely out before going to bed.
Please do NOT leave any food, utensils out, or any scented items out. This includes toothpaste, toothbrush, chapstick. Pretty much put everything but what you are going to sleep into your car. This includes your cooler. This is BEAR country. They have been known to raid campsites and human food is dangerous to them.
Getting to Mesa Verde National Park
Mesa Verde National Park is a little tricky to get to. It is located in the southwest corner of Colorado near the borders of New Mexico, Arizona, and Utah. The park is about an hour and a half drive from the Four Corners Monument where Colorado, New Mexico, Arizona, and Utah meet.
Surprisingly, the closest major airport to Mesa Verde is the Albuquerque International Sunport. It is still a 5-hour drive away. If you are planning on visiting Colorado's other three national parks – Rocky Mountain, Black Canyon of the Gunnison and Great Sand Dune, then Denver International Airport is a better option. There is a great road trip loop that starts and ends in Denver and takes you thru all four national parks.
Where to camp in in Mesa Verde National Park?
Campgrounds in Mesa Verde National Park
Campgrounds near Mesa Verde National Park
BLM Land
Ancient Cedars Mesa Verde RV Park
Circle C RV
Mesa Verde KOA
Cozy Comfort RV Park
Dolores River Campground
Echo Basin Resort
Kelly Place Retreat Center
La Mesa RV Park
Mesa Verde RV Resort
Outpost RV Park
Priest Gulch Campground
Sundance RV Park
The Views RV Park & Campground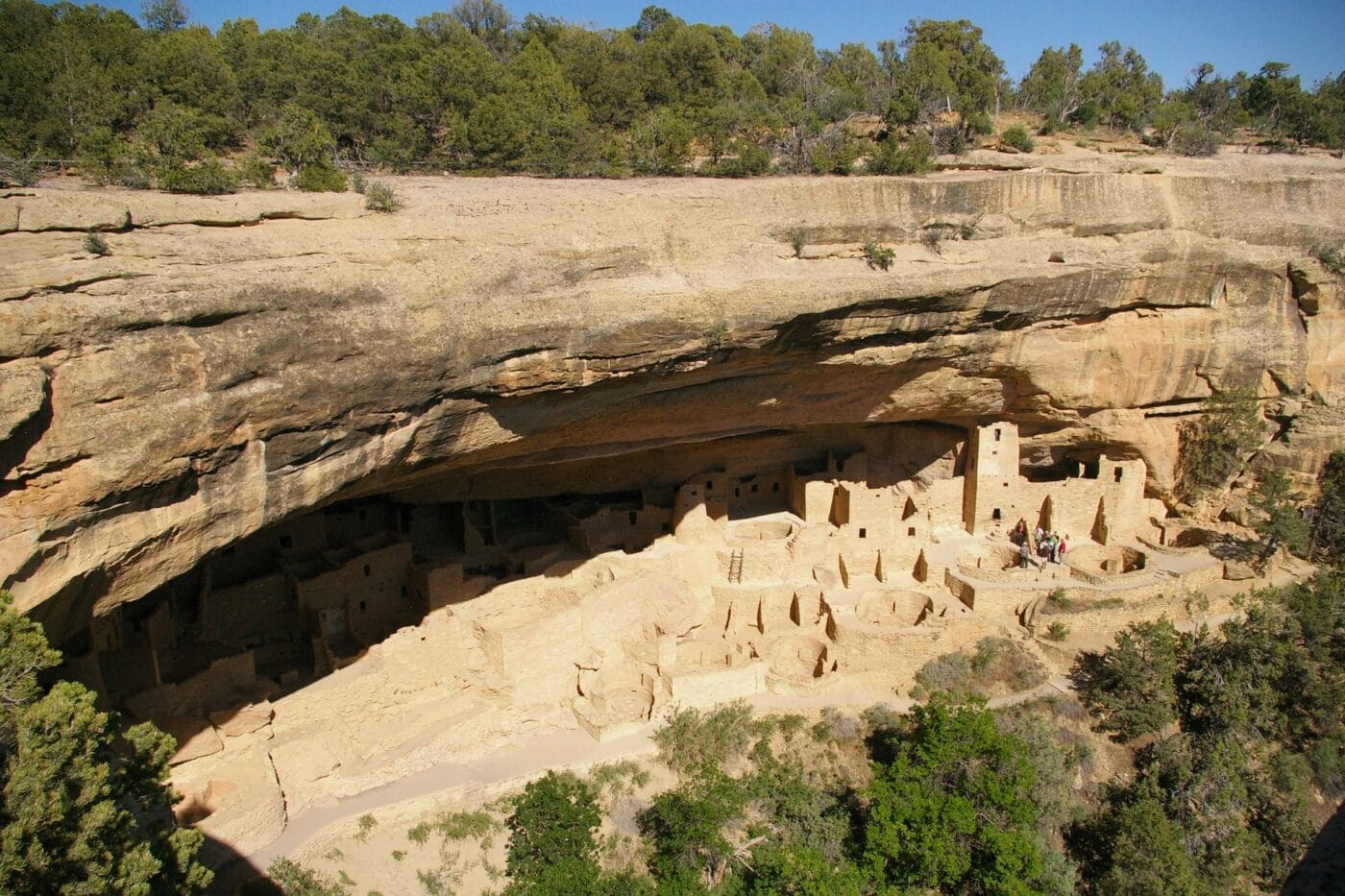 Mesa Verde National Park Camping
** All Campground prices are valid as of March 5, 2019.
Morefield Campground
Morefield Campground is one of the most advanced campgrounds in the National Park System. The campground is managed by a concessionaire (currently Aramark). Morefield is located four and a half miles into the park. The campground is spread out in a wooded canyon. This helps create a quiet place to camp. The campground is popular with wild turkey and deer. They come to browse on the wildflowers and other plant life.
This campground offers a gas station, RV dumping station, a coin-operated laundry, complimentary showers, a gift shop and grocery store. Several of the most scenic trails have trailhead located in Morefield.
The best part of Morefield is the all-you-can-eat pancake breakfast available from the Knife Edge Café. They are a great way to start your day before heading further into the park to do some hiking or to visit a cliff dwelling or two.
BLM Land
A small stretch of land between the border of Mesa Verde National Park and the Ute Mountain Ute Tribal land is available for public use and camping. This area is accessed via a small dirt road. This road is minimally maintained and is open for dispersal camping. You are welcome to camp anywhere along this road as long your vehicle is all the way off the road. There are several pullouts along the road. These are perfect to use as your campsite.
Please be responsible when camping here. There are no facilities. There is no trash pick-up. Please practice Leave No TraceLeave No Trace. There are no official fire pits. Please do not burn if it there is a burn ban in effect. Wildfires are no uncommon in this area and we should do what we can to prevent man-made forest fires.