Post Summary: Brooks Lodge Katmai
Bear, Bear, Bears. Oh my! Katmai National Park is the BEST National Park to see Brown Bears. The park is home to more than 3,000 bears. While brown bears can be found throughout the park, one of the best and most consistent viewing sites is Brooks Falls and the surronding area. During the salmon run, bears congregate at the falls. 25 Alaskan Brown Bears have been seen fishing at the falls. The bear viewing is so popular that there is a seasonal webcam for viewers to watch at home.
One of the best ways to see the falls and avoid some of the summer crowds is to stay at Brooks Lodge. Brooks Lodge is a simple Alaskan wilderness lodge located at the base of the Brooks River. It is a short walk from the lodge to the Brooks Falls viewing platforms. Getting to both the lodge and the falls requires a bit of planning and can be a little confusing. Here is what you need to know to plan a trip to Brooks Lodge.
This post may contain affiliate links, meaning if you book or buy something through one of these links, I may earn a small commission at no extra cost to you! Read the full disclosure policy here
Feeling overwhelmed with planning your Alaska National Park trip? Our expertly designed Alaska Park itinearies will show you how to make the most of your time and make booking your trip easy.
What is Brooks Lodge and why is it special?
Brooks Lodge is a 16 room Alaska wilderness lodge. The lodge located at the mouth of the Brooks River in Katmai National Park and Preserve. Katmai National Park is located on the Katmai Peninsula across from Kodiak Island. While the park was originally created as a National Monument to protect the Valley of Ten Thousand Smokes, the park is best known for Brooks Falls and is salmon fishing Alaskan Brown Bears.
The iconic photo of an Alaska Brown Bear standing at the top of the waterfall waiting for a salmon to jump into their mouth is taken at Brooks Falls. Brooks Falls is about 0.5 miles upriver from Brooks Lodge. It's about a 1.2-mile walk along the park's maintained path from the Lodge to the Falls viewing platform. Staying at Brooks Lodge allows visitors to sleep indoors while being close to some of the best Alaskan Brown Bear viewing.
When is the Best Time to Visit Brooks Lodge?
The Brooks Lodge is only open from June to September. There is a reason for this. This is the best time of the year to view bears in the area. Each month offers a slightly different experience in Brooks Camp.
June – Bear viewing will be slow as food is scarce until the salmon run starts. The bears are a thin from the long winter. They will be seen eating grass and sedge in the area. Bear sightings will increase towards the end of the month as bears move into the region to wait for salmon to arrive.
July – The salmon run will arrive and the bears will congarate by the river to hunt for salmon. Bear sightings will peak in mid-July. By late July, the main salmon run will end and the bears will disperse.
August – Bear sightings near Brooks Camp will decrease as the salmon fishing is no longer easy. Around late August, bear sighting in Brooks Camp will start to increase.
September – As the salmon start to die, the bears return to the river to fish again. The bears will be spread out along the river eating salmon.
How to Get to Brooks Lodge?
There are NO roads from Anchorage to Katmai National Park. There are only two roads in Katmai National Park and Preserve. The first is the road from King Salmon, Alaska to the Katmai's Lake Camp boat launch. The second is from Brooks Camp to Valley of Ten Thousand Smokes. These two roads are not connected.
Unless you are looking to do a 40+ mile bushwacking backpacking trip along the Naknek Lake, the only options for getting to Brooks Camp and Brooks Lodge is by floatplane or water taxi.
Before we talk about getting to Brooks Lodge, we have to talk about getting to King Salmon. King Salmon is a small town located on the Naknek River. King Salmon is not connected to Alaska Road System so you can't drive from Anchorage. The only way to get King Salmon is to fly. The flight from Anchorage to King Salmon is about an hour.
You can either book your flight to King Salmon separately or you can let your Katmai transportation provider book for you. I booked my King Salmon and Katmai flights separately. I wanted to maximize my time in Katmai so I planned to stay in King Salmon the night before and after my Brooks Lodge visit. So I could fly out on the earliest flight of the day and come back on the last flight of the day.
If booking flights separately, Alaska Airlines and Ravn Airlines offer daily flights to King Salmon from Anchorage. These flights run about $450 if booked a couple of months in advance and I recommend using Alaska if you can.
Floatplane to Brooks Lodge
Katmai Air is partnered with Brooks Lodge and can arrange round-trip air transportation to Brooks Lodge from Anchorage and King Salmon as part of your lodge reservation. No matter how you book your transportation to King Salmon, Katmai Air will pick you up at either your King Salmon hotel or the King Salmon Airport.
The flight from Anchorage is usually via charter flight but on occasion, they use scheduled Alaska or Ravn flights. Once in King Salmon, it's about a 20-minute flight from King Salmon to Brooks Camp.
As of June 30, 2021, King Salmon to Brooks Camp flight is $290 per person for a round trip. Anchorage to Brooks Camp is $950 per person for a round trip. This includes 50 lbs of luggage per person including your checked bag and carry-on. Extra luggage is $1 per pound.
Water Taxi to Brooks Lodge
Katmai Water Taxi offers service from King Salmon to Brooks Camp via water taxi. Water taxis depart King Salmon every two hours from 6:00 am to 6:00 pm. Water taxis depart Brooks Camp every two hours from 7:00 am to 7:00 pm (9:00 pm in June and July). The boat trip will take you on a scenic ridge across Naknek Lake. The trip takes about 45 mins.
As of June 30, 2021, King Salmon to Brooks Camp flight is $275 per person for a round trip. Anchorage to Brooks Camp is $925 per person for a round trip. There is no luggage weight limit.
PLEASE NOTE: If planning on using the water taxi GET TRAVEL INSURANCE. I always recommend travel insurance but this is the ONLY tour company I have ever known in Alaska that doesn't do weather cancellation refunds for when you get weathered out and can't reschedule. Which I find to be a shitty businesses practice.
In June 2021, I meet several people who were booked with them and had a negative experience both in the 2020 COVID Pandemic cancellations and 2021. Our flight from Anchorage to King Salmon was delayed and they missed their scheduled water taxi. Due to weather, the water taxis were canceled for the day we arrived and the following day. Assuming the weather improved, they would be left with a day trip to Brooks instead of two nights. Katmai Air worked with them to fly them out but Katmai Water Taxi basically told them to pound sand.
Personally, I use World Nomad Travel Insurance for all my trips. It covers high adventure activities like hiking and backpacking plus trip interruption and most of my gear.
When should I start planning my trip to Brooks Lodge?
While Katmai National Park is technically open year-round, the park is really only set up for visitation between June 1 and mid-September. Brooks Lodge is only open during this time.
If you are planning to stay at Brooks Lodge, ideally, you need to start planning your visit to Brooks Lodge in December two years before you'd like to visit. So if you want to visit in Summer 2024, you will start planning in December 2022. If you have some flexibility, you can plan your visit with less lead time but you'll be limited to what someone else has canceled. I planned my trip in under six months. A friend of a friend has space in her room and invited me along.
How to Make a Brooks Lodge Reservations
Brooks Lodge Lottery
Brooks Lodge is a small lodge with 16 rooms and a very short season. As such, there is a huge demand for rooms and there isn't space to accommodate everyone who'd like to stay at Brooks Falls. To give everyone an equal opportunity to stay at the lodge, they hold a lottery for the overnight accommodations
From December 1 to January 5 of each year they accept applications for overnight accommodations for the summer after next. My 2021 reservation was applied for in December 2019. On January 6, they start drawing numbers and reaching out for
Due to high demand, Brooks Lodge holds a lottery for overnight accommodations. The Brooks Lodge Lottery is held in January for the following year. Applications are accepted from December 1 to January 5. Lottery winners are contacted between January 6 and February 5 with reservations options within their desired dates (or with space available for people drawn later in the lottery). If there isn't space available when your number is drawn, you will be added to the waitlist.
Summer 2022 – Lottery is closed
Summer 2023 – Applications open on December 2021
Summer 2024 – Applications open December 2022
Summer 2025 – Applications open December 2023
Important Things to Know about the Brooks Lodge Lottery
Each person is allowed 1 application.
Each party is allowed ONE July reservation. Any other applications from party members for July will be cancelled if one or more names is found to be the same on a July booking. Standard cancellation polices will apply.
If planning to visit Brooks Falls during the month of July, you are limited to 3 nights. Any reservation including a night in July is limited to 3 nights. So if you are staying July 31, August 1, 2, you are limited to 3 nights. There are NO limits for June, August, and September.
A 50% deposit based on the previous year's rate is due within 7 days of receiving a reservation The remaining balance including any rate increase is due 90 days before the reservation date.
Parties are limited to 20 people and 5 rooms.
Parties are limited to 2 double occupancy rooms. If you'd like more than 2 rooms, you must have 3 people per room.
Requests for specific rooms or room types are not accepted.
Options if you didn't win the lottery
Call and Check on a Regular Basis
If you didn't get a reservation during the lottery drawing or started planning your trip after the lottery drawing happened, your only option is to call and check for cancellations.
A lot can happen in the 18-21 months between the time in the lottery and the dates of the reservation. So cancellations do happen. If you really want to stay overnight, call and check a couple of times a month and see if anything opens up during your desired period. This method works best if you are flexible on your dates. I met someone who called on May 23, 2021, who got reservations on June 25, 2021, so it doesn't hurt to call at any point and see what is open.
Look for Someone with Cabin Space
These cabins are expensive and not everyone has friends who want to go and can afford to go to Brooks Lodge and spend a few nights. If you keep an eye on the Bears of Brooks Falls, Alaska Facebook group, or an ear to the ground, you may find someone looking to fill a cabin. This is what happened to me.
The Brooks Lodge Reservation holder heard from a friend I didn't get camping permits and reached out. She then found two more women to come with us on the FB group. It worked out great. We were all happy to be there and beyond sleeping and naps, none of us spent any time in the cabin. We are planning a reunion trip in 2023.
Camp at Brooks Camp
If you can't get a reservation at Brooks Lodge but still want to stay in the area, your only option is to camp. There is a small campground in Brooks Camp. The Brooks campground works a little differently than other National Park Campgrounds. Space in this campground is reserved per person. There are 60 slots in the campground and the campground is open from May to October. Campers are limited to 7 nights in July and 14 days per calendar year. Groups are limited to 6 people.
Reservations can be made on January 5 at 8 am AKST for the following summer. The cost is $12 per night between June 1 and September 17. Camping is $6 per night for the rest of the season.
Other Places to Stay in Katmai National Park
There are 7 other wilderness lodges or camps located in Katmai National Park. These lodges focus on multi-day all-inclusive trips that include guided activities. Katmai's other lodges are sort of split into two groups. One group focus on multi-day fishing and the other focuses on wildlife viewing.
The fishing-focused lodges are Grosvenor Lodge, Kulik Lodge, Enchanted Lake Lodge, and Royal Wolf Lodge. Many of these lodges offer day trip options to visit Brooks Falls or other wildlife areas.
The wildlife-focused lodges and camps are Hallo Bay Wilderness Camp and Katmai Wilderness Lodge. The Battle River Wilderness Retreat has a foot in each group.
How Much Does it Cost to Stay At Brooks Lodge?
There are a couple of things to consider when pricing out a stay at Brooks Lodge. You need to consider the room cost, transportation. to Brooks, and your food costs.
Brooks Lodge is not cheap. It's a remote location with only a handful of cabins so the operating costs are high and the room costs are proportionally high. For 2021, the nightly rate is $850 a room plus a 6% bed tax. So it is $901 total per night. Each room can sleep up to 4.
At 4 people it's $225.25 per person per night.
At 3 people it's $300.33 per person per night.
At 2 people it's $450.50 per person per night.
Brooks Lodge serves 3 hearty meals a day. Dinning is done buffet style with a selection of entrees and side dishes. Meals are not included in the room price and can be purchased à la carte.
Adult Meals
Breakfast – $17
Lunch – $24
Dinner – $40
Child Meals (Ages 2-11)
Breakfast – $12
Lunch – $15
Dinner – $23
Brooks Lodge Review
Brooks Lodge Room Review
Brooks Lodge is a remote backcountry lodge in Alaska and the rooms reflect that. You are paying a premium place for the room location, not the room. We were assigned cabin 21. It was a free-standing cabin located by the main lodge facing Lake Naknek. We didn't have a lake view but it was nice being close to the lodge and the bridge across the river.
The rooms are either free-standing cabins or attached cabins. No matter which type of cabin you are assigned, the rooms are laid out the same. Each room has two sets of bunk beds, a small desk, a toilet room, and a standing shower. The room is about the size of a standard college dorm room.
With four individuals, four sets of bags, and four backpacks, the room was tight. When all four of us were in the room and getting ready for bed or our day, there was some juggling that happened but we managed without stepping all over each other. We kept our bags under the bed when not in use and on our beds when we were getting things out of them.
The beds were reasonably firm which I loved. The bed came with a sheet and two blankets. I was plenty comfortable with just the sheet and one blanket. My only complaint with the bed situation was that it squeaked when I moved. Temperatures were mild when we were there but the cabins have heat if needed.
The room had three outlets and six plugs in the room which by modern electronic standards wasn't enough. Two of us brought multi-plug outlets to help keep up with the number of devices we needed to power.
Overall, it was a reasonably comfortable and functional room. Staying at the Brooks Lodge isn't about the room. Other than sleeping, napping, and showering, I didn't spend any time hanging out in the room. I was there to see bears and I spent most of my time on the platforms seeing the bears.
Brooks Lodge Food Review
Between the cost of meals, having to be at the lodge at a specific time for meals, and the fact that I was perfectly fine eating granola bars for breakfast and lunch, I decided to only eat dinner at the lodge. My groupmates did each lunch and breakfast at various points during our visit.
If I had to describe the food it was elevated cafeteria food. The food was better than your standard cafeteria but $40 for dinner was A LOT. Each meal was three courses including a soup and salad, entree, and dessert. Both the vegetables in the salads and side dishes were fresh and cooked well. The beef and pork entrees were a little on the dry side. The chicken entree I had was great and had a good flavor. The Oreo cheesecake was delicious while the funfetti cake was dry with great icing.
I didn't see what the buffet served for lunch but the breakfast looked good.
When I go back to camp in Katmai, I'll probably bring my camp stove and cook most of my dinners.
Bear Saftey in Brooks Camp
Bear Saftey is taken very seriously in Katmai National Park. With over 3,000 of the world's largest brown bears, there is always a possibility of a negative human-bear interaction. Upon arrival to Brooks Camp, all visitors are sent through Bear School. Bear School is the dos and don't when dealing with bears in Brooks Camp.
Remain at least 50 yards from any bear at all times.
If a bear approaches on a trail, get off the trail and give the bear the right of way.
Hike in groups and make noise when walking.
Don't leave gear unattended.
All food must be stored and consumed within designated areas.
Fishing must be terminated within 50 years of any bear. No lures in the water.
Most visitors to Brooks Camp do NOT carry bear spray. This will be unusual for people used to hiking in grizzly country, but it is the norm in Brooks Camp. Most visitors arrive by plane and bear spray isn't typically allowed on planes. Brooks Camp bear safety relies on humans have predictable and standard behaviors so that the bears know that we are a harmless part of their everyday life in the Brooks area. On an extremely rare occasion, a subadult (aka dumb teenage) or unknown bear will get a little too curious with visitors and NPS will have to haze said bear.
Katmai National Park was established in 1918. In its more than 100 year history, there have only been 2 documented human deaths in the park due to a bear attack. Timothy Treadwell and his girlfriend Amie Huguenard were killed in October 2003 while backcountry camping in Kaflia Bay. Chronicled in the documentary Grizzly Man, Treadwell was an amateur "naturalist" who over 13 summers in Katmai developed an inflated sense of brotherhood with the bears. He regularly ignored NPS rules, regulations, and safety recommendations. Treadwell is solely responsible for his own death, the death of Huguenard, and the two bears found feeding on the bodies.
Things to do around Brooks Lodge
Bear Watching
The most popular activity in Brooks Camp is bear watching. There are three viewing platforms specifically built for visitors to watch the bears. The bears of Brooks Falls are highly monitored and many bears return year after year. These returning bears are given a number for monitoring and some are given nicknames by researchers or the webcam viewing public. Every year, NPS releases a guide to the Bears of Brook Falls. This guide has the history of each identified bear. It isn't uncommon to hear visitors on the platform debate which bear they are looking at.
The Brooks Falls platform is a 1.2 miles walk from the lodge. The path is mostly flat.
Recommend reading: The Bears of Brooks Falls: Wildlife and Survival on Alaska's Brooks River
Hiking
Katmai National Park doesn't have many established trails. There are less than 5 miles of maintained trail in the park. The only hiking trail in the Brooks area is Dumpling Mountain Trail. Dumpling Mountain is a 1.5-mile trail that runs from Brooks Camp to an overlook on Dumpling Mountain. The trail gains about 800 ft over the 1.5 miles. Hikers are welcome to continue past the overlook. The trail is unmaintained past the overlook.
Hikers are welcome to walk along the park's road such as Lake Brooks Road or Valley of Ten Thousand Smokes Road.
Historical Sites
A short 0.1-mile walk from Brooks Camp is a reconstructed native dwelling. This semi-subterranean home is one of more than 900 dwelling remains found in the region. This dwelling is part of the Brooks River Archeological District and National Historic Landmark. Rangers typically offer a historical walking tour at 2:00 pm.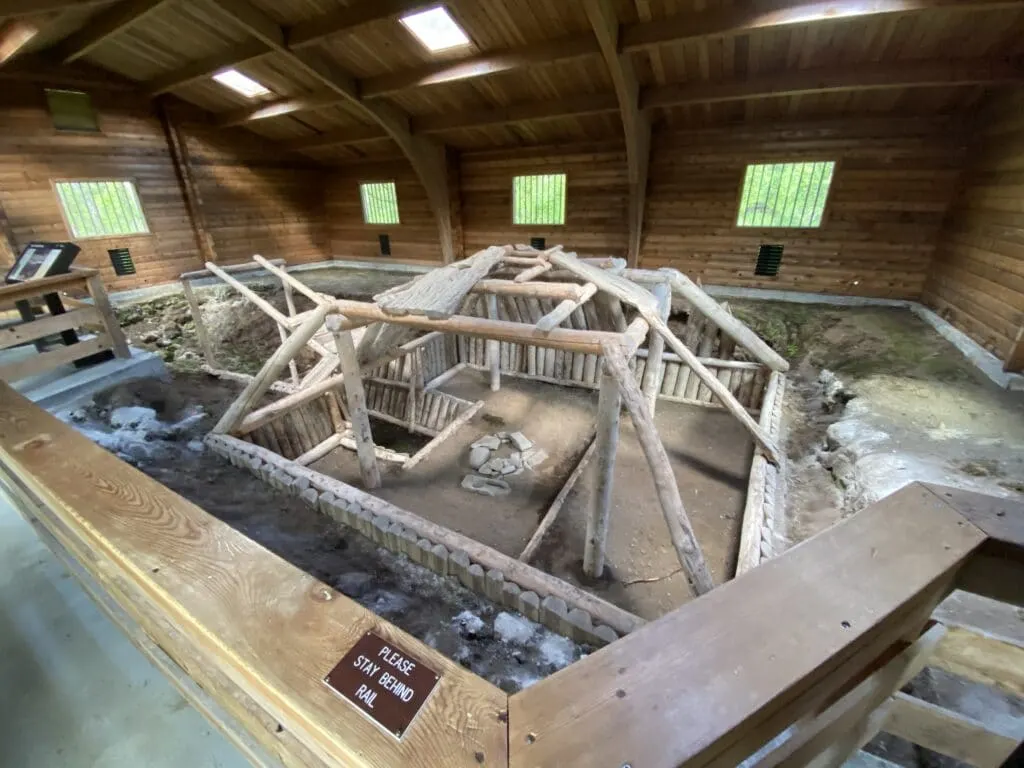 Canoe/Kayking
The Brooks Lodge Trading Post rents canoes, single kayaks, and double kayaks. Rental options are by the hour or by day. You can either do a short canoe or kayak trip or plan a multiday adventure. If you are an experienced paddler, there is the 80 mile Savonoski Loop.
Valley of Ten Thousand Smokes Tour
On June 6, 1912, Novarupta violently erupted. The eruption collapsed the summit of Mount Katmai. Surronding villages were abandoned and the landscape was forever changed. In the wake of the eruption, a spectacular ash-covered landscape was found. This landscape was named the Valley of Ten Thousand Smokes. In an effort to protect this region, Katmai National Monument was created in 1918 and then later elevated to a National Park in 1980.
The Valley of Ten Thousand Smokes is about 23 miles from Brooks Camp and is connected by a gravel road. Daily bus tours are offered to the Valley and back. The all day tour takes visitors to an overlook and a short hike into the valley. Backpackers can arrange drop-off and pick-up for longer multi-day treks in the region.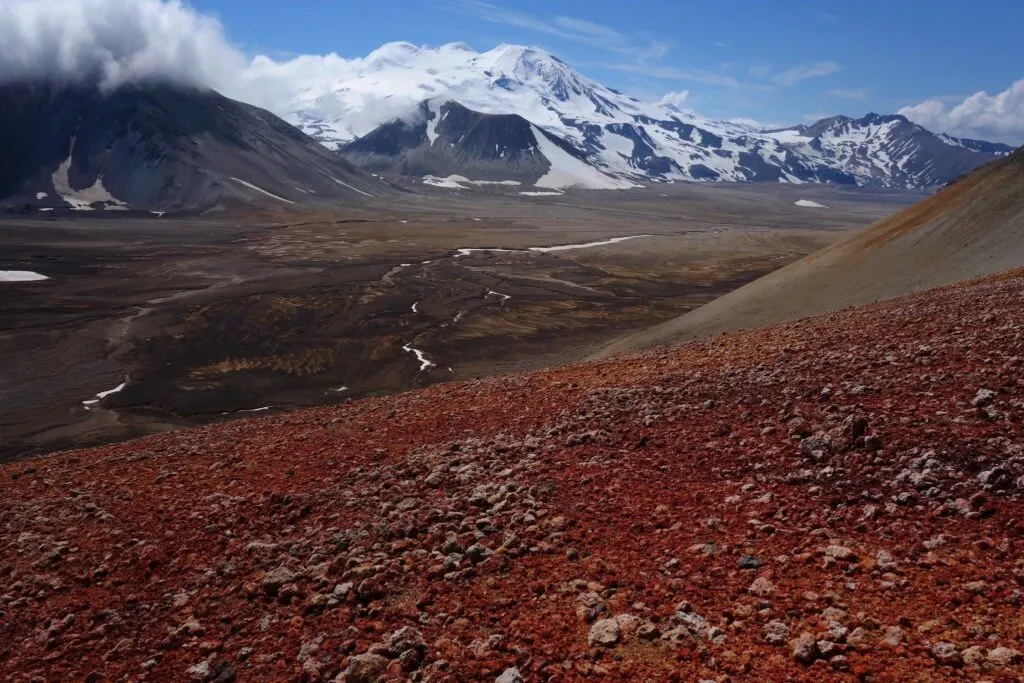 Flightseeing
Flightseeing tours offer soaring views of Katmi's landscape from the steaming volcanoes to the freshwater lakes. Getting up in a plane and seeing the landscape of Katmai is a great way to gain an application of how diverse and vast this national park is.
Fly Fishing
Fly fishing is a popular activity in Katmai National Park. There are several lodges dedicated to fishing. If you aren't a hardcore fisherperson, Brooks Lodge can arrange half-day and full-day fishing trips in the Brooks River or flyouts to other fishing spots. Most Brooks River fishing is for Rainbow Trout or Sockeye Salmon. Other species such as arctic char, dolly varden, arctic grayling, lake trout, and other salmon species can be found in the park as well.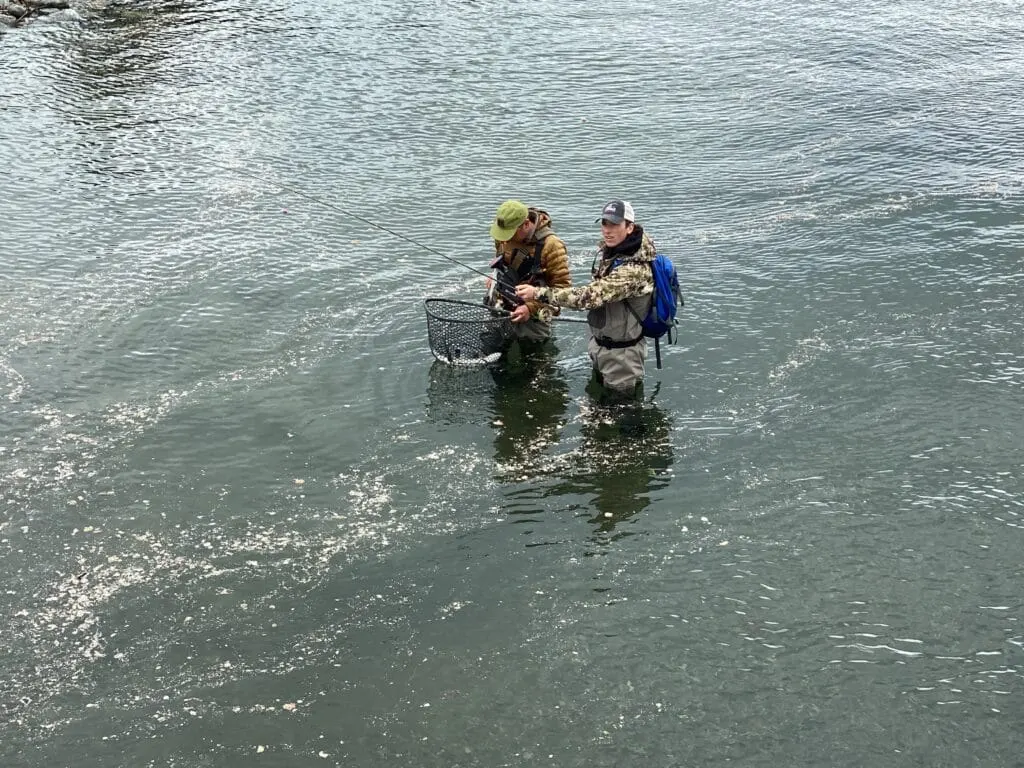 Frequently Asked Questions about Brooks Lodge?
Can I bring my own food to Brooks Lodge?
Yes, you can. Due to the unique situation with the bears, food consumption is limited to hard-sided buildings or the electric fence areas. The Brooks Lodge website states that food cannot be kept in the room. When I asked about storing my food bag during my stay, they said it was fine in my room as long as there was no cooked food in it.
Am I guaranteed to see Alaska Brown Bears at Brooks Lodge?
No, but odds are good that you will see an Alaskan Brown Bear. Bears are regularly seen from June to September. The vast majority of visitors see a bear while in Brooks Camp.
Can I drive to Brooks Lodge?
No, you cannon drive to Brooks Lodge. There are no roads that connect Anchorage and Katmai National Park.
How long does it take to get to get to Brooks Lodge?
The Katmai Water Taxi takes about 45 minutes from King Salmon. Floatplane flights from King Salmon take about 20 minutes.
Can I do Laundry at Brooks Lodge?
There are NO laundry facilities in Brooks Lodge.
Is there WiFi available at Brooks Lodge?
The is NO public WiFi at the Brooks Lodge. They have a satellite internet system for official business use only.
How many nights can I stay at Brooks Lodge?
Any reservations containing a night in July is limited to 3 nights. There is no limit
Final Thoughts on Staying at Brooks Lodge
Staying at Brooks Lodge should be on your National Park bucket list. A couple of nights at the lodge is the perfect way to spend a few days exploring the Brooks Falls area and gives you the best chance of seeing the Alaskan Brown Bears.
Feeling overwhelmed with planning your Alaska National Park trip? Our expertly designed Alaska Park itinearies will show you how to make the most of your time and make booking your trip easy.
Pin for Later: The Complete Guide to Brooks Lodge in Katmai National Park