Post Summary: Cape Lookout Camping
Are you planning a camping trip to Cape Lookout National Seashore? Cape Lookout National Seashore is created from many of the barrier islands off the coast of North Carolina. What sets this national park unit apart from many others is that it requires a boat to access, there are no paved roads, and it is one of the last remote areas on the eastern coast. Here is my complete guide to Camping at Cape Lookout National Seashore.
This post may contain affiliate links, meaning if you book or buy something through one of these links, I may earn a small commission at no extra cost to you! Read the full disclosure policy here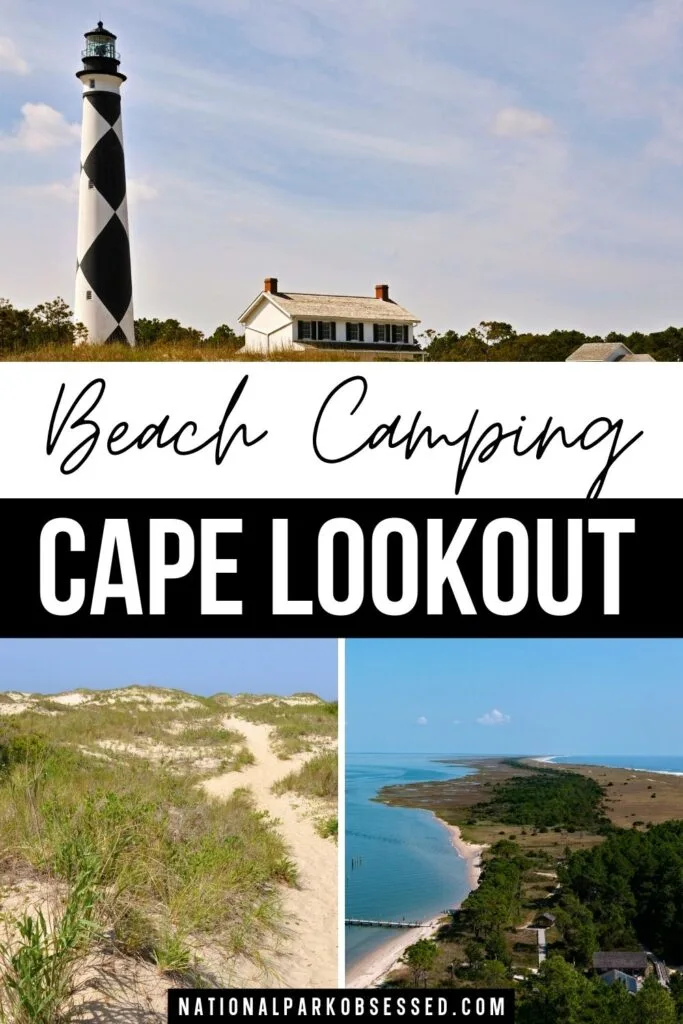 Where do you camp at Cape Lookout?
Beach Camping in Cape Lookout
Cape Lookout Beach Camping is permitted from MARCH UNTIL NOVEMBER. All of the camping within the park is primitive beach camping, meaning there are no designated campgrounds or spaces. Camping is NOT permitted on Harker's Island, Portsmouth Village, or the Cape Lookout Light Station Complex.
Visitors are welcome to camp in any kind of vehicle; however, they must be set up on the oceanside of the beach between the dunes and the "high-tide line". Visitors camping in tents or other shelters are allowed to set up camp within the dunes for protection unless otherwise noted. Hammocks are only allowed if freestanding; NOT attached to any trees or NPS Structures.
All roads within the park are loose sand so plan accordingly with your camping plans. All vehicles driving on the beach MUST have an ORV Beach Driving Permit.

Obtaining an ORV Beach Driving Permit
Vehicles are not allowed on Cape Lookout from January to Mid-March each year.
Visitors looking to drive on the beach are required to obtain an ORV Beach Driving Permit via the NPS and North Carolina. The permit can be obtained through the recreation.gov. Visitors will need to purchase the pass prior to arriving on the islands and will be available starting January 1st of each year. From January 1st to March 10th the permit costs $25/vehicle and starting March 11th the cost increases to $50/vehicle for the year. The Cape Lookout permit is different from the Cape Hatteras National Seashore ORV Permit.
Rustic Cabins
As of January 2022, the Long Point Cabins remain CLOSED due to hurricane damage.
If camping is not the thing for you, or you are looking for more of a getaway there are two communities of cabins within the seashore. Both communities must be reached by the same ferry mentioned above. These are rustic cabins and are not equipped with air conditioning but do have hot water heaters, a propane stove/oven, and furniture. Visitors will also need to provide linens and cookware. More information on planning a visit to Cape Lookout's Rustic Cabins can be found here.
The first community is at Long Point Cabin Camp on North Core Banks and the other is on Great Island Cabin Camp on South Core Banks. Cabin reservations MUST be made through Recreation.gov. The Great Island Cabins is wired for a generator; however, visitors will need to provide their own generator.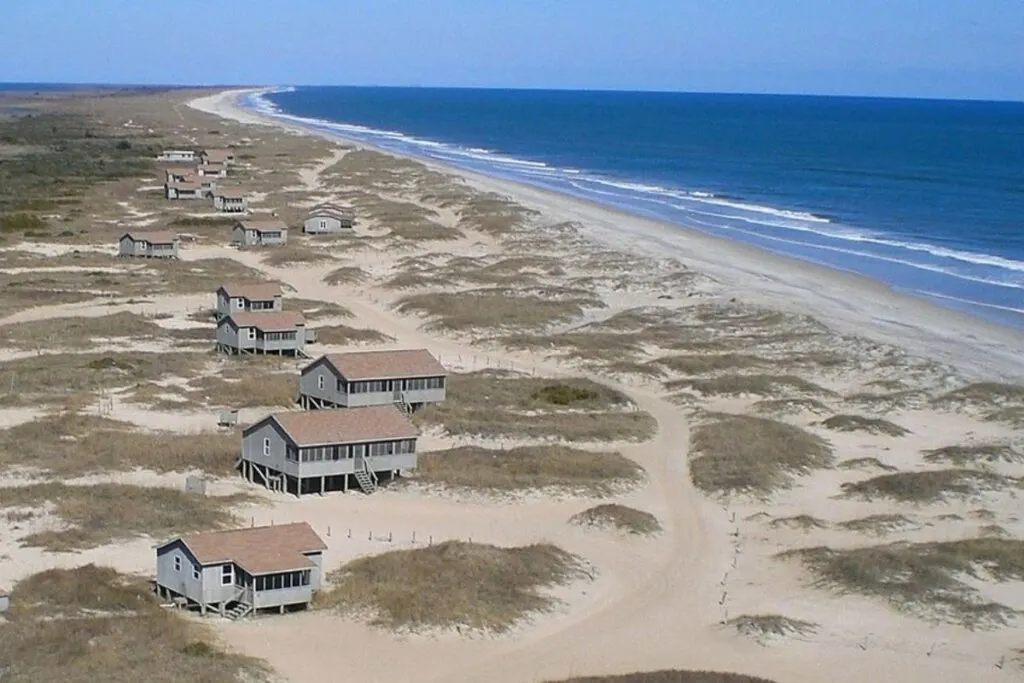 How to get to Cape Lookout National Seashore?
If you are planning to camp at Cape Lookout National Seashore, you should plan on bringing you own vehicle and as such will need to take one of the Vehicle Ferries. These ferries depart from Atlantic or Davis, NC. All other ferries are passenger only and really only suitable for day trips. The Cape Lookout vehicle ferries only operate from March to November and start at $85 for vehicles under 20ft. Larger vehicles are priced by foot.
The majority of Cape Lookout can only be accessed by ferry. The Harker's Island and Beaufort Visitor Centers are located on the mainland and do NOT need a ferry to access. The majority of ferries operate from April to November. Outside of these months ferry service is irregular and limited. Pets are not allowed on all ferries. If traveling with a pet, be sure to book a pet-friendly ferry.
Cape Lookout Depature Points and Destinations
Atlantic, NC

Long Point Cabin Area with Vehicle Access to North Core Banks/Portsmouth Island – Morris Marina Ferry Service (Vehicle & Passenger Ferry)

Beaufort, NC
Davis, NC

Harkers Island, NC

Ocracoke, NC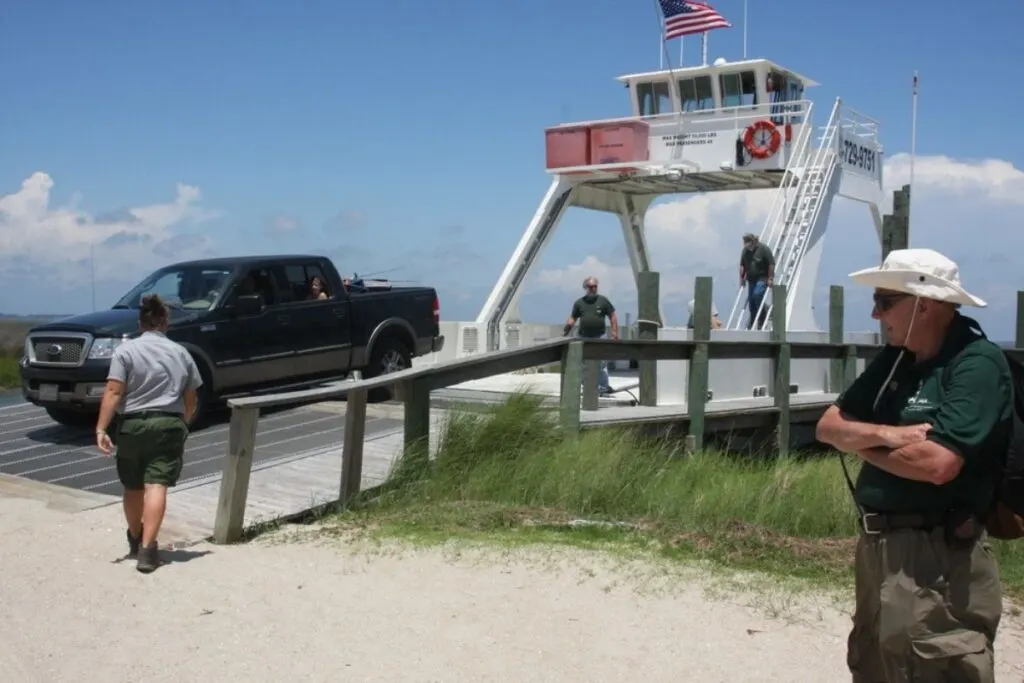 Rules for Cape Lookout National Seashore Camping
Vehicle camping may only occur between the dunes and high tide line.
Beach Bonfires are not permitted.
Vehicles driving on the beach require a special ORV Beach Driving Permit that can be obtained through the ranger station.
All ATV drivers must be 16 years old and have a valid driver's license.
Motorcycles and dirt bikes are prohibited on all barrier islands.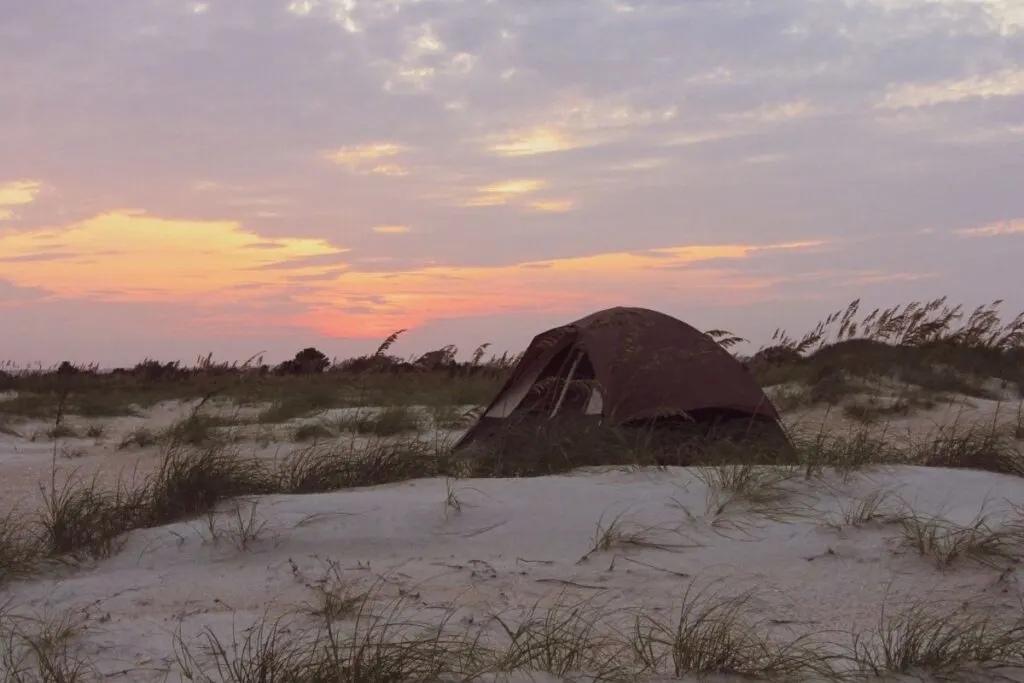 What does it cost to go camping at Cape Lookout?
Cape Lookout National Seashore does not charge an entrance fee. However, visitors can only access the park via ferry which varies in cost depending on ferry service, time of year, and which ferry type you book.
Tips for driving at Cape Lookout National Seashore
All vehicles driving on the beach must have a ORV Beach Driving Permits.

Vehicles that do NOT plan to leave the "back road" do not NEED a permit. It is STRONGLY RECOMMENED for all visitors to obtain a ORV permit.

Vehicles must drive either on the "Back Road" or on the beach within the dune line and the water.
Visitors are strongly recommended to bring vehicles with 4WD or AWD.
Know where to connect tow straps to your vehicle for both towing and pulling your vehicle out of sand. (Info should be in the vehcile owners manual).
Know the weight of your vehicle and tow capacity. This information should be in the vehicle owners manual.
It is recommended to run 20 PSI in each tire, Air compressors for re-inflating are available at each office.
Bring an "Off-Road Driving" Kit – Tire Pressure Gauge, First Aid Kit, Shovel, Spare Tire, Air Pump, Tow Rope, Traction Boards, and Water, Fire Extinguisher.
Here is a great video of getting your vehicle unstuck with minimal gear.
What to pack for a Cape Lookout camping trip?
Water – Visitors should plan on bringing their own water to the island. Minimze your waste by brining water in water cubes. >>> Get one here.
First Aid Kit – This is a remote island so you need to be able to handle minor injuries. >>> Get one here.
Off-Road Driving Kit – This is a remote area and you need to be ready to deal with minor vehcile iss
Frequently Asked Questions about Cape Lookout NC Camping
Are there trash cans on Cape Lookout? What do you do with trash?
No! There are no trash cans on the islands; visitors must remove all of their trash as it was brought onto the islands.
Are there restrooms on Cape Lookout?
Yes, but it depends on the time of year! During the peak summer months, restrooms are located at the Lighthouse, Wade's Shores, Portsmouth Village, and North core Banks. These facilities are not operational during the winter months. A dump station for campers is located within the Great Island Cabin complex. All human waste should be buried above the "high-tide line" and where people would not be expected to camp.
Are there wild horses on Cape Lookout?
Yes! Wild horses can be spotted within the Shackleford Banks and surrounding areas. Sometimes they are grazing all around the island and other times you must go looking for them.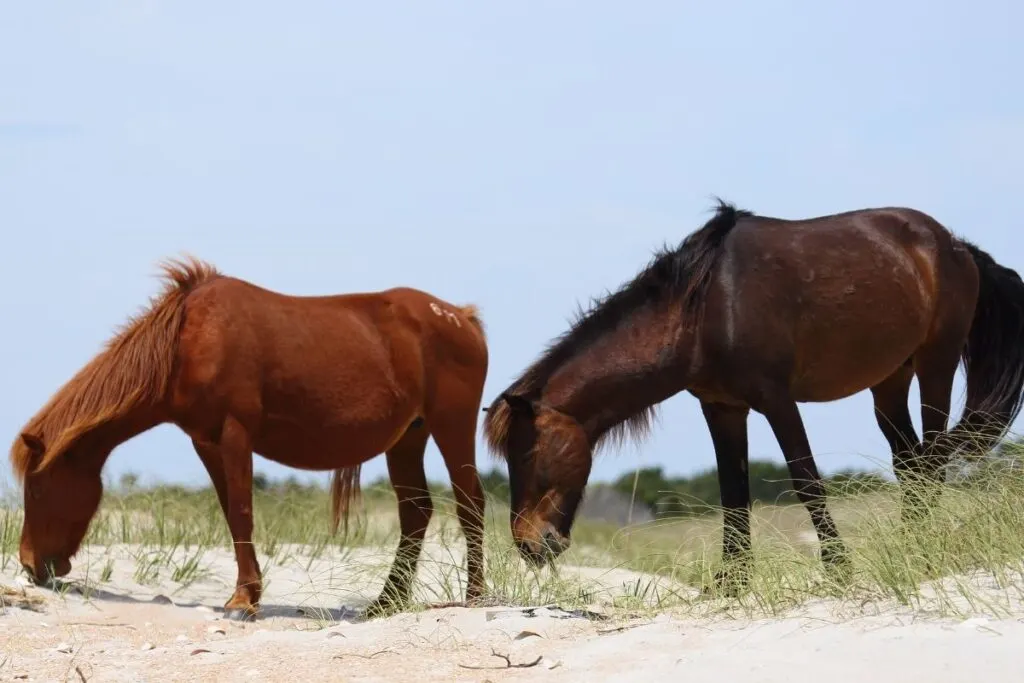 Are fires allowed on Cape Lookout?
Yes! Open fires are only allowed within the "high-tide line" (damp sand) and no larger than 3'-0" in diameter. Make sure to check with the visitor center in case of fire bans.
Is water available on Cape Lookout?
Yes, but it depends on the time of year! Visitors should plan to bring all the food and water they require. During the summer months, water is available at the restrooms, lighthouse facilities, and cabins. However, during the off-season and winter months, these water sources are shut off. No water is available at Shackleford Banks or Portsmouth Village.
Final Thoughts on Cape Lookout National Seashore Camping
Camping at Cape Lookout National Seashore offers many the chance of a lifetime to camp on a remote barrier island in the Atlantic Ocean. After following this guide, it will guarantee an adventure of a lifetime with opportunities to go swimming, fishing, birding, shelling, and beach driving along on of the last uninhabited barrier island on the eastern coast. Let's go Camping at Cape Lookout National Seashore in North Carolina.
Do you have any questions about Cape Lookout National Seashore or need help planning your National Park trips. Let me know in the comments below or join me in my National Park Trip Planning Community!
Pin for Later: Cape Lookout Camping: The Complete Guide to Camping at Cape Lookout National Seashore, NC in 2022