Alaska is a huge state, and there is so much to do and so little time to explore. It is really easy to pack every day so full of activities that your vacation can feel like work. There are 8 National Parks, 10 National Preserves, 3 National Monuments, 2 Historical Parks, and 1 Wild River to explore. After your massive Alaskan Adventure, I would take a few days to relax and rest before heading home. My favorite way to spend a few days relaxing is to visit a hot spring. Chena Hot Springs Resort provides the perfect place to end your Alaskan Adventure and take a break before heading home.
Chena Hot Springs Resort
Chena Hot Springs Resort is located about 62 miles northeast of Fairbanks, Alaska. The scenic drive to Chena is a chance to off the main /highways and head into the hills of Alaska.
The drive will take you up the Elliot Highway to Chena Hot Springs Road where you will pass some residential areas then head into Chena River State Recreational Area. This Recreational Area is full of hiking trails and places to explore. Keep an eye out for wildlife. Moose are often seen along the road.
Chena Hot Springs was found over 100 years old. In 1905, two gold miners followed up reports of rising steam. One of the minors was looking for a hot spring to ease his rheumatism. It took them a month to reach the springs from Fairbanks. They started to develop a resort, and many Fairbanks and Alaska residents started making the trip to visit the hot springs.
The waters are a mix of sulfate, chloride, and bicarbonate of sodium.
The state of Alaska acquired the land and then later sold it to Bernie and Connie Parks-Karl. The Parks-Karl dreamed of an environmentally friendly resort running on geothermal technology. Today, the resort is a testament to this commitment. Chena Hot Springs Resort is one of perhaps the most environmentally friendly place I have ever stayed.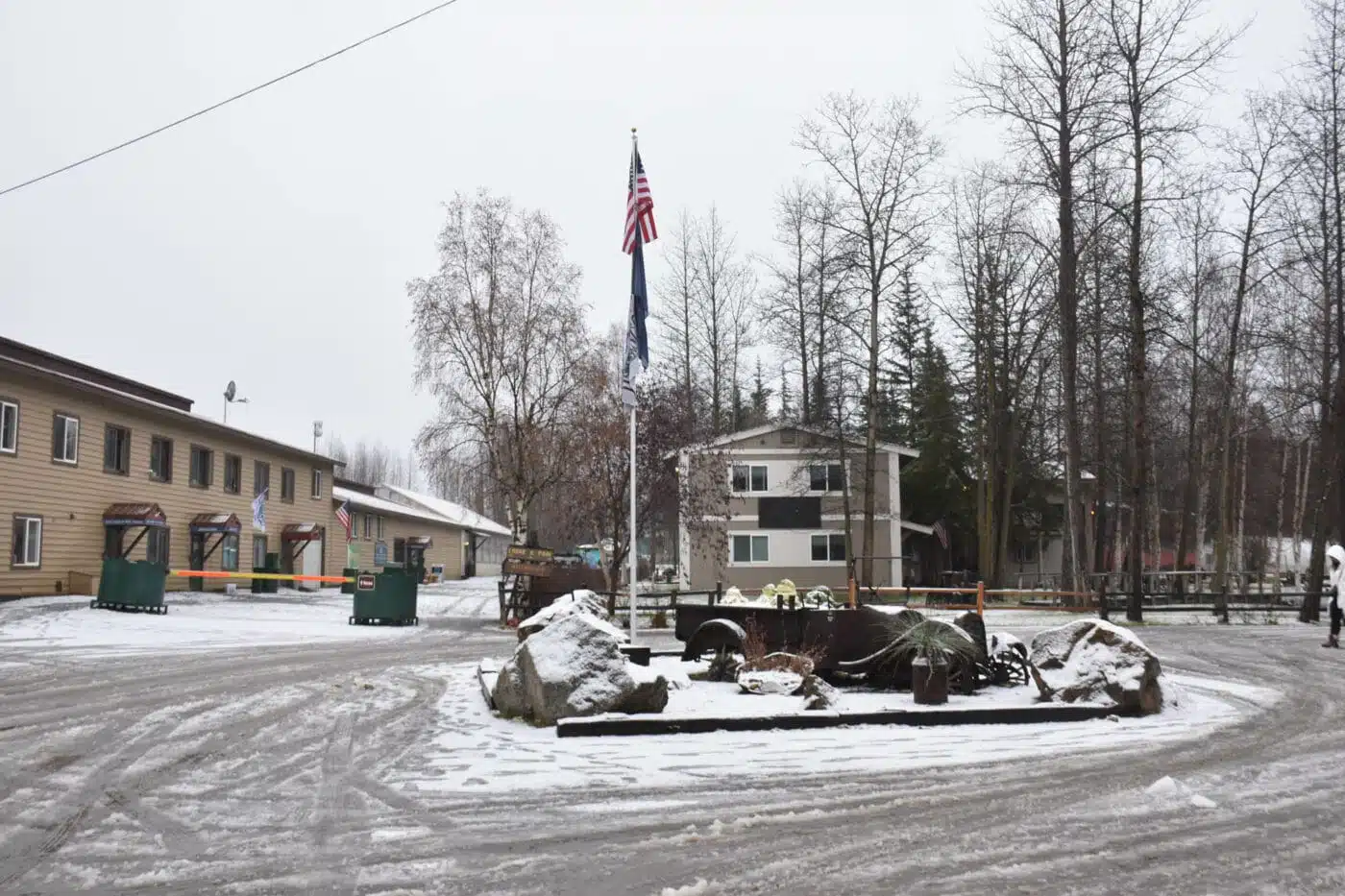 Eco-friendless
Chena Hot Springs has drilled over 4,000 feet into the geothermal reservoir. This hot water is used to create almost 100% of the resort's electricity. The only reason they aren't at 100% is that on occasion they have to use the backup diesel generators.
As well, they use the hot water is piped over to the outdoor hot spring and to provide the heating for most the buildings and greenhouses.
In the greenhouses, they grow their own lettuce, tomatoes and many other spices and vegetables used in the cafe and restaurant. All other produce used is sourced from Alaska when possible.
They actively compost all food waste, and they ship all aluminum and plastic to Fairbanks to be recycled.
Getting to Chena Hot Springs Resort
Fairbanks to Chena Hot Springs Drive Time – 1 hour and 15 minutes (assuming the weather is good and the roads are not icy).
There are two ways to get to Chena Hot Springs.
The first is to drive yourself. The drive is quite pleasant during the summer. As with most Alaskan road during winter, the road can be challenging. We went to Chena Hot Springs in mid-October. The first snow had just occurred, and about half the drive was snow covered and a bit of icy. I was driving my Subaru Forrester with no snow tires, and I have minimal snow driving experience. I made it without sliding my SUV but I was white-knuckling the steering wheel and we didn't stop for pictures on the drive up.
The second is to book space on the Chena Shuttle. The Shuttle offers safe and easy transportation to the resort. They do the driving and you get to enjoy the view plus the shuttle is more eco-friendly than taking a personal vehicle. If you are going to the springs after the snow has arrived,
I would highly recommend taking the shuttle. The added cost of the shuttle is going to be cheaper than wrecking a rental car (trust me, black ice in Iceland cost me $1,800). A roundtrip shuttle costs $195 for 1 person or $125 per person for 2+ people. Shuttles need to be booked one week in advance.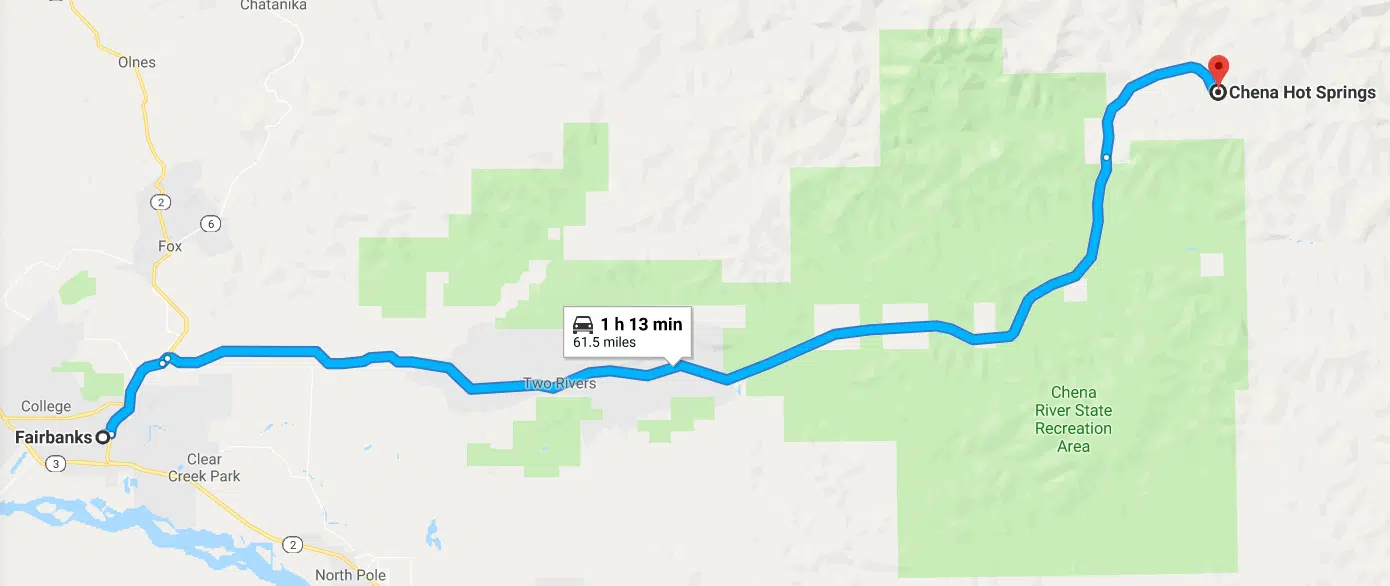 The Accommodation
The resort offers a range of accommodation options from bringing your own tent to yurts to lodges to dry cabins.
Camping sites are nice and level with space for 1 RV or 2 tents. There are 30 sites. No advanced reservations are accepted for these sites. Passes to the Hot Springs is extra. Open from May 15 – September 15.
Cost – $20 per site per night
Yurts are a Mongolian style tent that comes with three cots, one table, and three chairs. There are no linens provided, but you don't have to bring a tent. No water or electricity in the yurts. Passes to the Hot Springs is extra. Open from May 15 – September 15.
Cost – $65 for 2 people to $85 for 3 people
Dry Cabins are simple cabins spread throughout the resort. These cabins have no running water or bathroom. They come with an outhouse. The cabins come with electricity and basic hotel amenities but the privacy of your own space. The cabins range in options from 2 people to 8 people. Hot Spring passes included.
Cost – $180 for 2 people to $380 for 8 people
Lodges are comfortable Alaskan themed rooms with electricity, climate control, and indoor plumbing. There are three lodges. All the lodges come with a Hot Spring passes.
The Moose Lodge is a spacious room with two queen beds and a full bath. Rooms sleep up to 4.
Cost – $280 for 2 people
The Fox Lodge is a smaller room with two double beds and bathroom with a shower. Several of these rooms are pet-friendly.
Cost – $210 for 2 people
The Bear Family Lodge is designed for groups. The rooms have two queen beds, two twin beds.
Cost – $310 for 4 people
My mom and I stayed in the Moose Lodge. Our room was located on the first floor. We had a nice view of the streams and a few of the private cabins. I jumped on the bed and found that they were a nice combo of soft yet firm. The comforters were the super warm and comfy kind. I loved the lights above the bed. The lamp shades have an Alaska theme with moose on them.
The bathroom was a decent size and came with a tub. I was a little disappointed that the Resort is still providing small soaps and bottles of shampoo and lotion. I wish more places would stop this wasteful practice and providing large refillable bottles mounted to the wall.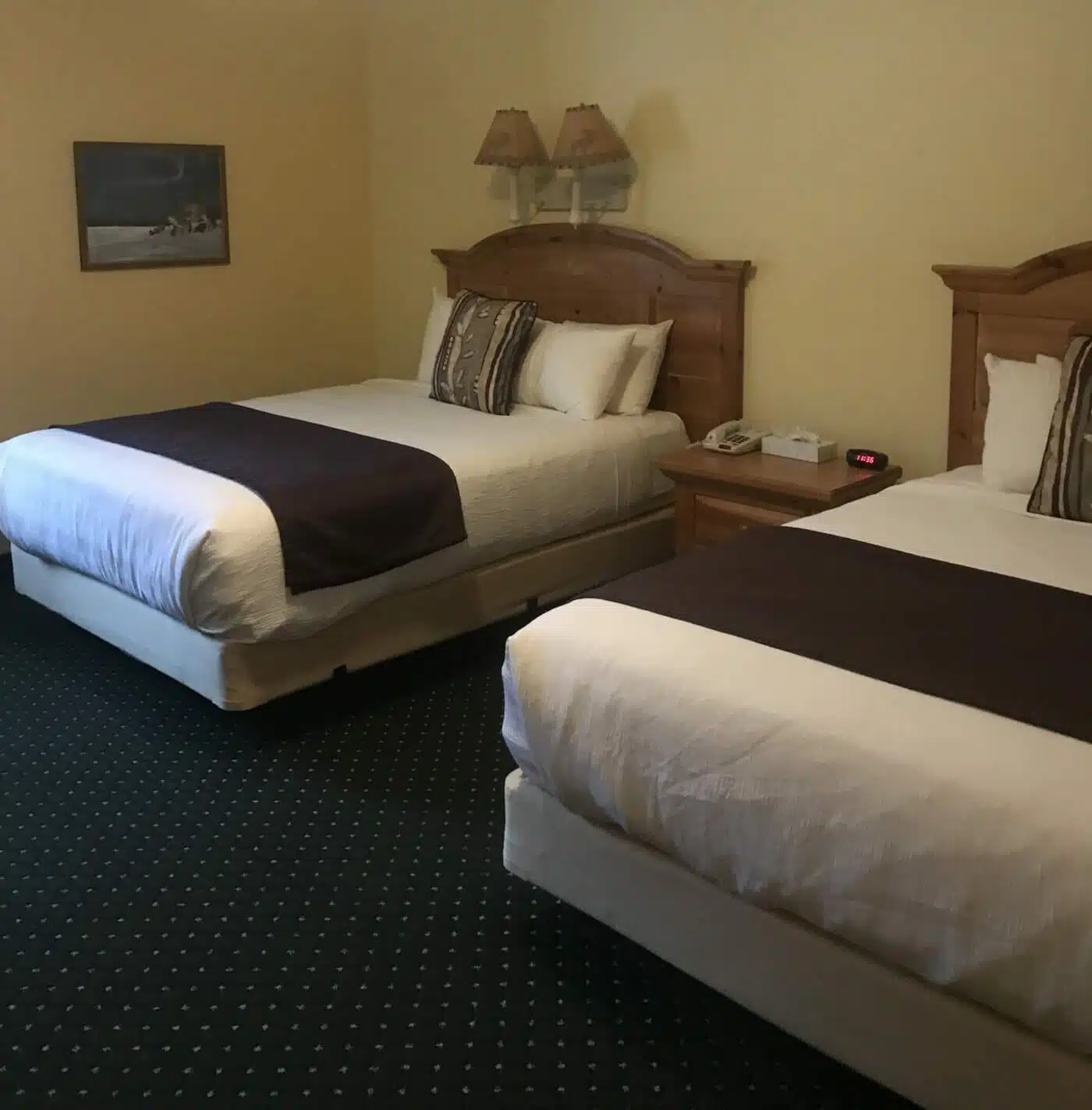 Activities
Soaking in the Chena Hot Springs
The hot springs are the star attraction in the resort. The Chena Hot Spring is accessed by entering the pool house. Here you will either show your provided pass or purchase a pass.
Prices valid as of 10/29/2018
Seniors, (ages 60+) – $13
Adults (ages 18-59) – $15
Children (ages 6-17 years) – $12
Children 5 years and under with paying adult – Free
Towel Service for day guest – $5
Towels are available for hotel guests without charge.
Passes are valid all day, and the pool house is open from 7:00 A.M. to Midnight. Take off your shoes and head into the changing rooms. Once you have changed and showed off., you have the choice of the heated pool, indoor or outdoor hot tube, or the adults only hot spring lake. Clothing is required in all the pools.
The changing rooms have lockers to store your stuff in. You will need two quarters per locker per use to lock the locker. Leave the jewelry and cameras in your room, and I wouldn't worry about someone stealing your clothing.
The hot spring has an average temperature of 106 F (41 C). Natural hot spring is not chlorinated and an average depth of 4 feet.
For safety reasons, you should not drink alcohol before entering the hot springs. The warm water will make it go straight to your head. Bring a water bottle with you. The hot springs can dehydrate you.
My mom and I loved floating around in the outdoor hot springs. The outside temperature was just above freezing and combined with the warm hot springs, it made for a really relaxing way to spend an evening. The hot springs are nice and quiet with plenty of space for guests to spread out.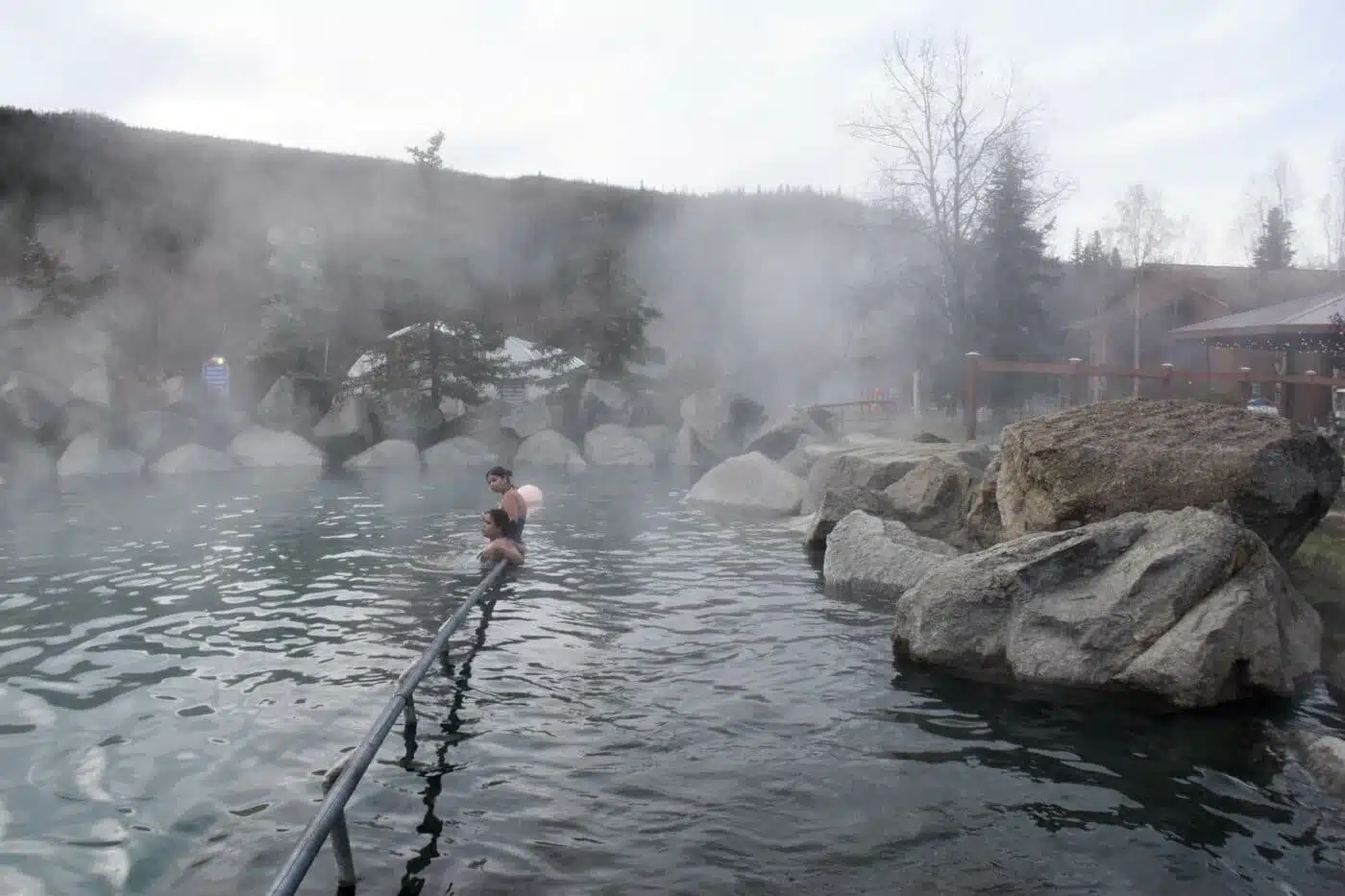 Geothermal Renewable Energy Tour
The Geothermal Renewable Energy tour is a short tour all about Chena Hot Springs and their cutting-edge use of geothermal energy and their operations. The tour starts in their geothermal electrical plant where you learn about how they power the Chena Resort and the future goal of powering Eielson Air Force Base. Then you head over to their greenhouses and learn how they grow a staggering amount of lettuce and tomatoes.
The tour is free and offered at 2:00 PM and 4:00 PM.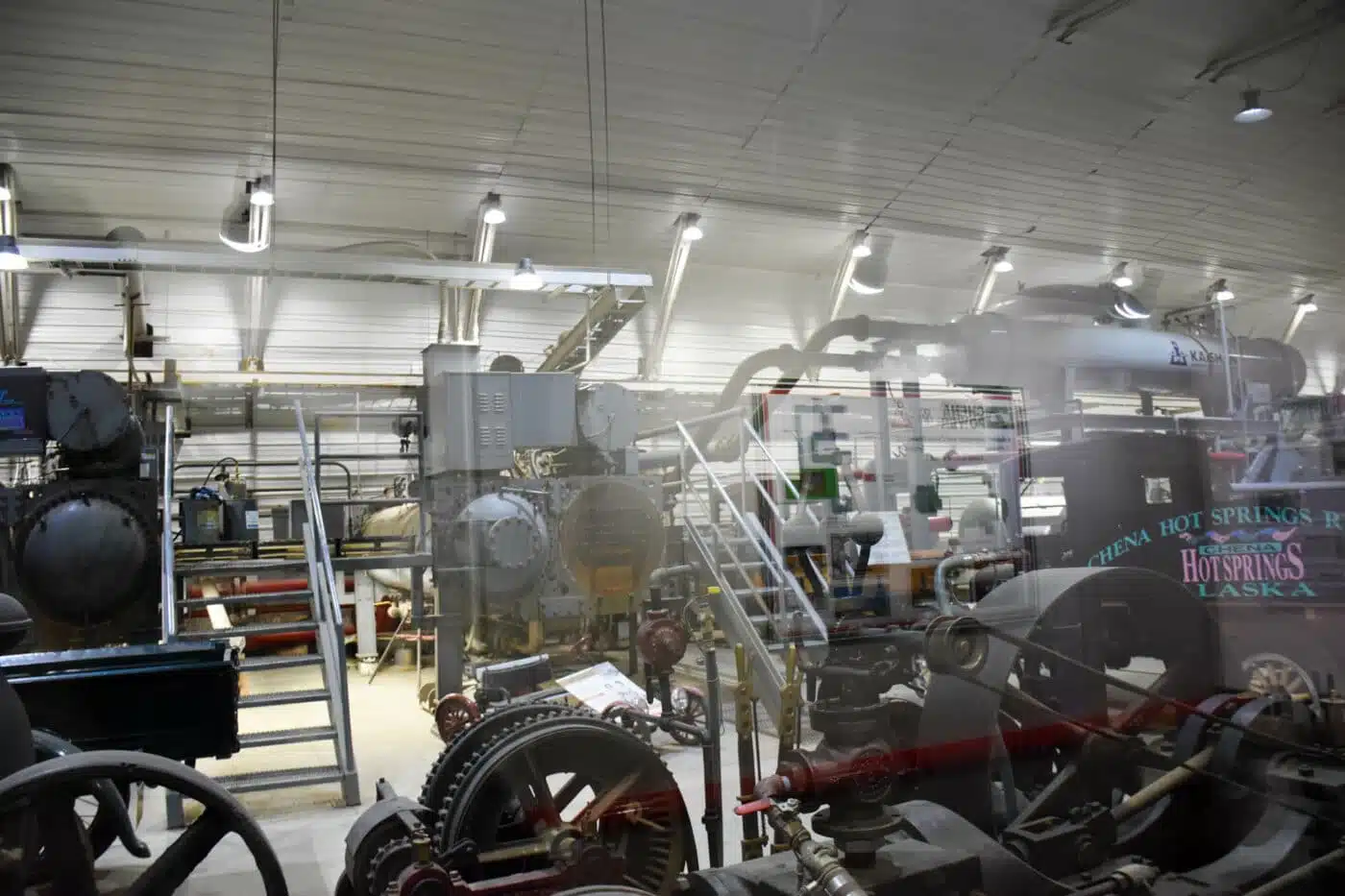 Alaskan Dog Sledding
Alaska and Dog sledding go hand in hand. Visit Alaska during winter and once will find a dog mushing event every weekend from mid-Nov to early April. The famed Idororad and Yukon Quest races are an important part of the Alaskan culture. The Yukon Quest uses Chena Hot Springs as a waypoint on its 1000 mile journey from Whitehorse, Canada to Fairbanks.
Chena maintains a kennel of about 100 Alaskan Huskies who live for taking guest on a ride. Chena does not breed Alaskan Huskies. They get their sled dogs from other mushers, sled-dog rescues, and animal shelters. All the dogs have a love of running. On occasion, another kennel will loan Chena Kennel puppies so the puppies can be properly socialized.
Get to the kennel early for your sled or cart ride. As the mushers start to assemble the team for the ride, the energy in the kennel will be like 100 little kids bouncing up and down for the ice cream truck. I am not kidding. Almost every dog is a bundle of energy all saying "pick me." Then they go ballistic when they are the ones picked.
As the dogs are attached to the harness, you can see that each dog is ready to go, they don't want to wait for anyone else.
Depending on the mud and snow, the dogs will pull a cart, a sled or a side-by-side ATV.
We got to ride in a side-by-side ATV. The weather was cold, and the first bit of snow had arrived. The musher needed the gear shift to keep the dogs from going to fast and to keep us safe. If they had used the cart, we might have crashed into a tree, and the dogs would have left us behind. It was amazing to see how excited the dogs were to run and their excitement rubbed off on everyone in the ATV.
After the ride, we got to meet a few of the dogs and learn more about dog sledding and its role as a sport in Alaska.
The kennel tour costs $20, and the sled or cart ride cost $60 per person.
Alaskan ATV Wilderness Adventure
Chena Hot Springs has 440 acres to explore. There are miles and miles of ATV trails to explore. Chena Hot Springs offers ATV tours along those trails. They can make the trail as difficult or as easy as you want. Your guide can trail your tour to your skill level.
My mom was a little unsure of if she wanted to go on the four wheelers. In the end, she decided to join me on this adventure, but she did. It was a little cold, so the ATV took a bit of time to warm up but once the machines were warm. Off we headed into the hills of Alaska. The route was a little icy, and I enjoyed breaking the ice in the puddles.
With my mom, we took the easy beginner trails. We went up the creek and enjoyed the view up and down the valley. I still think my favorite part was watching my mother get her ATV stuck in a hole in the ice.
The ATV tour costs $70 for 45 minutes.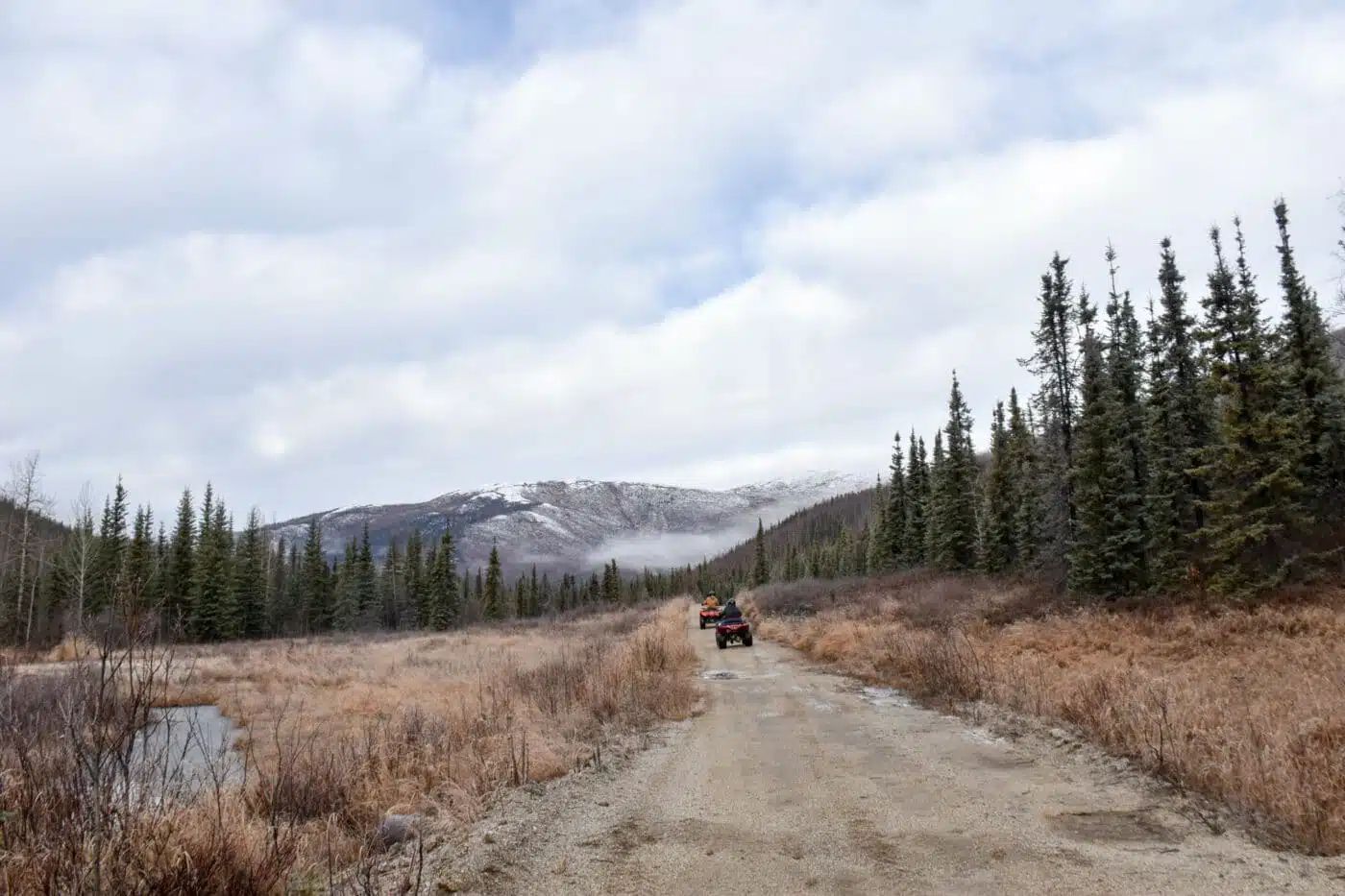 Aurora Ice Museum and an Appletini
Have a drink in a class made out of ice at a bar made of ice is a unique experience. There are only a handful of places in the world where you can do this. The Aurora Ice Museum is the workshop of world champion ice carver Steve and Heather Brice. Between them, they hold 23 world championships.
Using 1,000 tones of ice and snow they have created a winter wonderland. They have replicated a few of their championship sculptures as well created several bedrooms you can rent. The best feature of the museum is the massive Aurora Ice Bar. You can enjoy a relaxing Appletini while taking in the aurora chandeliers changing colors.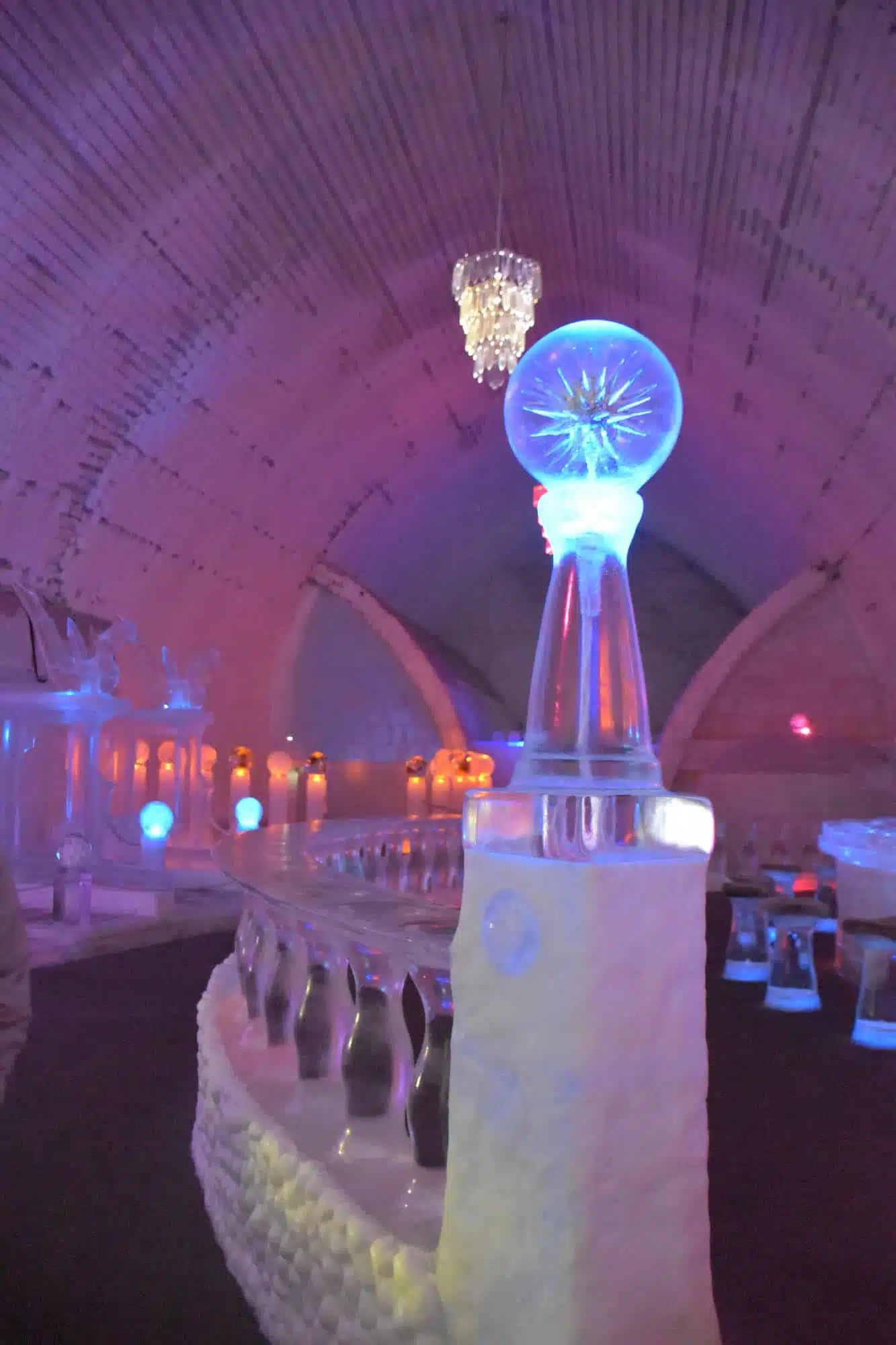 The Appletini is mid-range vodka with a standard apple liqueur. The drink itself isn't anything to write home about, but it comes in an ice martini glass.
Entrance to the Aurora Ice Museum costs $15, and the Appletini costs $15.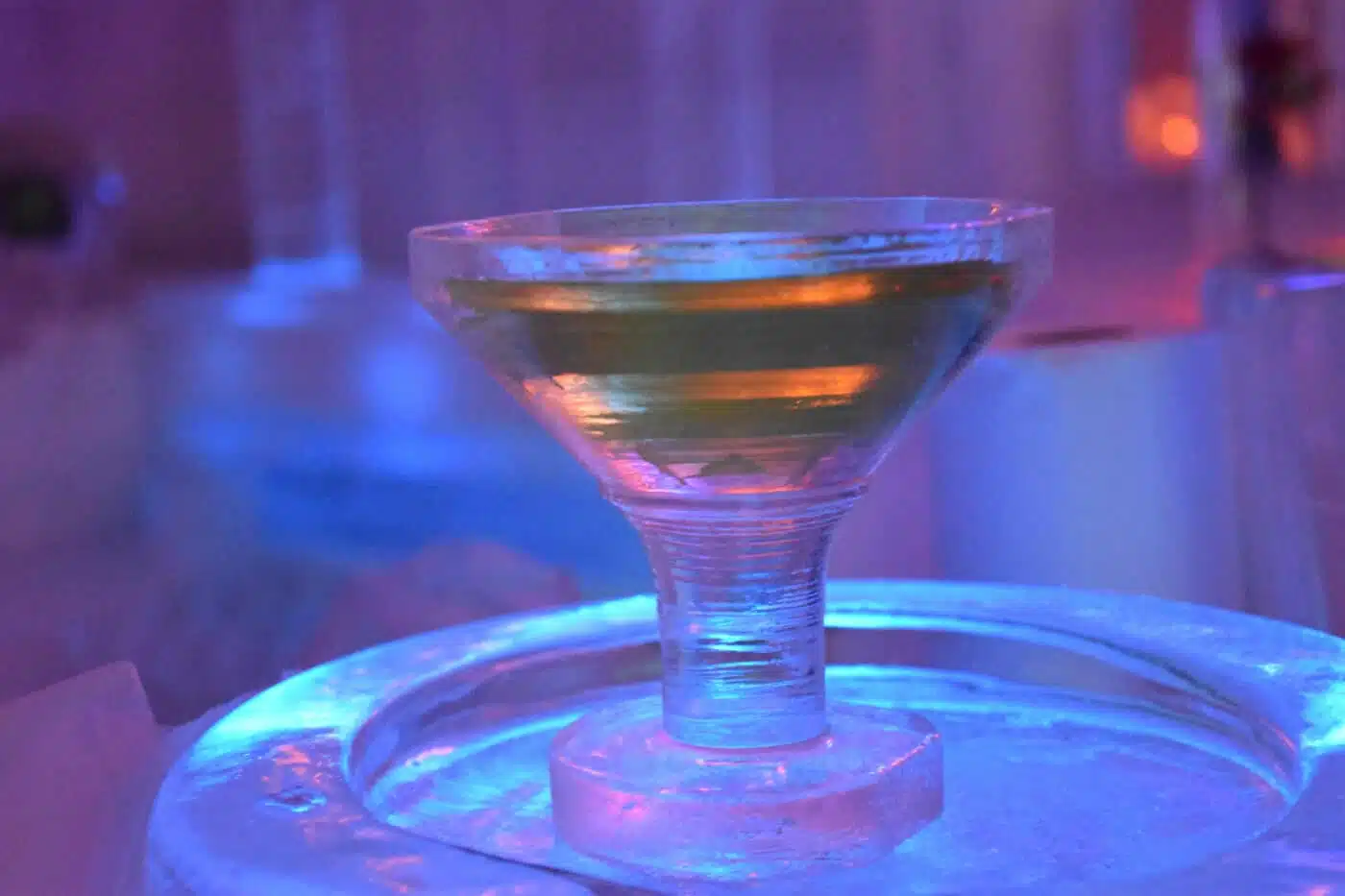 Chena Hot Springs Restaurant
The only place to eat near Chena Hot Spring is the Restaurant. The quaint Alaskan themed restaurant serves a hardy breakfast, lunch, and dinner. The activity center has a small food shop with some candy, drinks, and grab and go sandwich.
Breakfast features a range of omelets, pancakes, and traditional breakfast offerings. I loved the blueberry pancakes they were yummy.
The lunch and dinner menu are the same. There are plenty of salads and sandwiches to make a great lunch. I highly recommend their salads. The salads are made with their onsite greenhouse produced lettuce, and it is some of the best tasting lettuce I have ever had. The entries provide a great selection of local favorites. I enjoyed the Wild Alaska Scallops with a pesto sauce.
Final Thoughts on Chena Hot Springs
Chena Hot Springs is the perfect place to end an Alaskan Adventure. The resort provides enough outdoor activities to keep one from being bored but not so much that you feel the need to go go go. It was so nice to do an activity then relax in the hot springs then eat then do an activity. I loved the environmentally friendly nature of the area.
A few things I would like to see changed is adding a large bottle of soap and what not to keep with the environmental theme. I wish there were an area for everyone to be more social and hang out. There is a massive fire pit, but it wasn't lit while we were there and the chairs didn't look the most comfortable. Also to be able to turn off the lights and still run the ceiling fan.
All that being said, I WOULD go back in a heartbeat. I would love to come in the dead of winter and then roll in the snow and then get in the Hot Spring.
Disclaimer: Thank you to Chena Hot Springs Resort for hosting our girls weekend to thaw out from our adventures on Barter Island. They provided us with two nights of accommodations and activities. All opinions are 100% mine.