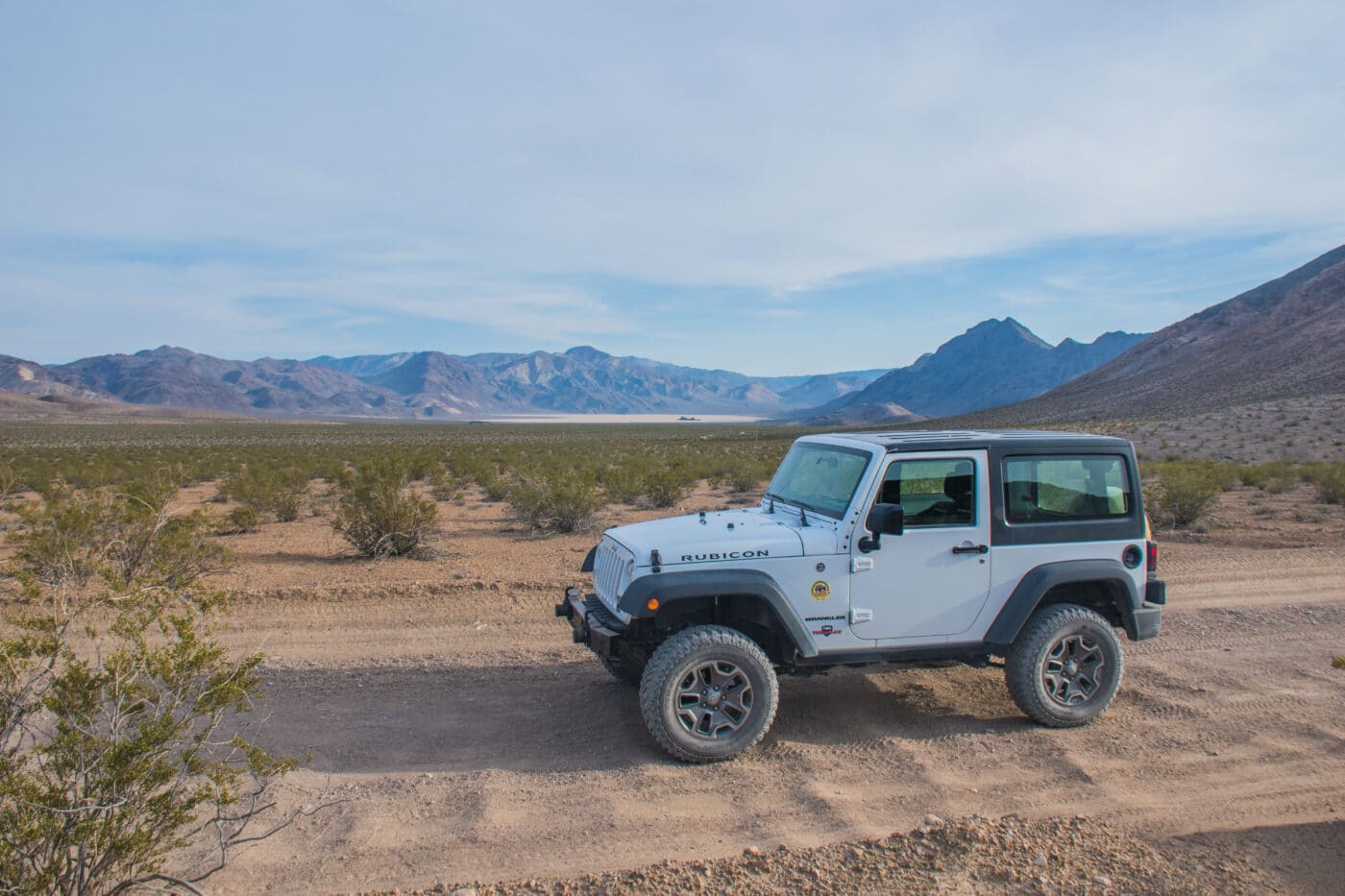 Death Valley Jeep Rental – Farabee's Jeep Review
Death Valley National Park is a land of wonder. It is a land of contradictions. It is a desert shaped by water. The park is a massive 6 million acres and is the largest national park in the United States outside of Alaska. There are about 300 miles of road in Death Valley. The roads range in condition and surface from the paved highway to unmaintained sand/gravel roads. There is plenty of the park to explore without having to drive your vehicle off the pavement. But, there are a few highlights where you might not want to take your standard rental car or personal vehicle. Farabee's Jeep Rentals removes that worry and opens up a whole other side of Death Valley National Park. Farabee's loaned me one of their Jeep Wranglers for a one day adventure in the park.
Why You Need a Death Valley Jeep Rental?
Death Valley is an interesting place. For anyone planning a trip to Death Valley, you will quickly notice that there are several different types of road in the park. There are paved road, unpaved roads, high clearance recommended roads, and four-wheel drive roads. Plus on the map are fun little comments about the roads like "Road conditions require experienced four-wheel drivers," "deep sand," or my personal favorite "Sharp rock; requires heavy-duty tires."
There is plenty to explore without ever having to drive get off the paved roads (not counting the short unpaved sections to parking areas). But a few special places such as the Racetrack and it's mysterious moving rocks needs a little more than your average car or even average SUV.
National Park Service does their absolute best to keep the road in the conditions listed but a little water can go a long way in the desert and do a lot of damage to the roadways. While I was in Death Valley, several roads were closed due to flood damage.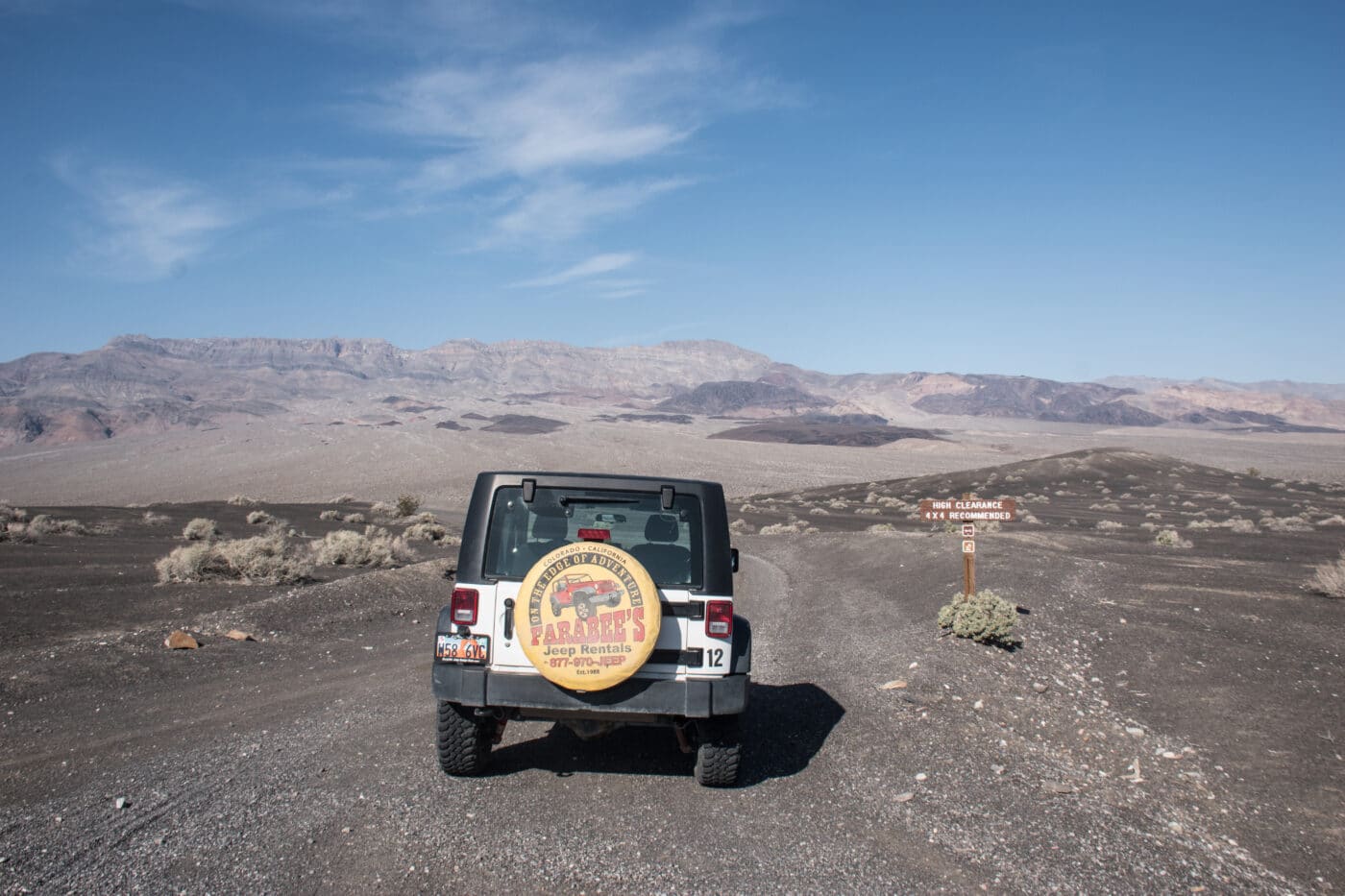 There are several things to keep in mind before deciding to venture off the paved roads in Death Valley.
The first is towing fees. Once you are out of the developed areas of Death Valley and on to the gravel road, tow fees if your car breaks down go up exponentially. I spoke with a Park Ranger in Death Valley. If towing your car out of the backcountry only cost $500, count yourself lucky. Death Valley towing bills average about $1000 but $2000 plus isn't unheard of.
The second is if you are in a rental vehicle. Pretty much ALL major rental car companies have a clause in their rental agreement that states their rental cars cannot be taken on gravel roads. On top of that, almost ALL rental car insurance will have a clause that denies coverage when violating the rental car agreement. Which means that you will be held personally liable for any and all damage due to your rental car when taking it off the pavement.
Don't think renting a nice Jeep Wrangler (or other 4WD SUV) from Los Angeles or Las Vegas will exempt you from this clause. They have it too.
Another concern of with a rental car is the tires. Most rental SUVs have standard street tires, not all terrain or special off-roading tires. These tires are not going to hold up well against the sharp volcanic rock fragments found on the road to the Racetrack. One volunteer, I met referred to these rocks as "Shark's Tooth." You do not know the full history of those rental car tires. Has one been fixed previously? When were they last replaced?
Last but not least is cell service. Once you are out of the developed area, there is NO CELL SERVICE. The only help you are going to get in the event of car trouble is if someone stops and that could be hours until someone drives by in the more remote areas. Odds are good that the good Samaritan will not have any equipment to help you and the best they can do is drive and get help. Which will take at least twice as long as it took you to get stuck.
If you have read this and decide that driving off the paved roads in Death Valley isn't for you. Farabee offers guided tours to the Racetrack, Titus Canyon, or Echo Canyon.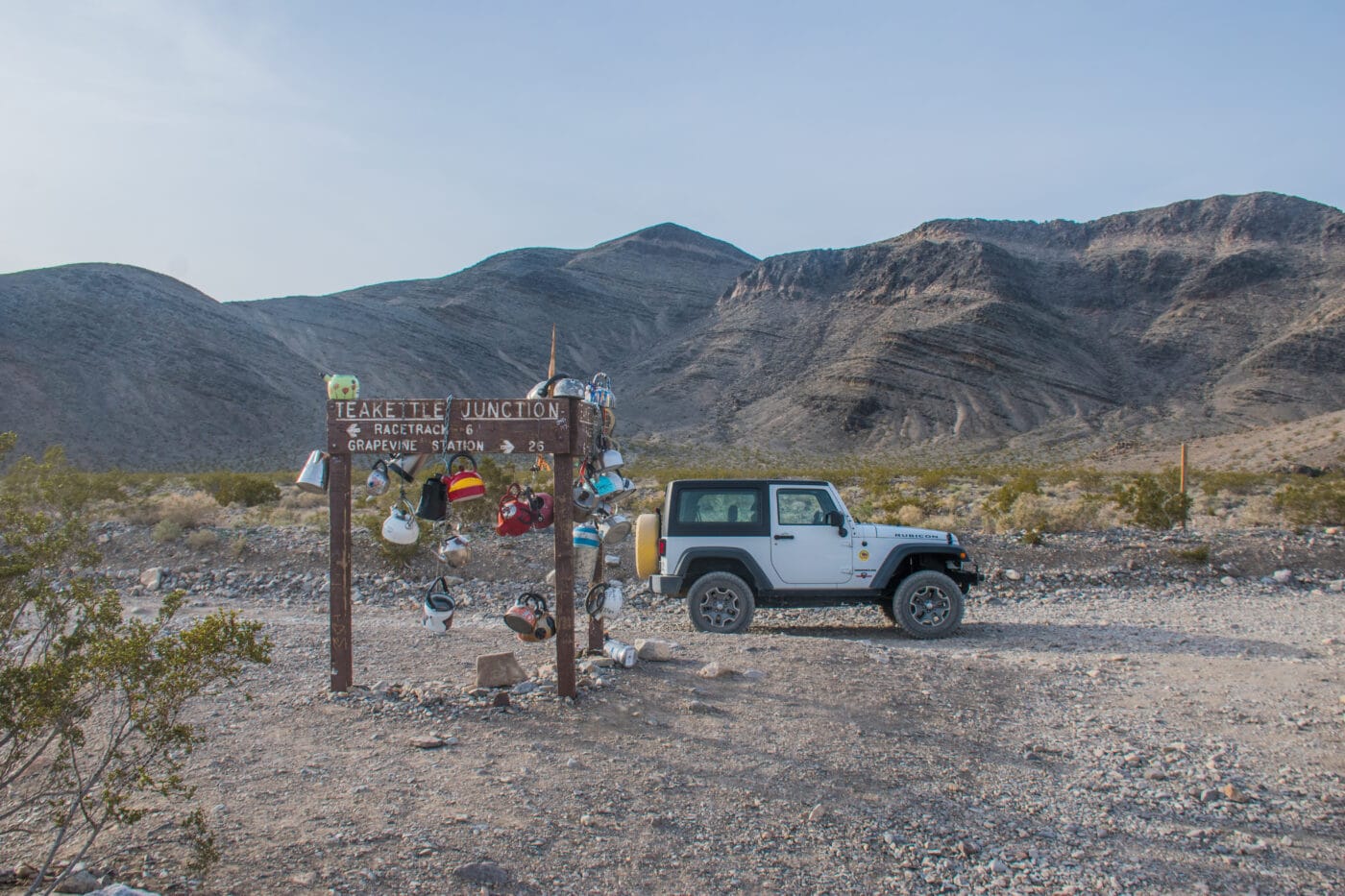 Common Destinations Where Renting a Death Valley Jeep Rental is a good idea.
Eureka Dunes – Tallest dunes in California and one of the tallest of the United States.
Racetrack Playa – A dry lake with sailing stones. The stones appear to move along the lake bed without an obvious cause.
Titus Canyon – A winding narrow canyon road that features a ghost canyon and petroglyphs
Echo Canyon – A visit to a slot canyon with the Eye of the Needle rock formation and Inyo Mine.
Why get a Death Valley Jeep Rental from Farabee's Jeep Rental
Farabee's Jeep Rentals is the perfect solution for those looking to get off the paved roads with minimal risk. They are the Death Valley jeep rental company. Farabee is located in the heart of Death Valley at Furnace Creek.
All of their rental vehicles are Jeep Wranglers. They have a 2-door version and a 4-door version. The 2-door Jeep Wrangler can seat 2 people. The 4-door Jeep Wrangler has five seat belts. While it can seat 5 people, don't try to fit more than 4 adults in it. No one will enjoy their day in Death Valley squished in the back of a Jeep.
When compared to a standard rental SUV, Farabee's Jeeps are pricy but that is a drop of the bucket when compared to the tow and repair bill if your car breaks down in Death Valley. All of their Jeeps are specifically and outfitted for use on the roads of Death Valley. These Jeeps are relatively new and come with off-roading tires specifically chosen for Death Valley roads and a two-inch lift to increase ground clearance. Each Jeep goes thru a complete inspection after each use. Each Jeep comes with a full-size spare and instructions on how to change car tires.
On top of that, Farabee gives each Jeep rental an Emergency Spot Locator. This locator uses GPS and does two things. It can alert Farabee to your location should you have Jeep trouble or it can alert emergency services should someone be seriously hurt. The locator isn't going to get help fast but it is far better than having to wait for someone to drive back to the developed areas to get help.
Farabee monitors the emergency spots. When one is activated they pack-up a jeep and head out to help. It is rare that a Farabee's jeep renter activate the emergency spot for help with the Farabee jeep. It is much more common for the emergency spot to be used to help someone else.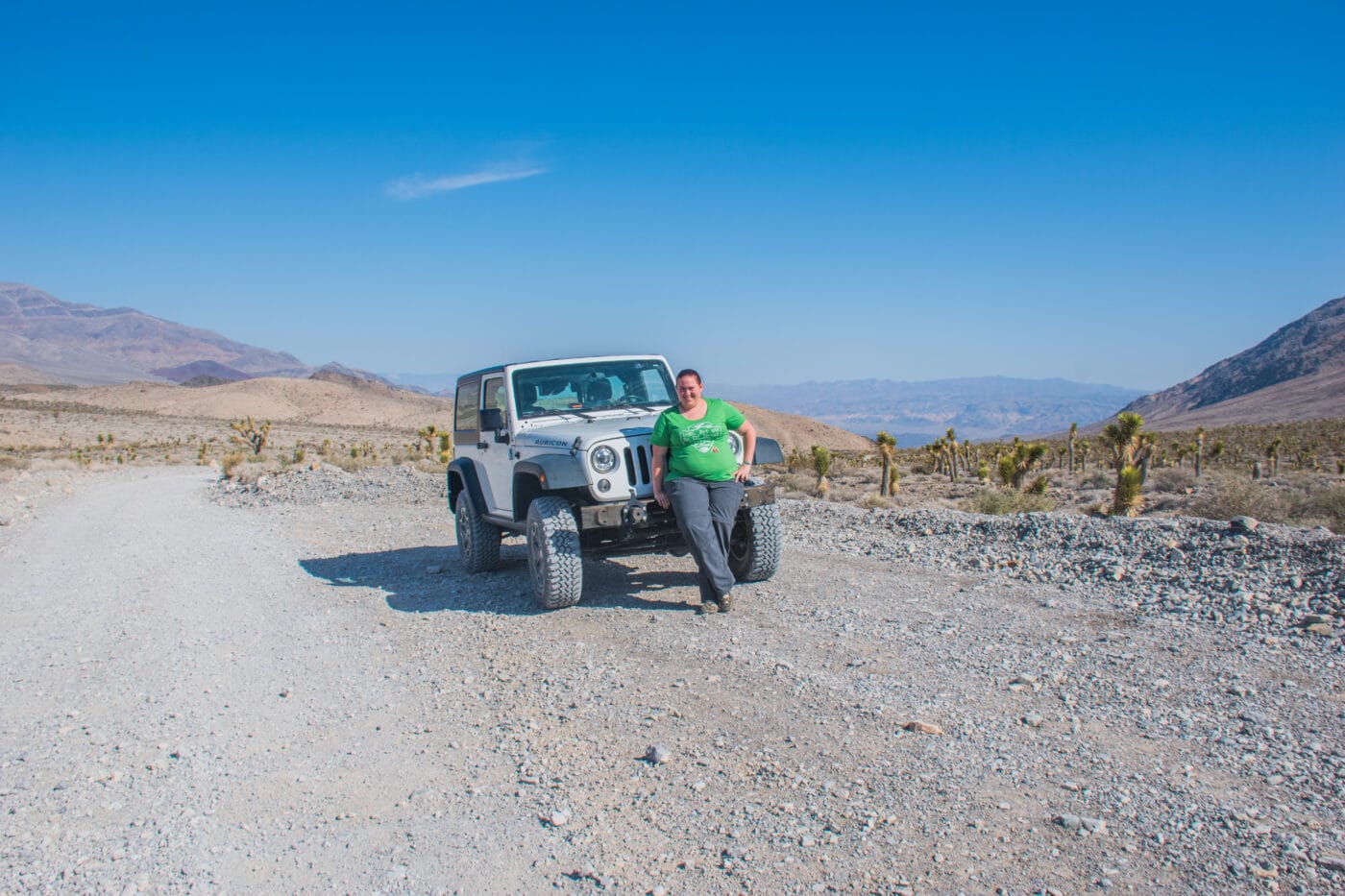 Things to know about Farabee's Jeep Rentals
They generally have same day rentals available. Be aware that holidays and local events rentals can sell out months in advance. Advanced recommendations are recommended during busier times such as spring break.
The Driver must meet the following requirements

Be over 25 years old
Have a valid US Drivers license
Have a credit card
Have auto insurance (Be sure to have your policy number)

All rentals come with 200 miles. This is enough to get to one of the major sites and back. Extra miles at $0.50 a mile.
Death Valley Farabee Jeep Rentals Review
Disclaimer – Farabee's Jeep Rentals provided a 1-day Jeep Rental in exchange for this review. All opinions are 100% mine
Picking-up your Farabee's Jeep Rentals
Farabee's Jeep Rentals can be picked up between 8:00 am and 10:00 am for the one-day rentals. They are due back by 6:00 am the following morning. If you would like to start your adventure earlier than 8:00 am stop by the day before your rental around 4:00 pm and see if they have a jeep ready to go. If they do, they will give you the keys. Keep in mind that this option is depended on someone coming back with a jeep early enough for them to clean and inspect it before they close for the day at 5:00 pm.
I got to Farabee's at around 7:45 am and was first in line to pick up my jeep. By the time they opened, 4 more people were in line. They had one person working the desk and he gathered all five groups around and did a quick safety briefing on how to use the emergency spot locator and then he asked me where I was heading.
There were 3 groups planning to head out to the Racetrack so he went over all the directions and location-specific concerns with us. Once he had done that, he started the check-in process with me. Mine was quick because I had stopped in the day before and they had already scanned my driver's license and my car insurance information.
Once we had signed all the paperwork, we went outside and he walked me thru driving the Jeep and all the necessary features. My favorite part of the briefing was going over the spare tire and tool kit. In the tool kit is a can of fix-a-flat. The fix-a-flat is NOT for use on the Jeep. It will not work on the off-road tires. It is for helping out other people who have a flat tire and are stuck.
I loaded up my supplies for the day and headed out on my adventure to the Racetrack.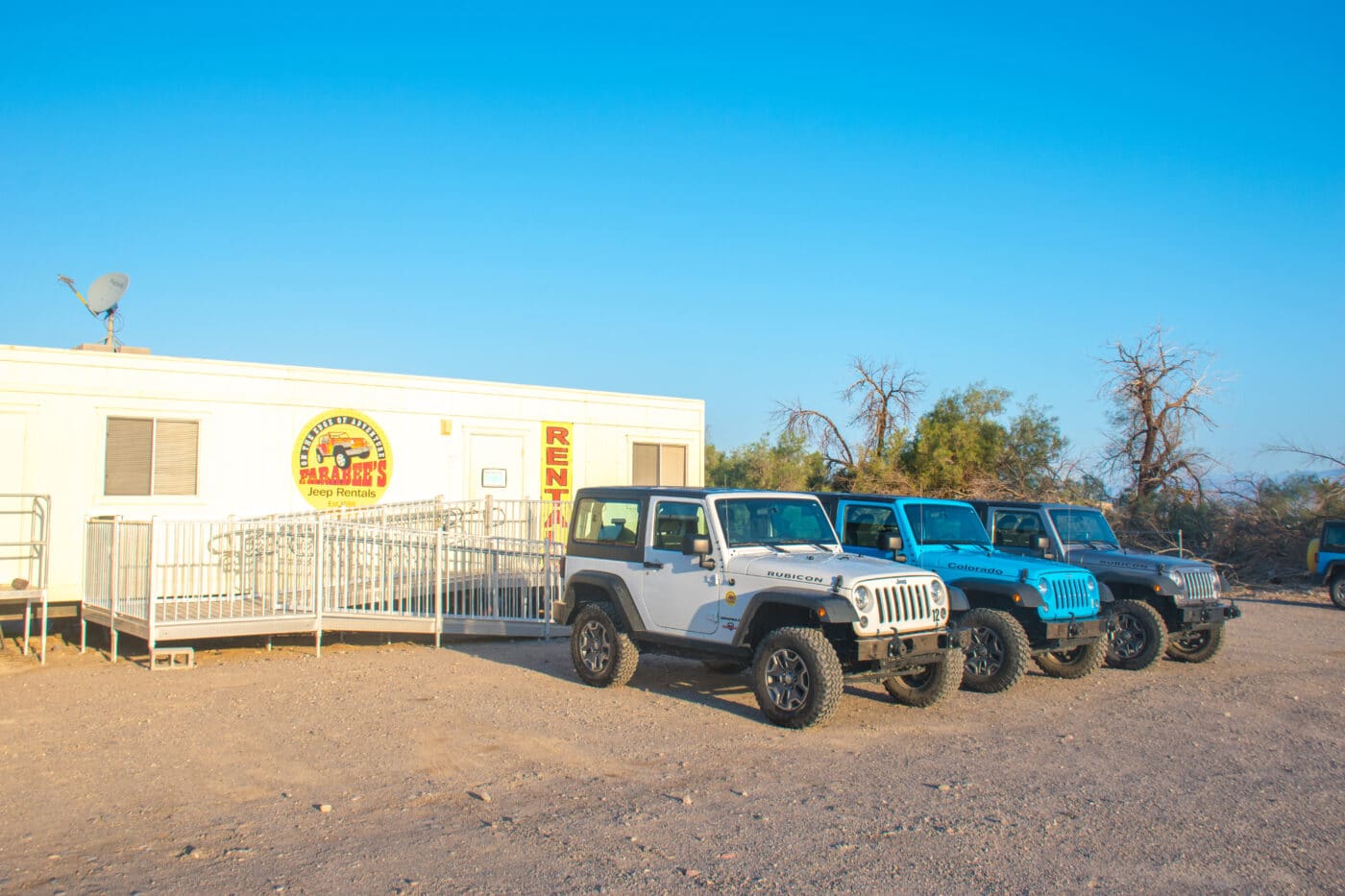 Driving a Farabee's Jeep
Farabee's Jeeps are designed for off-roading. They have decent handling on the paved roads but it isn't like driving your regular car. When you get off the pavement, you get to switch from 2WD to 4WD. The Jeep handles well. Farabee's requests that you keep speeds on the gavel less than 25 miles per hour.
That sounds really slow, but trust me. It isn't.
Once you are on the high clearance roads, conditions can vary greatly but expect to be driving on wash boarded roads for miles upon miles. You may have to navigate over deep ruts and avoid potholes along the way.
I have thousands of miles of experience driving on four-wheel drive roads in both four-wheel drive and two-wheel drive vehicles. I took my little low to the ground Honda Fit that I had during college plenty of places that it probably shouldn't have gone. I found the Jeep to handle well in all of the conditions. I really appreciated the extra clearance and the suspension system of the Jeep.
Even with my vast experience, I was never over 25 miles per hour on those dirt roads. Going faster than that makes it much easier to end-up out of control and in trouble. Not worth it.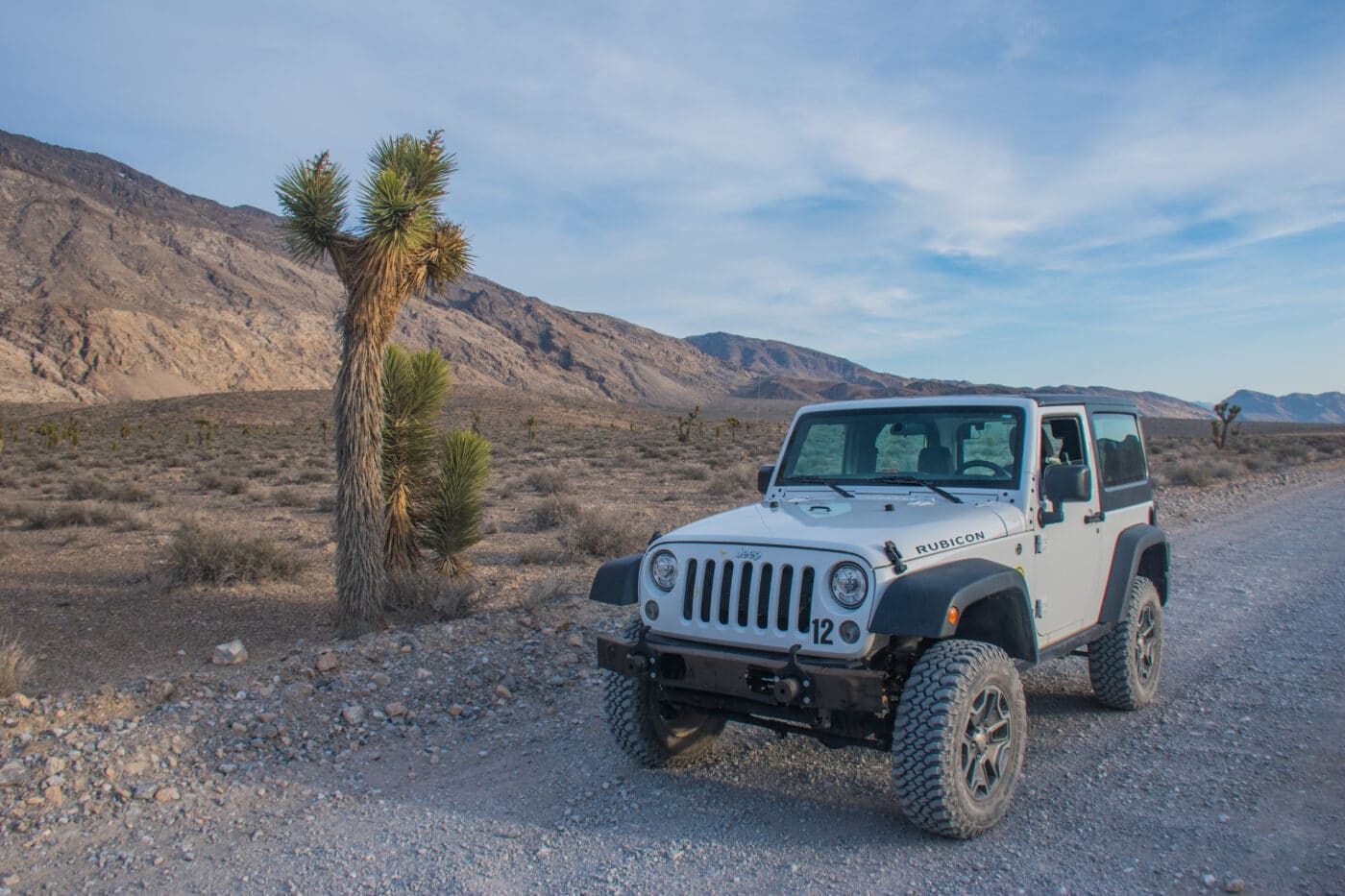 Return your Farabee Jeep Rental
Returning your jeep rental is really easy. You should fill your gas tank full of gas. If you happen to be driving past Stovepipe Wells, I suggest filling your tank there then topping it off at Furnace Creek. Stovepipe Wells tends to have the cheapest gas inside Death Valley National Park. If not, fill up at Furnace Creek and drive back to Farabee's storefront.
If you are returning before 5:00 pm, hand the keys and the emergency spot to the attendant and you are good to go. If you are like me and returning it late at night, look the Jeep up and return the keys and the emergency spot to the drop box outside the office.
Pros
Con

Designed for the gravel road conditions
Off-roading tires
Emergency spots

Doesn't open until 8:00 am
Jeeps are high off the ground
Disclaimer – Farabee's Jeep Rentals provided a 1-day Jeep Rental in exchange for this review. All opinions are 100% mine
Pin it to share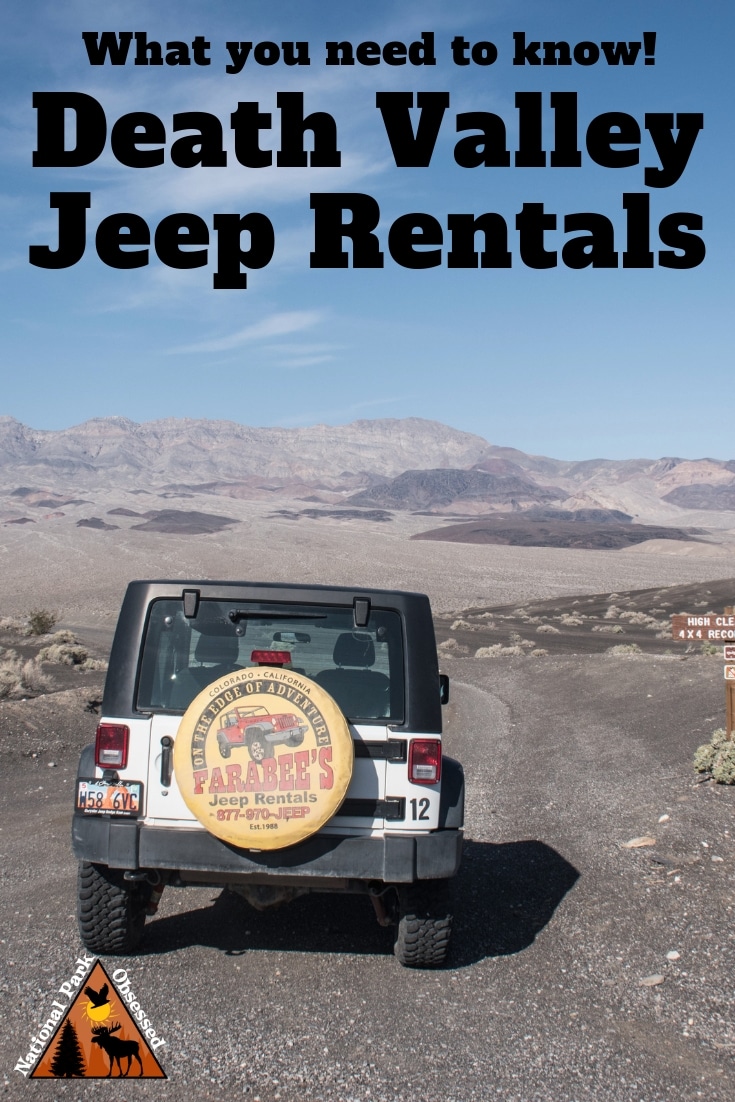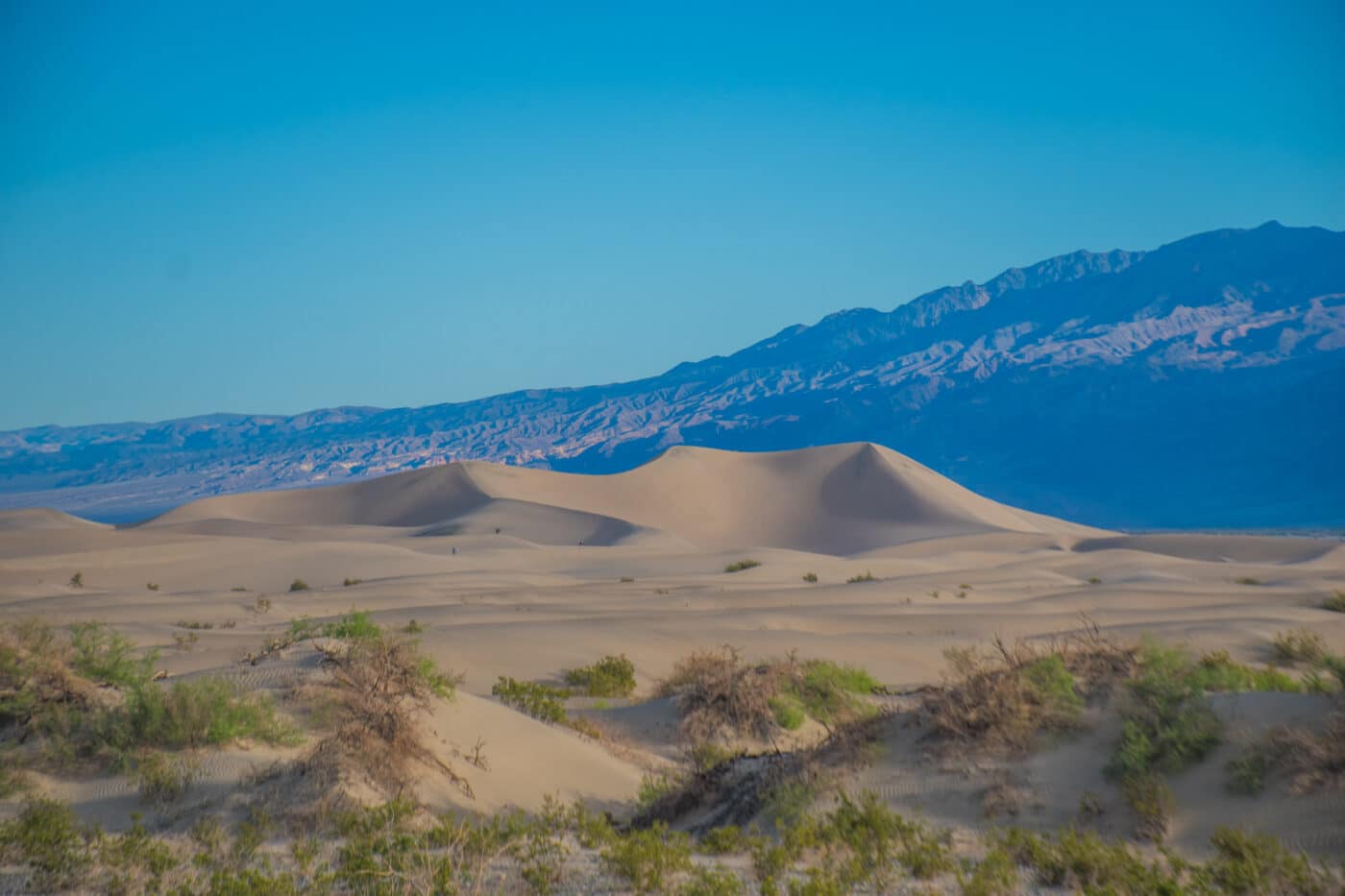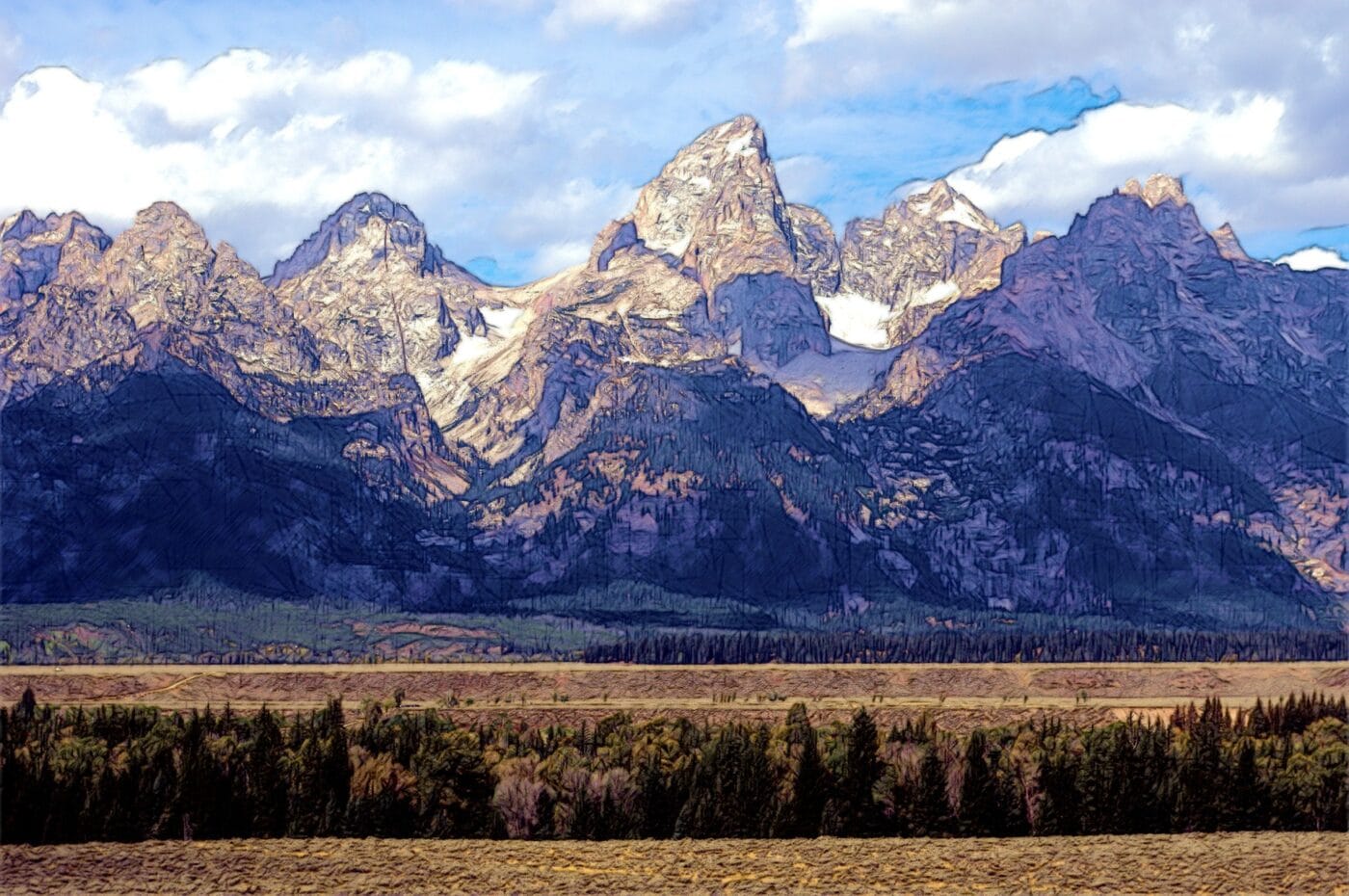 On this site, we promote travel to the United States and beyond that are the traditional lands of  Indigenous and First Nations peoples.
With respect, I make a formal land acknowledgment, extending my appreciation and respect to these lands' past and present people.
To learn more about the people who call these lands home, I invite you to explore Native Land.
National Park Obsessed assumes no responsibility or liability for any errors or omissions in the content of this site (NationalParkObsessed.com). The information contained in this site is provided with no guarantees of completeness, accuracy, usefulness or timeliness. You are encouraged to conduct your own due diligence before acting on the information provided on this site and should not rely on the opinions expressed here.
There is an inherent risk in all outdoor recreation activities, the reader assumes all responsibility for their own personal safety.
We are a participant in the Amazon Services LLC Associates Program, an affiliate program designed to provide a means for us to earn fees by linking to Amazon.com and affiliated sites.
Get a FREE 63 National Park Checklist