Post Summery: Best USA National Parks to visit in Summer
Trying to decide which of the 62 National Parks you should visit this summer? There are a lot of options and while most of the parks are an excellent choice to visit in the summer. Do you want to hike to alpine lakes? How about going wildlife viewing? Do you want to avoid crowds?
There are so many great parks to visit for summer, it can be really hard to choose so I featured some of my favorite summer national parks on this list to help inspire your summer national park visit. Here are the best National Parks to visit in the summer.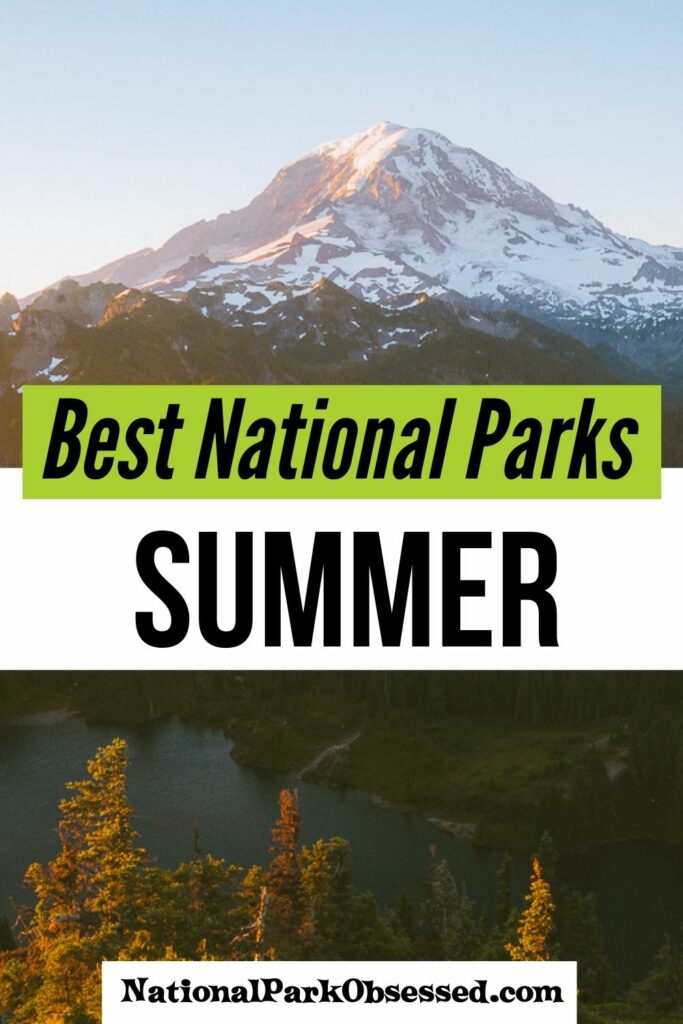 This post may contain affiliate links, meaning if you book or buy something through one of these links, I may earn a small commission at no extra cost to you! Read the full disclosure policy here
Quick Guide to Best National Parks for Summer
Best National Park in June: Great Smoky Mountains National Park
Best National Park in July: Denali National Park and Preserve
Best National Park in August: Yellowstone National Park
What to Pack for a Summer National Park Trip?
America the Beautiful National Parks Pass Entrance fees to the National Parks range from free to $35 for If planning on visiting 2 or more national parks, $80 National Park pass will save you money. >> Get your pass.
National Park Passport – The National Park Passport Book is the cheapest and best souvenir of your national park adventures. This book makes it easy to collect the National Park Cancellation Stamps. The cancellation stamps have the date of your visit and make it easy to track when you visited each national park service unit. >> Get your passport.
Refillable Water Bottles – Do your part to reduce litter in our parks by bringing a refillable water bottle with you. A reusable and refillable water bottle can save you a lot of money and really help the environment. Here are my favorite water bottles
Hydration Bladder – If you are hiking longer distances, a hydration bladder is the best way to hike with significant quantities of water. It is a rare hike when I don't bring a full bladder with me.
Snacks – There are limited services in the park. So pick up all your snacks before you go. Pack a couple of different options so you are prepared for any craving.

Fruit: Pick hard fruits such as apples or pears. These hold-up in the heat and in packs without getting squished to mush. Another option is freeze-dried fruit. Freeze-dried strawberries are the BOMB. They are crunchy, sweet and the best part is they are lightweight and yummy. These are my new favorite trail snack.
Vegetables: Cucumbers and carrots hold up well during hiking and in a hot car.
Granola Bars: Take your favorite non-coated in chocolate granola bars. Anything coated in chocolate will melt and be a sticky mess. My favorite is a selection of Cliff Bars. They are great even when squished.
Sunscreen – You don't want to get burned on your visit.
Lip balm – Your lips need just as much sun protection as your skin does.
Sunglasses – Similar to sunscreen, you need a good pair of polarized sunglasses to protect your eyes from the glare of the sun.
Hat – Hats are another sun protection device. A hat can keep the sun off your face and neck and help minimize the need for sunscreen while on the trail.
First aid kit – As with any outdoor adventure, accidents happen. It is better to be prepared and have a compact first-aid kit ready to help with any accidents.
Headlamp – Always keep a headlamp handy. You never know when you might want it. It can be used for midnight bathroom runs to sunrise/sunset hikes. A good headlamp makes it easy to operate in the dark.
Shoes – Shoes are probably the most important piece of gear to any hiker. Hiking shoes should be seen as an investment. On the trail, your feet are your transportation and a solid pair of hiking shoes help support your feet and can prevent injury.
Hiking Day Pack – A good day pack is the best way to transport all your gear when hiking. I highly recommend getting a backpack that is designed for outdoor use. These packs come with handy pockets and straps. My 40 L day pack has a pocket for my water bladder and a clip to hold the water line in place.
National Park Obsessed Shirt – Share your love of the National Parks and support National Park Obsessed with a National Park Obsessed T-Shirt.
Map of Best Summer National Park
Best USA National Parks to visit in the Summer
Acadia National Park, Maine
Acadia National Park is perfect in summer. You can plan a trip to Acadia throughout the year, but summer is definitely the best season to visit. The park is spread over several islands and peninsulas and surrounded by the sea, so there are plenty of things to do in the park that involve water. This is the Atlantic northeast, however, so, while summers are warm and spending time in and on the water is lovely, the rest of the year can be too cold to really enjoy the experience. Things like having popovers covered in butter and jam outdoors beside Jordan Pond; kayaking or sailing around the islands; eating fresh lobster at a seaside lobster shack on a sunny day; taking a dip in Echo Lake or in the ocean at Sand Beach (chilly even in summer) are all things you can't do at other times of the year.
Even activities not related to water are more enjoyable in the warmer summer months. The park is covered in woods and there are plenty of hiking trails. Acadia National Park is home to epic hikes like the Beehive and the Precipice, which end with breathtaking views of the surrounding seas. There are also dozens of old carriage roads that make for great cycling. The free shuttle buses from nearby Bar Harbor even have bike racks on them.
Acadia National Park makes a perfect summer vacation for the whole family.
Learn more about visiting Acadia National Park.
James Ian at Travel Collecting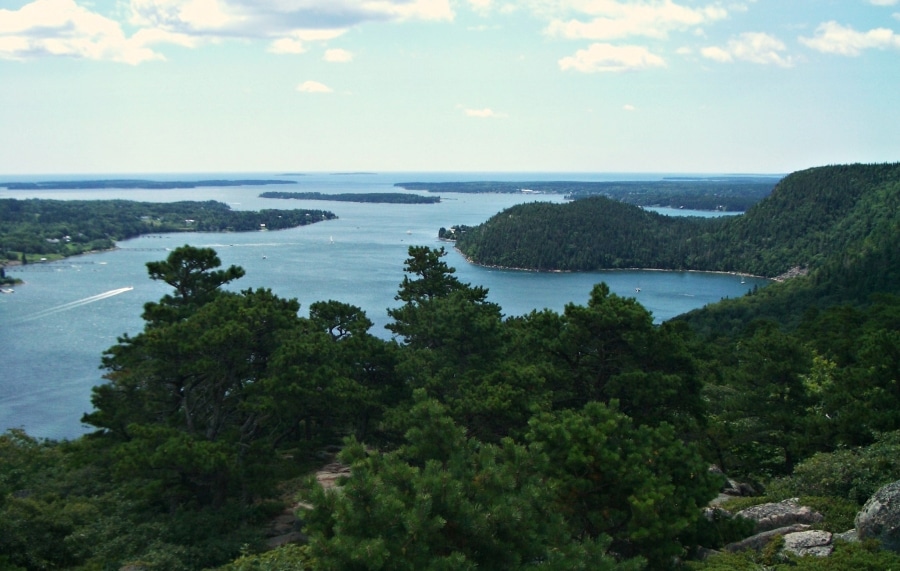 Crater Lake National Park, Oregon
Renowned for its deep blue water, Crater Lake seems almost so perfect in its construction. Crater Lake National Park is a collapsed mountain peak that is home to the deepest lake in the United States at 1,943 feet (592 meters) in depth. While the Azure waters of the lake certainly is what many come for, there is a lot to do in the park during the summer.
Summer is the perfect time to visit, with warmer weather and clearer days than other times of year. You can swim in the lake in designated areas (although it is super cold), but one of the best is to take a boat ride along the lake or a shuttle to Wizard Island which peaks from among the clear blue waters. If you don't want to venture close to the water, driving around the 33mile rim drive is one of the best things to see the lake from many angles. There are a lot of hiking trails and other areas around the lake to explore. Many people come for the lake and leave quickly and miss the impressive pinnacles, oddly shaped volcanic pumice spires that lie just a few miles away from the lake itself but certainly still worth the trip. Beyond just the major points, spending some time among the old growth forests, pumice desert, and other peaks, can get you far away from the grounds and more connected with the nature of the area.
Learn more about visiting Crater Lake National Park.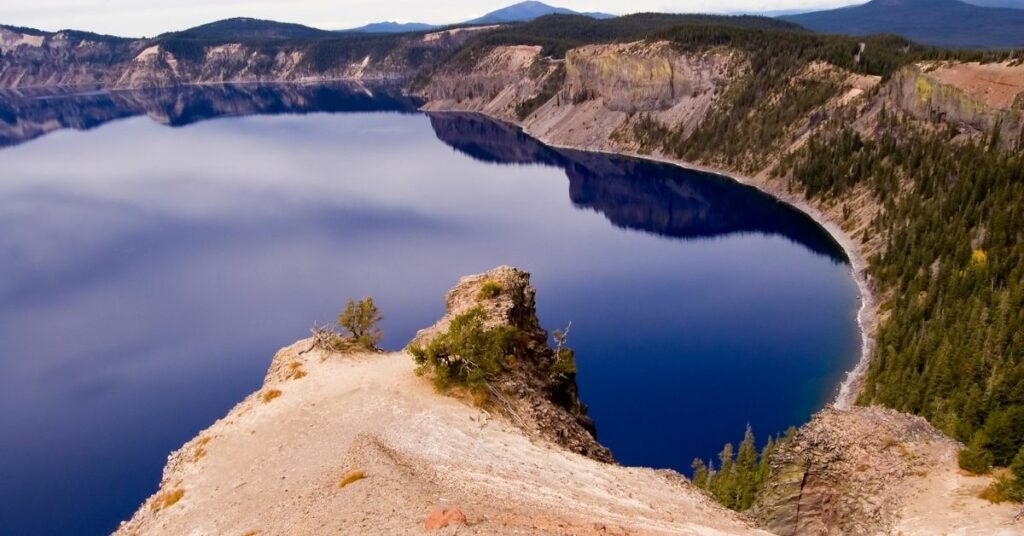 Denali National Park and Preserve, Alaska
Denali National Park and Preserve is a remote, massive, and mostly untouched national park in Alaska. This massive 6 million acre park sits in the interior of Alaska and is centered around North America's tallest peak, Denali (formerly Mount McKinley). One of the best times of year to visit Denali National Park is during the short Alaskan summer.
Summers are an amazing time in Denali. The tundra greens up and the landscape comes alive. The park's wildlife is all out and about as they make the most of the 24-hour daylight to prepare for the next winter. Denali only has one park road. Public access to this road is limited to the first 15 miles. After that park visitors have to take one of the park buses, hike, or ride a bicycle. There are various guided bus tours and hiker shuttles that take visitors into the park.
There are a handful of marked hiking trails in the park. These are limited to developed areas. Outside of the developed areas, hikers and backpackers are free to map out their own route and feely hike anywhere they would like.
Denali is an excellent park for wildlife viewing. Visitors will likely see moose, grizzly bears, caribou, and Dall sheep. Lucky visitors might see members of Denali's wolf packs. Please remember that food is scare so while there are a great number of wildlife to see n the park, they are more spread out and do not have the density you see in parks like Yellowstone.
Learn more about visiting Denali National Park.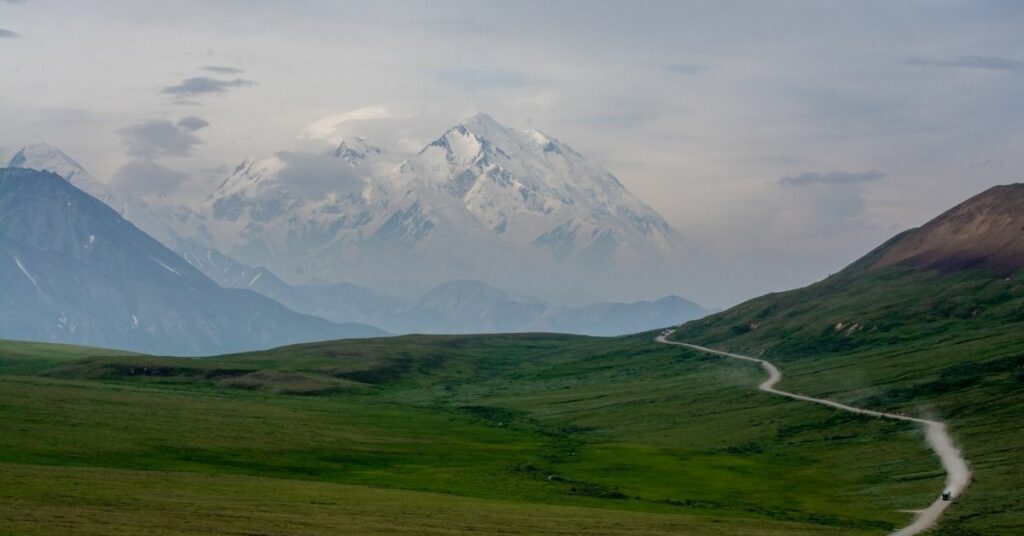 Glacier National Park, Montana
Glacier National Park is one of the best national parks in the country and belongs at the top of your bucket list. In the summer, the snow melts and reveals stunning alpine lakes and hiking trails.
The park's most beautiful areas, like Many Glacier and Going-to-the-Sun Road are only accessible in the summer. The best time of year to visit Glacier National Park is from late June to early September. Hiking is the best way to explore Glacier National Park in the summer. To hike the park's best trails, give yourself at least 3 days in Glacier National Park.
The best hikes in the park include the Highline Trail, Grinnell Glacier, and Iceberg Lake. Expect stunning views and great opportunities to spot Glacier's popular wildlife. Keep your eyes peeled for bears, moose, mountain goats, and bighorn sheep!
Going-to-the-Sun Road is a must for any trip to Glacier National Park… literally! It's the main road across the park, connecting some of the best vantage points and hiking trails. Can't-miss stops along Going-to-the-Sun Road include Lake McDonald Lodge, St. Mary Falls, and Hidden lake Overlook.
Start your days early to avoid summer crowds in Glacier National Park. Plan to start your hikes just after sunrise and you'll be rewarded with fewer crowds and stunning golden hour lighting.
Learn more about visiting Glacier National Park.
Julie Jennings of Well Planned Journey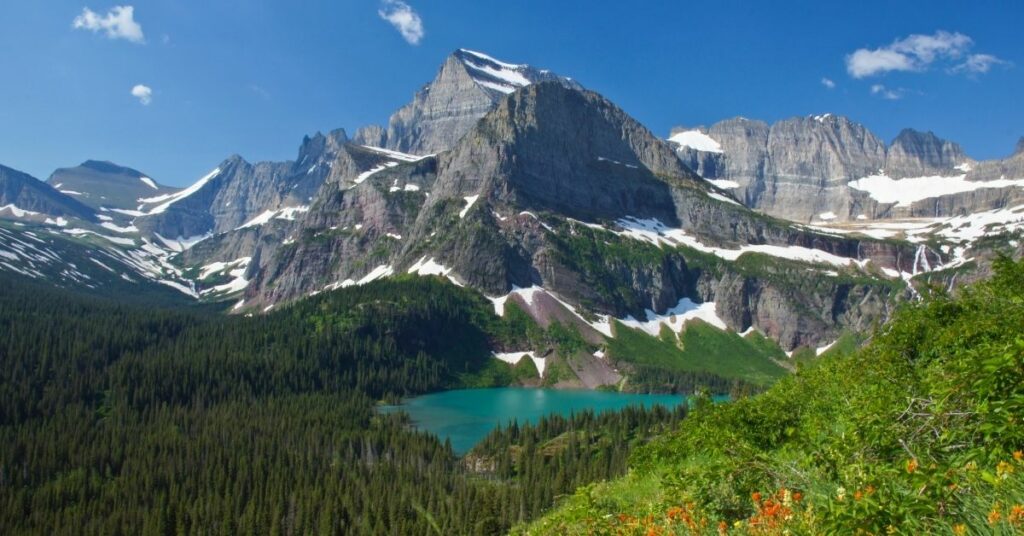 Great Basin National Park, Nevada
Great Basin National Park is the best to visit in summer (mostly because it's pretty much inaccessible in the winter) and to get away from the heat of the Nevada desert. The weather is perfect in the park, usually in the 70s or 80s, even if it's 90 down in Baker. Great Basin is home to the second-highest peak in Nevada, Bristlecone Pines – some of the oldest living things on Earth, and the only glacier in Nevada and you can see all of them with limited time!
I would plan for at least two days in the park, one day to do a Lehman Cave tour (yes they even have a cave) and the Alpine Lake Loop with the Bristlecone/glacier addition. This is a great way to spend a full day and see the main highlights of the park. If you have a second day and are up for the challenge, consider climbing Wheeler Peak. This will take most of a day and should be started early in the morning to avoid afternoon storms. If you don't want to climb the peak, there are plenty of other hikes in the park to keep you busy or you could attend a ranger talk if they're offering one.
Whether you're camping in the park or staying down in Baker, make sure you get out once it's dark to see the stars. The middle of the night will be prime viewing, but earlier will still be amazing. It's an International Dark Sky Park and the number of stars you'll see will blow your mind. While the park may be in the middle of nowhere and out of the way of a lot of things, it's absolutely worth the detour, even with just a day.
Learn more about visiting Great Basin National Park.
Megan Johnson at Red Around the World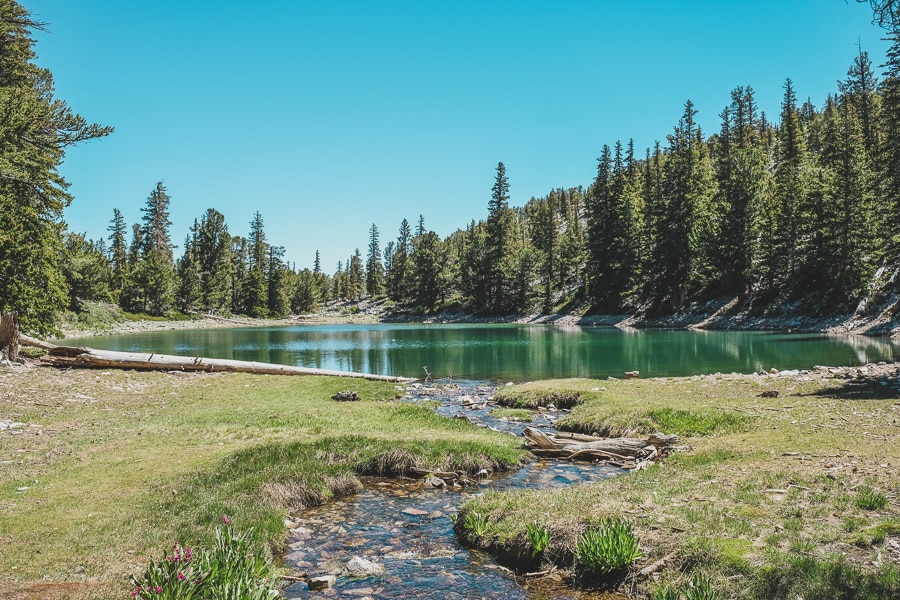 Great Smoky Mountains National Park, North Carolina/ Tennessee
The Great Smoky Mountains is the best national park to visit year-round, but especially in the summer. The weather in the early summer is beautiful, which gives you the opportunity to hike some of the best hikes. Smoky Mountains National Park will be full of families and kids in the summer, but it worth it.
You'll be blown away by the lush green views everywhere you turn as you hike trails to waterfalls throughout the park. You can't visit the Smokies without hiking Laurel Falls Trail, Abrams Falls Trail, Andrews Bald, Cades Cove, and Schoolhouse Gap Trail. Each trail has something special to offer such as wildflowers, waterfalls, views, and the opportunity to see wildlife.
The summer is when wildlife is active and you have the chance to catch a glimpse of the wildlife that calls this beautiful place home. If you are lucky you can see a black bear. If you aren't lucky enough to spot a black bear there are elk, wild turkeys, white-tailed deer, salamanders, and coyotes throughout the park.
Keep in mind, it does get hot and humid in the summer, so carry plenty of water. Although the temperatures will feel cooler at higher elevations it is important to stay hydrated. One of the best ways to cool off is in the waterfalls because the water is nice and cold.
For campers, summer is the most popular time to reserve a campsite and stargaze. Once everyone has left for the evening, the nighttime comes alive with sounds of nature, and the only light is the moon. You can see the consolations so clear it feels like you can reach out and touch them.
Learn more about visiting Great Smoky Mountains National Park.
Cee Lewis of Its a Family Thing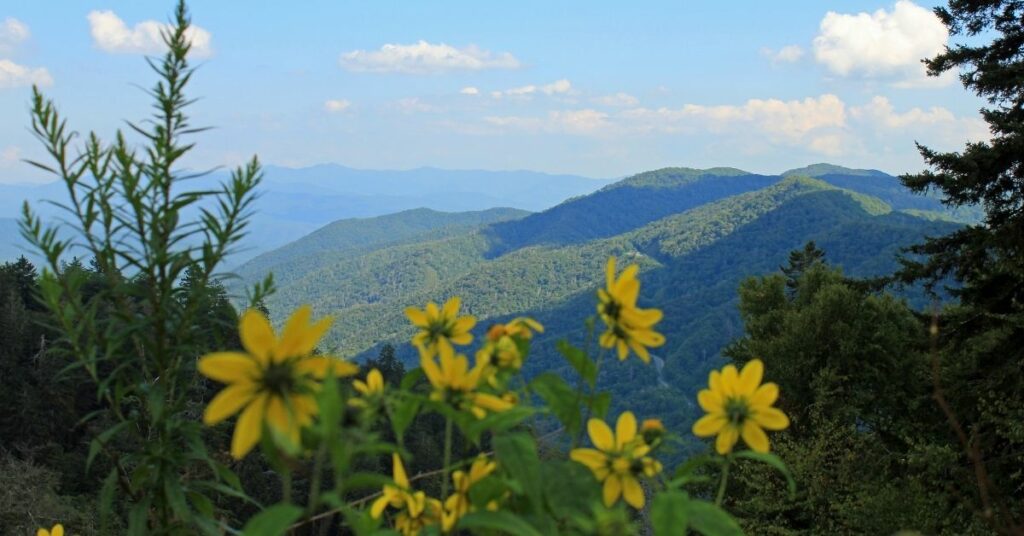 Isle Royale National Park, Michigan
Isle Royale National Park is the only National Park that officially closes during winter. There are two reasons for this closure. The first is the fact that this remote national park is located in the middle of Lake Superior. The other is that the winter weather is on the Isle Royale is harsh and unforgiving. Access to the park is limited from April to October, but the best time to visit this national park is in summer.
There are no roads in Isle Royale; this makes the park a kayaker, canoer, and backpacker's dreamland. There are 36 campsites spread across the main island and associated smaller islands. There is a hotel in Rock Harbor and camper cabins in Windigo for those who don't want to camp.
Isle Royale has about 170 miles of hiking trails that crisscross the island. One of the most popular is the 43-mile Greenstone Ridge which follows the spine of the island. Kayakers and canoers can choose to explore the islands shores or outer islands or they can choose to portage the boats and explore some of the inlands lakes. There are also a few guided boat tours to unique places like the bog Raspberry island or lighthouse tours.
Access to the park is limited to boat, ferry and seaplane, so Isle Royale is one of the least visited national parks so you don't have to worry about huge crowds.
Learn more about visiting Isle Royale National Park.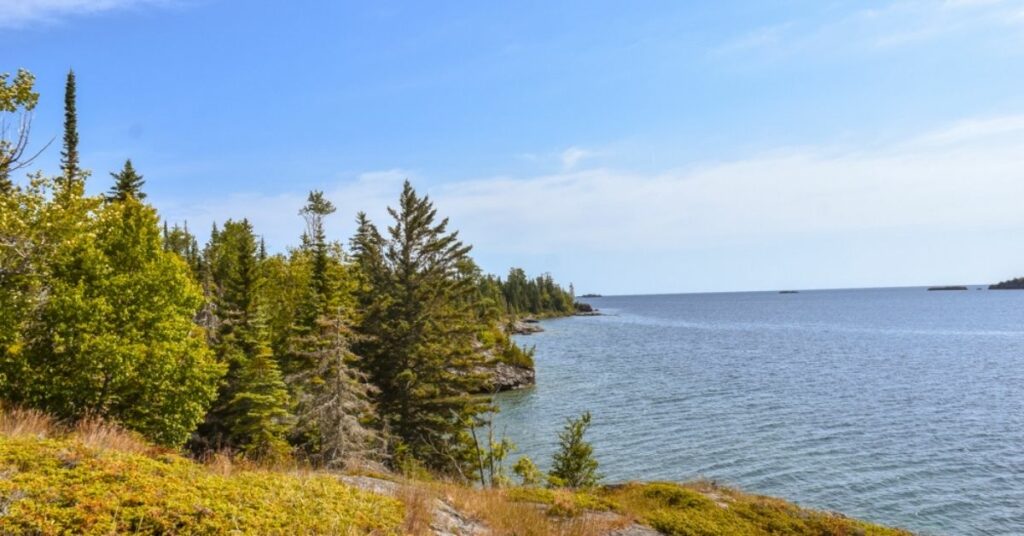 Lassen Volcanic National Park, California
Lassen Volcanic National Park is one of the best parks in the country to visit if not solely for the fact that it is an underrated gem. Summer is the busiest season for state and National Parks overall, but as one of the least visited parks, Lassen still maintains a quieter atmosphere to getaway in nature. Early summer is also a fantastic time to visit Northern California's more mountainous areas, as flowers are abundant and the long days are cooled with soft breezes. Summer offers the most park activities, such as horseback riding, archery, and plenty of crystal clear swimming holes! And of course, the park is the most accessible between June through August, so hiking enthusiasts can have their pick of the thousands of trails, including the famed Pacific Crest Trail. Though, if you visit Lassen Volcanic National Park, you must visit Bumpass Hell, a short trail that guides you through the area's geothermal sites. The trail is paved, so it is wheelchair friendly, but if you would rather not hike, you can still see boiling mud pots from you car near Sulfur Works. However, if you enjoy exploring deeper on the more educational side, summer is also the only season that the park offers all of their various ranger programs and Astugewi cultural demonstrations. Museums and restaurants have extended hours in the summer, so you can frolic in the park with less time restraint.
Learn more about visiting Lassen Volcanic National Park.
Kay, The Awkward Traveller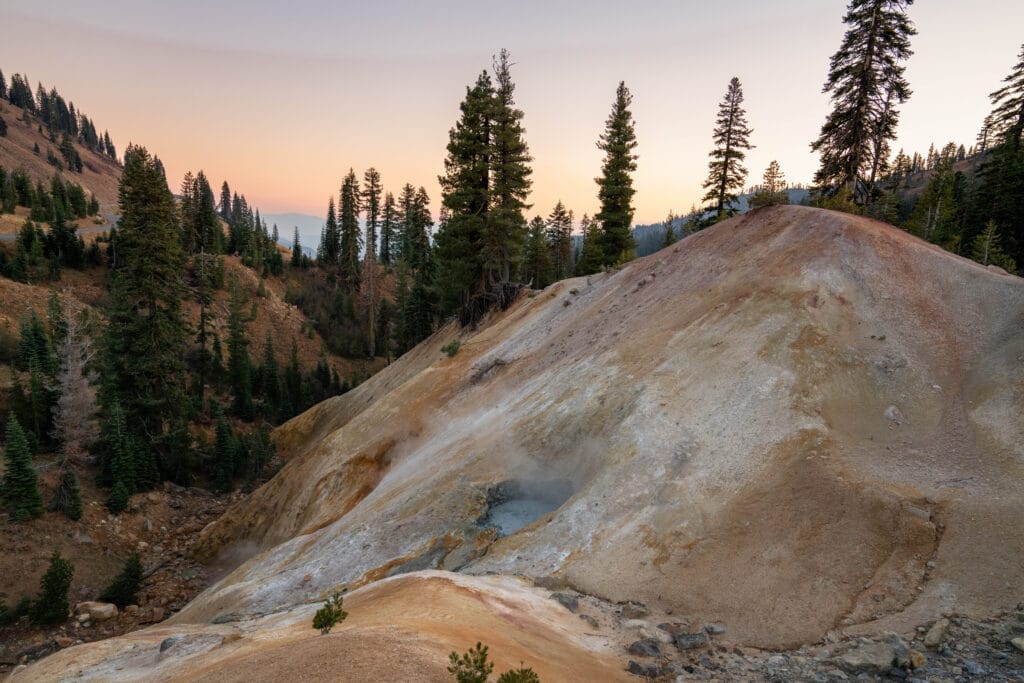 Mount Rainier National Park, Washington
One of the best national parks to visit in the summer is, of course, Mount Rainier National Park. This national park features the world-famous mountain called Mount Rainier. Its beauty is out of this world, and many people are always so amazed by its magnificence. But looking at Mount Rainier isn't the only thing to do in the park. There are so many activities and things to see, like viewing waterfalls, old grove trees, mountains, and lakes.
One of the most popular things to do at Mount Rainier is to hike the Skyline Trail. This trail is the most popular one in the park and features a lovely waterfall called Myrtle Falls. If the weather is iffy (which is possible in Washington), try out Comet Falls trail. This trail has a 380-foot outstanding waterfall. It is one of the most beautiful waterfalls in the state of Washington. If you enjoy sunset hikes, then try out the Fremont Lookout trail. This trail has a fire lookout and fantastic views of Mount Rainier throughout the whole trail. A similar trail that also has a fire lookout is Tolmie Peak. The Tolmie Peak Trail goes through the lovely forest and ends at a fire lookout with a breathtaking view of Mount Rainier. You can not go wrong with any of these stunning hikes in this park. That is why Mount Rainier is one of the best parks to visit in the summer.
Learn more about visiting Mount Rainier National Park.
Michelle Stelly of The Wandering Queen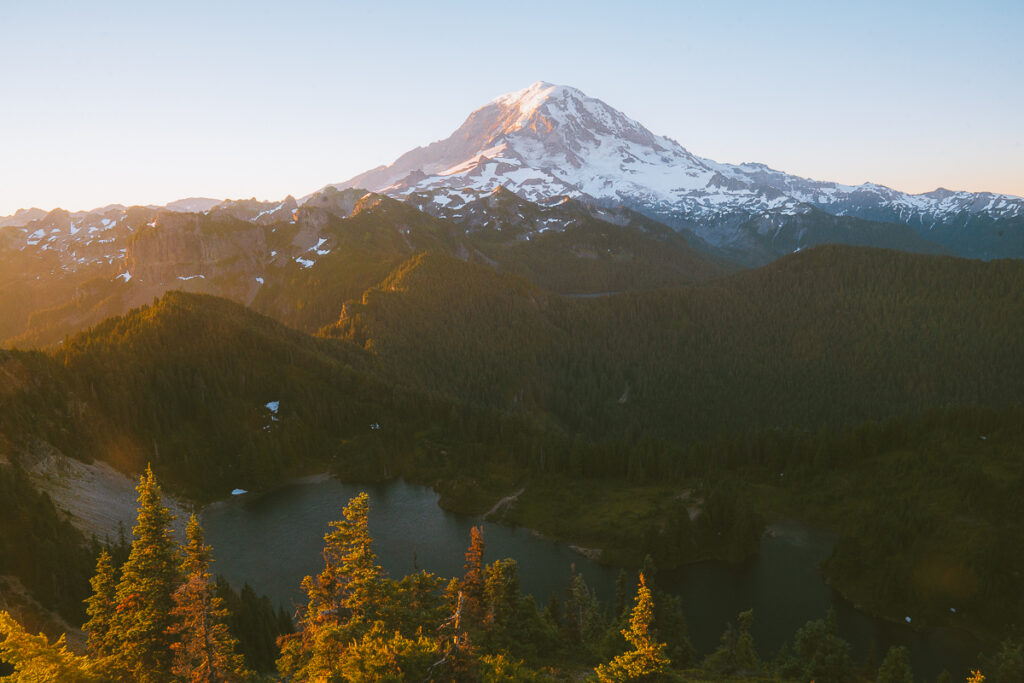 North Cascades National Park, Washington
North Cascades National Park in Washington is an amazing park to visit in the summer! With over 300 glaciers in the park and coming in as one of the least visited National Parks in the US, it is worth a trip.
If you have your hiking legs you will want to head out to Sahale Glacier Trail (Cascade Pass). It is an 11 plus mile hike with a 3858 elevation gain. BUT it ends at a Glacier! It was not an easy hike but was totally worth it. We completed the hike with our kids who were 11, 9, 9, and 7 at the time.
If hiking isn't your thing, never fear there are a ton of great overlooks and drives to take throughout the park. We recommend the North Cascades Highway, the Washington Pass Overlook, Ross Lake Overlook, and Diablo Lake Overlook.
We also recommend stopping at the visitor center to learn more about the park and to pick up a Junior Ranger book for the kids.
You will want to visit this park in the summer for the best weather and even being there in July or August there will still be snow up in the mountains!
Learn more about visiting North Cascades National Park.
Bryanna Royal at Crazy Family Adventure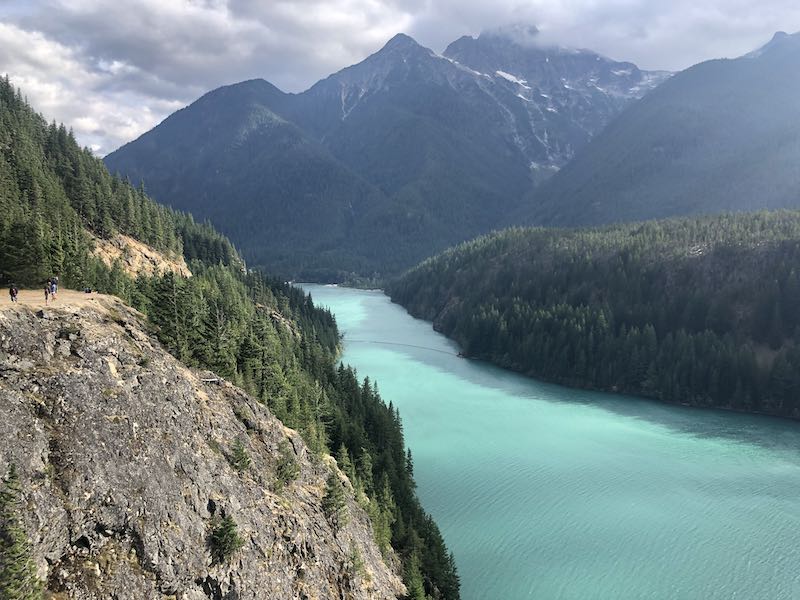 Olympic National Park, Washington
One of the most incredible US national parks to visit in summer is Olympic National Park in Washington State located on the emerald green Olympic Peninsula. The large national park spans over 900,000 acres and is renowned for its diversity in its landscapes. From lush rainforests to imposing mountains, it also has a rugged coastline.
During the summer months, Olympic National Park is fully open and accessible to visitors. There are several ways to enjoy the park, but it is notable for its hiking opportunities. There are over 611 miles of hiking trails in Olympic National Park that criss-cross through the park and lead you to beaches teeming with driftwood and wild winds to the mystical Hoh Rainforest.
One fantastic thing about Olympic NP is that there is a hike for everyone and any skill level. There are easy, short trails such as Sol Duc Falls Nature Trail which is only a 1.6-mile hike to one of the most famous waterfalls in the Washington National Park.
More experienced and seasoned hikers will enjoy the Klahhane Ridge Trail, an epic 6.8-mile route to Lake Angeles. Along that path, hikers will endure some challenges, but you can always take in the ocean views at one of the beaches after the hike, making the most of your day.
There are many reasons to visit Olympic National Park during the summer, but the hiking alone makes it one of the absolute best parks for the active traveler.
Learn more about visiting Olympic National Park.
Megan Starr of Megan and Aram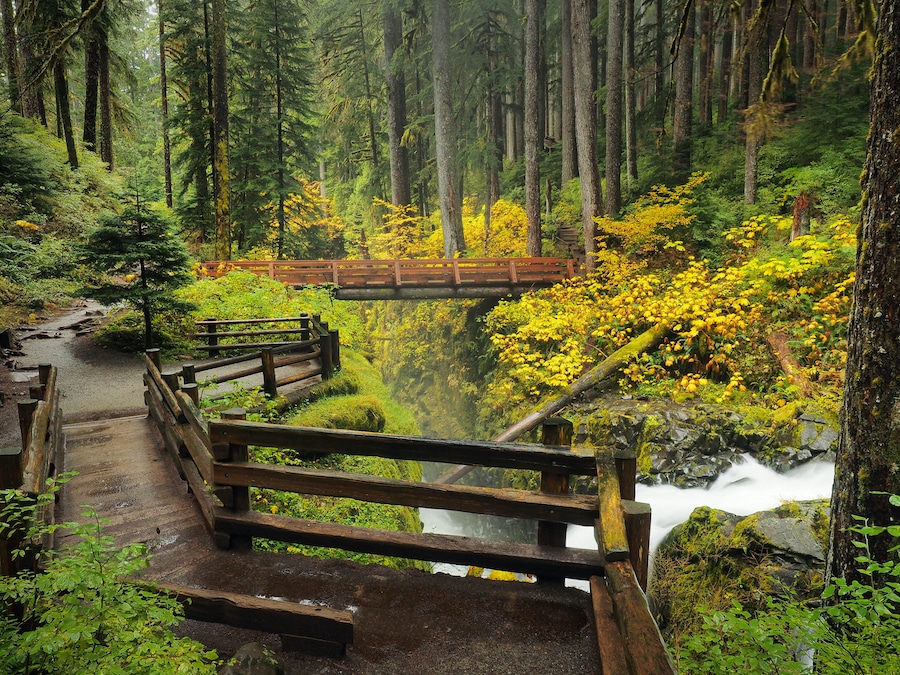 Rocky Mountain National Park, Colorado
Located in the northern part of Colorado, Rocky Mountain National Park is one of the best and highest altitude national parks in the US. Although it is open year-round, the best time to visit RMNP is summer when the weather is sunny with clear blue skies. People who are looking for cheap honeymoon destinations in the US must visit this national park for its charming atmosphere and countless outdoor activities.
The biggest benefit of visiting Rocky Mountain National Park in summer is the natural beauty of the park. Visitors get better opportunities to see the wildlife soaking in the sun. The blooming wildflowers with lively rivers and waterfall make the hiking trails more scenic during the summer months.
There are plenty of things to do in Rocky Mountain National Park. With more than 350 miles of trails, hiking is the main attraction of this national park. It has hiking trails for all levels of hikers. You can also ask the rangers in the visitors center about which are appropriate to different experience levels. Make sure to come here with sturdy and comfortable shoes to enjoy the most of these incredible trails such as Emerald Lake Trail, Bear Lake.
The place is heaven to wildlife photographers. From bighorn sheep, mule deer, elk to 60 species of mammals, more than 280 bird species, RMNP is home to countless wildlife and a great destination for wildlife watching.
Fishing is another popular activity in RMNP in summer. Glacier Creek, Dream Lake, and Sky Pond are some of the best places for fishing in the park. You just need to have a regular Colorado fishing license to enjoy fishing in summer. Other popular activities include bicycling, horseback riding, climbing, and many more.
Tip: Try to avoid weekends and public holidays to escape the heavy crowd. If you want to enjoy nature peacefully, visit RMNP on weekdays.
Learn more about visiting Rocky Mountain National Park.
Trijit Mallick from BudgetTravelBuff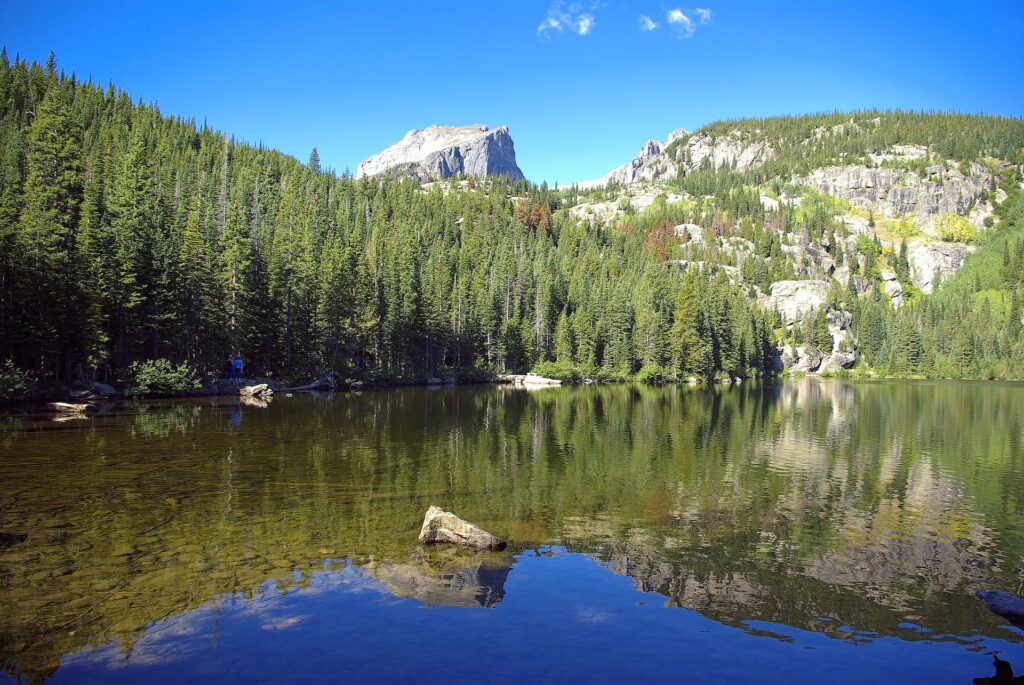 Theodore Roosevelt National Park, North Dakota
Theodore Roosevelt is the only national park in North Dakota and is a fantastic national park to visit in the summer. Located near the border of Montana, this is a beautiful part of the country that not many people get to experience due to its remote location. Summer is the best time to visit as temperatures are rather cold most of the year. During summertime, many people stay overnight in the charming western town of Medora when planning a trip to Theodore Roosevelt National Park. You will often find tourists and nearby locals here as the town puts on a very popular musical production during the summer months, the Medora Musical. Medora has a small walkable downtown area with some delicious food options and even live music in the central plaza.
Theodore Roosevelt National Park has two units (North and South). Both units have scenic driving loops to view the landscape, bison, wild horses, and prairie dogs that inhabit the area. The South is where the majority of the people do visit and where the town of Medora is located as well. There are also some great hiking trails in the South Unit. Wind Canyon Trail, Big Plateau Trail, and Painted Canyon Nature Trail. In the North Unit, many people take the scenic drive, visit the cannonball concretions, and take in the views from the Oxbow Overlook.
While not as popular as other national parks out West, Theodore Roosevelt National Park is one of the best places to visit in the U.S. during the summertime because you can take a quiet moment to appreciate just how grand this land of ours truly is and how small we are in comparison.
Learn more about visiting Theodore Roosevelt National Park.
Margie DQ of DQ Family Travel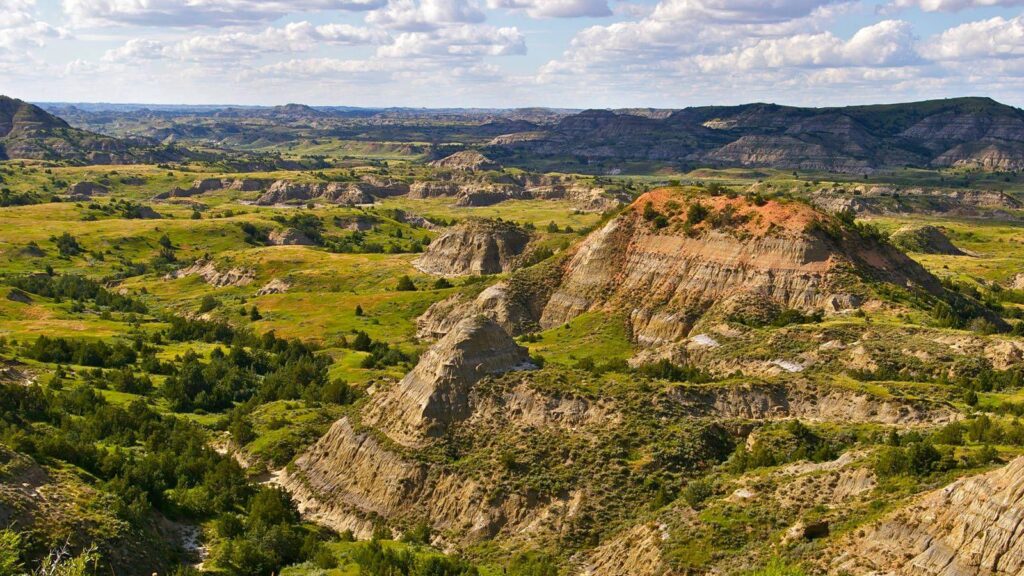 Voyageurs National Park, Minnesota
Voyageurs National Park is located in Minnesota and shares a border with Canada. This vast National Park is made of a series of islands, forests, waterways, and lakes. The park is home to beavers, moose, wolves, and bald eagles. The park has limited road access and is really only explorable via boat.
Popular summer activities in Voyageurs National Park are boat tours, houseboat camping, fishing, canoeing, and hiking. The boat tours take visitors out onto the lakes to learn about the history of the area and check out things like the Kettle Falls Hotel and dam, Ellsworth Rock Gardens. There are other historical sites to explore such as historic fishing, mining, and logging camps and Ojibwe villages.
There are boat in campsites and day use areas on many of the park islands and visitors are welcome to stop and explore the islands as their time allows. Houseboating allows park visitors to spend longer and explore some of the more remote areas of the park.
There are a few hiking trails on the larger islands and the trails are worth exploring during the summer.
Learn more about visiting Voyageur National Park.
Yellowstone National Park, Idaho/ Montana/ Wyoming
One of the best National Parks to visit in the Summer is Yellowstone National Park. While the summer months are the most visited times in the park, it means you'll have great weather and full access to everything in the park. Due to its high elevation, winter comes quickly to Yellowstone and lasts for a long time, so you'll want to be there when the roads are clear, the sun is shining, and you can soak in the Boiling River or take a dip at the Firehole River swimming area. Even though summer in Yellowstone is famous for its crowds and traffic, it's not hard to get away and find a piece of Yellowstone all to yourself. The park spans three states, so believe me, there's room for everyone! The trick is to start early or wander off from the main highlights.
We traveled to Yellowstone with kids, so we put a big priority on scoping out all the amazing wildlife in the park, from bison herds, grizzly bears, black bears, wolves, moose, elk, and bighorn sheep. Other memorable highlights of the park include watching Old Faithful Geyser explode 100 feet in the air, scoping out Grand Prismatic Spring from up above, and seeing the massive waterfalls at the Grand Canyon of Yellowstone.
Learn more about visiting Yellowstone National Park.
Christina of Live A Wilder Life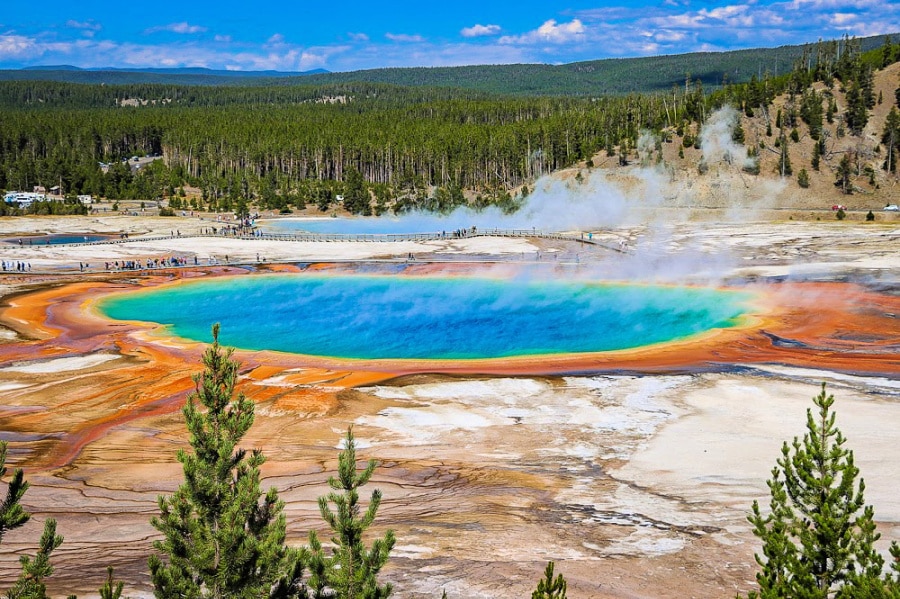 Yosemite National Park, California
Yosemite National Park is one of the oldest national parks in the United States and one of the most visited. Yosemite was given World Heritage status in 1984 and continues to be the destination of choice for locals and international visitors.
It is known for its mighty granite formations called Half Dome, The Three Brothers and the incredible El Capitan as well its mighty waterfalls, ancient parkland and wildlife – including wild bears!
Yosemite is open all year round for nature lovers, adventure seekers, climbers, and hikers but if visiting after mid-June the waterfalls will have all but dried up, and the once gushing Yosemite Falls – one of the tallest waterfalls in the world – will become a mere trickle. But that doesn't mean there isn't anything else to do in Summer – far from it. Yosemite village shops, museums, and restaurants are all open for business and campsites are heaving with visitors; we stayed at Curry camp in June and it was a fantastic experience.
Visitors can kayak down the Mercer River, cycle the miles of boardwalks around the park, follow the Yosemite wilderness loop trails and join wildlife spotting events; just remember not to have any food on your person in case of a bear encounter!
Of course, mountain climbing is the big pull for Yosemite and experienced climbers arrive to take on the formidable El Capitan. But even if you aren't an expert the Yosemite Mountaineering Centre has beginner courses that can give you a brief taste of what could be achieved in the future. No one gets left out in Yosemite National Park.
Learn more about visiting Yosemite National Park.
Angela Price of Where Angie Wanders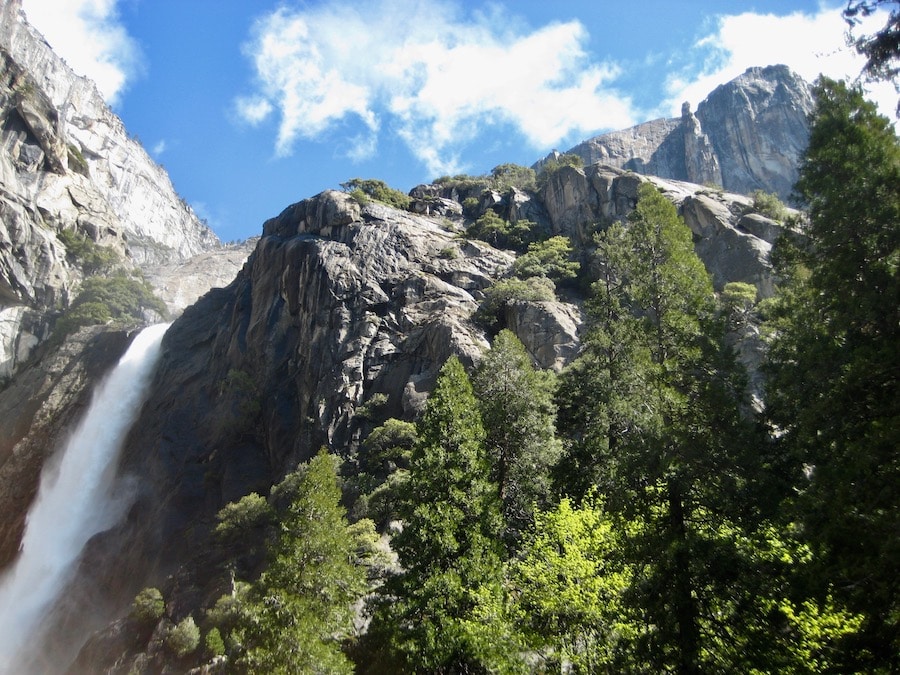 Zion National Park, Utah
One of the best US National Parks to enjoy in the summer is Zion National Park, located in southwestern Utah. Zion National Park is located at an elevation of 3,000 feet, which makes it a bit milder than lower-altitude national parks in the summer despite the typical Utah heat.
Still, average temperatures in the middle of the day can soar into the 90s, so you'll want to start early, pack plenty of sun protection and water, and be cautious not to overexert yourself in the heat.
The great thing about Zion is that there is a variety of hikes to tackle depending on your fitness level and desired level of difficulty. There are easier hikes like the Watchman Trail and the Emerald Pools, or you can tackle far harder hikes like Angel's Landing, Observation Point, and the Narrows.
The Narrows is a good choice for the summer because you wade through the water and the slot canyon keeps the sun off your face, whereas Angel's Landing is nearly entirely exposed, so that's a hike you don't want to do in the dead heat of a summer afternoon!
Zion National Park is also close to other national parks, meaning you can make an easy Southwest road trip out of visiting it and several other worthwhile national parks such as Bryce Canyon and the Grand Canyon.
Learn more about visiting Zion National Park.
Allison Green of Eternal Arrival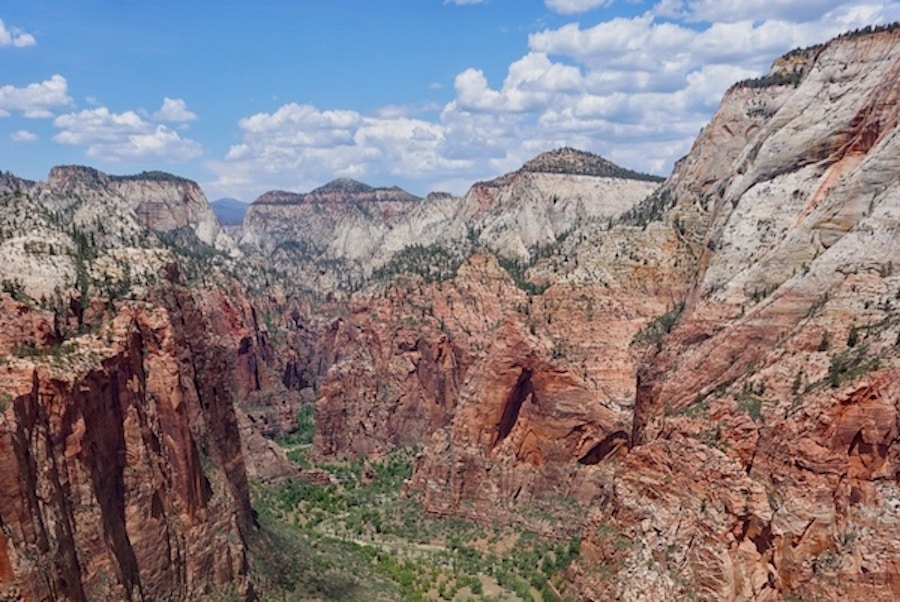 Final Thoughts on Best National Parks in Summer
I hope you find your national park to visit this summer. If you are looking to national parks to visit during the other seasons check out my articles below:
If you have further questions or want to discuss which national parks you should visit join out the National Park Obsessed Facebook group.

Pin for Later: Best USA National Parks to visit in Summer