Planning a trip to Canada? Banff National Park is home to some of the most scenic mountain ranges, lakes, and adventure sports in all of Canada. Spaning over 2550 square miles of Canadian Rocky Mountains, with close to 5 million visitors per year, there is no shortage of things to do in Banff National Park. From winter skiing and ice climbing, to spring hiking and summer canoeing- Banff National Park has it all. Here are my top 11 things you shouldn't miss on your first visit to Banff National Park.
This post may contain affiliate links, meaning if you book or buy something through one of these links, I may earn a small commission at no extra cost to you! Read the full disclosure policy here
Things to Know before you go to Banff National Park
The Banff National Park was established in 1885 and is Canada's oldest national park.
The Banff national park encompasses approximately 2550 square miles of mountainous terrain and sits at the South Westerly end of Alberta. The park sidles Yoho National Park and Kootenay National Park, making it an easy stop on a wider Canadian road trip.
Banff National Park is open year-round.

Due to the heavy snowfall in winter, many attractions are inaccessible due to a lack of ploughing. The conditions of roads may vary and it is important to consider the weather and accessibility when planning your route.
Be prepared for cold weather. Even in the height of summer, snowfall and low temperatures are possible.

Average temperatures in winter sit between -13 degrees Fahrenheit and 23 degrees Fahrenheit.
Summer, Fall, and Spring experience warmer temperatures that can exceed 68 degrees Fahrenheit but often remain cool due to rainfall.
For drivers wishing to visit the national park, a Parks Canada fee needs to be paid. The cost is for the number of days you will be inside the park, per person, in the vehicle. If you plan on visiting several parks on your trip you do not need a separate pass if it remains valid for the full duration.
Outdoor activities within the park are one of the main attractions that draws travelers from afar. Because of the sensitive biodiversity within the natural habitats, remember to leave the park as you arrived- clean and safe.
Home to an abundance of wild Canadian animals, spotting wildlife isn't difficult. All seasons are susceptible to a large animal presence within the park, so it is important to remember that the animals are wild and can be dangerous.

If you are lucky enough to spot one, give it plenty of space, do not approach it, and if you are driving, do not get out of your car.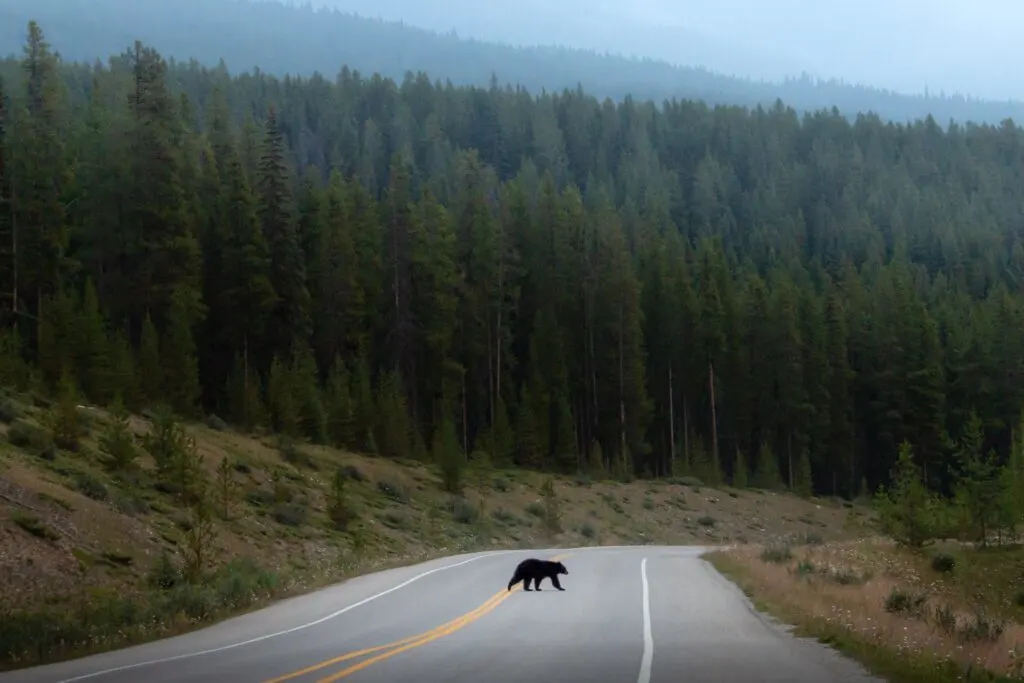 Getting to Banff National Park
The closest airport to Banff National Park is Calgary International Airport (YYC). Calgary is about an hour and a half from the park. This is the best option or getting to Banff or road tripping though several of Canada's National Park.
The Trans-Canada Highway runs through through Banff National Park.
From Calgary, the Roam bus and Brewster bus runs regular services to the townships of Canmore, Banff, and Lake Louise. The Roam buses provide limited access.
Estimated Drive time to Banff National Park from major cities
Calgary, Alberta, Canada – 1.5 hours
Edmonton, Alberta, Canada – 5.5 hours
Spokane, Washington – 6.5 hours
Missoula, Montana – 7.5 hours
Estimated Drive time to Banff National Park from nearby National Parks
Kootenay National Park – 0.5 hours
Yoho National Park – 1 hour
Glacier National Park of Canada – 2 hours
Jasper National Park – 3.5 hours
Mount Revelstoke National Park – 3.5 hours
Waterton Lakes National Park – 4 hours
Elk Island National Park – 4.15 hours
Glacier National Park in Montana – 4.5 hours
Grasslands National Park – 7.5 hours
Best Guided Day Tours in Banff National Park
Where to Stay in Banff National Park?
Camping in Banff National Park
There are 13 campgrounds in Banff National Park. Many of the campgrounds take reservations. Reservations can be made here.
Best Hotels in Banff National Park
Fairmont Chateau Lake Louise – Chateau Lake Louise sits on the shores of the famed Lake Louise. This historic grand hotel proceeds unprecedented views of the surrounding landscape. This is the best place to stay in Banff National Park.

Check out the prices and availability.
Fairmont Banff Springs – Banff Springs is one of the historic grand hotels in Banff National Park. This luxury resort was built in 1888 and is styled after a Scottish Baronial castle.

Check out the prices and availability.
The Hidden Ridge Resort – Hidden Ridge is a reasonably priced apartment-style property in the Tunnel Mountain area. The apartments here feature wood-burning fireplaces and full kitchens. Hidden Ridge has a pool and hot tub along with mountain views.

Check out the prices and availability.
Buffalo Mountain Lodge – Buffalo Mountain Lodge is an affordable lodge on the slopes of Tunnel Mountain. Each rustic room offers a wood-burning fireplace, balcony, and private bathroom.

Check out the prices and availability.
Coolest Airbnbs in Banff National Park
Classic Cedar Chalet – The Cedar Chalet is a cute European style chalet located near Castle Mountain in Banff National Park and sleeps four.
Rocky Mountain Apartment – The Rocky Mountain Apartment is located at the Banff Rocky Mountain Resort. Guests at this apartment are welcome to use the resort amenities such as the pool and sauna.
Canmore Apartment with Mountain View – This cute apartment has Rocky Mountain views and is located just outside of Banff National Park.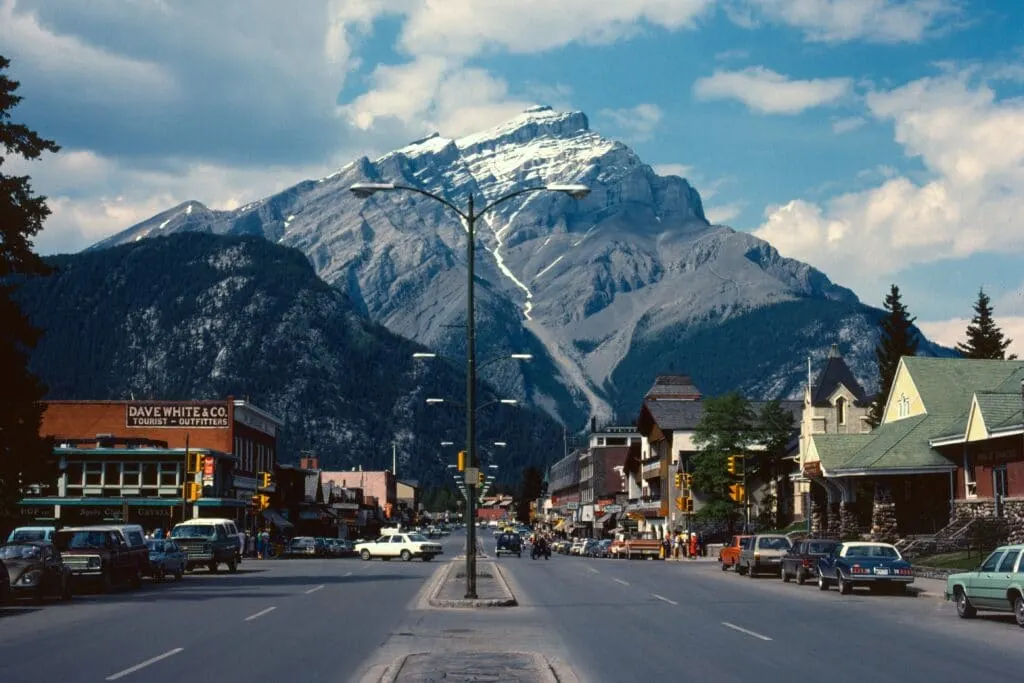 What to pack for a visit to Banff National Park?
Refillable Water Bottles – Do your part to reduce litter in our parks by bringing a refillable water bottle with you. A reusable and refillable water bottle can save you a lot of money and really help the environment. Here are my favorite water bottles
Hydration Bladder – If you are hiking longer distances, a hydration bladder is the best way to hike with significant quantities of water. It is a rare hike when I don't bring a full bladder with me.
Snacks – There are limited services in the park. So pick up all your snacks before you go. Pack a couple of different options so you are prepared for any craving.

Fruit: Pick hard fruits such as apples or pears. These hold-up in the heat and in packs without getting squished to mush. Another option is freeze-dried fruit. Freeze-dried strawberries are the BOMB. They are crunchy, sweet and the best part is they are lightweight and yummy. These are my new favorite trail snack.
Vegetables: Cucumbers and carrots hold up well during hiking and in a hot car.
Granola Bars: Take your favorite non-coated in chocolate granola bars. Anything coated in chocolate will melt and be a sticky mess. My favorite is a selection of Cliff Bars. They are great even when squished.
Sunscreen – You don't want to get burned on your visit.
Lip balm – Your lips need just as much sun protection as your skin does.
Sunglasses – Similar to sunscreen, you need a good pair of polarized sunglasses to protect your eyes from the glare of the sun.
Hat – Hats are another sun protection device. A hat can keep the sun off your face and neck and help minimize the need for sunscreen while on the trail.
First aid kit – As with any outdoor adventure, accidents happen. It is better to be prepared and have a compact first-aid kit ready to help with any accidents.
Headlamp – Always keep a headlamp handy. You never know when you might want it. It can be used for midnight bathroom runs to sunrise/sunset hikes. A good headlamp makes it easy to operate in the dark.
Shoes – Shoes are probably the most important piece of gear to any hiker. Hiking shoes should be seen as an investment. On the trail, your feet are your transportation and a solid pair of hiking shoes help support your feet and can prevent injury.
Hiking Day Pack – A good day pack is the best way to transport all your gear when hiking. I highly recommend getting a backpack that is designed for outdoor use. These packs come with handy pockets and straps. My 40 L day pack has a pocket for my water bladder and a clip to hold the water line in place.
National Park Obsessed Shirt – Share your love of the National Parks and support National Park Obsessed with a National Park Obsessed T-Shirt.
11 Things to do in Banff National Park
Take a Trip to the Legendary Lake Louise
Each season at Lake Louise and the Chateau holds an abundance of activities not to be missed. The glacier-fed water of the lake has a spectacular turquoise colour in summer, providing visitors with a quintessential Canadian location for canoeing and photography. Hiking around the lake in summer allows you to visit the two historic tea houses- Lake Agnes Teahouse (4.2 miles return) or the Plain of Six Glaciers Teahouse (6.5 miles return), as well as more incredible views of the Rocky Mountains.
In winter, Lake Louise transforms into a stunning frozen ensemble, with ice skating, outdoor ice sculptures, ice bars, and sleigh rides available for visitors. Snowshoeing tours and cross-country skiing are also popular activities to do here.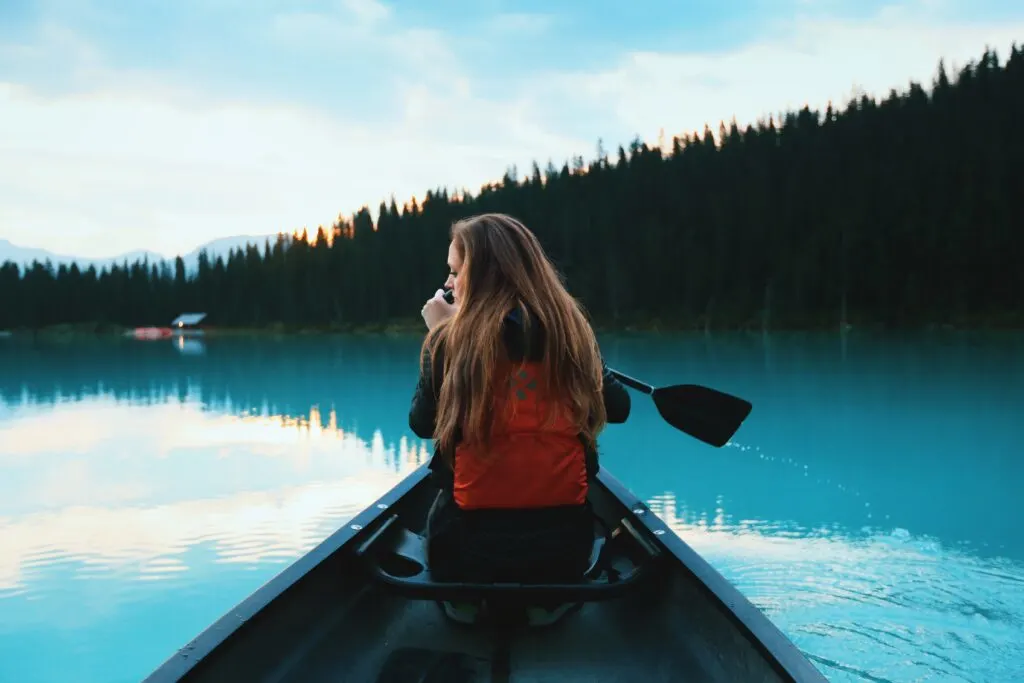 Ride the Banff Gondola to Sulphur Mountain
The Canadian Rockies is one of the most scenic locations in the world and is most beautiful when admiring it from a mountain top. Sulphur Mountain is located on the outskirts of Banff Village and is accessible to all visitors via the 10-minute Gondola to the top, or the 2 hour, 3.4 mile hike. At its peak there are art exhibits, gift shops, restaurants, and a 360-degree observation deck. Venturing even further, the Sulphur Mountain summit takes you on a boardwalk to the top where you are witness to the panoramic views of the National Park, Banff Village, and beyond.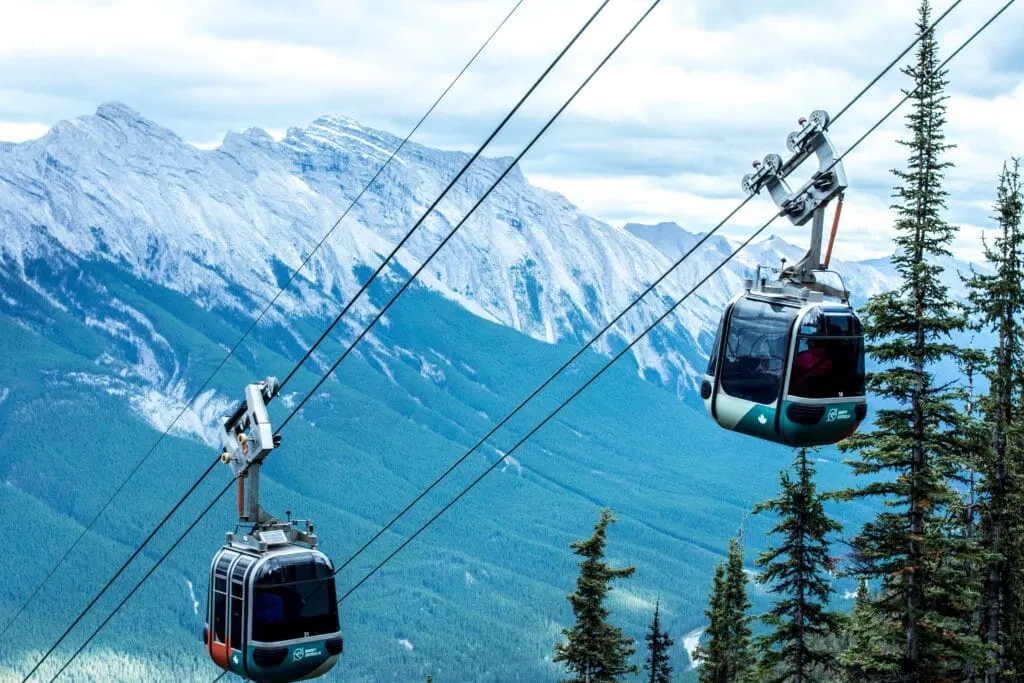 Take a Day and Drive the Bow Valley Parkway
The Bow Valley Parkway is a 31 mile scenic drive which runs parallel to the Trans-Canada highway between Banff and Lake Louise. When visiting Banff National Park, this is one of the most rated things attractions to see. The Parkway can be started at either end and should be taken at a leisurely pace. The more popular stopping locations along the drive include Mule Shoe Picnic Area and Hillsdale Meadows – both options offering a great spot for lunch. Johnston Canyon is along the parkway, followed by Castle Junction, the halfway point between Banff and Lake Louise where connection to the main highway is also possible. Internment Camp Memorial is another notable attraction, followed by Morant's Curve, a scenic stop for all photographers. Here, iconic views of the Rocky Mountaineer amongst a stunning mountainous backdrop can be seen.
In the warmer months, hiking is a popular activity along the Parkway, with many trails leading from each of the mentioned stops. Wildlife are also in abundance throughout the year, so remember to keep your eyes peeled and take caution.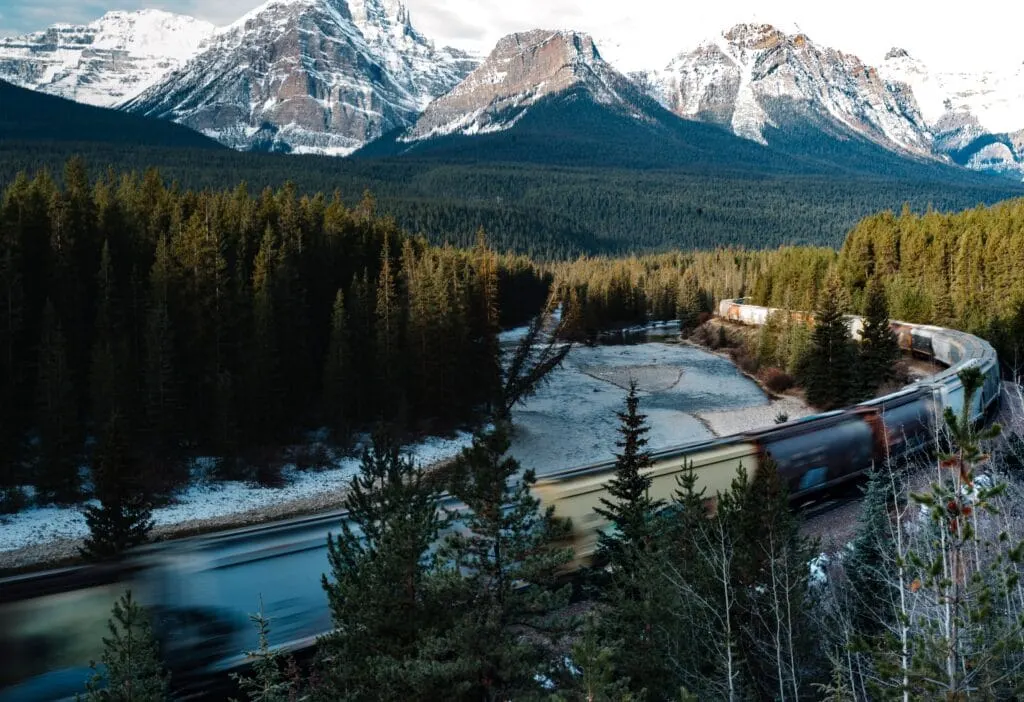 Spot Ice Climbers on the Johnston Canyon Trail
Located along the Bow Valley Parkway, the popular day hike at Johnston Canyon is one of the top attractions in the Banff National Park. Alternating between steel walking platforms, fresh forest paths, and a boardwalk, the trail winds around the Bow River and the Canyon Gorge in a stunning array of nature. The easy 3.1 mile walk to the Upper Falls and back will take you via the magnificent archway of the Lower Falls. From the top, it is up to you whether you wish to keep going to the Ink Pots and beyond, or start your way back to the car park where in summer, a café and accommodation is available.
In winter, Johnston Canyon transforms itself into a picture-perfect scene from a movie with fresh snow, frozen waterfalls, and ice climbers offering a truly memorable experience. Ice cleats are a must in winter, and it is well worth considering one of the evening hikes that depart from Banff, as this is one of the most unique ways to lay eyes on the Falls.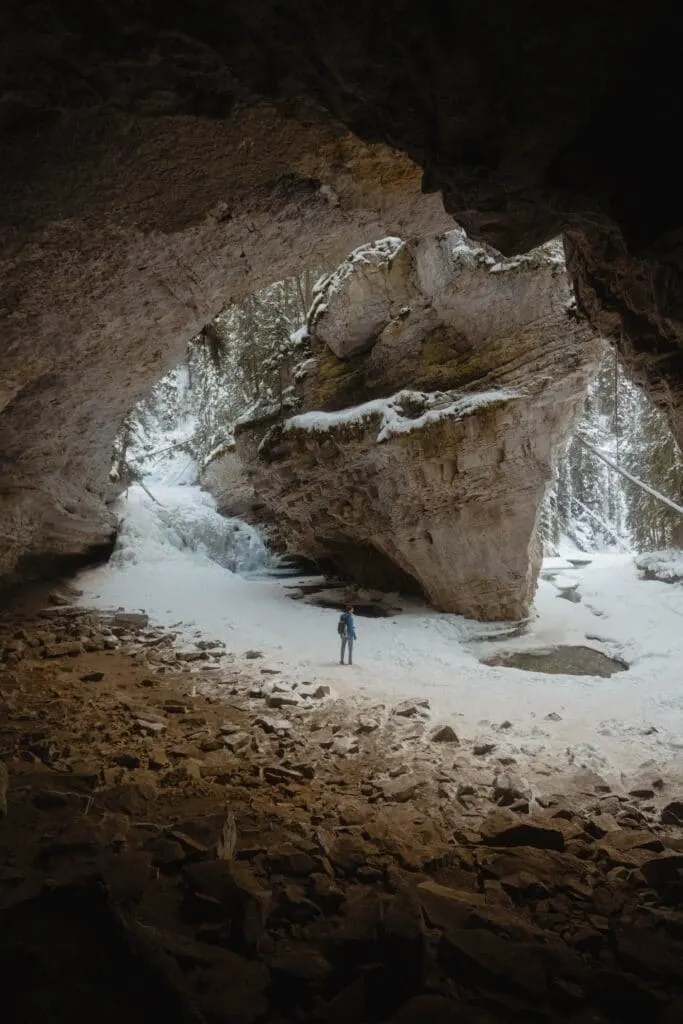 Witness the Colours of Peyto Lake
You may have seen some of the iconic imagery of Banff National Park on social media or the internet, so you've no doubt stumbled upon images of picture perfect postcard lakes. Many claim that Peyto Lake is one of the most beautiful in the world- and when looking out over the turquoise colours fringed by snowy mountains it is easy to see why. In the summer months, the enriched colours of Peyto Lake allows for stunning canoed water sports to be played, as well as hiking trails to the peak of the Bow Summit viewing platform. The colour of the lake varies depending on the season and time of day, but even with the abundance of snow in the winter season, snowshoeing and cross country skiing make for an excellent visit.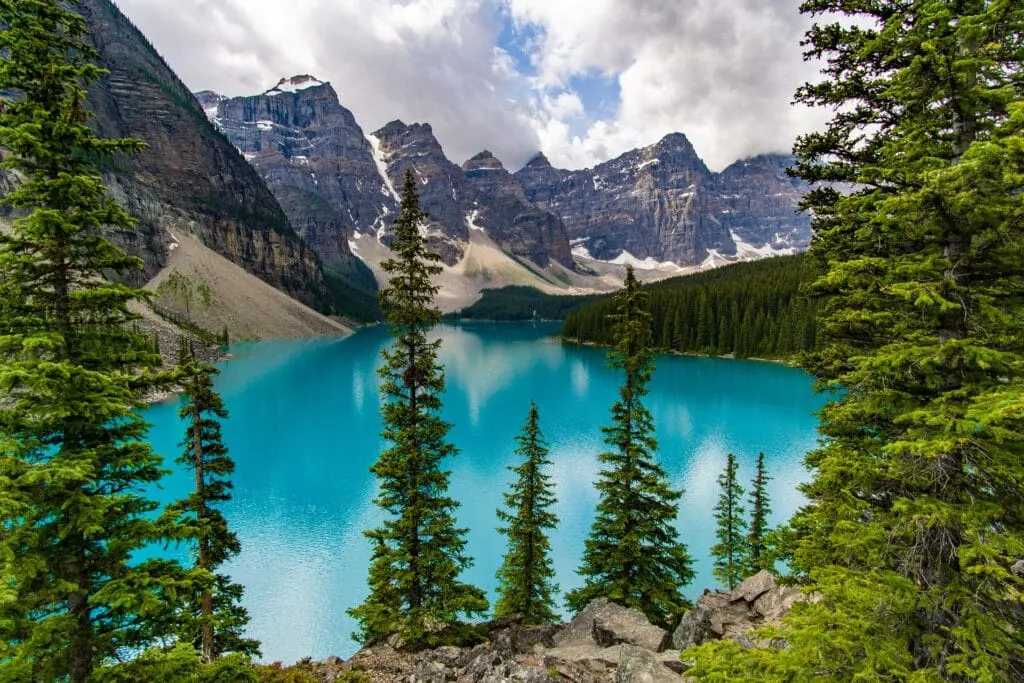 Watch a Sunrise Over Moraine Lake
Sunrise at Moraine Lake is one of the most iconic things to do in the Banff National Park. With its ten peaks reflecting the glacier fed water in summer, the colours of sunrise over the mirror-like lake has to be seen to be believed. Moraine Lake is filled with popular trails of varying difficulty levels. At just 45 minutes round trip, the Lakeshore Path is an easy and popular path to start with, while the Consolation Lakes trail is another great option at just 2 hours long.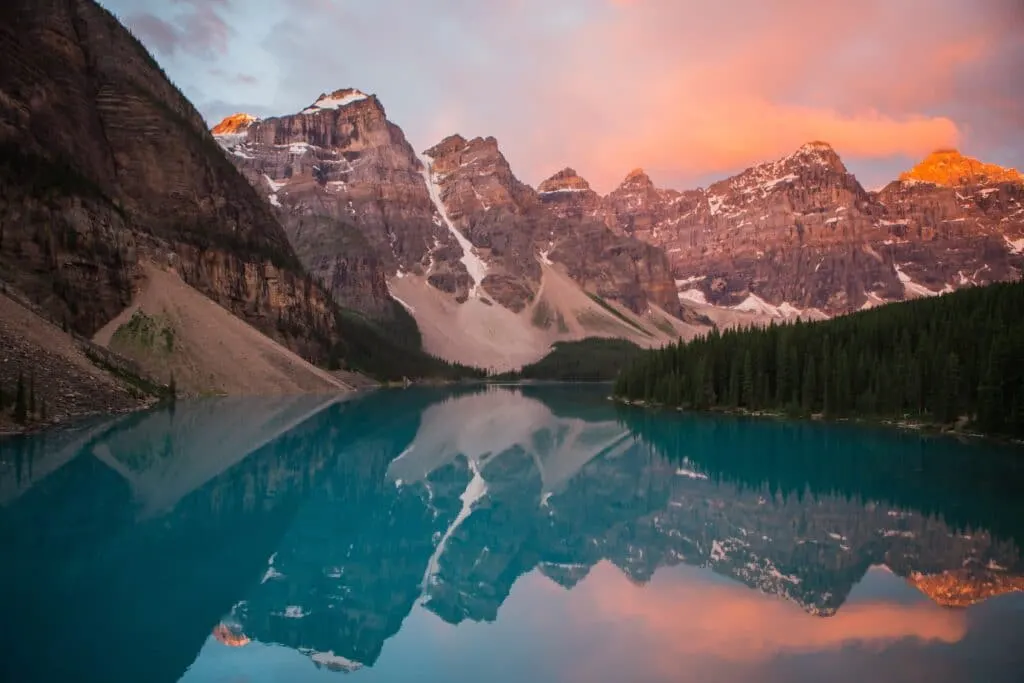 Explore Lake Minnewanka and take the Scenic Drive
There is nothing more peaceful than a day spent at the edge of an alpine lake, surrounded by soaring snow-kissed peaks and fresh air. Lake Minnewanka is a 13 mile spectacle located just outside Banff Village, where you will find solace in a kayak or canoe trip, hiking, or cross-country skiing around the lake. In summer, boat cruises and scuba diving are trendy ways to explore the area, while winter allows you to walk across the ice and enjoy the mountainous views all by yourself. Picnics, fishing, and the scenic drive around Lake Minnewanka are popular activities that bring people to the lake in all seasons.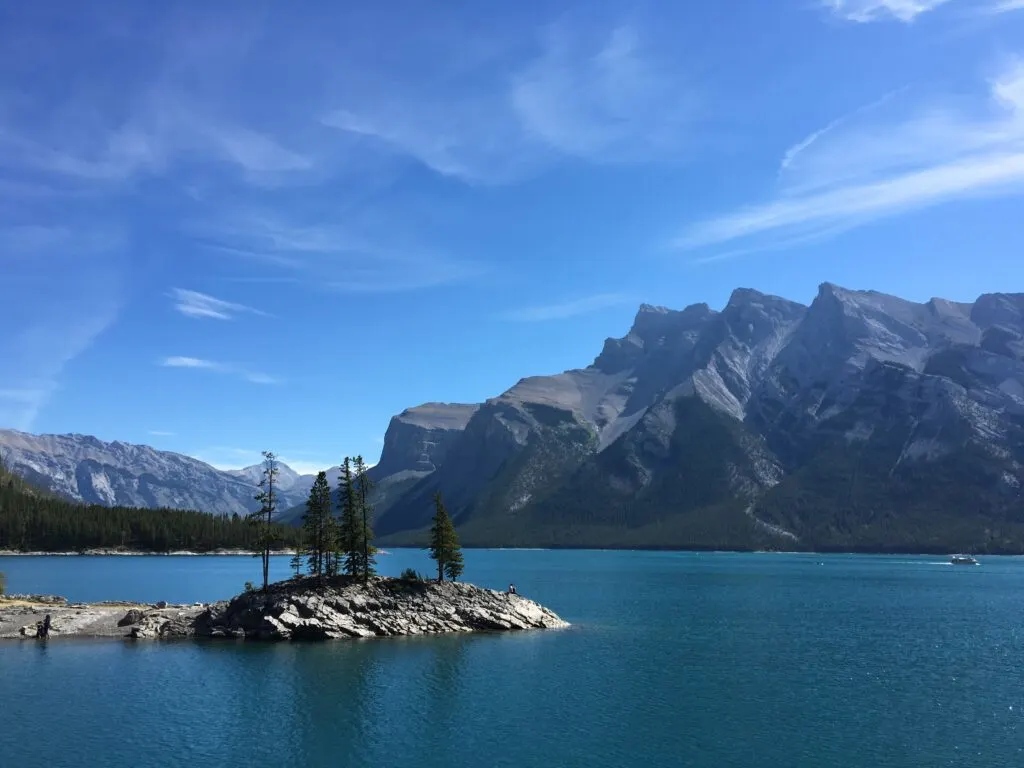 Soak Away the Day at the Banff Upper Hot Springs
What was once considered a place of holy healing by the First Nations and has since turned to a scene of relaxation and leisure, the Banff Upper Hot Springs is an attraction unique to the Banff National Park. The springs are a must-do attraction in Banff, and are a great spot to visit year round. Akin to a public swimming pool with railings, large changerooms, lockers, and a cafe, they are a contemporary styled outdoor pool fed by natural hot springs at a temperature that shifts between 81 degrees Fahrenheit to 116 degrees Fahrenheit depending on the season. Coupled by breathtaking scenery, you are easily able to relax both the mind and body here, making it one of the most enjoyable things you will do on your trip.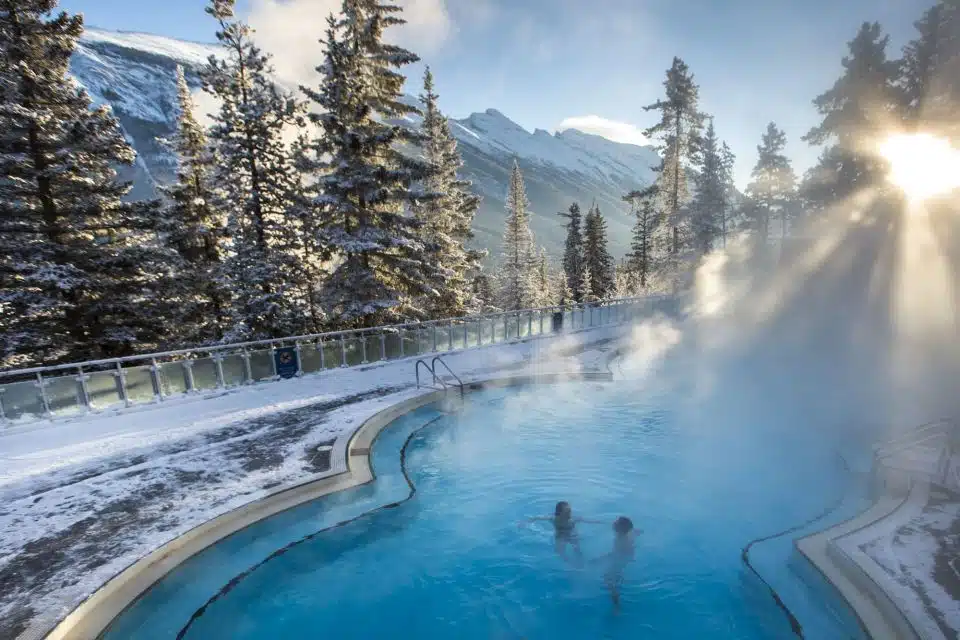 Ski at the Big3 Resorts
Lake Louise, Mount Norquay and Sunshine Village ski resorts are all members of the Big3 ski group which boasts world-class terrain for skiers and snowboarders of all levels. While all three differ in terms of terrain, each is well worth visiting on a winter trip to the National Park as each resort offers features unlike any other. Mt. Norquay, for the night skiing and family- friendly, beginner terrain. Sunshine Village, world-renowned for the unique gondola ride up to the village and long ski-out run back down to the base. And Lake Louise, voted #1 in Canada at the World Ski Awards several years in a row for the spectacular scenery and versatile terrain which is great for all levels. A pass for all three can be bought in winter, while in summer, they each have running gondolas and chair lifts which serve as a great way to see wildlife, including Black Bears and Grizzly Bears.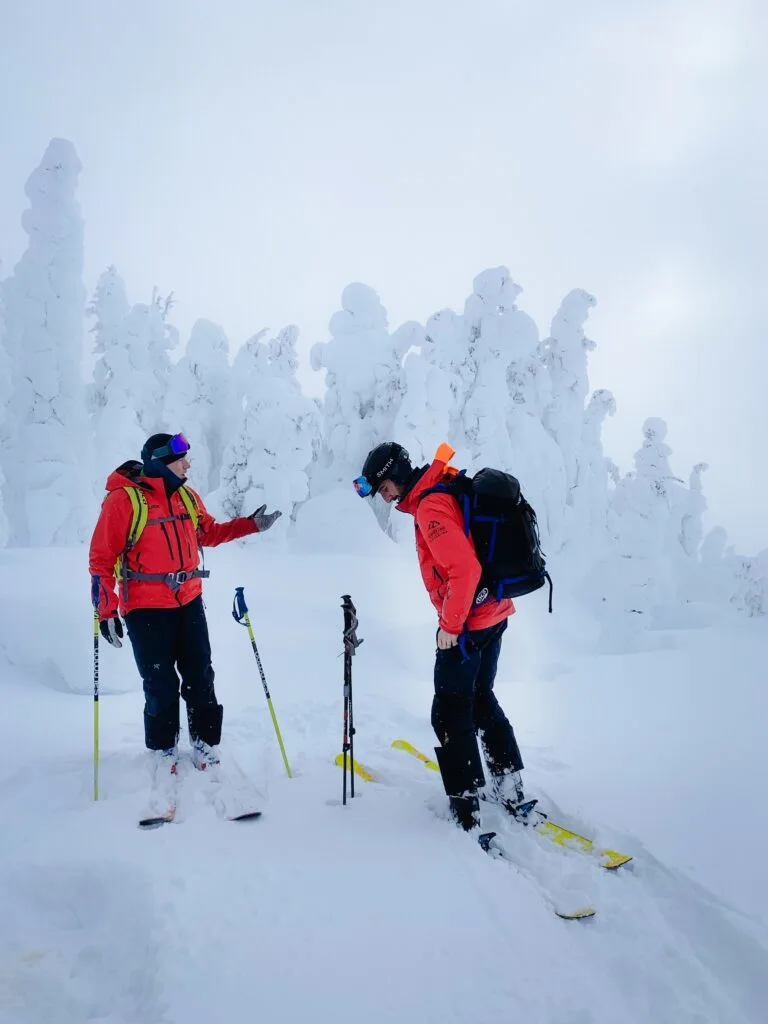 Hike Sunshine Meadows
A vacation within the Park is not complete without venturing to the alpine trails of the Sunshine Meadows as they wind their way past waterfalls, lakes and wildflower fields. After arriving at the peak of Sunshine Village, you have the choice of doing all or just one of the popular trails in the area- the 2 mile Rock Isle Lake hike, the 5 mile Grizzly-Larix Lakes Loop, or the 4.1 mile Twin Cairns-Meadow Park. The three trails are filled with beautiful alpine meadows and views of snow-capped Canadian Rockies in summer, with turquoise lakes ready to greet you at your destinations.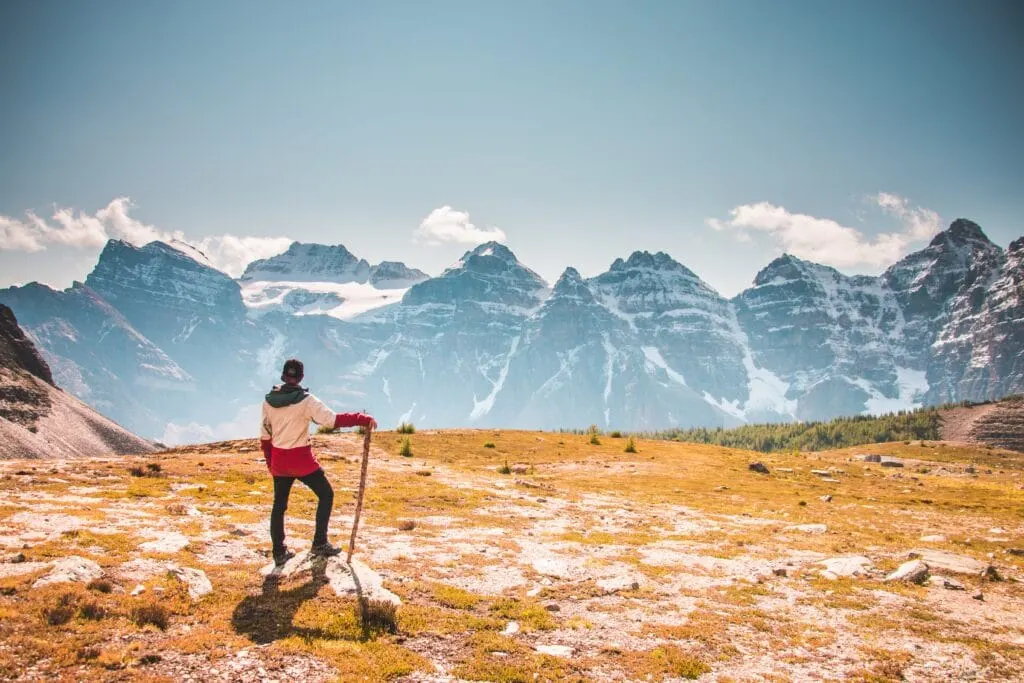 Learn About the Park's History at the Cave and Basin
The Cave and Basin is a small museum open to visitors year round and is the cause behind the existence of the Canadian National Park system. Here, interactive exhibits and film presentations walk you through the foundations of the hot springs and how discovery eventually led to the emergence of the Banff National Park. Viewing of the old geothermal hot springs is possible, however due to being home to the endangered Banff Snail, swimming is prohibited.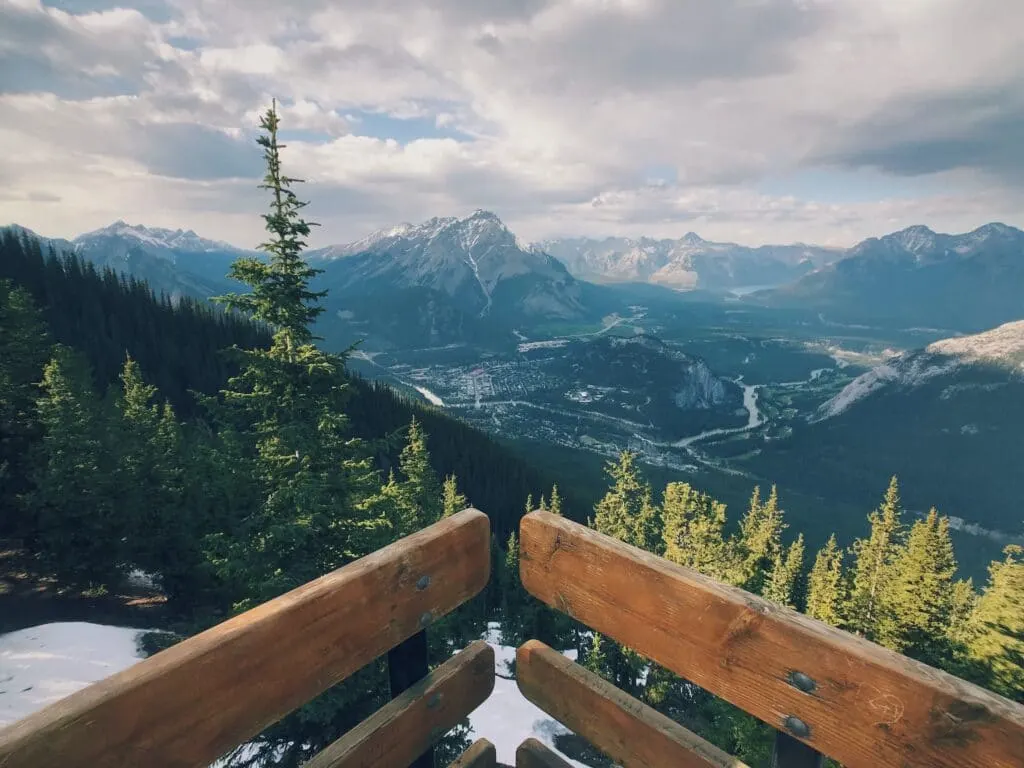 Pin to Save for Later: 11 Things You Shouldn't Miss On Your First Visit To Banff National Park