Post Summary: Incredible Places that are NOT National Parks
The 63 National Parks of the United States have some of the most amazing landscapes in the country but they are by no means the ONLY amazing landscapes in the United States. With over 3.7 million square miles, there is a lot of places to explore and while not everywhere is National Park worthy (looking at you, Gateway Arch) there are plenty of that can hold up against the best National Park.
In this article, we will explore 14 incredible places that are NOT National Parks but probably should be.
This post may contain affiliate links, meaning if you book or buy something through one of these links, I may earn a small commission at no extra cost to you! Read the full disclosure policy here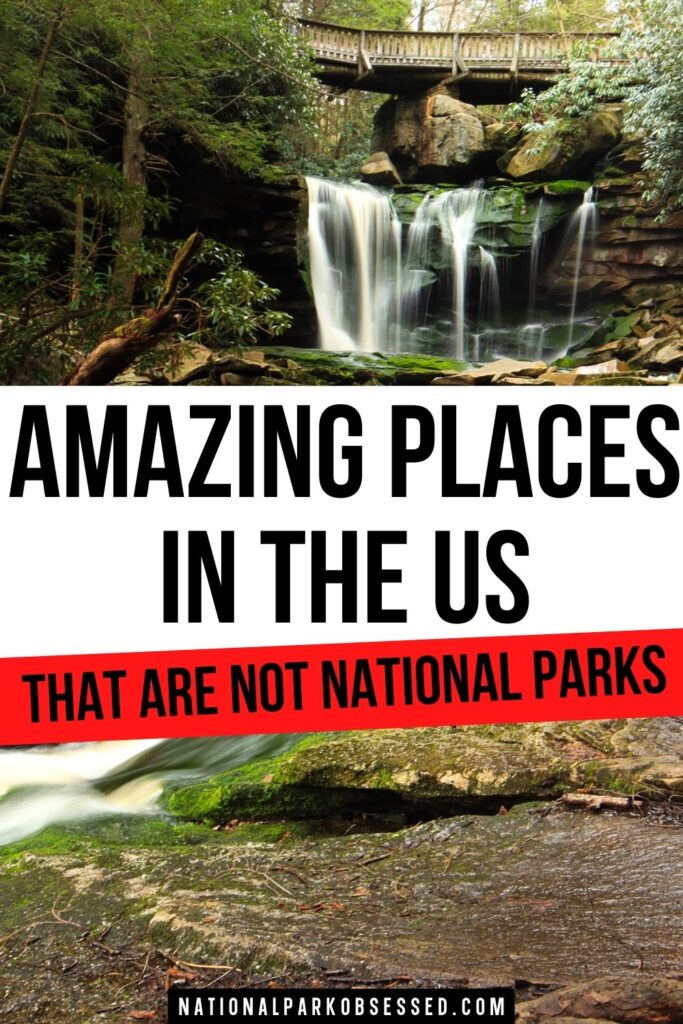 Incredible Places that are NOT National Parks
Assateague Island National Seashore, Maryland
There's much to love about Assateague Island National Seashore on Maryland's Eastern Shore. For one, brown and white ponies freely roam the national seashore. They mosey across sand dunes, tidal marshes, hiking trails and campgrounds, even parking areas. The ponies are unquestionably the main attraction of this national seashore, which is less than three hours by car from Washington, DC, or Baltimore.
A short 15-minute drive from the bustling boardwalk, mini golf courses and funnel cakes of Ocean City, Maryland, you'll feel world's away on Assateague Island. Hike three easy-going coastal trails, bike along miles of paved paths and paddle kayaks just off the shore. It's hard to believe that this protected seashore might not have come to be were it not for a destructive nor'easter that came ashore in March 1962.
At the time, the 15-mile Baltimore Boulevard was shuttling motorists along the coastline. Land was cleared for dozens of side streets along Baltimore Boulevard, but everything changed when a catastrophic storm came ashore and it was decided that this road would not be rebuilt. Nature re-claimed the land and the rest is history. Today, a walk along the .8-mile Life of the Dunes Trail allows visitors to see remaining asphalt slabs, now used by gulls to crack open clams.
You'll also want to make time for the .5-mile Life of the Forest Trail and the .5-mile Life of the Marsh Trail. Bring your own bike or rent one from Assateague Outfitters for a pedal around the island. Assateague Outfitters also rents kayaks and canoes. The drive-in and walk-in campgrounds are exceptionally popular, especially those on the sandy dunes. Miles of sandy shores are popular among beach-goers, too. Lifeguards are on-duty every day from mid-June to early-September. Summer can be buggy, so keep this in mind.
Erin, Maryland Hikes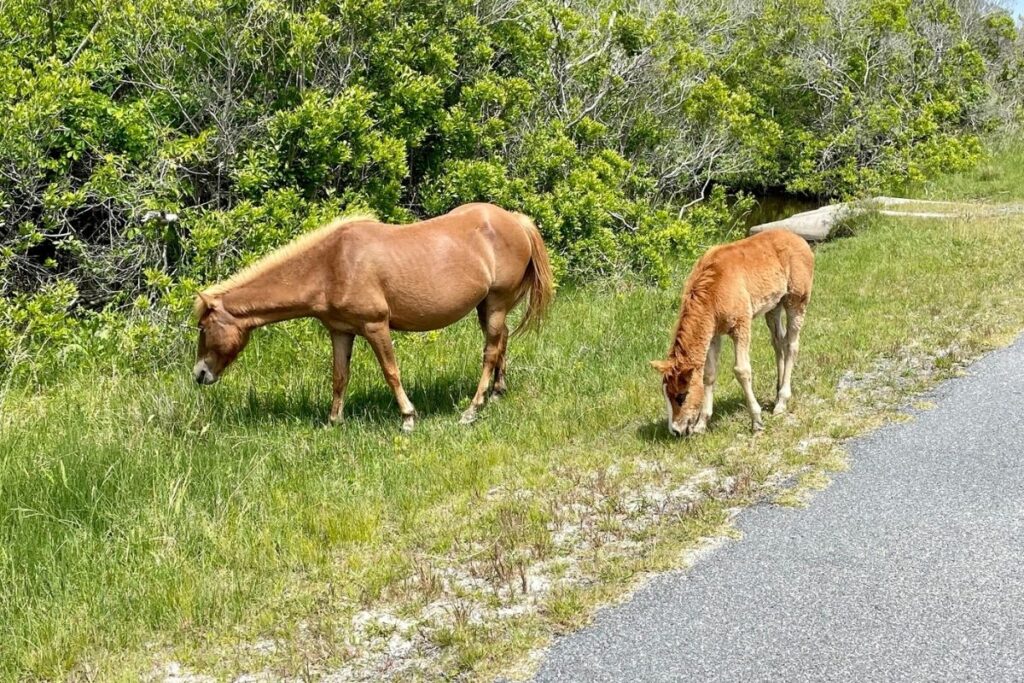 Blanding, Utah
Blanding, Utah is tucked away in the Four Corners region of southern Utah. It may not look like much (really, just a couple of main streets) but the surrounding area is pretty impressive, especially for archeology buffs. It's also conveniently located between Moab and Monument Valley, two major southwest road trip stops.
The easiest way to get here will be flying into your major airport of choice (Denver, Las Vegas, or Phoenix depending on where else you're going) and renting a car. This small town is an outdoor lovers paradise but in a less extreme way than nearby Moab and while it's small, there are tons of things to do in Blanding.
If you're interested in ruins and history, hike to House on Fire ruins Five Kiva Pueblo Ruins, Butler Wash Ruins, or visit Edge of the Cedars State Park. If you want to get off the beaten path and have a capable vehicle (high clearance 4WD) head up into Bears Ears. Natural Bridges National Monument could be a good stop with House on Fire while the Upper Sand Island Petroglyphs and River Ruin in nearby Bluff makes for a good (very close) day trip.
The best time to visit will be fall because crowds are lower than normal which is already pretty low compared to the surrounding area, and the weather is better. There is no bad time to visit but be prepared for high temperatures in the summer, possible snow in the winter, and wind in the spring.
Megan, Red Around the World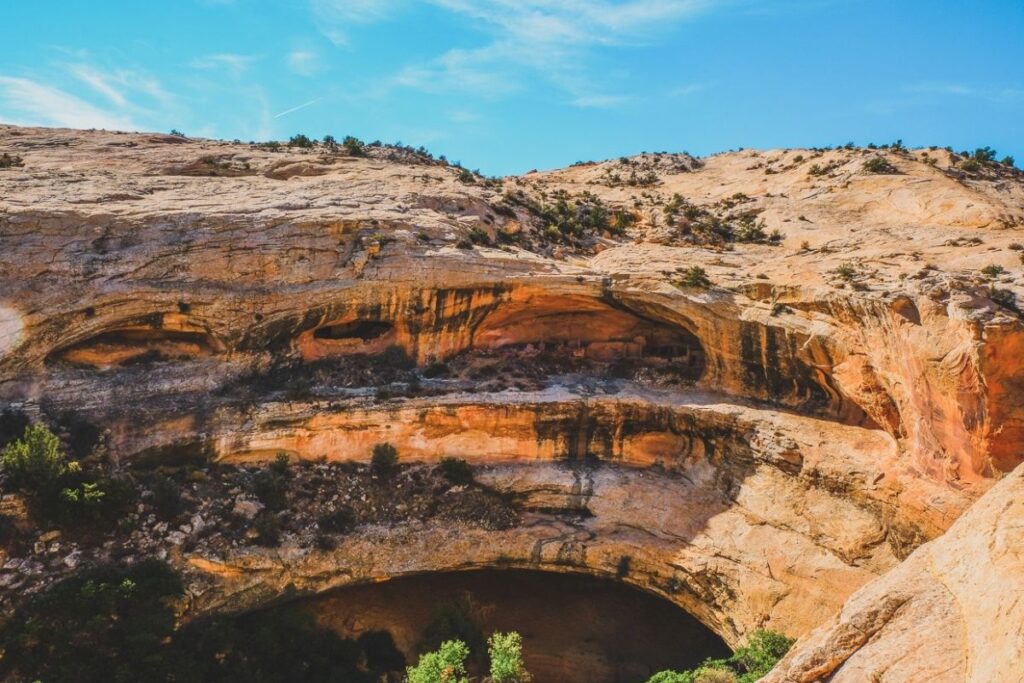 Canaan Valley, West Virginia
While West Virginia is home to multiple awesome National Parks and Historical Parks, the Canaan Valley is just as amazing! The Canaan Valley is located in Tucker Country, on the western edge of the West Virginia eastern panhandle. It is a remote region of West Virginia, so it is most easily accessed by driving. So be ready for following the country roads! It is a 3-hour drive from Washington DC and a 1.5-hour drive from Morgantown, WV.
The Canaan Valley features a number of natural wonders that attract outdoor enthusiasts and it is very easy to spend 2-3 days exploring the area! It is an amazing place to visit if you're looking to explore waterfalls, scenic views, and see unique plant life, animals, and birds.
Blackwater Falls State Park is the Valley's most popular attraction. Here, you can explore two of West Virginia's most popular waterfalls, hike, and camp. Blackwater Fall is one of the most scenic waterfalls in West Virginia and can be easily accessed by a boardwalk, while Elakala Falls is one of the most fun to photograph. You also cannot miss the Lindy Point Overlook which offers a beautiful scenic view of the mountains.
The Canaan Valley is also home to the Canaan Valley National Wildlife Refuge where visitors can hike and explore the flora and fauna. While the Refuge contains biodiversity similar to the rest of the state, it also contains botanical species that are more typical of northern Canada! So it's a unique place to see plants that you wouldn't normally see in the Appalachian states! The Canaan Valley National Wildlife Refuge protects the second-largest inland wetland area in the US, which is a great spot for birdwatching!
In addition to miles of trails and scenic views, you'll find some of West Virginia's most charming mountain towns. Davis, Thomas, and Parsons are home to local eateries, breweries, artisans, and shopping. These towns are great places to stay overnight and dine during a weekend in the Canaan Valley.
The Canaan Valley is beautiful during any season but is the most popular to visit in the summer for hiking and camping and in the fall for leaf-peeping. In the wintertime, two resorts come alive for skiing, snowboarding, and tubing. So regardless of when you want to visit the Canaan Valley, there is always something exciting and fun to do!
Pam & Kathrine, Everywhere Forward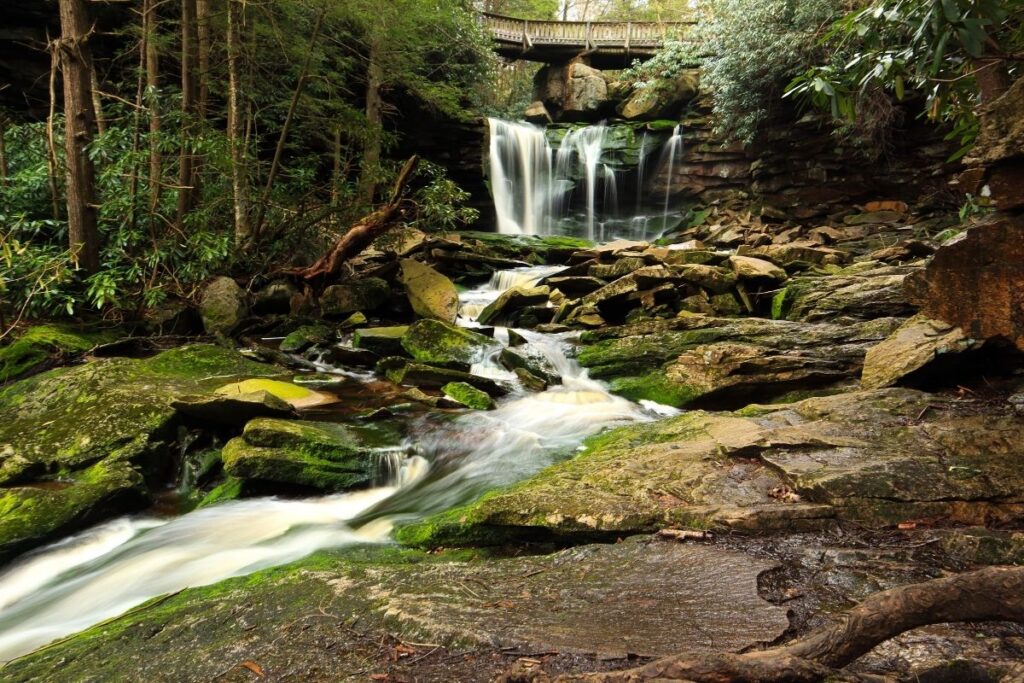 Culebra, Puerto Rico
Culebra is a small island just off the east coast of Puerto Rico. The island has some of the best beaches in the world with a very charming, small-town feel. The best time to visit Culebra Island in Puerto Rico is from November to March. The dryer and mild temperatures make it a great time for exploring this beautiful island. Visiting during this time also avoids the monsoon season which is more humid.
There are two ways to get to Culebra from the main island of Puerto Rico. There are ferries that run from the eastern side of Puerto Rico. Taking the ferry is by far the most cost-effective way of getting there with round-trip tickets costing $4.50.
You can also fly from either San Juan or from the eastern coast. The east coast tickets are less expensive but do require you to try about an hour east of San Juan. Flights also leave directly from the San Juan airport which is more convenient if you're staying in the area but does cost more.
The highlight on the island is Flamenco Beach. Flamenco Beach is often ranked as one of the prettiest beaches in the world and for a great reason. It is a horseshoe-shaped beach surrounding beautiful blue water. The water is calm making it a great place for snorkeling and swimming.
Besides spending time at the beach, snorkeling is another popular activity on Culebra island. The island has some of the best snorkeling spots in Puerto Rico. Tamarindo Beach, as well as Carlos Rosario, are both popular places to snorkel. You can see a wide variety of sea life like turtles, stingrays, and Caribbean fish.
Candice, CS Ginger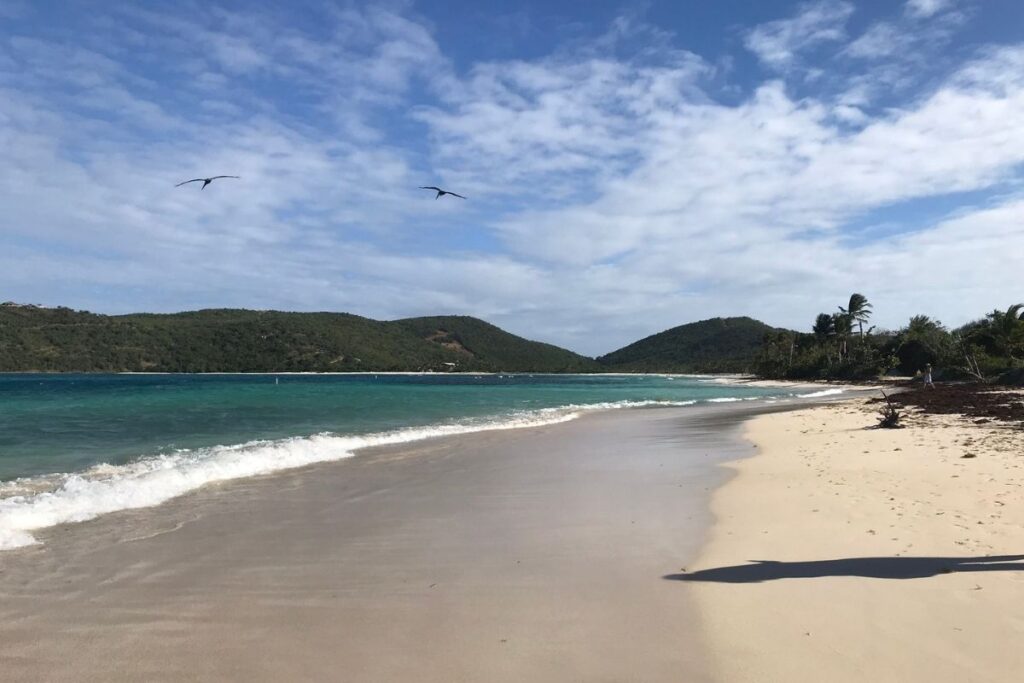 Florida Springs
Looking for incredible places to visit in the USA that aren't the National Parks but looking for somewhere warmer? While Florida is home to 3 National Parks, there is so much more to Florida than Miami and the Keys. One of the best natural places to visit are the many springs in Florida! Did you know that Florida is home to over 700+ natural springs?
If you want to go on a Florida springs vacation, north-central Florida around Gainesville should be your home base. This is a great place to stay as there are many popular springs surrounding it. You can either choose to stay in the city or you can camp at one of the many springs as most offer camping. Two of the most popular springs in this area are Ichetucknee Springs State Park and Ginne Springs which is privately owned. They both have tube runs which means you can ride on a natural lazy river. Ginne Springs offers world-famous fresh-water cave diving too! Down the road, you can visit Florida's newest state park which is Gilchrist Blue State Park which is another great spring that offers camping. South of Gainesville, you will find Devil's Den which is located in a cave and great for diving and snorkeling. You must be a strong swimmer to visit. Nearby, you can also find Ocala National Forest for hiking and even more springs!!
Victoria, Florida Trippers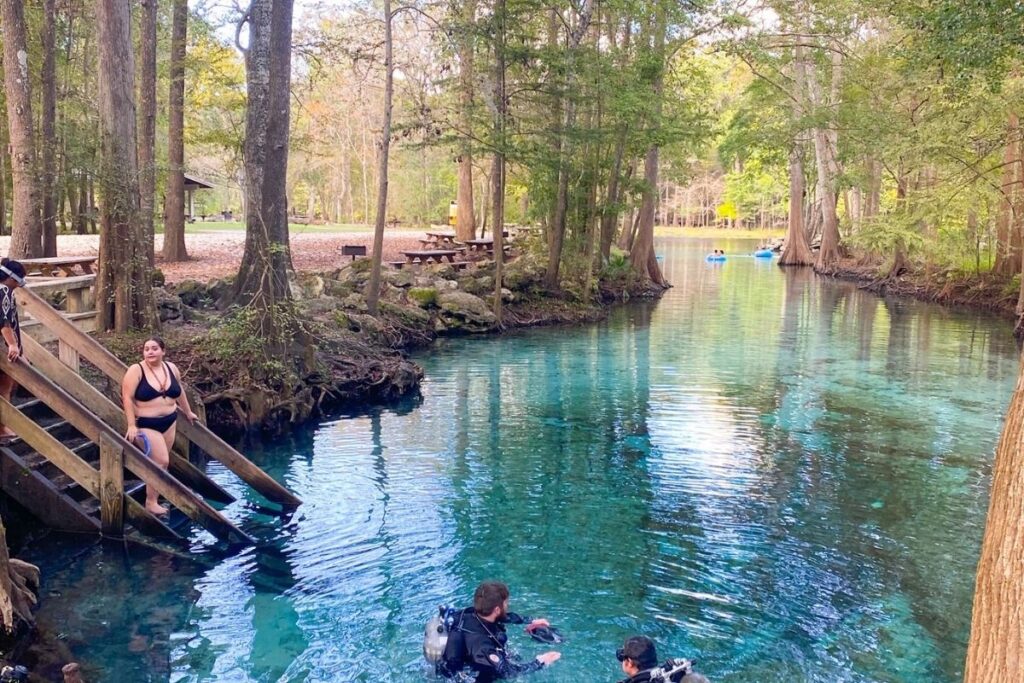 Ithaca, New York
The land of many waterfalls, Ithaca is a small city in the Finger Lakes region of New York. With over 150 waterfalls and three state parks in the area, it is not hard to see why Ithaca could be considered one of the most incredible places in the US.
In fact, waterfalls come so naturally in Ithaca that you can find them mixed in throughout the city. Ithaca Falls can be found right off one of the city streets. Along the Fall Creek that goes straight through the city you can find more waterfalls and the Cornell University Campus, said to be one of the most beautiful in the country, has the Cascadilla Gorge Trail running through the campus.
Ithaca is also home to Taughannock Falls State Park, Buttermilk Falls State Park, and Robert Treman State Park. All three state parks are home to some of Ithaca's best waterfalls and miles of hiking trails along forested paths, gorges, and creeks.
And, of course, not mentioning Cayuga Lake, the Finger Lake that Ithaca sits at the base of, would be an injustice! Route 89, one of the most scenic Finger Lakes drives, will take you from Ithaca up along the Western shore of Cayuga Lake. Along the way you will find yourself winding through picturesque vineyards, past the Cayuga Nature Center (a great stop!), and by the Allan H. Treman State Marine Park. Not to mention the gorgeous lake views along the way!
The best way to get to Ithaca, and to explore the city, is by car. If driving, the easiest way is to take I90, to exit 40, then route 34 down to Ithaca. If coming by plane, the Ithaca Tompkins International Airport is the best option, located about 4 miles outside the city.
While the waterfalls are gorgeous to see any time of year, fall is undoubtedly the best season. The natural beauty of Ithaca combined with the plethora of color that comes about with the changing of leaves will leave you stunned!
Melissa, Navigation Junkie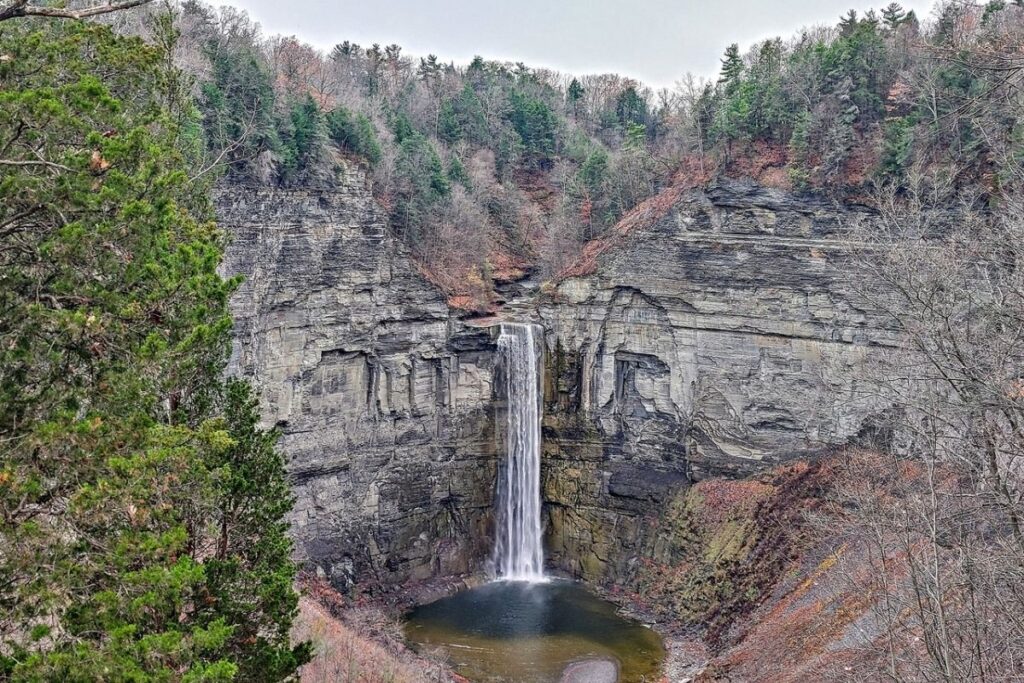 Kancamagus Highway, New Hampshire
The Kancamagus Highway is the outdoor enthusiast's playground. This scenic byway runs through New Hampshire's White Mountain National Forest, dazzling visitors with miles of evergreens, oaks, and panoramic lookout points. Although the Kanc technically starts in North Conway and ends in Lincoln, visitors can access it from either end – whether from I-93 in Lincoln or from Rt. 16 in North Conway.
Fall is the most popular season to drive the Kanc, as the beloved highway is regarded as one of the best places to see foliage in the U.S. Visitors can easily pull off the highway, hike, and locate the area's best views, such as the Sugar Hill Overlook and Rocky Gorge. However, while the views are inarguably spectacular in autumn, visitors should prepare for heavy traffic during leaf peeping time, as tourists tend to stop here frequently to capture the stunning scenery.
Alternatively, those looking to enjoy a more peaceful experience may prefer to take the drive in the colder months, when the byway transforms into a winter wonderland. Fortunately, a New Hampshire winter offers travelers a host of new opportunities to take advantage of the striking surroundings. In fact, since the Kancamagus Highway provides a convenient passageway through the White Mountain National Forest, snow bunnies can take advantage of everything from sledding, to snowmobiling, to cross-country skiing.
While the Kanc is just shy of 35 miles long, those looking to explore it in more depth should allot a few hours to the experience. In addition, since there are no modern amenities like rest stations and food vendors along the highway, visitors should come prepared with any snacks and supplies they may require. That said, the Kancamagus Highway does offer the convenience of six campgrounds for travelers looking to enjoy extended stays.
Elena, The Carry-On Chronicles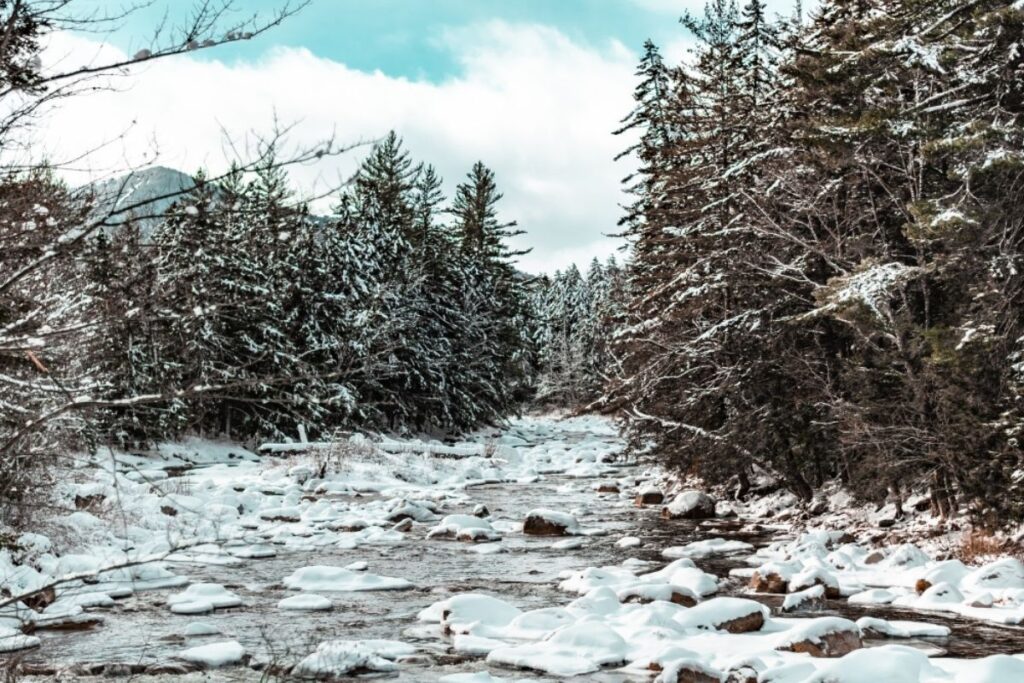 Minnesota's North Shore
Minnesota might not be the first place that comes to mind when you think of incredible outdoor destinations. But, the rugged cliffs, countless waterfalls, scenic viewpoints, and endless trails along Minnesota's north shore of Lake Superior will surprise you.
From Duluth to Grand Portage, near the Canadian border, the north shore stretches some 150 miles. It's a beloved destination for hikers, campers, backpackers, paddlers, cross country skiers and more.
There are eight state parks, including some local favorite's such as Tettegouche, Temperance River, and Judge C.R. Magney. Visitors can also catch a peek at some of Minnesota's iconic views including Split Rock Lighthouse and the dramatic cliff at Palisade Head, both overlooking Lake Superior. For a more backcountry experience, backpack all or a portion of the 300+ mile Superior Hiking Trail or head into the pristine Boundary Waters Canoe Area.
If you're looking for somewhere to rest between your outdoor adventures, be sure to stop in some of the adorable small towns such as Grand Marais, Two Harbors and Lutsen. While you're there, attempt to solve the age-old debate of who has the best pie on the north shore – Betty's Pies or the Rustic Inn!
Minnesota's north shore is about a 3 hour drive from the Twin Cities of Minneapolis and St Paul. There is also an airport in Duluth with car rental available there as well. While there are hiker shuttle services available to get around the north shore, they can be expensive and have limited availability. It's best to have a car to explore the area, if possible.
Wondering when to visit? The north shore is most popular in the warmer months, from May to September, but it is a true year-round destination.
Come discover why Minnesota's north shore is an incredible outdoor destination!
Susan, The Big Wild World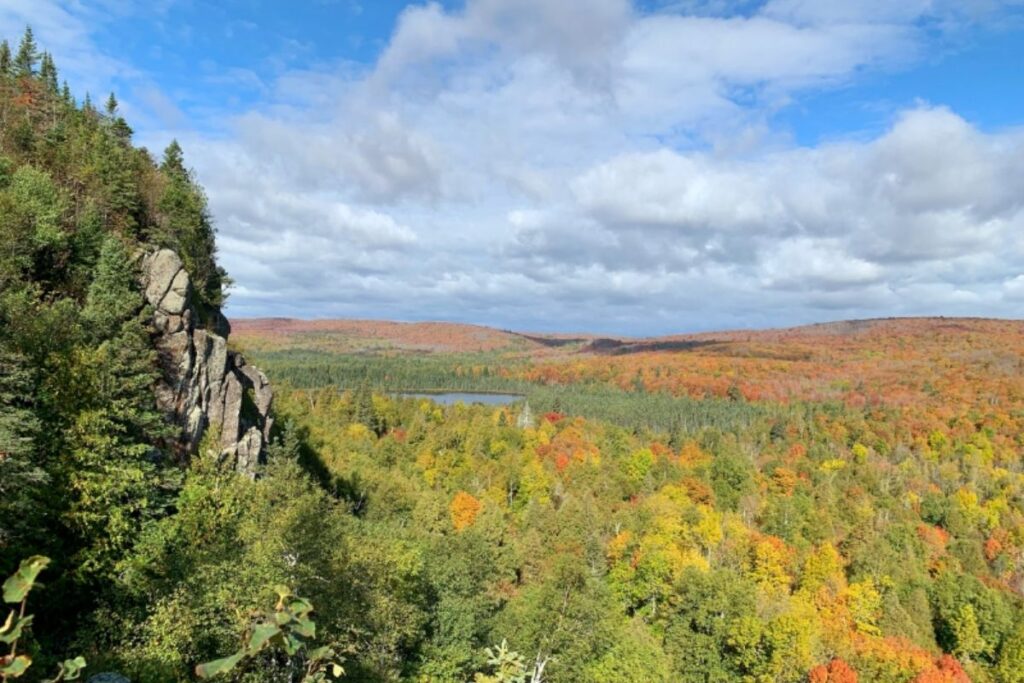 Molokai, Hawaii
If you are looking for an epic getaway in the US, consider venturing off to this underrated Hawaiian island that isn't a national park for a once-in-a-lifetime experience.
How about amazing historic sites, epic hikes, unique wildlife and — this is where Molokai steps in, entire beaches all to yourself. You will be enchanted by the laid-back vibe, pristine beaches and relaxed attitude of residents.
Nestled between Oahu and Maui, you'll find Molokai. In fact, it's the fifth-largest of the islands, but only has a permanent population of around 7,000 residents. Its isolation from the other Hawaiian Islands makes Molokai an ideal spot for a unique adventure. The island is home to Kalaupapa National Historic Park, which offers tours down into the former leper colony. The views from the peninsula lookout at jagged cliffs and rolling waves below.
In addition, Dixie Maru Cove offers a serene getaway for snorkelers and beachcombers alike to explore the downed wreckage of a Japanese sailboat just offshore. While you're down there, head to Papohaku Beach Park where it's possible to walk for miles without seeing anyone else. Molokai's lush landscape of unpolluted beaches, magnificent waterfalls and pristine reefs are perfect for exploring by car or kayak. It's also home to Hawaii's tallest sea cliffs and a perfect place to spot humpback whales.
Molokai is a great year-round destination because it is an underrated Hawaiian island and does not see as many visitors as the other islands. This island is isolated and must be reached by plane flying into (MKK) Hoolehua Airport.
A visit to Molokai is best spent at Hotel Molokai, which is the only hotel on the island or by booking one of the many vacation rentals. If you would like to venture off the beaten path and have an authentic Hawaiian experience or great hiking trails on an adventure of a lifetime, then Molokai is where you will find it.
Casandra, Karpiak Caravan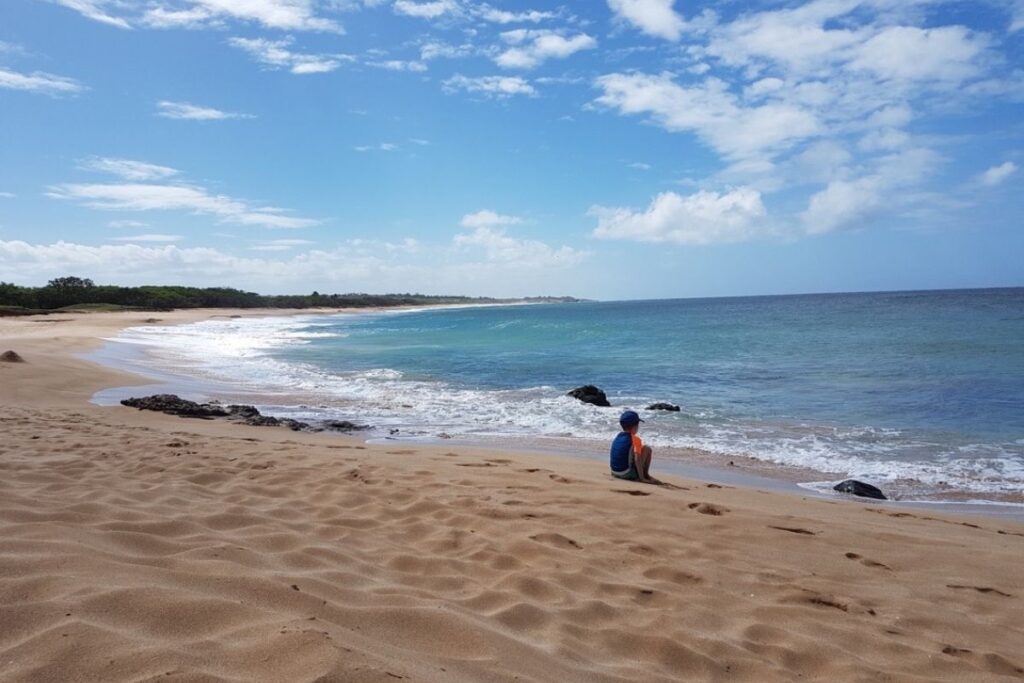 Oregon Coastline
The coastline of Oregon is a stunning combination of sand dunes, tide pools, sandy beaches and rocky outcroppings. All 363 miles of Oregon's coastline are legally open to the public- so there are no fenced off or private areas. The beaches here tend to be windy, so they are great for flying kites.
The best time to visit is June through September, for the most sunshine. Off season you'll find chillier temperatures, and shops with reduced hours.
Seaside, Oregon is a family-friendly beach town that has a swing set on the beach! A 1 ½ hour drive from Portland, this is a great place to start exploring the Oregon coast. Try the three-mile hike out to Tillamook Rock Lighthouse. For those looking for more adrenaline, the High Life Adventure Park offers awesome aerial challenges (minimum age 7 years).
Cannon Beach is 15 minutes south. This beach is well known for Haystack Rock and the waterfalls at Hug Point. In 2013, National Geographic listed Cannon Beach as one of the 100 most beautiful places in the world. An upscale beach town, you'll find art galleries and boutiques as well as gift shops and restaurants.
Drive another hour and half south to reach the small town of Pacific City, Oregon. You can ride horses on the beach, or take a quick camel ride! The beach here includes the Cape Kiwanda sand dune that you can climb. At the base of the sand dune, you'll find tide pools to explore. Don't miss a sunset meal on the patio of Pelican Brewery.
Continue south to Depoe Bay, the whale watching capital of Oregon, where whales can be spotted year-round. From there, head to Newport to visit the Yaquina Head lighthouse, the tallest lighthouse on the Oregon coast. The Oregon coastline is a great addition to a Pacific Northwest Road Trip.
Cynthia, Sharing the Wander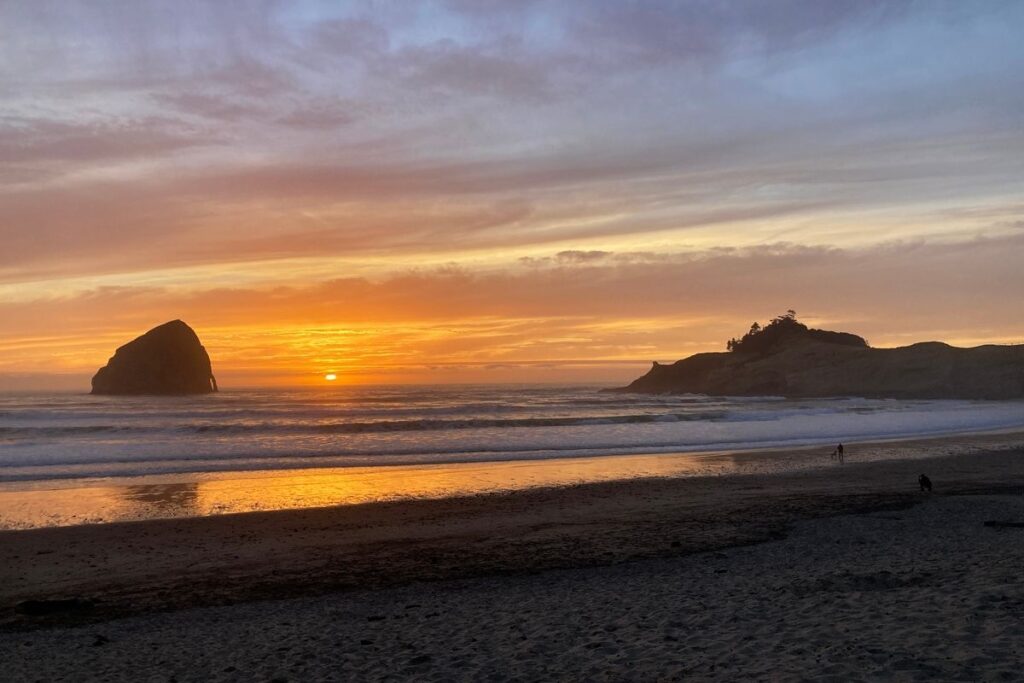 Red River Gorge, Kentucky
If you are looking for an incredible weekend away for some of the best non-National Park nature in the USA, look no further than Kentucky's Red River Gorge. Yes, you may not associate "Kentucky" with "awesome nature" but that is doing Red River Gorge a disservice. It is truly one of the best kept secrets in the USA which means it won't be as overrun or insanely busy as other more popular places!
It is located in Daniel Boone National Forest and is a canyon system which is famous for hiking, rock climbing, camping, and more! First, if you are a rock climber, this is your paradise. Rock climbing is very popular here, so if that is your thing, this is the place to be! If you don't want to rock climb or are visiting with family, don't worry! Red River Gorge is home to some of the best waterfalls in Kentucky! Creation Falls is a local favorite and perfect for swimming, especially if you have small kids. If you are hiking, it is also the best place to take a dip before continuing during the summer months. Broke Leg Falls is also another popular favorite as it is only 0.3 miles of hiking to see this waterfall! As for where to stay, camping and cabins are big, so it just depends on your budget and what you are into! Spring, summer, and fall are the best times to visit, and fall offers lovely fall foliage for leaf peeping!
Victoria, Southern Trippers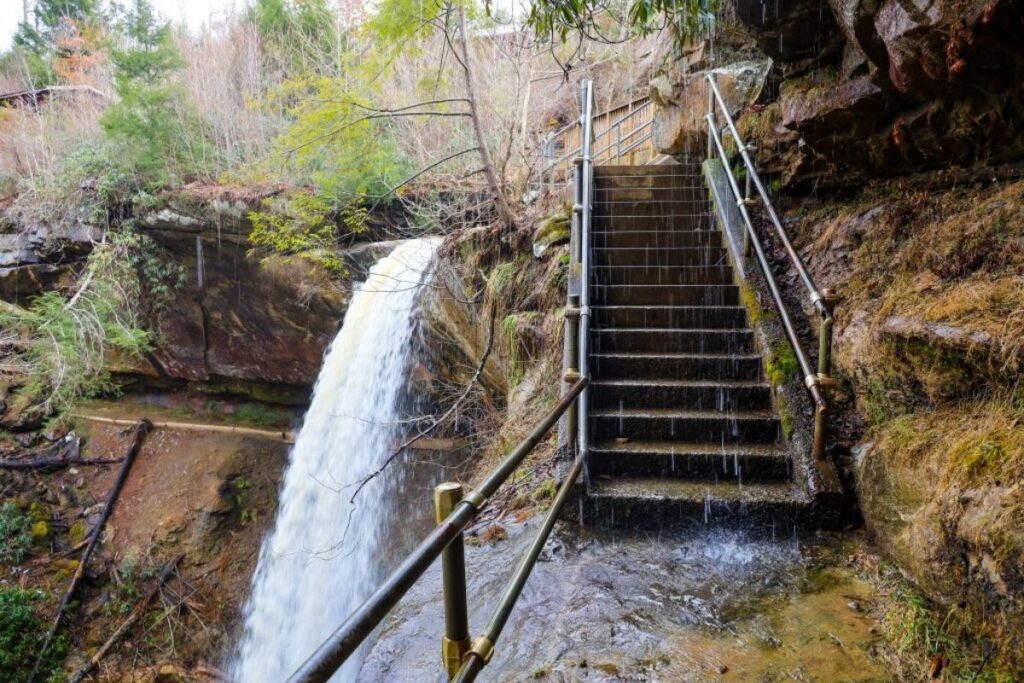 Sedona, Arizona
One of the best places to visit in the United States is Sedona, Arizona. This cute outdoorsy town is filled with excellent restaurants and so many outdoor activities. It is one of the most stunning places in Arizona, and it is so easy to access. It is only a two-hour drive from the major city of Phoenix. Since the summer times can get pretty hot and the winter can be snowy, it is best to visit in the Fall and Spring when the weather is mild.
One of the best things to do in Sedona is to hike. The best trails in the area include Cathedral Rock Trail, Soldier Pass Trail, Devil's Bridge Trail, and Bear Mountain Trail. Most of these trails are pretty popular, so it is best to arrive early to the trailhead because parking can be a pain. Especially when it comes to the Devil's Bridge, there is usually a long line to take a photo in this Instagram-famous spot. If you are not a big hiker, then you definitely need to take a Pink Jeep Tour. You will see these cute bright pink Jeeps driving around the town. They take you through some of the best backcountry areas in the Southwest. Sedona is one of the best outdoorsy towns in Arizona, and it is worth the visit even though there are no national parks.
Michelle, The Wandering Queen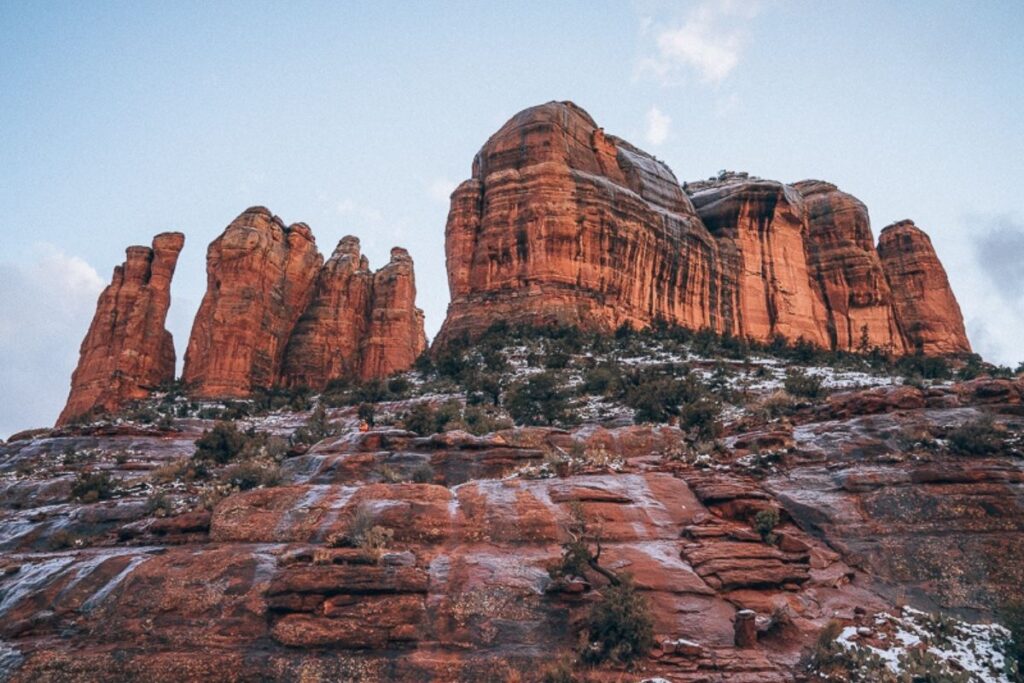 Texas Hill Country
If you are looking for one of the most incredible places in the USA that isn't a National Park, look no further than Texas Hill Country! This region in Central Texas is really epic and rarely talked about on a National Scale! First off, it is the best place to see Bluebonnets in Texas! Bluebonnets are a stunning blue flower that dots the landscape during the spring in Texas. While there is no wrong time to visit Hill Country, spring is certainly one of the best because you can see bluebonnets and enjoy all that it has to offer. Camping and cabins are big here, so if you are looking for a cabin getaway, this is the place. One of the coolest things to do in Hill Country is to visit one of the many springs or natural areas for swimming and hiking. For example, Jacob's Well and Wimberly's Blue Hole are two amazing examples of Texas Hill Country springs that you can swim in after your day of hiking. When you are done exploring, head to one of the many small towns in Hill Country for a peek at German heritage. Head to Fredericksburg and visit one of their German restaurants for a taste of Germany. Then, head to your cabin to sleep and get ready for another day of exploration!!
Victoria, Texas Travel 365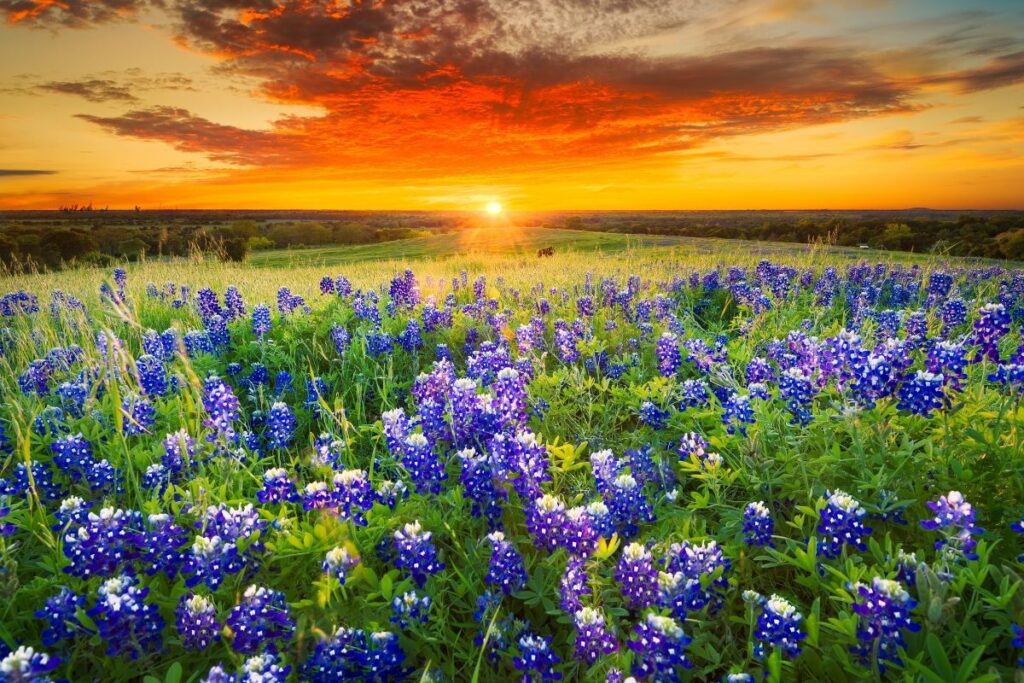 Valley of Fire State Park, Nevada
Valley of Fire State Park in Nevada is one of the most incredible places in the United States that is not a National Park. This park is located about an hour north of Las Vegas. To get there, just head north on the 15 until you see a sign for the park. It costs $10/ car to get in.
You will want to visit in the late fall-early spring (September to April) and avoid the park in the summertime. It is located in the middle of a desert, so it is way too hot to do any of the hikes during the summertime.
Valley of Fire State Park contains over 46,000 acres of sandstone formations and sand dunes that create a stunning landscape. It is Nevada's oldest state park and well worth a visit, especially if heading to Zion National Park.
There is a 10.5-mile road that cuts through the park and provides access to all of the main trails. The most popular hike in the park is the Fire Wave trail. This 1.5-mile trail takes you to the iconic pink waves. Another popular trail is the White Domes Trail. This one takes you to some slot canyons.
Other neat things to see in the park include Atlatl Rock, Arch Rock, the Beehives, and Rainbow Vista.
Francesca, Home Room Travel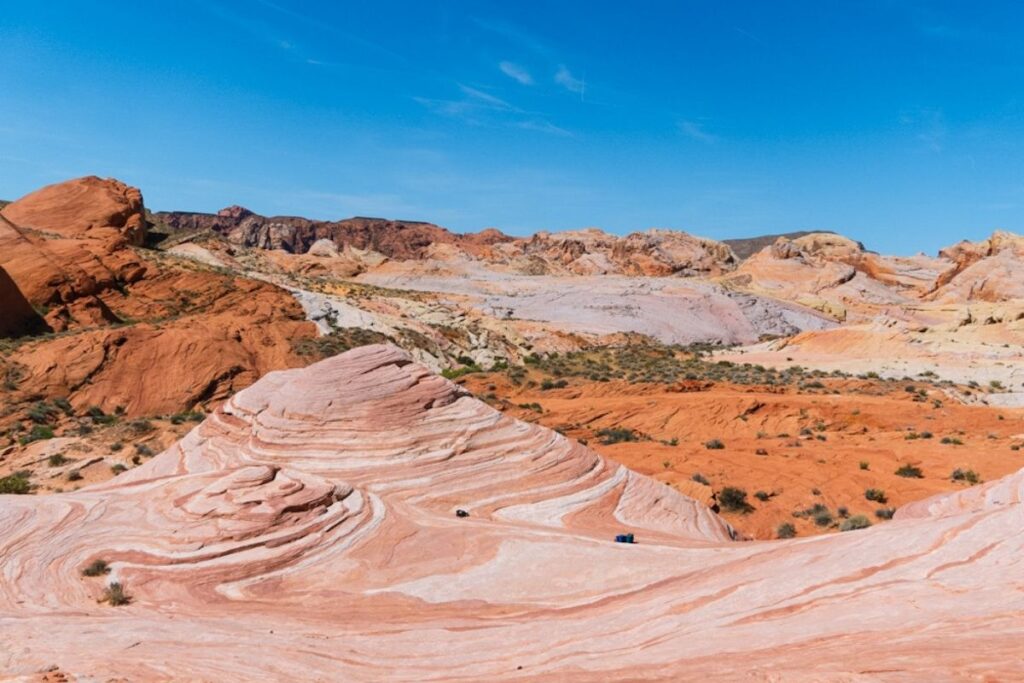 Final Thoughts Incredible Places that are NOT National Parks
I hope you have found a few amazing places that AREN'T national parks to add to your bucket list. What other places in the United States do you think should be a US National Park. Let me know in the comments below. If you want to learn more about visiting the US National Parks, join me in my National Park Trip Planning Community!
Pin for Later: 14 Incredible Places that are NOT National Parks (but probably should be)