19 Things To Do Near Zion National Park (that don't involve the Zion Shuttle)
Post Summary: Things To Do Near Zion National Park; Shuttle Free Zion Activities
When you hear Zion National Park, one of two things comes to mind – the scenic canyon view from Angel's Landing or people standing in the river surrounding by the towing canyon walls of the Narrows. These spectacular hikes are regularly on people's hiking bucket lists. As bucket list-worthy hikes go they are Zion must-dos but getting to their trailheads can be a little bit of a pain. That was before a certain global event, forced the Zion Shuttle to reduce capacity and require reservations.
If you don't want to mess with transportation into Zion's main canyon or were unlucky and didn't get to snag a reservation, this article is for you. I'll cover some amazing Zion hikes and activities that you can access without the shuttle and showcase nearby landmarks, state parks, and national parks that make for great day trips from Springdale.
Planning to visit Zion National Park, learn more about the Zion Shuttle how to get a Zion Shuttle Reservation.
This post may contain affiliate links, meaning if you book or buy something through one of these links, I may earn a small commission at no extra cost to you! Read the full disclosure policy here


Shuttle-Free Zion National Park Activities
Watchman Trail
Distance: 3.3 mile
Elevation Gain: 368 ft
Estimated Time: 2 hours
Trailhead Location: Zion Canyon Visitor Center (Zion Shuttle Stop #1, Springdale Shuttle Stop #9)
The Watchman Trail is a easy to moderate hike that takes hikes above the Visitor Center. The trail follows the Virgin River for a spell before heading upward. The trail has a moderate climb and doesn't until you arrive at a small overlook with outstanding views of Watchman Spire and the southern entrance to Zion.
This is a great trail to start your Zion adventure.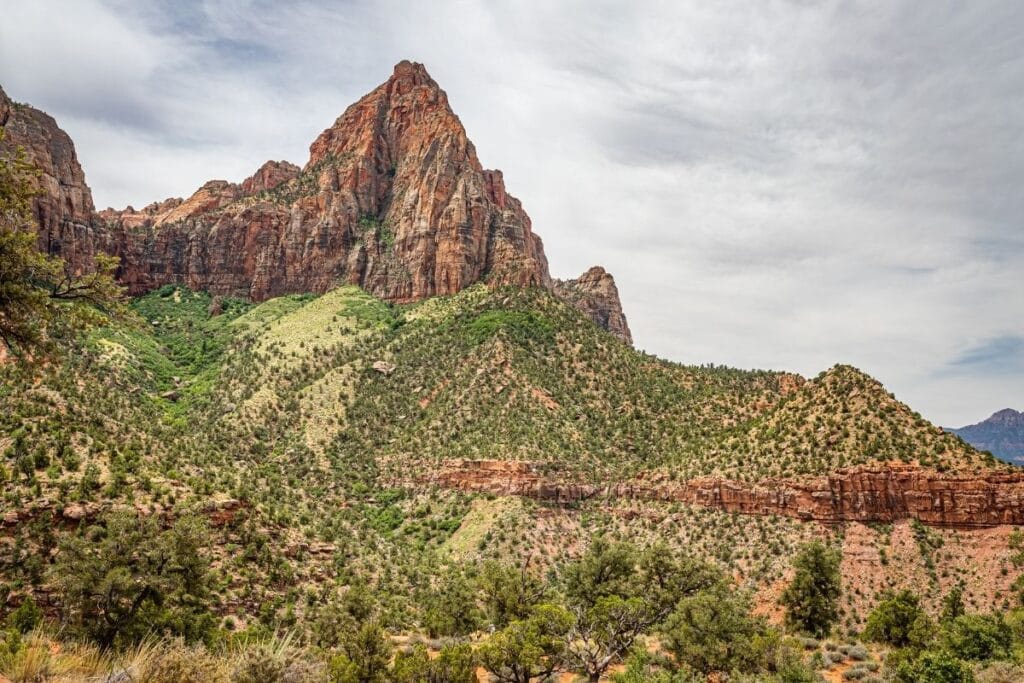 Canyon Overlook Trail
Distance: 1 mile
Elevation Gain: 163 ft
Estimated Time: 1 hours
Difficulty: East to Moderate
Type of Trail: Out-and-Back
Map: All Trails Map
Trailhead Location: There is a small parking area on the left hand side just before the east entrance of the Zion-Mount Carmel Tunnel.
Canyon Overlook is one of my favorite hikes in Zion. I never thought of it this way but a good non-hiking friend refers to this hike as a 'lazy hike.' A 'lazy hike' is one where you get a HUGE payout for minimal hiking. She is right on the money. This is an easy trail that just rolls long. The trail is rather narrow in places with steep drop-offs but most of the dropoffs are have a guard rail. At the end of the trail, you get an epic view of Pine Creek Canyon and the lower Zion Canyon. This is a great alternative for those who are scared of heights but want Angel's Landing style viewpoint.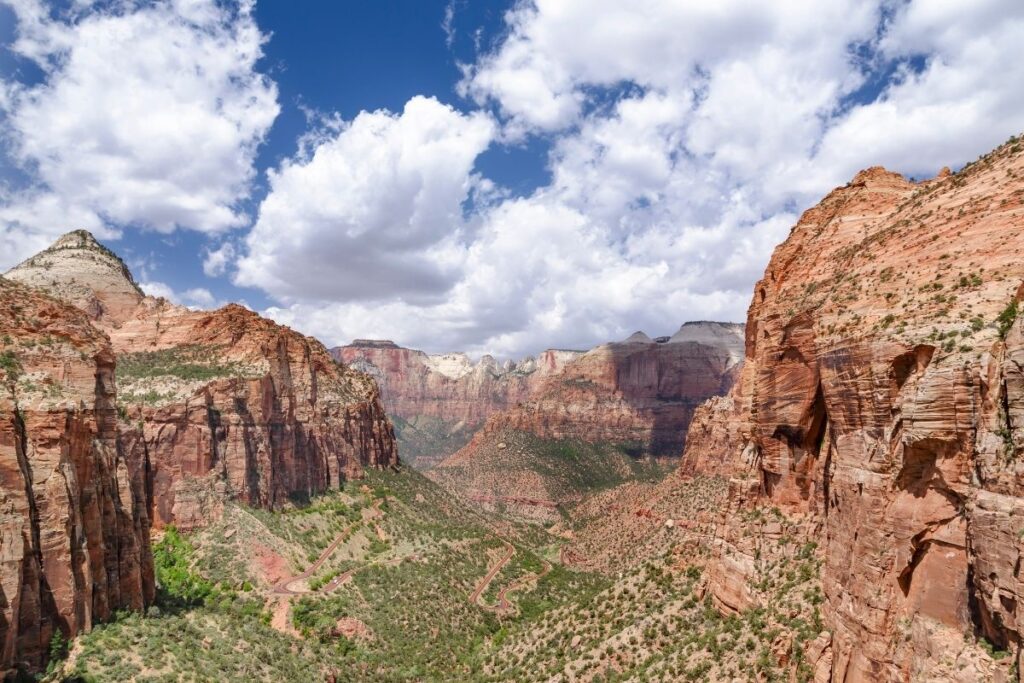 Pa'rus Trail
Distance: 3.5 mile
Elevation Gain: 50 ft
Estimated Time: 2 hours
Trailhead Location: Zion Canyon Visitor Center (Zion Shuttle Stop #1, Springdale Shuttle Stop #9). Can also be accessed by Zion Shuttle Stop #2 or #3.
Pa'rus Trail is a multi-use paved trail that runs along the Virgin River from the Visitor Center to Canyon Junction. This leisurely trail that rolls around the river bank. This is wheelchair accessible along with being bike and dog-friendly. The trail has several educational exhibts along it.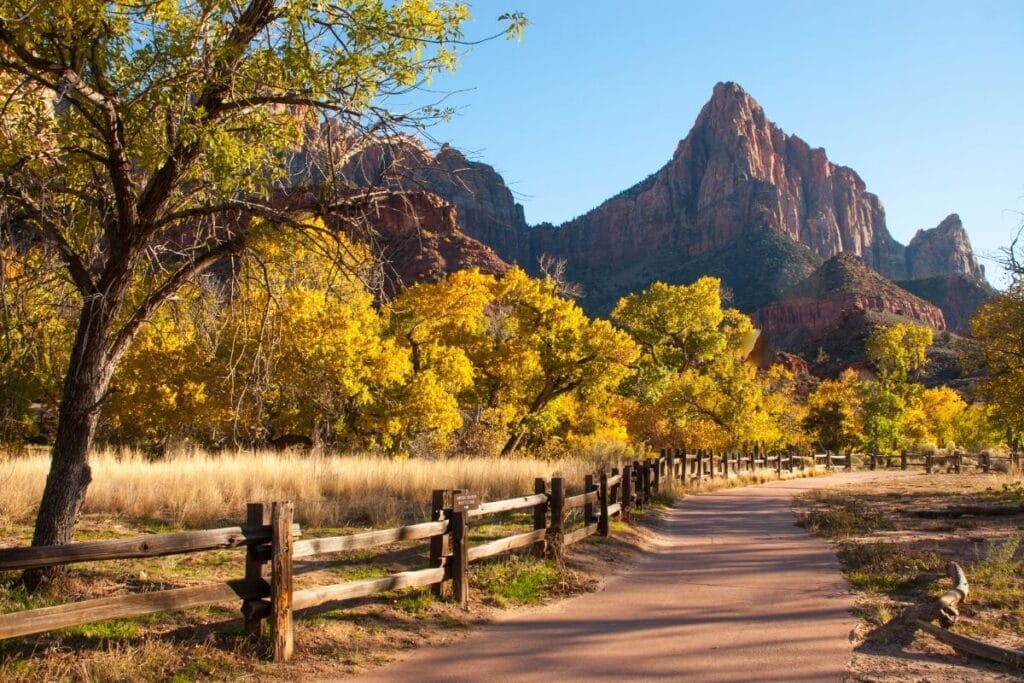 Kolob Terrace
Kolob Terrace is kind of like the "secret" section of Zion that very few people talk about. It doesn't get talked about because its away from Springdale and the main canyon is an attention hog. Kolob Terrance is different than the main canyon but it is spectacular in its own right. This area is mostly the starting point for many of the backpacking trails but it is a nice scenic drive on a mostly paved road with some portions of some trails are great day hikes. The Kolob Terrace Road is paved unitl Lava Point. The Lava Point Rd is unpaved and is impassable when wet.
Kolob Terrance Road Starts near Virgin, Utah and it takes about an hour to reach Lava Point from Springdale.
Here are some shorter hikes in the area:
Hoodoo City – less than a mile
Grapevine Trail to Grapevine Spring – 1.5 mile
Lava Point to Sawmills Springs – 1.8 miles
Wildcat Canyon to Northgate Peaks Trail – 6 miles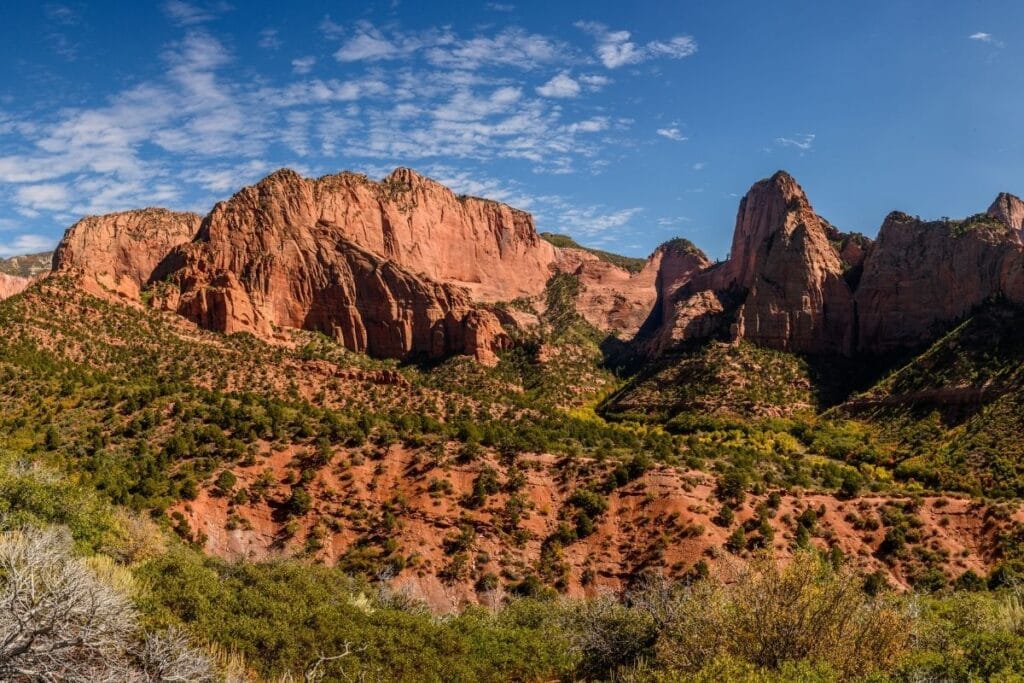 Kolob Canyon
Kolob Canyon should not be confused with Kolob Terrace. These are two different areas of Zion and are not connected. Kolob Canyon is an exit of I-15 and is about an hour from Springdale. Kolob Canyon is in the northwest corner of the park and is home to a parallel box canyon with 2,000 ft cliff walls. This small area of the park is a great place to spend some time hiking away from the main crowds and enjoying scenic views of towering cliff walls.
Here are some shorter hikes in the area:
Timber Creek Overlook Trail – 1 mile
Taylor Creek Trail – 5 miles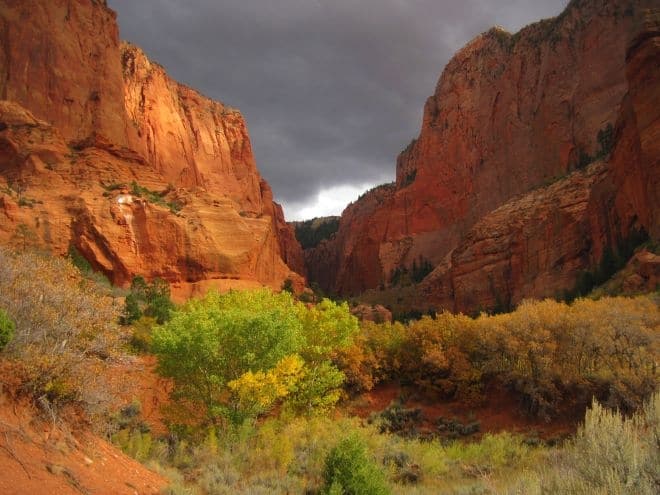 Things To Do Near Zion National Park
National Park Service Sites near Zion National Park
Pipe Springs National Monument
Pipe Springs National Monument is a historical site that covers the history of life in the high desert. This oasis has been inhabited for almost 1,000 years. The monument showcases the native plants and animals of the area. The Ancestral Puebloans and Kaibab Paiute Indians hunted and gathered near the springs and the monuments gardens feature some of these plants. In the 1860's, the rearly Mormon settlers moved inot the area and ran cattle and built a fort near the spring.
Pipe Springs National Monument is a nice half-day trip from Zion National Park.
Driving Distance from Zion National Park: 1 hours 10 mins