Post Summary: 2 Days in Shenandoah National Park; Weekend in Shenandoah
Looking to spend two days in Shenandoah National Park, Virginia? Shenandoah National Park may not be the biggest or the most-visited park in the US national park system, but it's still pretty darn big. It's popular, too. Given that it's one of the closest national parks to the Baltimore-Washington Metropolitan Area, proper planning is critical for your visit. Especially if you only have a short amount of time. Read on to learn how you can make the most of your weekend visit to Shenandoah National Park.
This 2 Days in Shenandoah National Park guide is perfect for those looking to visit the Shenandoah over a three-day weekend and is designed for spring, summer or fall. Some of the sites mentioned in this post may close for winter.
Best of Shenandoah National Park in a Nutshell

TWO DAYS: Two Day in Shenandoah National Park

LODGING: Shenandoah Hotels

NEARBY PARKS: New River Gorge, Mammoth Cave, Great Smoky Mountains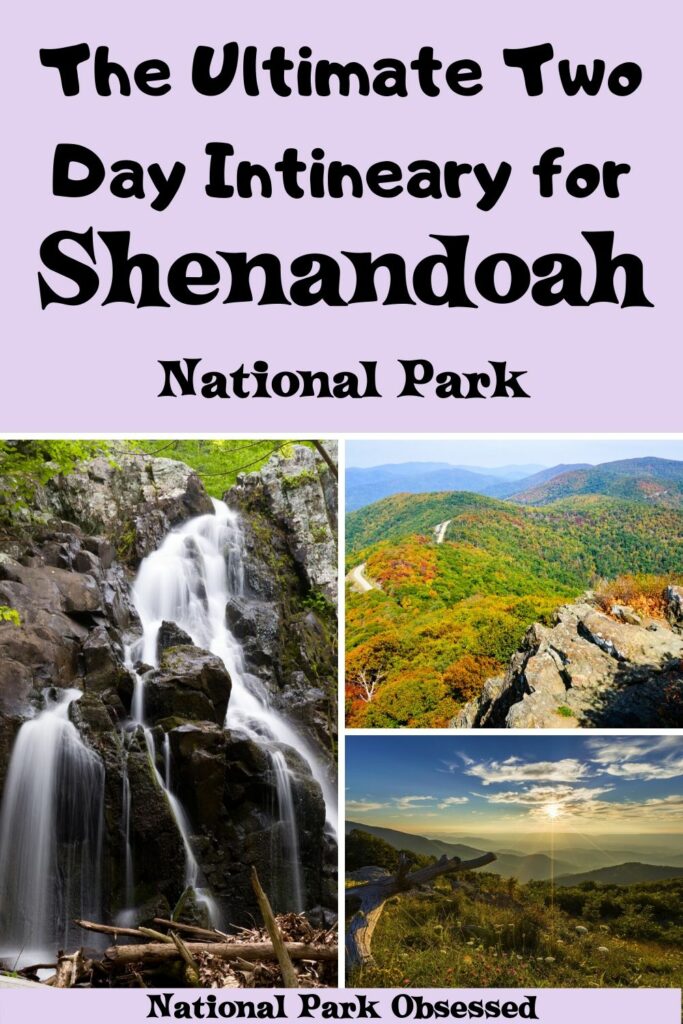 This post may contain affiliate links, meaning if you book or buy something through one of these links, I may earn a small commission at no extra cost to you! Read the full disclosure policy here

Getting to Shenandoah National Park
Shenandoah National Park is located in Northern Virginia. The park has four entrances. The northern entrance to Shenandoah National Park is about a 1.5-hour drive from either Dulles International Airport (IAD) or Reagan National Airport (DCA), depending on traffic.
If you are staying at one of the park lodges (Skyland or Big Meadows) and are pressed for time, use the Thornton Gap entrance off US-211 then head south. Both lodges are in the central section of the park. It should take you 2 to 2.5 hours to reach either lodge from those airports. Using the traffic feature in Google Maps, Apple Maps, Waze, your car's GPS etc., is strongly recommended no matter the time of day.
Northern Virginia rush hours can be brutal. If flying to the area, mid-day arrivals and departures are best. Keep your eyes on road signs to avoid inadvertent, use of high-occupancy vehicle (HOV) lanes, express lanes, and/or toll roads. Tolls can be high at certain times of day. Fines for improper use can be quite hefty.
US-211 is heavily patrolled from Warrenton, Virginia all the way to the Thornton Gap entrance to the park.
There is no public transportation to or Shenandoah National Park.
Estimated Drive time to Shenandoah National Park
Richmond, Virginia – 1.25 hours
Washington, D.C. – 1.5 hours
Baltimore, Maryland – 2 hours
Philadelphia, Pennsylvania – 3.25 hours
Charlotte, North Carolina – 4.25 hours
New York City, New York – 4.75 hours
Columbus, Ohio – 6 hours
Estimated drive time to Shenandoah National Park from nearby National Parks
Tips for driving in Shenandoah National Park
Pay very close attention to posted speeds. Speed limits within the park are strictly enforced, too. The maximum speed on Skyline Drive is 35 m.p.h. The speed limit drops to 25 m.p.h. near visitor centers, campgrounds, stables, major trail crossings, etc.
Remain alert at all times. Shenandoah National Park is home to more than 50 species of mammals. White-tailed deer and squirrels are commonly seen crossing roadways. Black bears, skunks, coyotes. bobcats, fishers, raccoons, opossums, groundhogs, chipmunks, and numerous small rodents are often seen along and/or crossing roads in the park.
Be prepared to share the road with bicyclists and motorcyclists, too. You will encounter both of those in high numbers on nice-weather days.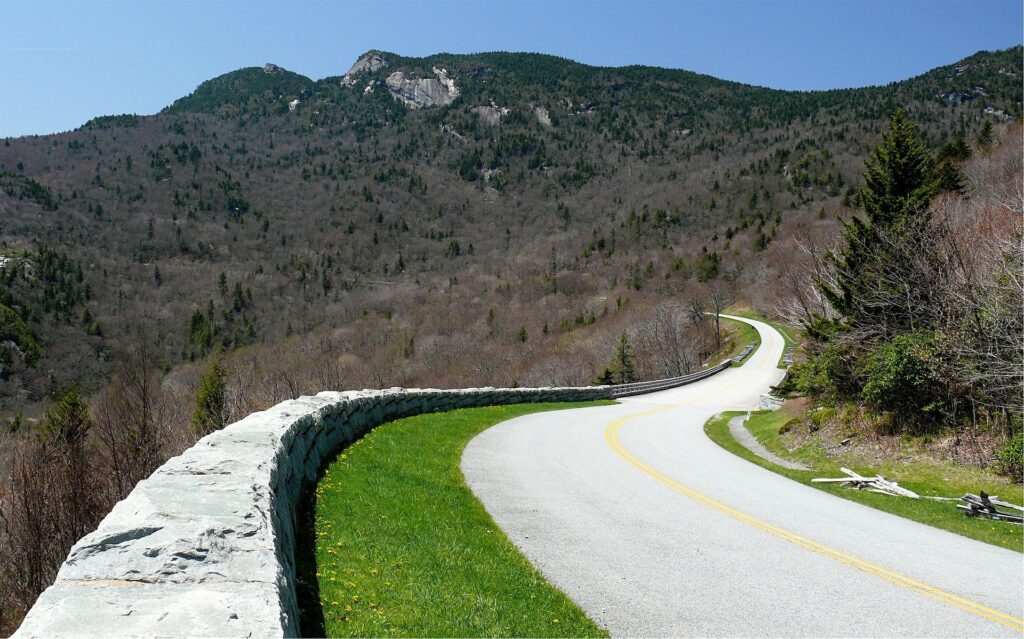 How many days in Shenandoah National Park
How long do you have? Honestly, there is no right answer to this question. If you have a weekend to spend in Shenandoah, this guide is for you. If you have 5 days, this a great starting place for exploring Shenandoah. There is a lot to do in Shenandoah the key is to make the most of the time you have and if you can't get it all in one trip, make plans for a second one.
Don't let anyone tell you that you HAVE to spend a specific amount of time in Shenandoa . Ideally, I would spend at least 3-4 days in the park on every visit but not everyone has that option. 2 days in Shenandoah can be a perfect way to enjoy the area.
Best time of year to visit Shenandoah National Park
I am fortunate enough to live within a 45-minute drive of the park. In my opinion, any time of year is a good time to visit, but there are definitely advantages to each season at Shenandoah National Park. If you're traveling from afar, here are some highlights to help you determine the optimal time for you to visit. Or to help you make the most of your visit if you just happen to find yourself in the area.
Shenandoah in Summer:
If you're into heat and love crowds, summer is the time to visit. Average high temps are usually in the mid- to upper-80s. Humidity levels are typically high in the mid-Atlantic region, which can make it feel even warmer. It is almost always 10 to 20 degrees cooler at the higher elevations within Shenandoah National Park. That means you'll be much cooler visiting the park than lower elevations in the surrounding area.
The flora is at its fullest during Summer months. That's when you will see lush green grasses, mature, blooming wildflowers, trees full of green leaves, and myriad other plants. The azaleas, mountain laurel, and rhododendron put on a spectacular show mid-May through June.
Myriad butterflies, insects, and birds can be seen throughout the park during the Summer. Bear cubs and deer fawns are most-plentiful in Summer, too, and are regularly seen by observant visitors.
Gnats, flies, ticks, mosquitoes, and other flying pests are most-prevalent during Summer.
Shenandoah in Fall:
If it's blankets of color you want to see, Fall is the best time to visit Shenandoah National Park. Myriad species of trees are scattered throughout the park. Colors change at different rates depending on species and elevation. Colors change very gradually, starting in late-August/early September. Generally speaking, colors will be most vibrant and appear as vast blankets during the month of October, but color often lingers into early November and can also be quite pretty.
Cooler temperatures are the best part of Fall. It not only makes hiking and other outdoor activities more comfortable, it generally means fewer insects, too.
Shenandoah in Winter:
You can have the park practically to yourself during Winter months. Road conditions can change quickly, though, so call to check road status before you go (dial 540-999-3500 and follow the prompts).
If you're in the park when temps are near or below freezing and see storm clouds approaching, it would be wise to get to lower elevations sooner rather than later.
Water is usually abundant in the park, which makes for some pretty cool ice formations on rocks and hillsides along Skyline Drive. That means you can enjoy the wintry ice display from the comfort of your own car. Ice forms along streams, creeks, and rivers, too, but you need to get out into the cold and hike to see those.
Black bears typically retreat to dens during colder months, but are not true hibernators. Bears will wander in winter when temperatures are mild, but sightings are far less common. If you're afraid of bears, winter would be the best time for you to visit. NOTE: bears are generally more afraid of people, but they will attack if startled, provoked, or if they feel threatened in any way.
Deer are easier to see in Winter when deciduous trees are bare. So are other woodland animals like turkeys, foxes, bobcats, skunks, and squirrels. Birds are easier to see, too, as they forage for seeds, berries, and insects.
Snow also makes wildlife sighting easier, since it makes animal tracks much more visible.
The air is typically clearer in Winter, too, and the light is less harsh, which improves visibility and makes for better views from overlooks of the various mountains and valleys in and around the park.
Sunsets happen earlier in Winter, too.
Shenandoah in Spring:
Most of the park facilities–visitor centers, food, lodging, waysides/stores, etc.–begin opening in mid- to late-March. You can get free WiFi service at Byrd Visitor Center, Big Meadows Lodge, and Skyland Resort, when open.
There are far fewer people in the park during Spring than in Summer.
Winter snowmelt coupled with Spring rains make for fuller, louder waterfalls and raucous, rambling streams.
The annual greening-up and blooming of the many trees and wildflowers is the best part of visiting in Spring. Among my favorites are the trillium and pink azaleas, which typically start blooming in May.
Gnats, mosquitoes, and other insects are just beginning to emerge in Spring.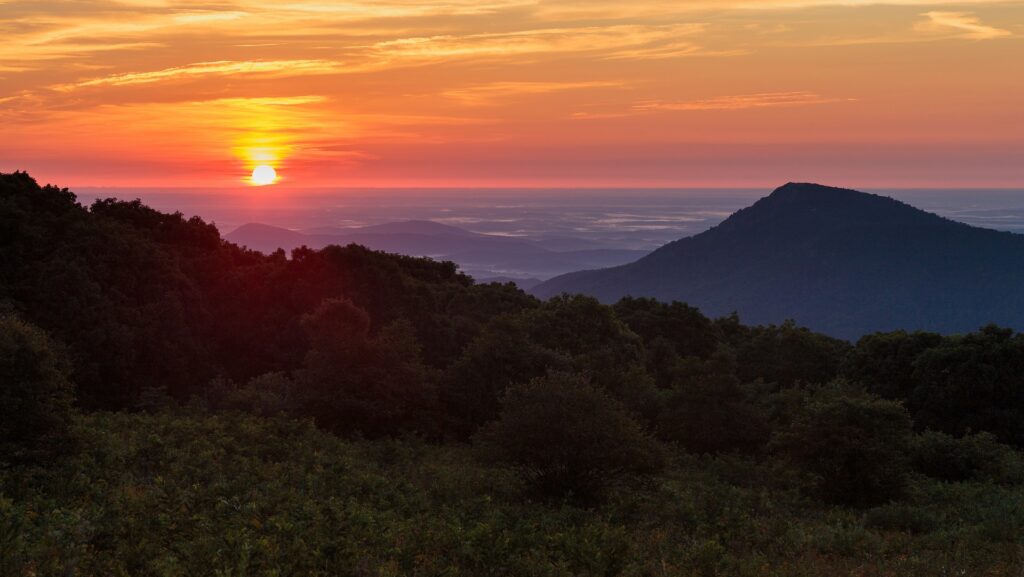 Where to stay in Shenandoah National Park
Elevate your weekend stay with Shenadoah Yurt. This one-of-a-kind luxury retreat is perched in the serene seclusion of the mountains and is jam backed full of amentities for the perfect romatic getaway or a friends/family weekend. >>> Book your yurt.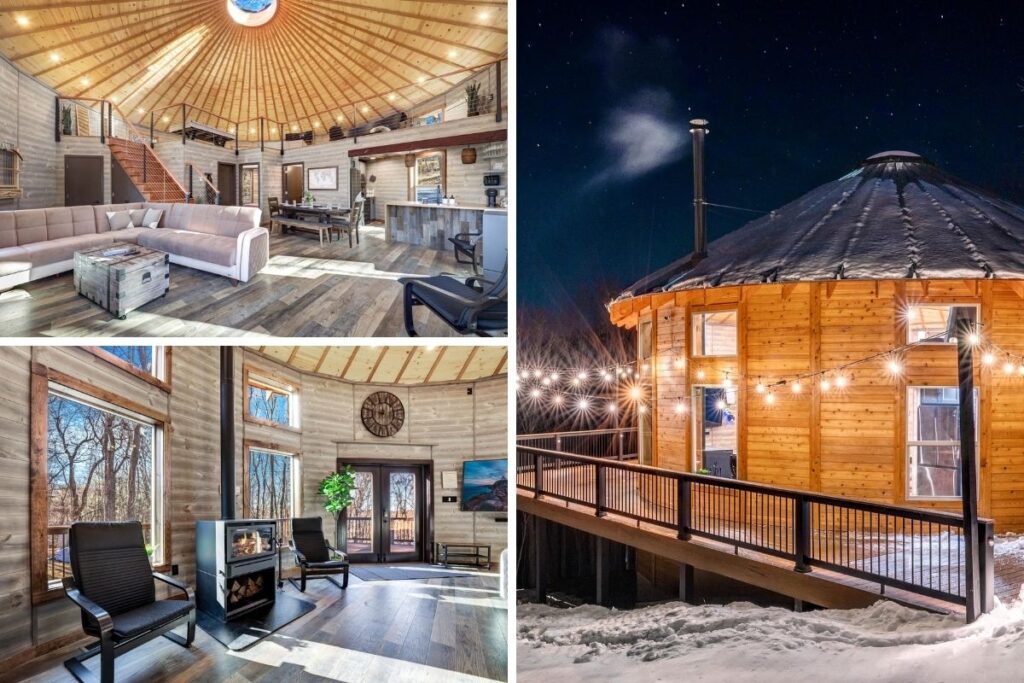 There are 3 lodges and 4 campgrounds within the Shenandoah National Park. Reservations are highly recommend if planning to stay in the park. First-come-first-serve camping is available in the early spring and at Lewis Mountain but spots have been known to fill up fast.
If you are not staying in the park, I recommend stay near Luray or Sperryville.
Lodges of Shenandoah National Park
Big Meadows Lodge – Big Meadows Lodge is located at mile 51. This historic lodge has 25 rooms in the main lodge and 71 additional rooms in rustic cabins, multi-unit lodges, and suites. The rooms range from small historical rooms to more modern suites with wood-burning fireplaces. Rooms from $152/night; Book on Hotels.com or Read the Trip Advisor reviews
Hotels near Shenandoah National Park
The Inn of the Shenandoah – The Inn of the Shenandoah is an elegantly remodeled Victorian home located in the heart of Luray. The Inn features three suites outfitted with jacuzzi tubs for two, with outdoor balconies, crystal chandeliers, and king or queen beds. The Inn has a large back yard with a garden. Rooms from $170/night; Book on Booking.com or Hotels.com; Read the Trip Advisor reviews
Vacation Rentals & Airbnbs near Shenandoah National Park
Shenandoah River Outfitters Cabins – Enjoy some quite time along the river with this riverfront cabin. Sleeps 6. From $125/night; Book NOW!.
Romance Ridge Cabin – Have a romantic weekend with this rustic-chic cabin. Sleeps 2. From $185/night; Book Now.
Cabin with breathtaking views and a hot tub – This cabin has mountain views and a hot tub with modern amenities. Sleeps 4 From $199/night; Book NOW.
What to pack for a weekend in Shenandoah National Park?
America the Beautiful National Parks Pass: Shenandoah National Park costs $30 for a 7-day pass. If you intend to visit more than 3 National Park Services sites in a year, the America the Beautiful Pass will more than pay for itself. Get your pass.
National Park Passport – The National Park Passport Book is the cheapest and best souvenir of your national park adventures. This book makes it easy to collect the National Park Cancellation Stamps. The cancellation stamps have the date of your visit and make it easy to track when you visited each national park service unit. Get your passport.
Refillable Water Bottles – Do your part to reduce litter in our parks by bringing a refillable water bottle with you. A reusable and refillable water bottle can save you a lot of money and really help the environment. Here are my favorite water bottles
Hydration Bladder – If you are hiking longer distances, a hydration bladder is the best way to hike with significant quantities of water. It is a rare hike when I don't bring a full bladder with me.
Snacks – There are limited services in the park. So pick up all your snacks before you go. Pack a couple of different options so you are prepared for any craving.

Fruit: Pick hard fruits such as apples or pears. These hold-up in the heat and in packs without getting squished to mush. Another option is freeze-dried fruit. Freeze-dried strawberries are the BOMB. They are crunchy, sweet and the best part is they are lightweight and yummy. These are my new favorite trail snack.
Vegetables: Cucumbers and carrots hold up well during hiking and in a hot car.
Granola Bars: Take your favorite non-coated in chocolate granola bars. Anything coated in chocolate will melt and be a sticky mess. My favorite is a selection of Cliff Bars. They are great even when squished.
Sunscreen – You don't want to get burned on your visit.
Lip balm – Your lips need just as much sun protection as your skin does.
Sunglasses – Similar to sunscreen, you need a good pair of polarized sunglasses to protect your eyes from the glare of the sun.
Hat – Hats are another sun protection device. A hat can keep the sun off your face and neck and help minimize the need for sunscreen while on the trail.
First aid kit – As with any outdoor adventure, accidents happen. It is better to be prepared and have a compact first-aid kit ready to help with any accidents.
Headlamp – Always keep a headlamp handy. You never know when you might want it. It can be used for midnight bathroom runs to sunrise/sunset hikes. A good headlamp makes it easy to operate in the dark.
Shoes – Shoes are probably the most important piece of gear to any hiker. Hiking shoes should be seen as an investment. On the trail, your feet are your transportation and a solid pair of hiking shoes help support your feet and can prevent injury.
Hiking Day Pack – A good day pack is the best way to transport all your gear when hiking. I highly recommend getting a backpack that is designed for outdoor use. These packs come with handy pockets and straps. My 40 L day pack has a pocket for my water bladder and a clip to hold the water line in place.
National Park Obsessed Shirt – Share your love of the National Parks and support National Park Obsessed with a National Park Obsessed T-Shirt.
Using Shenandoah's Trail Markers and Blazes
If you plan on hiking, make sure you know how to use trail markers and blazes. Trail markers are wooden posts with metal bands around the top. You will see them at most trailheads and major trail intersections. The metal bands include directional and mileage info.
Trail blazes are typically painted on trees and rocks throughout the park. Colors are:
Blue blazes indicate hiking trails
White blazes define the Appalachian Trail
Yellow blazes define trails open to hikers and horse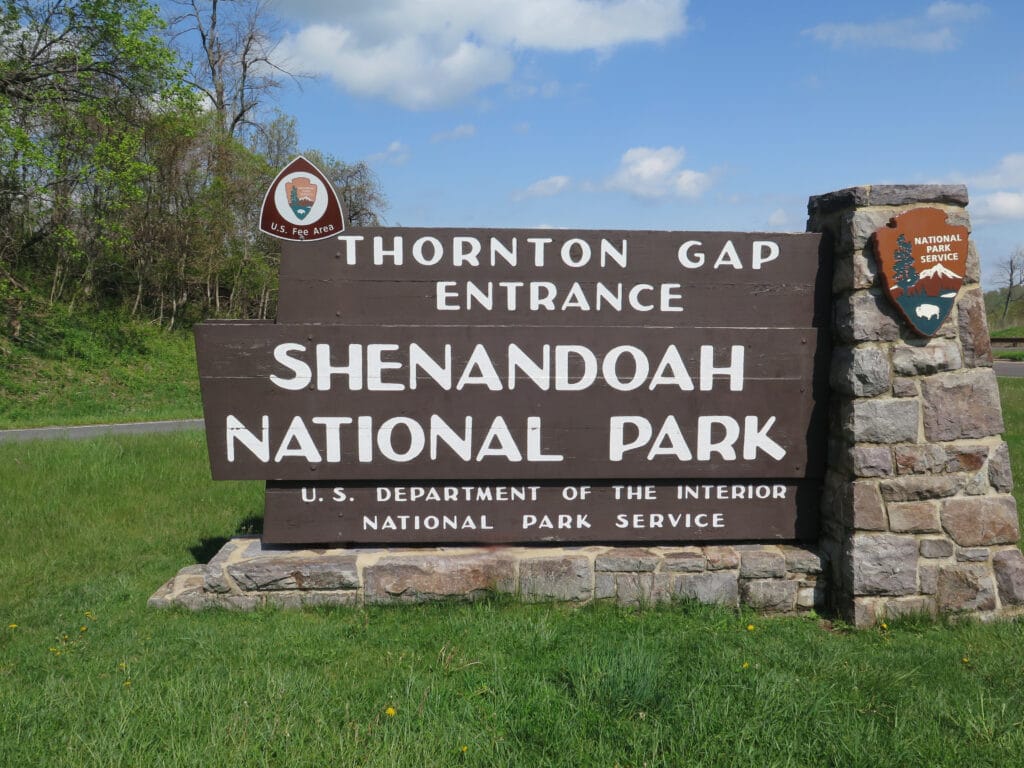 How to Spend 2 Days in Shenandoah National Park
Generally speaking, Shenandoah National Park runs roughly north-south along mountain ridges. There are three distinct sections, separated by public highways: northern, middle, and southern.
Two full days is adequate to drive the 105-mile Skyline Drive, end-to-end. You'll have plenty of time to stop for photos at various viewpoints. You'll even be able to squeeze in one long hike or two to three shorter hikes. It is recommended that
Before you go, familiarize yourself with a park map. The National Park Service provides interactive maps on the park website.
Things to Do in Shenandoah National Park for two days
Old Rag Mountain Trail
Limberlost Trail
Whiteoak Canyon Trail
Spitler Knoll
Dark Hollow Falls Trail
Stargazing
Mary's Rock Tunnel
Mary's Rock Summit
Highest point on Skyline Drive (3,680 feet)
Two Day Itinerary for Shenandoah National Park
Shenandoah Weekend – Day 1
Option 1 – A Big Strenuous Hike
If you want to clock one big hike during your trip, Old Rag is the hike to do. Old Rag Mountain is probably the most iconic trail in the park. It's also one of the few trails that can't be accessed from Skyline Drive. The trailhead is east of Skyline Drive. From Sperryville, go southeast on US-522 to a right on VA-231, F-T Valley Road. Go about 8 miles, turn right on Peola Mills Road to VA-601, left on VA-707, then proceed straight on VA-600, just west of Nethers
Go early during busy seasons as parking near the trailhead is limited. You will need at least seven hours and a good bit of stamina for the very strenuous, 9.2-mile circuit hike (includes the famous rock scramble). Allow an extra hour or three if you are not in tip-top shape and need to take it slow. Take plenty of water, too.
For this option, it is highly recommended that you spend your first night near Sperryville.
Option 2
If Old Rag isn't your thing, there are many different trail options and over 70 overlooks to explore. Most of the hikes recommended in this guide are in the Central Region between Thornton Gap and Swift Run Entrance Stations
Start your morning with a nice refreshing hike on the Limberlost Trail. The trailhead is located at mile 43. It's an easy, relatively flat 1.3-mile loop with just a 130-foot elevation gain. The walkway is compacted crushed stone with shade and benches.
In June when the mountain laurels are in bloom, Limberlost is THE place to be, in my opinion. The large, dense laurel shrubs are playgrounds for a variety of small birds, too. You should only need an hour to enjoy Limberlost, but allow more time in June, especially if you are a photographer.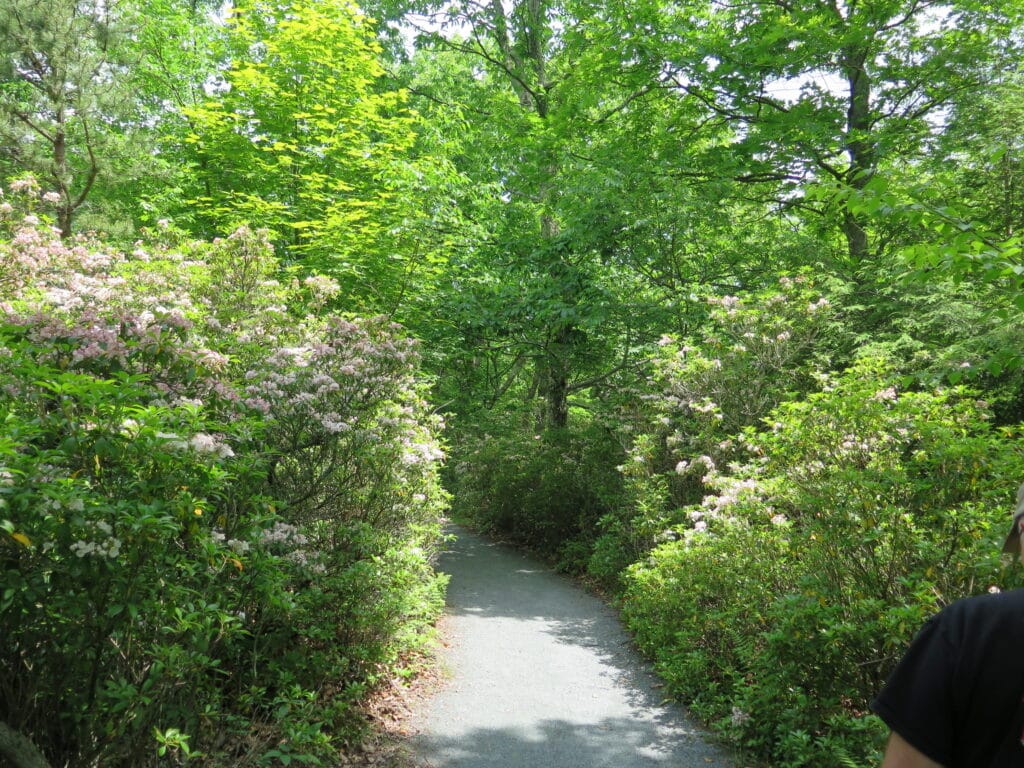 If you would like to add a bit of distance and some waterfalls to your morning hike consider the Whiteoak Canyon Trail. Whiteoak connects to Limberlost. Whiteoak Canyon follows the Robinson River.
The trail has a series of six waterfalls ranging from 35 to 86 feet. You'll see smaller cascades, too, plus some nice pools where you can wade or swim in warmer months. Whiteoak Canyon adds another 3 miles plus miles assuming you want to visit all the waterfalls.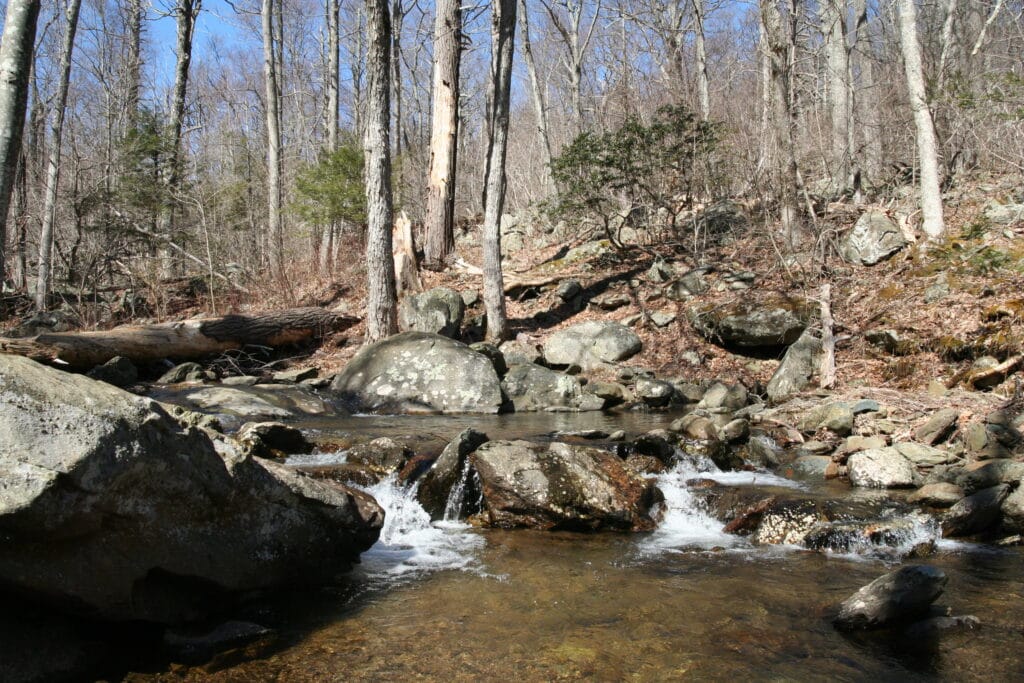 After your hikes, head south of Skyline Drive. Take your time and stop at any of the overlooks that strike your fancy. I highly recommend stopping at Spitler Knoll at milepost 48.1.
At mile 50.7 is the trailhead for Dark Hollow Falls. This trail is 1.4 miles roundtrip, but the return can be pretty steep. It's only about 0.6 miles to the viewpoint to see the falls from the top.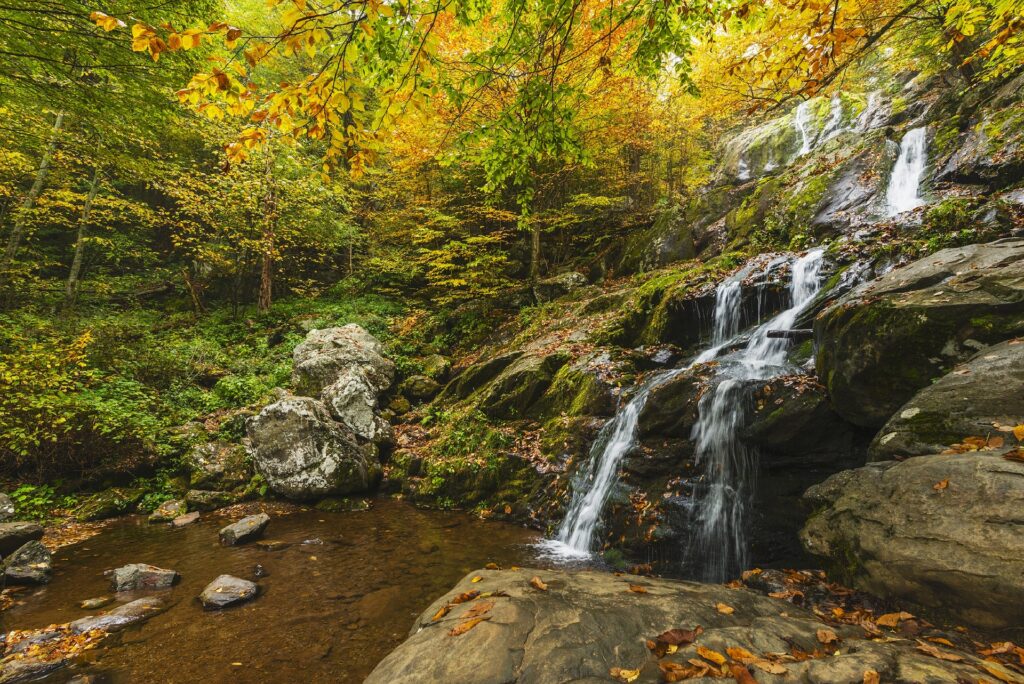 Waterfalls almost always look better from the bottom, though. That extra 0.1 mile is a rough, rocky path. It is manageable enough and well worth the effort. The trek back will take some effort. On warm, sunny days, keep your eyes peeled for timber rattlesnakes. Black bears frequent the area, too.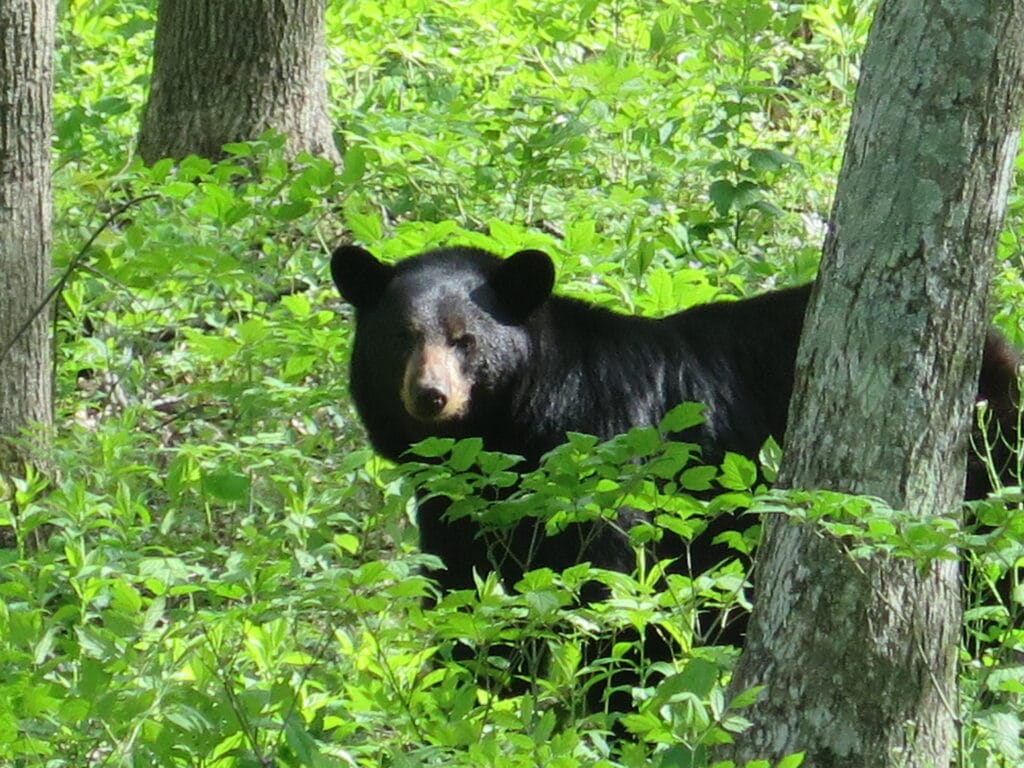 Keep heading south there are so many amazing overlooks to explore and rest your legs after your hikes.
Shenandoah National Park is one of the best places to stargaze on the east coast. National Park Obsessed founder Jennifer shares her best Shenandoah stargazing tips.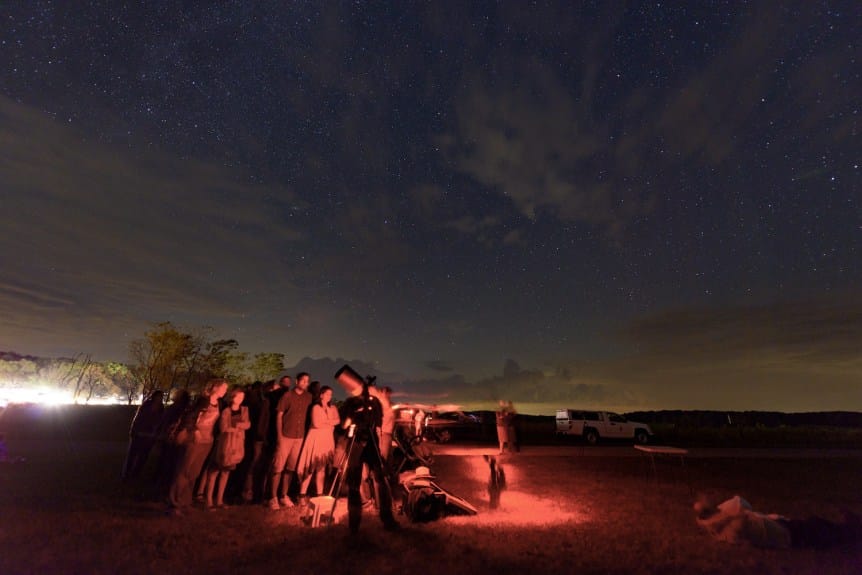 Shenandoah Weekend – Day 2
On your second day in the park, start your morning with a hike up to Mary's Rock Summit. Marys Rock, at 3,514 feet, is the eighth highest peak in Shenandoah National Park. Hiking to the summit is a favorite pastime for many, physically fit visitors. There are two different routes to Mary's Rock. The first is the primary trail which is 3.7 miles and has 1,210 feet of elevation gain. The alternate route is via the Meadow Spring Trail is 2.9 miles and 830 feet of elevation gain. Both routes involve hiking a small portion of the Appalachian Trail,
After your hike, stop and check out Marys Rock Tunnel, around mile 32, is the only vehicle tunnel along the 105-mile Skyline Drive. It was constructed by the Civilian Conservation Corps (CCC) in 1932. The 670-foot-long tunnel only has a 12'8" clearance.
Spend the rest of your weekend driving along the Skyline Drive and checkout as many of the overlooks as you can.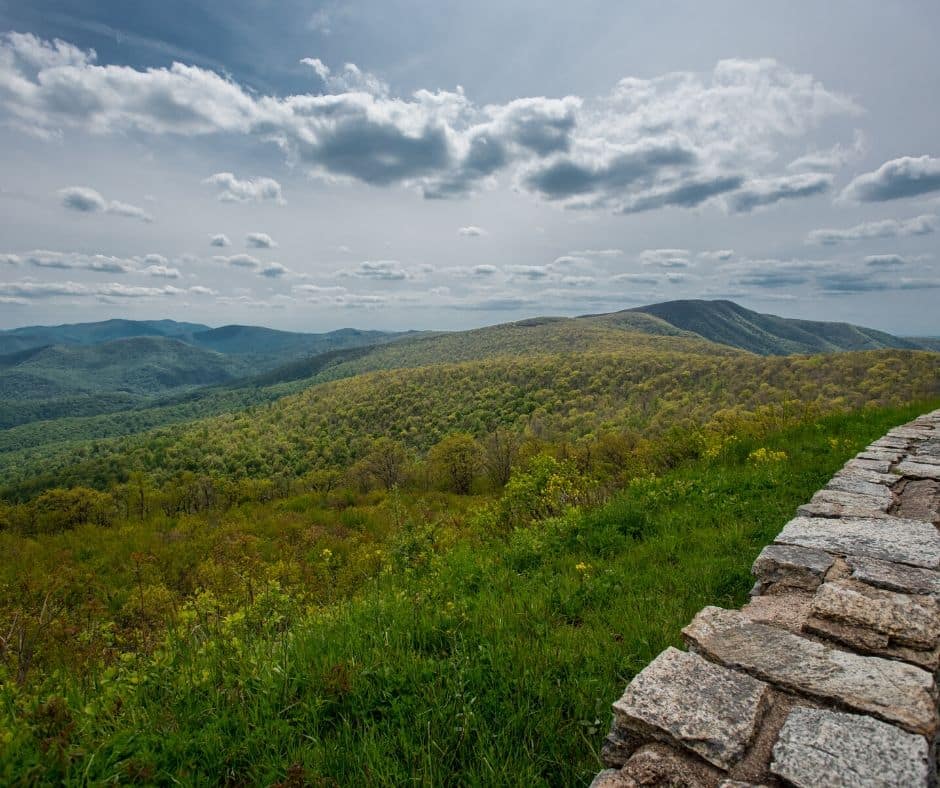 Weekend in Shenandoah Summary
Two incredible days, unfortunately, have to come to an end, but the incredible memories made at Shenandoah will always remain. You truly exhibited and experienced how to make the most out of a weekend in Shenandoah National Park. We hope that you enjoyed this two day Shenandoah itinerary.
More Information for your trip to VIRGINIA
Pin for Later: How to Make the Most of a Weekend in Shenandoah National Park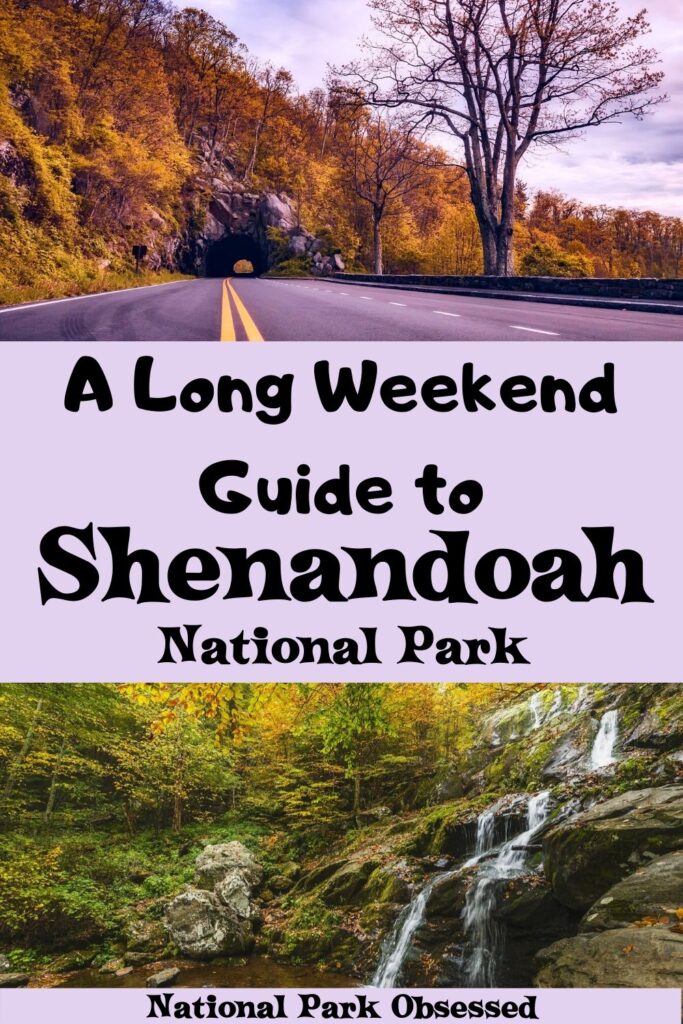 More Weekend Trip Ideas: