Isle Royale National Park is a hidden gem and sort of secret among the national park obsessed. Located in Lake Superior near the Canadian border, this national park is a hiker, boater, canoer, and kayaker's dreamland. This dreamland has a few minor things that make planning a visit a challenge. Here are 16 things to know before visiting Isle Royale National Park.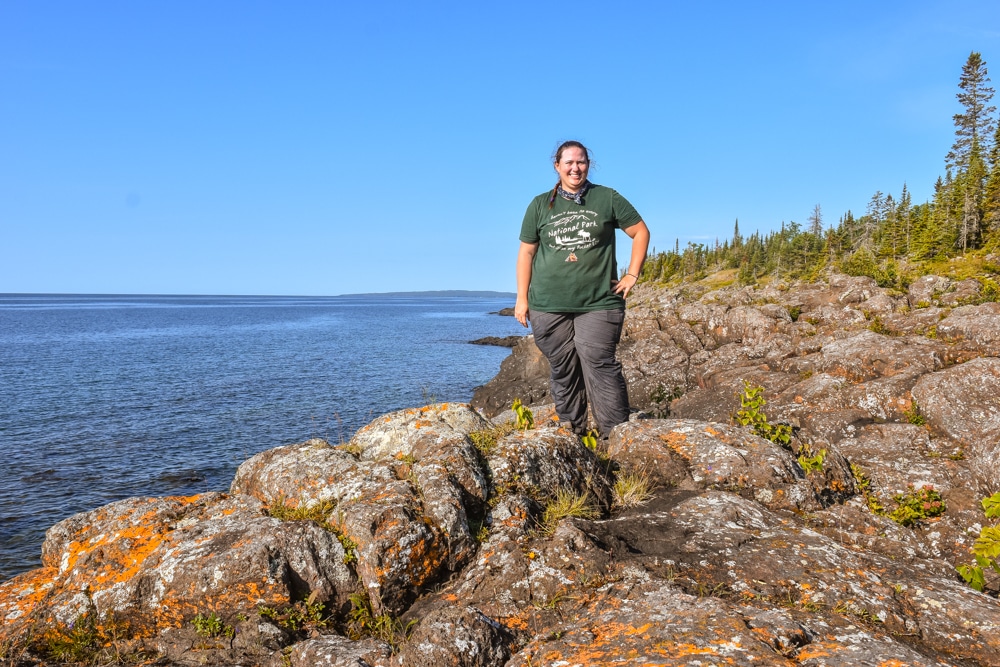 This post may contain affiliate links, meaning if you book or buy something through one of these links, I may earn a small commission at no extra cost to you! Read the full disclosure policy here
Things to Know Before Visiting Isle Royale National Park
Isle Royale National Park is located in Michigan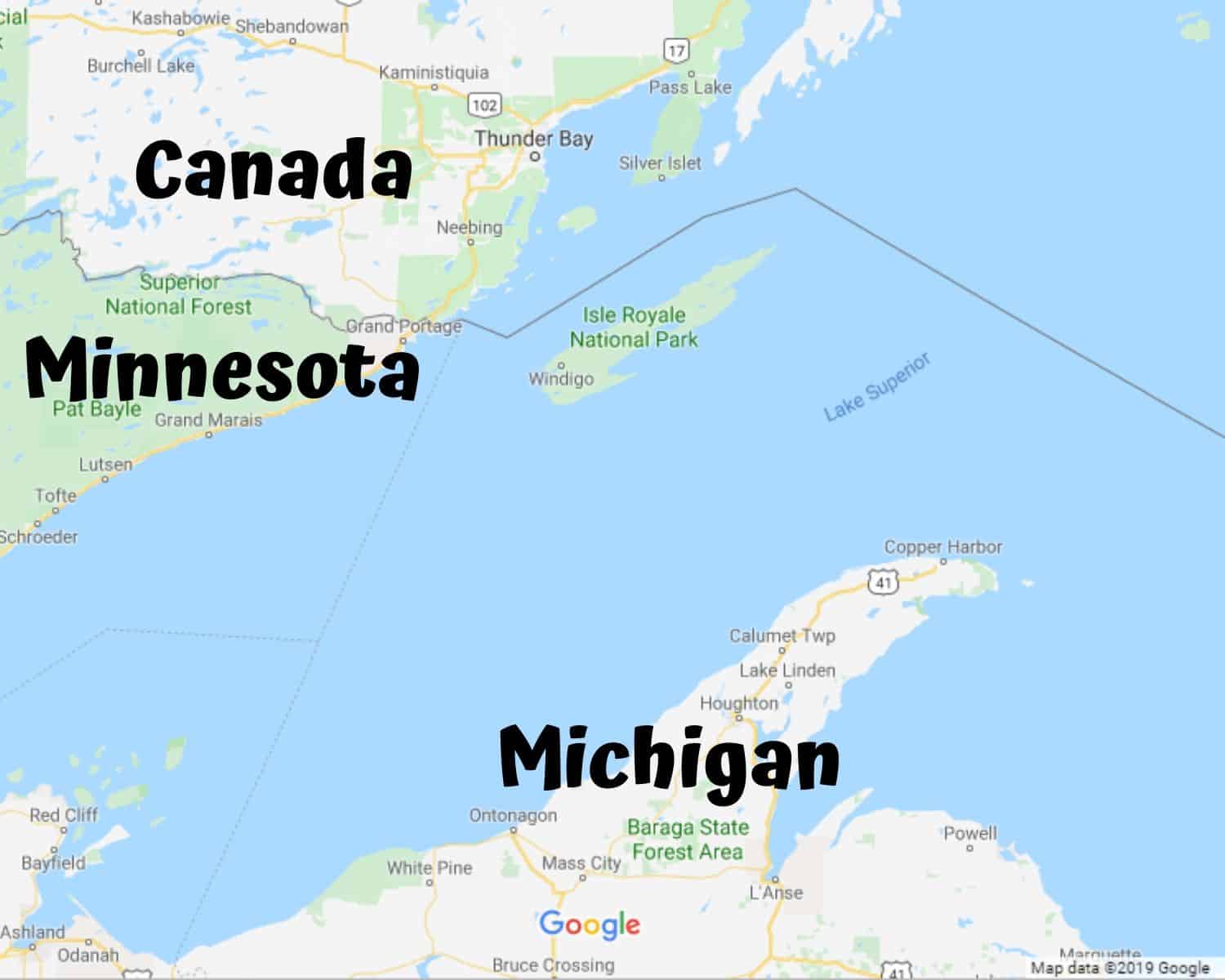 Isle Royale doesn't look like it should belong to Michigan. It is kind of surprising that Minnesota doesn't have two national parks or that the island should belong to Canada.
There is a rather complex and interesting history as to why Isle Royale ended up as part of the United States and the state of Michigan. Isle Royale was acquired by the United States from Great Britain as part of the 1783 Treaty of Paris. At this time, very little was done with the island. Great Britain remained in control of the island until the War of 1812.
In the 1830s, the territory of Michigan started working on gaining statehood. Statehood was delayed over a small strip of land called the Toledo Strip. This 468 square mile area included the city of Toledo and the important shipping hub of Maumee Bay. The state of Ohio and the territory of Michigan both laid claimed this land. The fight included legislative battles and the armed occupation of the region. In the end, Michigan was with two options
Getting Isle Royale and the rest of what is now known as the Upper Peninsula and become a state
Keep arguing, go bankrupt and not become a state
It took two state conventions and pressure from President Andrew Jackson before Michigan took option number 1.
As if that drama over Isle Royale wasn't enough. The Grand Portage Band of the Ojibwas people lived in the area and regularly used the island. The Grand Portage Band considered themselves to be it and their homeland was in British territory. They weren't and this was discovered as part of the 1842 Treaty of La Pointe.
This is just the drama that went on before Isle Royale was considered for National Park status.
It is made up of over 450 islands.
Isle Royale National Park is made up of more than just the island of Isle Royale. There are about 450 smaller islands in the surrounding waters.
The island of Isle Royale is the third largest island in the contiguous United States and the second-largest island in the Great Lakes. Isle Royale is 206.7 square miles and makes up about 23% of the national park.
Of the other roughly 450 park islands, only 110 of the islands are formally named. Highly experienced sea kayakers and boaters are welcome to explore any of these islands.
Please note that sea kayaking on the cold waters of Lake Superior is not for the faint of heart. Please know your limits. If you are not a highly experienced kayaker but would like to explore Isle Royale by water consider booking a 4-day kayak trip with Kenewaaw Adventure Company.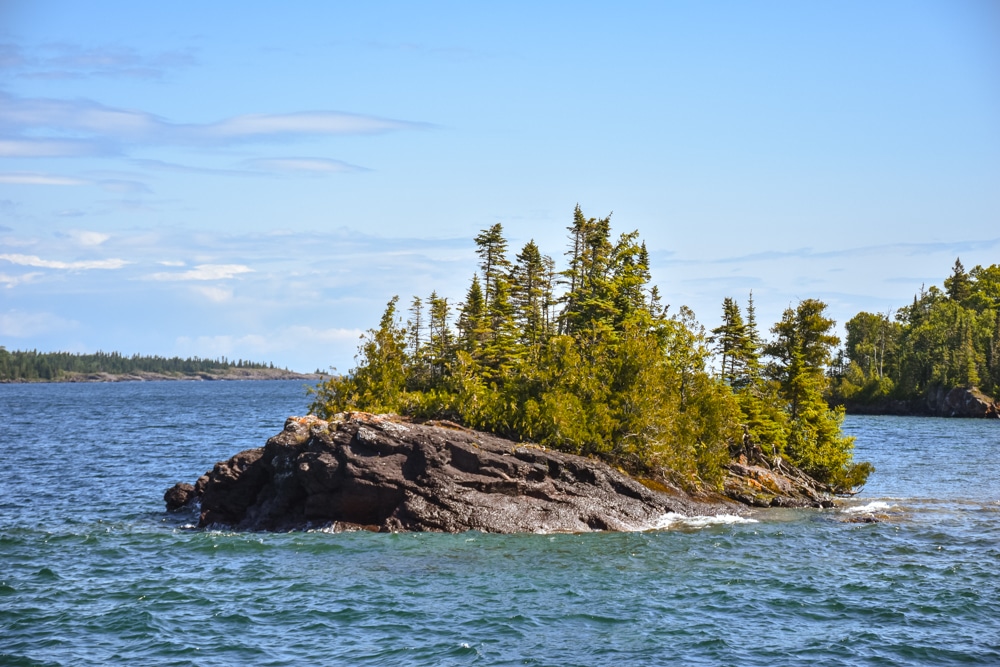 Isn't open year-round
Isle Royale National Park is the only national park that closes to visitors for part of the year. Other parks may temporarily close sections for wildlife protection or weather but Isle Royale completely closes to the public from November 1 to April 15 of every year. This includes all of Isle Royale's islands plus 4.5 miles out into Lake Superior.
Access to Isle Royale National Park Limited
Isle Royale National Park is the second most remote national park in the lower 48. The shortest ferry ride is only 26 miles compared to Dry Tortugas 70 mile ferry ride. There are only two ways to get to Isle Royale National Park. Visitors can only arrive via boat and seaplane. Both options are pricy but the island isn't easy to get to.
Unless you have a private boat, visitors to Isle Royale have two locations for arriving on the island. Windigo is located at the Southwest end of Isle Royale and Rock Harbor on the northeast end of Isle Royale. Both areas can be reached via ferries and seaplanes.
Seaplane to Isle Royale National Park
The only commercial seaplane service is through Isle Royale Seaplanes. Isle Royale Seaplanes flies out of Houghton, MI, and Grand Marais, MN. The land at both Windigo and Rock Harbor and offer an intra-island ticket between the two.
Ferry to Isle Royale National Park
The ferries are a little more complex. There are four passenger ferries to Isle Royale National Park. The ferries depart from three different locations.
Ranger III
The Ranger III is 165 foot long, 34 feet wide, 648-ton vessel that carries 128 passengers. It departs from Houghton, Michigan and travels to Rock Harbor and back the following day. This vessel takes 6 hours each way.
The Ranger III passengers need to plan on staying at Isle Royale overnight.
Isle Royale Queen IV
The Isle Royale Queen IV is a 100-foot long vessel that carries 85 passengers. It departs from Copper Harbor, Michigan and travels to Rock Harbor and back in the same day. This vessel takes 3.5 hours each way.
Isle Royale Queen IV does day trips. Day-trippers will have between 1.5 and 3 hours in the Rock Harbor area. Time varies based on weather conditions.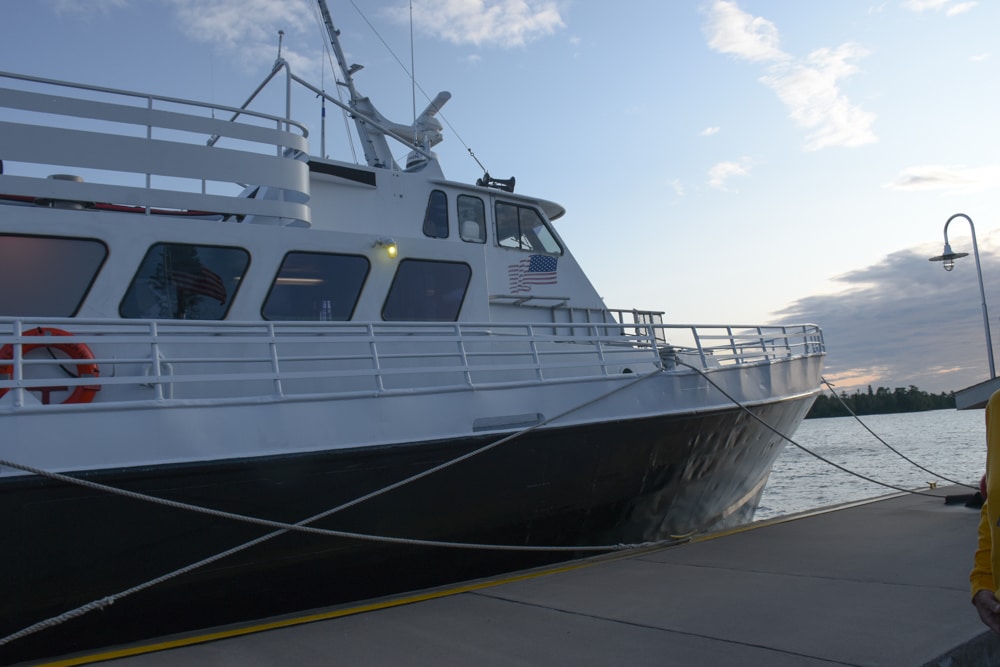 Seahunter III
The Seahunter III is a 65-foot long vessel. It departs from Grand Portage, MN and travels to Windigo and back on the same day. This vessel takes 1.5 hours each way.
Seahunter III does day trips. Day-trippers will have about 4 hours in the Windigo area. Time varies based on weather conditions.
Voyageur II
The Voyageur II is a 65-foot long vessel. It departs from Grand Portage, MN and circumnavigates Isle Royale over two days. The outbound trip stops at Windigo, McCaroe Cove, and Belle Isle before arriving at Rock Harbor. The following day the Voyageur stops at Dasiy Farm, Chippewa Harbor, Malone Bay, and Windigo before returning to Grand Portage, MN.
Voyageur II passengers need to stay on Isle Royale overnight.
Isle Royale Ferry Map
Isle Royale is the least visited National Park in the lower 48
Isle Royale National Park consistently among the 5 least visited national parks. The park has seen an upward trend in visitors but its current visitation record was set in 2017 with 26,306 visitors. Of those 26,306 visitors, only 67% visited the island of Isle Royale. The remaining 33% only stopped at the mainland visitor center.
If you are looking to get off the beaten path, few parks are better than Isle Royale. Outside of Rock Harbor and Windigo area, backpackers and boaters are spread out between 36 campsites in the park.
Book as soon as you can.
Isle Royale might be one of the least visited national parks but the ferries and flight can fill-up fast during holidays, weekends, and the height of summer. There are a limited number of ferry slots per day and once they are gone they are gone.
Even more important than the ferry is if you are wishing to stay at the Windigo Cabins or Rock Harbor Lodge, a reservation is needed as soon as you have your dates picked out.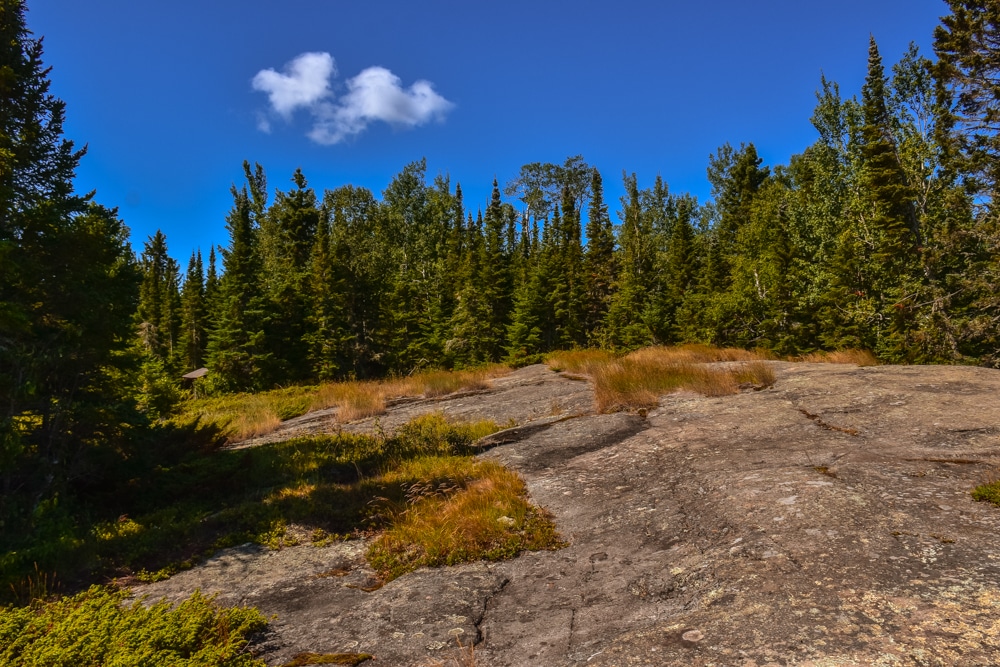 There are cabins and lodge rooms available.
Isle Royale National Park offers three different non-camping accommodation options. While these options are not camping, they are rustic accommodations on an island in the middle of Lake Superior.
Accommodations must be booked by calling 906-337-4493. This is done to ensure that the lodging accommodation dates match with the ferry or seaplane schedule.
Lakeside Lodge
Lakeside Lodge is located in Rock Harbor. The Lodge offers standard rooms and suites. The standard rooms either have a king bed or two double beds. The suite comes with two double beds plus a futon, microwave, refrigerator, and sink. All the rooms offer easy access to the Lighthouse Restaurant & Gift Shop, Greenstone Grill, the Auditorium for evening programs, the Sightseeing Tour Boat, and the Stoll Trailhead.
These rooms start at $234 per night.
Housekeeping Cottages
The Housekeeping Cottages are located on Tobin Harbor which is an eighth of a mile walk from the Lakeside Lodge in Rock Harbor. These cabins can sleep up to six people and come with a double bed and a set of bunk bests. Rollaway beds are available to increase sleeping space. The cabins have a stovetop, microwave, refrigerator, full-size coffee maker, kitchen table, all kitchen utensils. The cabins are located near Suzy's Cave and Mt. Franklin trailhead.
The cottages start at $227 per night
Windigo Camper Cabins
The Windigo Camper Cabins are located in Windigo and are 45 miles from Rock Harbor. These cabins come with 2 bunk beds and a futon. The cabins do not have into plumbing but they do have electricity. The cabins come with a grill and a picnic table.
The Windigo Cabins cost $51.95 per night. Reservations are highly coveted and start on January 2.
There are no campsite reservations.
Isle Royale National Park is a camper's paradise but a planner's nightmare. None of the 36 campgrounds in Isle Royale National Park take reservations. They are all first-come-first-serve. Don't worry, things on Isle Royale are a little different.
Before arriving on the island, plan out your Isle Royale itinerary. Isle Royale campground is beautifully spaced to allow hikers of all skill level backpack from campground to campground. Be aware when trip planning that some popular campgrounds have a night limit.
When campers step off the ferry, they are given a briefing by a ranger. After the briefing, the campers head over to the visitor center to fill out their overnight permit. The ranger will ask for your planned itinerary. You are not obligated to follow this itinerary should your plans change on the trail. This itinerary gives NPS a starting point for search and rescue, passing along messages, and monitoring campground usage.
Should you get to a campground and find every site taken, make a new friend and find someone to share the campsite with. This is allowed and encouraged during the busier times at Isle Royale.
Most campgrounds have shelter sites
Isle Royale has 36 campgrounds. Most of the campgrounds offer two types of sites. The tent site and the shelter site.
The shelter sites come with a nice open-air building with space to sleep 6 without having to put up tents and are protected on 3 sides from the wind and rain. It is possible to do an entire trip to Isle Royale and never set-up a tent.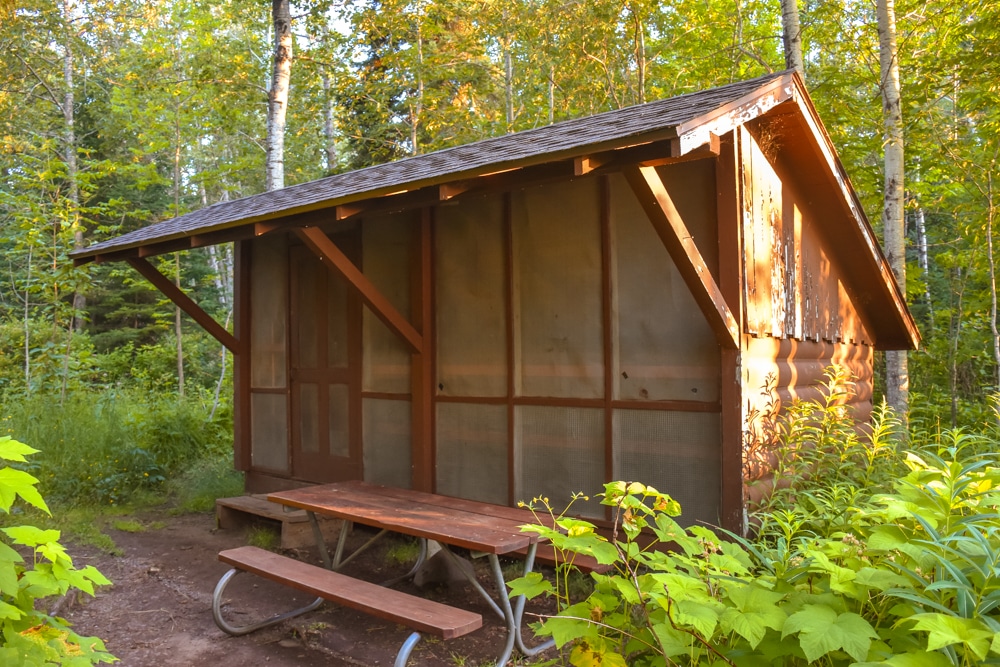 Isle Royale National Park has the longest visitor stay
Isle Royale National Park boasts the highest average visitor length of stay. The average visitor will spend 4.5 days in Isle Royale National Park. This seems like both a short amount of time and a long amount of time
Isle Royale has no roads.
Isle Royale National Park has no roads. It is an island park in the middle of Lake Superior. There isn't really anywhere for you to drive in the park so your care is best left at the ferry port.
Bicycles and carts are not allowed on the island either.
Bring Everything
Isle Royale is a remote island. Unless you are staying in Rock Harbor and plan to eat every meal in the resturants, you should plan on bringing everything you will need with you to the island. Supplies can be purchased in Rock Harbor and Windigo but they limited and pricy.
You need to plan on enough food for your entire stay plus an extra day.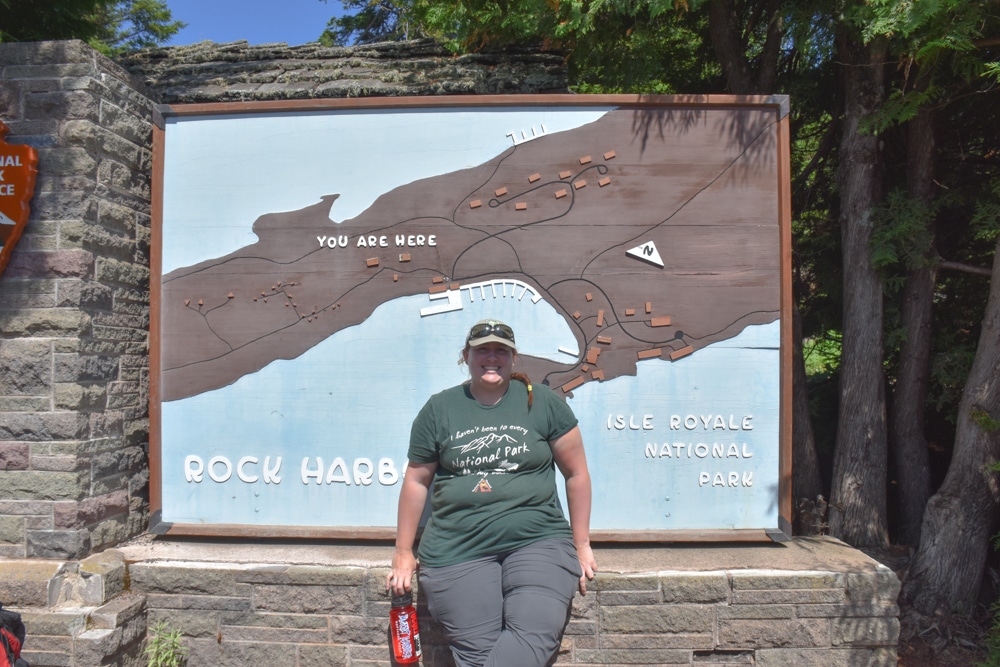 Carry all your trash out.
Nowhere is Leave No Trace more important than Isle Royale. Isle Royale National Park is untouched other than a bit of development and the remnants of mining. This gives the park a feeling of true wilderness. Please do your part and ensure that all everything you bring on to the island leaves with you.
One of Isle Royale's biggest concerns is micro-plastics. This includes things like the corners of snack bags, granola wrappers and other tiny pieces of plastic that can easily be overlooked.
Filter your water
Outside of the developed areas of Rock Harbor and Windigo, there is no safe drinking water. Hikers and boaters will need to get their water from Lake Superior or Isle Royale's inland rivers or lakes. This water is NOT safe to drink without treatment.
All surface lake and stream water should be considered contaminated with pathogens. These pathogens can make you very sick. All water should be treated either through boiling at a rolling boil for at least one minute or passed thru at 0.4 microns or better filter. Standard chemical treatment is alone is NOT effective against these pathogens.
The SteriPen and other UV water treatments have not been manufacturer tested for effectiveness against a common Isle Royale parasite. As such they cannot be considered effective.
The best way to treat water to ensure safe drinking water is to filter the water then add a chemical treatment.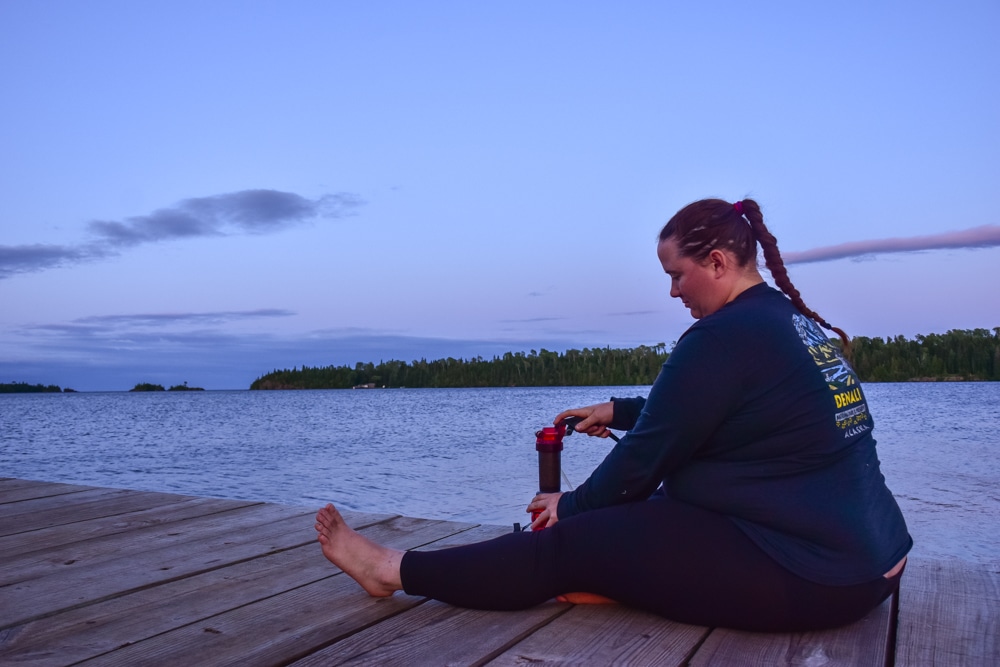 The Northern Lights can be seen Isle Royale National Park
Isle Royale National Park is one of the best national parks outside of Alaska to see the northern lights. Isle Royale has little light pollution. The closest big city is Thunder Bay and it is about 40 miles away. This allows Isle Royale to enjoy very dark skies. This makes the park one of the best national parks for stargazing.
As amazing as the Milky Way is, Isle Royale is just northern enough that the northern lights can often be seen in the park. Seeing the northern lights takes a bit of luck. You need clear skies and a high level of geomagnetic activity.
I have personally had the best luck seeing northern lights between midnight and 2:00 am. I recommend heading to bed and getting up around midnight and check to see if you can see stars. If you can't, go back to bed. If the skies are clear it can be worth it to sit-up and see if the lights come out.
Isle Royale had abandoned mines.
Copper mining has been occurring on Isle Royale since 36th century B.C. Prehisoic mines consisted of pits and trenches that could be up to 20 ft deep. Modern mining started in the 1840s and most efforts were short-lived due to Isle Royale location and small copper veins. Scars from these mines are found throughout the island. National Park Service has done its best to fence off all of the deep mine sharts. Please do not climb on the fences. Many of these shafts are deep and a fall into one would not be pleasant.
Be aware that it is not guaranteed that NPS has fenced all of the open mine shafts. Be careful when hiking in the more regions of Isle Royale.
Isle Royale doesn't have a huge variety of wildlife.
Isle Royale's remote location has just as much of an effect on its wildlife population. The island currently hosts 19 species of mammals while the surrounding mainland has more than 40. Even more, interesting is that Isle Royale's two famed wildlife are new additions to the ecosystem. Neither moose or wolves were found on the island when the United States first took possession of the island. Visitors in the 1840s found caribou, coyote, and lynx. All three have disappeared from the island. ** There is an occasion report of a lynx sighting on the island but no confirmed sighting or signs have been found since the 1940s.
The two most famous wildlife residents haven't been on the island long. Moose first arrived on the island in the early 1900s. They swam over from the mainland. Wolves arrived in the 1940s via an ice bridge. Since then the two animals have had a predator-prey relationship that shapes their populations. This is the world's longest predator-prey study.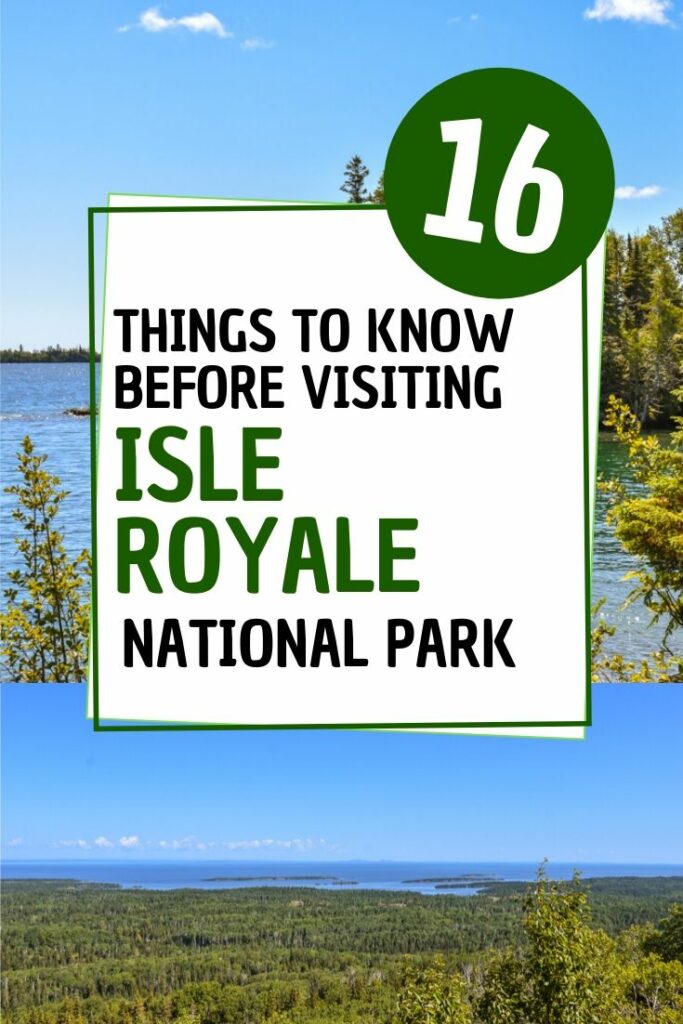 Get help planning your trip to Isle Royale National Park: