Post Summary: Best Places to See Black Bears
The black bear is one of North America's most common and familiar bears. They can be found in 32 U.S. states and in every province in Canada except Prince Edward Island. They are also one of the three bear species found in the United States, the other two being the grizzly bear and the polar bear. Black bears are typically found in forests and are exceptional tree climbers, and they can also be found living in mountains and swamps. This omnivorous creature eats almost whatever it can chew on; while its diet mostly consists of grasses, roots, berries, and insects, they also go for fish and mammals. Black bears who reside near human campsites, cabins, or rural homes develop a liking for human food and garbage; these black bears may become dangerous and thus are often killed.
In this article, I will focus on the best black bear viewing in the US. I selected these locations for their high concentration of grizzly bears and/or their accessibility. I will also be covering.
The difference between a black bear and a grizzly bear
How to stay safe while viewing black bears
Tips for seeing black bears in the wild
Gear for black bear viewing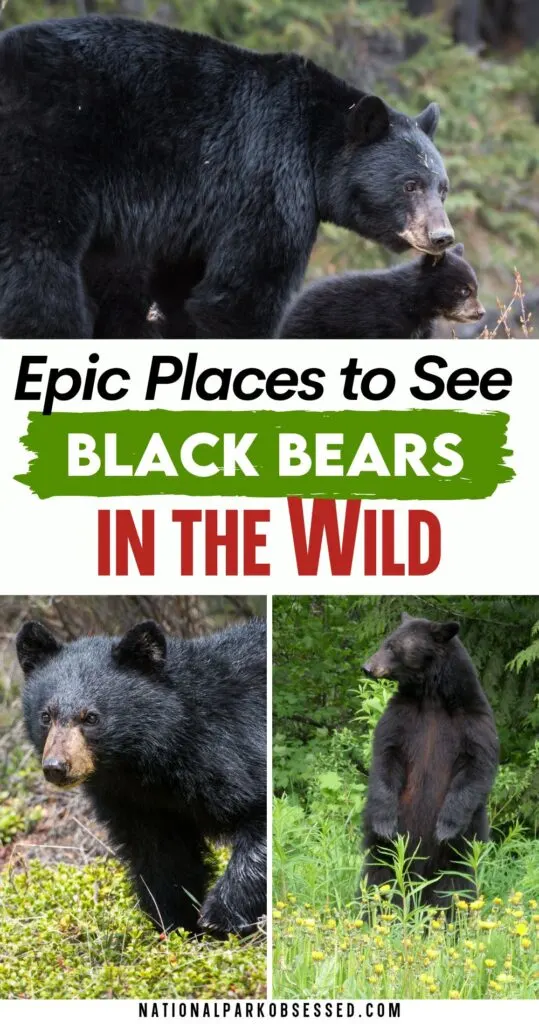 This post may contain affiliate links, meaning if you book or buy something through one of these links, I may earn a small commission at no extra cost to you! Read the full disclosure policy here
Black Bear Profile
Common Name: American Black Bear
Scientific Name: Ursus americanus
Life Span in the Wild: 20 years
Size: 5 to 6 feet
Weight: 200 to 600 pounds
IUNCN Red List Status: Least Concern
Current Range: Northern Mexico to Northern Canada
While their name may suggest that they only come in the color black, black bears can also be blue-gray, blue-black, brown, cinnamon, or, very rarely, white. Black bears may also be tricky to tell apart from grizzly bears, but black bears are more closely related to Asian black bears or the Ursus Thibetanus than grizzly bears or polar bears.
While Black bears are usually not a threat, as they usually approach humans out of curiosity instead of as a hunter, some who live closely with human settlements will begin to habitually go through dumpsters and garbage cans and may become threats to humans and sometimes their pets. They can also attack as a defense when they feel that their cubs or their food are being threatened. Of the estimated 750,000 Black bears in North America, Black bears kill on average one person annually, and most of the attacks are defensive reactions.
So if you see a Black bear near you, it's better to keep a good amount of distance to prevent any defensive reactions and to keep yourself safe.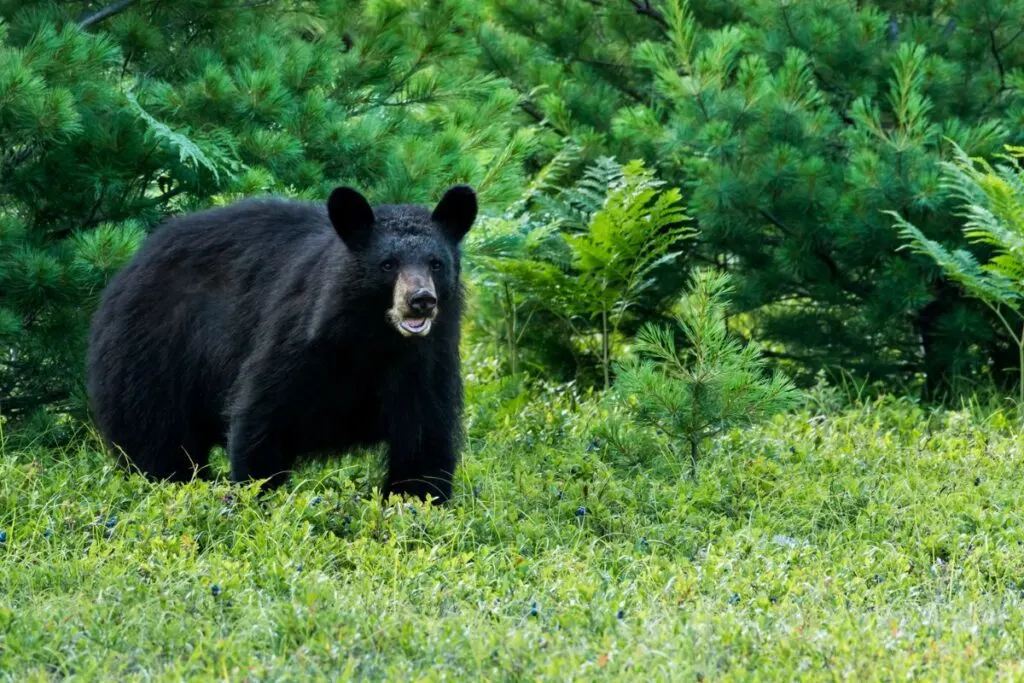 Black Bear or Grizzly Bear?
Telling apart a Black bear from a grizzly bear can be tricky, especially since they overlap in coloring. Location is the first and most important way to tell what type of bear you are looking at. Unless you are in Alaska, Northern Washington, Montana, Wyoming, or Western Canada, the bear is a black bear. Grizzly/Brown bears are only found in these states. Polar bears are only found on the Arctic coastline.
If you are in regions where grizzly bear and black bear ranges overlap, it is extremely important that you can tell them apart. These bears have different behavioral traits and require different responses to a negative encounter.
A more reliable way to distinguish a black bear from a grizzly bear is through their body, such as the shoulder hump, the profile of their face, and their tracks. The color of the bear means nothing. Black bears can be brown, and grizzly bears can be blackish brown.
Grizzly bears have a pronounced shoulder hump while black bears do not. A black bear's shoulders are level/lower than the rump when standing on all fours. Black bears have flatter and straighter noses and facial profiles. Grizzlies, on the other hand, have a facial shape that is more defined or a "dished" profile. Black bears have longer and more pointed ears. In contrast, grizzly bears have smaller ears that are more rounded and fuzzier.
A grizzly bear's tracks are square-shaped and wider, while a Black bear's tracks are more rounded and longer.
In short, a grizzly has a more defined shape with both its facial profile and shoulder humps. Black bears, on the other hand, have a straighter shape, such as with their straight-shaped facial profile and less prominent shoulder humps. Their shoulder humps may not be as prominent if they are standing, so check their facial profile.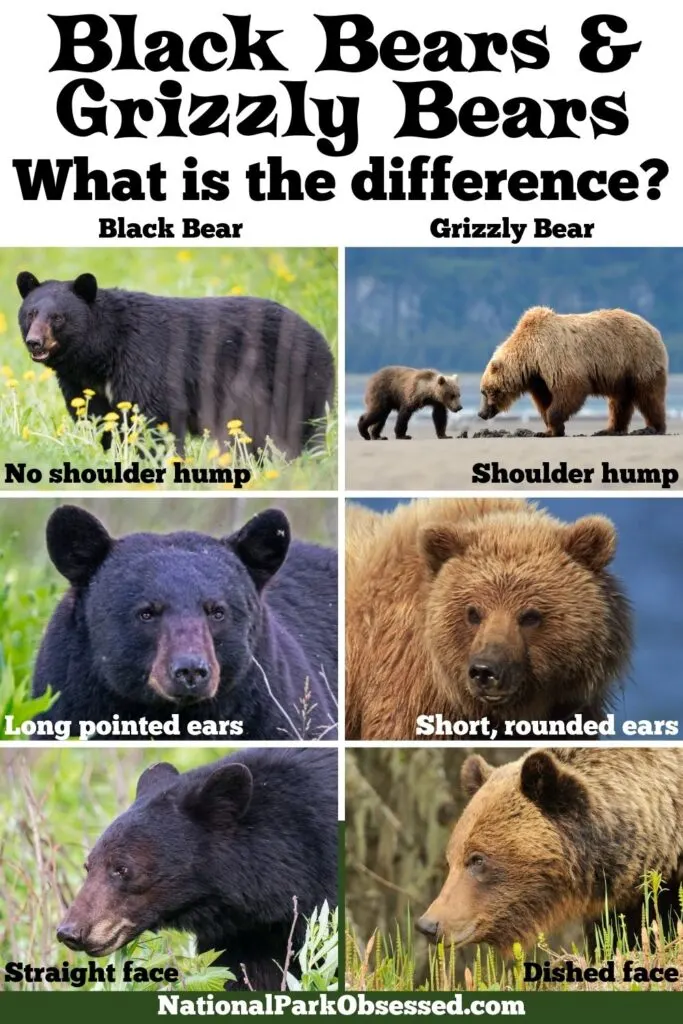 Best National Parks to See Black Bears
Smallest among the three species of bears found in North America, Black bears are the most widespread species and are found in most states. There are about twice as many black bears as grizzly and polar bears combined.
With its widespread population, it is possible to see black bears in most national parks in the USA. In these national parks, black bears have found a sanctuary where they can safely co-exists with other species and give humans a chance to see them in their natural habitat. Here are some of the national parks you can visit if you want to see and observe black bears.
Great Smoky Mountains National Park
Tennessee/North Carolina
With its thriving wildlife and large biodiversity, the Great Smoky Mountains National Park in Tennessee/North Carolina has been declared a UNESCO World Heritage site. This national park is considered one of the best national parks for viewing black bears. There are an estimated 1,500 black bears are residing in the park. This is the highest concentration of black bears in the NPS system.
The Smokies is home to a plethora of other species. The Great Smoky Mountains National Park also boasts over 200 bird species living in the forests. Along with 67 native fish species, more than 80 species of reptiles and amphibians, and 64 other species of mammals. At Great Smoky Mountains National Park, you can spot white-tailed deer, groundhogs, chipmunks, and squirrels.
Best Places to See Black Bears in Great Smoky Mountains National Park
Cades Cove (Best!)
Newfound Gap Road
Roaring Fork Motor Trail
Cataloochee Valley
Little River Road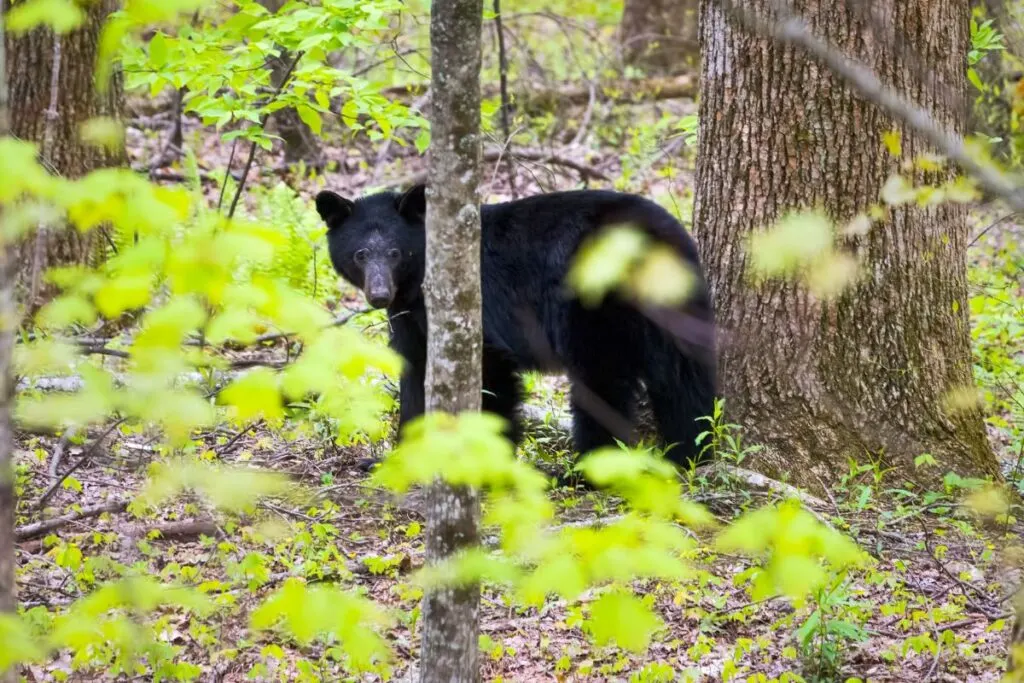 Shenandoah National Park
Virginia
Another great National Park to see black bears is Shenandoah National Park. This Virginia National Park is located along the crest of the Blue Ridge Mountains and protects a territory of thriving wildlife. The park has a large and healthy black bear population along with other species such as white-tailed deer, coyotes, beavers, and raccoons. There are also over 30 species of fish found in Shenandoah National Park's rivers and ponds and over 200 bird species.
You have a high chance of seeing a black bear in Shenandoah National Park.
Best Places to See Black Bears in Shenandoah National Park
Skyline Drive (Best!)
Big Meadows
Rose River Falls
Trayfoot Mountain
Bearfence Mountain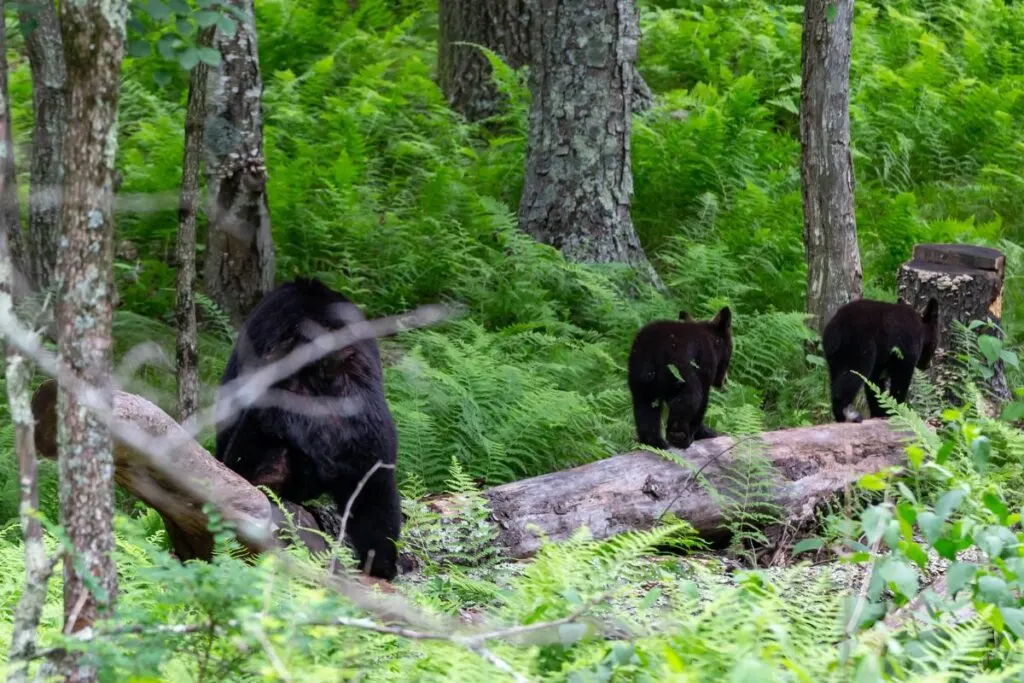 Yellowstone National Park
Wyoming/ Montana/ Idaho
The Yellowstone National Park was established in 1872, the oldest national park in America, covering a wide range of biodiversity. It is considered one of the most wildlife-rich national parks in North America. It isn't uncommon to hear the park described as North American's Serengeti. This famous park is home to many iconic animals such as grizzly bears, wolves, elks, moose, bighorn sheep, American bison, bald eagles, trumpeter swans, raves, sandhill cranes, and, more importantly, black bears. This is one of the few National Parks outside of Alaska where grizzly and black bears are found.
If you want to see wildlife, head to Yellowstone National Park for the best experience. Yellowstone National Park is considered one of the best places in the world to see and observe bears. You can head to Yellowstone during spring, summer, and fall as the bears are more active during those seasons while they hibernate all throughout winter.
Best Places to See Black Bears in Yellowstone National Park
Tower/Roosevelt (Best!)
Dunraven Pass
Sylvan Pass
Mammoth Hot Springs
Lamar Valley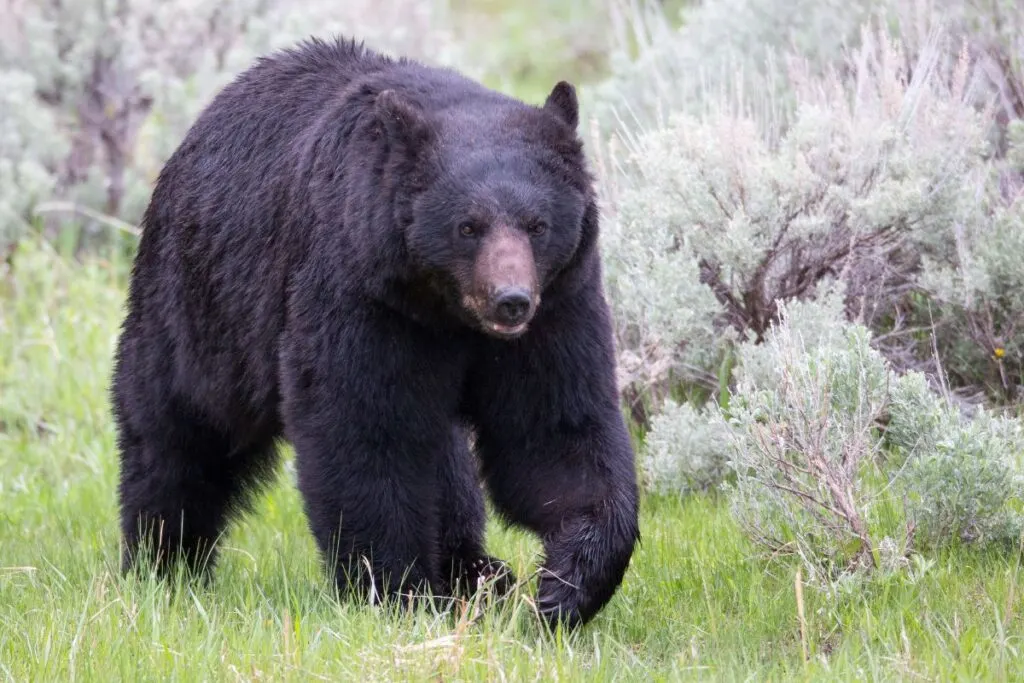 Grand Teton National Park, Wyoming
Wyoming
The Grand Teton National Park in Wyoming is another excellent wildlife-watching spot in the USA. This park is located just south of Yellowstone, so it shares many of the same wildlife species, including bison, elk, moose, grizzly bears, yellow-bellied marmots, different species of birds, and of course, black bears.
Apart from this abundant wildlife, the Grand Teton National Park is easy to get around, making it easy for you to find a perfect place to spot different species of animals residing in forests, lakes, and ponds.
Best Places to See Black Bears in Grand Teton National Park
Signal Mountain
Jenny Lake
Moose Wilson Road
Teton Park Road between Signal Mountain and Jenny Lake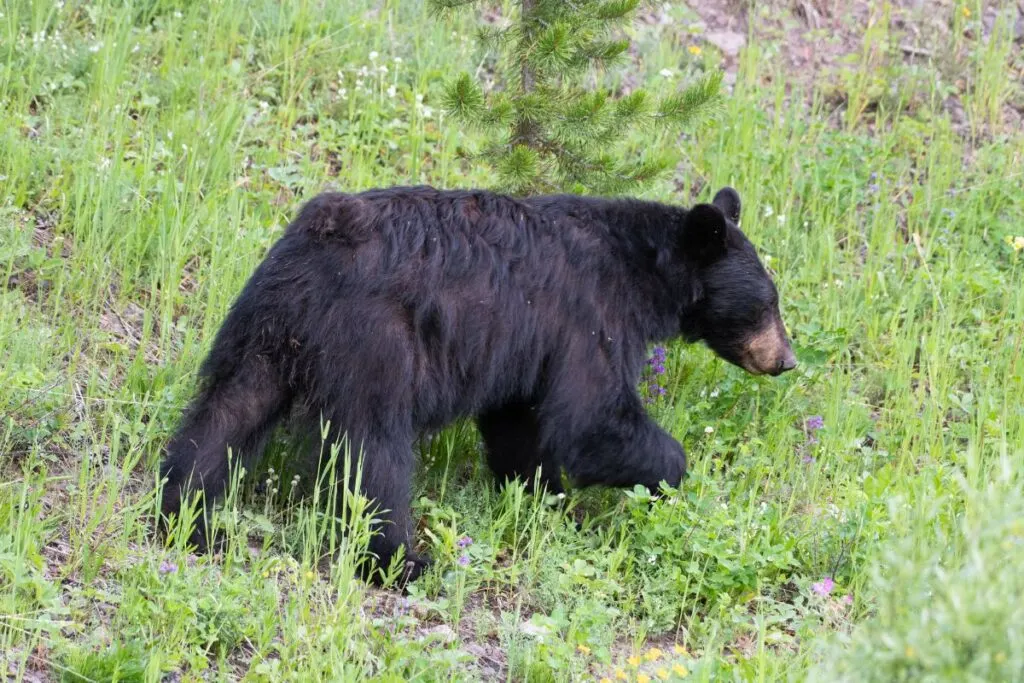 Glacier National Park
Montana
Deep valleys, spectacular glacial lakes, magnificent mountains, and meadows of wildflowers are found in Northern Montana, bordering Canada, the Glacier National Park. Glacier is often called the "Crown of the Continent." The park has black and grizzly bears, gray wolves, mountain lions, moose, mule deer, bighorn sheep, and elk.
While you can spot bears virtually anywhere in Glacier National Park, there are certain areas in the park where you are most likely to see them.
Best Places to See Black Bears in Glacier National Park
North Fork Area
Two Medicine Valley
Saint Mary Valley
Many Glacier Valley
Lake McDonald and Logan Pass Area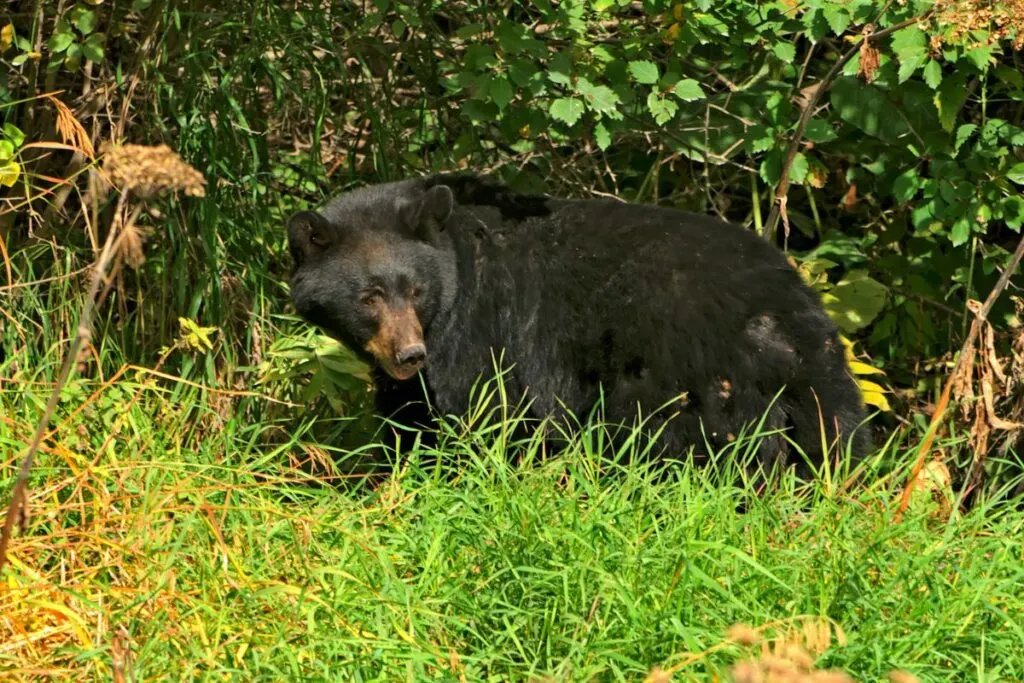 Yosemite National Park
California
There are an estimated 300 to 500 Black bears residing in Yosemite National Park. The park is one of the best places on the west coast to see black bears. Most of the black bears in Yosemite National Park are brown/cinnamon colored.
Yosemite is one of the oldest National Parks and is a vast land with deep valleys, high waterfalls, majestic meadows, and abundant wildlife. Additionally, the park has over 400 different species of fish, mammals, birds, amphibians, and reptiles.
Some of the most iconic animals in the park include American black bears, Sierra Nevada Bighorn Sheep, mule deer, bobcat, and coyote.
Best Places to See Black Bears in Yosemite National Park
Near the Lower Yosemite Falls trails
Mirror Lake Trail
Glacier Point
Tuolumne Meadows
Valley Loop Trail between Lower Yosemite Falls and the Majestic Yosemite Hotel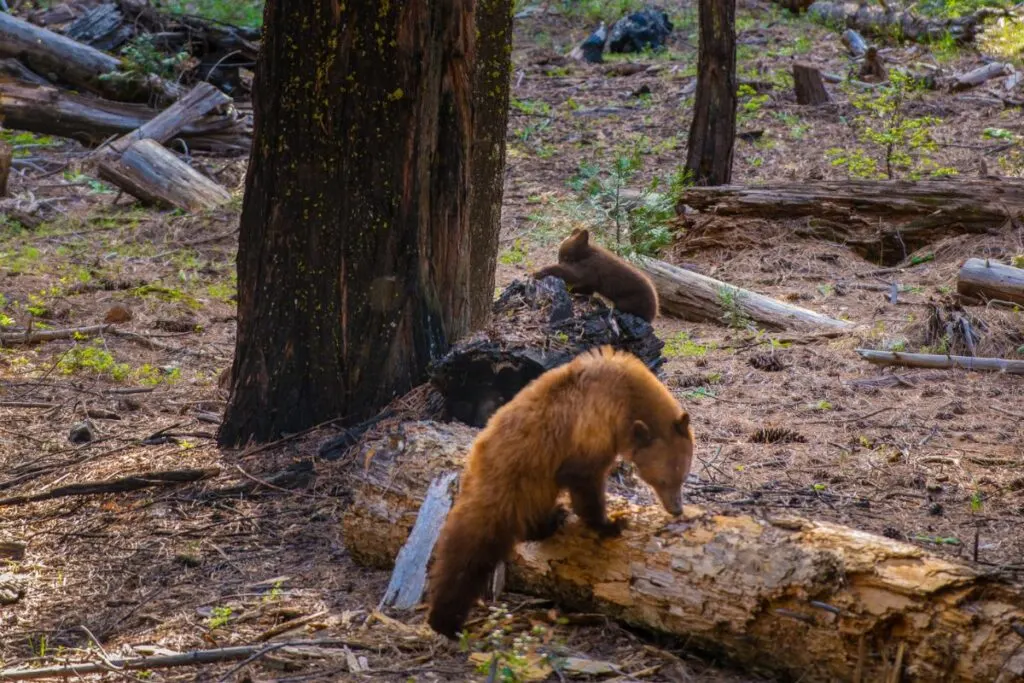 Mount Rainier National Park
Washington
Mount Rainier National Park was established in 1899. The park's main feature is the large Cascade range volcano called Mount Rainier. Mount Rainier National Park is an exciting place to be for wildlife lovers. The park is home to various species such as black bears, hoary marmots, mountain goats, bobcats, black-tailed deer, cascade red fox, and elk. Lucky visitors might see signs of mountain lions or wolverines.
Mount Rainier National Park is only home to black bears. The bears are typically cinnamon in color. There are no grizzlies in this park. The only place grizzly bears are found in Washington is North Cascades National Park.
Best Places to See Black Bears in Mount Rainier National Park
Skyline Trail
Glacier Basin
Spray Park
Sunrise Rim
Emmons Moraine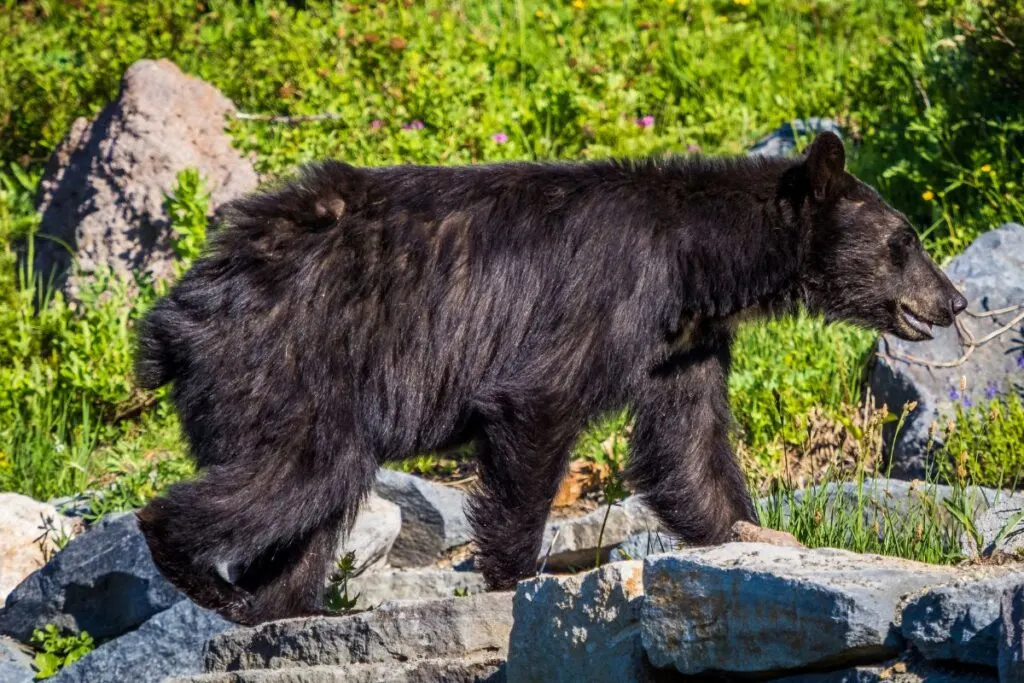 Big Bend National Park
Texas
Big Bend National Park has one of the most incredible levels of biodiversity of any national park. Big Bend is home to 450 species of bird, 75 different species of mammals, 56 reptile species, and 11 species of amphibians. Nocturnal desert animals can also be found residing in the park, such as kit foxes, ringtails, bobcats, kangaroo rats, and even varying species of bats.
The park's two largest and most iconic residents are black bears and cougars. But in the early years of the park, there were hardly any bears within the park. This is due to illegal hunting, shooting and trapping, and loss of habitat due to the development of human settlements. Throughout the 1940s to 1970s, only scattered sightings were reported.
As time worn on the park, bears have returned to the park and are regularly seen, making Big Bend National Park a great place to see black bears.
Best Places to See Black Bears in Big Bend National Park
Chisos Mountain
Boot Canyon
Lost Mine Trail
Window Trail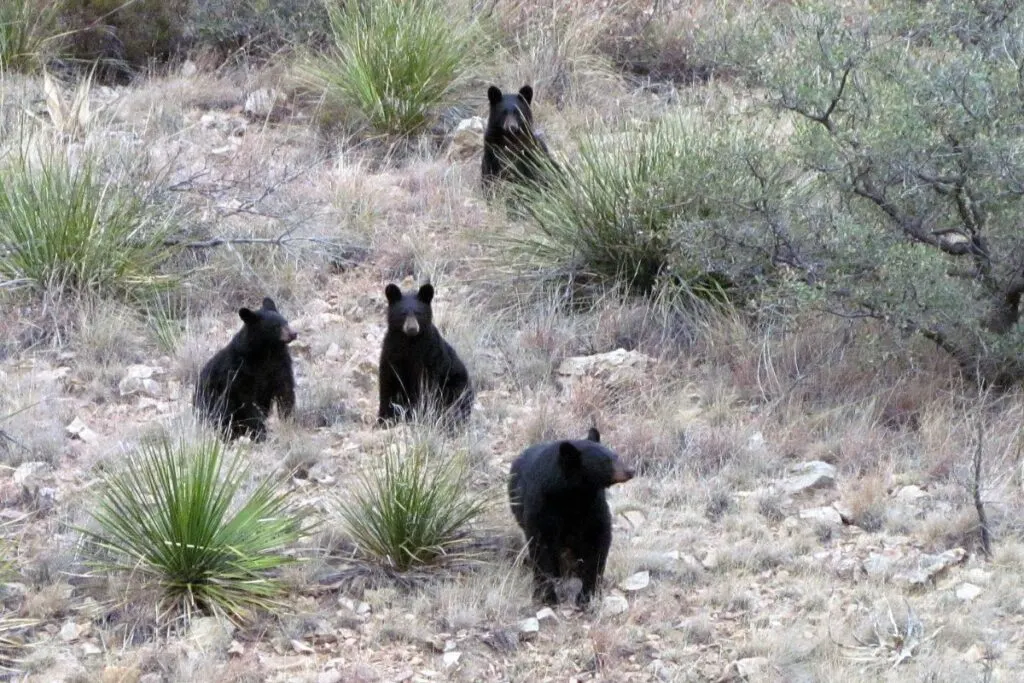 Other National Parks where you can see Black Bears
These locations don't have as high of a chance of seeing a black bear, but it can't hurt to keep an eye out for them while visiting.
Acadia National Park, Maine
Arches National Park, Utah
Black Canyon of the Gunnison National Park, Colorado
Canyonlands National Park, Utah
Capitol Reef National Park, Utah
Carlsbad Caverns National Park, New Mexico
Crater Lake National Park, California
Denali National Park and Preserve, Alaska
Everglades National Park, Florida
Gates of the Arctic National Park and Preserve, Alaska
Glacier Bay National Park and Preserve, Alaska (silver bears)
Grand Canyon National Park, Arizona
Great Sand Dunes National Park and Preserve, Colorado
Guadalupe Mountains National Park Texas
Hot Springs National Park Arkansas
Joshua Tree National Park, California
Kenai Fjords National Park, Alaska
Kings Canyon National Park, California
Kobuk Valley National Park, Alaska
Lake Clark National Park and Preserve, Alaska
Lassen Volcanic National Park, California
Mesa Verde National Park, Colorado
New River Gorge National Park and Preserve, West Virginia
North Cascades National Park, Washington
Olympic National Park, Washington
Petrified Forest National Park, Utah
Redwood National Park, California
Rocky Mountain National Park, Colorado
Saguaro National Park, Arizona
Sequoia National Park, California
Voyageurs National Park, Minnesota
Wrangell-St. Elias National Park and Preserve, Alaska
Zion National Park, Utah
Best Places in the US to See Black Bears
Due to the natural setting in the National Park, they are typically the best place to see black bears, but they are not the only spots to see black bears in the US. Here are the best non-National Park spots to see black bears.
Tongass National Forest
Alaska
The Tongass National Forest is the largest intact temperate rainforest in the world. It has become a home to varying species of animals as well as majestic natural features such as mountains, deep forests, glaciers, and islands. The forest has 19 wilderness areas, this includes the Russel Fjord Wilderness, the Admiralty Island National Monument, and the Misty Fjords National Monuments. There are a limited number of hiking trails for hikers to experience the forest's beauty.
Apart from its spectacular beauty, the Tongass National Forest is also known for its population of bears. The forest has become home to both black bears and brown bears.
Best Places to See Black Bears in Tongass National Forest
Fish Creek near Hyde
Margaret Creek
Anan Creek near Wrangell
Dog Salmon Creek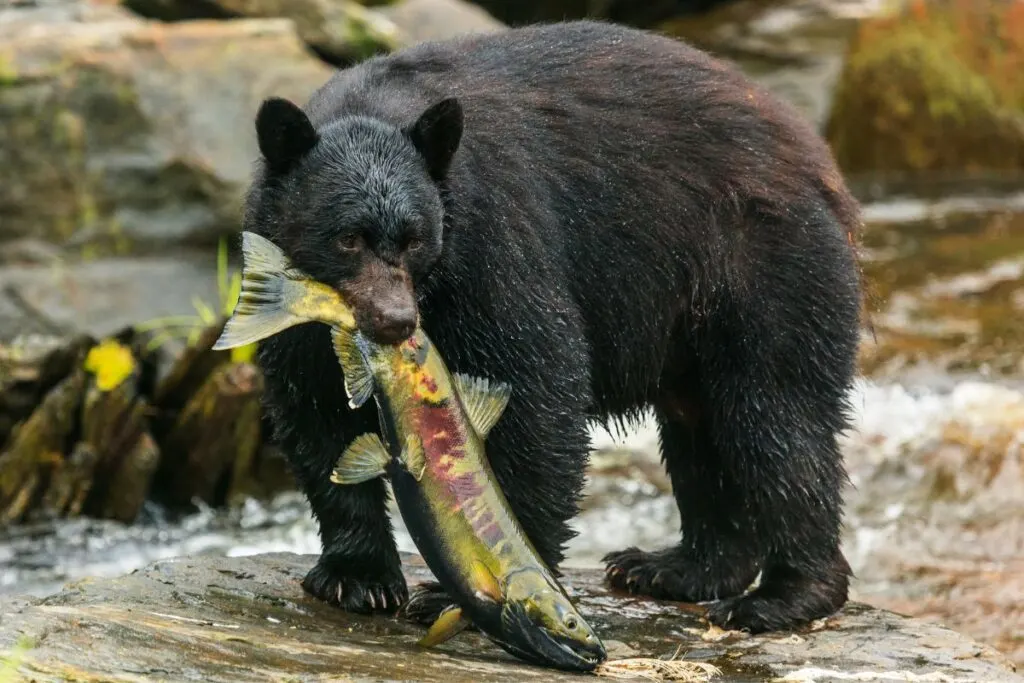 Alligator River National Wildlife Refuge
North Carolina
Established in 1984, the Alligator River National Wildlife Refuge was meant to protect the rare pocosin wetlands and their wildlife. Now it is a sanctuary for species such as wintering waterfowls, river otters, endangered red wolves, and black bears.
To have the best chance at seeing the bears roaming the refuge, arrive in the morning before 10 a.m. or just before sunset. The bears are more active during these times.
Best Places to See Black Bears in Alligator River National Wildlife Refuge
Near the end of the Buffalo City Road
Open areas along Wildlife Drive
Murphy Peterson Wildlife Drive
Sandy Ridge Wildlife Trail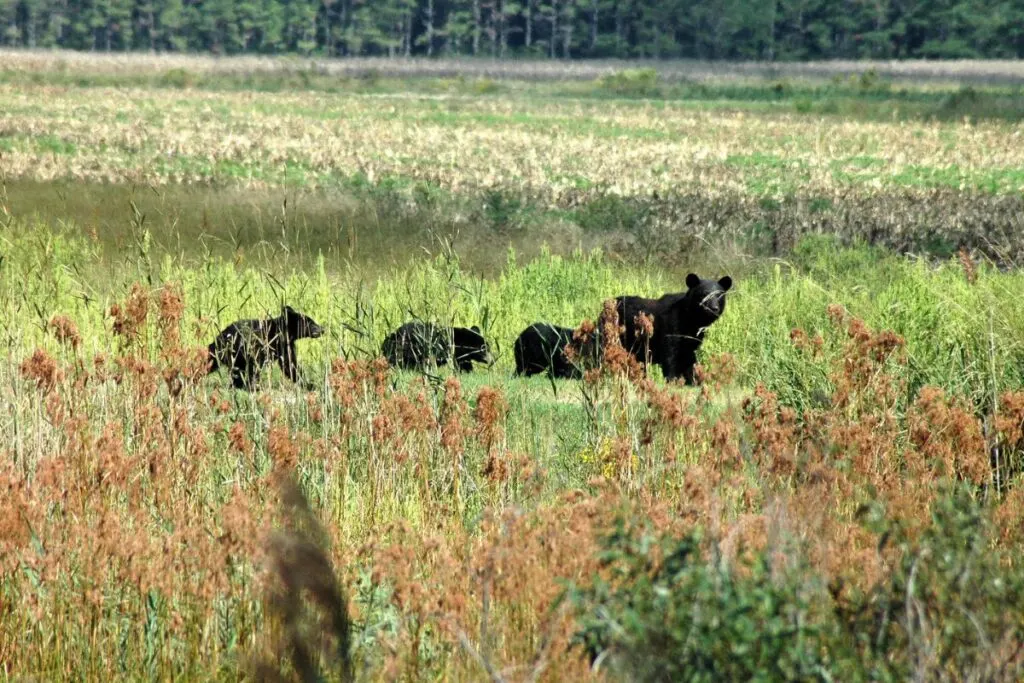 Staying Safe in Black Bear Country
One of the most common questions about safety in the National Parks is, "do I need to worry about bears?" Generally speaking, no, you don't need to worry about bears. This isn't to say you shouldn't be bear aware, but bear attacks are extremely rare, and millions of people visit the national parks without incident.
Seeing a black bear is an amazing experience. No matter how exciting the bear sighting is, do not lose your head. This isn't a zoo encounter. This is a wild animal and isn't behind a fence or glass. No matter how cute and cuddly a black bear looks, they are a wild animal that could kill or seriously injure you.
Black bear attacks are also extremely rare, it is better to prepare yourself in case it may happen. Black bears rarely attack offensively. They are not big hunters. Most black bear attacks are defensive attacks where they are cornered or to protect their cubs. The best way to prevent a negative encounter with a black bear is to stay back.
When you see a bear keep your distance. Do NOT apporach the bear.
Make noise while you hike.
Make sure the bear has an escape route.
Back up when you see a bear change its behavior due to your presence. This could include

Huffing
Swatting
Ground Stomping
Teeth Snapping
Lowering the head with ears drawing back
In almost all national parks with black bears, you must keep a MINIMUM DISTANCE of 25-100 yards.
It is also important not to engage with them. Do not feed them on purpose or by leaving your food, garbage, or scented items unsecured. These items should be secured inside a vehicle or in a bear box.
If you see a bear:
Do not run
Slowly back away and talk loudly.
Let the bear know you are there.
Personally, I freeze when I see a black bear. I will say loudly, "Hey! Bear," and clap my hands. I want that bear to look at me and acknowledge my presence and then go back to what they are doing or walk off. If that bear doesn't do either of those things, I start backing up while talking to the bear in a calm and controlled voice.
If a black bear charges you HOLD your ground. Black bears are known to false charge and will stop about 15-20 ft from you, and if you do not move, they will usually turn tail and run. If the bear attacks you, FIGHT BACK. Try to hit the bear in the face. Do not play dead.
Tips and Tricks for Spotting Black Bears
Bring Binoculars – You might get lucky and spot a bear within eyesight range but not always. Having a pair of binoculars can help you spot bears high on the cliff sides. It also helps you get a closer look at bears that are within eyesight.
Stop and look – Most of my bear sightings come when I am looking for it.
Look for things that look out of place – When I'm looking for a bear, I start by scanning the area. I'm looking for anything that looks odd. It might be a funny-colored rock/bush. Once I find that, I'll break out the binoculars to check and see if that spot is a bear or a bush (it is usually a bush but its worth looking)
Have patience – It takes a little bit of a look to spot grizzly bears.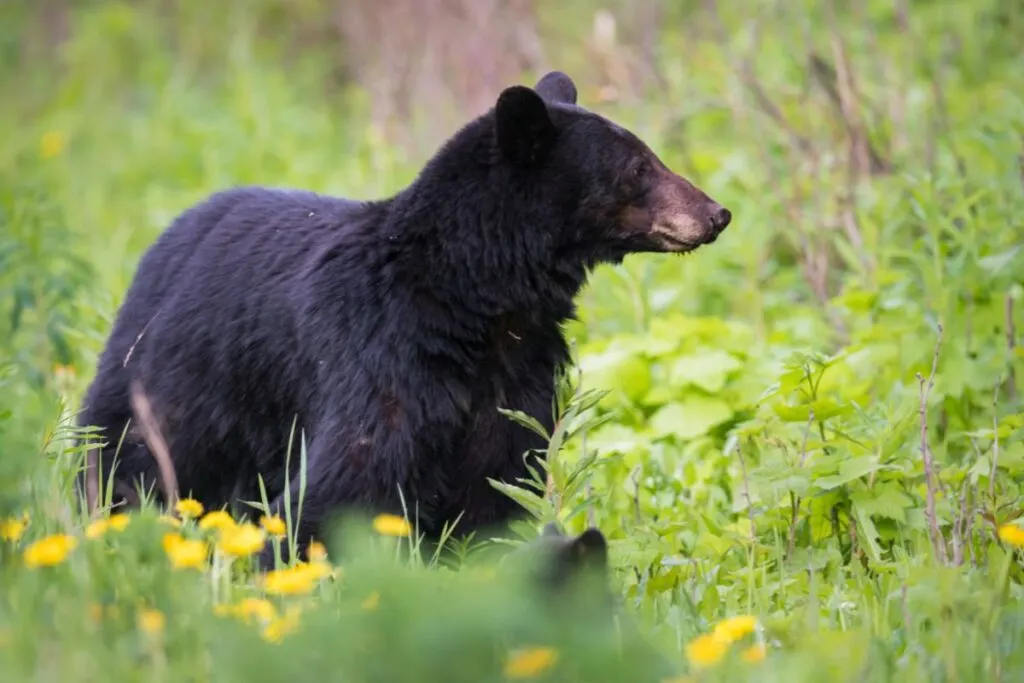 Things to pack when going to Black Bears Viewing
Binoculars – As mentioned above, a pair of binoculars increase your odds of spotting a bear. >>> Get my binoculars.
Recommended Books on Black Bears
In the Company of Bears by Benjamin Kilham – Ben Kilham invites us into the world he has come to know best: the world of black bears.
Black Bears: A Natural History by Dave Taylor – Black Bears introduces the reader to this shy, reclusive, and largely misunderstood animal with an encyclopedic examination of the black bear's world by state, province, and territory.
Black Bears by Jack Ballard – Black Bears presents readers with substantive yet easily digestible information on this widespread yet sometimes feared animal.
Kids Books about Black Bears
Have You Seen A Black Bear by Katie Cate – This 100-word children's book was written for 1 to 4-year-olds to "find" the hidden black bear in the Great Smoky Mountains National Park.
American Black Bears by Molly Kolpin – Learn the facts about American black bears in an easy-to-digest book.
Unknown Facts About the Black Bear by Tenysi Publications – This educational Black Bear book for kids presents facts along with full-color photographs and carefully chosen words to teach children about the Black Bear.
Black Bear: North America's Bear by Stephen R. Swinburne – Stephen R. Swinburne takes young readers to where black bears live.
Recommended Documentaries on Black Bears
The American Black Bear by Wild Journey Films – This film takes you into a winter swamp where a black bear has given birth to four cubs. From there, you will go into the forest where the bears roam, forever in search of food. Even though they prefer solitude, they can't help but bump into each other as bear traffic picks up in the summer and fall.
A Bear's Story – Born in the depths of a Canadian winter, Spirit the Black Bear cub and his family emerge from their den as the thaw begins. Spirit's sense of adventure means he soon strays from his mother and finds himself lost. After a near-fatal encounter with a car, only the carers at a specialist sanctuary can save him.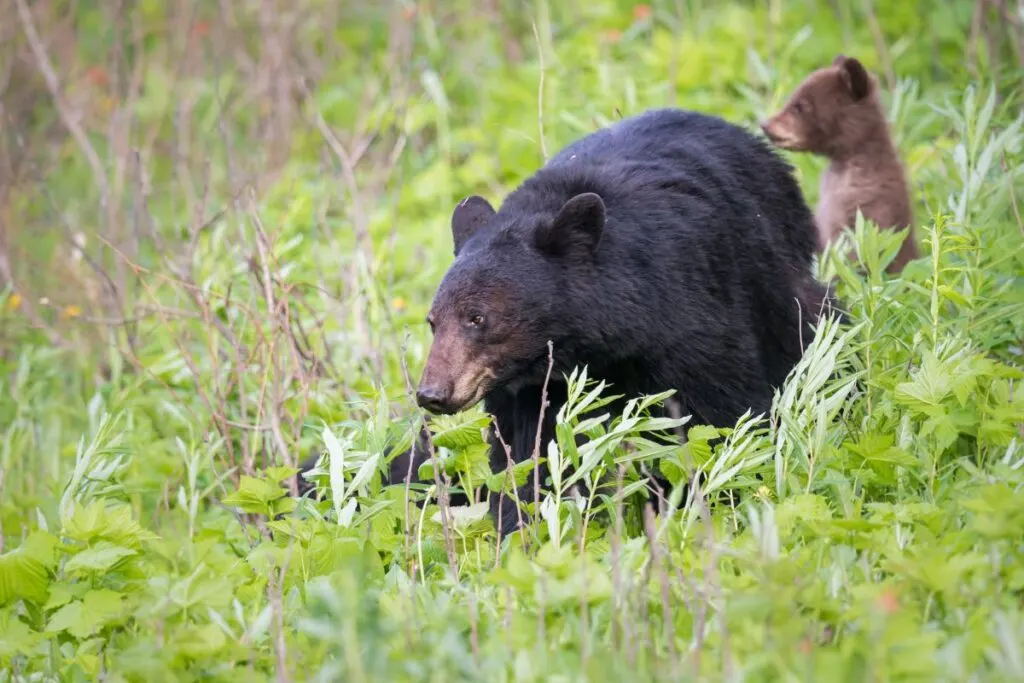 Frequently Asked Questions about Black Bears in America
Where is the best place to see black bears?
Great Smoky Mountains National Park is the best place to see black bears. It is the most accessible road and hiking within the black bear territory.
Where are the most black bears in the US?
California has the most black bears of any contiguous state. There are between 25,000 and 35,000 bears in the state.
Alaska has the most black bears, with about 100,000 bears.
Which national park has the most black bears?
Great Smoky Mountains National Park has the most black bears, with about 1,500 bears within the park.
Which state has the biggest black bears?
North Carolina coastal black bears are the largest bears in North America.
What time of day are black bears most active?
Black bears are most commonly seen in the early morning and late evening.
Can a human fight a black bear?
You should fight back if you are attacked by a black bear. Black bears are larger and stronger than humans. You should not pick a fight with a black bear. Odds are you will be seriously hurt, and the bear will likely have to be put down.
What time of year are black bears most aggressive?
Bears are most aggressive in the early spring and late fall when food sources are more limited, and the bears are the most hungry. Females with cubs are aggressive most of the season.
Do barking dogs scare away bears?
Black bears tend to avoid dogs, so a barking dog will generally keep a black bear away. But long-term exposure to regular dog barking will become desensitized to barking dogs in pens or tied up.
What is black bears' favorite food?
Black bears are omnivorous and are primarily plant-based. They favor grasses, berries, and roots. Overall, black bears are opportunistic eaters whose diets will vary based on season and available food sources.
Black bears are not big hunters. Outside of the occasional baby moose or deer, black bears only eat meat from other mammals kills or animals that have died of natural causes.
Do I need to carry bear spray when hiking in black bear country?
It is not necessary to carry bear spray when hiking in areas with ONLY black bears. If hiking in an area with both black and grizzly bears, you should carry bear spray.
If you wish to carry bear spray, you generally can. Please check the national park website for details. Select California National Parks do NOT allow bear spray to be carried.
Do bear bells keep bears away?
Look, bear bells are sold as a "way to make noise while hiking." Bear bell packaging will claim that the bell will provide "warning of your presence to bears and other animals when moving around, hiking, or walking outside." The reality is that there is limited data to support this claim.
A Katmai National Park biologist jingled bear bells at various volumes around brown bears. The bears ignored the bells but did notice a pencil snapping.
I have backpacked and hiked in the Smokies extensively. I have never worn a bear bell and have never seen one outside of popular well-trafficked day hiking trails. Most experienced hikers do not carry them because they are annoying and don't provide any more noise than talking.
DO NOT GET A PORTABLE SPEAKER AND PLAY MUSIC WHILE YOU HIKE. Playing music on a speaker while hiking is rude to other hikers enjoying the sounds of nature and makes them want to push you off a cliff.
Do black bears eat humans?
Black bears are not known to hunt humans for food. On average, there are 1.25 fatal black bear attacks a year. Most fatal black bear attacks occur in Western Canada and Alaska.
Which type of bear is the most aggressive?
Polar Bears are the most aggressive North American bears. They are the only species that are known to stalk humans.
Final Thoughts on Seeing Black Bears in the Wild
Seeing a black bear in the wild should definitely be on your wildlife bucket list. Let us know in the comments below your favorite black bear sighting or place to see bears.
Looking to see other National Park Wildlife? Check out our other wildlife guides:
Pin for Later: 10 Best Places to See Black Bears in the USA