Post Summary: One Day in Arches National Park
Arches National Park is a fascinating wonderland of magnificent geologic formations. This Utah National Park contains the biggest concentration of national stone arches in the world. The park delivers views of unique wind-blown and eroded sandstone arches, huge towers of brightly colored rock, balanced boulders, and more. It also provides evidence of past seas and rivers and sand dunes which have been preserved for millions of years.
Arches is a highly accessible park for any type of traveler. Visitors can experience vast red-rock views from their car in just a few hours. Active people who wish to walk around the park have many options for both easy and challenging hikes. The park is an incredibly distinctive place, and the scenery can easily be enjoyed in just one day.
If you only have one day at Arches National Park, it is important that you maximize your time in the park. This one-day itinerary to Arches National Parks is perfect for first-time visitors to Arches.
Best of Arches National Park in a Nutshell

TIMED ENTRY: Arches Timed Entry Permits

FIRST VISIT: Must-sees for the first visit to Arches

LODGING: Arches Campgrounds

ROAD TRIPS: Utah National Parks

NEARBY PARKS: Bryce Canyon, Capitol Reef, Canyonlands, Zion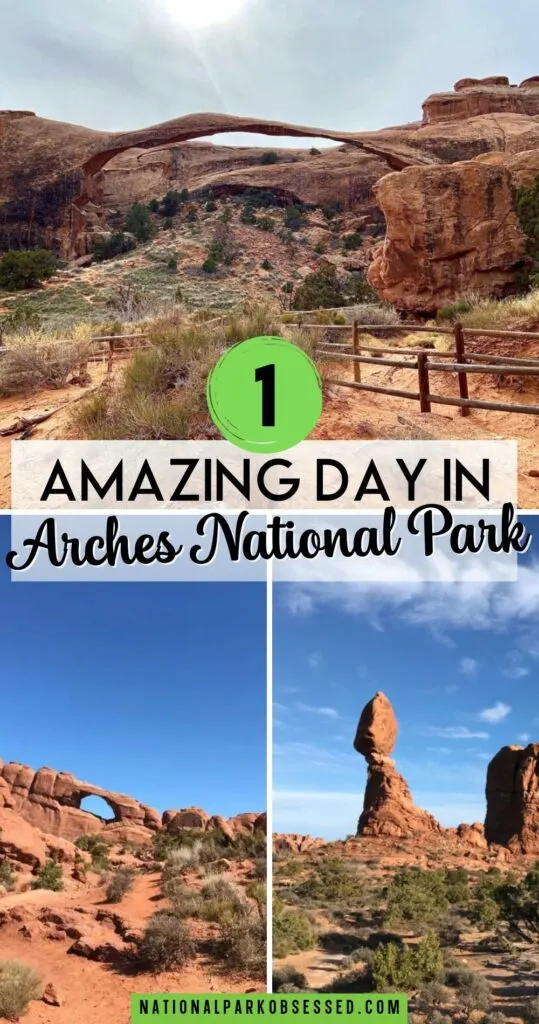 Planning Your Visit to Arches National Park
Getting to Arches National Park
The entrance to Arches National Park is located in Moab, UT. To drive there, take I-70 and connects to US-191. The closest international airports are Salt Lake City and Denver. The drive from Salt Lake takes approximately four hours, while the drive from Denver takes about six. The closest regional airports are located in Colorado. Grand Junction Regional Airport (GJT) is a two-hour drive and Montrose Regional Airport is three-hour drive. The closest major airport is Salt Lake City International Airport, a three hour and 45 minute drive.
Estimated Drive time to Arches from major cities:
Salt Lake City, UT – 3.75 hours
Denver, CO – 5.5 hours
Las Vegas, NV – 7 hours
Phoenix, AZ – 7.5 hours
Estimated Drive to Arches from nearby National Parks: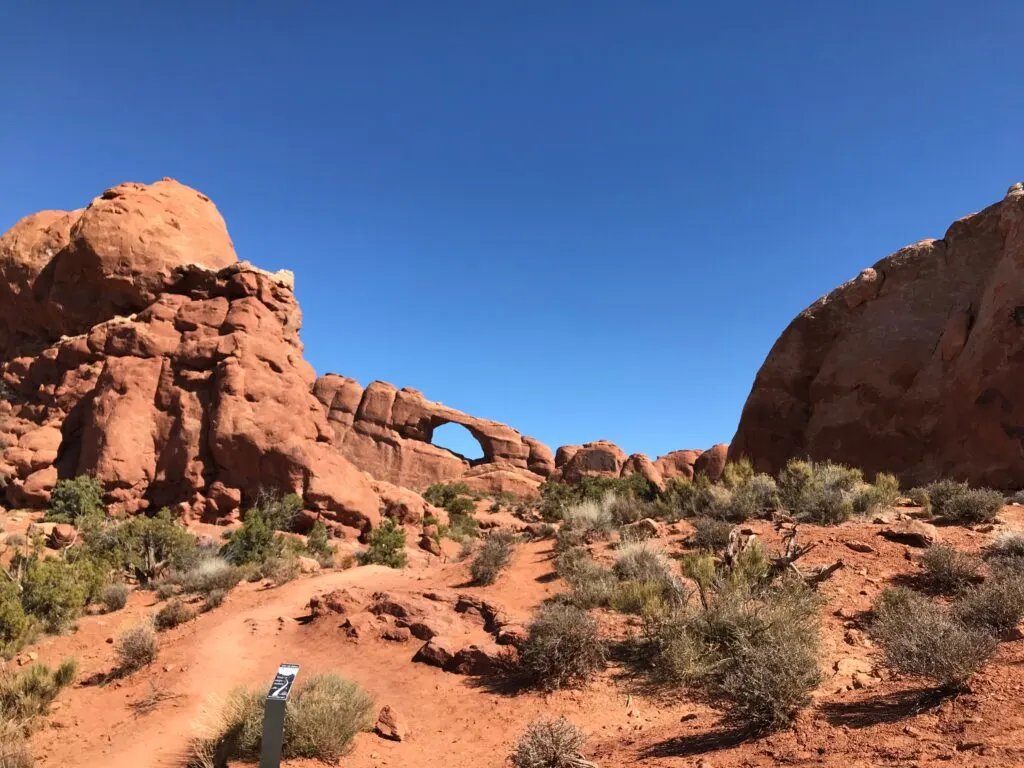 Best Time of Year to Visit Arches National Park
The best time of year to visit Arches is in the Spring or the Fall, namely April, May, September, and October. During these months, temperatures usually remain between 70 and 80 degrees Fahrenheit, creating a pleasant hiking climate.
Arches is still enjoyable during the summer months, but the park is often packed with crowds, and temperatures stay in the 90s or above. If you do visit the park in the summer, be prepared with plenty of water (at least one gallon per person per day), sunscreen, sunglasses, hats, and salty snacks. Since the shade is hard to come by, try to avoid hiking during peak heat and sunshine.
It is also possible to visit Arches in the winter. However, the park does receive occasional snow, and temperatures are consistently below-freezing, especially at night. If you plan on hiking in the winter, be aware that the rocks may be slippery with ice, and you may need traction devices. The best way to experience Arches in the off-season is to stay on the easier trails and enjoy views from the safety of your car. Before you go, check the Utah weather forecast and be aware that the park can often close for plowing.
Timed Entry Permits for Arches National Park
If you are visiting Arches between April 3 and October 2022, you will need a timed entry permit from 6:00 am to 5:00 pm. The permits are released in two blocks. The first block is released three months in advance in a monthly block. The second block is released one day in advance.
>>> Click here for in-depth information on Arches Timed Entry Permits.
As of August 2022, NPS hasn't announced anything about timed entry in 2023. It is HIGHLY likely that they will implement the Arches Timed Entry Program in 2023. I'd expect an announcement sometime in October/November 2022.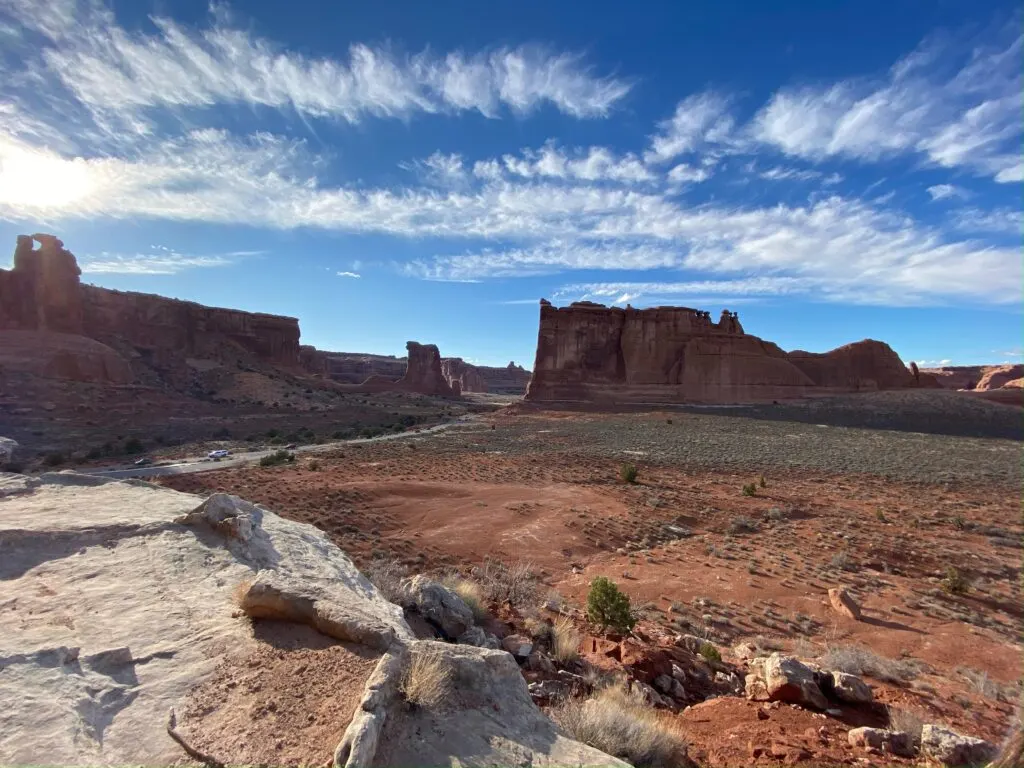 Is One Day in Arches Enough?
Yes, one day is enough to see Arches. The park is not very big, and you can drive the entire park road in three hours, spending 10 minutes at each viewpoint. This drive will allow you to experience stunning views and iconic arches. If you would like to immerse yourself in the area, you can travel the whole road AND do multiple hikes throughout the park in one day.
National Park Obsessed's founder wrote an entire article dedicated to this is XX enough time to visit a National Park. The important thing is that you make the most of your time and do what interests you the most. No hard and fast rule says you only have to visit Arches once.
Where to Stay in Arches National Park?
Arches National Park has limited lodging options. The only lodging in the park is the campground, but many lodging and camping options are available outside the park.
Camping in Arches National Park
Arches National Park only has one campground. Reservations are required from March to October. Campsites reservations can be made up to six months in advance. It is recommended that you make reservations as soon as possible. Outside of the park, there are camping options in Canyonlands National Park as well as in the nearby BLM areas.
>>> Click here to learn more about camping in Arches National Park.
Lodging near Arches National Park
Under Canvas Moab – Under Canvas is a luxury tent camping. This glamping hotel provides safari-style canvas tents that allow one to tent camp in style. Rooms from $255/night: Book on Hotels.com.
Fairfield Inn & Suites by Marriott Moab – Fairfield Inn & Suites by Marriott Moab is a nice modern hotel along the Colorado River. Rooms from $180/night: Book on Hotels.com
MainStay Suites Moab –MainStay Suites Moab offers suites with their own kitchen. Rooms from $141/night: Book on Hotels.com
River Rock Inn B&B – River Rock Inn B&B is a southwestern themed hotel with quaint rooms. Rooms from $155/night: Book on Hotels.com
Vacation Rentals near Arches National Park
Red Cliff Condo – Red Cliff Condo is a 3 bedroom condo that is great for large groups. Sleeps 10. Rooms from $280/night: Book on VRBO.
Purple Sage Flats – Purple Sage Flats is a nice 1 bedroom apartment with a full kitchen. Sleeps 2. Rooms from $206/night: Book on VRBO.
North Window Condo – North Window Condo is part of Hyatt Place Moab and a short drive from Arches. Sleeps 4. Rooms from $170/night: Book on VRBO.
Where to Eat in Arches National Park?
There is no food or camp stores in Arches National Park. You will either need to bring lunch with you or plan on spending 2-4 hours outside of the park grabbing lunch and will likely need a second-timed entry permit to re-enter the park.
What to do When You Have One Day in Arches National Park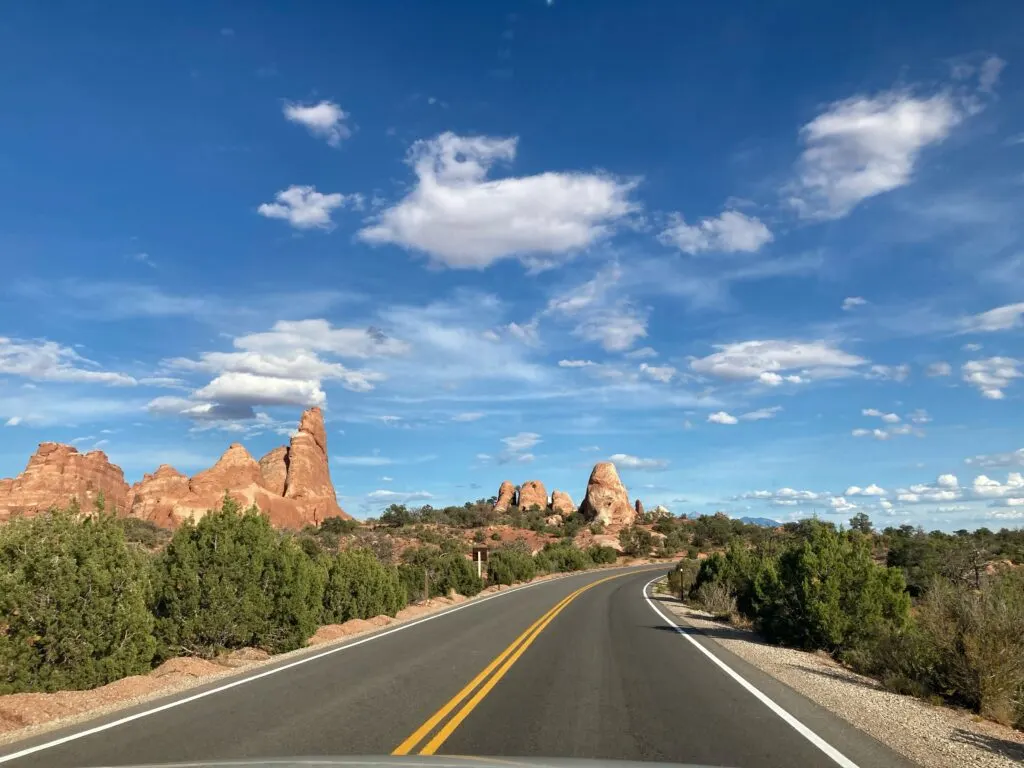 One Day in Arches Itinerary
If you have one day in Arches, you can spend it driving the whole park road, stopping at each viewpoint and overlooks along the way. The path is very straightforward, and since only one road goes through Arches, you won't miss anything. If you are hydrated and it is not too hot, take the time to experience one of Arches' top-tier hikes, such as the Devil's Garden Trail or the Delicate Arch Hike. Below is an easy-to-follow list of what a potential day trip to Arches could look like.
Devil's Garden Landscape Arch Hike and Viewpoint
Sand Dune Arch Hike
Fiery Furnace Viewpoint
Salt Valley Overlook
Panorama Point
Balanced Rock Viewpoint and Hike
Petrified Dunes Viewpoint
Courthouse Towers Viewpoint
La Sal Mountains Viewpoint
Park Avenue Viewpoint
Visitor Center
Double Arch Hike
The Windows Hike
Garden of Eden Viewpoint
Delicate Arch Viewpoint and Hike
How to Make the Most of One Day in Arches National Park
Upon entrance to Arches National Park, you will begin a steep, stunning drive through red and orange rock formations. From there, you can drive all the way down the road to Devil's Garden, where many trails and views await. Start with the Landscape Arch Hike to see one of the park's most iconic arches. This hike is 1.8 miles and mostly flat. It usually takes between 30-60 minutes.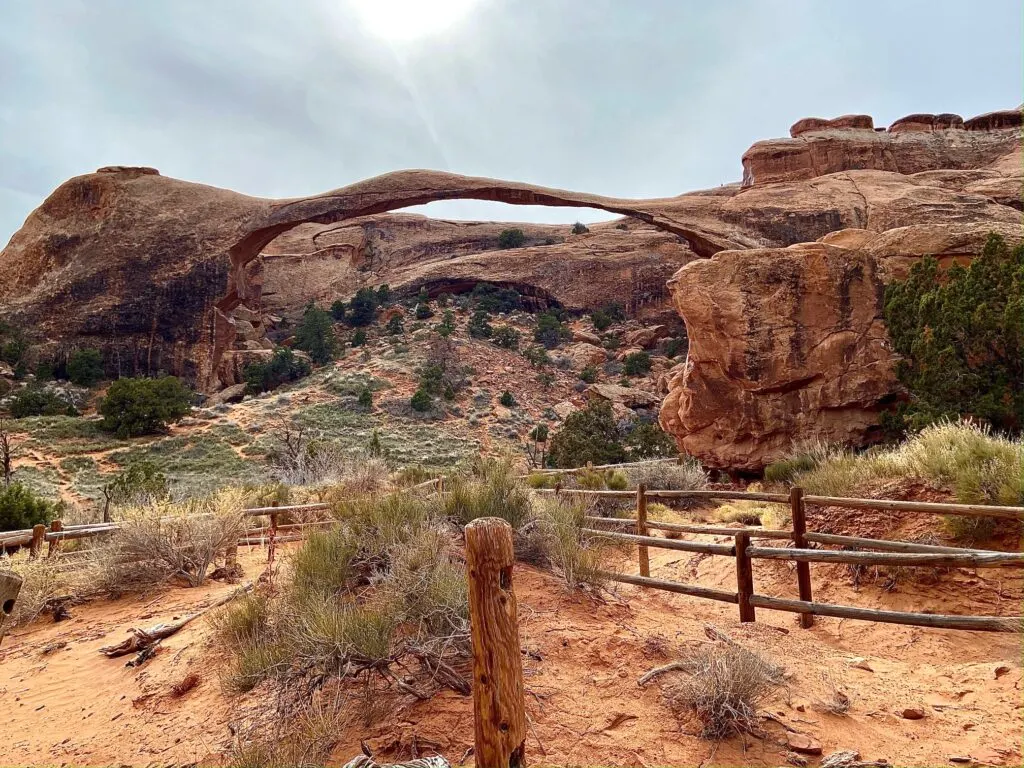 From Landscape Arch, you will have the option to continue to hike around the entirety of Devil's Garden and check out Double O Arch, Dark Angel, and the primitive trail in a total of 7.9 miles, which will take you 3-5 hours, depending on your pace. If you do opt for this lengthy hike, be sure to hydrate and nourish your body throughout.
After exploring Devil's Garden, head back down the road to do the quick Sand Dune Arch Hike. Sand Dune Arch Hike is 0.4 miles round trip. Then stop at Fiery Furnace Viewpoint, Salt Valley Overlook, and Panorama Point.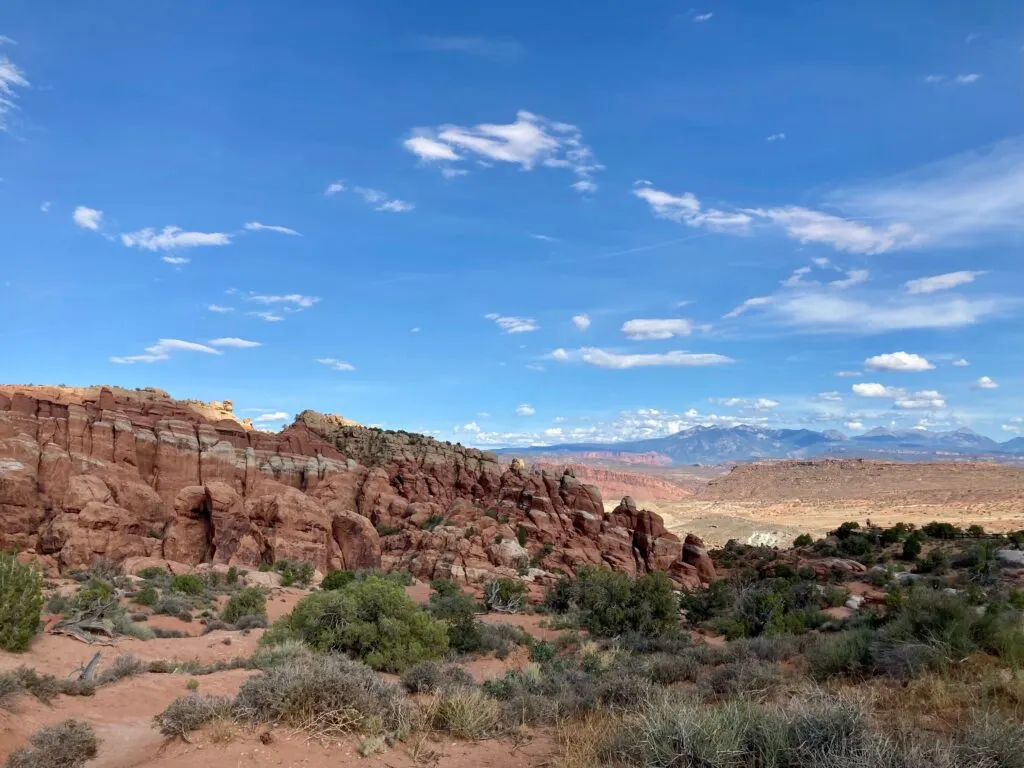 From there, continue on to Balanced Rock. You can see the rock clearly from your car, but it takes just a few minutes to do the quick 0.3-mile hike around the base of the magnificent formation and see it all up close.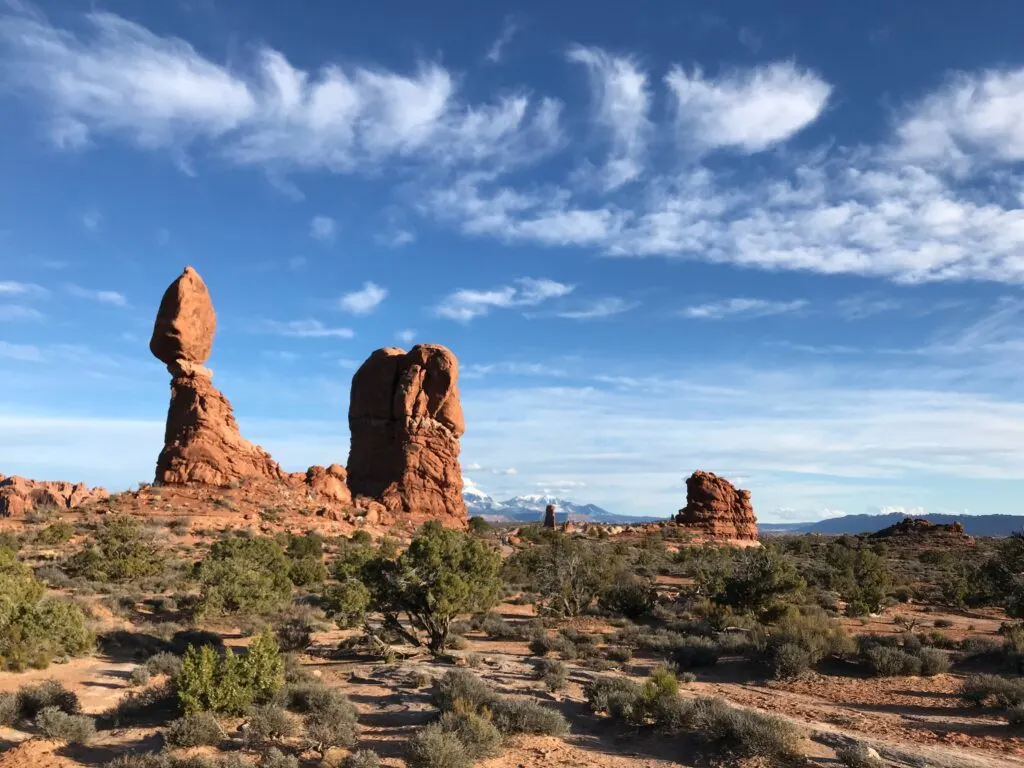 Afterwards, make your way back towards the Visitor Center inside the Park Entrance. En route, don't miss the extensive sights at Petrified Dunes Viewpoint, Courthouse Towers Viewpoint, La Sal Mountains Viewpoint, and Park Avenue Viewpoint. Petrified Dunes Viewpoint looks at the largest dune field in the history of North America.
Inside the Visitor Center, you will be wowed by the vast history of Arches' geological wonderland and numerous models and interactive displays. Here, you can get your unique National Park passport stamp. Bringing or purchasing a National Park passport or notebook is a great way to keep track of all of the National Parks you have visited.
The Visitor Center also provides picnic tables where you can eat your packed lunch. You also have the option to leave the park at this point and grab food just ten minutes away in Moab. However, you may need another timed entry permit to reenter the park.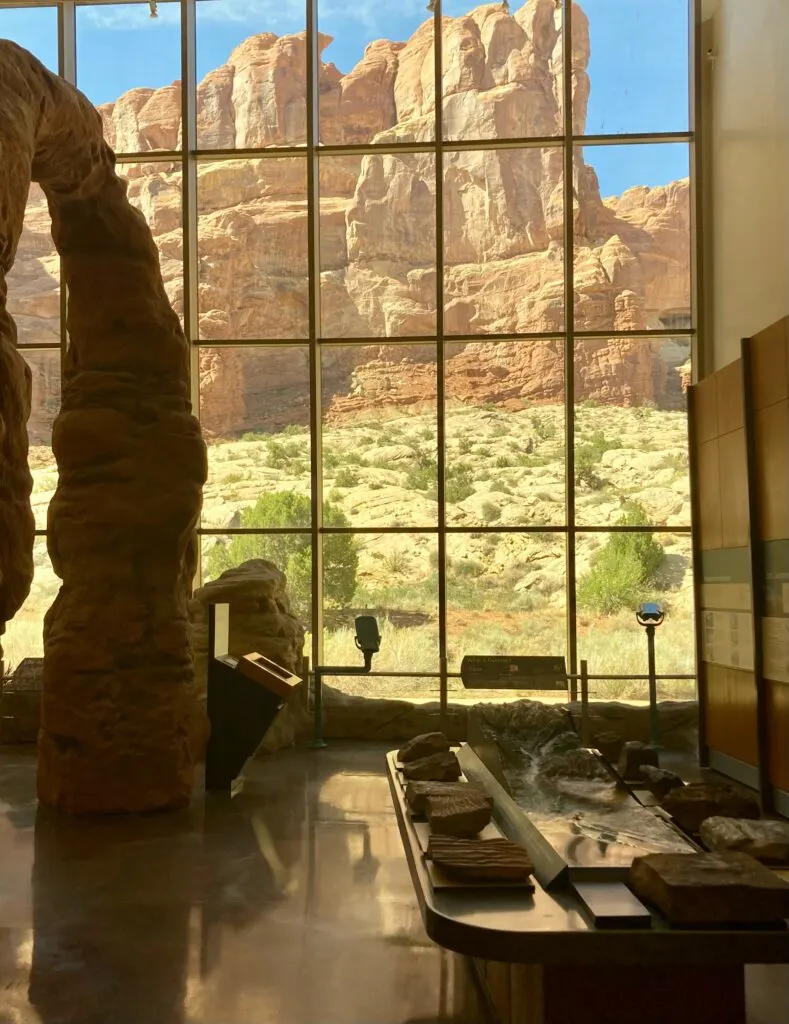 After experiencing the Visitor Center, you will drive back up the road, take a right just past Balanced Rock and continue to the Windows Section. Here, you can do the easy Double Arch Hike (0.6 miles, 15-30 minutes) and the Windows Hike (1 mile, 30-60 minutes) and see interesting formations generated from wind-blown sand.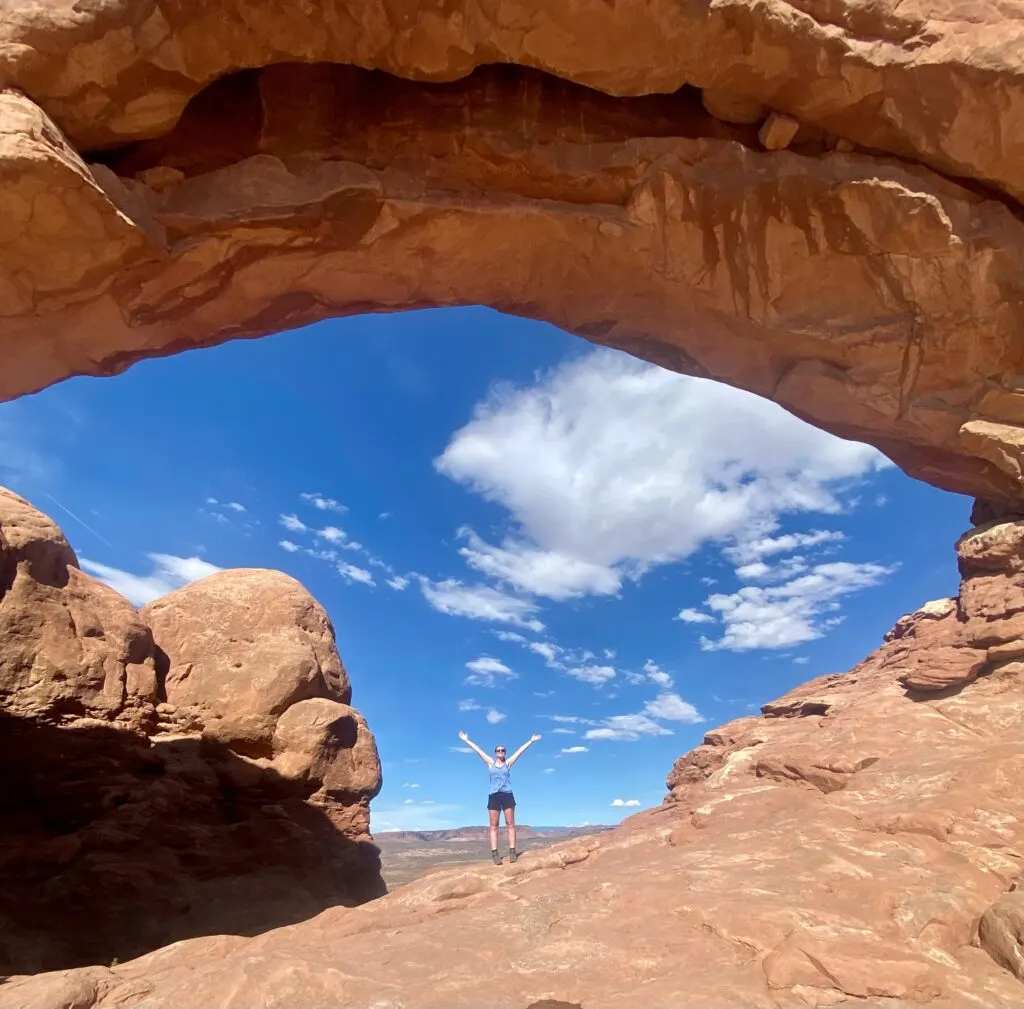 After your hikes, get back on the main road and head to the Delicate Arch Viewpoints, being sure to stop at the Garden of Eden Viewpoint on your way. Once at the Delicate Arch section, you can check out the Lower Delicate Arch Viewpoint and do the quick walk to Upper Delicate Arch Viewpoint. From here, you have the option to end your day or tackle the more difficult but rewarding Delicate Arch Hike to see the arch up close. This 3 mile hike is recommended at sunset because the trail does not offer much shade during the day and provides a great place to watch the sunset. The hike generally takes between 2 and 3 hours.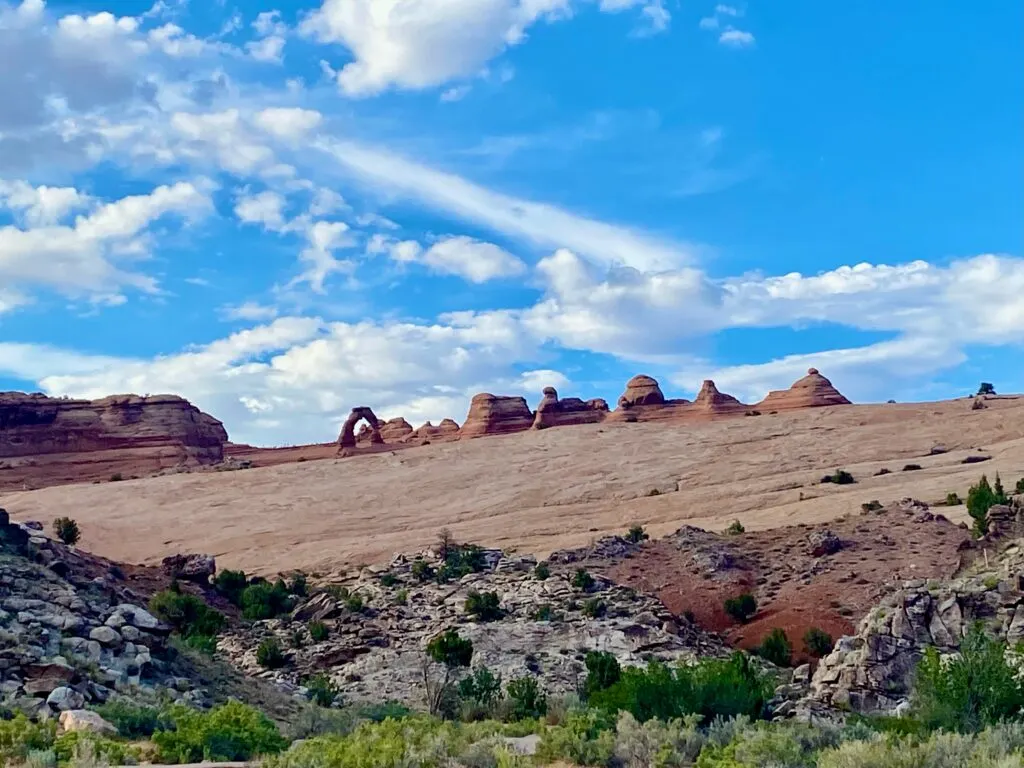 If you're interested in sticking around the park after dark, the best places to stargaze are Panorama Point or in the Windows Section, as they provide wide open areas to see the most stars. Otherwise, you can end your day after Delicate Arch and head back out to Moab and onto your next adventure!
Amazing Arches Trails for Day Hikes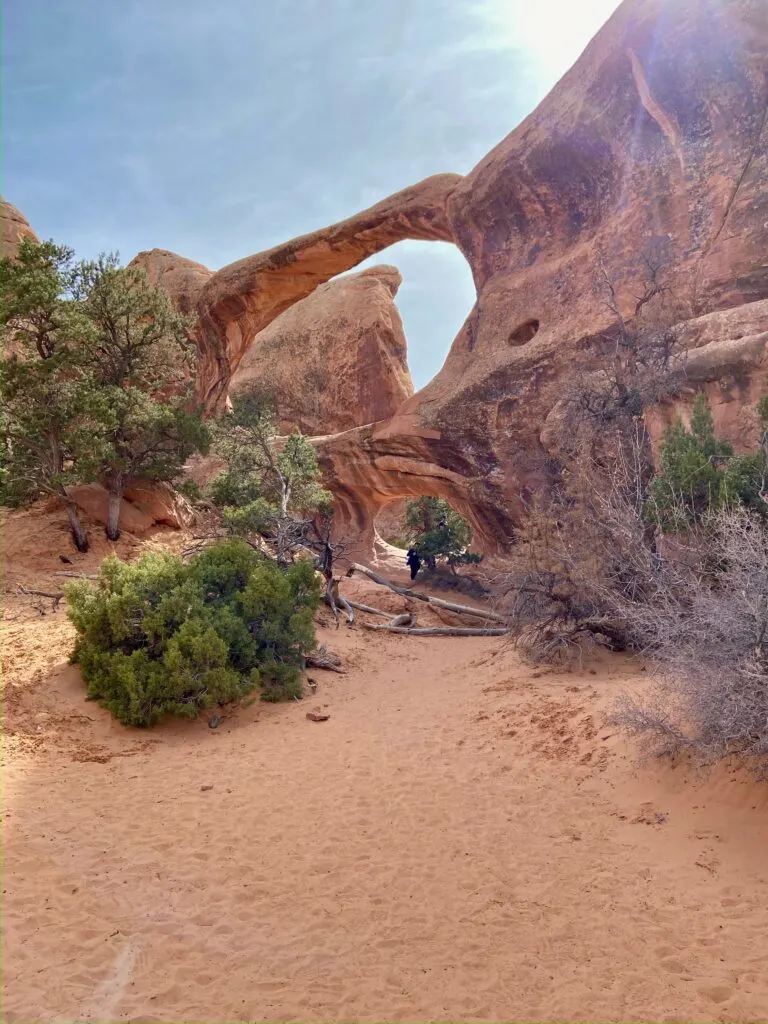 Devil's Garden Trails
Distance: 7.9 miles (3-5 hours)
Elevation: 286 feet
Difficulty: Difficult
The Devil's Garden Trails are a fantastic way to plunge into the unique landscape of Arches. The loop takes you to some of the park's most recognizable arches that you cannot see from your car. The trail itself is considered difficult due to uneven surfaces and narrow ledges. However, if you pace yourself and watch where you step, you will be rewarded with amazing views.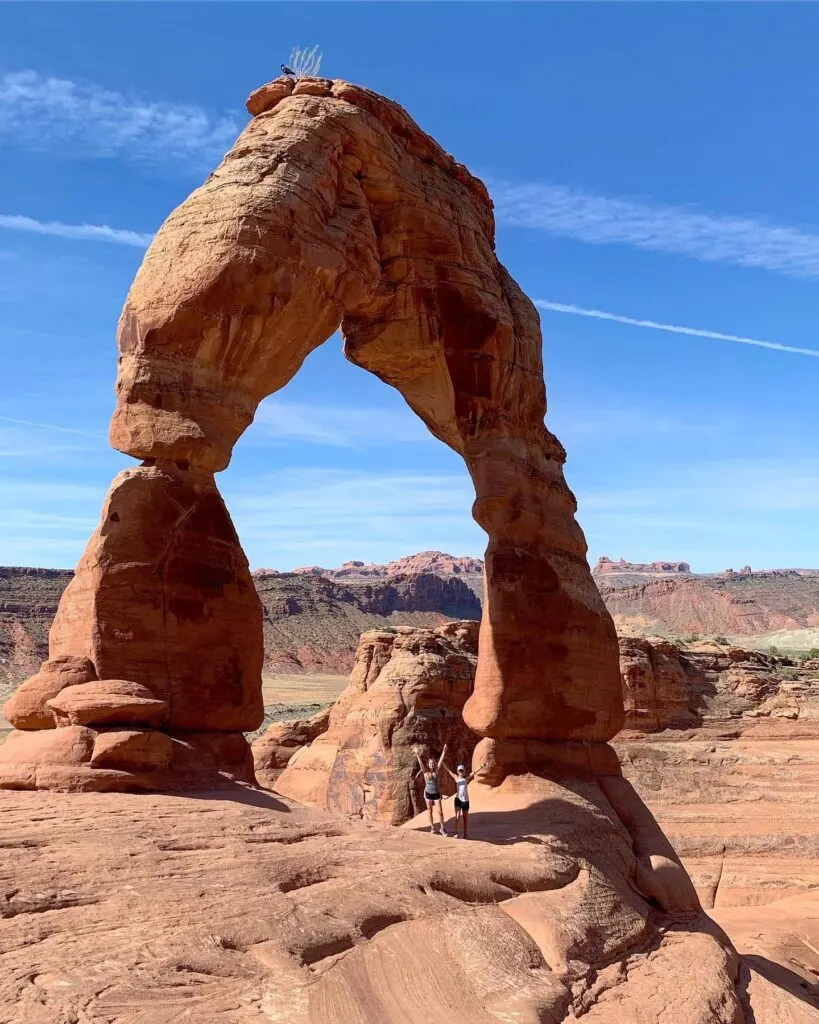 Delicate Arch
Distance: 3 miles (2-3 hours)
Elevation: 538 feet
Difficulty: Difficult
Delicate Arch is one of Arches' most iconic spots. The hike is recommended at sunrise or sunset, as it consists of a steep, difficult slope with no shade. If you are a less-experienced hiker, it is not recommended that you do this hike, but rather enjoy the scenery of Delicate Arch from the viewpoints.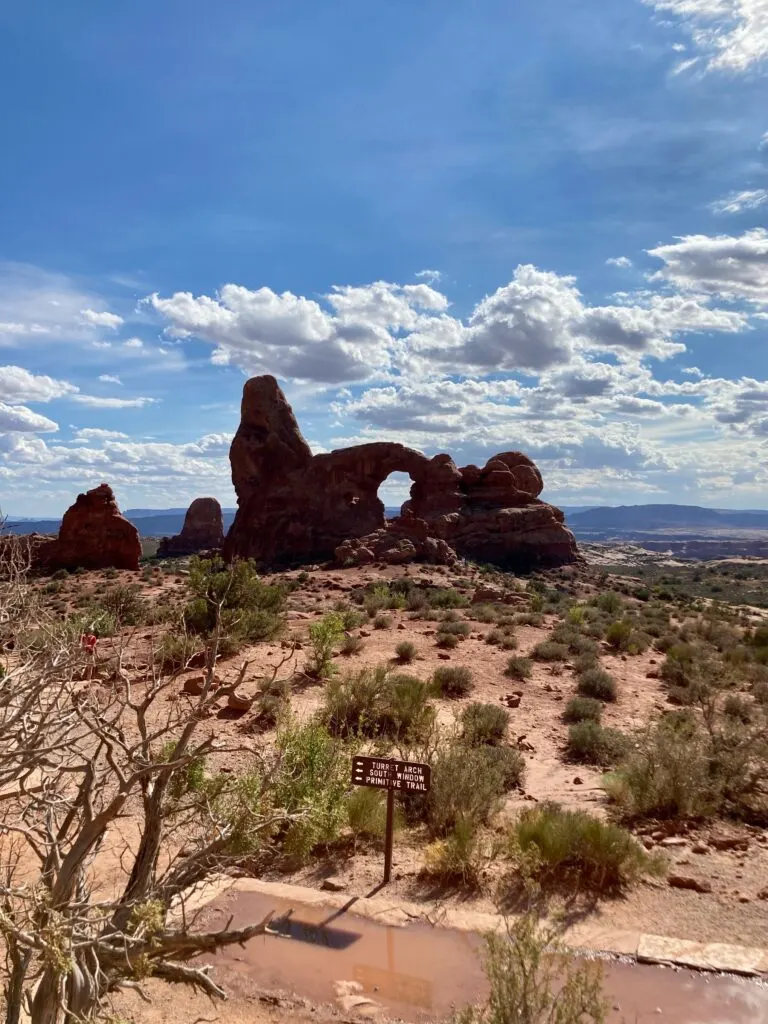 The Windows
Distance: 1 mile (30-60 minutes)
Elevation: 99 feet
Difficulty: Easy
The Windows Hike is a great way to see some beautiful arches without the strain of a difficult slope. The Windows Hike is a gentle climb up a gravel trail that boasts views of North and South Windows and Turret Arch. This trail is recommended for hikers of any level. It also connects with the Double Arch Trail, another easy walk that just adds on a half a mile of distance, and leads to two arches that are joined together.
Final Thoughts on Spending One Day in Arches National Park
Arches National Park is an eclectic place that provides views of arches, sandstone towers, prehistoric rock formations, and more. The park is very easily accessible for people who are not comfortable hiking or being out in extreme heat. It is definitely possible to see some of Utah's most sought-after views and do some gorgeous hikes with just one day in the park.
More Information for your trip to UTAH
Pin for Later: One Day in Arches National Park: Making the Most of Your Time