This post may contain affiliate links, meaning if you book or buy something through one of these links, I may earn a small commission at no extra cost to you! Read the full disclosure policy here
---
Denali National Park and Preserve is one of the United States largest national parks. The park spans across river valleys, aspen forests, tundra, and the Alaskan mountain range. The park is a wild and untamed place. This untamed nature can make Denali National Park a foreboding place. She is a massive 6 million acre park with only 92 miles of road where only 15 miles of road is open to the public. This can make access and camping in Denali National Park and Preserve a challenge.
Here is everything you need to know about front-country camping in Denali National Park and Preserve.
Help support this site by purchasing one of our National Park Shirts, Poster, and other gear. Every purchase includes a donation to the national parks and helps keep National Park Obsessed's website free to use and producing more national park guides.
Looking for more help planning your next adventure? Join the National Park Obsessed Facebook Group here to connect other national park lovers, trade advice, or see inspiring photos of the National Parks?
Denali National Park Camping
Things to Know about Denali Camping
Camping is available year-round. Only one campground is open year-round. The rest open and close with the Denali Park Road. Opening and Closing Dates can vary from year to year. These dates are weather dependent. Check the NPS website for the latest on campground opening and closing dates.
Only Reily Creek Campground has ADA specific sites. The ADA accessibility of other campsites can vary please check with NPS for specifics.
Reservations for summer start January 1 for the following summer. Make your reservation as early as possible. Space can fill up fast and there are 34 first-come-first-serve tent sites in the park.
RV's are limited to Riley Creek, Savage River, or Teklanika River Campgrounds.
Quiet Hours are from 10 pm to 6 am. Generators may only be operated from 8 am to 10 am, and 4 pm to 8 p
Most campsites can have up to 8 people. There is space for three tents and two vehicles at the campsite (except for walk-in sites). The campsite has a picnic table.
Camp Fires are limited to fire grates in Riley Creek, Savage River, and Teklanika River Campgrounds. Please do NOT transport firewood. Buy it where you burn it. Please double-check the fire regulations and ensure your fire is completely out before going to bed.
Store all food items in your car. Please do NOT leave any food, utensils out, or any scented items. This includes toothpaste, toothbrush, chapstick. Pretty much put everything but what you are going to sleep in your car. Denali National Park is in bear country. Properly secure all items so no wildlife can get it.
Check out Things to Know Before Visiting Denali
Getting to Denali National Park and Preserve
Denali National Park and Preserve is one of the few national parks that is accessible via public transport. Denali is a 4-hour train ride from Fairbanks or an 8-hour train ride from Anchorage. The Denali Park Train Station is located in the park and transport is available to all the campgrounds from the train station.
If you are on an Alaska Road Trip or want to drive yourself, Denali National Park is a 2-hour drive from Fairbanks or a 5-hour drive from Anchorage along the Parks Highway.
Further Reading – Eight Books to Read Before Visiting Denali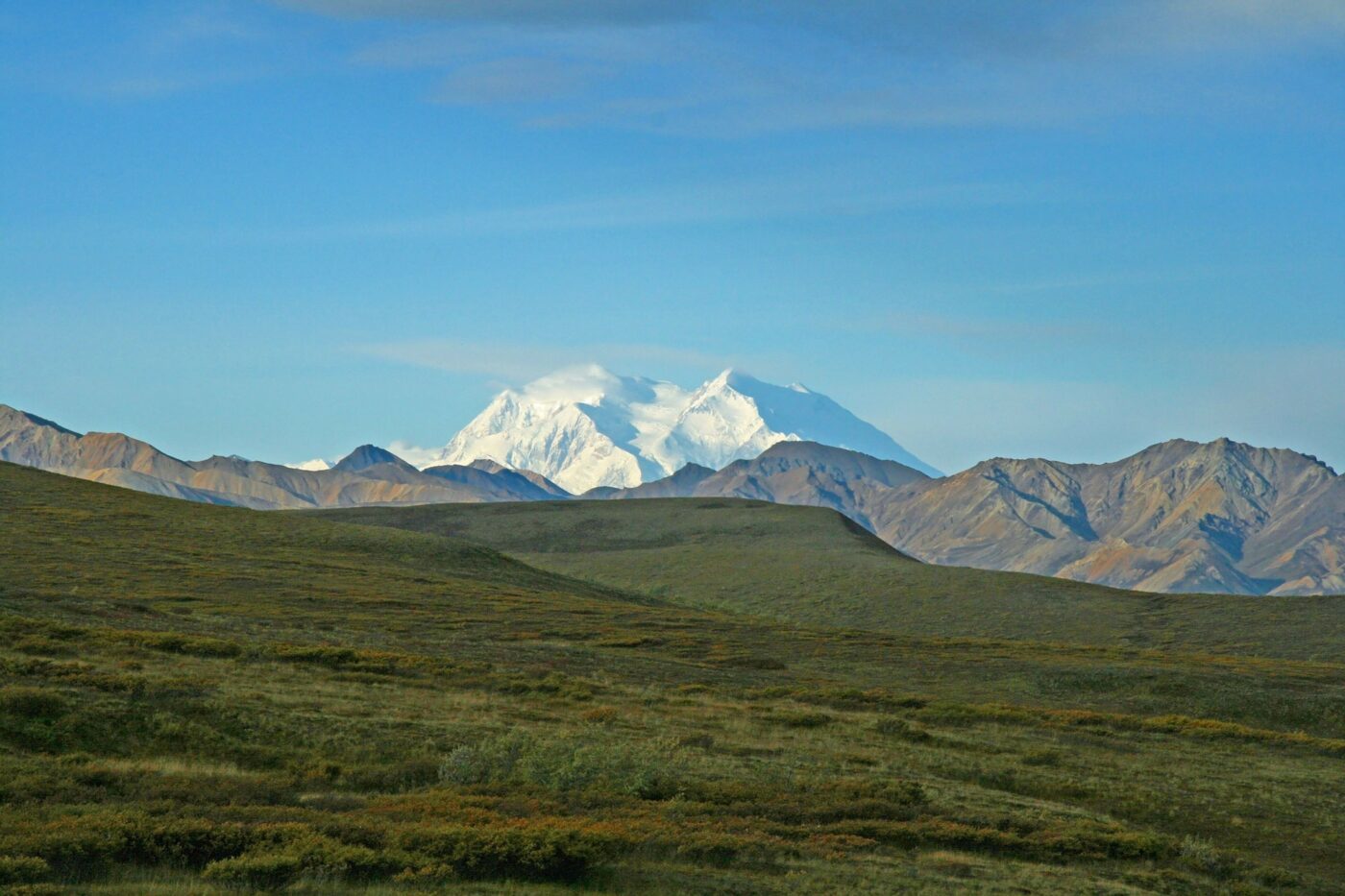 Where to camp in Denali National Park?
Campgrounds in Denali National Park
Riley Creek Campground
Savage River Campground
Sanctuary River Campground
Teklanika River Campground
Igloo Campground
Wonder Lake Campground
Campgrounds near Denali National Park
Cantwell RV Park
Denali RV Park
Midnight Sun RV & Campground
Brushkana Campground
Dispersal Camping along the Denali Highway
Denali Campground Map
Camping at Denali National Park
** All Campground prices are valid as of 04 October 2019.
Denali Campgrounds
Riley Creek Campground
Riley Creek Campground is the largest of the Denali Campgrounds and the most developed of the bunch. Riley Creek is located at mile 0.25 on the Denali Park Road. This campground is fairly wooded and allows for a bit of privacy between each campsite. This campground does not provide a view of Denali but is located near town making supplies easy to get. This campground is accessible by car or park shuttle.
Savage River Campground
Savage River Campground is the first of Denali camping to provide a view of Denali (formerly Mount McKinley). Savage River is located at mile 13 on the Denali Park Road. The campground is spread out in a small spruce forest to allow for privacy of the campsites. This campground is accessible by car or park shuttle.
Sanctuary River Campground
Sanctuary River Campground is the first tent only with no vehicle access campgrounds. This small campground is located at mile 22 on the Denali Park Road. The campground can have a clear view of Denali but a short hike up nearby mountains can provide an epic view. The campground is brushy and wooded providing each campsite with a bit of privacy.
Please note no campfires are allowed.
Teklanika River Campground
Teklanika River Campground is an interesting campground. Normally, private vehicles are limited to mile 15 but Teklanika offers the chance to dive to mile 29 of the Denali Park Road. Once there, your vehicle has to stay in the campground for the duration of your stay but it lets you start your adventures an extra 14 miles into the park.
You must bring all your supplies with you into Teklanika as you can not leave and re-enter without an addition reservation or bus pass. It is highly recommended that you purchase a Tek pass to allow you to access the bus system to go further into the park.
Campfires are allowed. Be sure to bring all the wood you need with you.
Igloo Campground
Igloo Campground is another small tent-only campground. Like Sanctuary River, this campground has no water and is first-come-first-serve. This campground is nestled near Cathedral Mountain and Igloo Mountain. While there is no potable water, the nearby Igloo Creek is an available water source. The campground is wooded with hiking available nearby. It is only accessible via the bus system. Igloo Campground is located at mile marker 35.
No campfires allowed.
Wonder Lake Campground
Wonder Lake Campground is the most spectacular campground in the park. Wonderland is located at mile 85 on the Denali Park Road. On clear days, Denali fills the sky and the view is unmatched. The only downside is the Wonder Lake is a breeding ground for Alaska's state bird – the Mosquito. The campground is only accessible via bus.
No campfires are allowed.
Further Reading – 10 Essential Tips for Visiting Denali National Park