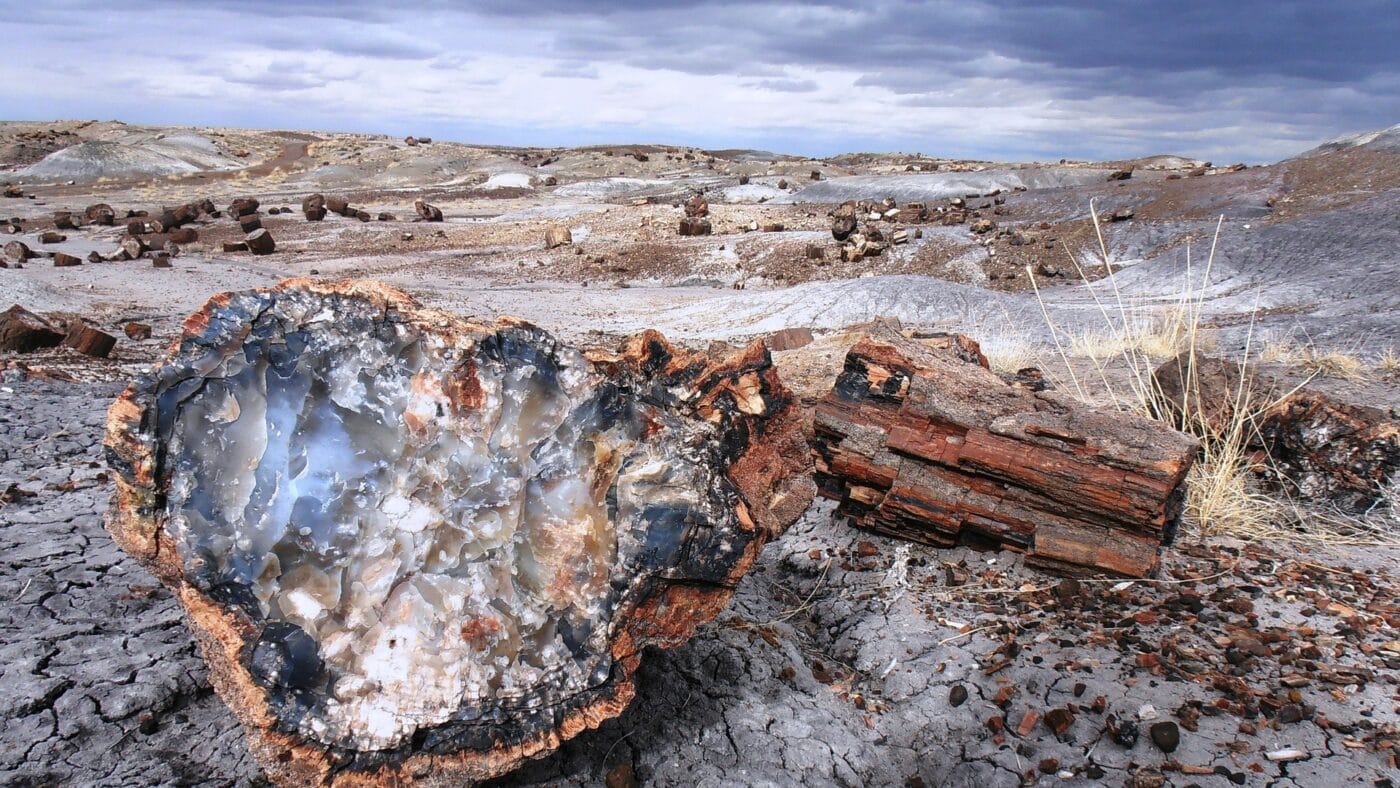 One Day in Petrified Forest Itinerary: Make the Most of Your Day
Post Summary: One Day in Petrified Forest National Park
Standing before this sprawling desert, imagine a vast forest. Millions of years ago, this desert was inhabited by a vast Late Triassic forest. Today, all that remains is fossilized remains of the trees. Today these fossils are protected by Petrified Forest National Park. Petrified Forest National Park reminds us of how the world has changed over millions of years. Here is the best way to spend one day in Petrified Forest National Park.
This post may contain affiliate links, meaning if you book or buy something through one of these links, I may earn a small commission at no extra cost to you! Read the full disclosure policy here
Getting to Petrified Forest National Park
Petrified Forest National Park has 2 park entrances. The park's north entrance is located at Exit 311 I-40. The park's south entrance is located off US 180. The park is a perfect stop for people traveling to or from Albuquerque, NM to Flagstaff, AZ or Phoenix, AZ.
There is no public transport to or in the Petrified Forest National Park.
The park doesn't really have any nearby airports. The closest commercial airport to Petrified Forest National Park is Flagstaff Pulliam Airport (FLG). It is about two hours from the park.
If planning on visiting Petrified National Park as part of a road trip, you can fly into Phoenix, Arizona or Albuquerque, New Mexico.
Estimated Drive Time to Petrified Forest National Park
Flagstaff, Arizona – 1.75 hours
Albuquerque, New Mexico – 3 hours
Phoenix, Arizona – 3.5 hours
Tucson, Arizona – 5 hours
Estimated Drive time from Petrified Forest National Park to other nearby National Parks
Best time of year to visit Petrified Forest National Park
The best months to visit Petrified Forest are March to May and October or November. These times avoid the heat of summer and the cold of winter. The days will be milder. Keep in mind that there is little to no shade in the park. These months are also shoulder seasons for park visitation as well.
How long to spend in Petrified Forest National Park
Petrified Forest National Park is one of the few national parks where the vast majority of visitors need a maximum of two days to explore and that might be a bit of a stretch. If you are an experienced hiker who is skilled at off-trail navigation, you could spend days upon days exploring the backcountry of the park. These backpacking trips are not for the faint of heart. There is no water or shade in the backcountry. All water has to be carried in.
About Petrified Forest National Park
Petrified Forest National Park is about 220 thousand acres. The parks is the 31st largest national park. The park was created as a National Monument on December 8, 1906. It wasn't elevated to a National Park until December 9, 1962. Petrified Forest is a major stop along the Historic Route 66 from Chicago to Los Angles.
As the name of the park suggests, Petrified Forest National Park is famous for its fossils, mostly the fossil of fallen trees. About 225 million years ago, the park was home to a giant Late Triassic forest located near the equator. As the tectonic plates moved, the land shifted and this forest was lost and the rivers and sea covered the fallen trees with sediments and fossilized the trees.
From a human standpoint, the first human inhabitants arrived in Petrified Forest National Park about 8,000 years ago. Over 600 archaeological sites have been found in the park. A few of their petroglyphs can be seen with a short hike from the park road. The first European visitors to the park arrived in the 1800s. In 1853, a U.S army survey team first reported their observation of the petrified trees. The early geologist removed hundreds of tons of petrified wood. A Polish geologist once removed 10 train cars full of petrified wood from the park. As the 1900s arrived, local residents realized the continued removal of the wood was decimating the land. They started pushing for the national park. Their work led to the creation of the Petrified Forest National Monument in 1906.
Even today, theft of petrified wood is still an issue for the park. An estimated 22 thousand pounds is stolen from the park a year. Please leave the wood where you found it.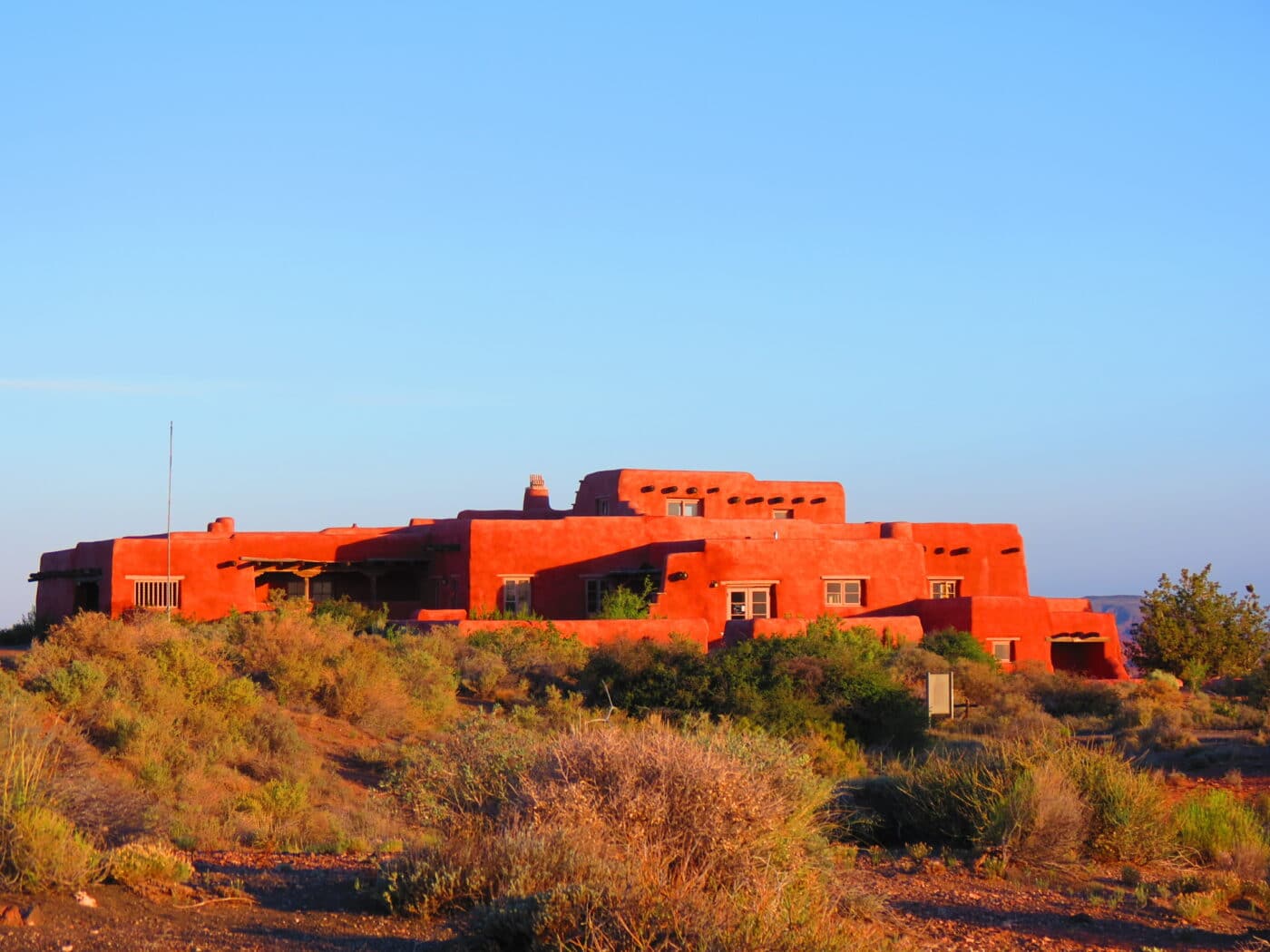 Where to stay in Petrified Forest National Park
There are no lodges in Petrified Forest National Park. The park does offer backcountry camping, but that is it. The Painted Desert Inn is located in the park but the Inn no longer offers overnight stays.
There are no front country campgrounds in Petrified Forest National Park. It is possible to camp in the pack if you are willing to hike at least 1 mile and sleep in the backcountry. Here is a guide to backcountry camping in Petrified Forest National Park.
Lodging near Petrified Forest National Park
Petrified Forest Hotels
Airbnbs near Petrified Forest National Park
The Bunkhouse – A pet-friendly 1950s era former ranch house. Rooms from $59/night: Book on Airbnb.
The Birds Nest – A large guest suite with a great view of Holbrook and Wigwam Hotel. Rooms from $77/night: Book on Airbnb.
Camping near Petrified Forest
The KOA of Holbrook offers tent camping, RV hook-ups, and small cabins.
What to pack for a day in Petrified Forest National Park?
America the Beautiful National Parks Pass: Grand Canyon National Park costs $30 for a 7-day pass. If you intend to visit more than 3 National Park Services sites in a year, the America the Beautiful Pass will more than pay for itself. >> Get Your Pass HERE
National Park Passport – The National Park Passport Book is the cheapest and best souvenir of your national park adventures. This book makes it easy to collect the National Park Cancellation stamp have the date of your visit and make it easy to track when you visited each national park service unit. >>> Buy your parks passport HERE
Refillable Water Bottles – Do your part to reduce litter in our parks by bringing a refillable water bottle with you. A reusable and refillable water bottle can save you a lot of money and really help the environment. Here are my favorite water bottles
Hydration Bladder – If you are hiking longer distances, a hydration bladder is the best way to hike with significant quantities of water. It is a rare hike when I don't bring a full bladder with me.
Snacks – There are limited services in the park. So pick up all your snacks before you go. Pack a couple of different options so you are prepared for any craving.

Fruit: Pick hard fruits such as apples or pears. These hold-up in the heat and in packs without getting squished to mush. Another option is freeze-dried fruit. Freeze-dried strawberries are the BOMB. They are crunchy, sweet and the best part is they are lightweight and yummy. These are my new favorite trail snack.
Vegetables: Cucumbers and carrots hold up well during hiking and in a hot car.
Granola Bars: Take your favorite non-coated in chocolate granola bars. Anything coated in chocolate will melt and be a sticky mess. My favorite is a selection of Cliff Bars. They are great even when squished.
Sunscreen – You don't want to get burned on your visit.
Lip balm – Your lips need just as much sun protection as your skin does.
Sunglasses – Similar to sunscreen, you need a good pair of polarized sunglasses to protect your eyes from the glare of the sun.
Hat – Hats are another sun protection device. A hat can keep the sun off your face and neck and help minimize the need for sunscreen while on the trail.
First aid kit – As with any outdoor adventure, accidents happen. It is better to be prepared and have a compact first-aid kit ready to help with any accidents.
Headlamp – Always keep a headlamp handy. You never know when you might want it. It can be used for midnight bathroom runs to sunrise/sunset hikes. A good headlamp makes it easy to operate in the dark.
Shoes – Shoes are probably the most important piece of gear to any hiker. Hiking shoes should be seen as an investment. On the trail, your feet are your transportation and a solid pair of hiking shoes help support your feet and can prevent injury.
Hiking Day Pack – A good day pack is the best way to transport all your gear when hiking. I highly recommend getting a backpack that is designed for outdoor use. These packs come with handy pockets and straps. My 40 L day pack has a pocket for my water bladder and a clip to hold the water line in place.
National Park Obsessed Shirt – Share your love of the National Parks and support National Park Obsessed with a National Park Obsessed T-Shirt.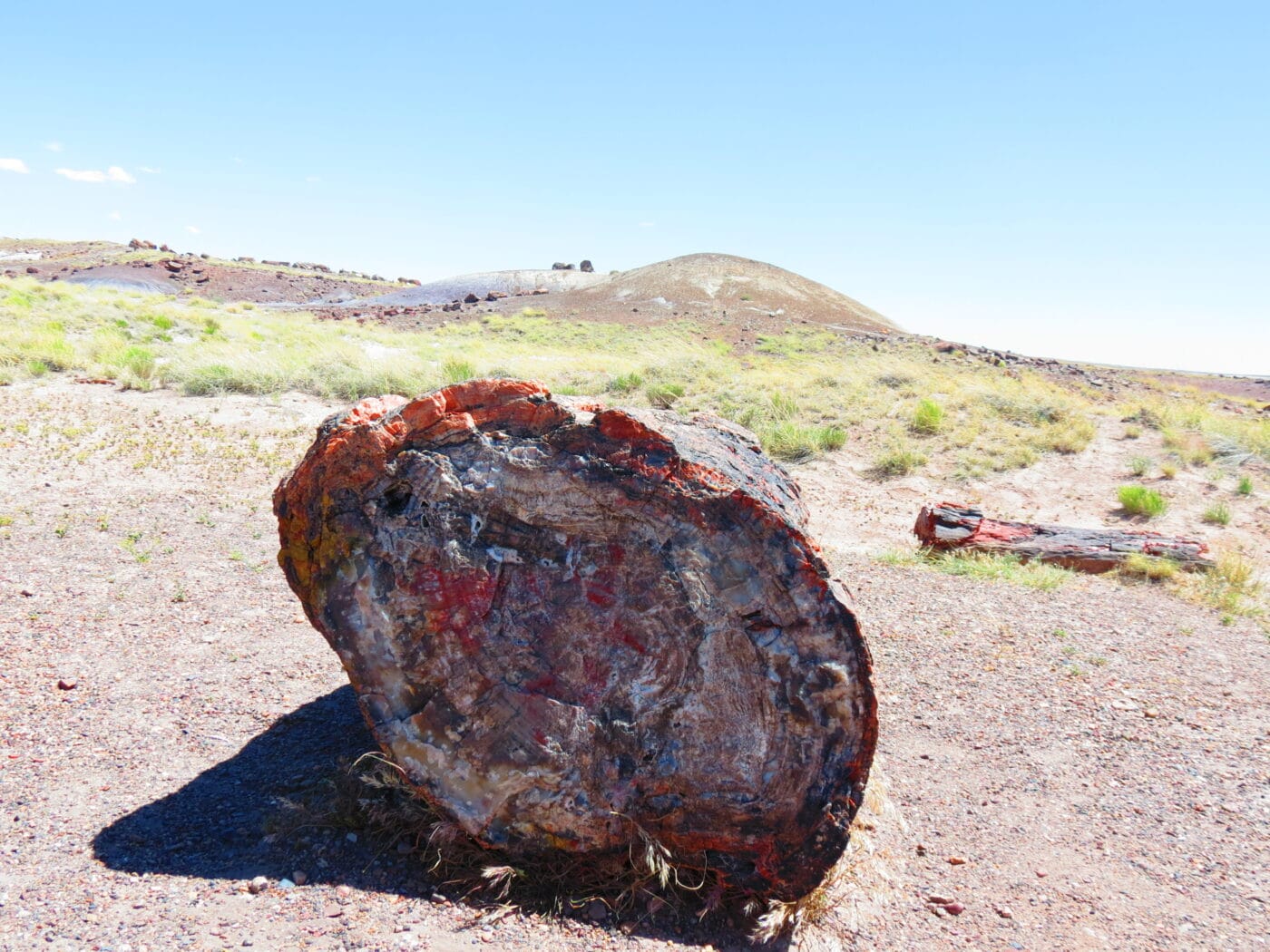 One Day in Petrified Forest National Park
This one day guide starts from the north entrance at I-40 Exit 311. If you want to start from the south entrance on US 180, then just do it in reverse.
1 Day in Petrified Forest Itinerary
Scenic Drive
Painted Desert Inn National Historic Landmark
Painted Desert Rim Trail
Puerco Pueblo
Newspaper Rock
Blue Mesa
Agate Bridge
Jasper Forest and Cyrstal Forest
Rainbow Forest Museum and Giant Log Trail
How to Spend Your Day in Petrified Forest
Start your day at the Painted Desert Visitor Center. Make sure you have filled your gas tank and have lunch before heading into the park.
The north section of the park is dominated by the Painted Desert National Wilderness. The park road is located on the plateau above the desert. There are several overlooks to stop and enjoy the view.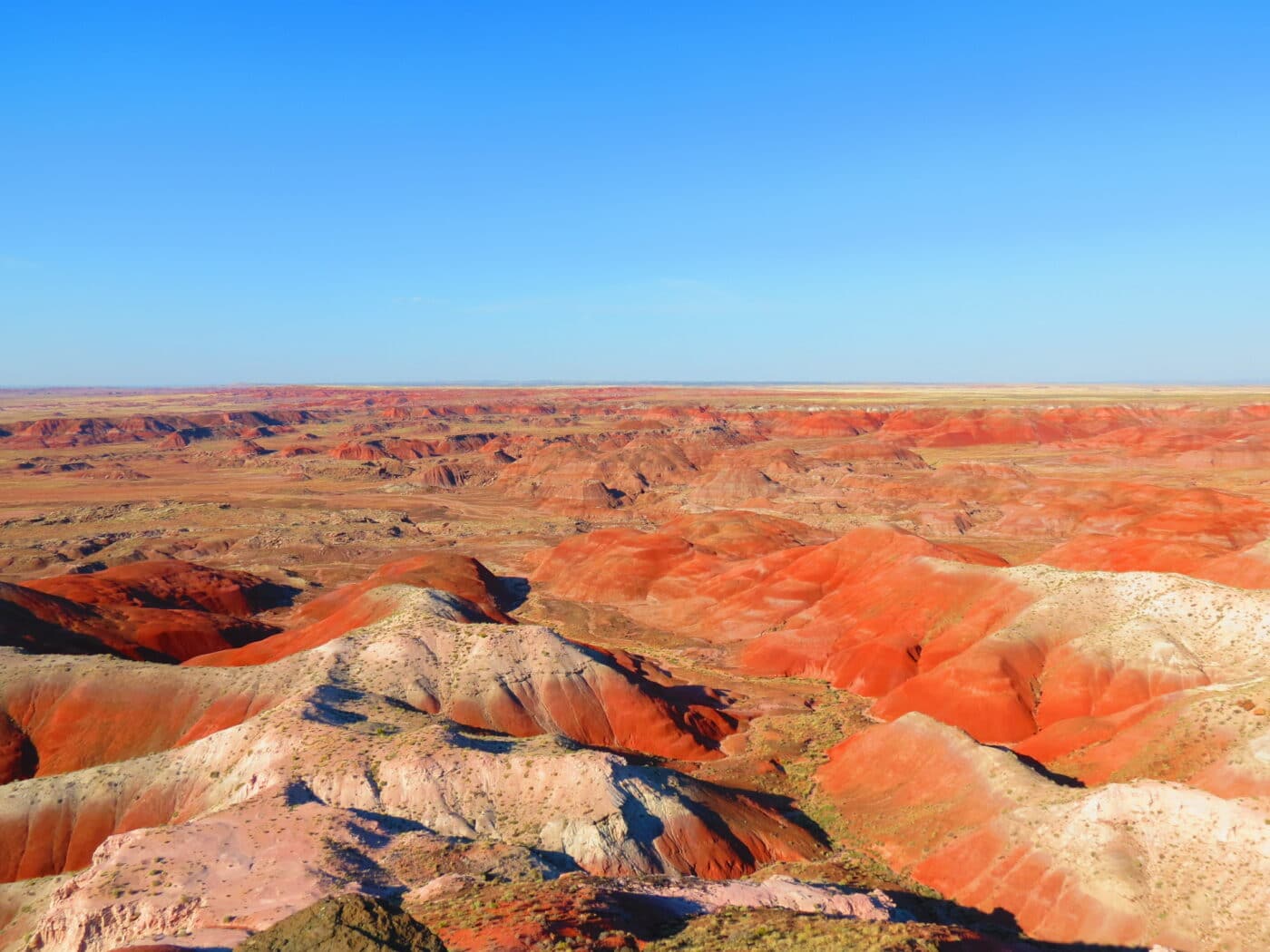 Take a tour of the Painted Desert Inn. The Inn was built in the 1920's using petrified wood with a 193-s renovation. The Inn is no longer open to overnight guests but the building is a museum about the history of the park, Route 66 and the Civilian Conservation Corps. The Inn is also home to the famous Cat Petroglyph.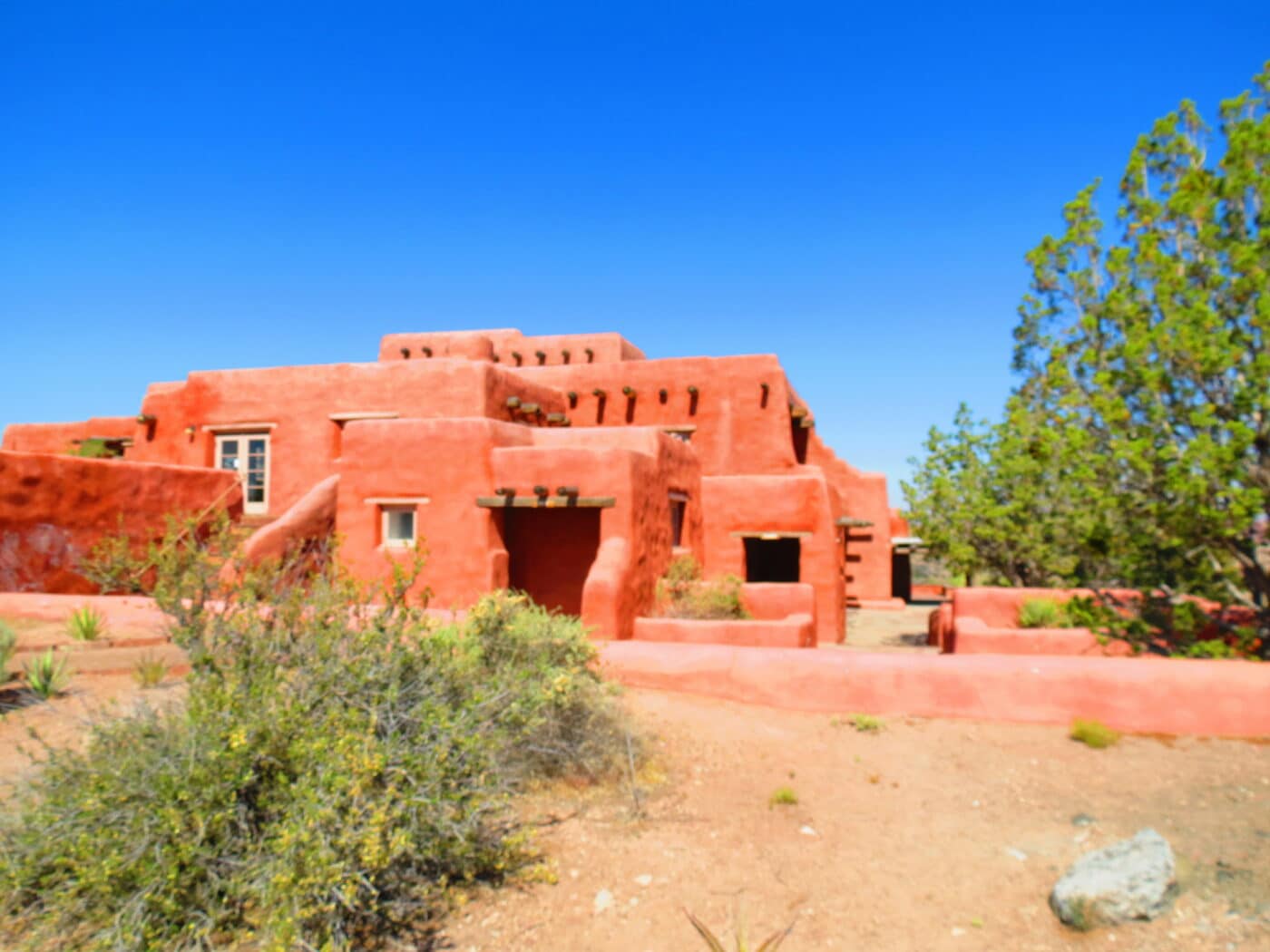 After the tour of the inn, head out along the Painted Desert Rim trail. This short 1-mile trail from the Painted Desert Inn to Tawa point. The trail has excellent views of the Painted Desert.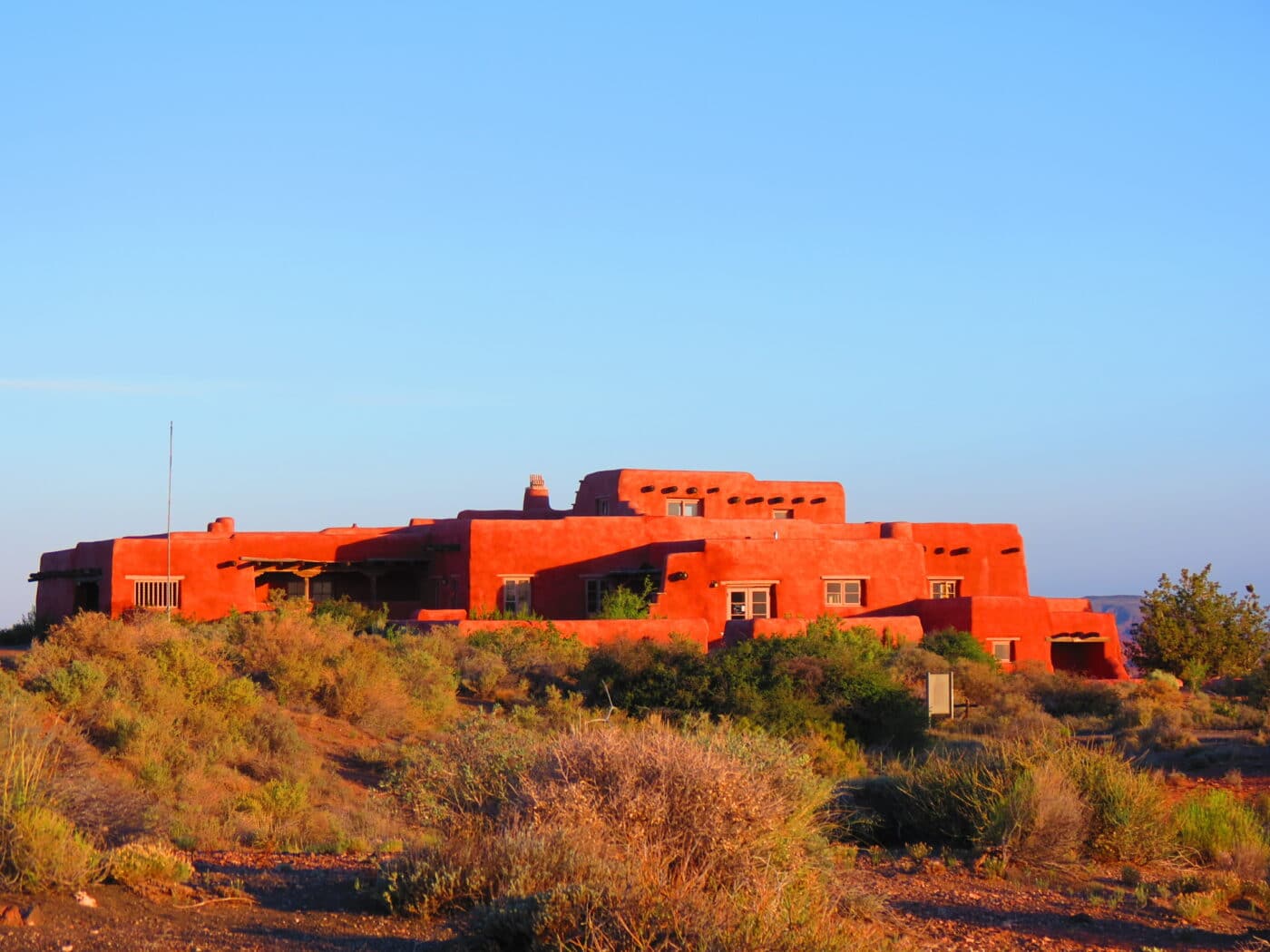 Keep following the park road and stop and enjoy Chinde Point and Picado Point. Enjoy stops at Nizhoni, Whipple, and Lacey Point before crossing over I-40.
Just before driving over 1-40, stop at the Route 66 exhibit. The exhibit covers the history of the route thru the park. Today the original road has been reclaimed by the desert but I-40 follows a similar route. There is a rusted out car at this site.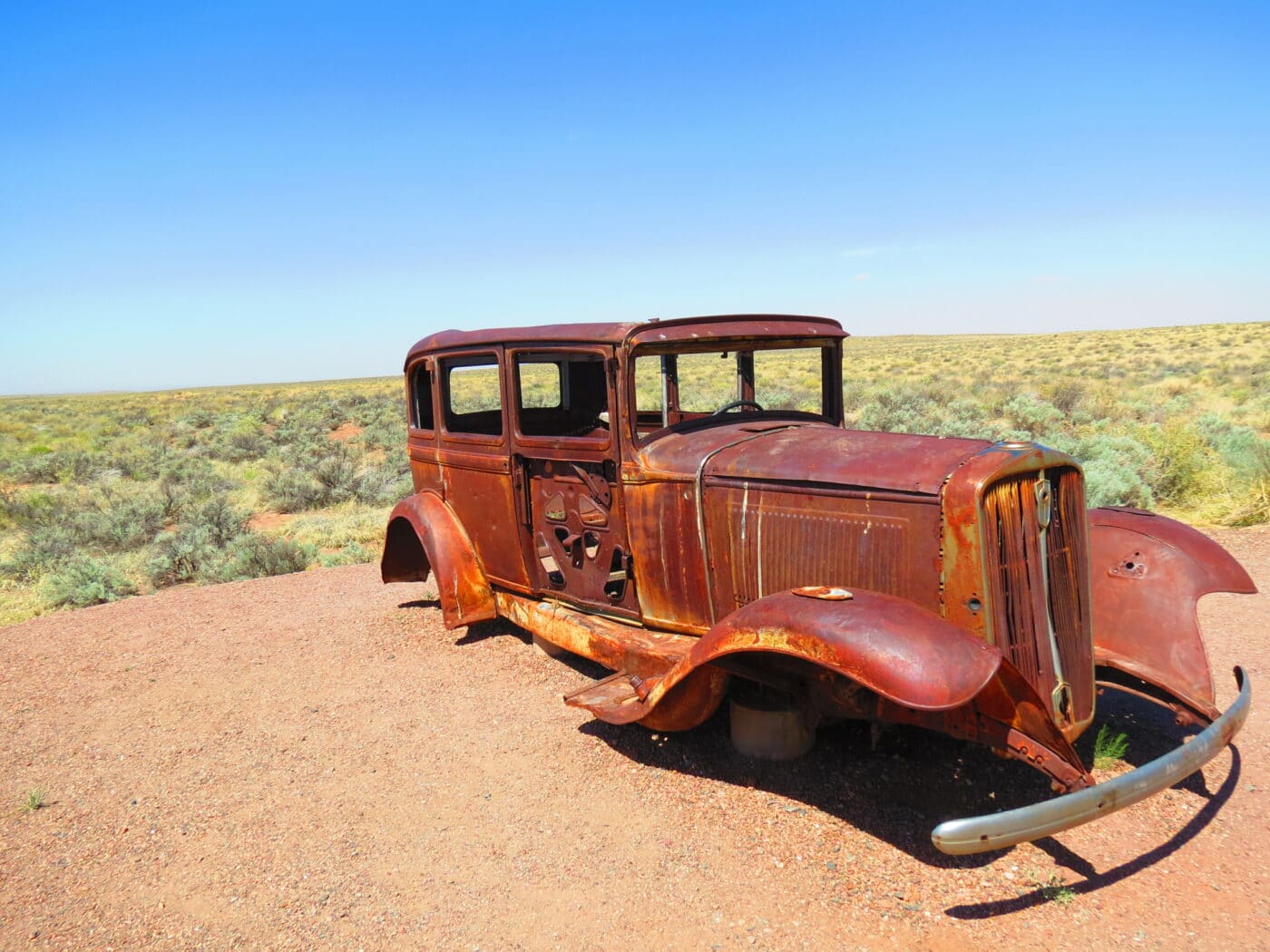 After you cross the train tracks, stop at Puerco Pueblo. There is a 0.3-mile walking loop thru a 100+ room ancestral Puebloan village. This village was occupied between 1250 – 1380 BCE.
Next stop is Newspaper Rock. This rock is covered with over 650 petroglyphs. I could spend hours looking at the rock. My personal favorite is the bird that looks like Kevin from the Disney Movie Up. The petroglyphs range in age but the oldest is 2000 years old.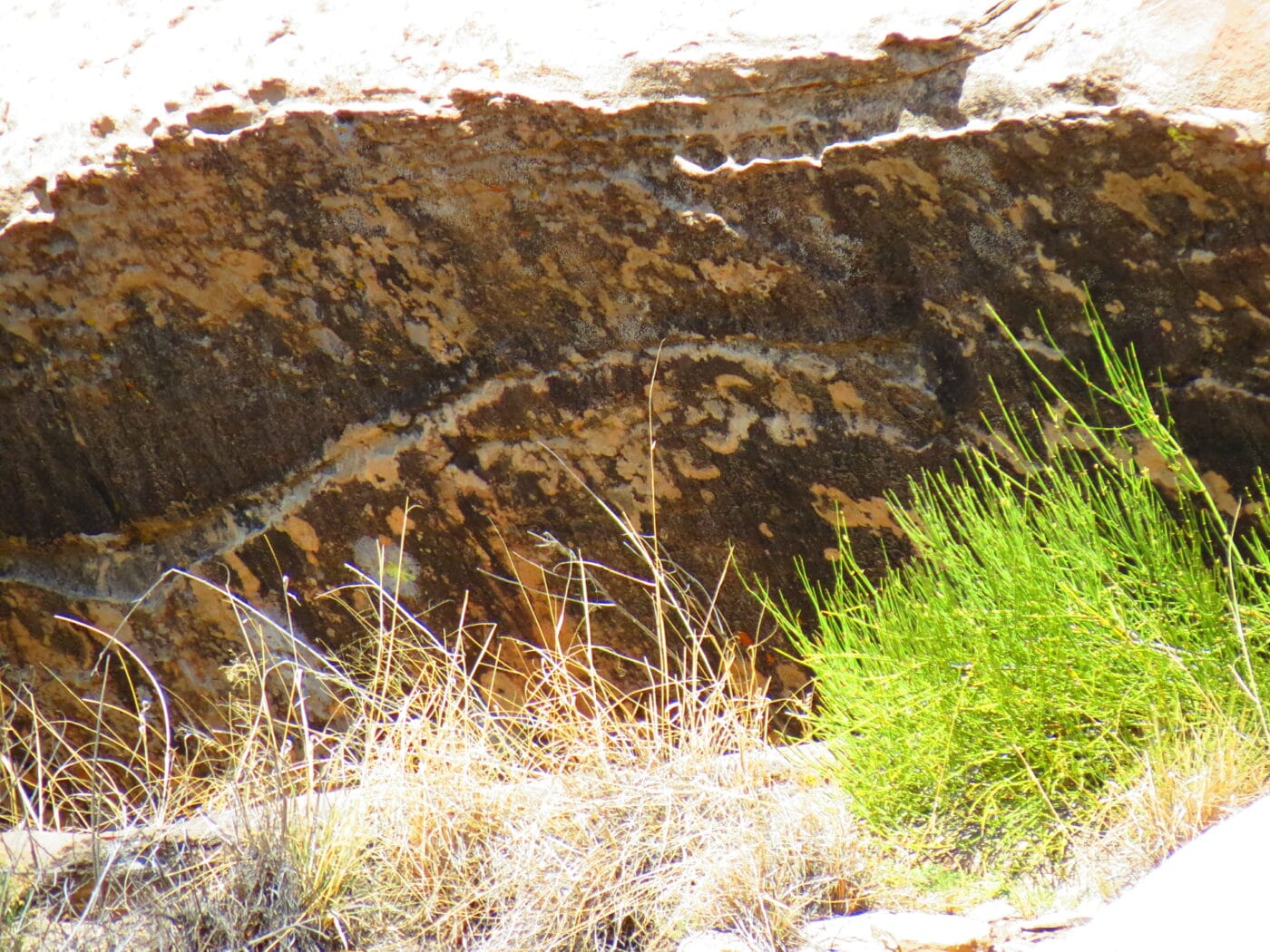 Drive past the Tepees and take the turnoff to Blue Mesa road. Park at Blue Mesa and hike the 1-mile loop thru the grey, blue, and purplish badlands. Look closely at the area and you will see colorful species of petrified wood.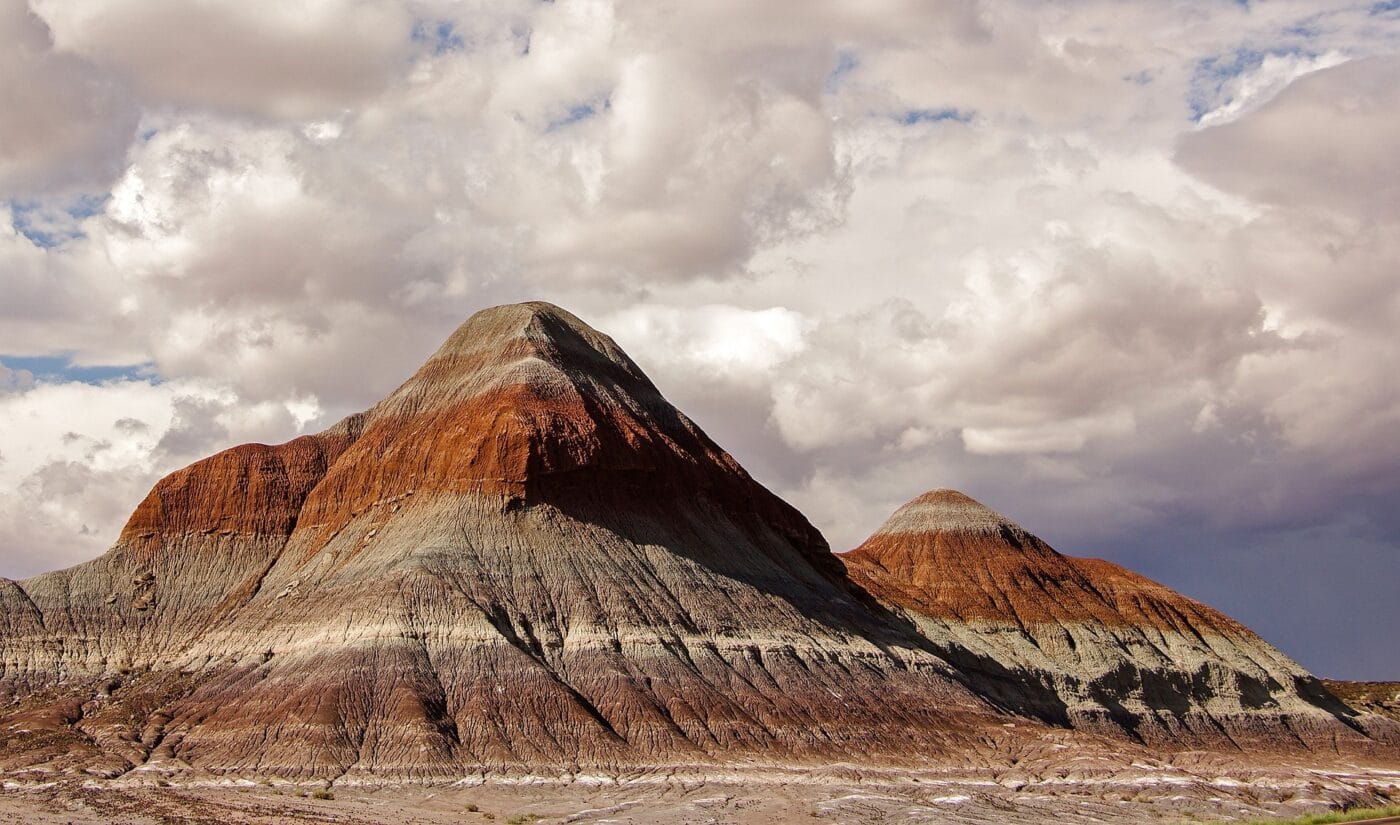 Head down to the Agate Bridge. This 110 ft petrified log spans a small gully. In truth, this log should have fallen into the gully long ago. In the early 1910's, the park conservationists decided to add structural support to keep the log in place.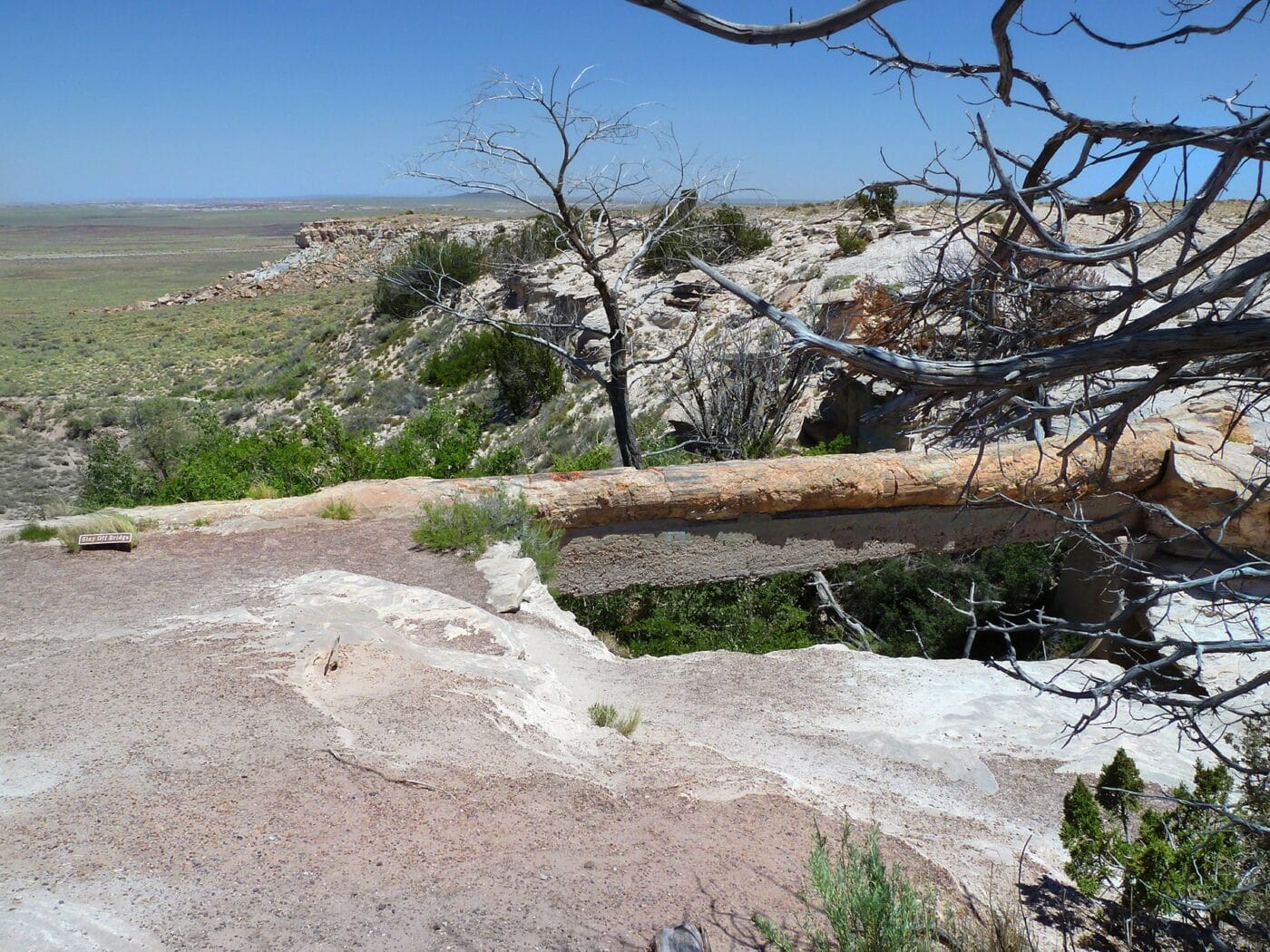 Nearby is the Jasper Forest. This region is one of the largest concentrations of petrified food in the park. Enjoy the view before heading south.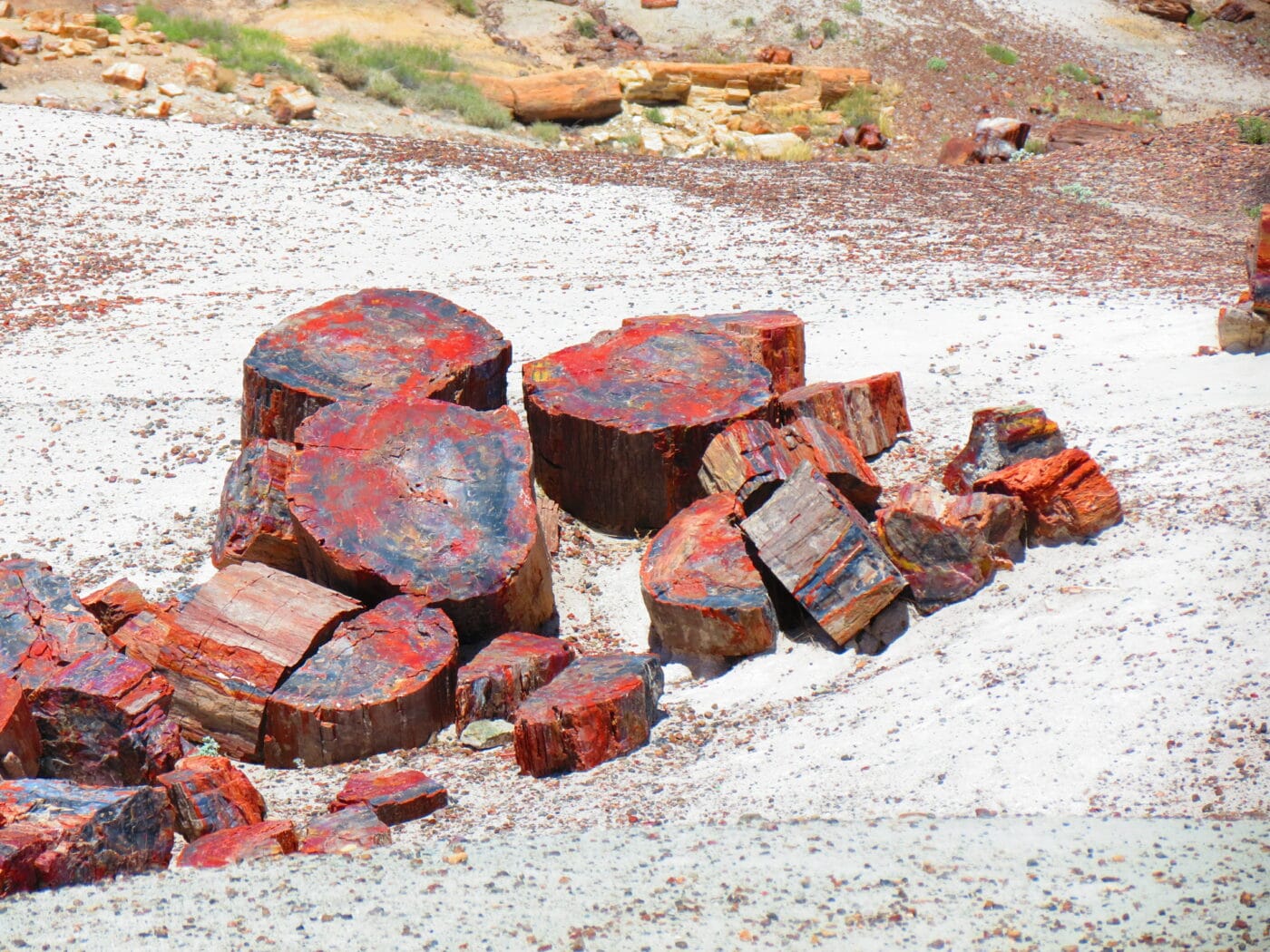 Stop at the Crystal Forest. Walk the 0.75-mile loop trail thru the area. As you get about half-way done with the trail. Stop and imagine what the area would look like if hundreds of tons of petrified wood weren't removed from the area. The Crystal Forest looks nothing like the area described by early park visitors. It is unreal when you read those descriptions and look at the area.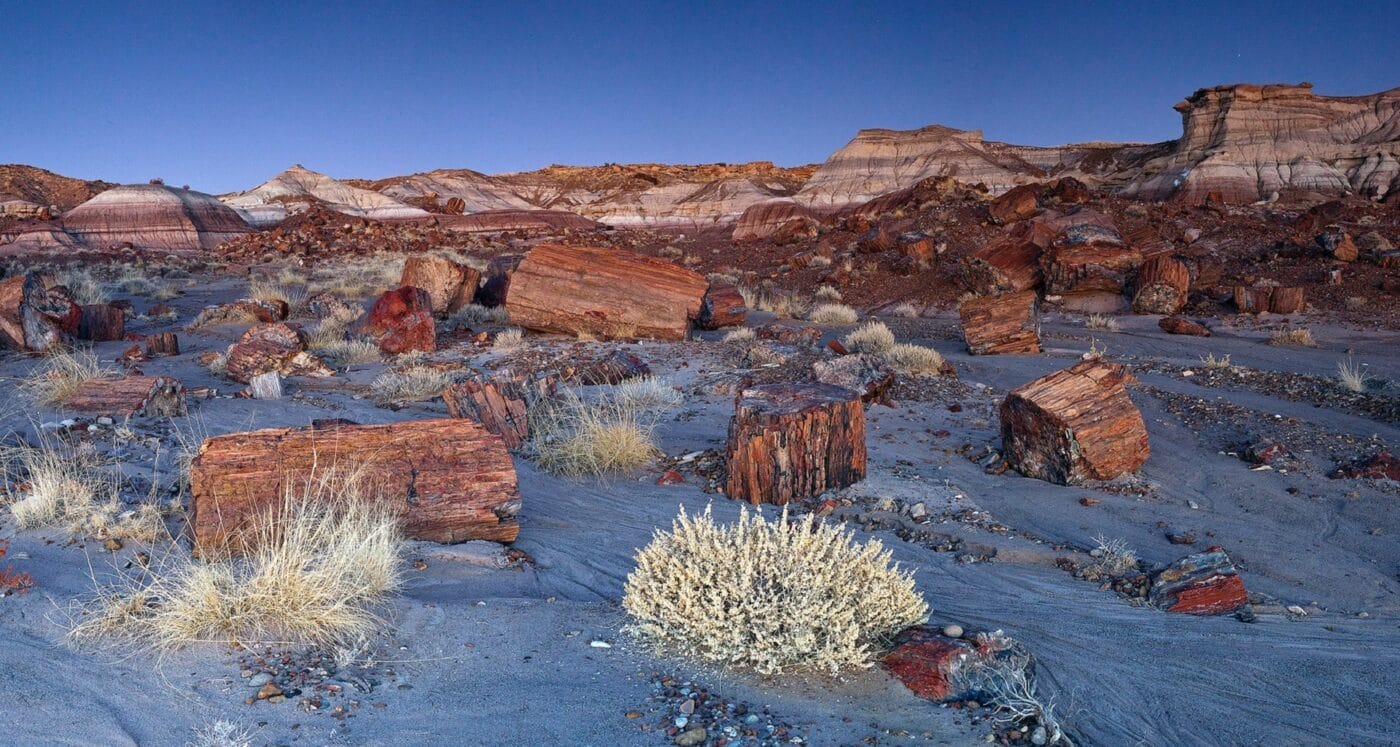 The last stop in the park has two things to do. Start with the Rainbow Forest Museum. The Museum covers the ancient wildlife who roamed that Late Triassic forest. After the Museum head out to hike the 0.4-mile loop trail called Giant Logs Trail. The trail showcases some of the most colorful and largest logs including "Old Faithful" which is 10 feet across.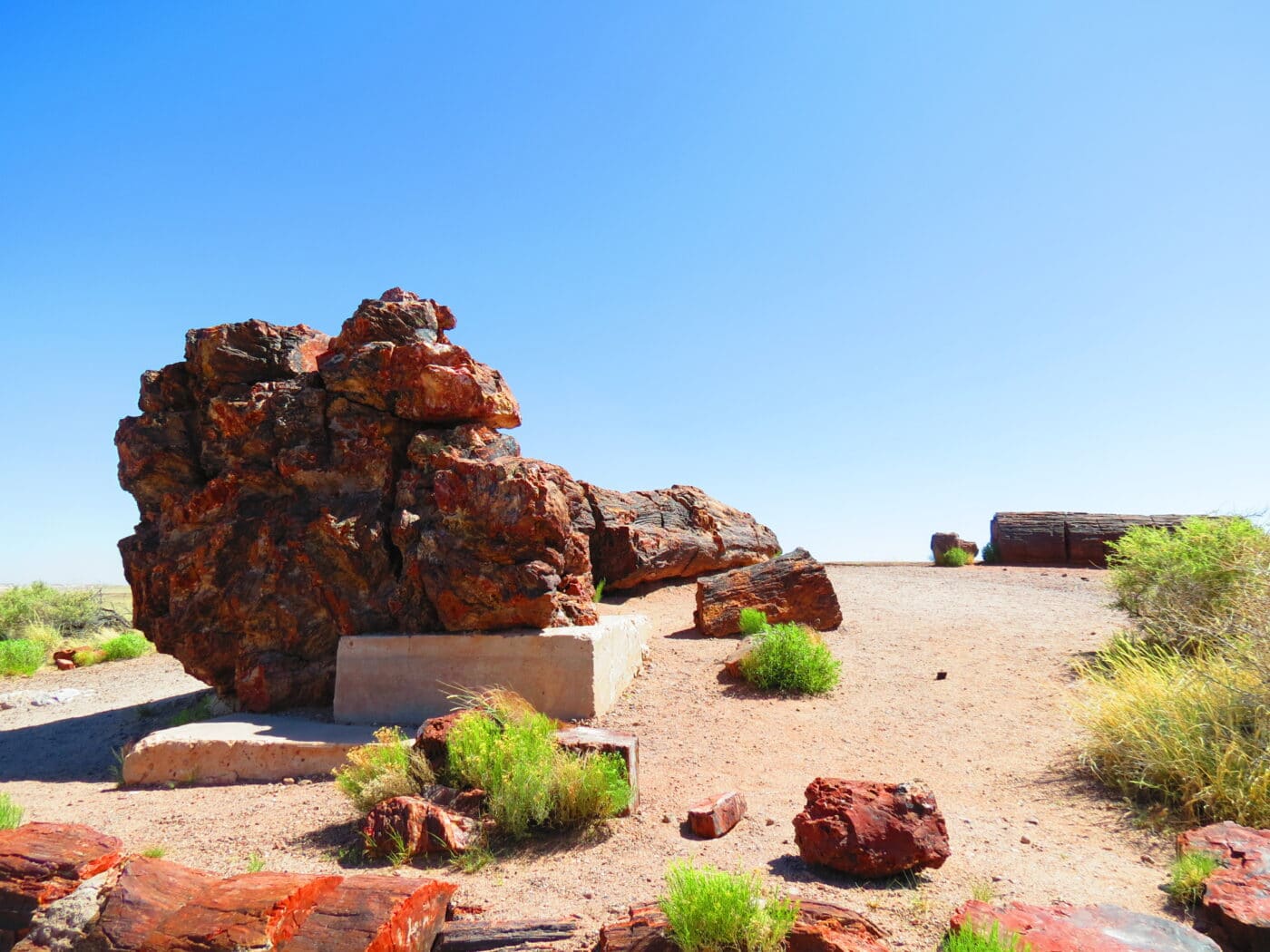 Optional Activities
Long Logs and Agate House Trail – If you have extra time and want to do a bit more hiking, head out on the Long Logs and Agate House Trail. These two trails are separate trails. Long Logs is a 1.6-mile loop while Agate House is a 2-mile round trip trail.
They can be combined for a 2.6-mile trail. Long Logs is a large area when something jammed a large collection of logs together. Agate House is a reconstructed seven-room pueblo.
Final Thoughts on Spending 1 Day in Petrified Forest National Park
I hope this guide helps you plan your 1 day in the Petrified Forest National Park .
If you are looking for advice on other types of outdoor gear specific guides:
Here are some other National Park gear you might like:

Pin for Later: How to Spend One Day in PetrifiedForest National Park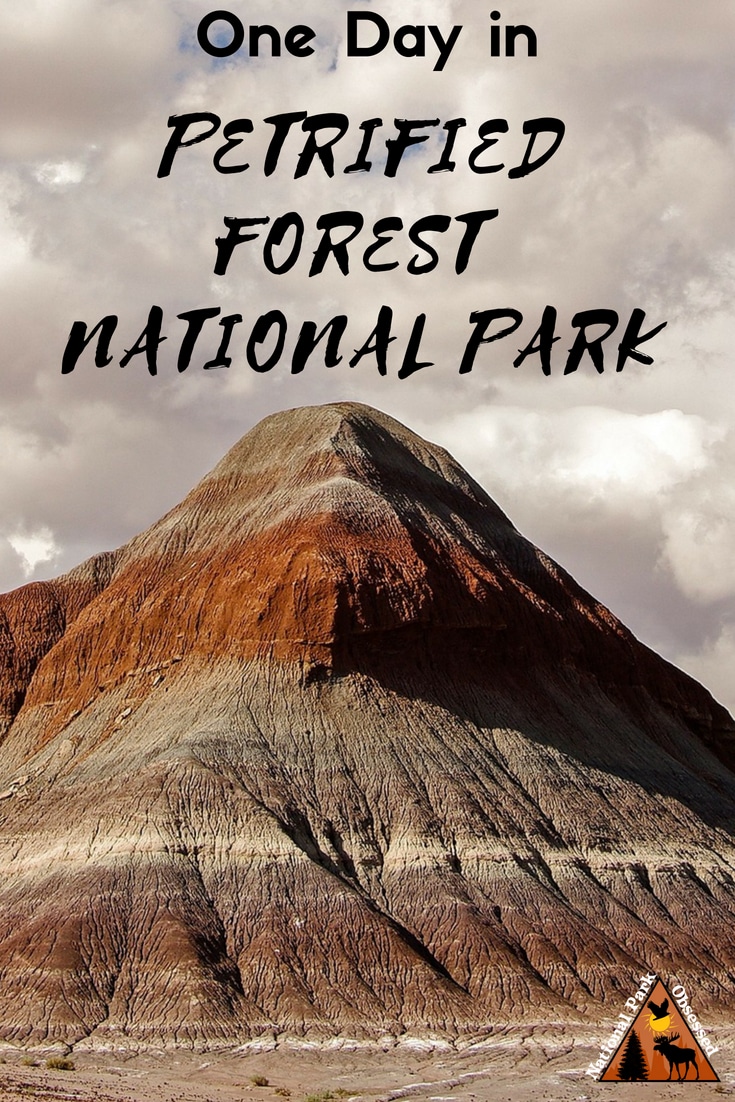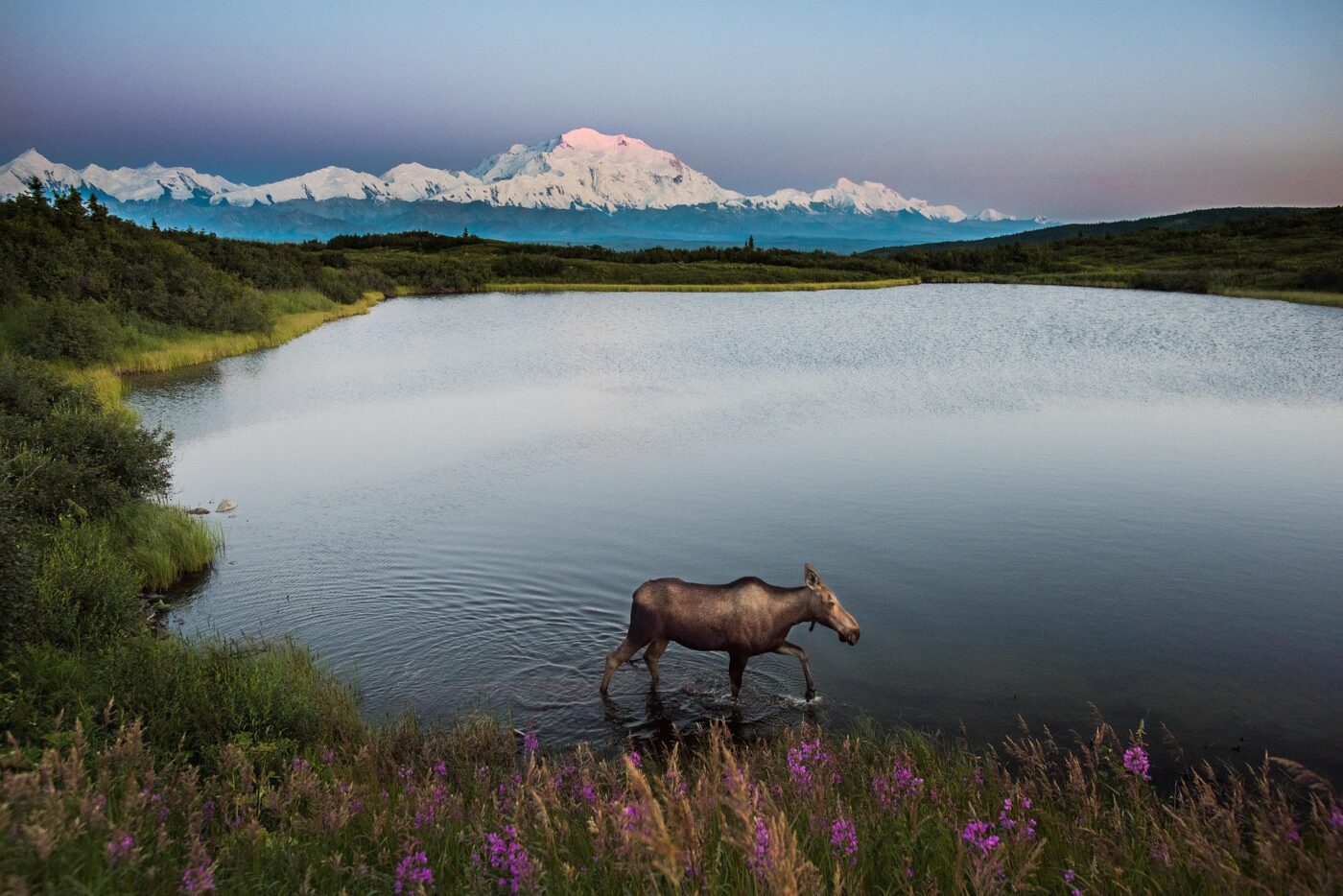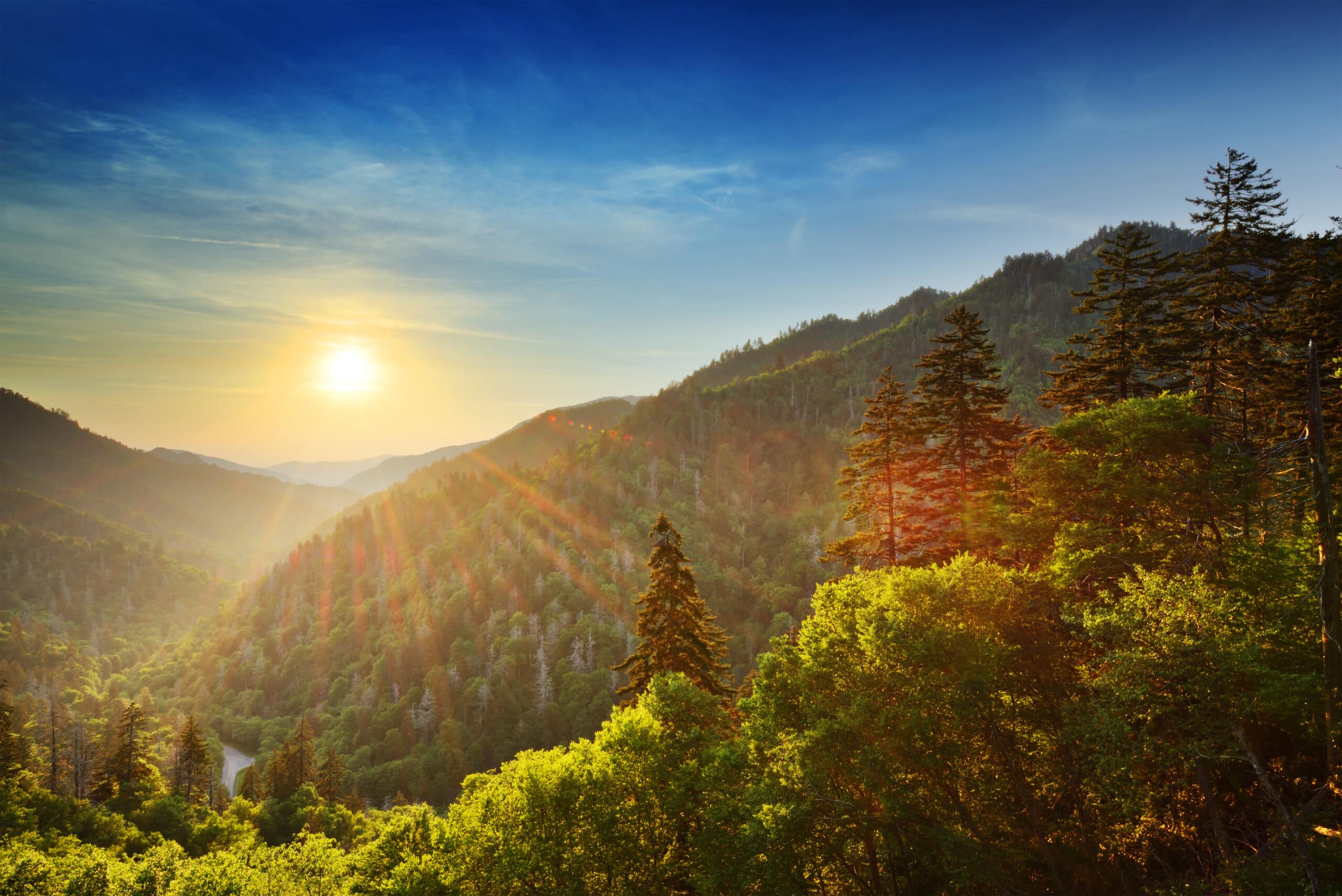 On this site, we promote travel to the United States and beyond that are the traditional lands of  Indigenous and First Nations peoples.
With respect, I make a formal land acknowledgment, extending my appreciation and respect to these lands' past and present people.
To learn more about the people who call these lands home, I invite you to explore Native Land.
National Park Obsessed assumes no responsibility or liability for any errors or omissions in the content of this site (NationalParkObsessed.com). The information contained in this site is provided with no guarantees of completeness, accuracy, usefulness or timeliness. You are encouraged to conduct your own due diligence before acting on the information provided on this site and should not rely on the opinions expressed here.
There is an inherent risk in all outdoor recreation activities, the reader assumes all responsibility for their own personal safety.
We are a participant in the Amazon Services LLC Associates Program, an affiliate program designed to provide a means for us to earn fees by linking to Amazon.com and affiliated sites.
Get a FREE 63 National Park Checklist