5 Things Not to Miss on Your First Visit to Pinnacles National Park
Some posts on this site contain affiliate links, meaning if you book or buy something through one of these links, I may earn a small commission at no extra cost to you! 5% of all site revenue is donated to support the National Parks.
---
Planning an amazing trip to Pinnacles National Park? Looking to experience all the exciting adventures in Pinnacles. Pinnacles National Park is the smallest national park in California. It is the youngest park as well. Its age and size doesn't mean you should overlook Pinnacles NP. Pinnacles a mountainous park is contains the remnants of an extinct volcano. All that is left of this volcano is towering domed rock formations. They give Pinnacles its name. Pinnacles is a unique mix of towering rock formations with unique wildlife. Get out your hiking boots, sunscreen, and binoculars, here are my top five things not to miss on your first visit to Pinnacles National Park.
Things to Know before you go Pinnacles National Park
Carry enough water. Plan on at least 1 liter of water per hour of hiking.
The best times to visit are between October – May. Temperatures in the park can be extreme during the summer. The best weather is from October to May.
There are two park entrances – East and West. They are NOT connected via a road. It is an hour drive from one entrance to the other. I repeat, there is NOT A ROAD connecting the east side of the park with the west side of the park.
Many of the popular trails such as Balconies and High Peak can be hiked starting at either entrance. Most of the popular trails connect into other trails to create a range of loops for any skill level or length.
Pinnacles only has one campground. It is on the east side of the park.
Parking is very limited in the park. During the weekends and on holidays, the lots will fill by 10 am.
A weekend and holiday shuttle is offered on the East side of the park between the East Pinnacles Visitor Center and Bear Gulch. The shuttle is very busy between 10 am and 3 pm and wait times can exceed one hour.
Visit one of the Pinnacles National Park Visitors Centers for the latest park information.
Pinnacles National Park Packing List
Flashlight or headlamp – This is required if you plan on going in any of the caves. The caves can be dark and you need to be able to see where you are placing your feet.
Binoculars – If you want to get a close-up look of a California Condor, a set of Binoculars makes it much easier.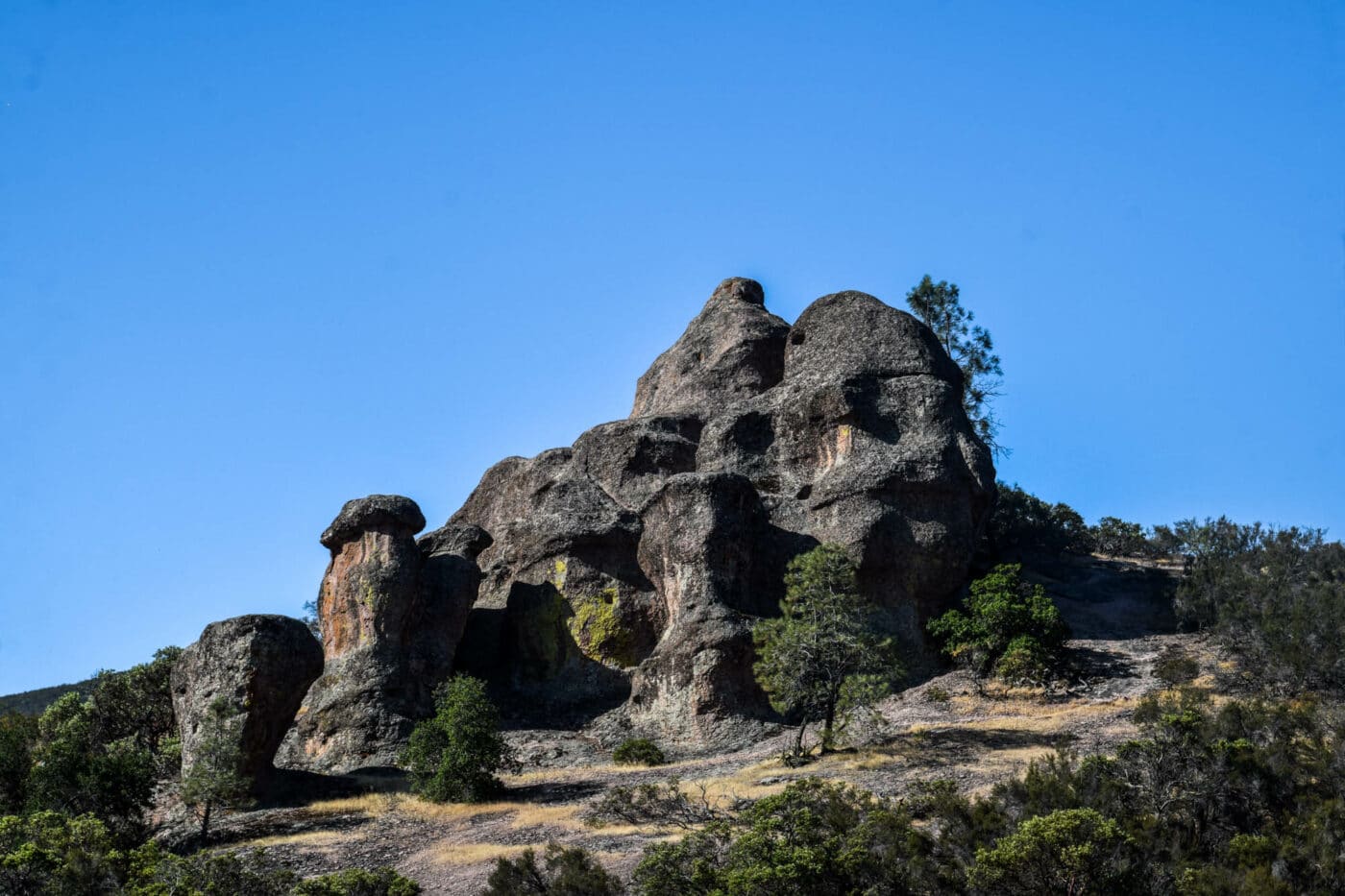 5 Things to do in Pinnacles National Park
Visit Bear Gulch Reservoir
Hike up to Bear Gulch Reservoir via Moses Springs Trail is a 0.9-mile one-way trail. The trail gains 377 feet of elevation. As you hike, you will find two trail junctions. The first junction is with Rim/High Peaks Trails. The second junction is with Bear Gulch Trail. Both of these trails can be used to form a loop with Moses Springs Trail. Just beyond the split with Bear Gulch along Moses Spring Trail is Moses Spring.
If making this trail a loop, I would hike up Moses Springs Trail then take the split with Bear Gulch Cave Trail to the Monolith and Bear Gulch Reservoir. I would then hike down the Moses Spring Trail. I would stop and enjoy Moses Spring then back to the parking lot.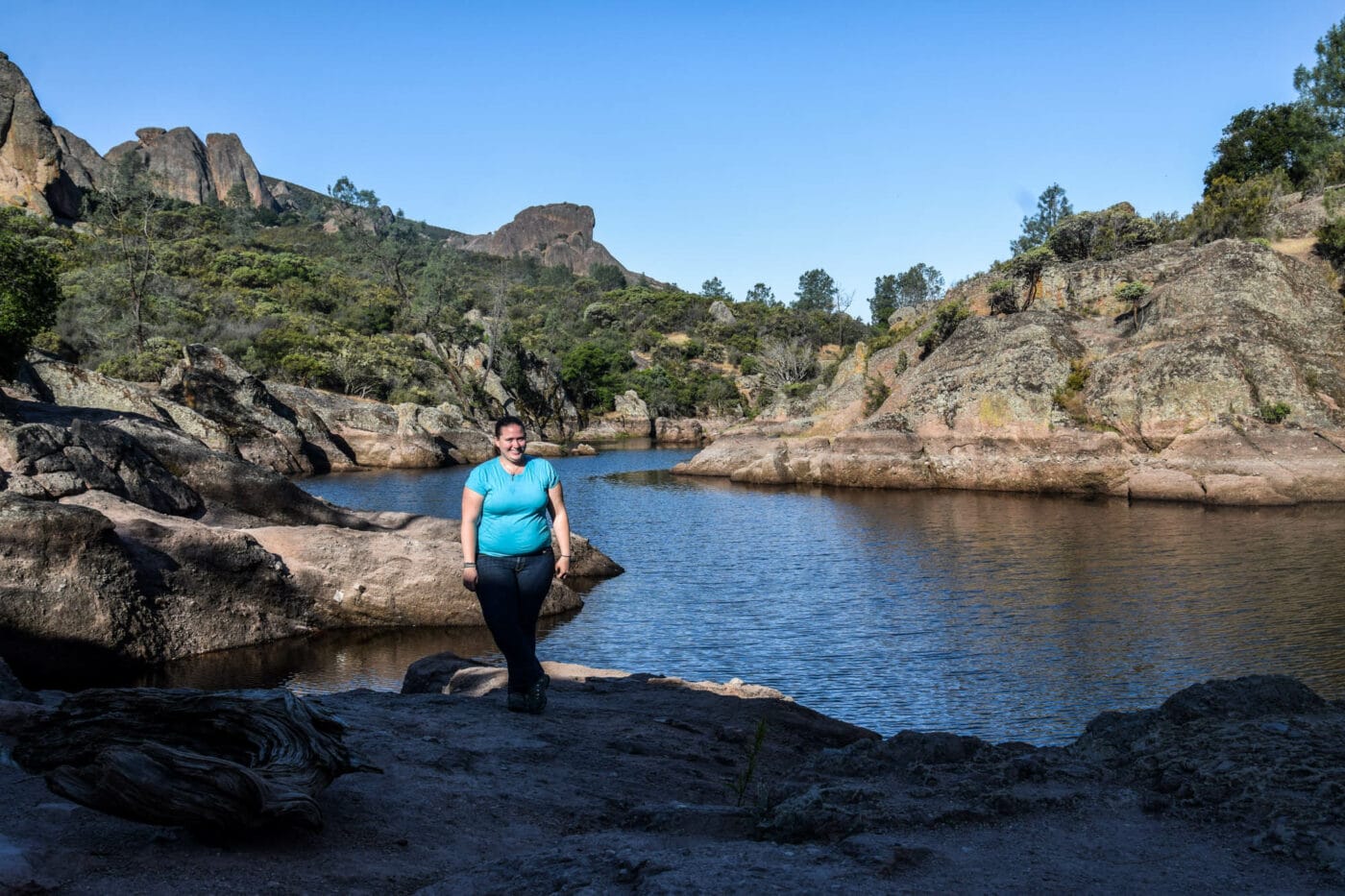 Explore a Talus Cave
A Talus Cave is a unique cave formation. These caves are narrow canyons that are filled in with boulders from the cliffs from above. This process is has been ongoing since the last ice age. The boulders that make the caves roofs range from small pebbles to thousands of ton boulders. Pinnacles National Park has two areas of Talus Caves. One is the Bear Gulch Cave and the Balconies Cave. Please note that these caves can be closed to protect Townsend's big-eared bats or for safety regions. Please do your part and obey all cave closures.
** If you are traveling from east of the Mississippi and have been to any caves please avoid not wearing or using any of the same equipment. We are trying to limit the spread of White-nose Syndrome. If you must use some of the same equipment, please follow the recommended decontamination protocol.
Bear Gulch Cave
Bear Gulch Cave is a short 1.5-mile easy hike. The hike to the cave follows the Moses Spring Trail. before splitting off and heading thru the cave. It has about 240 ft of elevation gain. The trailhead starts at the parking lot just past Bear Gulch Day Use Area. The trail has a gradual incline and best of all has SHADE. You will hike into the narrows of the canyon and the giant rock walls will start to close in. You will know you are close to the cave when you pass the junction around the trail. Once in the cave, you are free to explore this 400 ft long trail. There are two sections of Bear Gulch trail. the Upper and Lower. If the upper Bear Gulch Cave is not open there is a side trail that leads out to the Monolith. You can either hike back the way you came or loop around on Rim Trail or Moses Spring Trail.
The Lower Cave is usually closed May to July and the Upper Cave is usually only open the months of March and October. This can vary depending on the presence of Townsend's big-eared bats.
Pro tip – This parking is very small. As you drive thru Bear Gulch Day Use Area, take a look at the parking lot. If this lot is mostly full, park here. Odds are if Bear Gulch is filling then the lot at the end of the road is already full. You don't want to have to head back to the Visitor Center and take the shuttle. Parking at Bear Gulch adds an extra 0.6 miles to the round trip hike.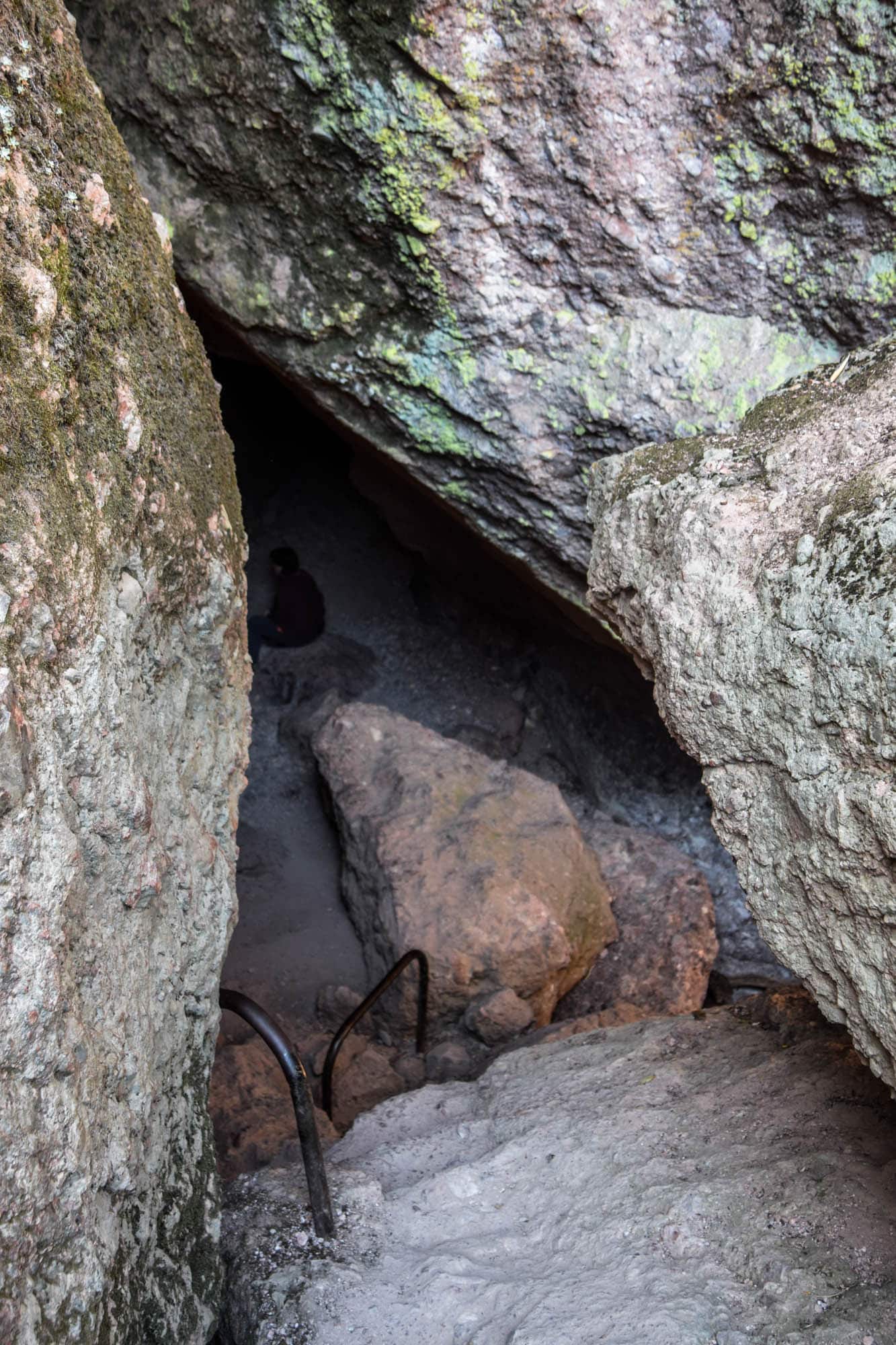 Balconies Caves
Balconies Cave is either a 1.6-mile round trip hike from the Chaparral Trailhead Parking (West Pinnacles) or 4.5 miles round trip hike from Old Pinnacles Trailhead Parking (East Pinnacles). Both trails have minimal elevation gain up to the cave. Balconies Cave is a long narrow cave. You may have to do a few rock scrambling or wade thru a bit of water. This cave is longer than Bear Gultch and a flashlight is highly recommended.
**As of 1/21/2019, Balconies Cave is closed due to a recent rock fall. The area is unstable. Please don't go in there and make park rangers have to rescue your dumb ass.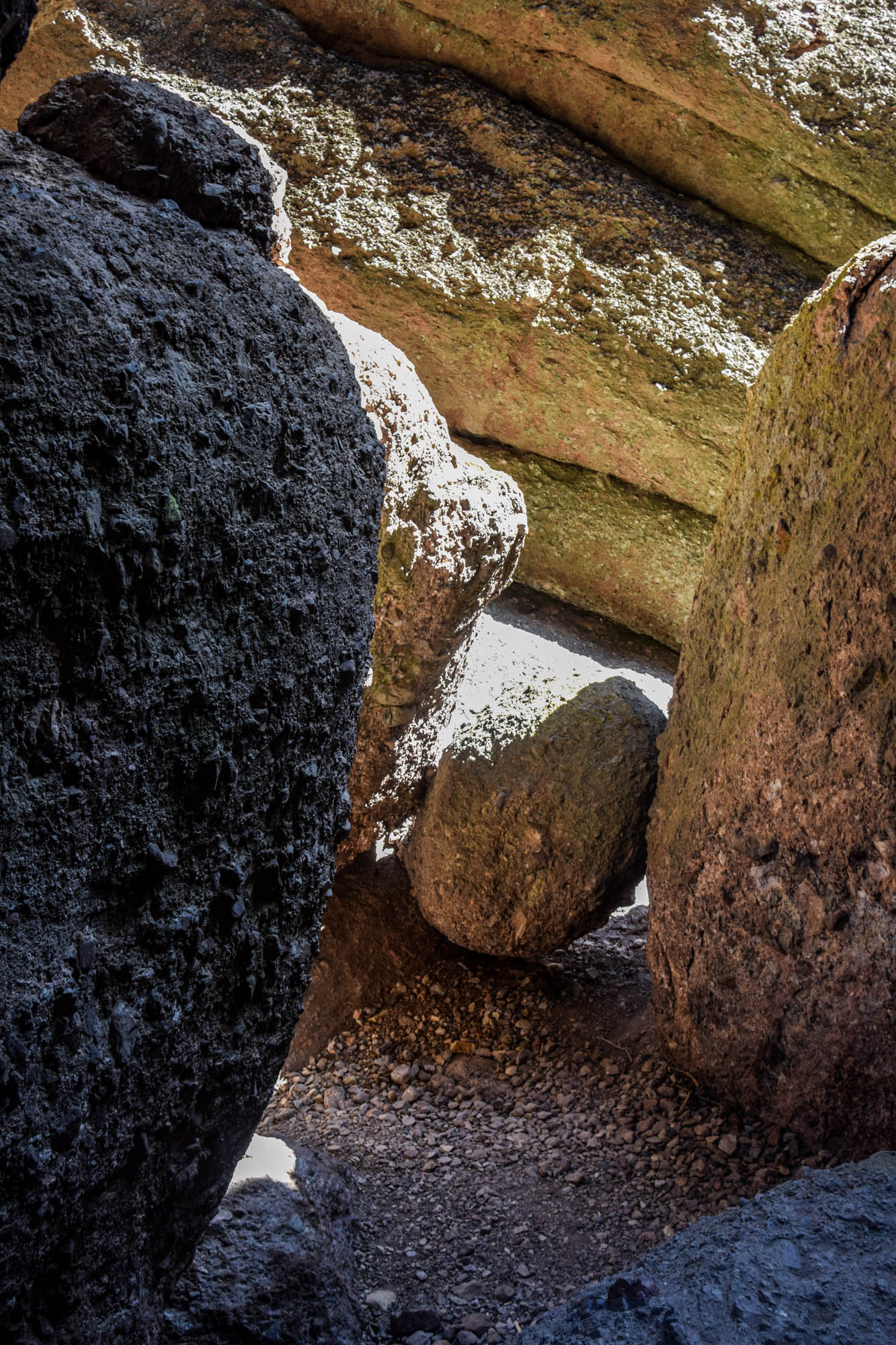 Condor Gulch Overlook
Condor Gulch Overlook is reached by hiking the Condor Gulch Trail. The Overlook is about 1 mile one way from Bear Gulch Day Use area. The trail gains 760 ft of elevation along the way. The overlook is best hiked in the morning or late afternoon. There is little to no shade along the trail. The heat can make the trail feel like it is way longer than it really is. The overlook provides great views of Bear Gulch and the High Peaks above. Keep an eye to the sky. The region is over to over 200 species of birds.
There is another 0.7 miles past the overlook where the trail connects to the High Peaks Trail. If you have the time, it might be worth the hike to the junction but it isn't necessary to appreciate the view.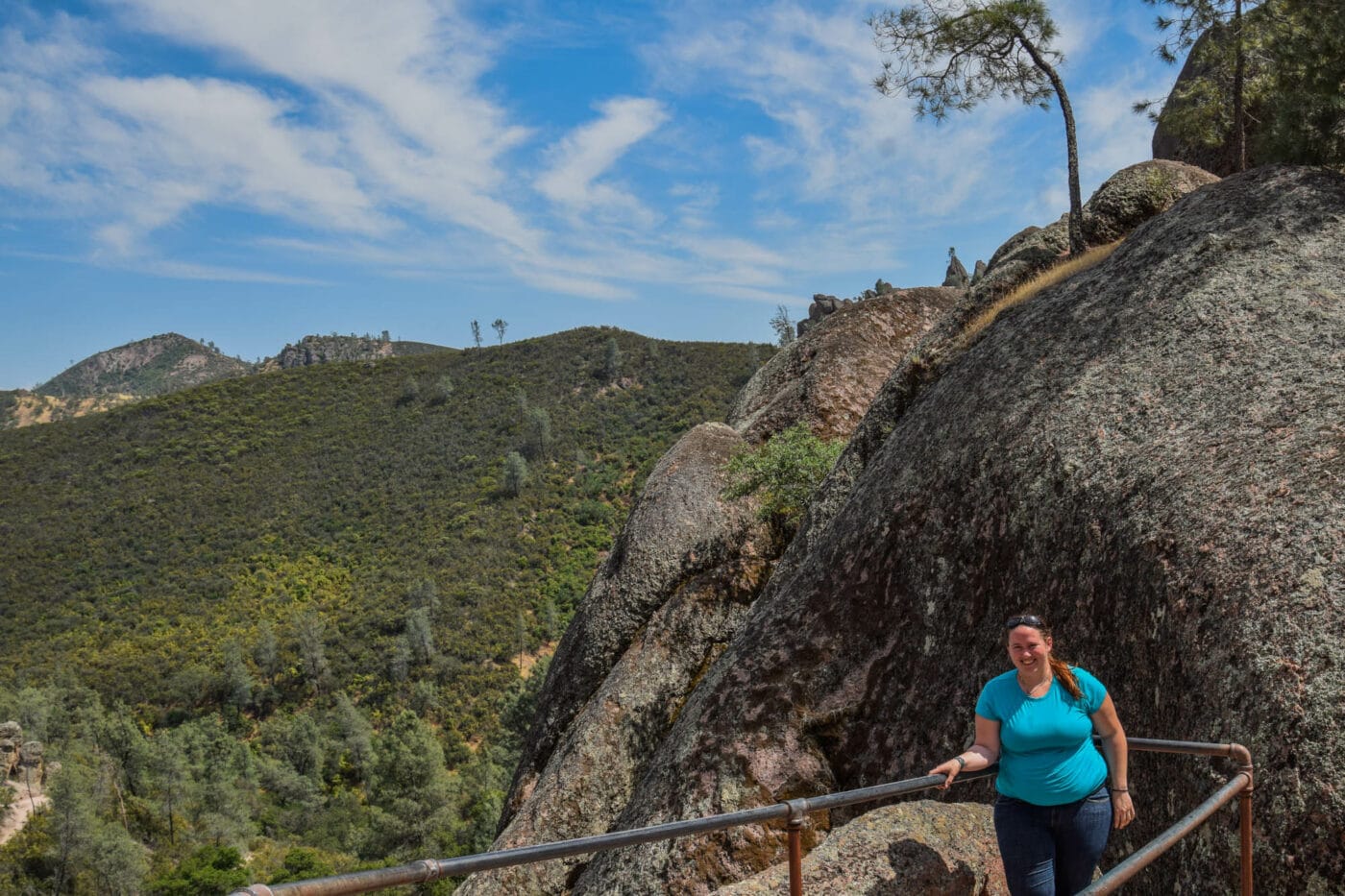 Explore the High Peaks
To really appreciate Pinnacles National Park, you need to hike up to the High Peaks. The name is a bit confusing. There is the High Peaks Trail which is a 4.5-mile trail the Rim Trail to Bench Trail. To access the trail, you have to hike to it. There are options to reach High Peaks trail from both the east and west side of the park. This area is easy to turn into a loop trail. The best section of the High Peaks is the 0.7 mile section of the High Peaks trail labeled Steep and Narrow on the park map. No matter which loop you pick, you want to hike this section. It has several ladders to climb and amazing views.
West High Peaks Loop Options – Chaparral Trailhead Parking
Juniper Canyon Loop – 4.3 miles – 1,215 feet elevation gain – Climb up the ridge via Juniper Canyon Loop then do the Steep and Narrow section of High Peaks and return via Tunnel Trail.
East High Peaks Loop Options – Bear Gulch Day Use Parking
Condor Gulch to High Peaks Loop – 5.3 miles – 1,3000 ft elevation gain – Head up Condor Gulch then follow High Peaks to the steep and narrow section and follow the trail back to Bear Gulch Day Use Area
High Peaks to Bear Gulch Loop – 6.7 miles – 1,425 ft elevation gain – This trail can either start at the end of the road parking lot or Bear Gulch parking lot. The milage is the same either way. Head clockwise up the Bear Gulch trail until you hit the junction with Moses Spring Trail and High Peaks. Start up the High Peaks trail toward the steep and narrows section. Head down thru the meadows toward Bench Trail. You hike ends along the flat and shaded sections of Bench and Bear Gulch Trail.
Pro tip – On either of the east side trails, you can add a visit to Bear Gulch Cave and Bear Gulch Reservoir to your High Peaks loop. It will add 1.1 miles to your hike.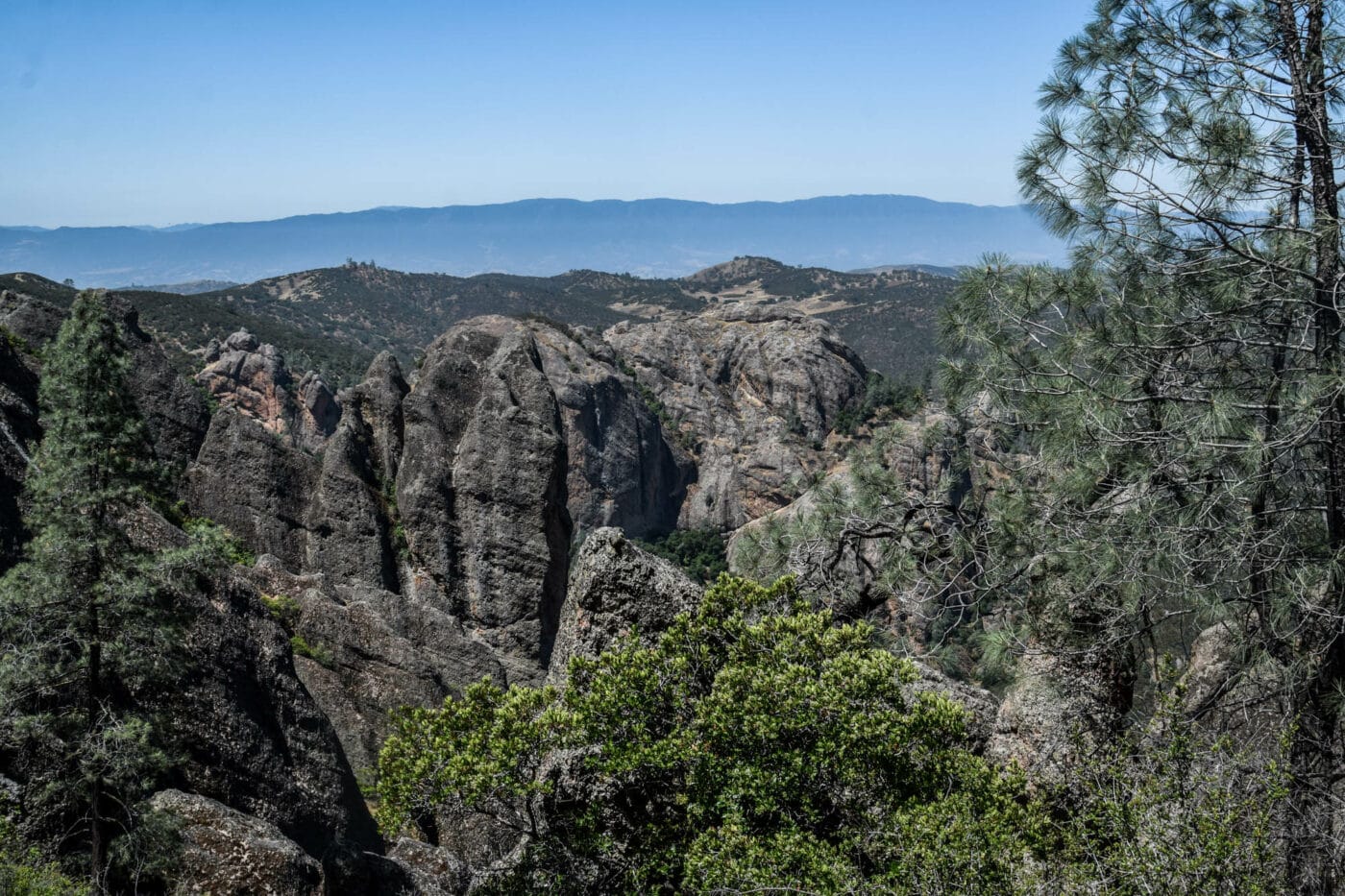 See a California Condor
The pride and joy of Pinnacles wildlife is the California Condor. The California Condor is the largest bird in North America. These birds have an 8.2 ft to 9.8 ft wingspan. By all right, these large birds should be extinct. In 1987, they were extinct in the wild. The last 22 individuals were captured and brought into the captive breeding program. In 1991, several birds were reintroduced and the population has been growing slowly. Pinnacles National Park is one of the release sites for California Condors. At 1.5 years old captive breed, Condors a carefully reintroduced into the area. They are outfitted with a wing ID tag. This ID tag traces the history of that bird back to the original 22 birds. Today there are over 400 bird flying free around Mexico, California, Arizona, and Utah. On average, Pinnacles has 27 condors in the park. That being said, they are free to come and go as they please.
As you hike along Condor Gulch and High Peaks trail, keep looking up. You will know when you see a condor. It looks like a small plane with white triangles under their wings. If you can, use your binoculars to get the ID number. The ID number will a colored piece of plastic along with a two digit number. The color and number can be used to ID the condor and trace its family tree.
If you happened to see condor peach 28, she is the first California Condor chick to fledge in Pinnacles National Park in over 100 years.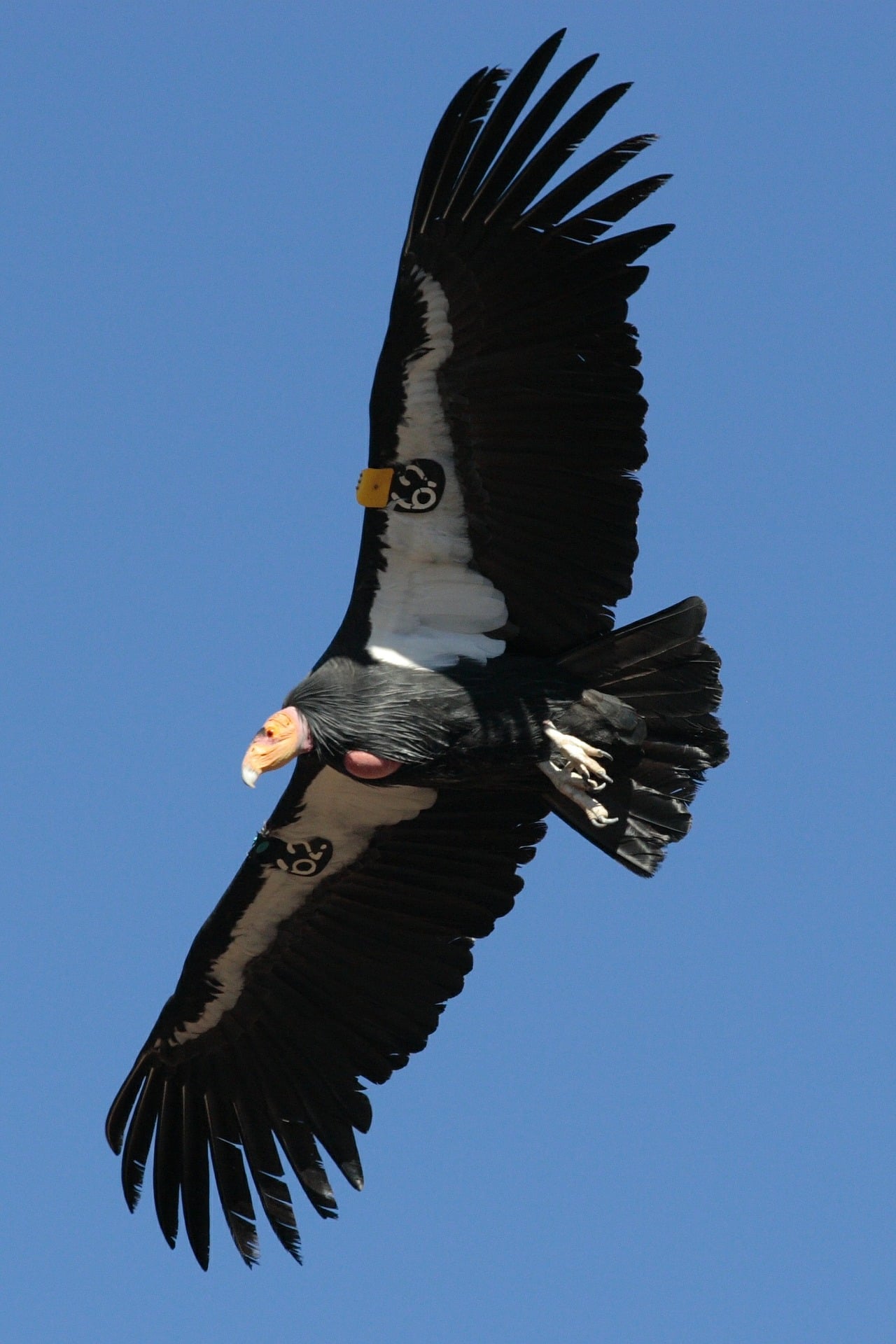 Honorable Mentions:
Rock Climbing: Pinnacles National Park is a climber's paradise. The park has a range of climbs from solid stable pitches to soft and crumbly pitches. The park has a range of mapped routes from 5.4 to 5.10a. If you are an experienced climber, please use a guiding service.
Chalone Peak Trail: North Chalone Peak is the highest point in the park. The trail is 9 miles round trip with 2,040 feet of elevation change. The peak provides amazing views of the surrounding valleys A unmaintained trail leads to South Chalone Peak.
Swimming Pool: Pinnacles is one of the only national parks to have a public swimming pool in it. If you are camping in the park, be sure to use this pool. It is one of the most remote and scenic pools in the lower 48.
What do you want to do in Pinnacles National Park? Did I miss anything that should be on the Things Not to Miss on Your First Visit to Pinnacles National Park list?
Check out some of our favorite Pinnacles National Park and National Park Obsessed Products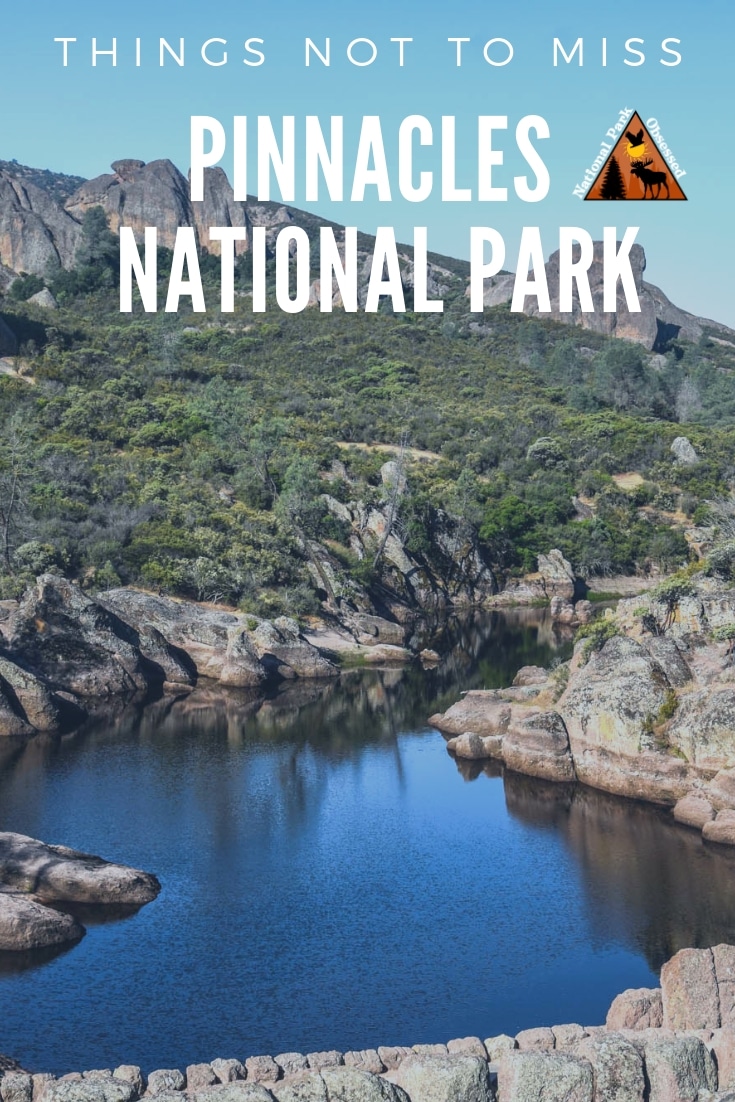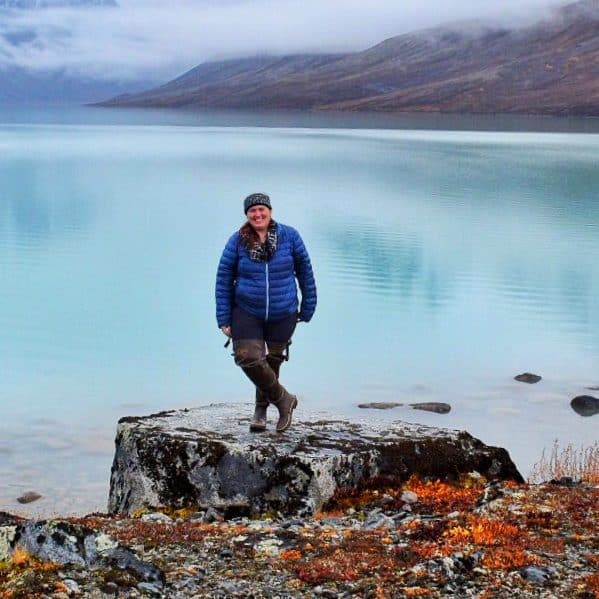 Jennifer has been obsessed with national parks as a child.  This Tennessee native spent her childhood exploring the Great Smoky Mountains National Park and traveling with her parents to National Parks and around the Caribbean.  She is always planning her next adventure and is ready to see the world while trying to visit all 59 National Park (*She is ignoring the hunk of concrete that just became a national park).