Everglades National Park is a unique and special place in the National Park System. Everglades was the first National Park created to protect an ecosystem. On the surface, the park looks like a vast grassland with clumps of trees here or there but when you step back and really look at the park, a wonderful world opens up. The park has a range of subtropical ecosystems from Pinelands to mangroves to freshwater sloughs to marine and estuarine. Everglades National Park is home to a vast array of wildlife and plant life just waiting for you to explore it. This national park is located near Miami, Florida, and is perfect for a weekend getaway. Check out how to make the most of a weekend in Everglades National Park.
This 2 Days in Everglades guide is perfect for those looking to visit the Everglades over a three-day weekend.
Help support this site by purchasing one of our National Park Shirts, Poster, and other gear. Every purchase includes a donation to the national parks and helps keep National Park Obsessed's website free to use and producing more national park guides.
Looking for more help planning your next adventure? Join the National Park Obsessed Facebook Group here to connect other national park lovers, trade advice, or see inspiring photos of the National Parks?
This post may contain affiliate links, meaning if you book or buy something through one of these links, I may earn a small commission at no extra cost to you! Read the full disclosure policy here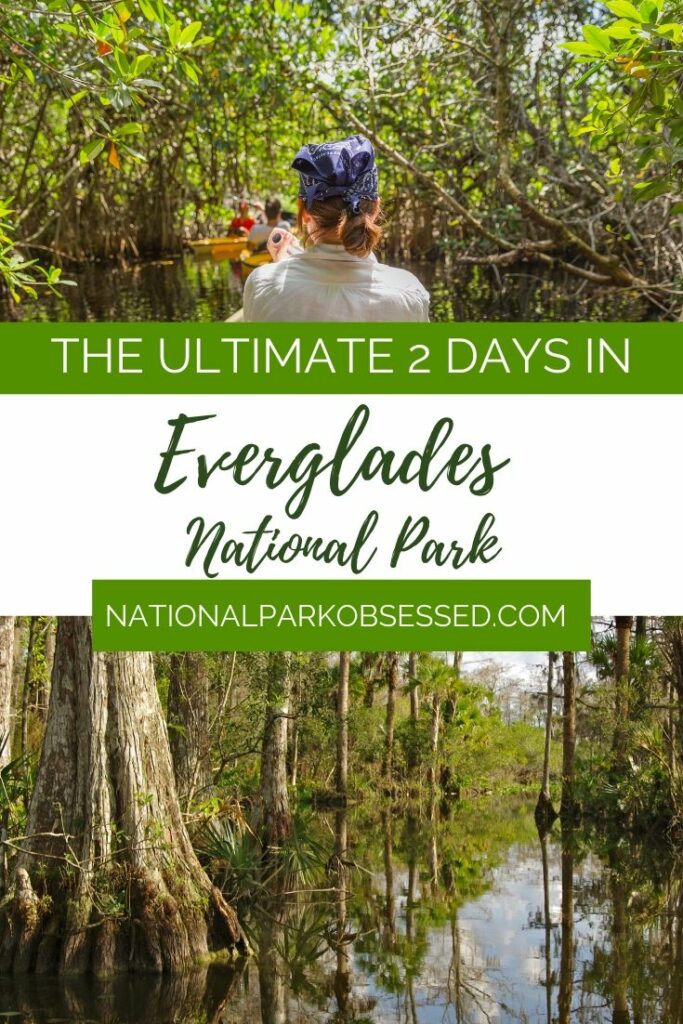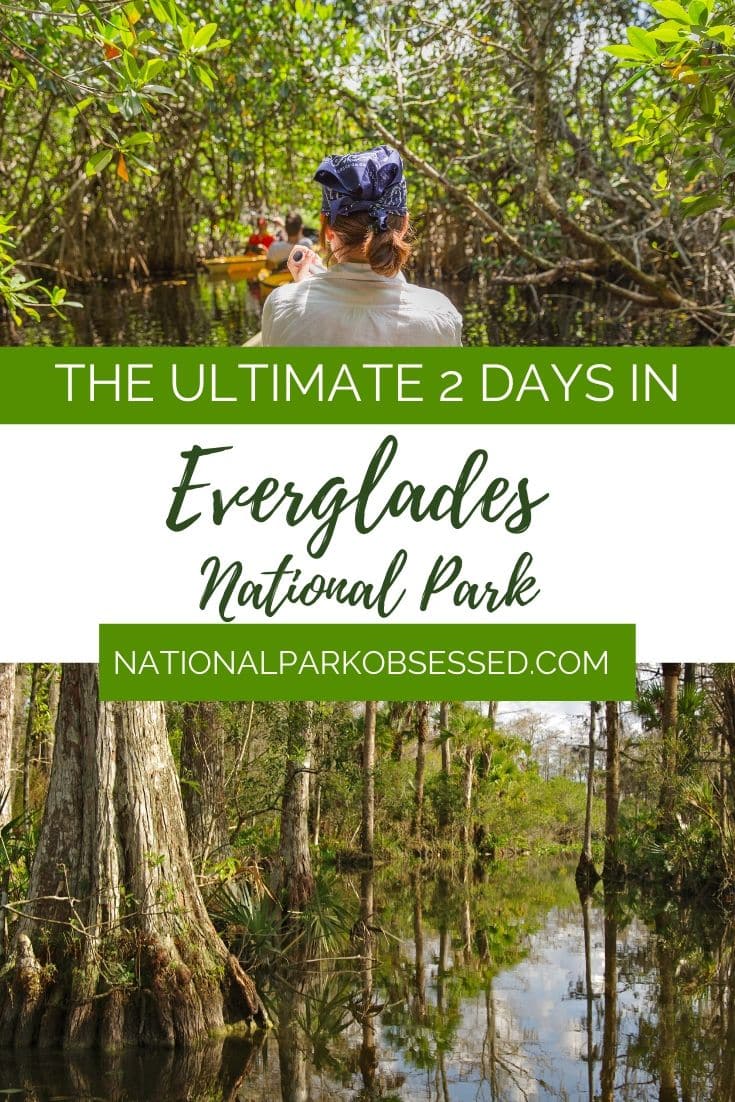 Getting to Everglades National Park
Everglades National Park is located on the southern tip of Florida near the cities of Miami and Fort Lauderdale. The park has 3 main entrances. These entrances are Homestead, Miami, and Everglades City. None of the entrances are interconnected and each provides access to a different region of Everglades National Park. Miami International Airport provides easy access to both the Miami and Homestead Everglades Entrances. Depending on traffic, the drive to either entrance will take between 45 minutes to an hour.
The Homestead Entrance is located in Homestead, FL, and provides access to Royal Palm and Flamingo. The Miami Entrance provides access to Shark Valley. The Everglades City entrance provides access to the Gulf Coast.
There is no public transportation to or from Everglades National Park.
Estimated Drive time to Everglades National Park
Miami, Florida – 0.75 hours
Fort Lauderdale, Florida – 1 hour
Orlando, Florida – 3.75 hours
Tampa, Florida – 4 hours
Jacsonville, Florida – 5.5 hours
Savannah, Georgia – 7.5 hours
Charleston, South Carolina – 9 hours
Estimated drive time to Everglades National Park from nearby National Parks
Best Guided Day Tours of the Everglades
How many days in Everglades National Park
How long do you have? Honestly, there is no right answer to this question. If you only have two days to spend, make the most of the time you have and enjoy your visit to Everglades National Park.
Don't let anyone tell you that you HAVE to spend a specific amount of time in Everglades. Ideally, I would spend at least 3-4 days in the park on every visit but not everyone has that option. You can do a lot with 2 days in the Everglades and not feel like you missed out.
Best time of year to visit Everglades National Park
Due to its southern location. Everglades National Park has two seasons – the Dry season and the Wet season. The Dry season runs from November to March and the Wet season is from April to October. The seasons are differentiated by the change of water level in the parks. There are advantages and disadvantages to both seasons. The park doesn't have many seasonal closures.
Dry Season: The Dry Season is the most popular and best time to visit the park. With limited water, Everglades' wildlife such as alligators is more concentrated to areas like Royal Palm where water is found year-round. As well as, many species of birds migrate to the everglades to nest during this time. Most of the ranger-led activities are scheduled for this season and the mosquitos are at their least vicious.
Wet Season: The wet season is also known as the MOSQUITO season. The bugs are thick and you need to be prepared for this. Due to the higher water level, the park's wildlife is mostly more spread out with the exception of the Florida Panthers. This big cat will be found in the higher elevation areas. This is the best time to see orchids in the park. The park is the least busy during this season.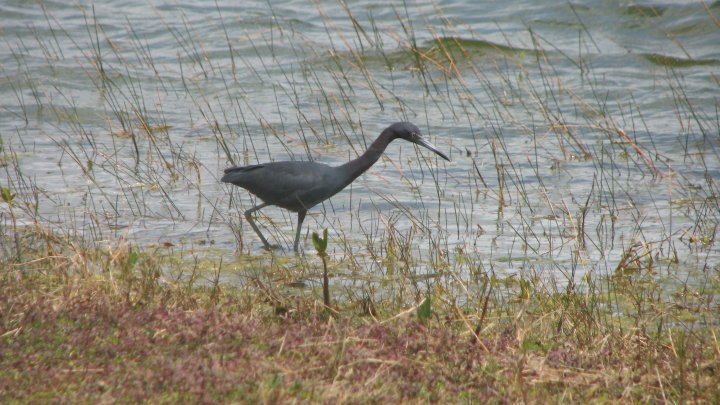 Where to stay in Everglades National Park
Given the size of Everglades National Park, it is surprising that the park only has two campgrounds and no in-park hotels. Long ago, there was a small hotel in Flamingo called the Flamingo Lodge but in 2005 the Lodge was destroyed by Hurricane Katrina and Hurricane Wilma and as of 2020 hasn't been rebuilt and there are no firm plans to rebuild.
For this itinerary, we recommend picking a hotel in Homestead, FL or camping at either of the park's campgrounds.
Hotels in Homestead, Florida
Hoosville Hostel (formerly the Everglades Hostel) – Hoosville Hostel is my FAVORITE place to stay in near the Everglades. This cute hostel has a range of private and door rooms. It has a great backyard for socializing and you meet a wide range of people here. They also rent kayaks and canoes. There is a full shared kitchen for all guests to use.
Holiday Inn Express Hotel & Suites Florida City – Holiday Inn Express is a modern chain hotel located near the Everglades. It has an outdoor pool and breakfast is included.
Hotel Home2 Suites by Hilton Florida City – Hotel Home2 is a great option for couples looking to cook their own meals. Each room has a full kitchen. The hotel has an air conditioning and a modern layout.
What to pack for a weekend in Everglades National Park?
America the Beautiful National Parks Pass: Everglades National Park costs $30 for a 7-day pass. If you intend to visit more than 3 National Park Services sites in a year, the America the Beautiful Pass will more than pay for itself.
National Park Passport – The National Park Passport Book is the cheapest and best souvenir of your national park adventures. This book makes it easy to collect the National Park Cancellation Stamps. The cancellation stamps have the date of your visit and make it easy to track when you visited each national park service unit.
Refillable Water Bottles – Do your part to reduce litter in our parks by bringing a refillable water bottle with you. A reusable and refillable water bottle can save you a lot of money and really help the environment. Here are my favorite water bottles
Hydration Bladder – If you are hiking longer distances, a hydration bladder is the best way to hike with significant quantities of water. It is a rare hike when I don't bring a full bladder with me.
Snacks – There are limited services in the park. So pick up all your snacks before you go. Pack a couple of different options so you are prepared for any craving.

Fruit: Pick hard fruits such as apples or pears. These hold-up in the heat and in packs without getting squished to mush. Another option is freeze-dried fruit. Freeze-dried strawberries are the BOMB. They are crunchy, sweet and the best part is they are lightweight and yummy. These are my new favorite trail snack.
Vegetables: Cucumbers and carrots hold up well during hiking and in a hot car.
Granola Bars: Take your favorite non-coated in chocolate granola bars. Anything coated in chocolate will melt and be a sticky mess. My favorite is a selection of Cliff Bars. They are great even when squished.
Sunscreen – You don't want to get burned on your visit.
Lip balm – Your lips need just as much sun protection as your skin does.
Sunglasses – Similar to sunscreen, you need a good pair of polarized sunglasses to protect your eyes from the glare of the sun.
Hat – Hats are another sun protection device. A hat can keep the sun off your face and neck and help minimize the need for sunscreen while on the trail.
First aid kit – As with any outdoor adventure, accidents happen. It is better to be prepared and have a compact first-aid kit ready to help with any accidents.
Headlamp – Always keep a headlamp handy. You never know when you might want it. It can be used for midnight bathroom runs to sunrise/sunset hikes. A good headlamp makes it easy to operate in the dark.
Shoes – Shoes are probably the most important piece of gear to any hiker. Hiking shoes should be seen as an investment. On the trail, your feet are your transportation and a solid pair of hiking shoes help support your feet and can prevent injury.
Hiking Day Pack – A good day pack is the best way to transport all your gear when hiking. I highly recommend getting a backpack that is designed for outdoor use. These packs come with handy pockets and straps. My 40 L day pack has a pocket for my water bladder and a clip to hold the water line in place.
National Park Obsessed Shirt – Share your love of the National Parks and support National Park Obsessed with a National Park Obsessed T-Shirt.
How to Spend 2 Days in Everglades National Park
This article focuses on the eastern side of the park and utilizes the Homestead and Miami park entrances.
If you are looking to be a little more adventurous, there are several really fun options in the Everglades. The first is kayaking or canoeing. There are several popular and well marked (usually) canoe trails on the drive from Homestead to Flamingo. Canoe and kayak rentals available at Hoosville Hostel just outside the Homestead entrance. Kayak, canoe, and boat rentals can also be found in the park at the Flamingo Marina.
The other option is the Slough Slog / Wet Walk. This ranger-led hike takes off the boardwalk and wading into the River of Crass to a cypress dome. Depending on the season, this activity can either be a muddy walk or wading in water anywhere from ankle to chest-deep. Reservations are required. They can be made up to one week in advance by calling (305) 242-7700. Lace-up shoes, socks, and long pants are required. Be prepared to get wet and muddy. This activity takes 2 hours.
From December to March, there are afternoon tours of HM69. HM69 is a Cold War era Nike Missile Site. The tour will show you the actual missile site and many of the original support buildings. The tour is 1.5 hour and is accessible.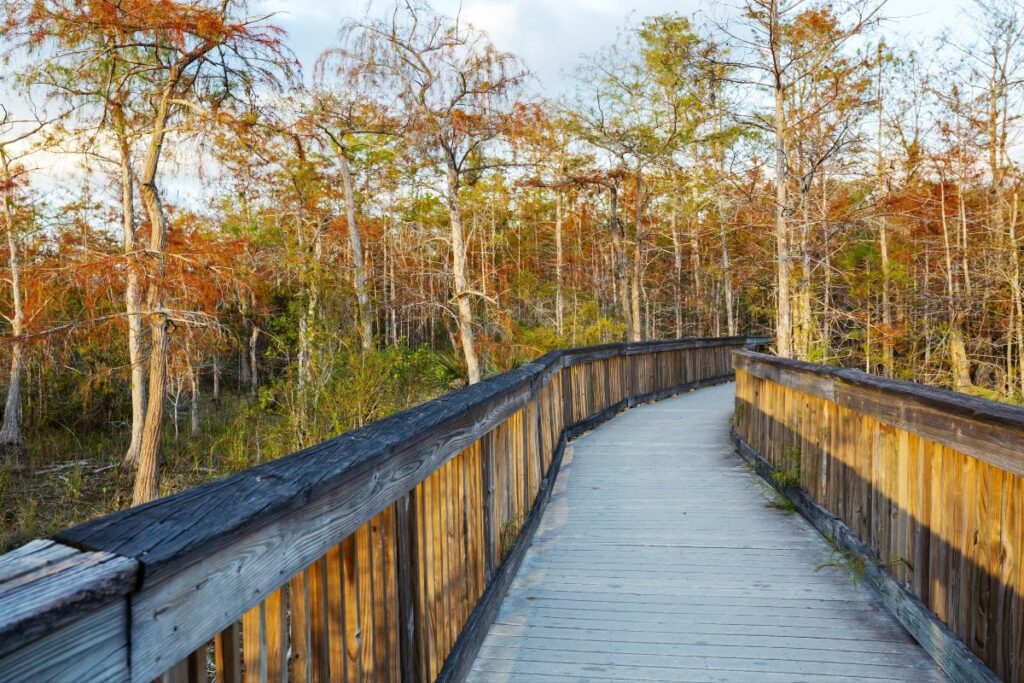 Things to Do in Everglades National Park
Anhinga Trail
Gumbo Limbo Trail
Pinelands
Pa-hay-Okee Overlook
Sisal Pond
Ficus Pond
Mahogany Hammock
Eco Pond
Optional Things to Do in Everglades National Park
Kayak or Canoe one of the marked Canoe Trails

Nine Mile Pond
Hell's Bay
Buttonwood Canal up to Coot Bay of Bear Lake

Tour of HM69 – Nike Missle Site
Slough Slog Tour
Hiking near Flamingo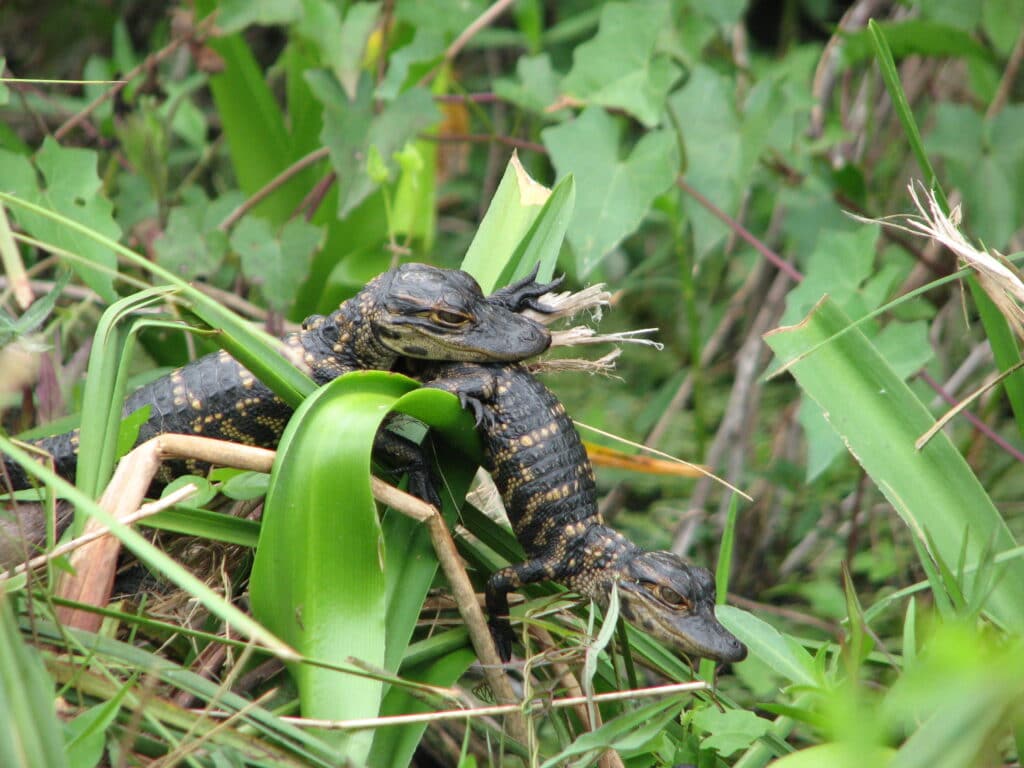 Two Day Itinerary for Everglades National Park
Everglades Weekend – Day 1
Unlike some parks, Everglades isn't a must have your parking spot by 8:00 am or else park. Everything in Everglades is spread out and parking isn't at a premium (most of the time). So you don't have to be up at the crack of dawn unless you really want to watch the sunrise.
Start your visit at the Ernest F. Coe Visitor Center. If you are visiting during the dry season (Mid-December through Mid-April) the center opens at 8:00 am. The rest of the year the center opens at 9:00. Check at the ranger desk for any part updates such as canoe trail conditions and check out the exhibits here.
Head into the park and follow the signs to Royal Palm. There are two short interpretive trails at Royal Palm. The most popular one is the 0.8-mile Anhinga Trail and the other is the 0.4 mile Gumbo Limbo Trail. Both trails are paved and wheelchair accessible.
Anhinga Trail is one of the best bird and wildlife watching areas in the park. The trail is a wide path leading out into the sawgrass marsh. During the dry season (winter months), alligators and birds congregate in this area due to the year around water. Even during the wet season, this is a great area for wildlife spotting. Be sure to look under the boardwalk, alligators often hang out there.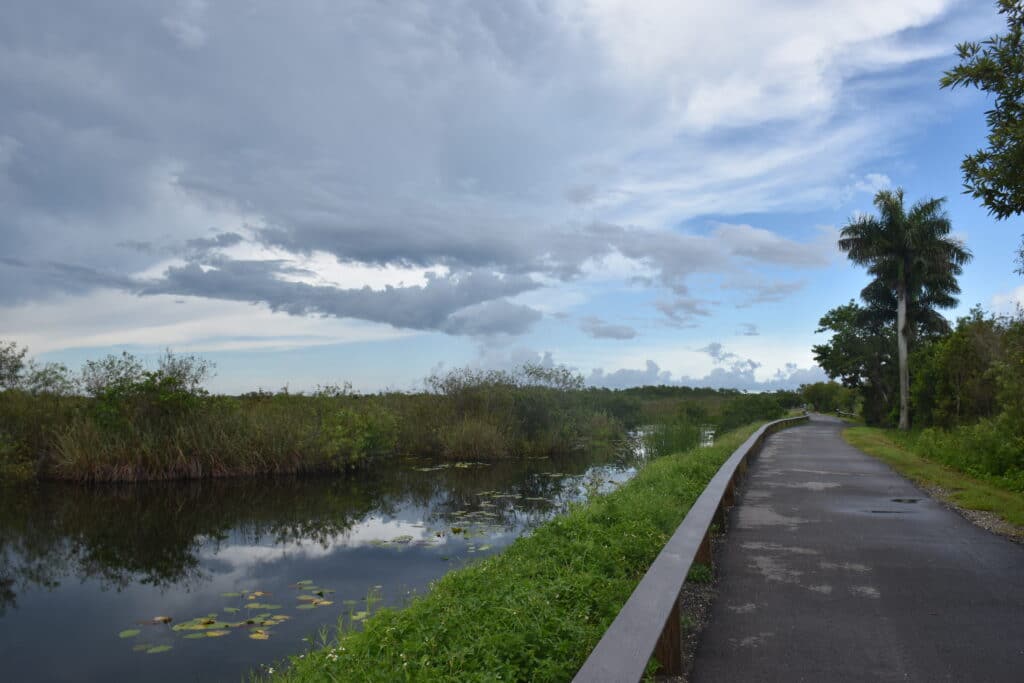 Unlike Anhinga, Gumbo Limbo Trail leads into tropical hardwood hammock. The trail has small sign post with identify plants along the trail. These two trails showcase how a couple of feet of elevation can completely change the ecosystem in the Everglades.
Make a short drive over to Pinelands. Pinelands is home to a stand of pine trees and saw palmettos. This 0.4-mile trail explores an area of limestone bedrock. These pine are a rare sight in the Everglades and this area is some of the highest in the park. Pay close attention and you might see the liguus tree stales on the Jamaican dogwoods.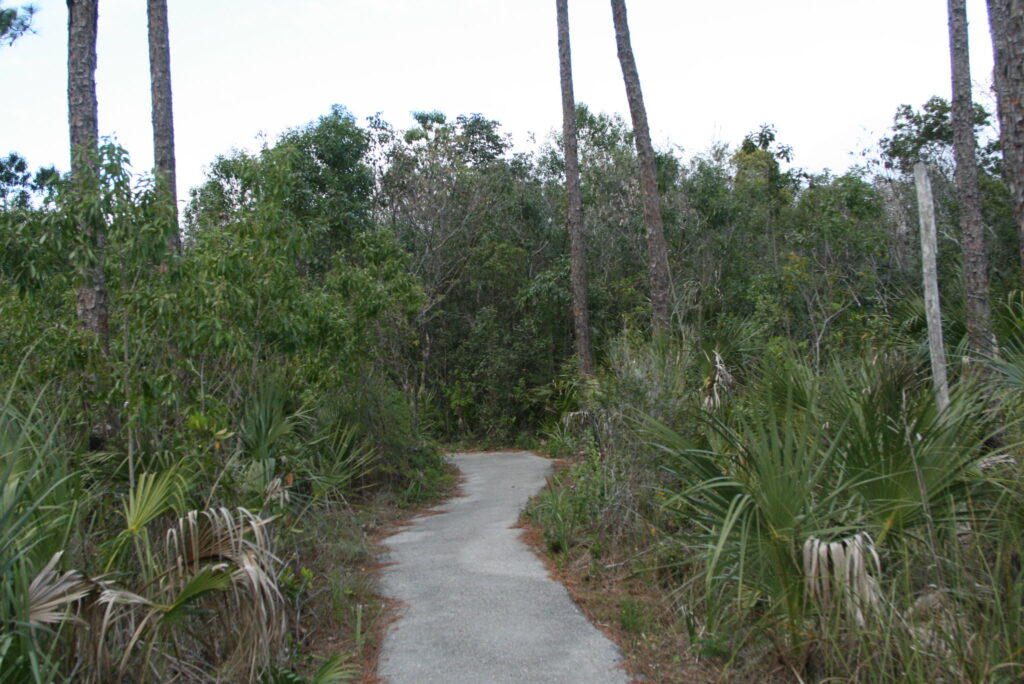 The next stop is the Pa-hay-okee Overlook. This 0.16 mile boardwalk leads to a raised observation platform that provides sweeping views of the Share River Slough and the River of Grass.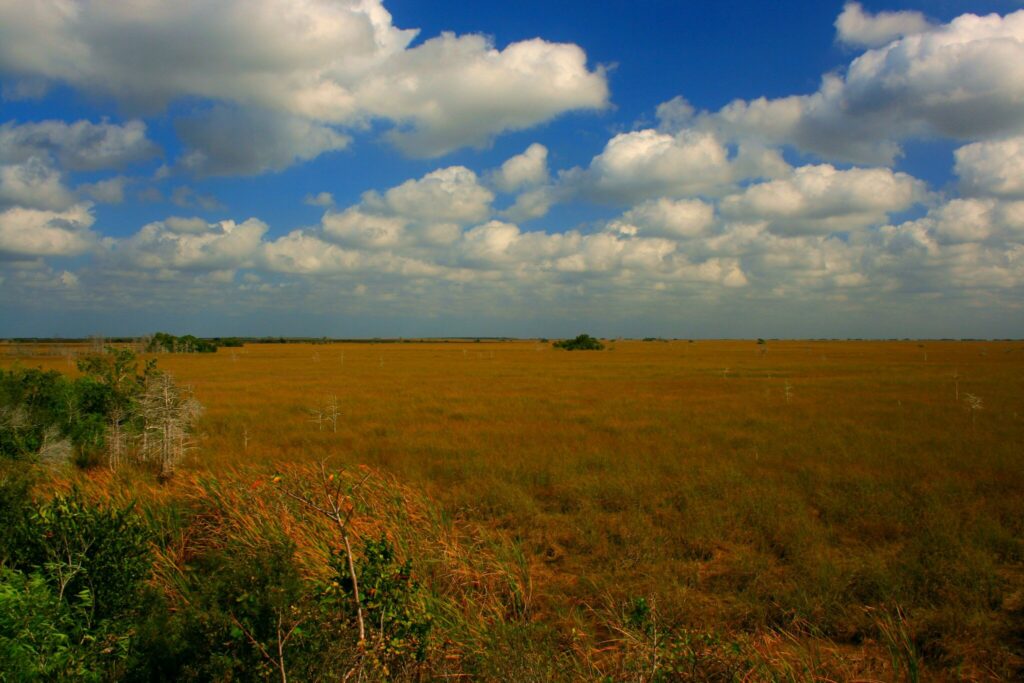 Keeping driving towards Flamingo. There are several small ponds to stop and check out along the way. These ponds are great for bird watching. I have seen several Roseate Spoonbills in this area. This bright pink birds are easy to spot.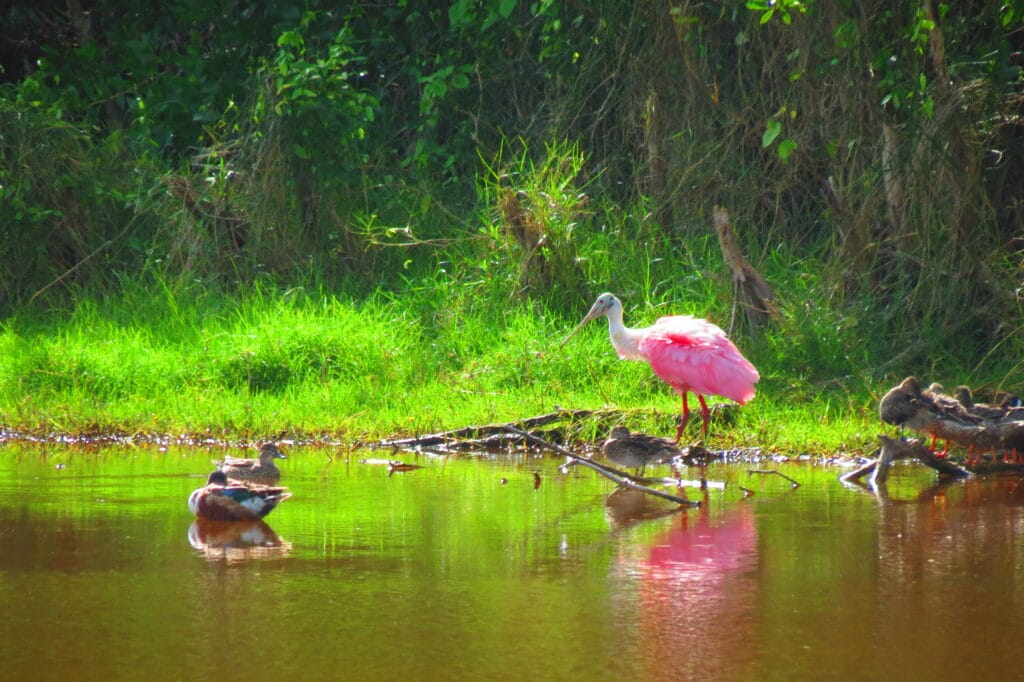 The next short hiking trail is the Mahogany Hammock. Mahogany Hammock is a 0.5 mile boardwalk that meanders through a grove of hardwoods, gumbo-limbo trees and air plants. This grove contains the largest living mahogany tree in the United States. Keep an eye in the tree. Owls are a semi-common sighting in this area.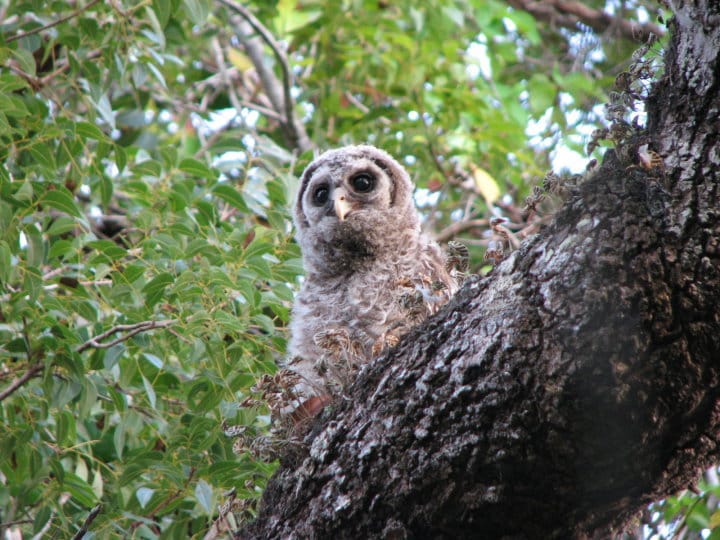 Depending on your lunch plans, make the 45-minute drive back to Homestead and grab a bit to eat or if you brought your lunch there are picnic areas at Nine Mile Pond or Flamingo. There are some great Mexican restaurants in the area. My personal favorite is Los Aztecas on W. Palm Dr. Be sure to stop at Robert's is Here fruit stand and get a fruit milkshake before heading back into the park. Their Mamey Milkshakes are my favorite.
There are a couple of options for the afternoon. If you have reservations for an afternoon Slough Slog tour, Nike Missile Site tour, Flamingo boat tour, make sure you are on time for this and double-check your meeting location.
If you are not doing one of those activities, there are several canoe trail options such as Nine Mile Pond, Noble Hammock, Hells Bay or you can follow the Buttonwood Canal up to Coot Bay or Bear Lake. If canoeing or kayaking don't interest you, there are boat tours and motorboat rentals available in Flamingo.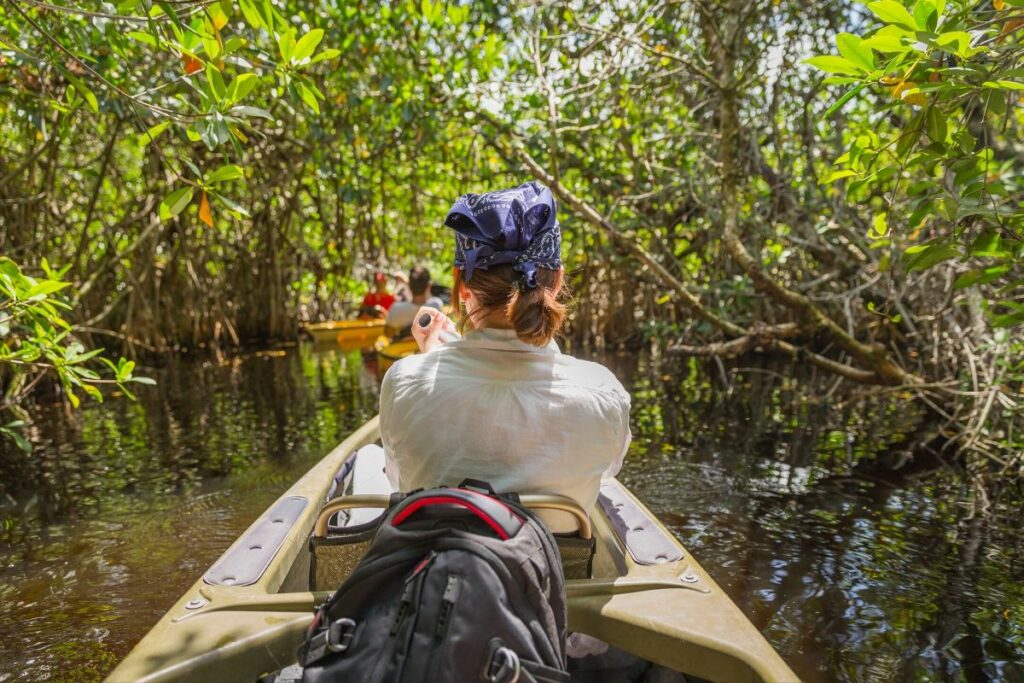 If getting out on the water isn't your thing, there are several hiking trails near Flamingo. Please note that the National Park Service is not currently maintaining any of Flamingo area trails due to potential damage to critical habitat for the Cape Sable Thoroughwort. This highly endangered herb is only found in the park and in a few isolated pockets in the Florida Keys. NPS is evaluatiing how to maintain these trails while protecting this herd.
Most of the trails are still usable for visitors but hikers should be aware that the trail may have vegetation, branches or other flora and fauna on the trail. My favorite afternoon hike in the area is the Snake Bight Trail. Snake Bright trail is a 3.2 mile hike out to a small bay called Snake Bight. The trail wanders through a tropical hardwood hammock and ends at a boardwalk with amazing bird watching.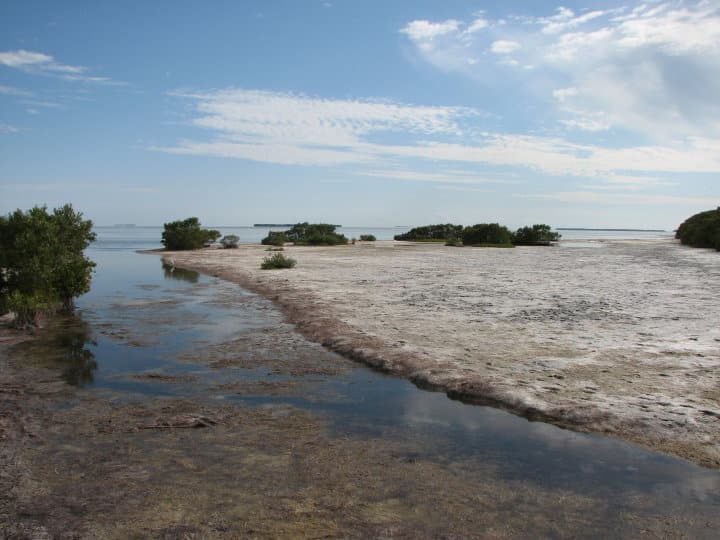 The Eco Pond is another 0.5 mile trail that walks around a small fresh water pond and has good wildlife viewing opportunities.
While in Flamingo be sure to spend some time walking along the water's edge and near the Buttonwood. This area is prime American Crocodile habitat. Focus on the shoreline in this area. An American Crocodile can be identified if when it's mouth is closed, you can see both the bottom and top teeth are visible. The snouts are longer and more pointed than an American Alligators.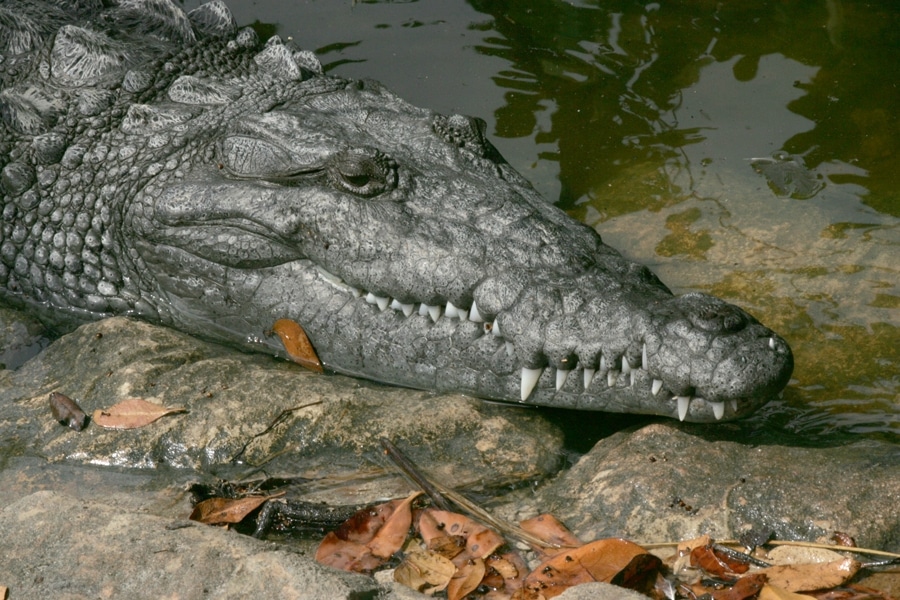 Weekend in Everglades – Day 2
Today, head up to Everglades's Miami entrance. This area is known as Shark Valley and is the heart of the freshwater marsh. The main attraction of Shark Valley is the 15-mile tram loop in the Shark River Slough. This 15-mile loop is a paved trail and is open to hikers, bicyclists, and a narrated tram tour. At the loop's half-way point, there is the Shark Valley Observation Tower. This 45-ft tower provides sweeping 360-degree views of the area.
The tram tour leaves at regularly scheduled intervals and the tour takes about two hours and makes stops along the way to view Everglades wildlife and learn about the plants and animals of the Everglades. Check the schedule for tour times and reservations are recommended.
If you are interested in a self-guided bicycle tour of the loop, bike rentals are available at the visitor center. Bikes cost $20.00 per day and bikes can be reserved online for pick-up between 9 AM and 11 AM. It typically cyclists take 2-3 hours to ride the loop including the stops.
You are welcome to hike as much or as little of the loop as you would like. There are two small trails in Shark Valley. The 0.4-mile Bobcat Boardwalk starts behind the visitor center and the 0.5 mile Otter Cave Hammock Trail starts about 0.5-mile down the tram road.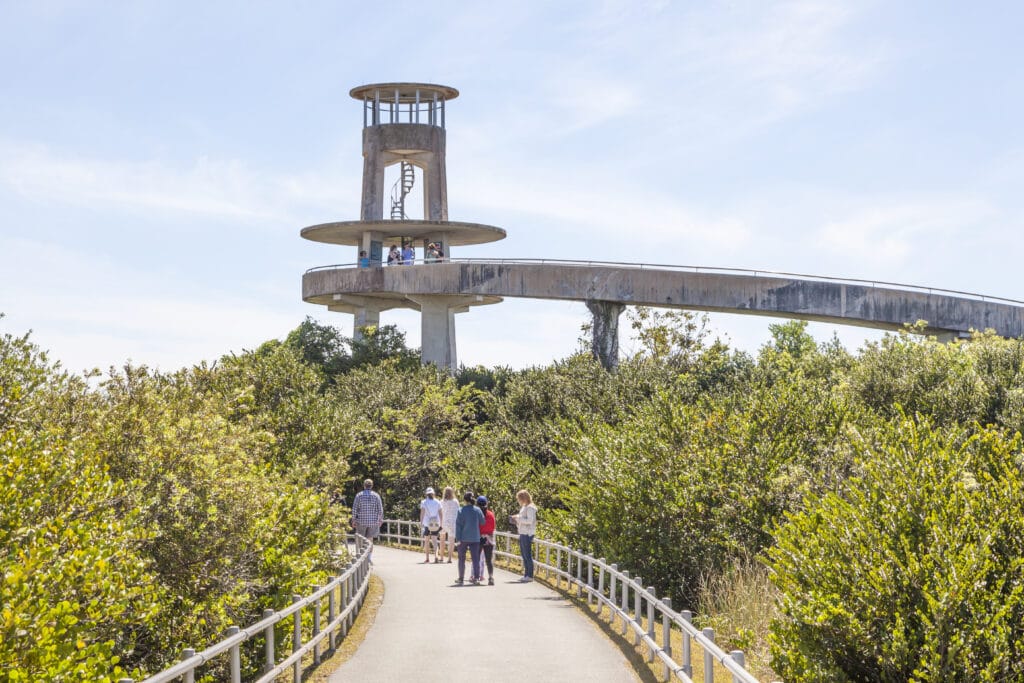 After exploring Shark Valley, head over to Coppertown Airboat tours and take an airboat tour though the Everglades. Coppertown is an NPS authorized tour operator. Their boat tour takes you into the National Park and explores the park via airboat. Coppertown offers both private tours and group tours. They take reservations but walk-ins are welcome.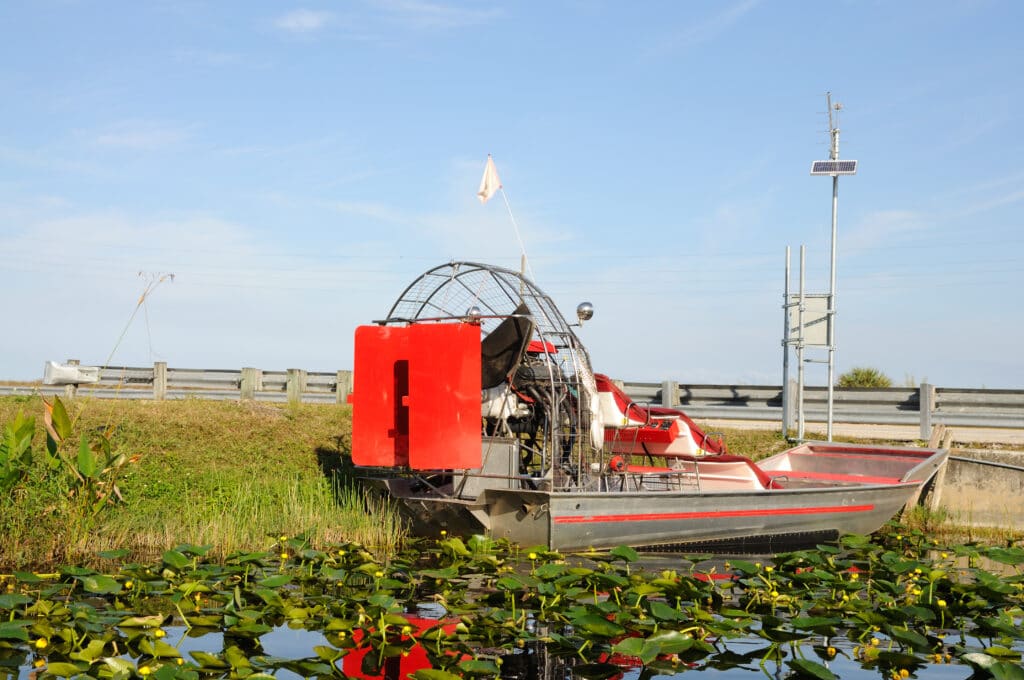 Two Days in Everglades Summary
Two incredible days, unfortunately, have to come to an end, but the incredible memories made at Everglades will always remain. You truly exhibited and experienced how to make the most out of a weekend in Everglades National Park. We hope that you enjoyed this two day Everglades itinerary.
Get help planning your trip to Everglades National Park
Pin it to Share: How to Make the Most of a Weekend in Everglades National Park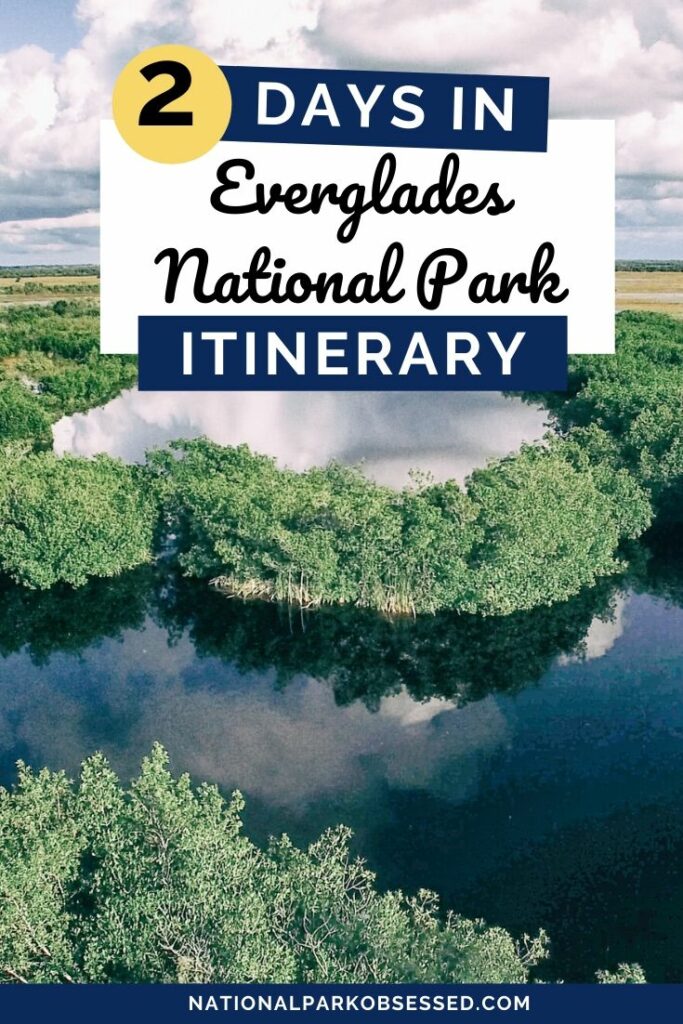 More Weekend Trip Ideas: