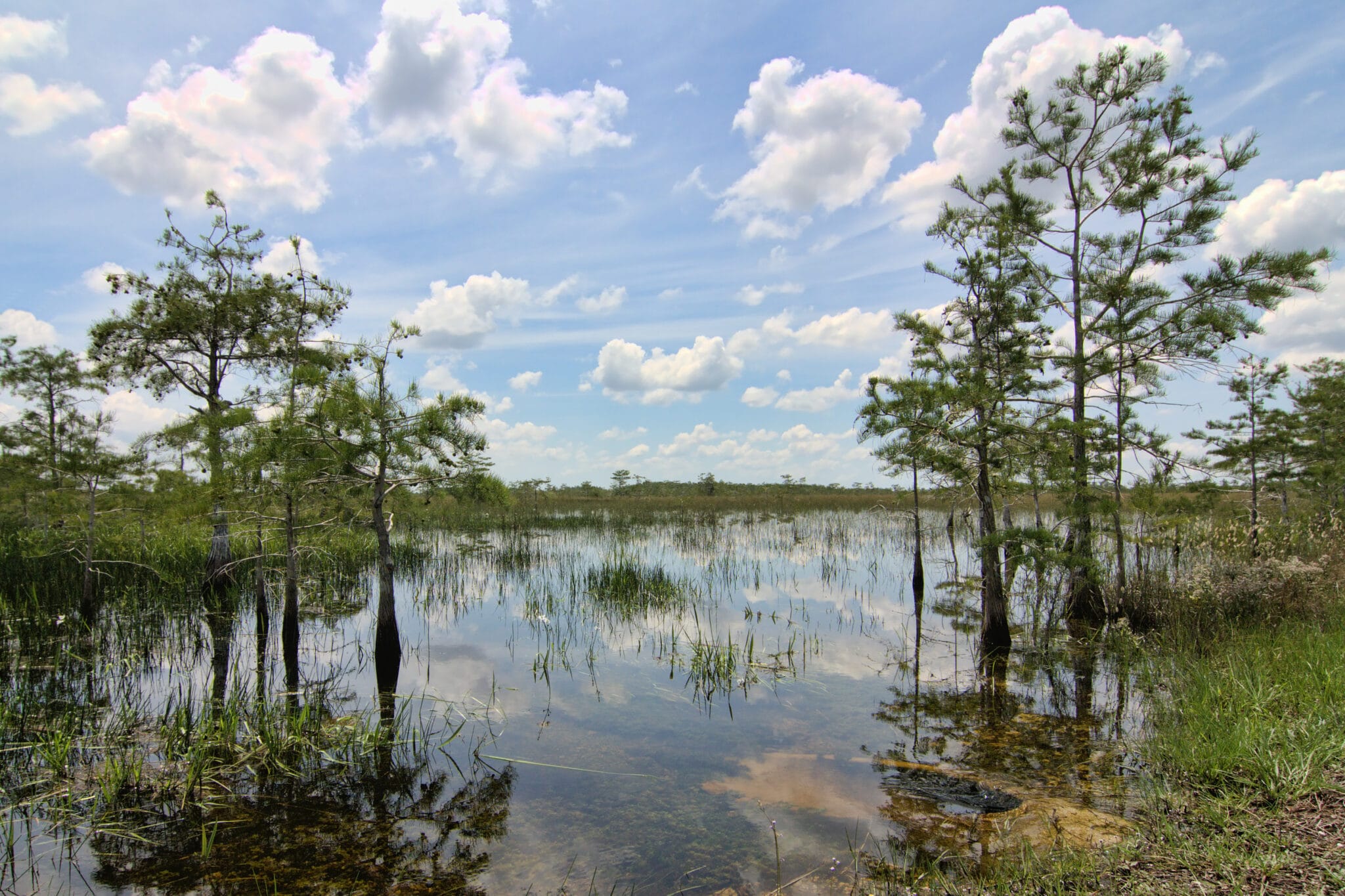 How to Make the Most of a Weekend in Everglades National Park
Everglades National Park is a unique and special place in the National Park System. Everglades was the first National Park created to protect an ecosystem. On the surface, the park looks like a vast grassland with clumps of trees here or there but when you step back and really look at the park, a wonderful world opens up. The park has a range of subtropical ecosystems from Pinelands to mangroves to freshwater sloughs to marine and estuarine. Everglades National Park is home to a vast array of wildlife and plant life just waiting for you to explore it. This national park is located near Miami, Florida, and is perfect for a weekend getaway. Check out how to make the most of a weekend in Everglades National Park.
This 2 Days in Everglades guide is perfect for those looking to visit the Everglades over a three-day weekend.
Help support this site by purchasing one of our National Park Shirts, Poster, and other gear. Every purchase includes a donation to the national parks and helps keep National Park Obsessed's website free to use and producing more national park guides.
Looking for more help planning your next adventure? Join the National Park Obsessed Facebook Group here to connect other national park lovers, trade advice, or see inspiring photos of the National Parks?
This post may contain affiliate links, meaning if you book or buy something through one of these links, I may earn a small commission at no extra cost to you! Read the full disclosure policy here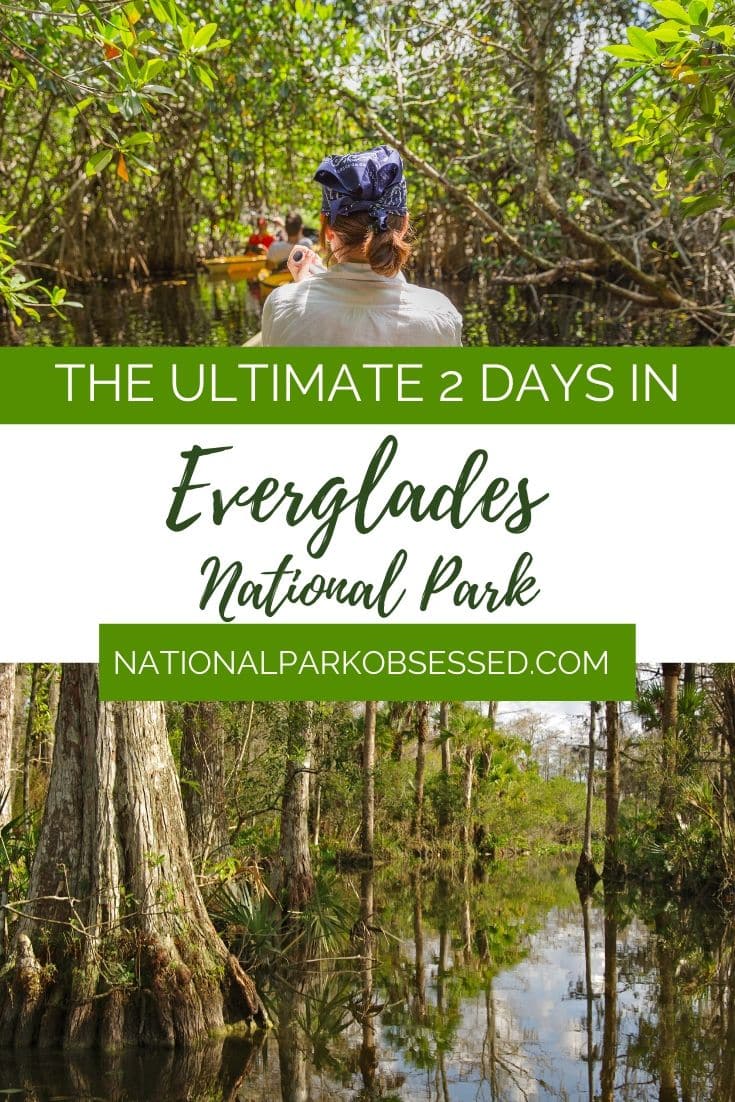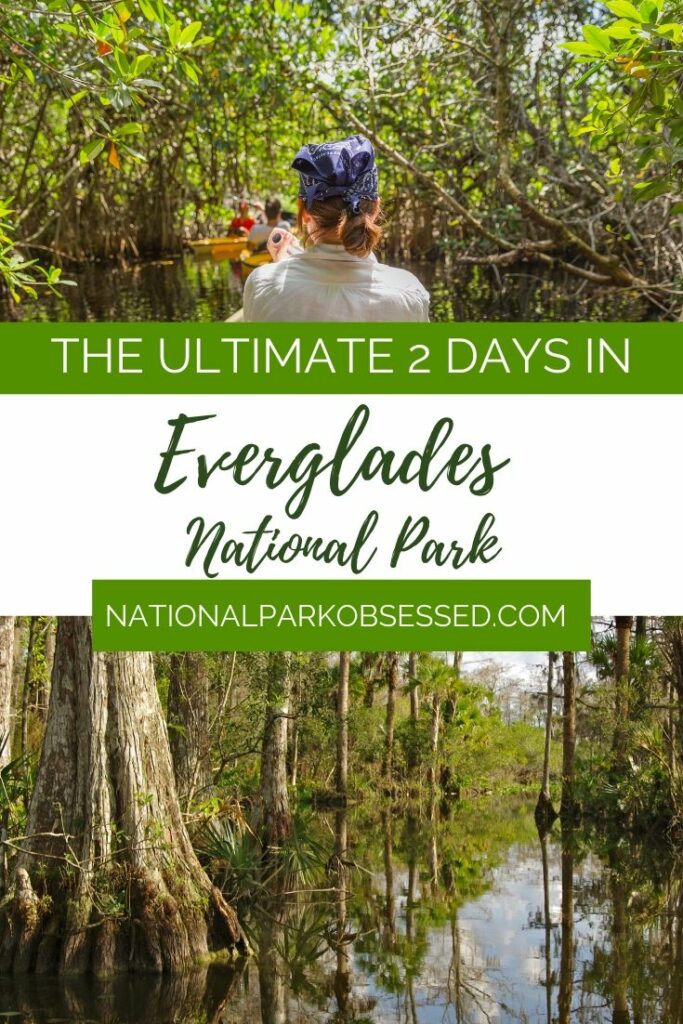 Getting to Everglades National Park
Everglades National Park is located on the southern tip of Florida near the cities of Miami and Fort Lauderdale. The park has 3 main entrances. These entrances are Homestead, Miami, and Everglades City. None of the entrances are interconnected and each provides access to a different region of Everglades National Park. Miami International Airport provides easy access to both the Miami and Homestead Everglades Entrances. Depending on traffic, the drive to either entrance will take between 45 minutes to an hour.
The Homestead Entrance is located in Homestead, FL, and provides access to Royal Palm and Flamingo. The Miami Entrance provides access to Shark Valley. The Everglades City entrance provides access to the Gulf Coast.
There is no public transportation to or from Everglades National Park.
Estimated Drive time to Everglades National Park
Miami, Florida – 0.75 hours
Fort Lauderdale, Florida – 1 hour
Orlando, Florida – 3.75 hours
Tampa, Florida – 4 hours
Jacsonville, Florida – 5.5 hours
Savannah, Georgia – 7.5 hours
Charleston, South Carolina – 9 hours
Estimated drive time to Everglades National Park from nearby National Parks
Best Guided Day Tours of the Everglades
How many days in Everglades National Park
How long do you have? Honestly, there is no right answer to this question. If you only have two days to spend, make the most of the time you have and enjoy your visit to Everglades National Park.
Don't let anyone tell you that you HAVE to spend a specific amount of time in Everglades. Ideally, I would spend at least 3-4 days in the park on every visit but not everyone has that option. You can do a lot with 2 days in the Everglades and not feel like you missed out.
Best time of year to visit Everglades National Park
Due to its southern location. Everglades National Park has two seasons – the Dry season and the Wet season. The Dry season runs from November to March and the Wet season is from April to October. The seasons are differentiated by the change of water level in the parks. There are advantages and disadvantages to both seasons. The park doesn't have many seasonal closures.
Dry Season: The Dry Season is the most popular and best time to visit the park. With limited water, Everglades' wildlife such as alligators is more concentrated to areas like Royal Palm where water is found year-round. As well as, many species of birds migrate to the everglades to nest during this time. Most of the ranger-led activities are scheduled for this season and the mosquitos are at their least vicious.
Wet Season: The wet season is also known as the MOSQUITO season. The bugs are thick and you need to be prepared for this. Due to the higher water level, the park's wildlife is mostly more spread out with the exception