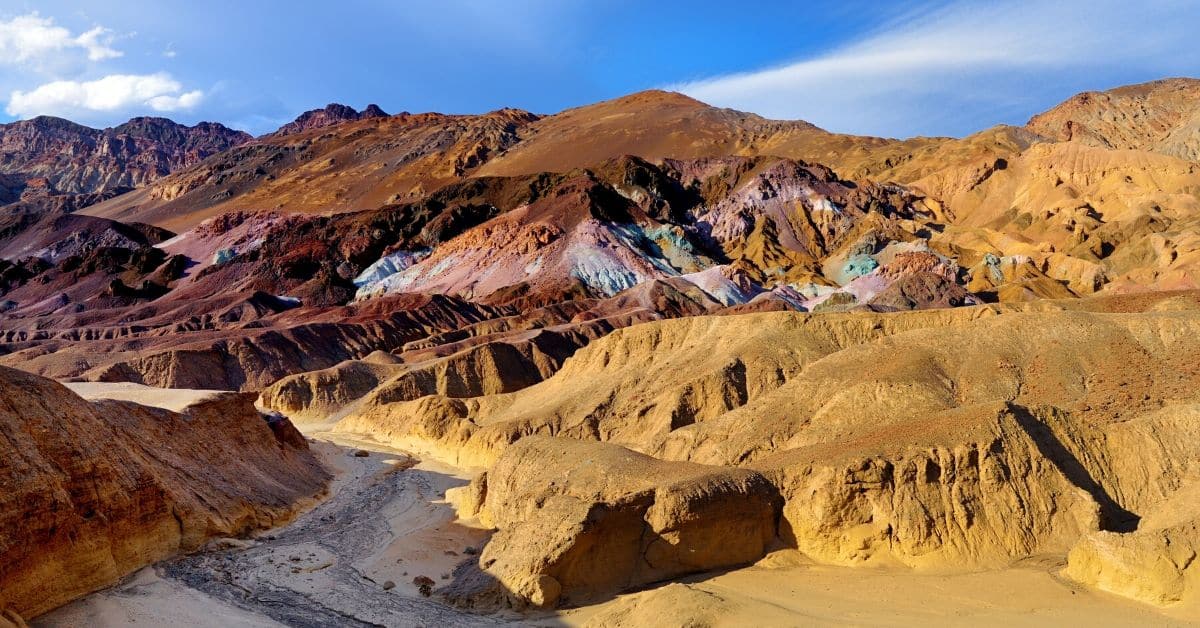 15 Things You Can't Miss on Your First Visit to Death Valley National Park
Driest. Hottest. Lowest. These are just a few of the records that Death Valley National Park holds and why a trip to this geologic wonderland is well-worth considering. Death Valley National Park is a park of extremes; extremely large, extremely low elevation, and extremely high summer temperatures during the day that can drop rapidly at night. Road conditions can change hourly and GPS is nearly useless in some of the more remote parts of the park. But those who are willing to plan ahead and come prepared are rewarded by an incredible diversity of life and views that will guarantee you an unforgettable trip. Here are 15 Things You Can't Miss on Your First Visit to Death Valley National Park.
This post may contain affiliate links, meaning if you book or buy something through one of these links, I may earn a small commission at no extra cost to you! Read the full disclosure policy here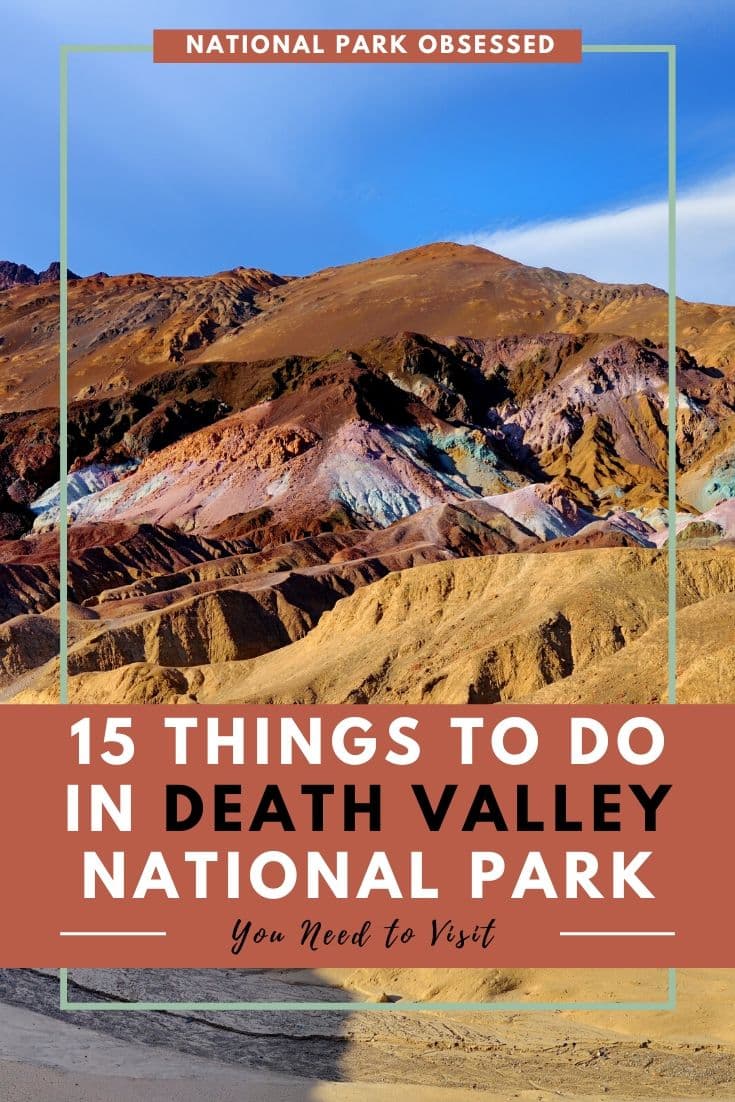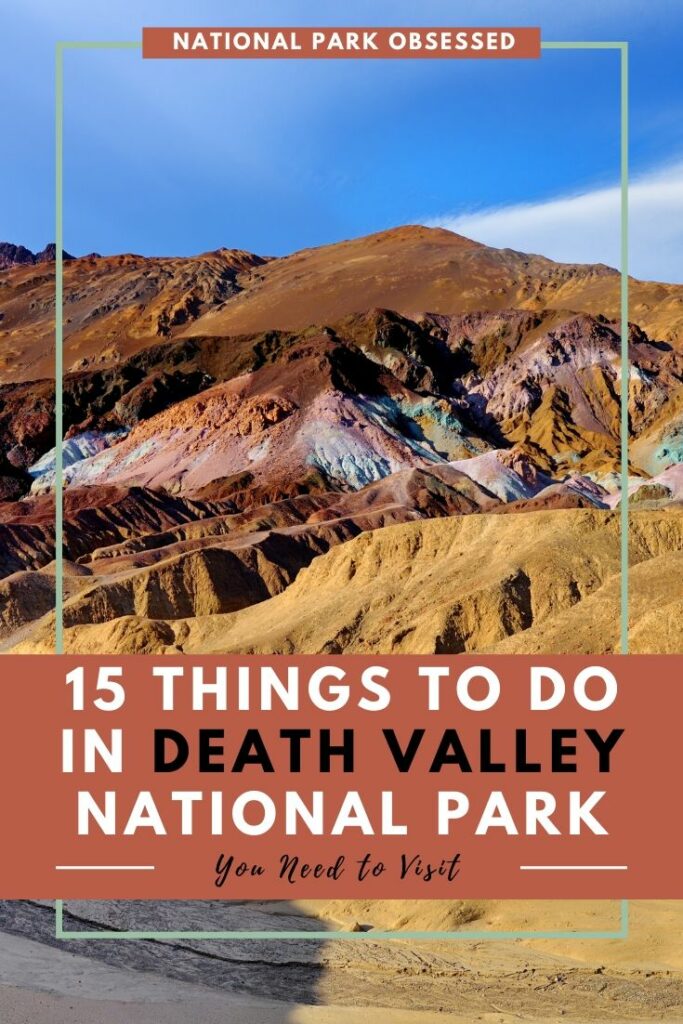 Things to Know before you go to Death Valley National Park
Death Valley is open year-round. October to April is peak season.
Death Valley is the hottest place on Earth. During the summer, temperatures rarely dip below 100 during. If at all possible visit Death Valley National Park in the winter.
Death Valley National Park is a HUGE National Park. Be aware of drive times as some places on our list are hours apart and visitor services are far apart.
Double-check the roads as you plan your itinerary. Roads in Death Valley National Park run the gambit from paved highways to four-wheel drive only! Do not attempt to drive on roads your vehicle isn't rated to handle.

Most of the attractions on this list are on the main roads or accessed via dirt roads that are usually "passable" for cars.
Once in the park, check the road conditions. They can change quickly and features may open and close suddenly.
Plan your hikes carefully and avoid hiking in the afternoons. Plan accordingly and make sure you carry water on your hikes.
As you explore the park, make sure that you are always prepared for the unforeseen. If your car breaks down or your end up stranded by a flooded road you may wait several hours for help to arrive. Bring plenty of extra food, water, and sun protection wherever you go.
Death Valley has a rich mining history. While these abandon mining sites are alluring, they are also VERY dangerous. Never explore or climb around abandon mining areas.
Getting to Death Valley National Park
There are two airports located in Death Valley National Park. Neither one offers regular commercial flights. The closest commercial airport to Death Valley is the Las Vegas McCarren International Airport (LAS) and is 2.5 hours away from the park. The other option is the Los Angeles area airports.
Estimated Drive Time to Death Valley National Park
Las Vegas, Nevada – 2.5 hours
Los Angeles, California – 4.5 hours
San Diego, California – 4.75 hours
Reno, Nevada – 5.25 hours
Phoenix, Arizona – 6.5 hours
San Francisco, California – 7.5 hours
Salt Lake City, Utah – 7.5 hours
There is no official public transportation in or around the park. However, a bus company called Bundu Bus Company appears to be able to drop you off in the park on their shuttle runs from Las Vegas to Yosemite. But their website is a little confusing and I get some 400 errors when I tried to scout out the time table.
Please note, if you get dropped off by the Bundu Bus, I would recommend getting a jeep from Farabee's Rental Jeeps in Furnace Creek so you have transportation around the park. Check out our review of Farabee's Jeep Rentals.
Estimated Drive time to Death Valley National Park from nearby National Parks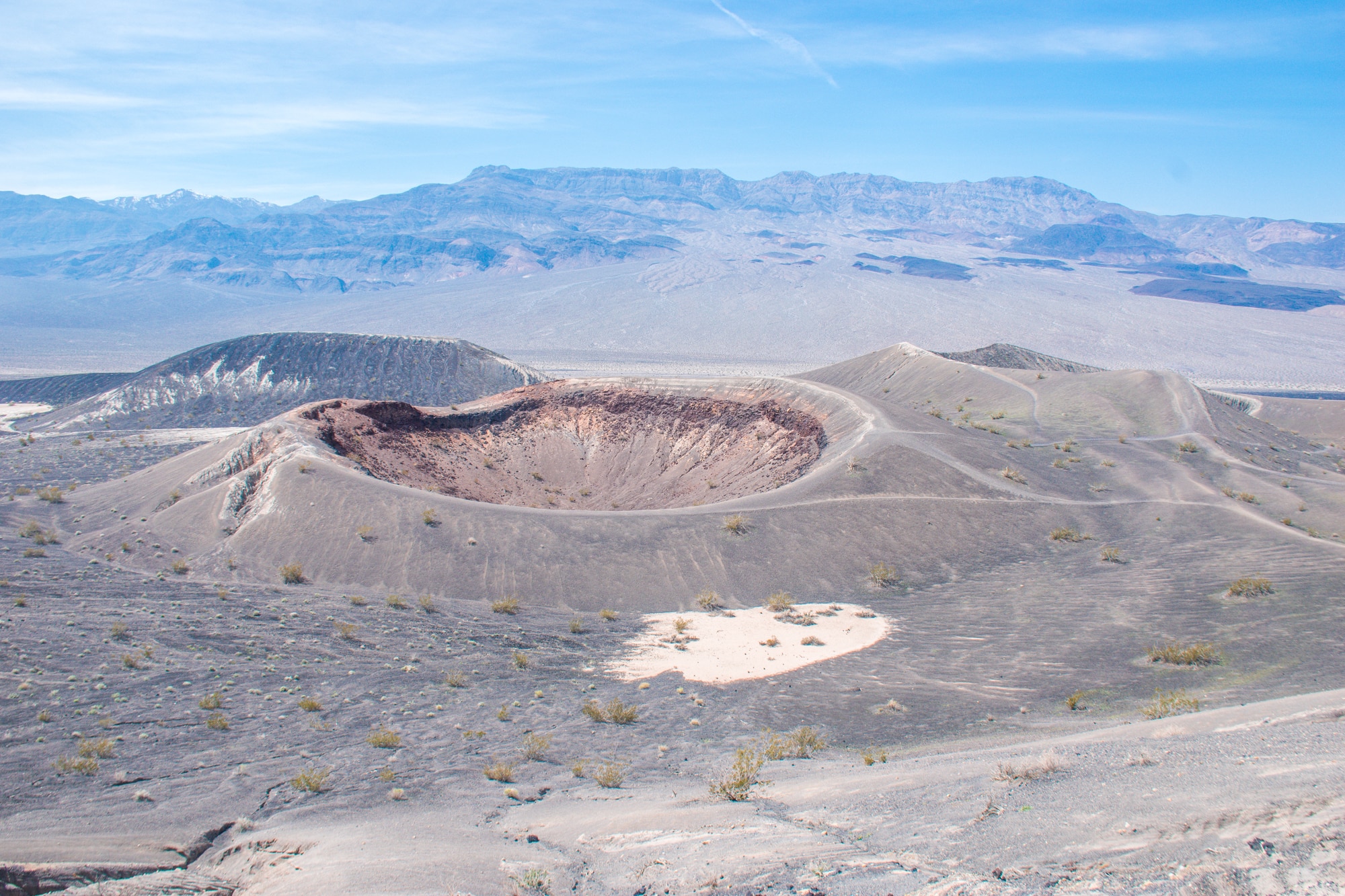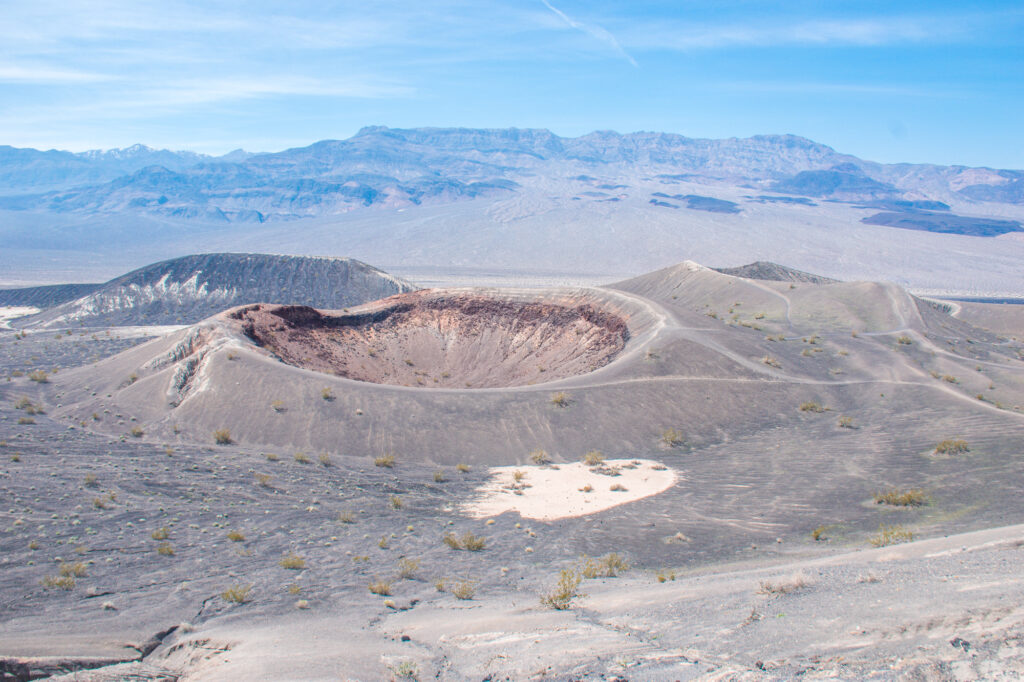 Best Guided Day Tours in Death Valley National Park
Death Valley Day Trip from Las Vegas
Small-Group Death Valley National Park Day Trip from Las Vegas
Death Valley Explorer Tour by Tour Trekker
Best time of year to visit Death Valley National Park
NOT SUMMER. I am not joking. As I have already mentioned, Death Valley is famous for its extremely high temperatures. The best months to visit are mid-October to mid-May. This is the opposite of the majority of the national parks but Death Valley's busy season is winter. The temperatures are cooler during these months. That being said, it isn't uncommon Death Valley to reach upwards of 88 °F during December and January.
Where to Stay in Death Valley National Park?
You have a couple of options when visiting Death Valley. There is a range of accommodation options inside the park as well as outside the park. Given the size of Death Valley, I recommend staying inside the park. It saves you on the commute and in the heart of the action.
Hotels in Death Valley National Park
There are four hotels in Death Valley National Park. Each has its own range of features and room options.
StovePipe Wells Village – An affordable low key hotel located near Mesquite Salt Flat Dunes. Read my review of this hotel.
Inn at Death Valley – The Inn is a luxury resort located in Furnace Creek. It has been recently renovated. Book Now
The Ranch at Death Valley – The Ranch is a classic family resort in Furnace Creek. Book Now
Panamint Springs Resort – A rustic low key resort near Panamint Springs and Jedi Canyon. Book Now.
StovePipe Wells Village – StovePipe Wells is an affordable low key hotel located near Mesquite Salt Flat Dunes.
Inn at Death Valley – The Inn at Death Valle is a luxury resort located in Furnace Creek. It has been recently renovated.

Check out the prices and availability.
The Ranch at Death Valley – The Ranch at Death Valley is a classic family resort in Furnace Creek

Check out the prices and availability.
Panamint Springs Resort – Panamint Spring Resort is a rustic low key resort near Panamint Springs and Jedi Canyon.

Check out the prices and availability
Campgrounds in Death Valley National Park
There are nine campgrounds in Death Valley National Park. These campgrounds are spread around the park. Most are first-come-first-serve. Rates vary from free to $16. The only campground that takes reservations is Furnace Creek, and this campground is usually fully booked from October to May. If you are arriving late in the evening, head to either Stovepipe Wells Campground or Sunset Campground. There are 460 campsites. It is very rare that both of these campgrounds are completely full.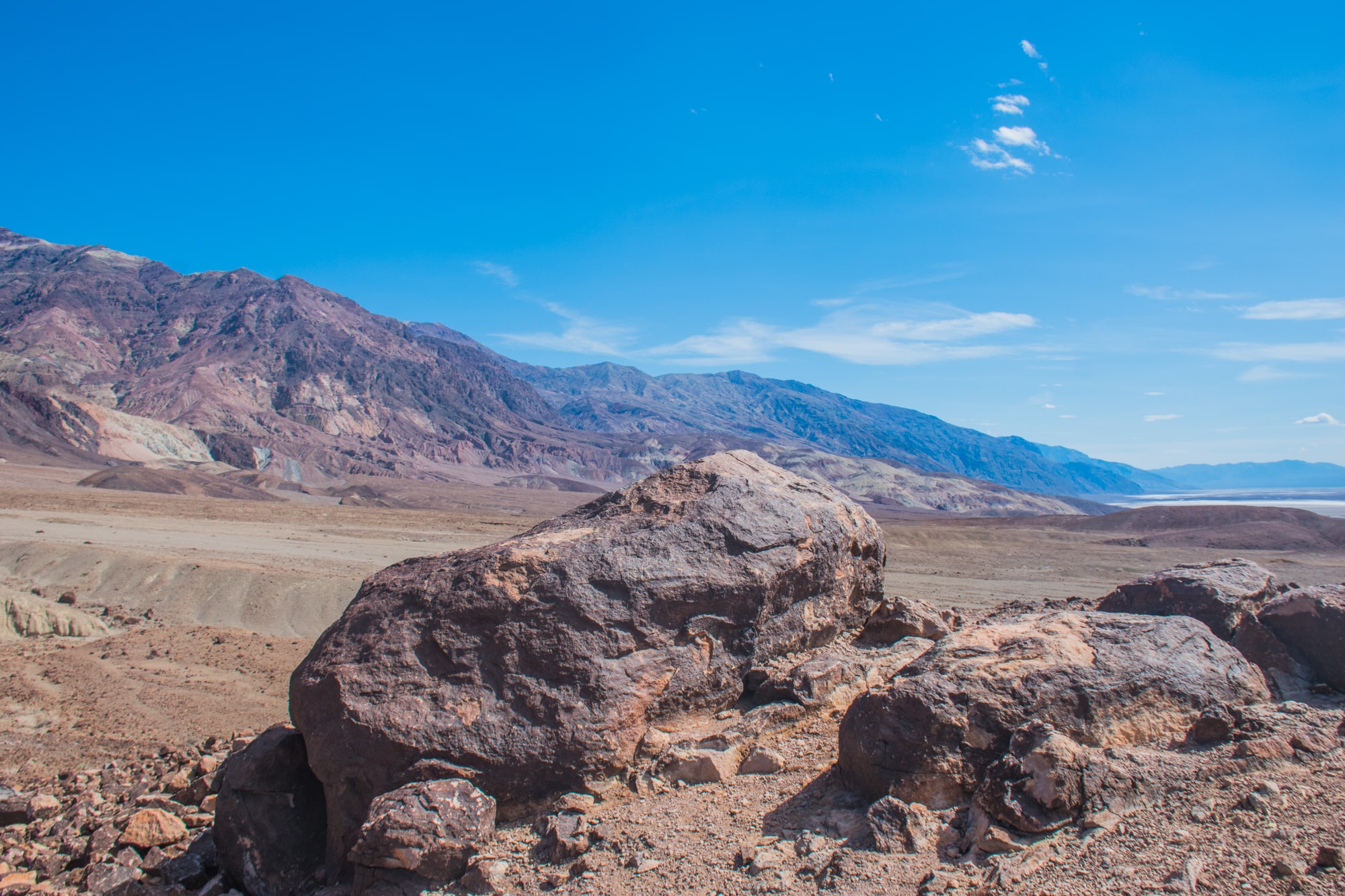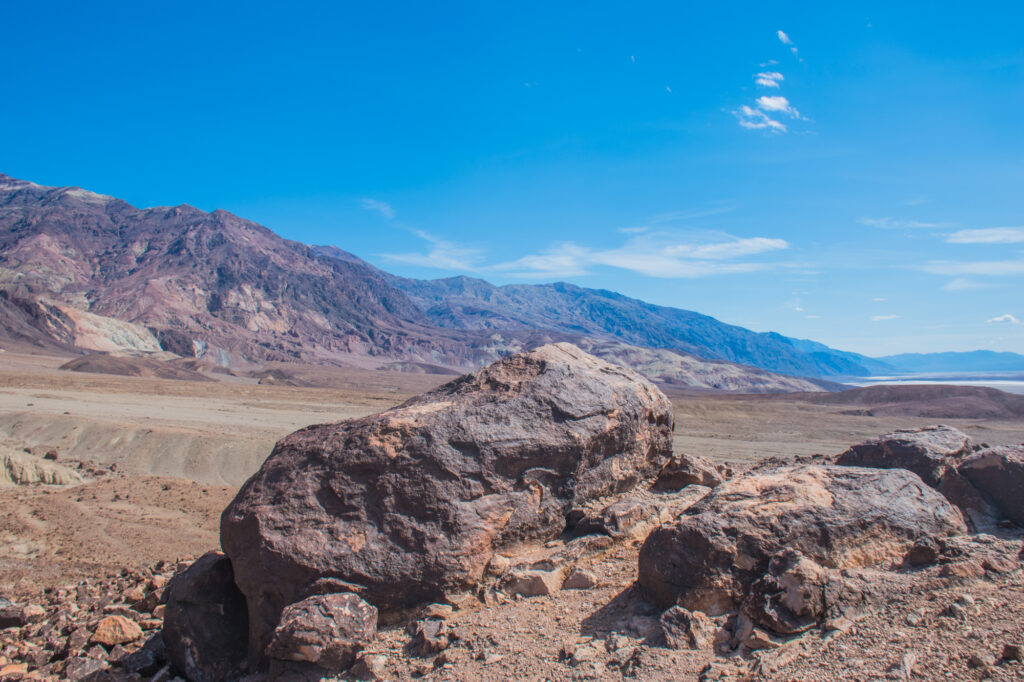 What to pack for a visit to Death Valley National Park?
America the Beautiful National Parks Pass: Death Valley National Park costs $30 for a 7-day pass. If you intend to visit more than 3 National Park Services sites in a year, the America the Beautiful Pass will more than pay for itself.
National Park Passport – The National Park Passport Book is the cheapest and best souvenir of your national park adventures. This book makes it easy to collect the National Park Cancellation Stamps. The cancellation stamps have the date of your visit and make it easy to track when you visited each national park service unit.
Refillable Water Bottles – Do your part to reduce litter in our parks by bringing a refillable water bottle with you. A reusable and refillable water bottle can save you a lot of money and really help the environment. Here are my favorite water bottles
Hydration Bladder – If you are hiking longer distances, a hydration bladder is the best way to hike with significant quantities of water. It is a rare hike when I don't bring a full bladder with me.
Snacks – There are limited services in the park. So pick up all your snacks before you go. Pack a couple of different options so you are prepared for any craving.

Fruit: Pick hard fruits such as apples or pears. These hold-up in the heat and in packs without getting squished to mush. Another option is freeze-dried fruit. Freeze-dried strawberries are the BOMB. They are crunchy, sweet and the best part is they are lightweight and yummy. These are my new favorite trail snack.
Vegetables: Cucumbers and carrots hold up well during hiking and in a hot car.
Granola Bars: Take your favorite non-coated in chocolate granola bars. Anything coated in chocolate will melt and be a sticky mess. My favorite is a selection of Cliff Bars. They are great even when squished.
Sunscreen – You don't want to get burned on your visit.
Lip balm – Your lips need just as much sun protection as your skin does.
Sunglasses – Similar to sunscreen, you need a good pair of polarized sunglasses to protect your eyes from the glare of the sun.
Hat – Hats are another sun protection device. A hat can keep the sun off your face and neck and help minimize the need for sunscreen while on the trail.
First aid kit – As with any outdoor adventure, accidents happen. It is better to be prepared and have a compact first-aid kit ready to help with any accidents.
Headlamp – Always keep a headlamp handy. You never know when you might want it. It can be used for midnight bathroom runs to sunrise/sunset hikes. A good headlamp makes it easy to operate in the dark.
Shoes – Shoes are probably the most important piece of gear to any hiker. Hiking shoes should be seen as an investment. On the trail, your feet are your transportation and a solid pair of hiking shoes help support your feet and can prevent injury.
Hiking Day Pack – A good day pack is the best way to transport all your gear when hiking. I highly recommend getting a backpack that is designed for outdoor use. These packs come with handy pockets and straps. My 40 L day pack has a pocket for my water bladder and a clip to hold the water line in place.
National Park Obsessed Shirt – Share your love of the National Parks and support National Park Obsessed with a National Park Obsessed T-Shirt.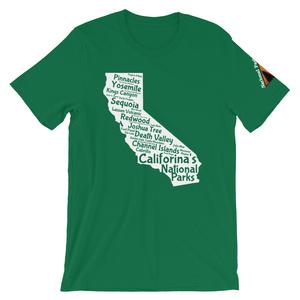 California National Park Shirt
$29.00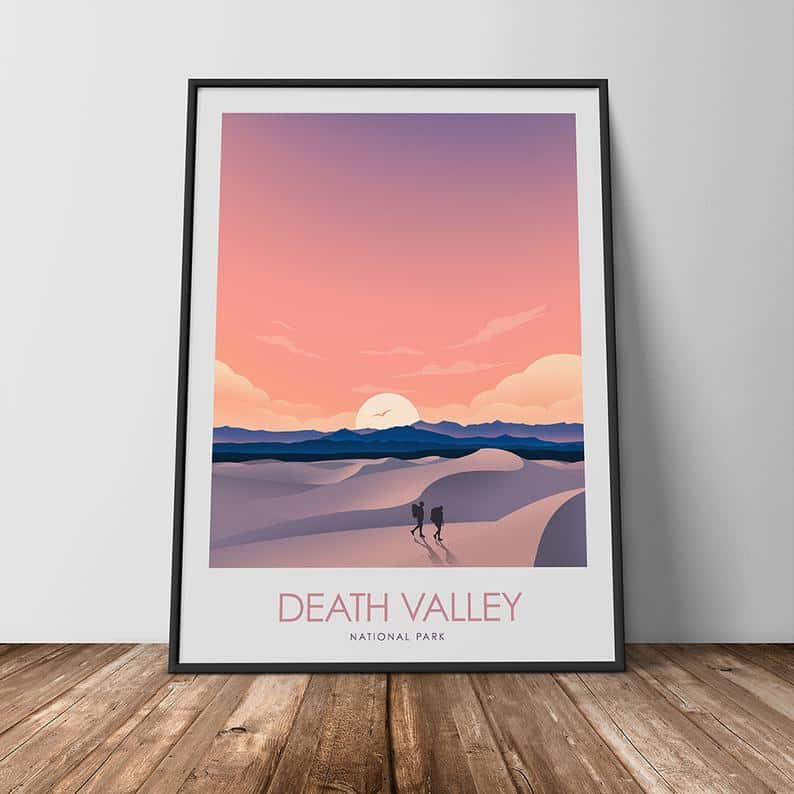 Death Valley National Park Print Poster
$26.00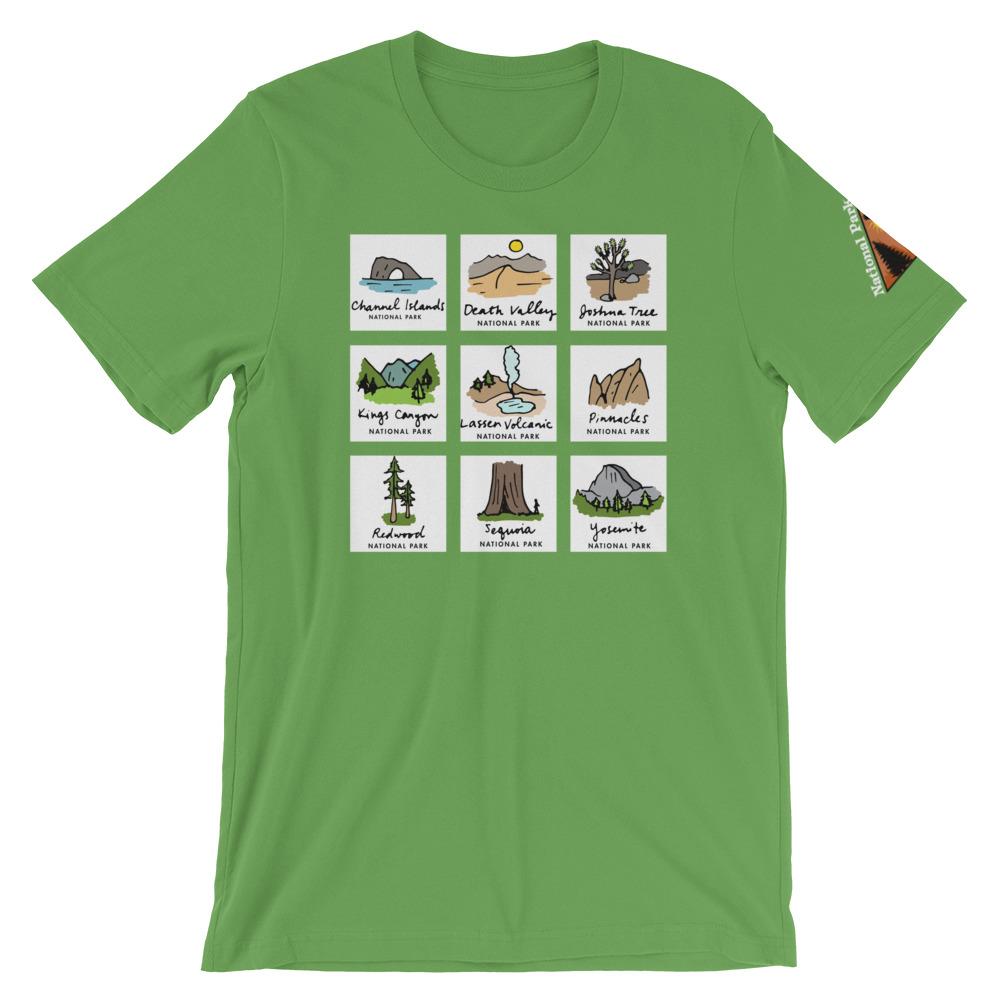 California National Parks Short-Sleeve T-Shirt
$29.00
Things to do in Death Valley National Park
Wander the Mesquite Flat Dune Field
Death Valley is home to several dune fields, the most accessible and largest is Mesquite Flat. Formed by sand from the adjacent canyons and the ancient lakebed they sit atop, there are plenty of dunes to trudge up and down, amazing vistas to take in, and enough space for all visitors to truly feel like they are on the surface of another planet or lost deep in the Sahara.
The Mesquite Dunes close to Stovepipe Wells also means that you could grab yourself a beverage or a snack before you hike out and admire this marvel of nature.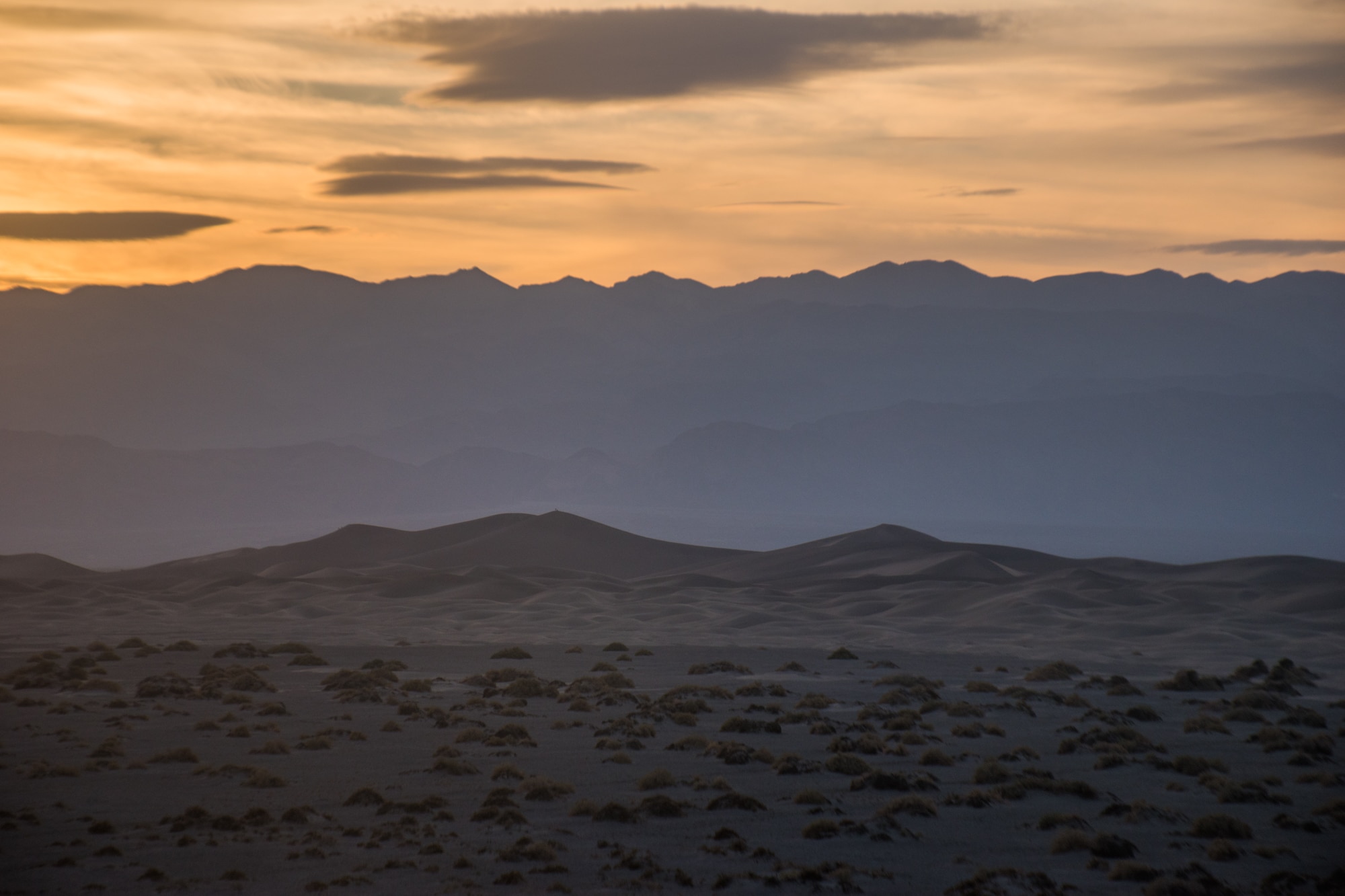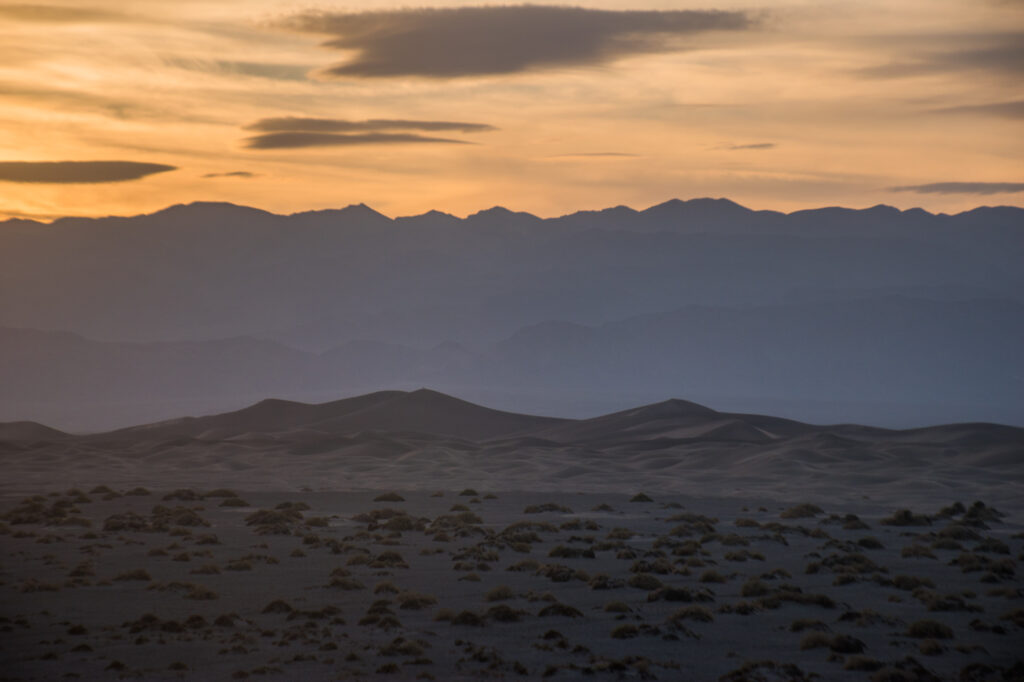 Step Back in Time at Scotty's Castle
Scotty's Castle was built in the 1920s as a result of an unlikely friendship between a part-time prospect/full-time con artist Walter Scott and a wealthy businessman Albert Johnson. The castle is an oasis in the desert, with the original furnishings still intact and all sorts of stories and folklore. Scotty's Castle was built in the Mission and Spanish Colonial Revival style.
You can drive to the castle and sign up for a tour led by costumed National Park interpreters.
NOTE – The road leading to this area was closed due to flooding that occurred in 2015. The castle is slated to reopen for tours in the summer of 2021 after extensive refurbishment and repairs. Check ahead before you visit!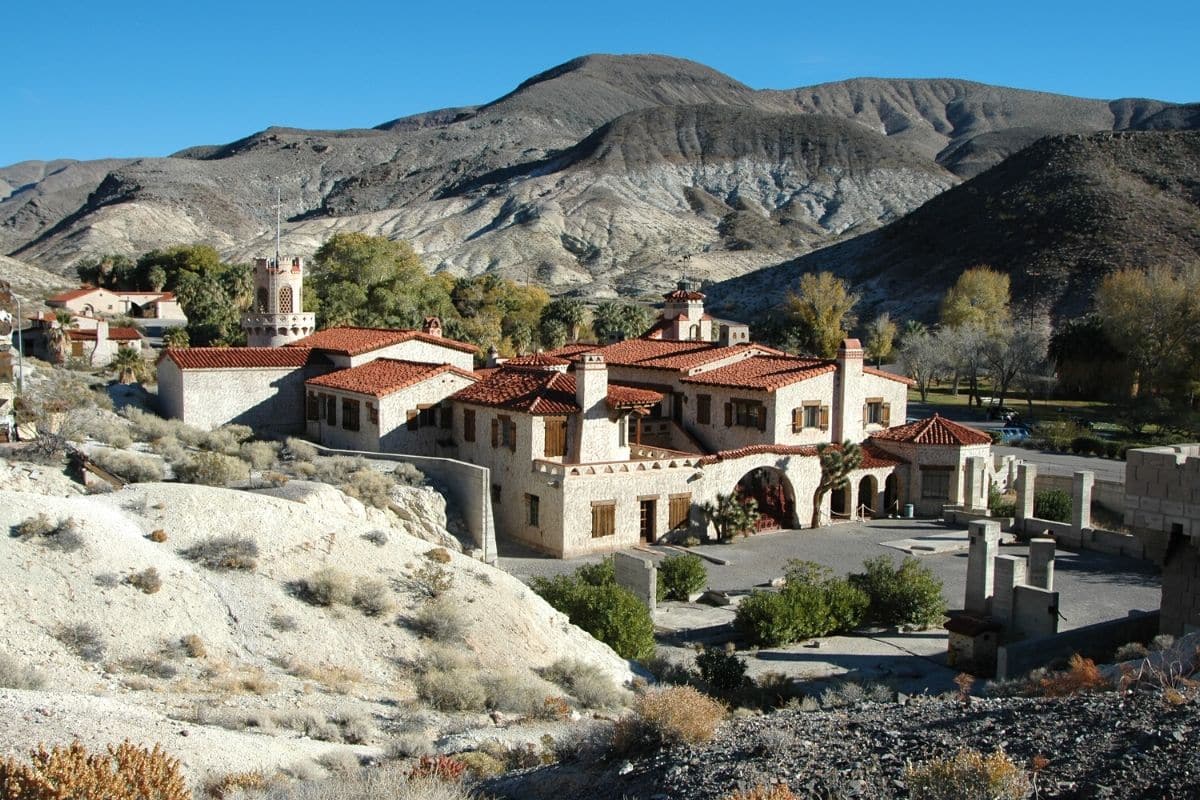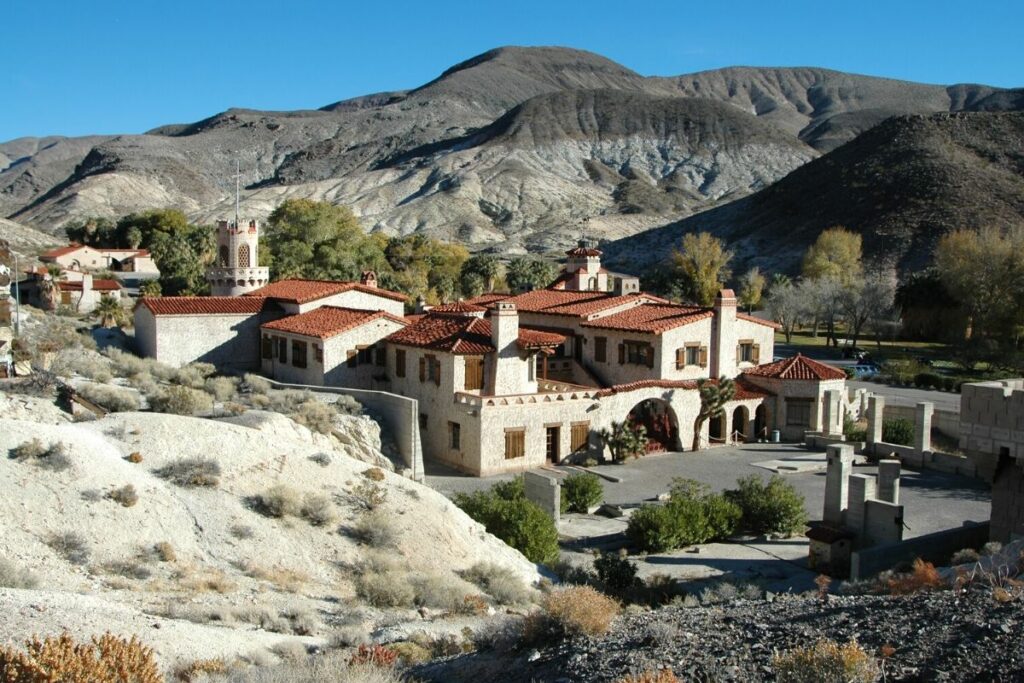 Stroll The Silent Streets of Rhyolite Ghost Town
Although technically not within the boundary of the park, Rhyolite is one of the best-preserved ghost towns in the area and well worth a side trip. Afterword got out that two prospectors had struck it rich in the early 1900s, the town exploded almost overnight. Where once nothing had existed there were machine shops, schools, an ice cream parlor, even an opera house.
By 1916 the boom had run its course and the town evaporated just as quickly as it sprung up. Today you can see the remnants of several buildings, the most interesting of which is the Bottle House which was constructed by a very creative, and very drunk miner using 16,000 beer and liquor bottles.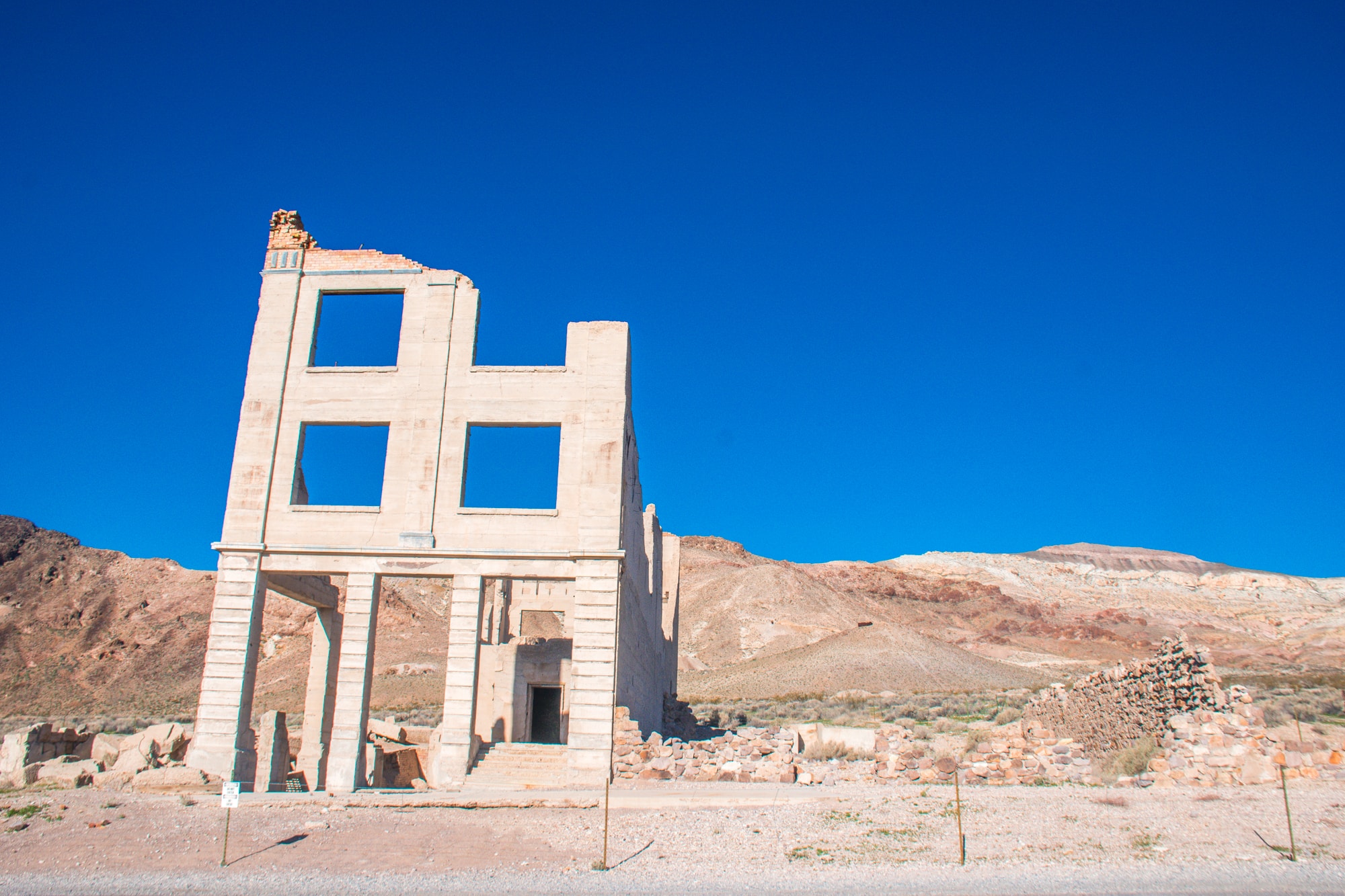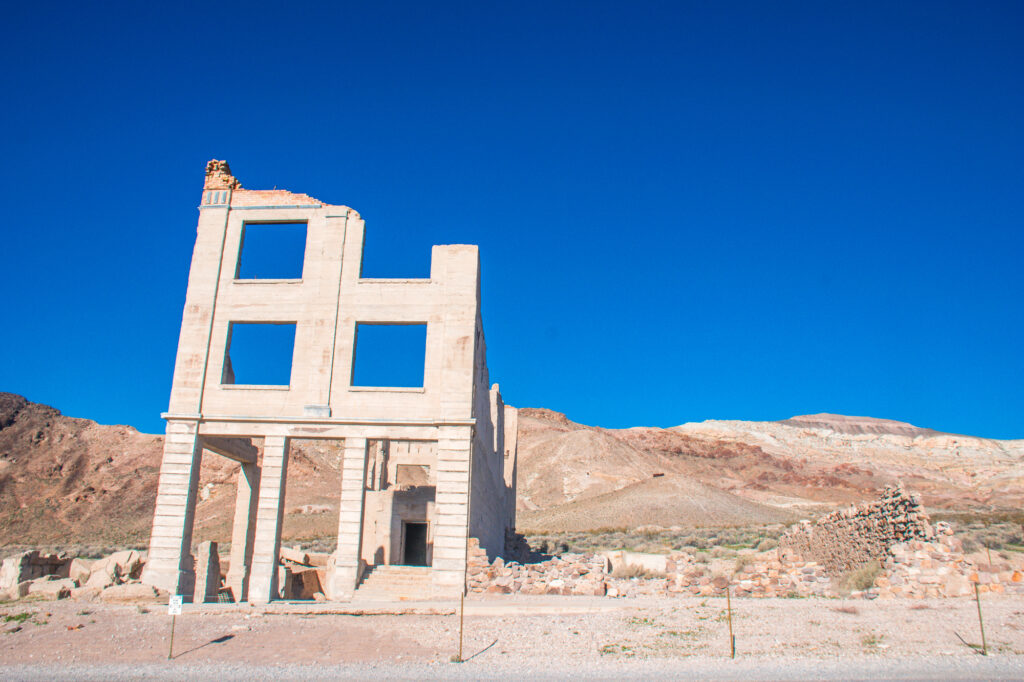 Go Pupfish Spotting along Salt Creek
If you were to name the animal species least likely to inhabit Death Valley, near the top of your list, would be fish of any sort. So, it may come as a bit of a shock to hear that not only is Death Valley home to a species of small fish known as the Pupfish.
The Death Valley Pupfish are endemic to the valley and found nowhere else on earth. They are a silvery colored fish with 6-9 dark bands. They have adapted to survive in the harsh conditions of the valley. They can survive in water 4 times more saline than seawater and water temperatures from 32 F to 116 F.
The 0.5-mile Salt Creek Interpretive Trail is one of the best places in the park to see these amazing little fish. The trail is 0.5 mile look follows the From November until about May the water flowing along Salt Creek is home to these small desert dwellers. You can stroll along the half-mile boardwalk while learning all about how these little fish have adapted to the harsh desert environment.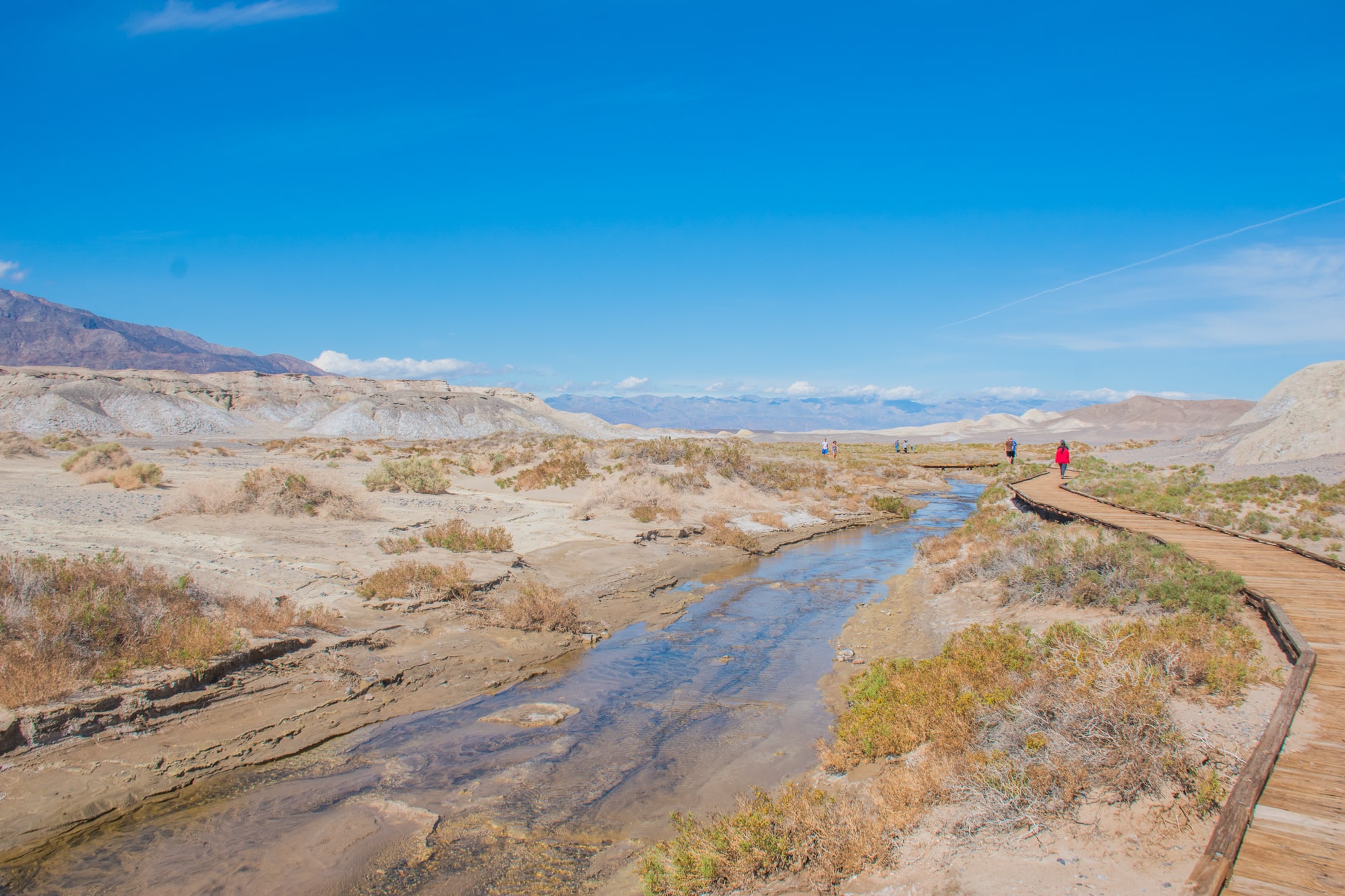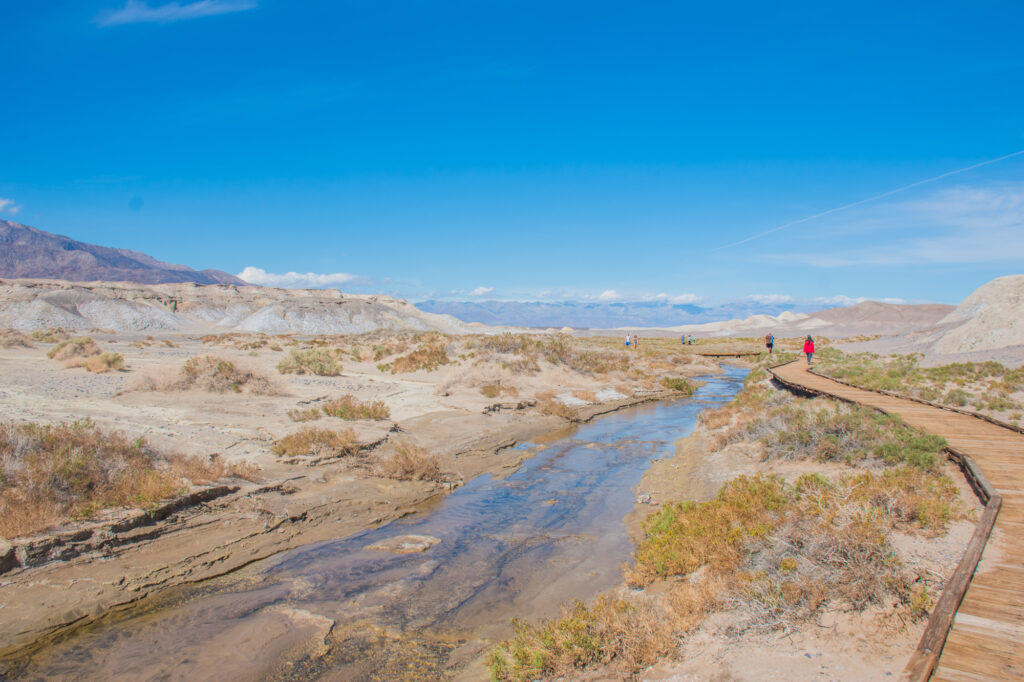 Puzzle at the Mysterious Moving Rocks of The Racetrack
A barren and silent landscape where rocks seem to move by themselves? The Racetrack is truly one of the most iconic locations in all of Death Valley. Many people have seen pictures or heard tales of the mysterious sliding stones that litter the parched mud that covers the area, but few people have actually visited them in person.
If you decide to add this amazing and intriguing landscape to your itinerary, there are a couple of things that you need to know. First, it will require at least half of your day just to get out to the location. From Furnace Creek, the drive is roughly three hours, but that's just half the challenge.
You are going to need a vehicle that has a high clearance and is rated for off-road driving. Don't take your rented Corolla out there unless you're O.K. losing your damage deposit and a $1,000 plus tow bill.
If you really want to go out to the Racetrack, Farabee Jeeps offers rental jeeps. Their Jeeps are specifically outfitted for use on Death Valley's 4×4 roads. Check out Jennifer's, National Park Obsessed's founder, experience with a Farabee Rental Jeep here.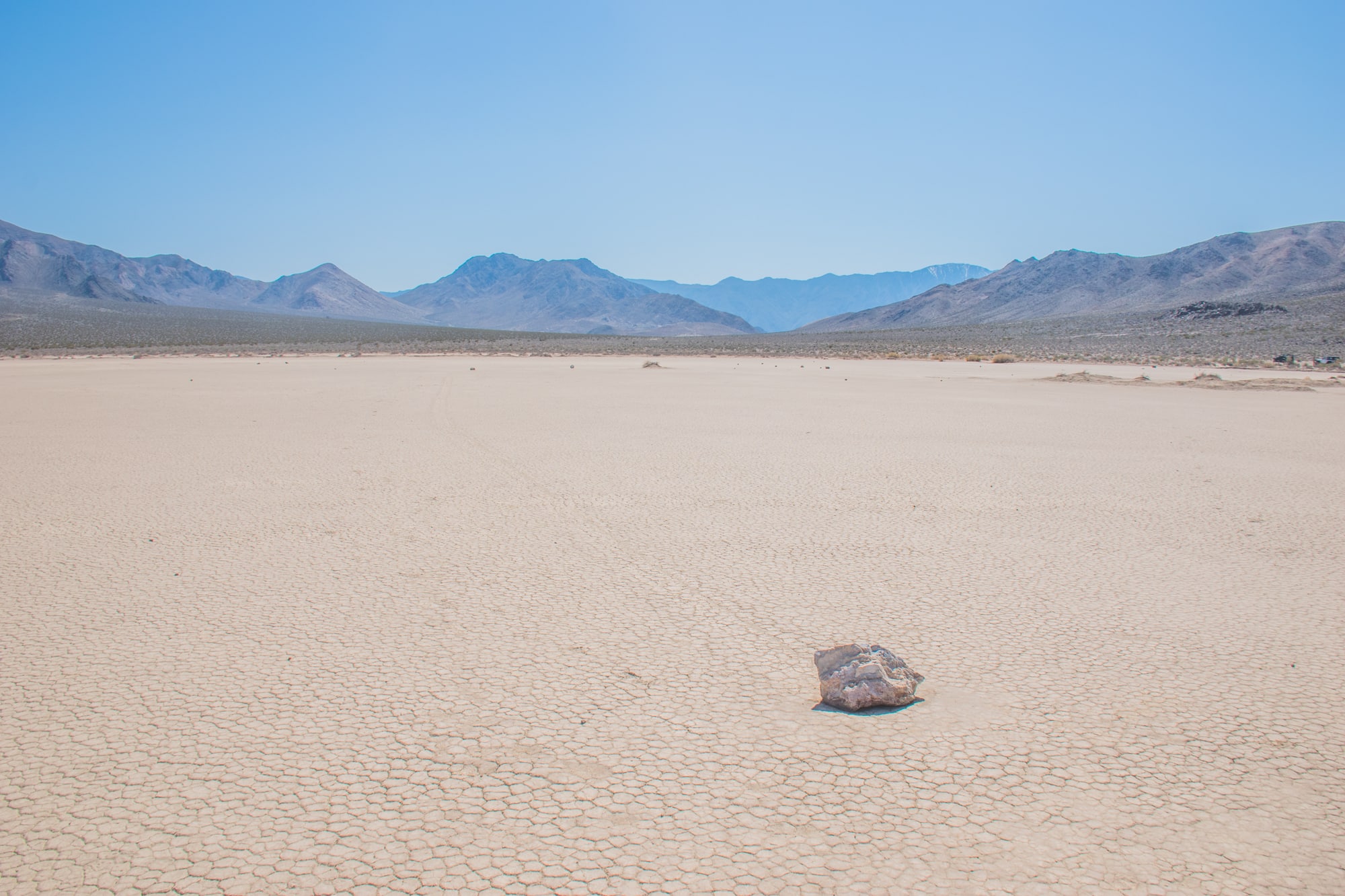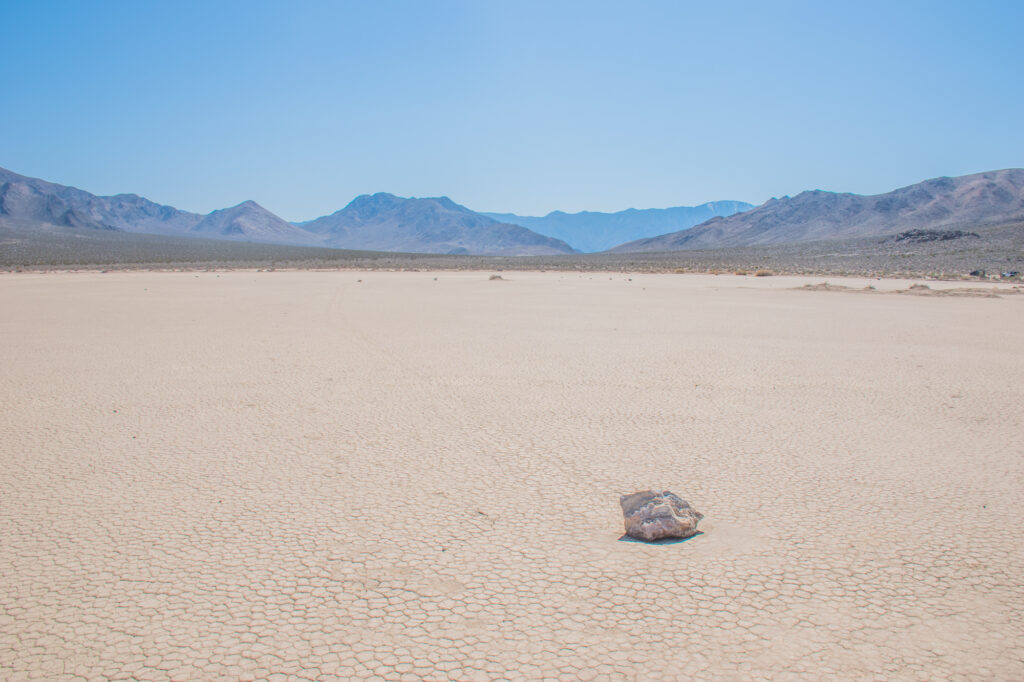 Hike the Rim of Ubehebe Crater
This massive crater was known as the Coyote Basket by the indigenous peoples who first inhabited Death Valley and nobody is really sure how it eventually became Ubehebe. Thought to be the result of volcanic activity that occurred as recently as 300 years ago it measures over half a mile across and 600 feet in depth. Standing on the rim of the massive crater and feeling its size makes it a stop well worth considering. You can hike the entire rim or stroll down to the bottom, but don't lose sight of the fact that you also have to climb back out.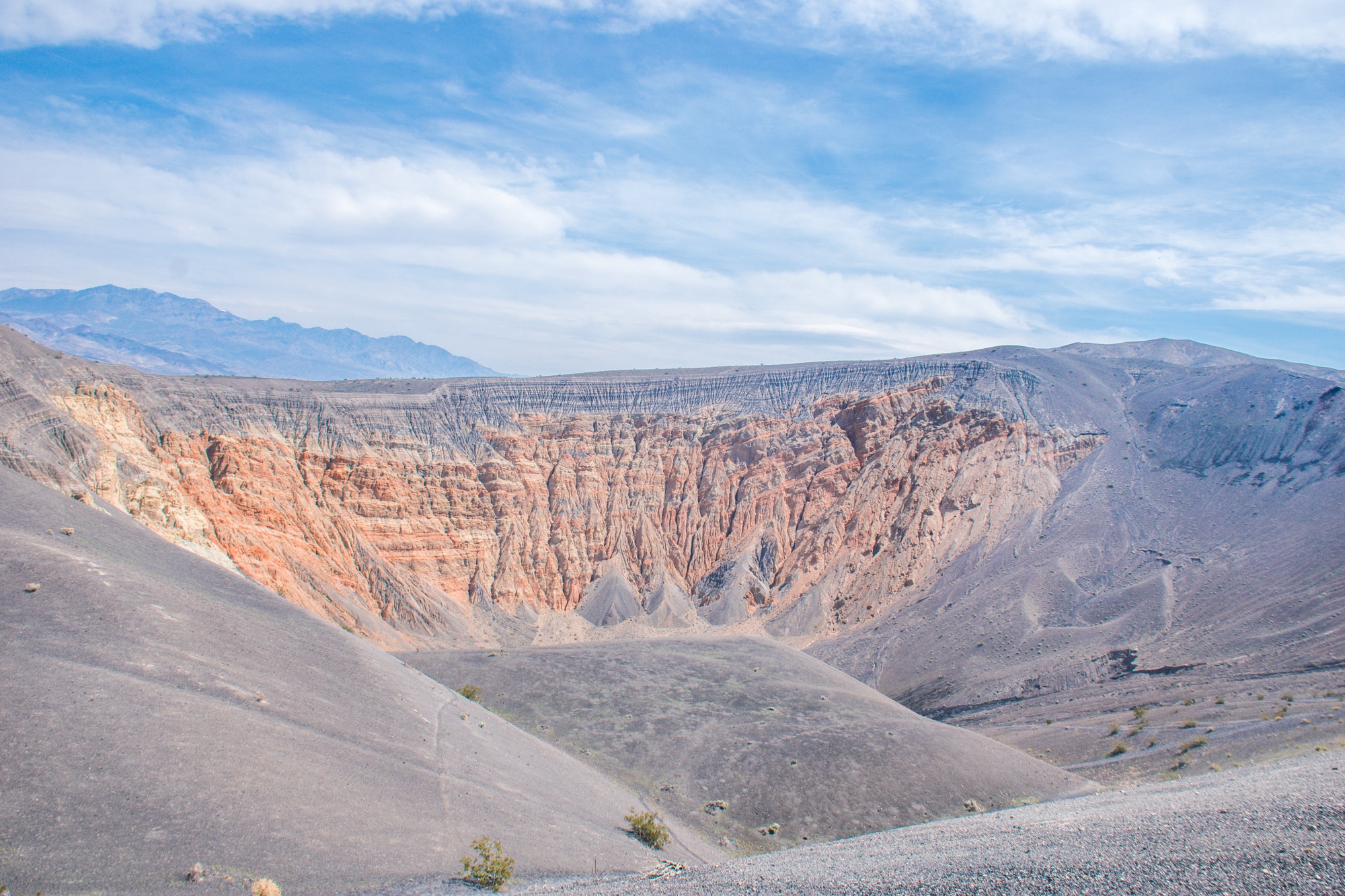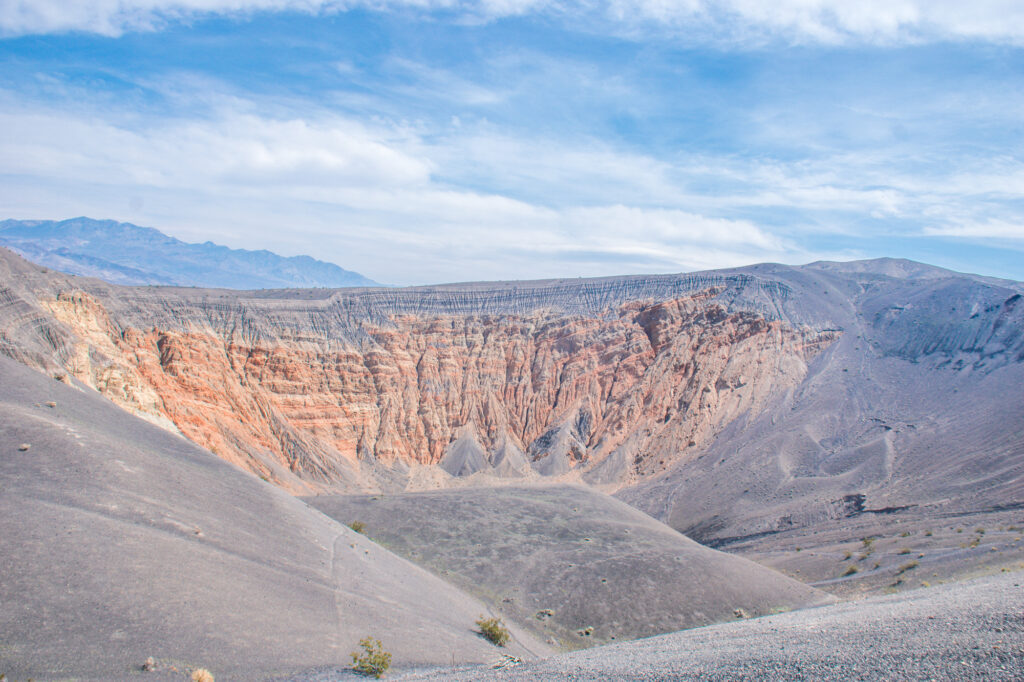 Catch Sunrise at Zabriskie Point
This popular viewpoint has been a must-see even before Death Valley was a National Park. The Pacific Borax Company built the vista in the 1920s so that visiting businessmen and engineers could marvel at the colorful badlands that surrounded Manley Beacon.
You won't find a better place to watch the sunrise in Death Valley. Watching dawn break and turn the landscaping in front of you into a rainbow of yellow, fuchsia, and crimson's is something you won't want to miss.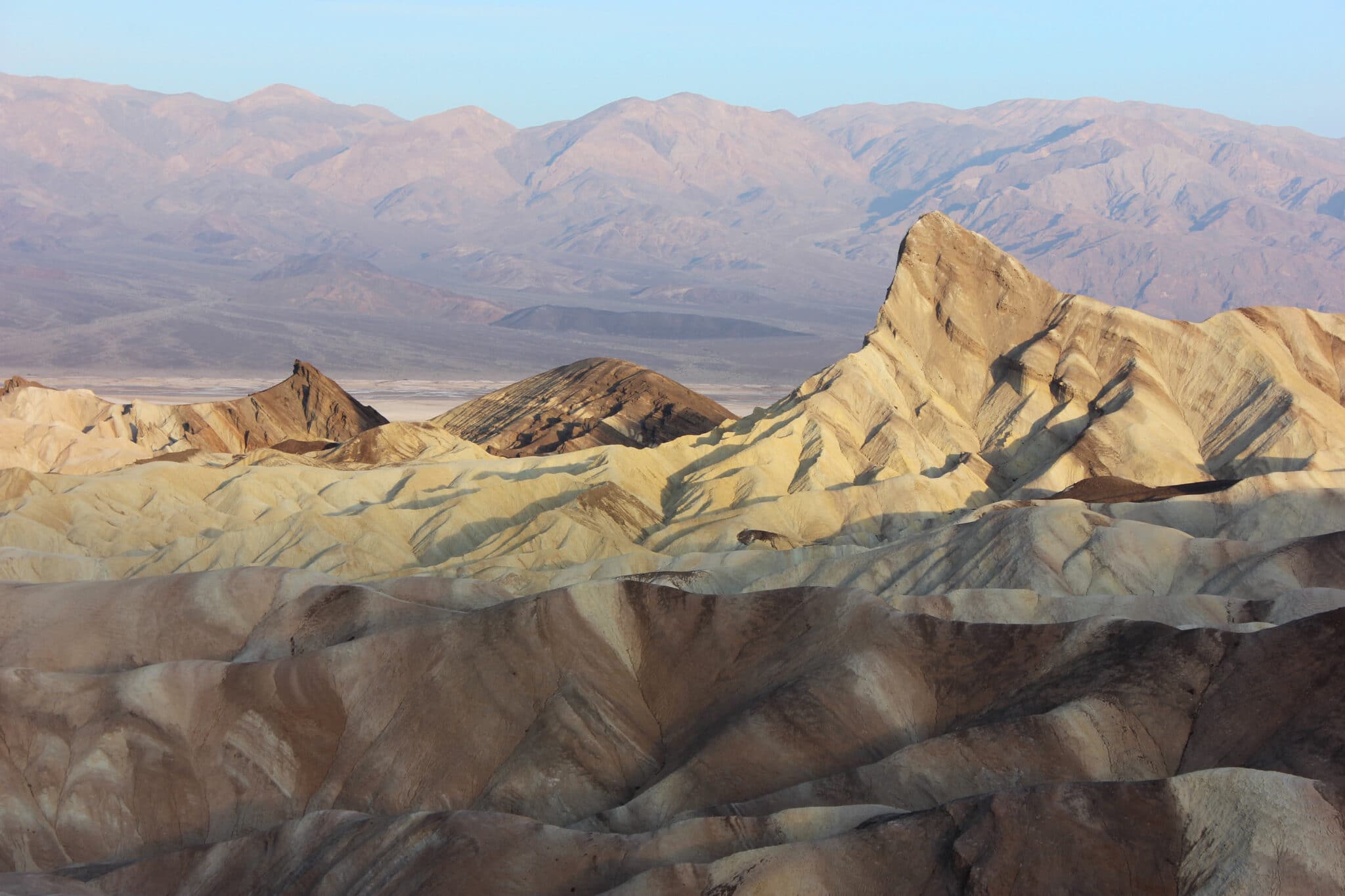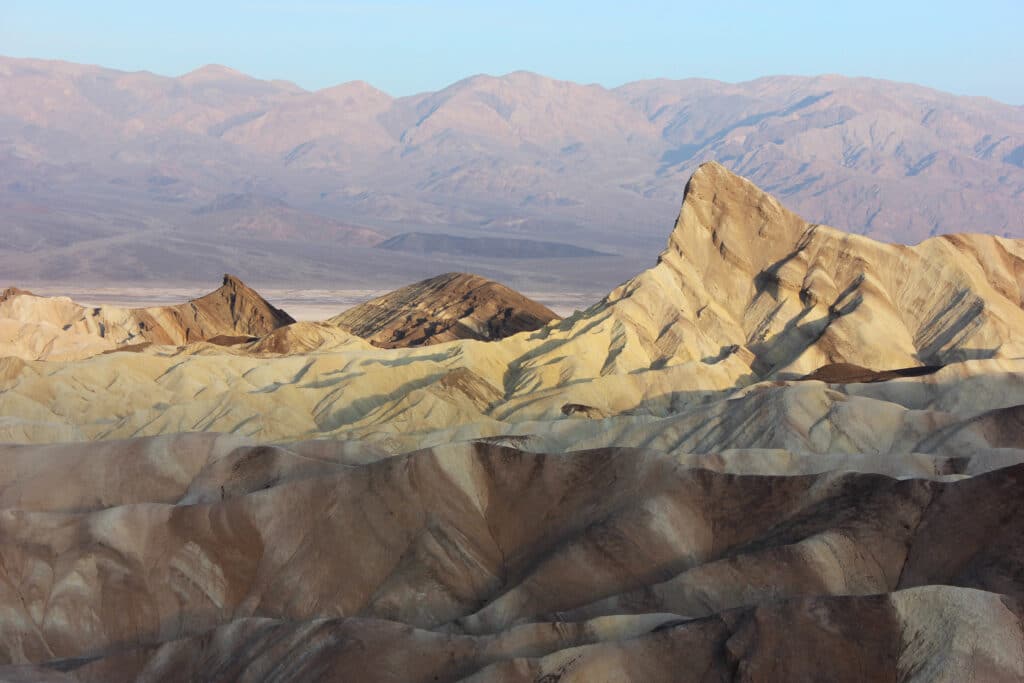 May The Force Be With You on your Hike Through Golden Canyon
You have a lot of choices for canyon hikes but one of the most popular is Golden Canyon and for good reason. If you embark on this three-mile round trip you'll hike along rugged, yellow walls ending at the towering formations of the Red Cathedral which has been stained maroon by oxidized iron within the rock.
Another reason why this hike is so well-traveled is that it was one of many Death Valley location that served as a natural backdrop for the original Star Wars trilogy.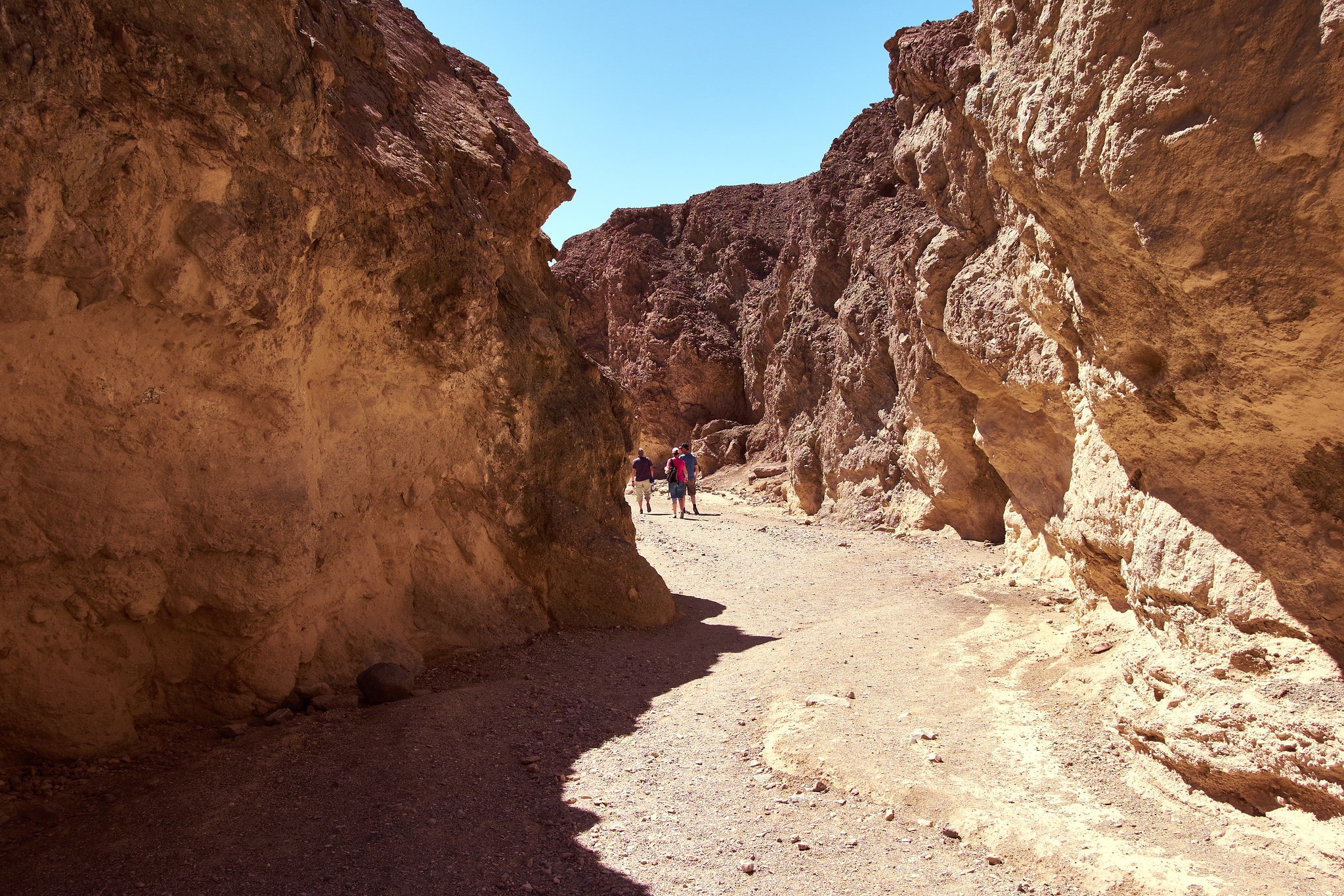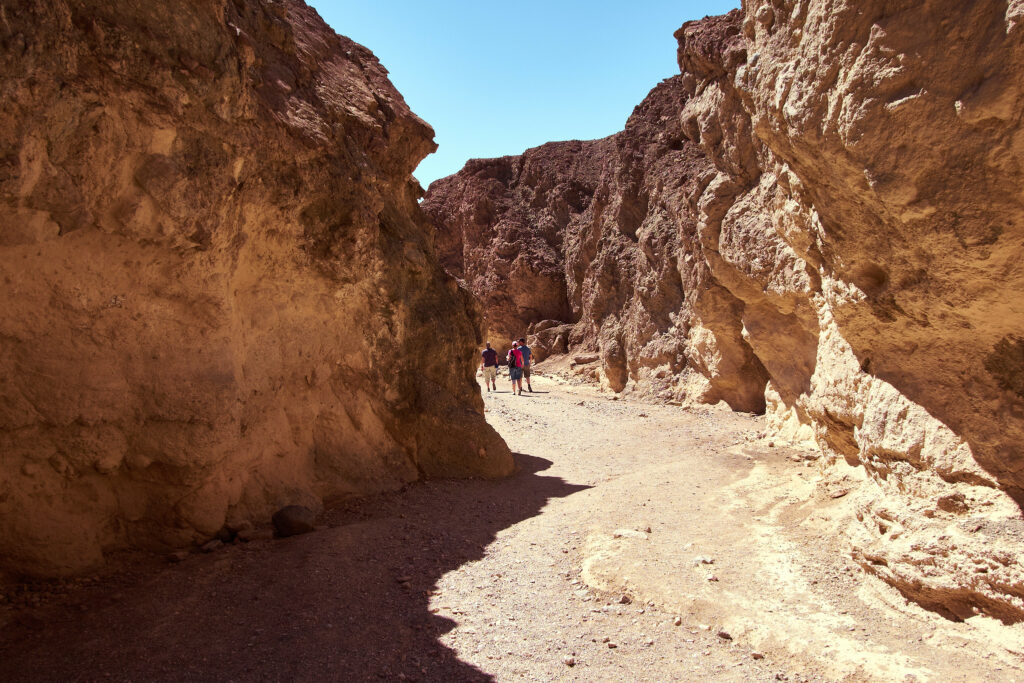 Play Golf at the Devil's Golf Course
Just looking out over this expanse of jagged salt crystals is enough to make your feet sore. Formed by rain, wind, evaporation, and calcium deposited by long-dead lakes, The Devil's Golf Course is constantly changing. If you were to come back and visit it after a month you might look out over a completely different and ever-shifting view. Take a few moments from your trip to pause and listen. If the day is warm enough, you'll hear a noise like Rice Crispies popping as the salt towers expand in the heat. CAUTION – do not attempt to actually play golf or walk on the salt flat. A fall could easily result in cuts or even broken bones!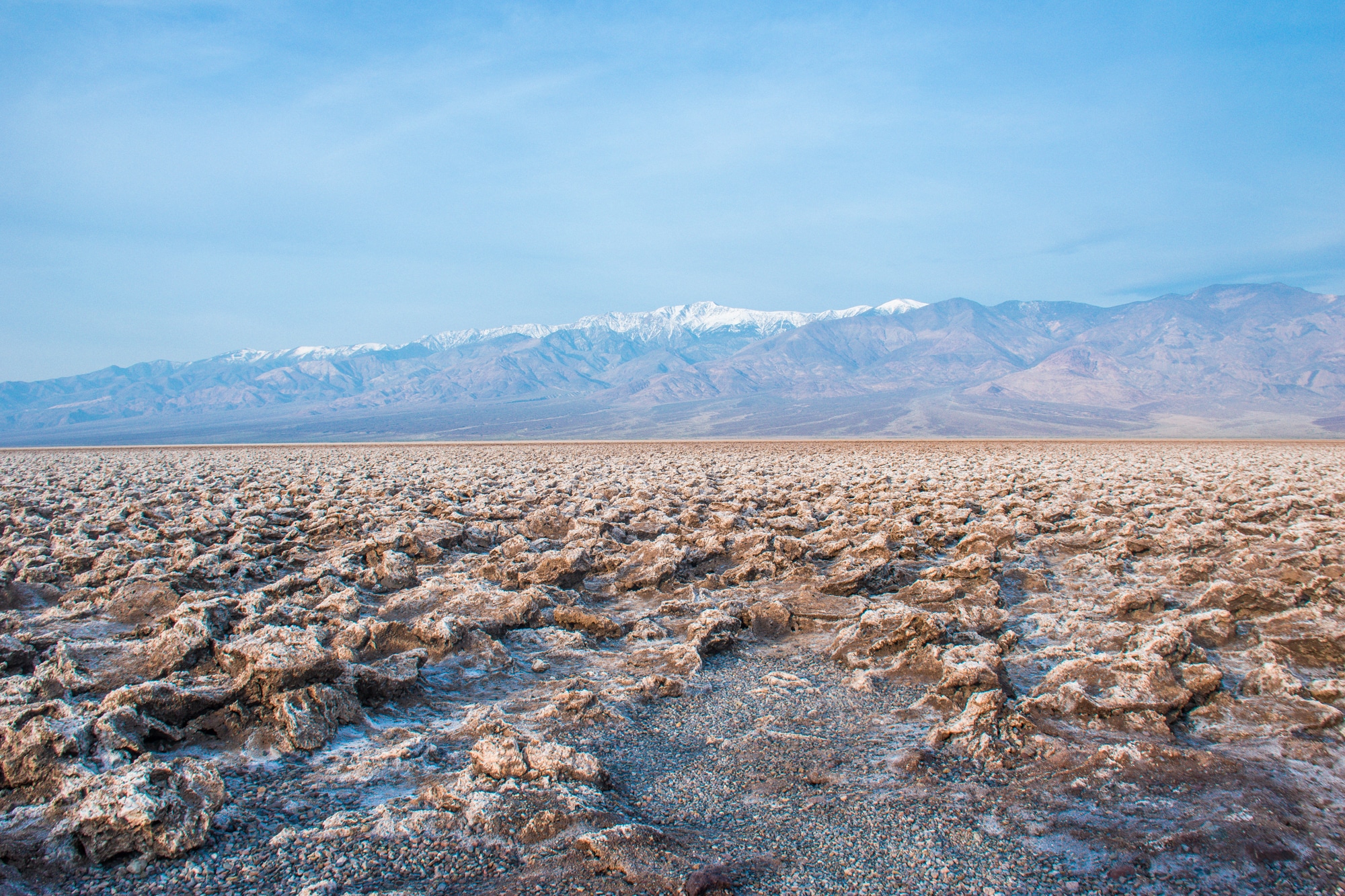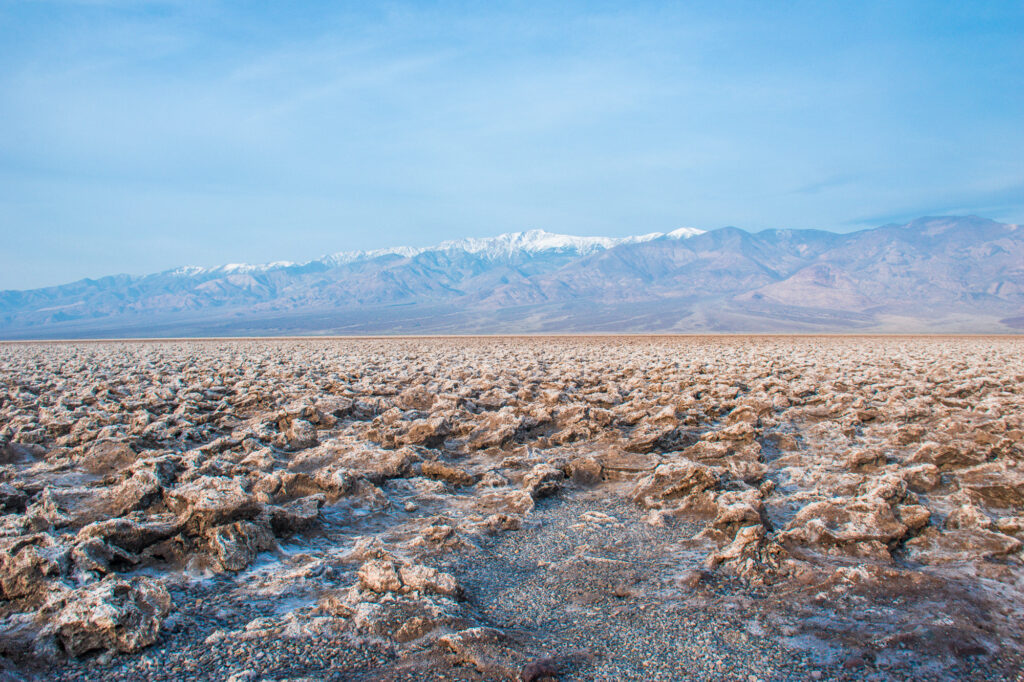 Visit Badwater Basin, The Lowest Point in North America
You would be hard-pressed to find a reason not to include this geologic marvel on any must-see list. By the time you pull into the parking lot you are 282 feet below the surface of the ocean – the lowest point on the North American continent. In front of towers Telescope Peak, the highest point in the park at over 11,000 feet. Just below that stretches a seemingly endless salt flat of white crystals left behind by the constant flooding and evaporation of the rain and snowmelt. Depending on when you visit you may be able to hike out onto the flat for miles and miles, or you may have to paddle out into the shallow lake that sometimes forms.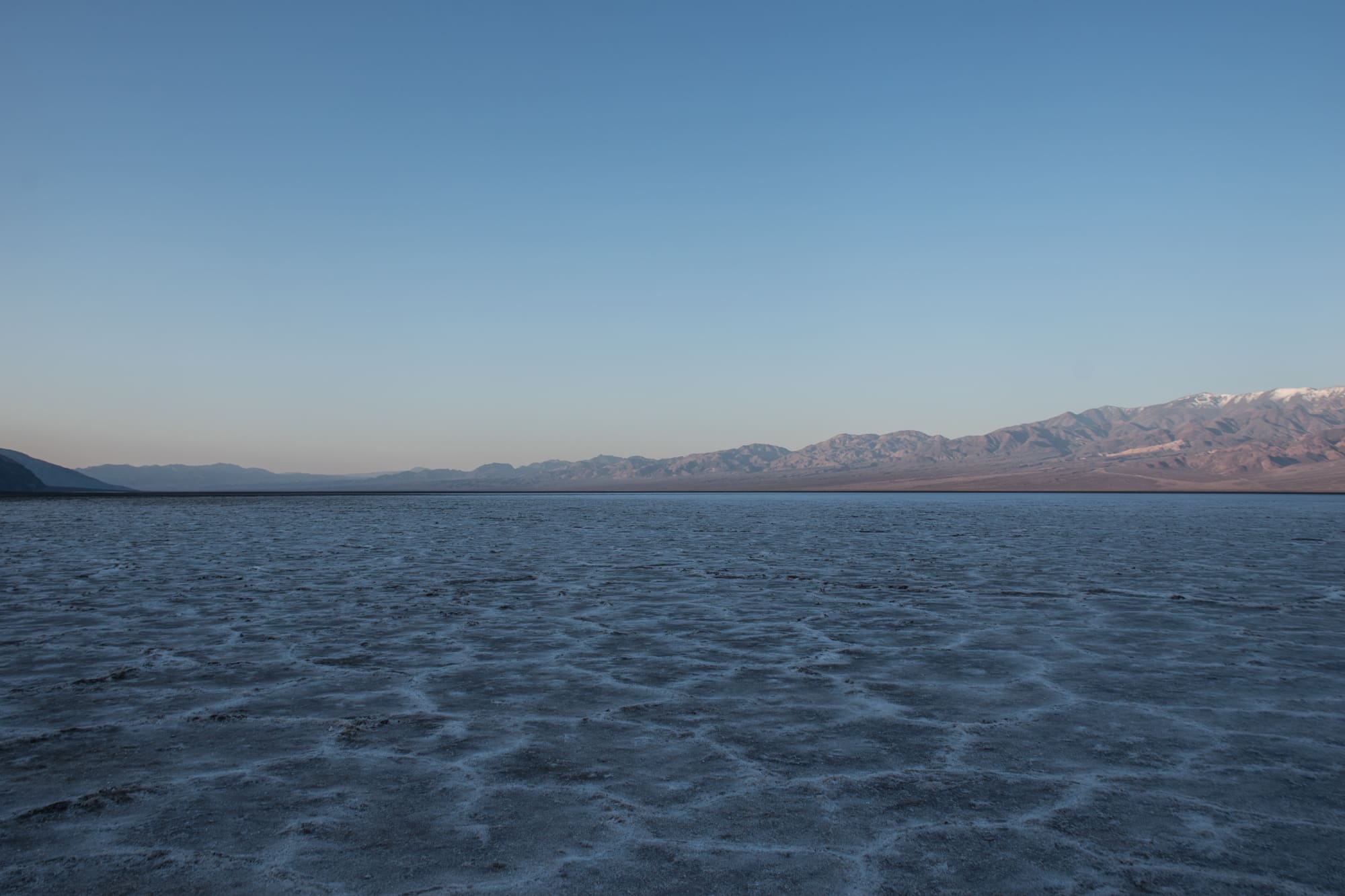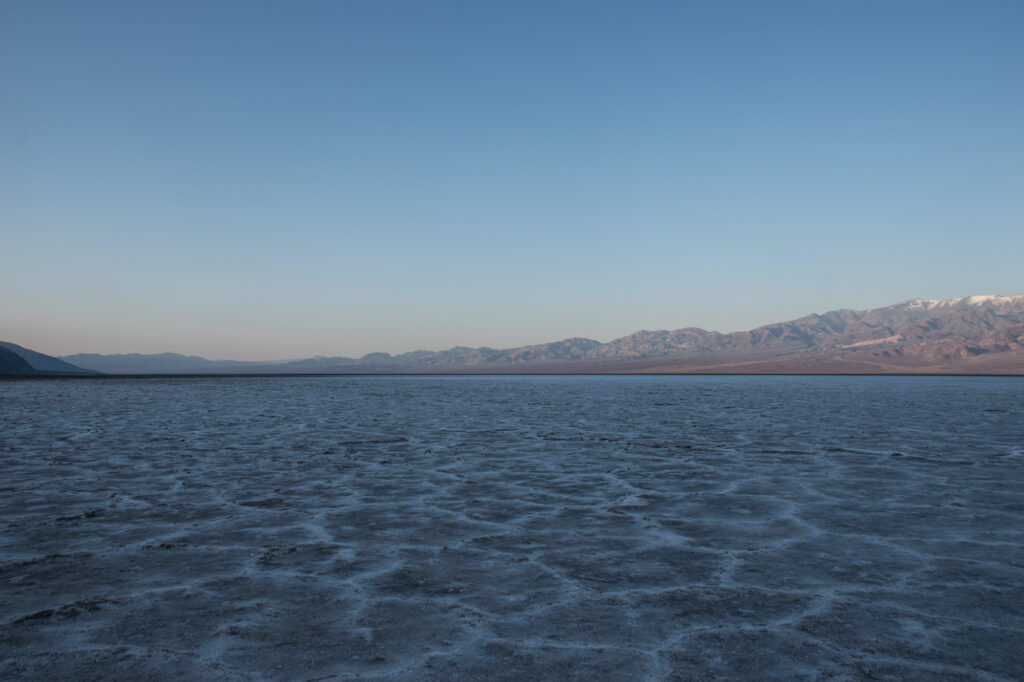 Enjoy The Panoramic Vista at Dante's View
There are many different overlooks and views worth visiting in Death Valley National Park. One of the best for really getting an idea of the size and scope of Badwater Basin and the park as a whole is atop Dante's View. Accessible by vehicle, if you decide to take the drive to this 5,000 foot viewpoint you'll be rewarded for your time with a commanding view of the entire Badwater area and the magnificent Panamint Mountain Range.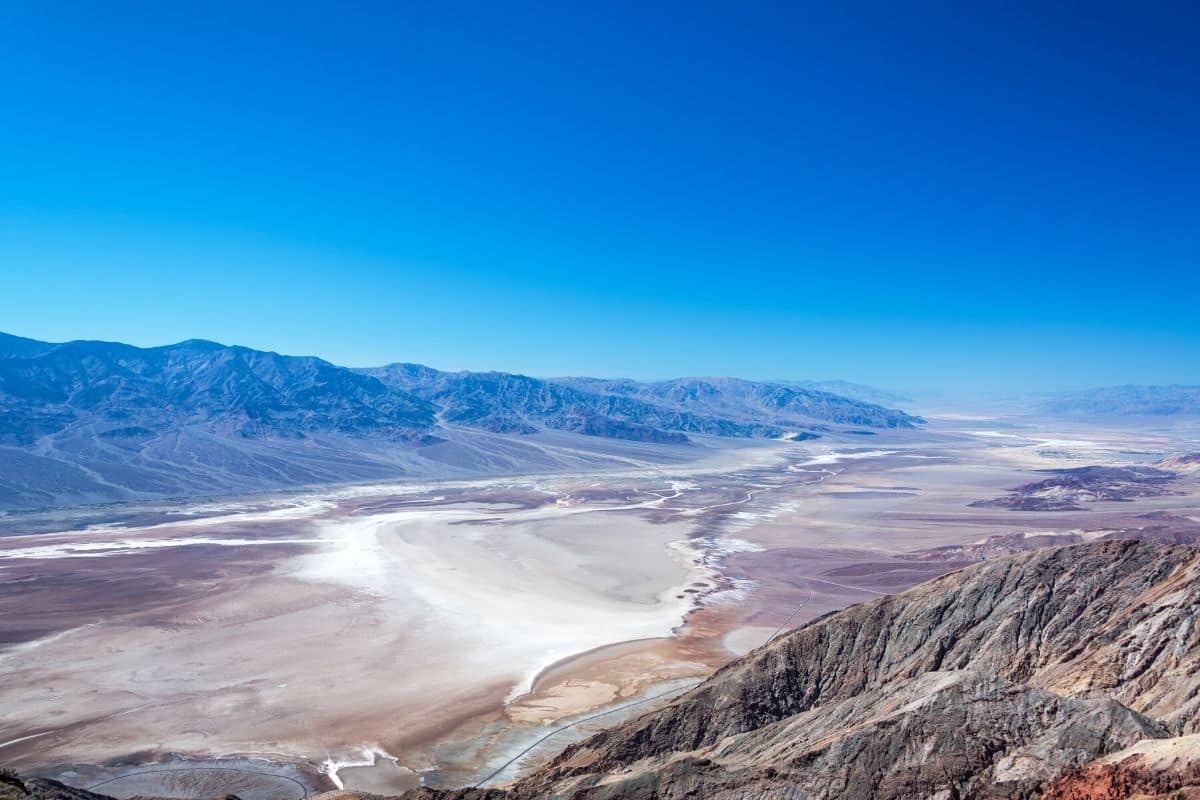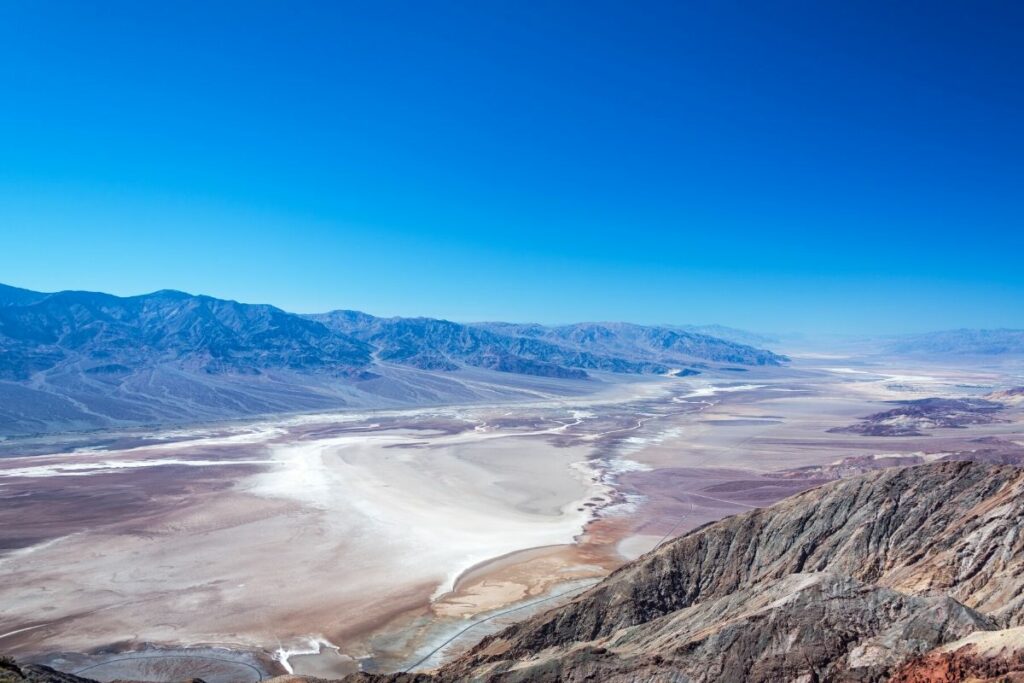 The Splendor of Artist Drive and Artist's Palette
When most people think of the desert, they imagine a barren, monochromatic expanse. Death Valley is anything but, and one of the best examples of the geologic diversity within the park is found along Artist's Drive. This one-way drive road takes you through an area with a gigantic variety of minerals and a rock types. If you are lucky enough to catch this drive on a clear and sunny day, you will be dazzled by the rainbow that awaits you at the Artist's Palette viewpoint. Bright yellows, fiery oranges, and cool blues and greys abound. One word of caution – before venturing onto this loop road make sure that the vehicle you're driving doesn't exceed 25ft. in length.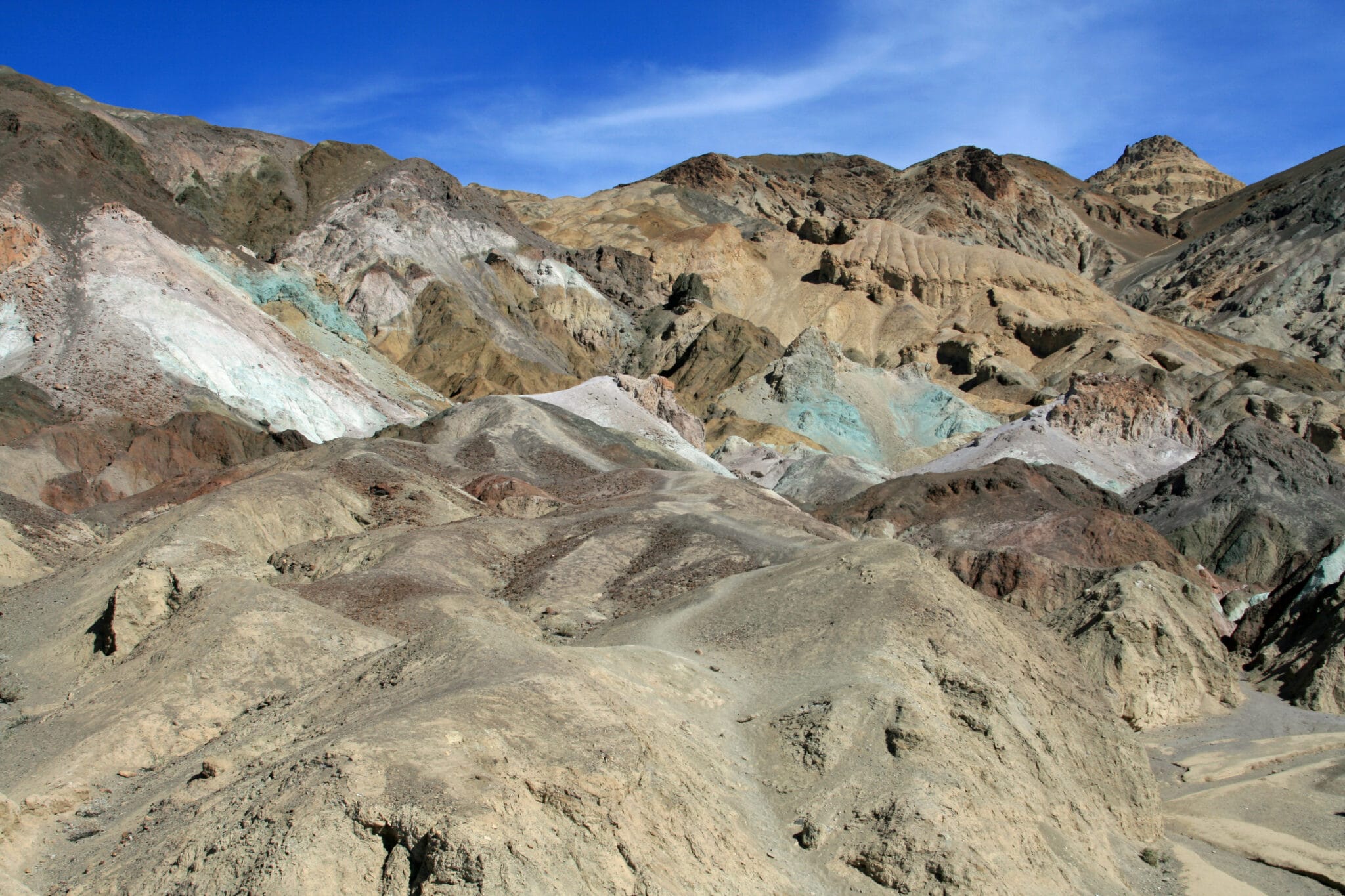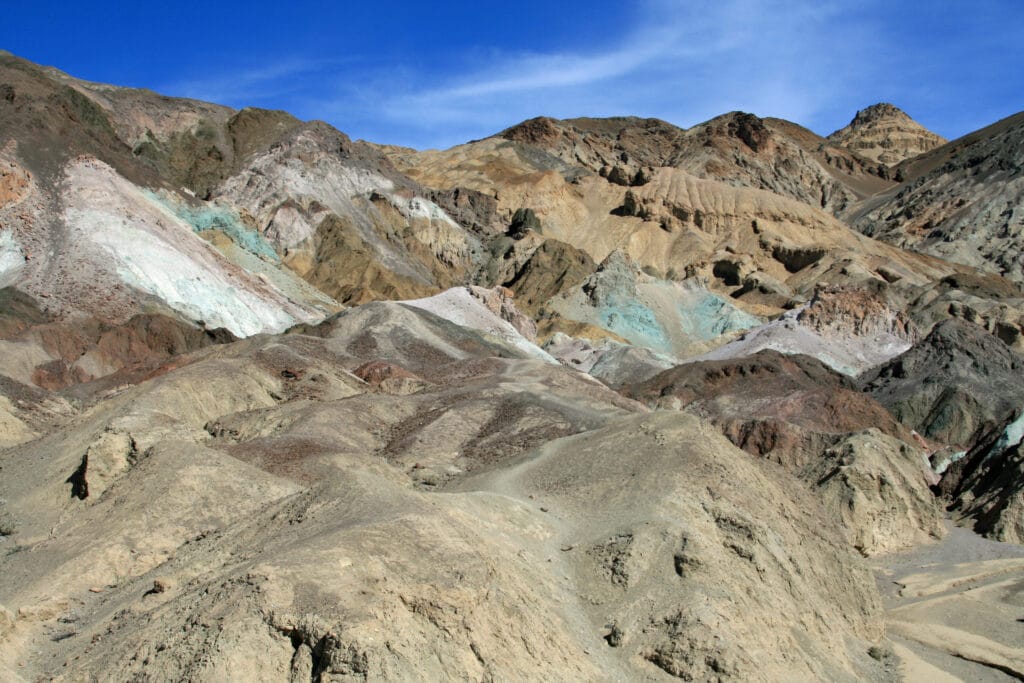 Learn About Mining History at Harmony Borax Works
The ruins of this processing plant are a great place to learn about the mining history of Death Valley National Park. In 1881 large deposits of Borax were found near Furnace Creek, prompting enterprising miners to begin extracting and processing the valuable material in the valley. While finding it was relatively easy, getting it out of Death Valley proved much harder. The solution was to use teams of twenty mules to haul the mineral over the Mojave Desert. Visit this location to learn more about this short-lived but important industry, then check out the laundry section of your local grocery store to see how the legacy of these mules teams.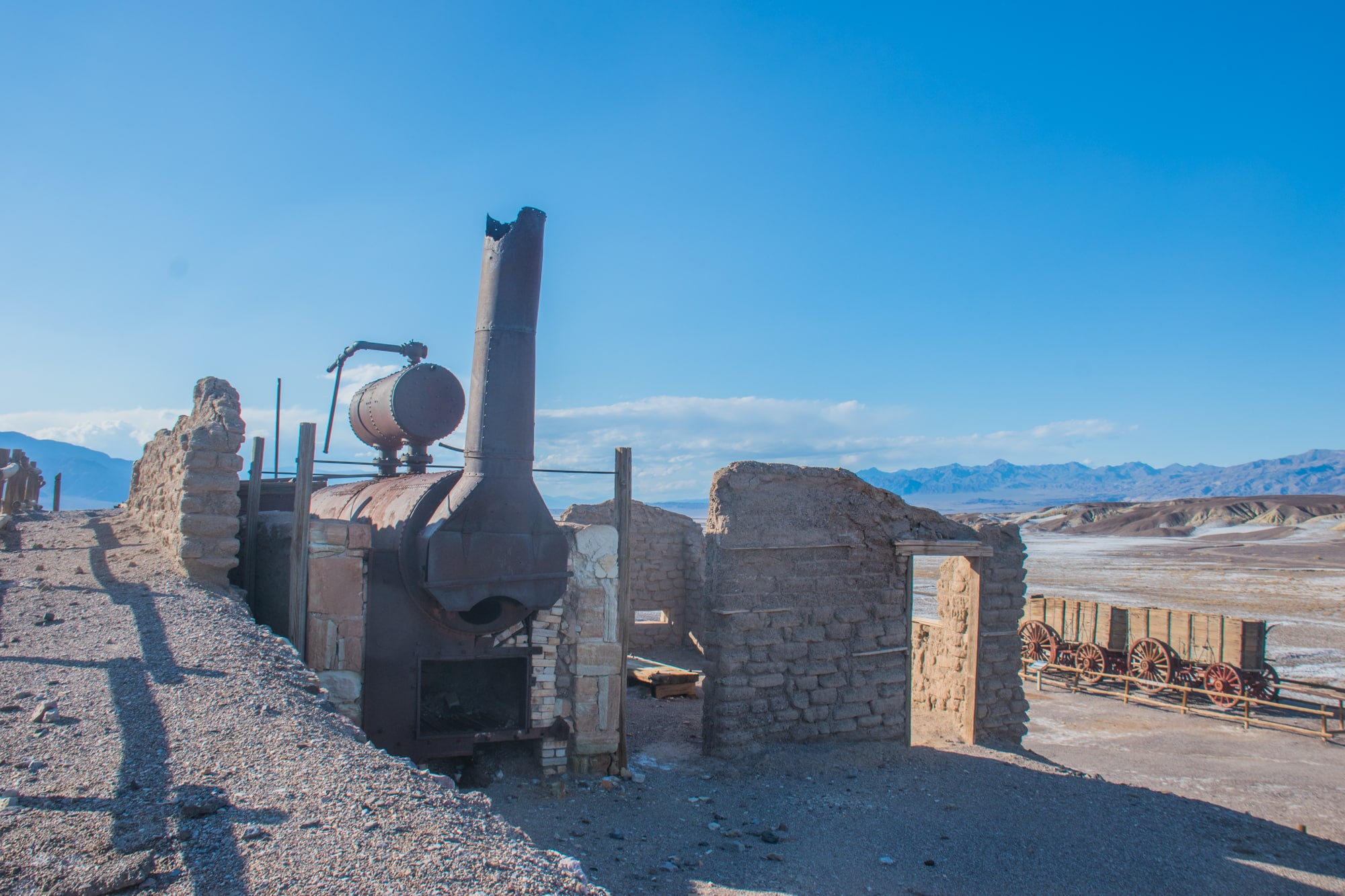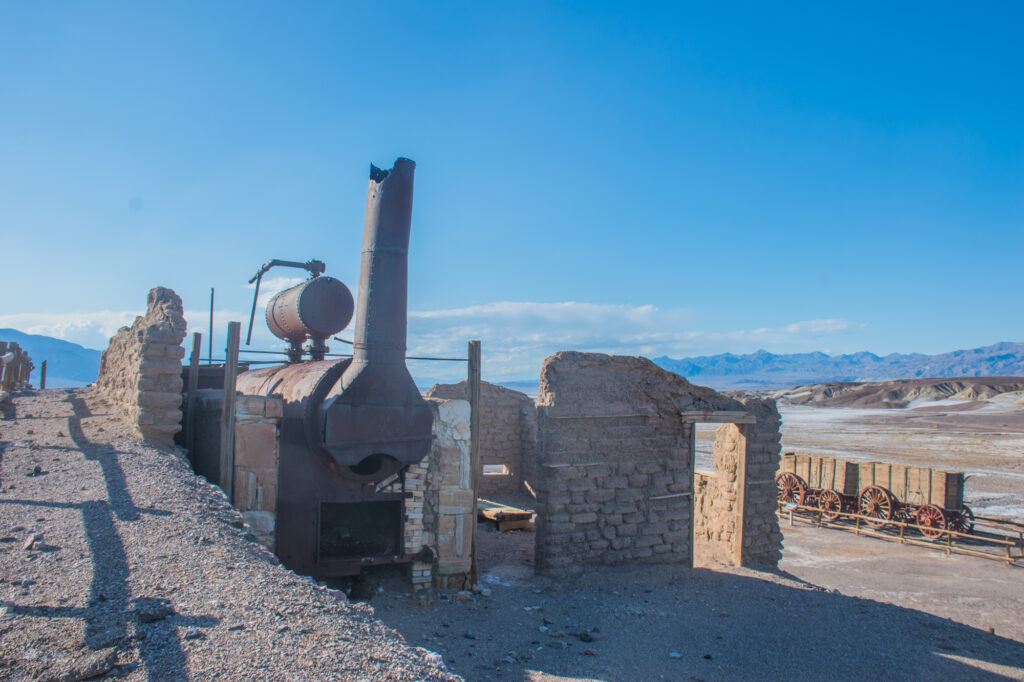 Escape to the Oasis at Darwin Falls
A fern-laden oasis with a waterfall? In the middle of Death Valley? While that may be the strangest thing that you've read so far, it isn't a figment of your imagination. Darwin Falls is actually a collection of small streams that are fed by snowmelt and rain from the far away Inyo and Argus Mountains. A short hike brings you to this desert oasis where you may see small animals like the California Quail and a collection of river-dwelling ferns that might make you forget that you're actually in the middle of the largest desert park in the lower U.S.
The hike to Darwin Falls 2 miles round trip. The semi-informal trail follow the creek bed. Hikers should expect a few rock scrambles and stream crossings. This trail is considered to be informal due to visitors traveling up the creek bed. The area is prone to flooding during Death Valley's infrequent rainstorms and the trail route changes based on the water movement.
Swimming in the water is NOT allowed. This small grotto is a unique ecosystem and the water source for Panamint Springs.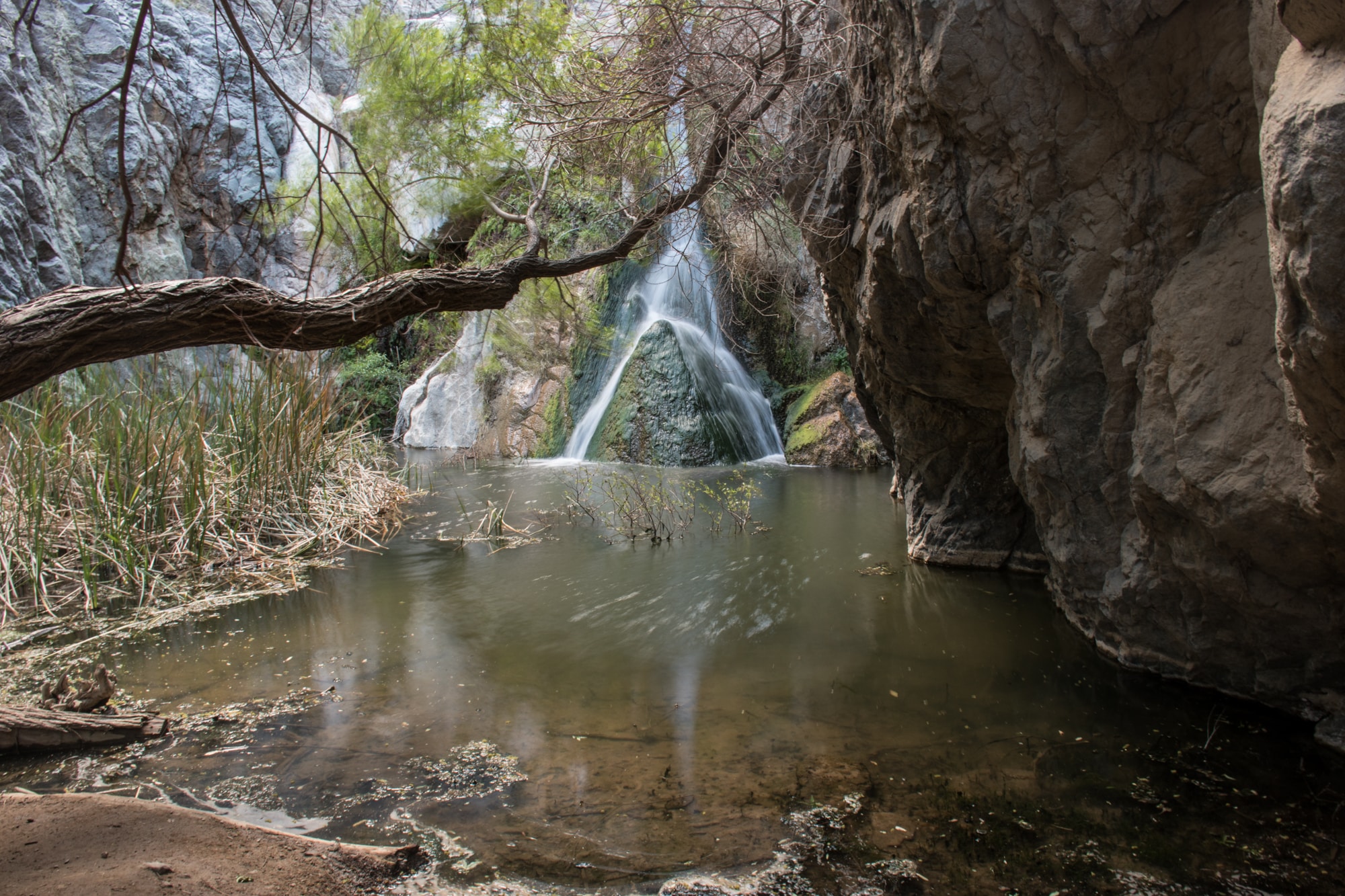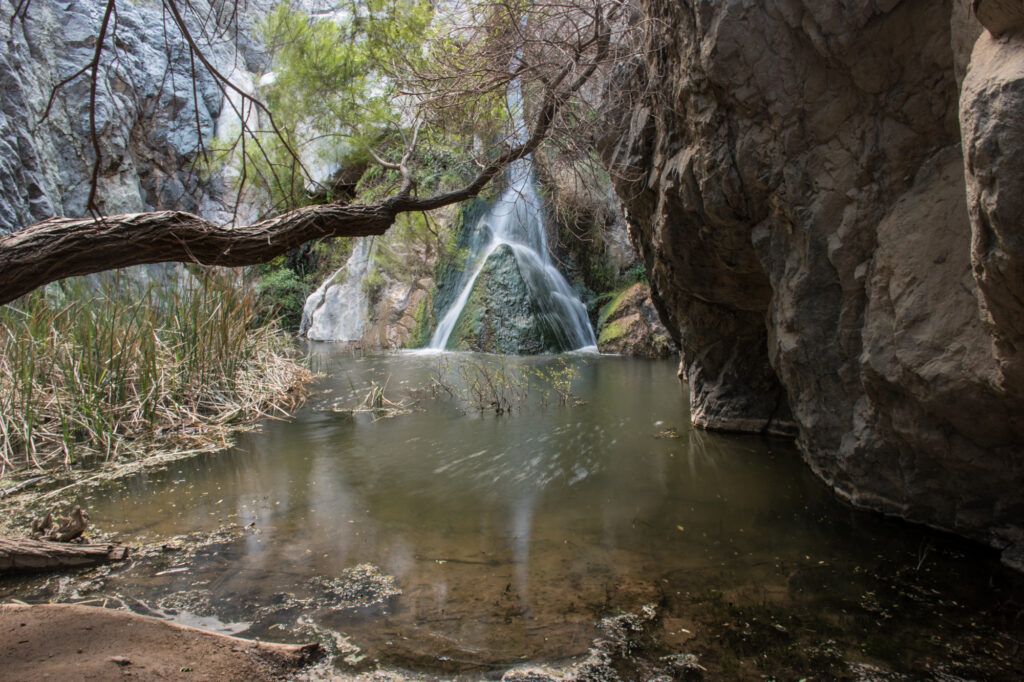 Cool Off Among the Wildrose Charcoal Kilns
Nestled among the chaparral of Death Valley's high country are ten of the most curious structures you'll find in any national park. Constructed in 1877 by one of Death Valley's many mining operations, the Wildrose Charcoal Kilns provided fuel for two large smelters but were soon abandon.
During the drive up to these masonry wonders you'll climb several thousand feet and into an area where short pinyon-juniper trees abound and the park's Bighorn Sheep usually range. On a warm day, this spot becomes a "must-see" if only for the fact that the high altitude will give you a must-needed respite from the oppressive temperature of the valley floor.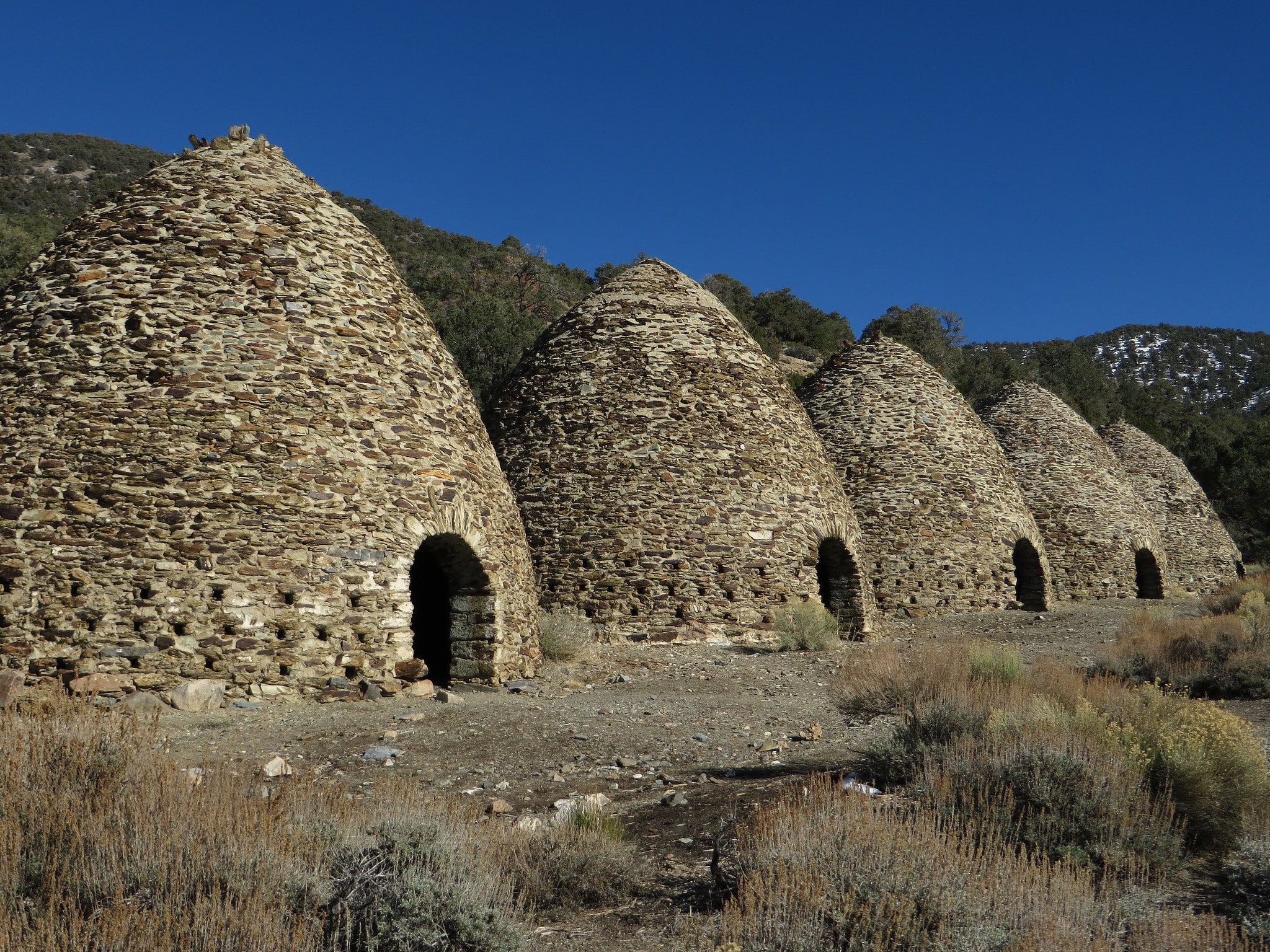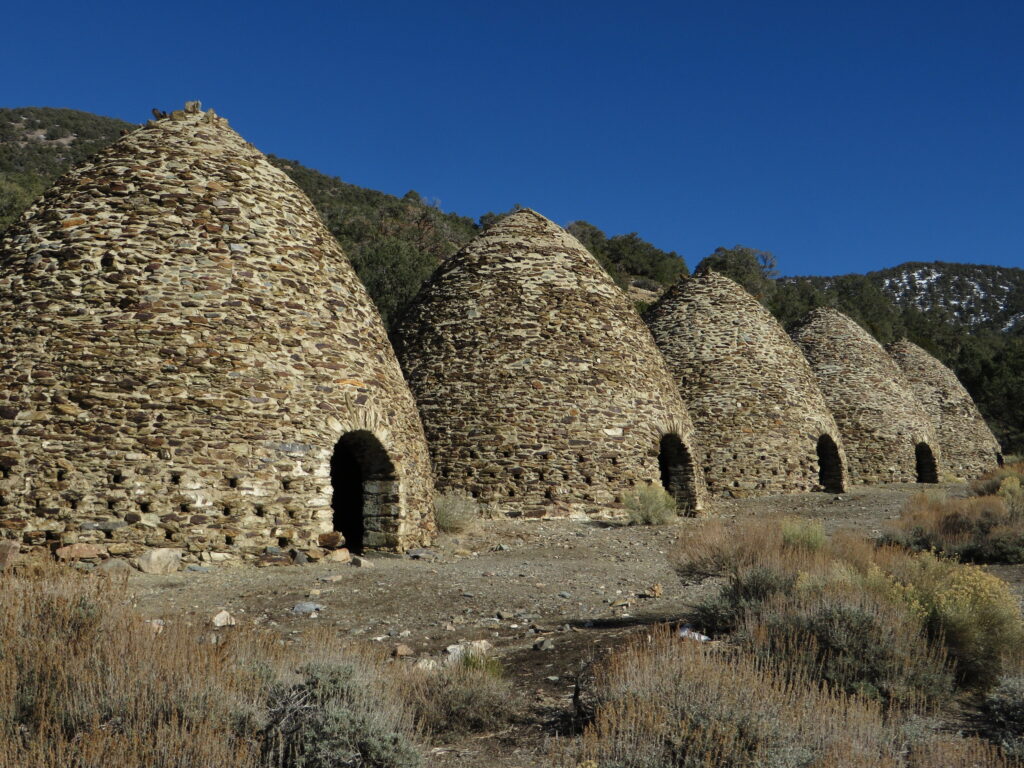 Get help planning your Death Valley National Park Trip

Pin to Share: 15 Things You Can't Miss on Your First Visit to Death Valley National Park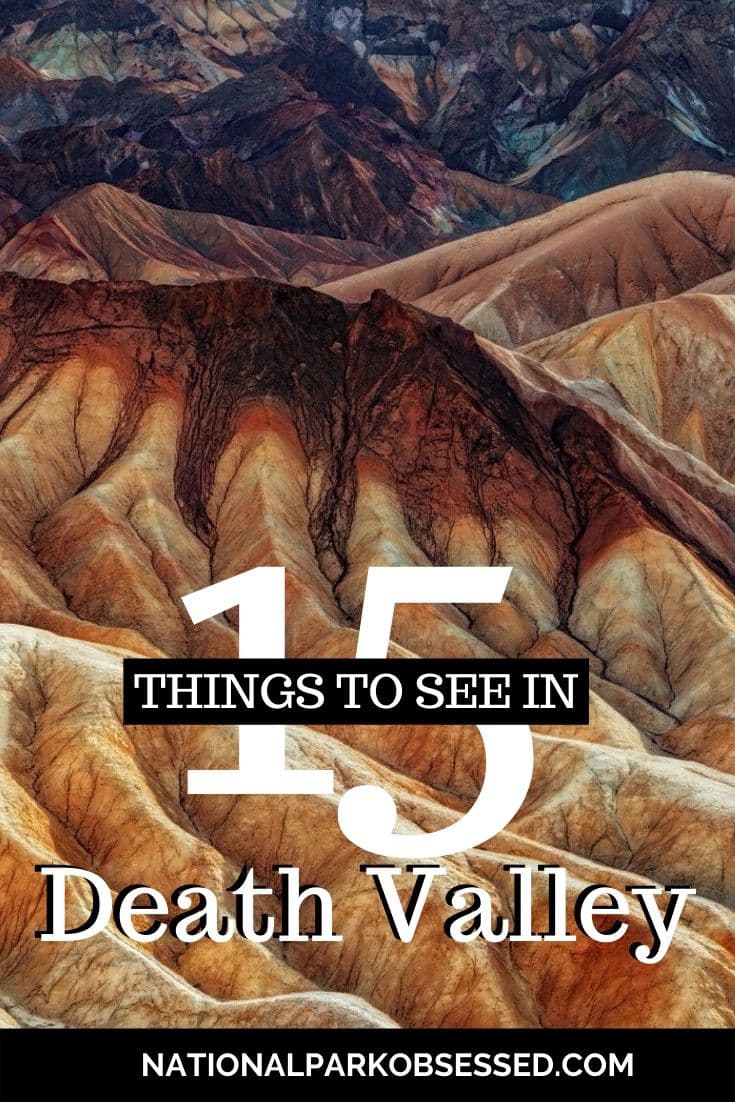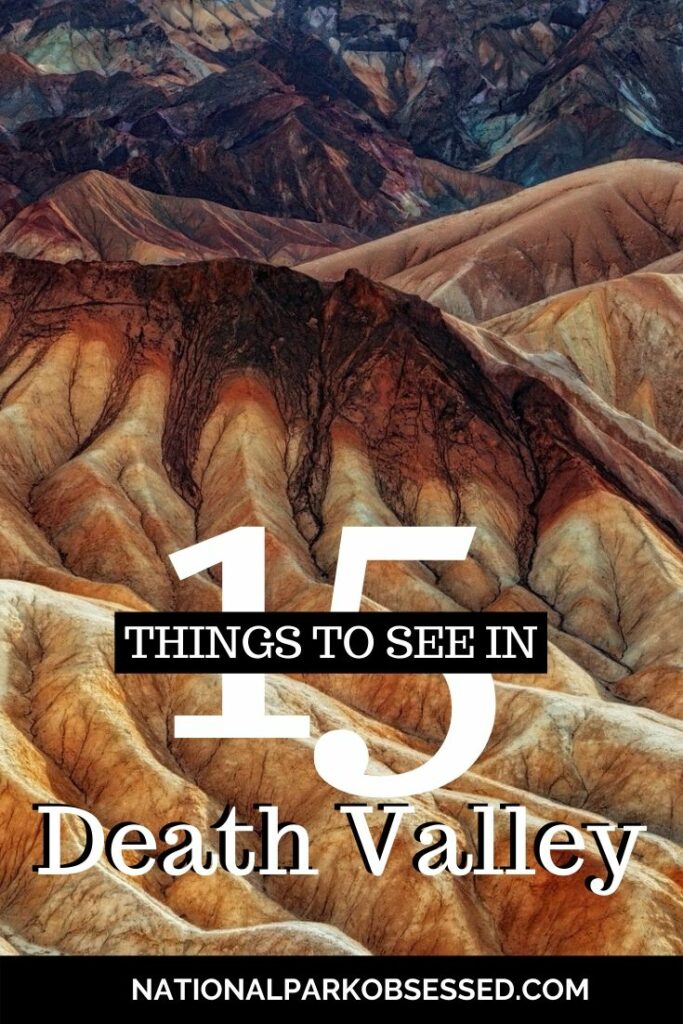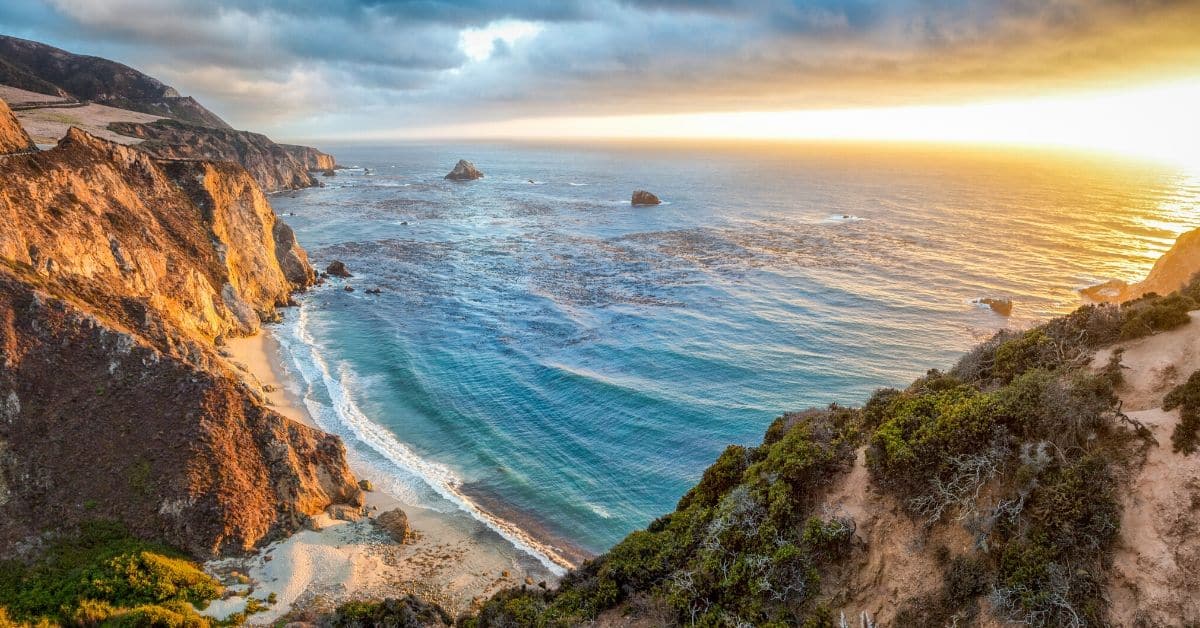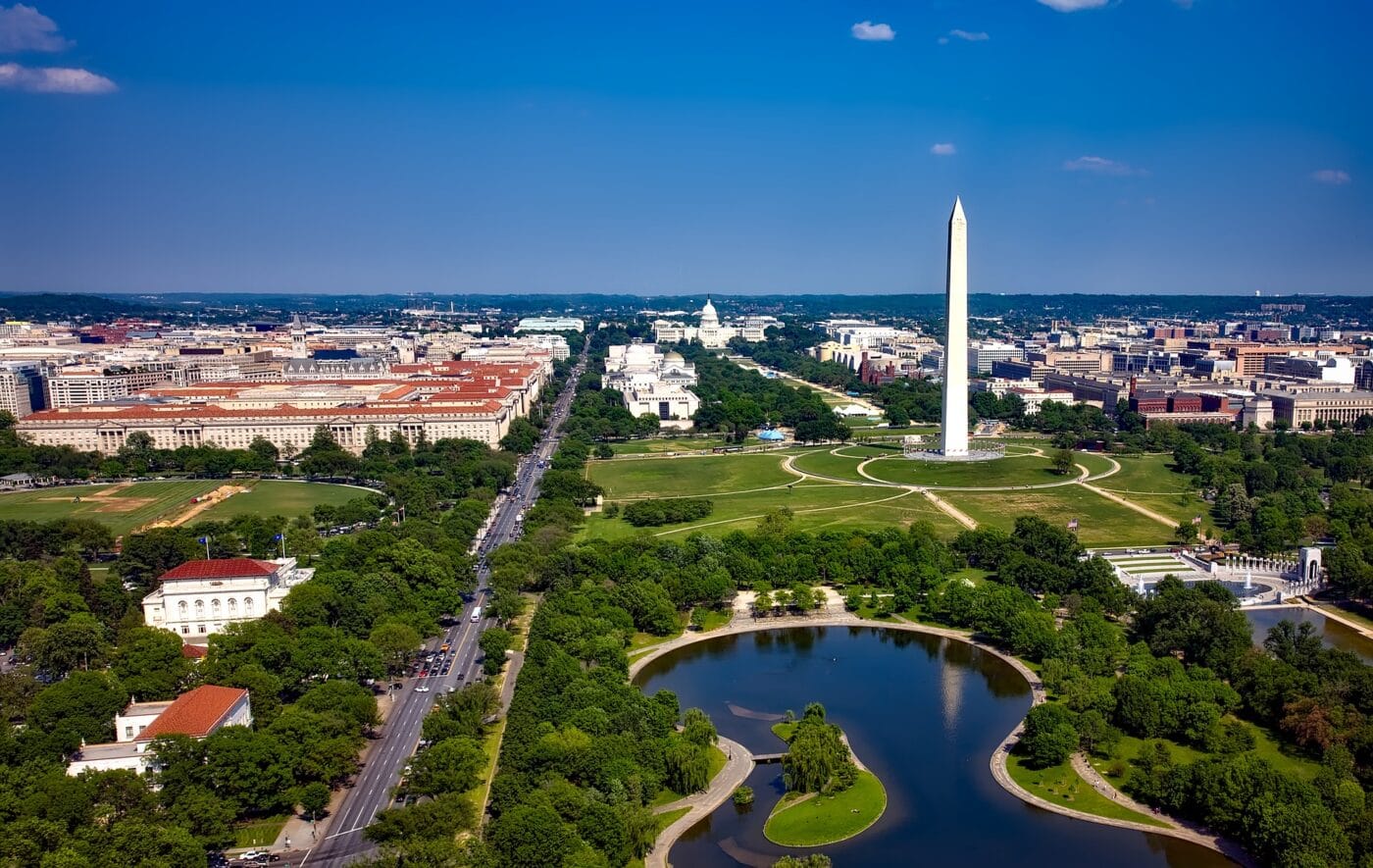 On this site, we promote travel to the United States and beyond that are the traditional lands of  Indigenous and First Nations peoples.
With respect, I make a formal land acknowledgment, extending my appreciation and respect to these lands' past and present people.
To learn more about the people who call these lands home, I invite you to explore Native Land.
National Park Obsessed assumes no responsibility or liability for any errors or omissions in the content of this site (NationalParkObsessed.com). The information contained in this site is provided with no guarantees of completeness, accuracy, usefulness or timeliness. You are encouraged to conduct your own due diligence before acting on the information provided on this site and should not rely on the opinions expressed here.
There is an inherent risk in all outdoor recreation activities, the reader assumes all responsibility for their own personal safety.
We are a participant in the Amazon Services LLC Associates Program, an affiliate program designed to provide a means for us to earn fees by linking to Amazon.com and affiliated sites.
Get a FREE 63 National Park Checklist