Post Summary: Angels Landing Hiking
Angels Landing is a bucket list hike. There is a reason that this popular Zion National Park hike draws thousands of visiter every year. This spectacular hike is more than a destination. It's a journey and adventure. Hiking Angels Landing requires grit, determination, and a little bit of a death wish. It's an adrenaline rush for sure.
The hike climbs up the Zion Canyon walls to a small overlook when those who have a fear of heights may decide that the final push isn't for them. This final push is up a narrow ridge that is more rock scramble than a hike. Using chains, visitors climb their way up this ridge with 800 ft drops on either side to a stunning landing where they are greeted with one of the classic National Park views.
Angels Landing is a fun and adventuresome hike. There are a few things you should know before attempting to hike Angels Landing.
This post may contain affiliate links, meaning if you book or buy something through one of these links, I may earn a small commission at no extra cost to you! Read the full disclosure policy here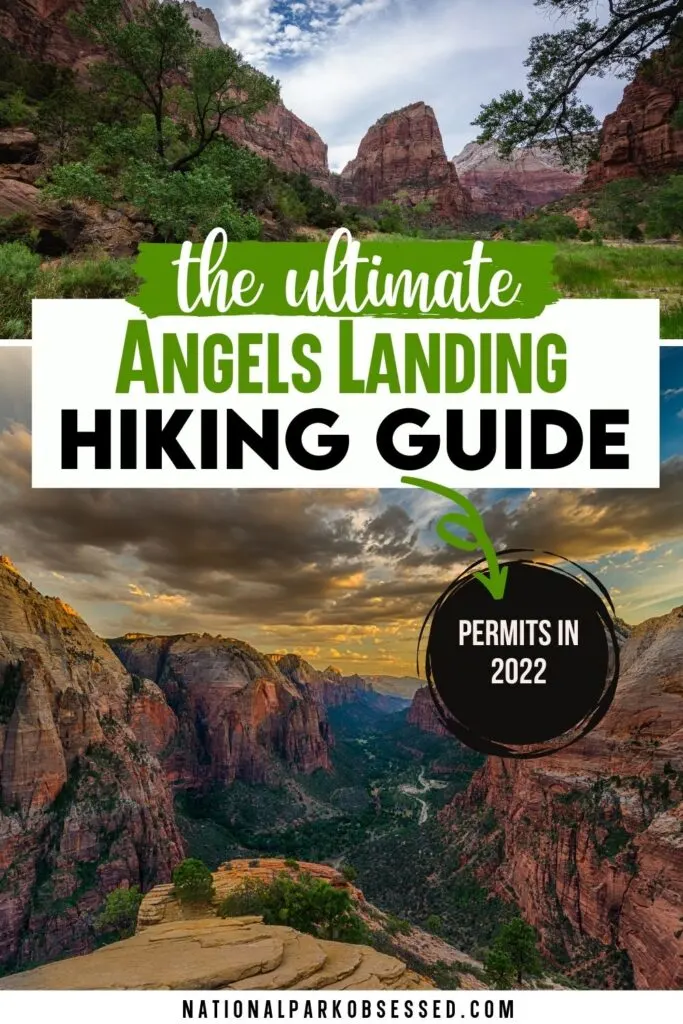 Angels Landing Hiking Stats
Distance: 5.4 miles
Elevation Gain: 1,500 ft.
Difficulty: Strenuous with steep drop-offs
Exposure: Full sun, no shade
Average Hiking Time: 3 to 5 hours
When to go: Year-round, best in Spring or Fall.
Pet: Not allowed
Trailhead: The Grotto (Zion Shuttle Stop #6)

Angels Landing Permits Lottery
Zion National Park will be issuing permits to hike Angels Landing from April 1, 2022, to February 28, 2023, as part of a pilot program to manage the hiking traffic on the trail.
The permits will be issued in a seasonal block at the start of each quarter and the second set will be issued the day before. The lottery application costs $6 for up to six people. If you win a permit you will be charged $3 for each person you registered.
All permitting is done through Recreation.gov scroll down to Activities & Experiences to find the entry page.
PERMITS ARE NOT TRANSFERABLE.
Seasonal Angels Landing Lottery Information
The seasonal lottery is held once a quarter for the following quarter. The lottery entry period will be from the 1st of the month until the 20th. The drawing will be held 5 days later. So you will need to apply for permits between 4 and 6 months in advance. The lottery days are as follows:
| | | |
| --- | --- | --- |
| Hike Dates | Lottery Opens | Permits Issued |
| April 1 and May 30, 2022 | January 3 to January 20, 2022 | January 25, 2022 |
| June 1 to August 31, 2022 | April 1 to April 20, 2022 | April 25, 2022 |
| September 1 to November 30, 2022 | July 1 to July 20, 2022 | July 25, 2022 |
| December 1, 2022 to February 28, 2023 | October 1 to October 20, 2022 | October 25, 2022 |
Please note the following:
You can only enter the lottery once per person.
You may designate one alternate trip leader. You or the alternate trip leader must present photo ID to hike Angels Landing. Names cannot be changed once the application is submitted.
The alternate trip leader is allowed to submit their own lottery application.
An electronic or paper copy of the confirmation email must be carried while on your hike (Note: mobile phone service is unreliable at the permit checkpoint; therefore, an electronic copy should be downloaded prior to starting the hike).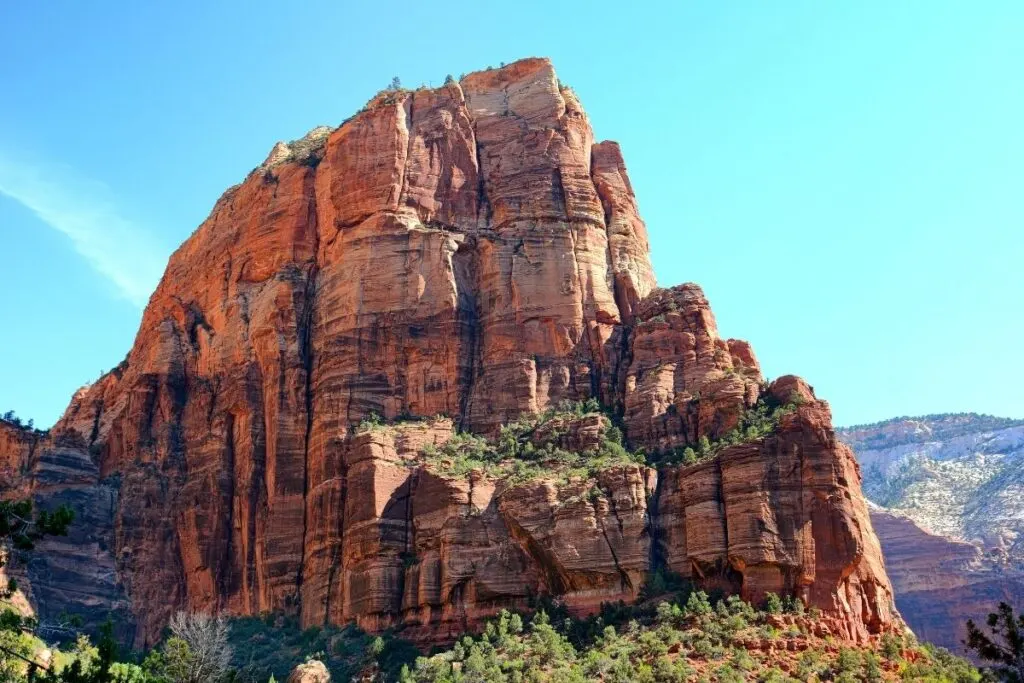 How to Increase Your Odds of Getting a Angels Landing Hiking Permit during the seasonal release?
I expect the Angels Landing permits will be much like Half-Dome in that there will be a couple of thousand more entries than permits available. This will mean that not everyone is getting a permit. NPS is allowing permit applicants to give 7 preferred dates or date ranges for the Zion Permit Lottery.
If you are traveling with a group, have
If traveling with a group have every one submit their own Angels Landing Lottery application and designate an alternate trip leader.
Enter for a range of dates. If you are planning a Utah Road Trip then enter for your entire trip. But the more availalbity you have to better your odd of getting a permit. If your name is drawing NPS going to give you the first available permit with in your date preferences. If there isn't any permits for your date preferences, then you are not getting a permit.
Enter for each permit type on your chosen date range. With three different permit slots (Before 9 am, Between 9 am-12 pm, and after 12 pm), you should use 3 of your lottery perfences to enter for each day in your chosen date range.
Use all 7 prefered dates. The more dates or permit types your enter for the more options you have to get a permit. If you don't enter for it you aren't going ot be given a permit.
I fully understand that if you are doing a Utah National Park road trip, this sucks because you have to get your Arches Timed Entry Permit before you know the results of the Angels Landing Lottery, but here is what I would do. I would enter the lottery for two-day ranges. One at the beginning and one at the end. Then I'd plan on getting an Arches Permit for the middle of my trip. I know that doing Arches in the middle of a Utah road trip means backtracking but this gives you the best odds of getting to hike Angels Landing and secure an Arches Timed Entry Permit.
| | | |
| --- | --- | --- |
| Choice | Permit Type | First Date Available Within |
| #1 | Before 9 am | Whever day you would REALLY perfer to hike Angels. |
| #2 | Before 9 am | Beginning of Trip Date Range |
| #3 | Before 9 am | End of Trip Rate Range |
| #4 | After 12 pm | First Date Available |
| #5 | After 12 pm | End of Trip Date Range |
| #6 | Between 9 am & 12 pm | Beginning of Trip Date Range |
| #7 | Between 9 am & 12 pm | End of Trip Date Range |
Day-Before Angels Landing Lottery
The day before the lottery will open on March 31, 2022. This daily lottery opens at 12:01 am and closes at 3:00 pm Mountain Time. Permits will be issued at 4 pm Mountain Time. For example, if you want a permit on April 5, 2022, you'll need to apply for it on April 4, 2022. It costs $6 per application for up to six people and $3 per person if a permit is issued.
How to Enter Angels Landing Permit Lottery
What is the Best Times to Hike Angels Landing?
Angels Landing Hiking Season
Angels Landing Trail is open year-round. The best hiking is in the Spring and Fall. There is no shade of the trail so a summer hike can be really hot. If planning on hiking Angels Landing in winter, come prepared and if the trail is icy don't hike any further than Scouts Landing.
The Angels Landing hike is a perfect addition to a Utah National Park Road Trip.
Best time of day to hike Angels Landing?
Angels Landing is best hiked in the early morning or late afternoon. It is highly recommended to catch the first Zion Canyon Shuttle into the canyon. This trail is a hugely popular hike as hundreds of people hike this trail every day during the summer in Zion. Most hikers will start this hike between 8 am and 3 pm.
Taking the first shuttle will give you an hour or two to hike up before the major crowds start up the trail. Starting in the late afternoon will mean you are heading up as most hikers are starting down and again you will miss the crowds plus getting to watch the sunset from Angels Landing.
What to Pack for a Angels Landing Day Hike
Check out this post Backpacking Essentials For Beginners
Hiking Angels Landing
Zion Shuttle
Angels Landing Trail starts at the Grotto Trailhead. Grotto Trailhead is located at Shuttle Stop 6 along the Zion Canyon Scenic Drive. Usually, from May to Mid-November, access to Zion Canyon Scenic Drive is limited to the Zion Canyon Shuttle.
The Zion Canyon Shuttle can be caught from Visitor Center or Campground.
West Rim Trail
The trail starts by crossing the Virgin River at the base of the Zion Canyon. The sandy trail follows the Virgin River slowly gaining elevation. Be sure to look up. You are treated to epic views of Angel Landing from the canyon floor.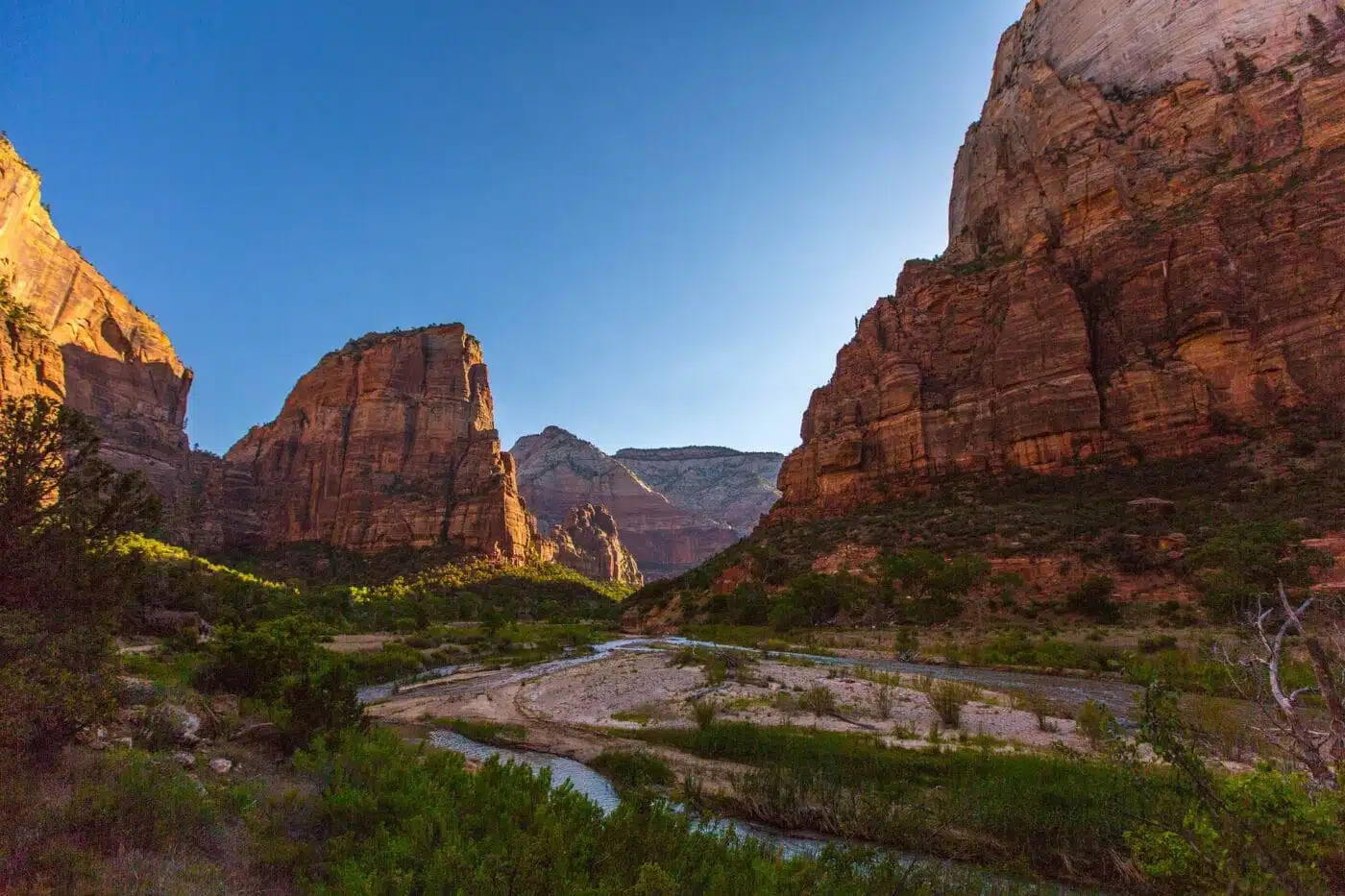 As you approach the base of Angels Landing, the trail turns and you will reach the first set of switchbacks up the side of Cathedral Mountain. I hope you didn't skip leg day. Take your last look at the canyon. It will be a while until you see it again. These switchbacks lead to the aptly named Refrigerator Canyon.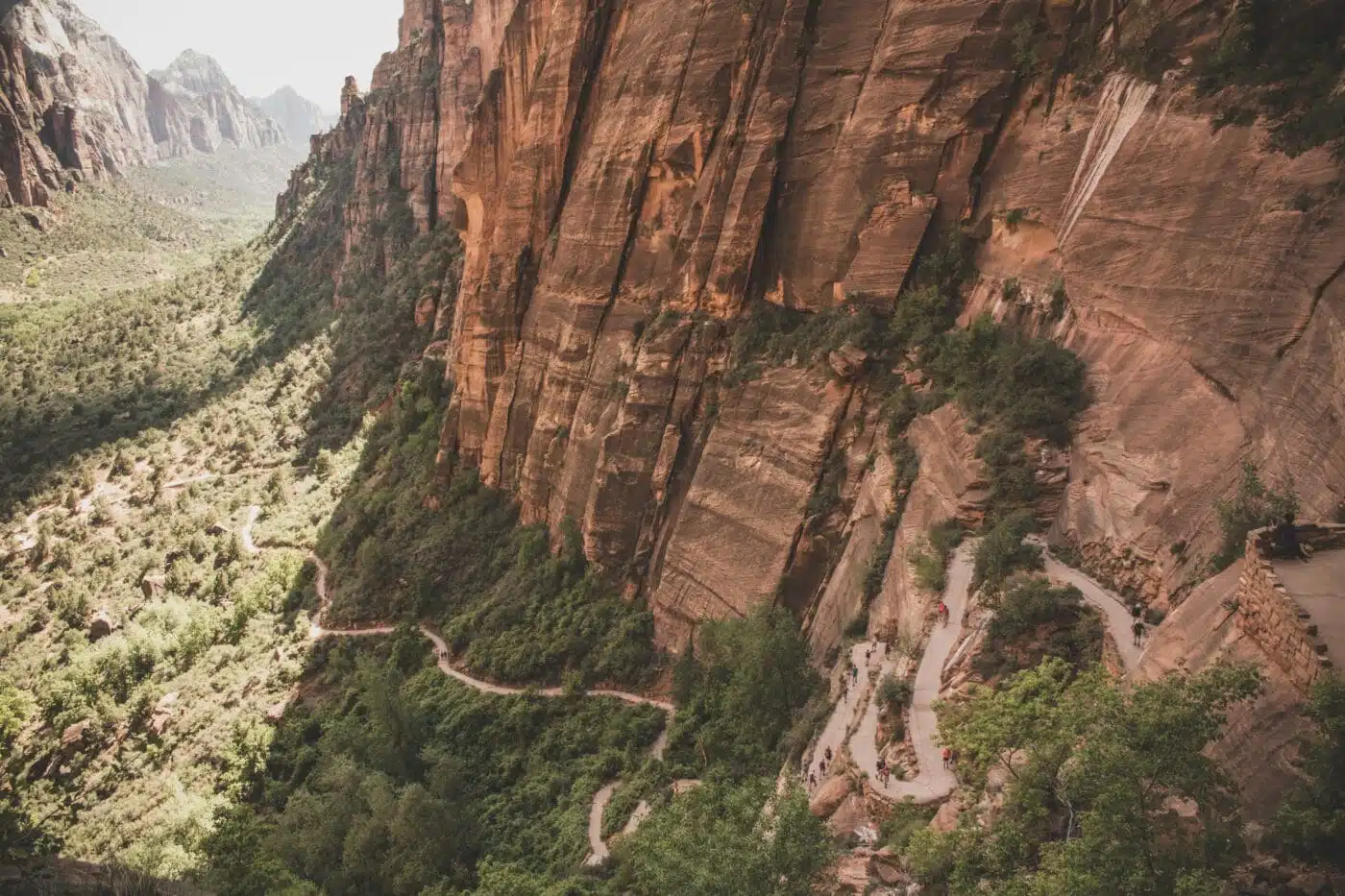 This narrow slot canyon runs between the Landing and Cathedral Mountain. Enjoy this section of the trail. It is flat with a little shade. There is usually a nice cool breeze blowing thru this narrow canyon. Enjoy this short break. Now the fun begins.
Walter's Wiggles
Walther's Wiggles is a series of 21 steep switchbacks that lead from the bottom of Refrigerator Canyon to Scouts Lookout. Be ready for them. They are really steep but it is fun to keep count as you go up. Take your time going up these. Walther's Wiggles are named for the Zion National Park's first superintendent, Walter Ruesch. Walter oversaw the construction of these switchbacks in 1926.
Don't be afraid to take a seat and breath as you work your way up switchback by switchback. There really are only 21 of them and each one is 20-25 feet long. It might seem like they go on forever but they make the view from Scouts Lookout all the more worth it.
Scout Lookout
Once you hike up the last switchback, you are at Scouts Lookout. Scouts Lookout is the official name. I like referring to it as Chicken's Coop. Scouts is a good place to take your day pack off and spend a few minutes resting and eating a snack. While taking that rest break look out into the canyon and check out the rest of the trail out to Angel's Landing.
Take a good look at it. Read the warning signs and then decide. Many hikers get up to Scouts Landing and decide to turn around and head back (hence why I call it Chicken's Coop). Honestly, there is no shame in not hiking out the last half mile to the Landing. Do what you think is safe.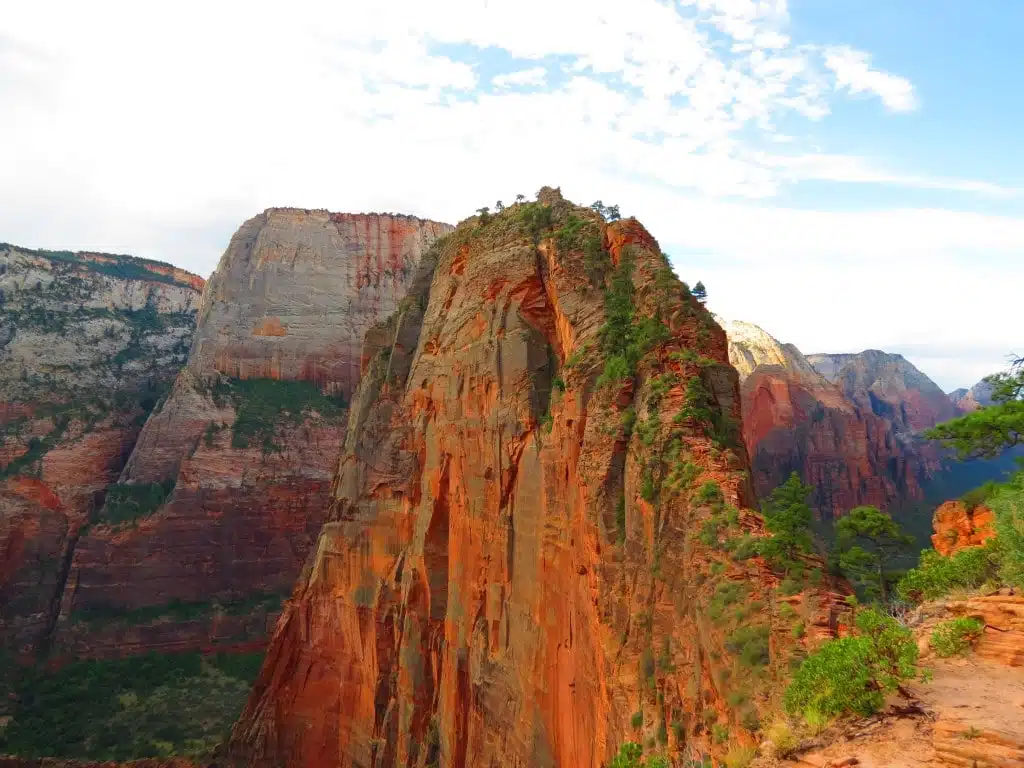 Climb to Angels Landing
Now the adventure begins. From Scouts Lookout, it is 0.5 miles out to Angels Landing. The trail is a vertical climb out on this knife-edge ridge. The trail is narrow with chains to assist on the climb. If you are nervous about heights, do not be afraid of turning around and heading back. The last thing you want to do is get to the end and then not be able to come back.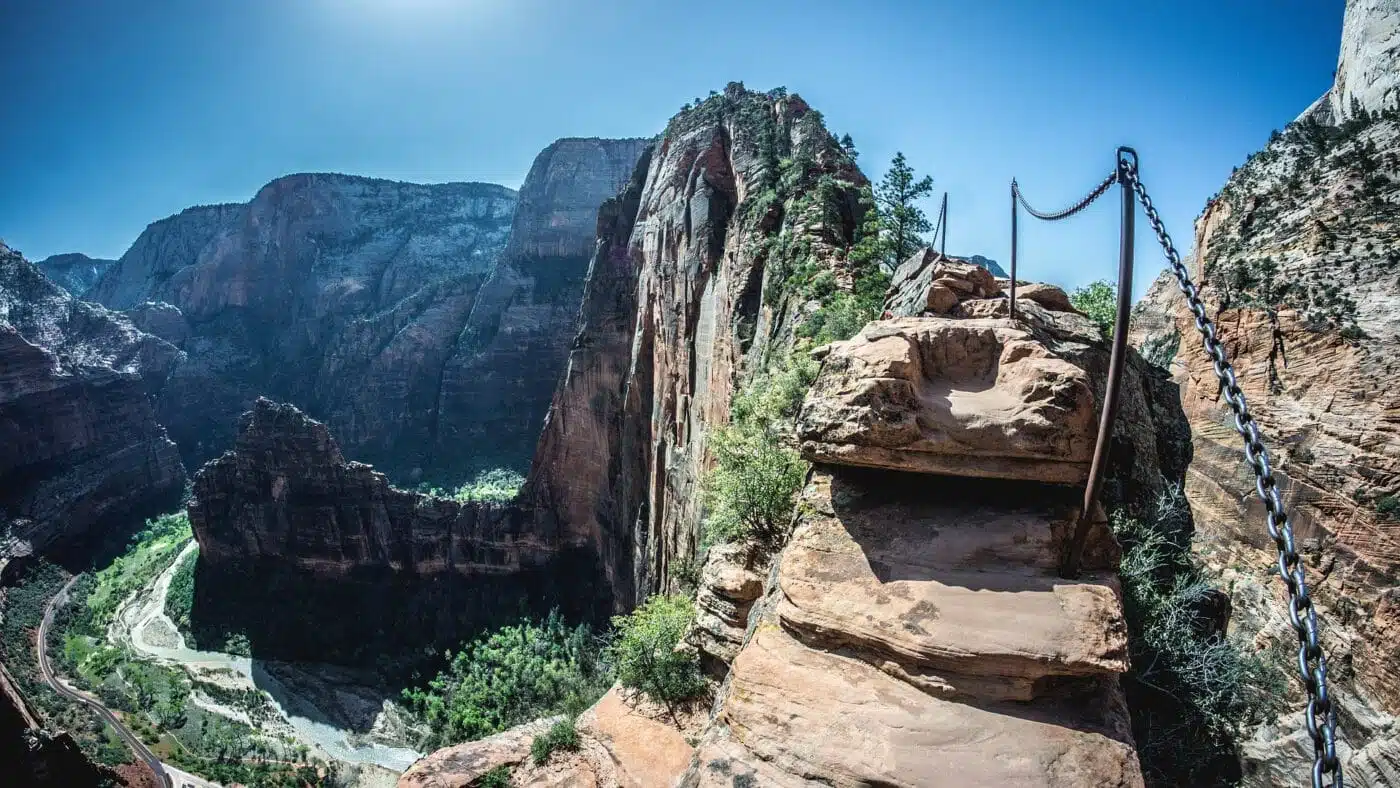 Take your time. Go slow. Parts of the trail are so narrow you can look down both sides of the ridge. Many sections only have space for one hiker at a time. Be patient and give space when you can. Don't try to pass people on the really narrow sections. Wait until a wider section. The same goes for slower hikers. Take a step off the main path when you can and let people going faster pass.
After the climbing adventure, you are rewarded with THE VIEW!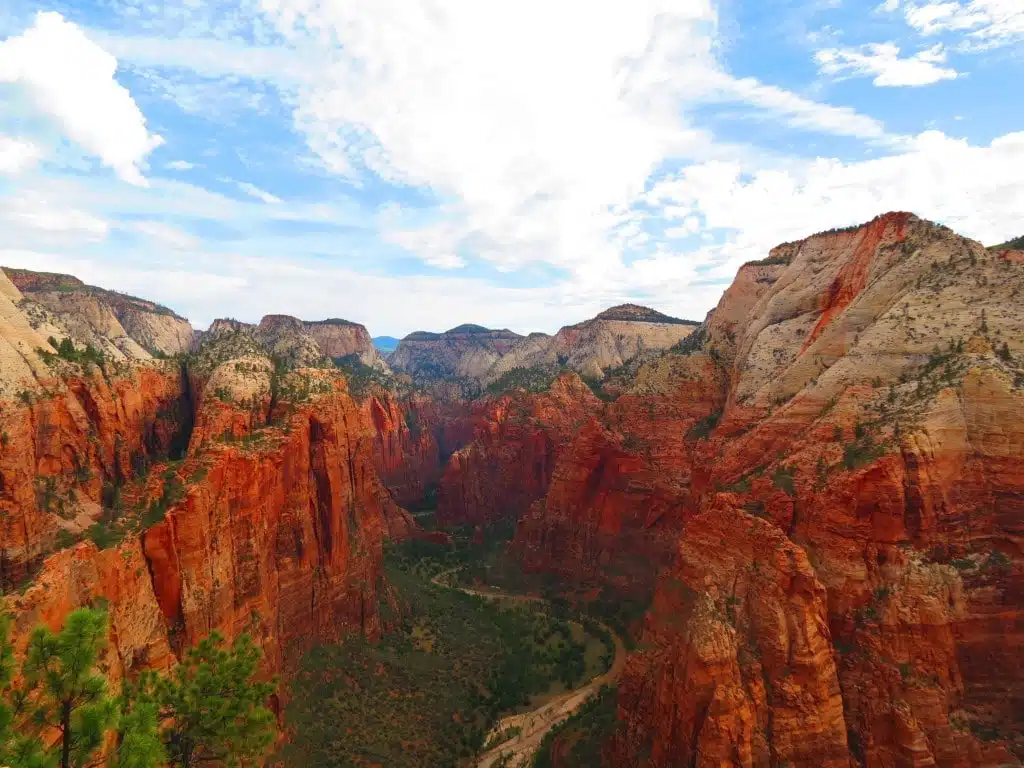 Take in the view. There is plenty of space to sit down and enjoy the view. Spend a bit of time up here, you just hike 2.4 miles to get here.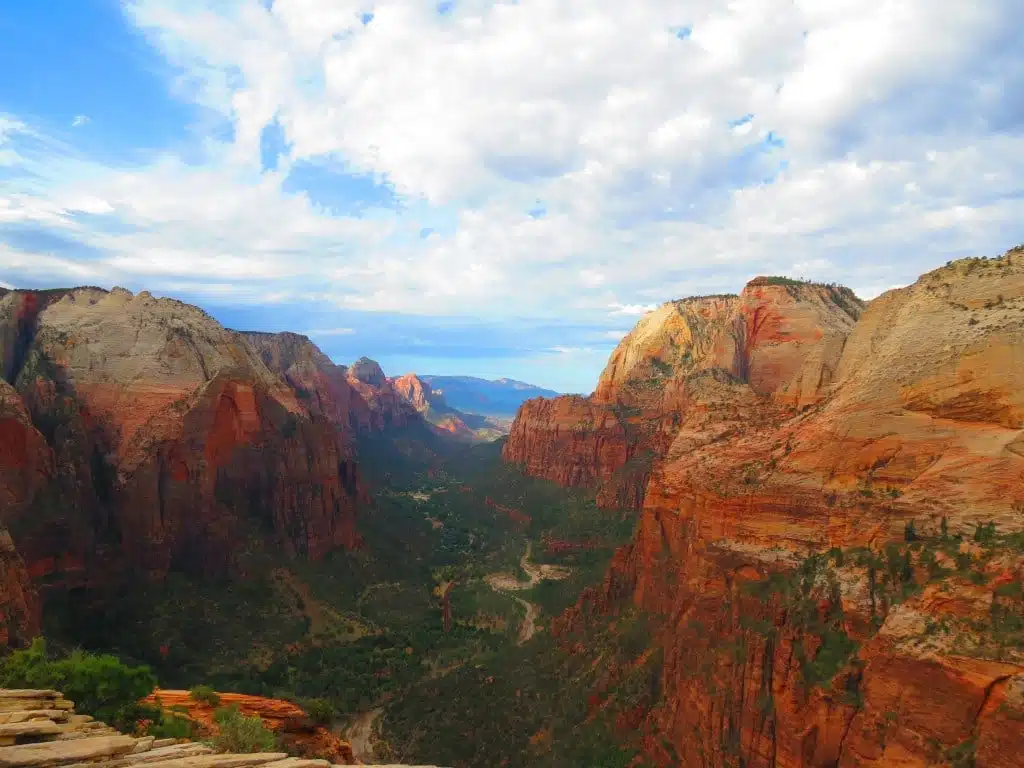 Watch the fearless chipmunks run around on the landing. Please don't feed them but do enjoy their cuteness.
Coming Back Down from Angels Landing
Frequently Asked Questions about Hiking Angels Landing
Can beginners hike Angels Landing?
Angels Landings isn't a good beginner hike. It is a long strenuous hike with a lot of elevation gain in a short period. All that is before you get to the chain section that is more of a scramble than a hike. You need to be really comfortable on uneven ground near 800 ft cliff edges.
If you are a beginner hike, evaluate your comfort level. Is your fitness ready for a 1,500 ft elevation gain and 1,500 ft of elevation loss over 5.4 miles? Are your feet and calves ready for this hike? Only you can answer these questions but take a good hard look at yourself and decide if you are ready.
Please remember that there is NO shame in getting to Scouts Lookout and deciding that the chain section isn't for you. There is also nothing wrong with getting partway up the chain section and deciding you are done and turning around. It is better to trust your instincts.
Can kids hike Angels Landing?
It depends. Does your child have a healthy fear of falling off ledges and listen when you tell them to stay back? Are they tall enough to reach the chains that 3-4 ft off the ground? Are they aware of their surronding and know to pay attention to where they are at all times? Are you willing to live with yourself if your young child falls to their death because you insisted on hiking Angels Landing?
I'm not trying to scare you. I'm being practical. People HAVE died falling off Angels Landing. Since 2017, one person a year has lost their life on this trail. You know your child best. Do you think they are ready to hike Angels Landing? Or do would waiting another couple of years put your child in a better position to be safe and better appreciate how special hiking Angels Landing is?
How many people have died on Angels Landing?
Sources vary but between 14 and 20 people have died from falls while hiking Angels Landing since the inception of the park. Dave Nally, the author of Death and Rescues in Zion National Park has been able to confirm 15 deaths on Angels Landing.
How long is the hike to Angels Landing?
It takes most people between 3-5 hours to hike Angels Landing and come back down. A big factor is how much time you spend enjoying the view on the landing.
How hard is the hike to Angels Landing?
Angels Landing is a strenuous hike with steep drop-offs. This hike is best for intermediate to advanced hikers.
Do you need permit to hike Angels Landing?
Yes, starting on April 1, 2022, a permit will be required for all hikes from April 1, 2022, to February 28, 2023. This is a pilot program so NPS can evaluate the program for permanent implementation.
Can you hike Angels Landing in February?
Yes, but be aware of icy conditions. Please carry traction and be willing to turn back if conditions become unsafe.
Do you need to take a shuttle to Angels Landing?
Yes, you will need to take the Zion Shuttle when operating. You will be allowed to drive into the canyon when the shuttle isn't operating.
Is Angels Landing really that scary?
That is for you to decide. Personally, I think it is the scariest hike I have done in North America.
How should I prepare for Angels Landing hike?
Can you drive to Angels Landing?
Sort of. This hike is long and has a lot of elevation gain. You need to be of moderate fitness to hike this trail. You should
Why do they call it Angels Landing?
Angels Landing's name comes from Methodist minister Frederick Vining Fisher. Fisher was so in AWE of the massive sandstone cliff. He said that "only angels might land on it." And thus, the name Angels Landing was born.
Final Thoughts on hiking Angels Landing
So what do you think? Is hiking Angels Landing for you? I hope that this article has prepared you for hiking Angels Landing. After you hike be sure to let us know what your favorite part of the hike was in the comments below. Join us in talking about all things National Parks in our National Park Trip Planning Community.
If you need more help planning for your travels in Utah and surrounding areas check out the articles below:
Pin to save for later: Angels Landing Hiking and Permit Guide: Thing to Know in 2022