This post may contain affiliate links, meaning if you book or buy something through one of these links, I may earn a small commission at no extra cost to you! Read the full disclosure policy here
---
Joshua Tree National Park is one of the desert national parks sites. The park gets its named from the Yucca Breviolia Tree, also known as the Joshua Tree. The National Park spans two different deserts – the Mojave Desert and the Colorado Desert. The park is a popular weekend getaway for those living in Los Angeles and San Diego.
Help support this site by purchasing one of our National Park Shirts, Poster, and other gear. Every purchase includes a donation to the national parks and helps keep National Park Obsessed's website free to use and producing more national park guides.
Looking for more help planning your next adventure? Join the National Park Obsessed Facebook Group here to connect other national park lovers, trade advice, or see inspiring photos of the National Parks?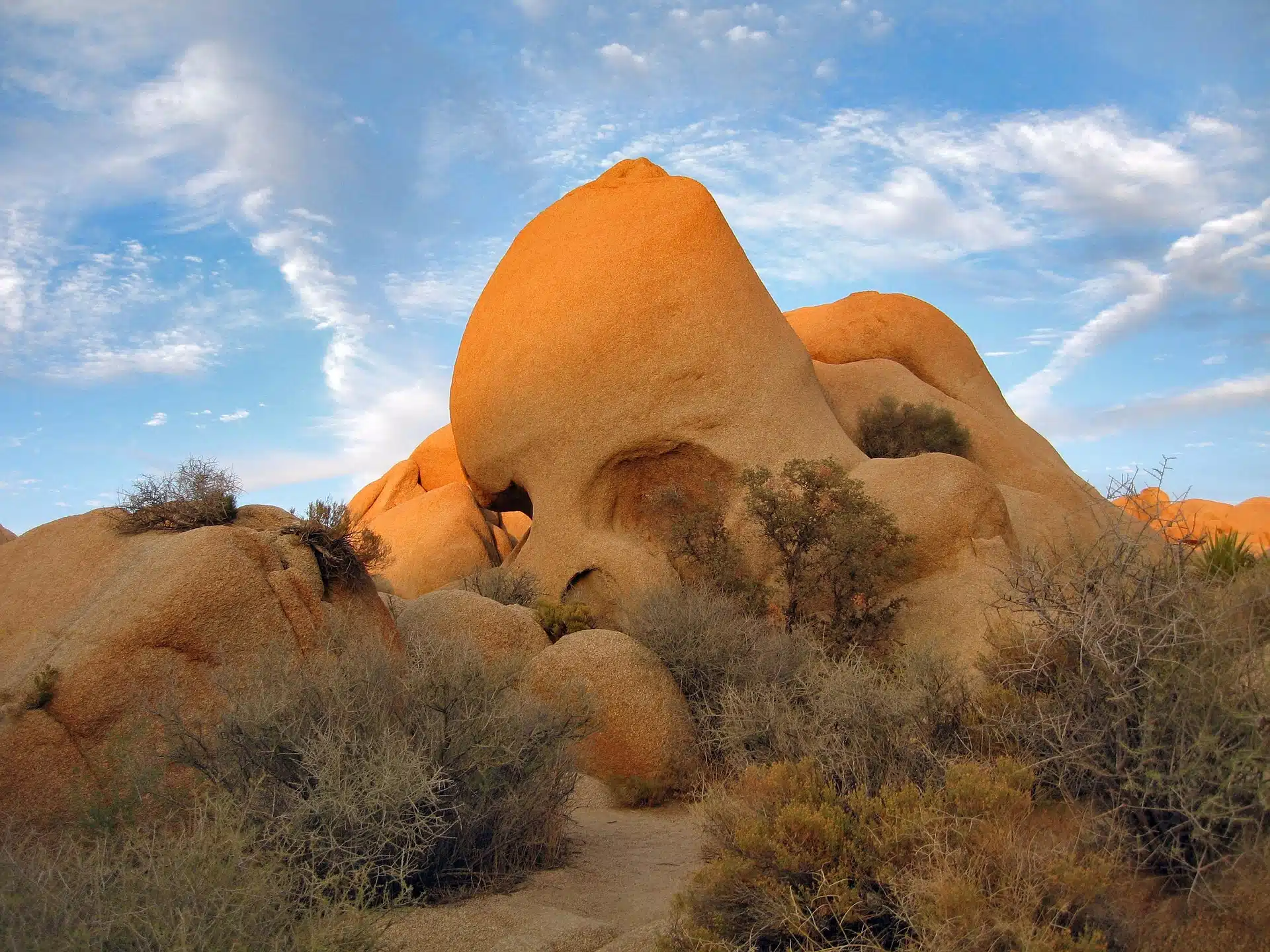 Joshua Tree National Park Profile
Region

Pacific-West Region

Park Size

792,510 acres (1,238 sq miles) (3,207 sq km)




About the size the island of Makira in the Solomon Islands)

Elevation
Highest point: 5,814 ft (1,773 m) at the summit of Quail Mountain
Lowest point: 1,780 feet (540 m) at the Colorado River Aqueduct
Location

Riverside County and San Bernardino County

Nearby Cities

Yucca Valley

Joshua Tree

Twentynine Palms

Founding Date

Joshua Tree National Monument – August 10, 1936


Joshua Tree National Park – October 31, 1994
Visitors

2.8 million (in 2017)

Busy Season

October to May

Visitor Centers

Joshua Tree Visitor Center – Open Year Around




Oasis Visitor Center – Open Year Around




Cottonwood Visitor Center – Open Year Around




Black Rock Nature Center – Open May-October

Park Hours

Open 365 days (24 hours a day)

Entrance Fees

7-day Passenger Vehicle Pass – $30




7-day Motorcycle Pass – $25




7-day Individual Pass – $15

Annual Pass

Joshua Tree National Park Pass – $55




American the Beautiful Pass – $80

Pets
Yes but best left at home. If bringing, please review the Joshua Tree Pet Policy.
Joshua Tree National Park Climate
Jan
Feb
Mar
Apr
May
Jun
Average high in

°F

:
60
64
70
77
86
95
Average low in

°F

:
37
39
42
42
54
60
Av. precipitation in

inch

:
0.79
0.83
0.59
0.12
0.31
0.04
Av. Snowfall in

inch

:
0
0
0
0
0
0
Jul
Aug
Sep
Oct
Nov
Dec
Average high in

°F

:
100
99
93
82
69
60
Average low in

°F

:
69
68
64
52
43
35
Av. precipitation in

inch

:
0.24
0.55
0.35
0.39
0.63
0.28
Av. Snowfall in

inch

:
0
0
0
0
0
0
Yellowstone National Park Guide
Check out nearby National Park Service Sites (less than a 4-hour drive):
Channel Island National Park
Death Valley National Park
Mojave National Preserve
Cabrillo National Monument
Santa Monica Mountains National Recreation Area
Lake Mead National Recreation Area
Tule Springs Fossil Beds National Monument
Check out nearby National Park Service Sites (less than an 8 hour drive):
Sequoia National Park
Kings Canyon National Park
Yosemite National Park
Zion National Park
Bryce Canyon National Park
Grand Canyon National Park
Petrified Forest National Park
Saguaro National Park
Great Basin National Park
Manzanar National Historic Site
Fort Point National Historic Site
Eugene O'Neill National Historic Site
Hubbell Trading Post National Historic Site
Fort Bowie National Historic Site
Port Chicago Naval Magazine National Memorial
San Francisco Maritime National Historical Park
Tumacacori National Historical Park
Rosie the Riveter / WWII Home Front National Historical Park
Presidio of San Francisco
César E. Chávez National Monument
Devils Postpile National Monument
Muir Woods National Monument
Wupatki National Monument
Sunset Crater Volcano National Monument
Walnut Canyon National Monument
Canyon de Chelly National Monument
Tuzigoot National Monument
Montezuma Castle National Monument
Tonto National Monument
Hohokam Pima National Monument
Organ Pipe Cactus National Monument
Chiricahua National Monument
Coronado National Memorial
Pipe Spring National Monument
Cedar Breaks National Monument
Glen Canyon National Recreation Area
Joshua Tree National Park Gear