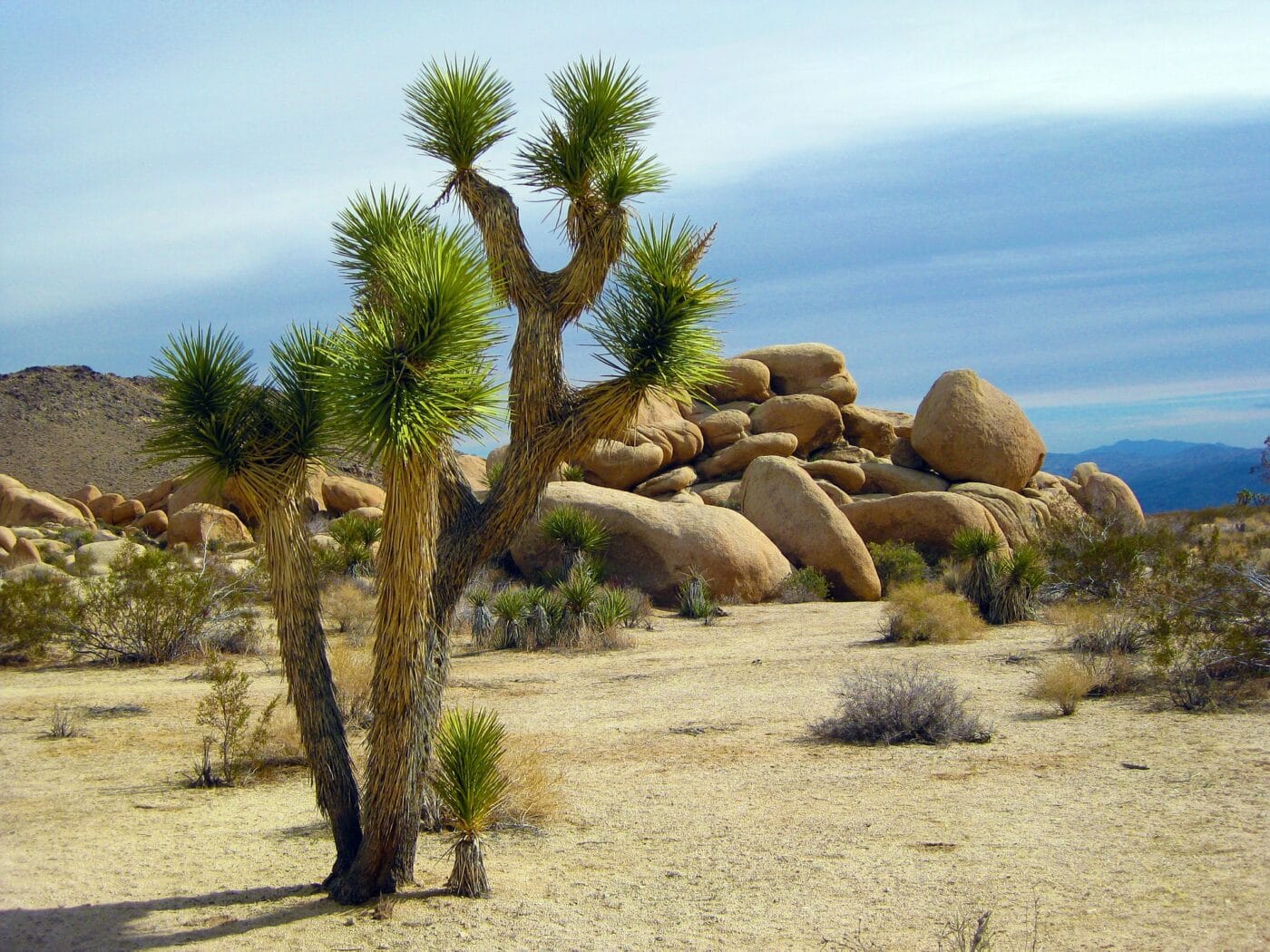 One Day in Joshua Tree National Park
A drive from one end of Joshua Tree National Park to the other you will take your breath away. Not only will you see the changing landscape, but you will also experience two desert ecosystems. Along this one day trip, you can stop and check out giant rounded boulders, the famed Joshua Trees and if you're lucky you might catch a glimpse of a bighorn sheep or other desert wildlife. Here is the best way to spend one day in Joshua Tree National Park
Best of Joshua Tree National Park in a Nutshell

CAN'T MISS: Things You Can't Miss in the Joshua Tree

ONE DAY: One Day in the Joshua Tree

LODGING: Joshua Tree Glamping

CAMPING: Camping in Joshua Tree

NEARBY PARKS: Death Valley, Channel Islands, Grand Canyon, Yosemite, Sequoia, Kings Canyon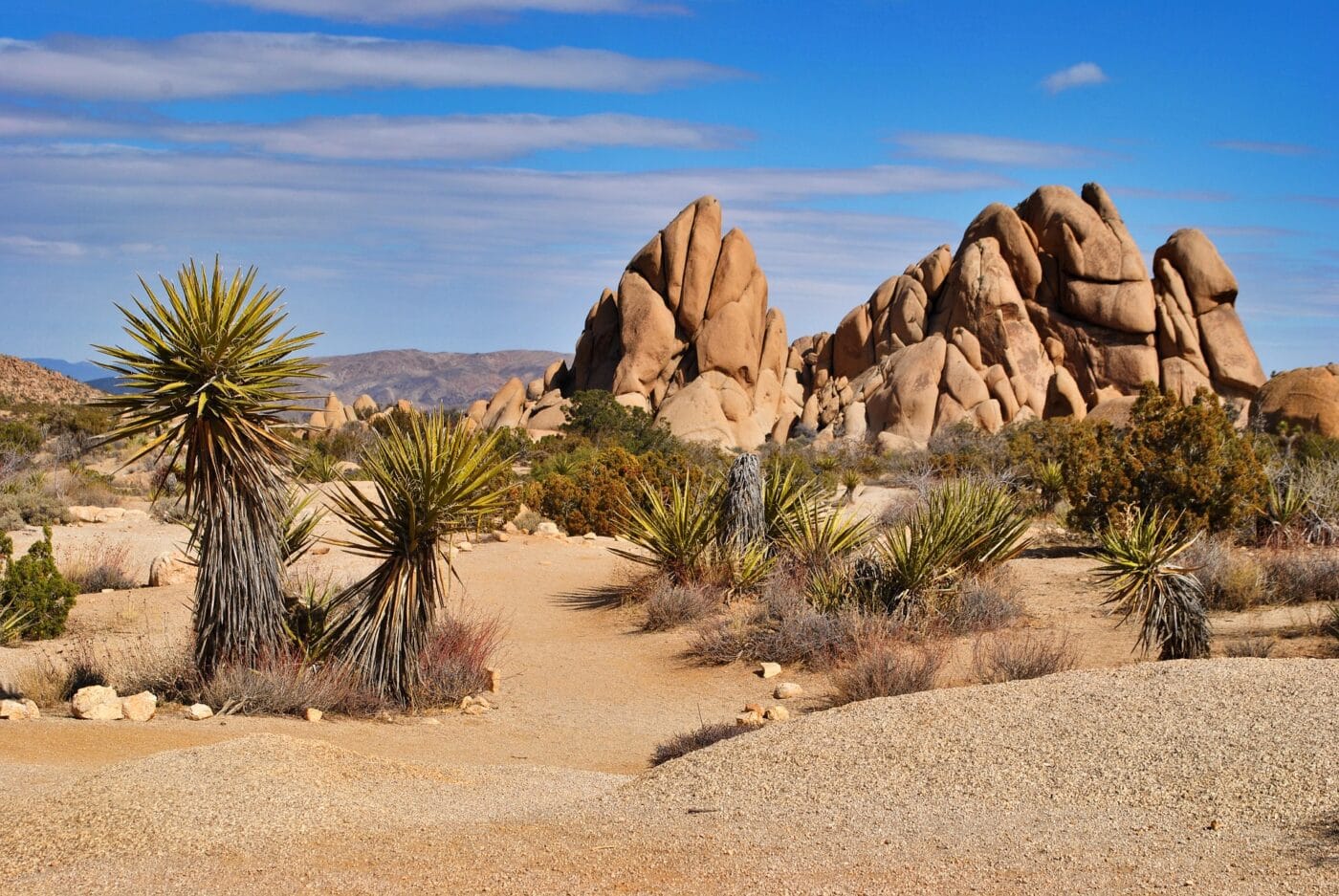 About Joshua Tree National Park
Joshua Tree National Park is the meeting place of two deserts, the Mojave and Colorado. Together they total some 1,235 square miles of arid ecosystem that contrast profoundly in appearance. Joshua Tree National Park is the 15th largest National Park.
JThe Colorado, also known as the "low desert" is sparse with higher temperatures. The Mojave or "high desert" is the home to the branching yucca trees known as Joshua Trees as well as massive granite monoliths and rock piles.
Although it seems inhospitable, this area was home to the Pinto people after the last ice age. They were hunter-gatherers who lived off the land during a period when this basin was wetter and more suitable for human life.
Much later in the 19th-century gold rush struck bringing many adventurers to the Southwest. In 1936 President Franklin Delano Roosevelt designated Joshua Tree as a national monument. In 1994 the national monument was given national park status.
FUN FACT: The cover of U2's fifth album, "The Joshua Tree" was not photographed in Joshua Tree National Park, but in Darwin, California.
Getting to Joshua Tree National Park
The closest airport to Joshua Tree is Palm Springs International Airport (PSP), located just under an hour away from any park entrance. The next closest airport is Los Angeles International Airport (LAX) which is 140 miles west of Joshua Tree. Additional airport options include San Diego (SAN), Las Vegas (LAS) and Phoenix (PHX), although if you're coming from that far away you should stay in the park for at least three days to make the most of your visit.
Estimated Drive time to Joshua Tree National Park
San Deigo, California – 3 hours
Los Angeles, California – 3 hours
Phoenix, Arizona – 3 hours
Las Vegas, Nevada – 3.25 hours
Joshua Tree can be reached by public transportation but options are limited.
Currently, there is no public transportation within Joshua Tree National Park. As of May 2019, Joshua Tree finished a two year trial period for a shuttle bus system in the park. As June 2019, no update has been provided on if this service will become a permeant fixture in Joshua Tree National Park.
Joshua Tree National Park makes a perfect stop on your Los Angeles to Denver Road Trip.
Best Guided Day Tours in Joshua Tree National Park
If you want to make your trip to Joshua Tree as easy and simple as possible, check out these amazing Joshua Tree Day Trips: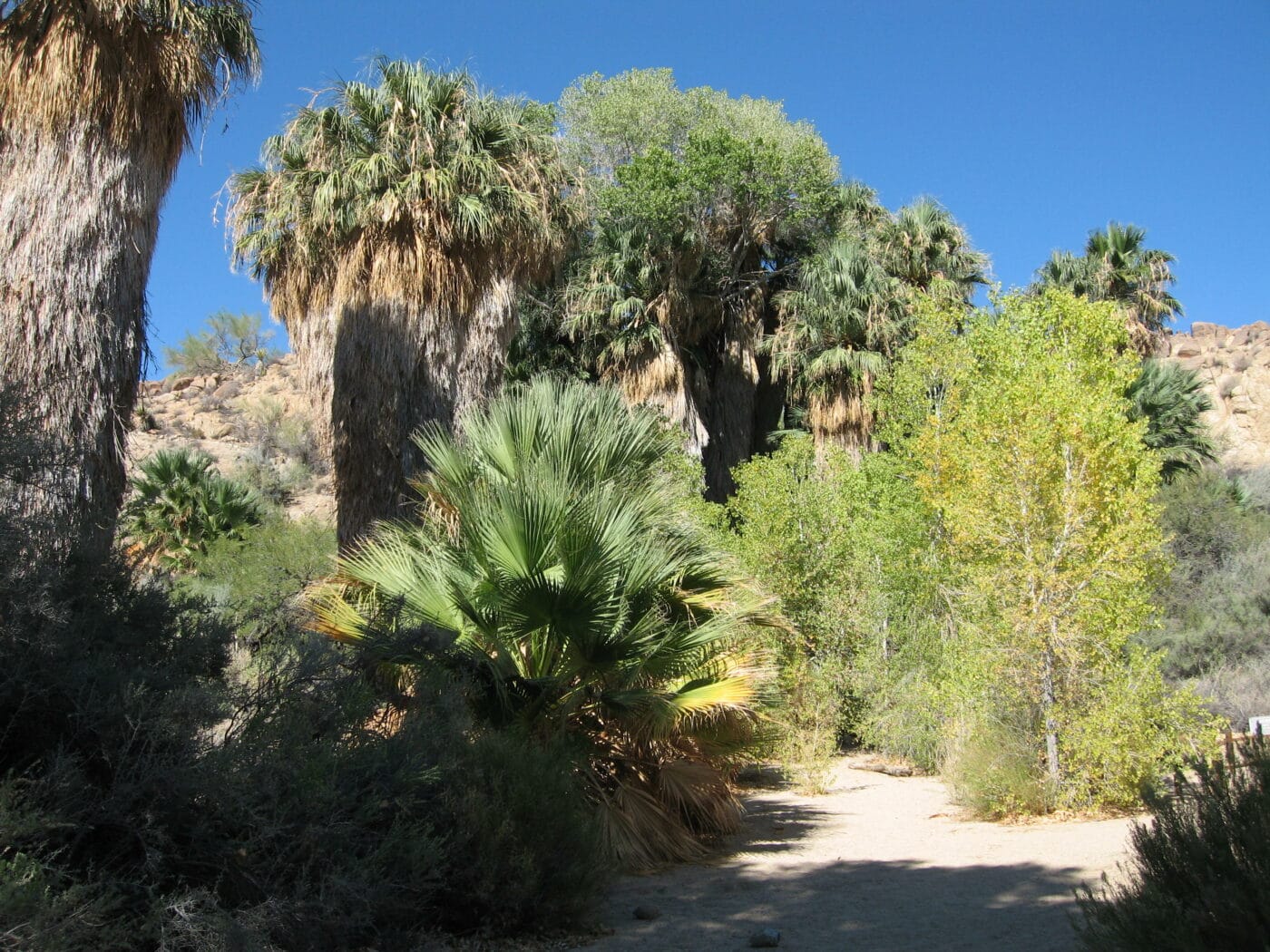 How many days in Joshua Tree National Park
How long do you have? Honestly, there is no right answer to this question. If you have one day, this guide is for you. If you have 5 days, this a great guide to start planning for when you explore Joshua Tree National Park. I have met people who have been hiking in Joshua Tree upwards of 10 weekends a year for 10-20 years. They are not bored yet.
Don't let anyone tell you that you HAVE to spend a specific amount of time in Joshua Tree. Ideally, I would spend at least 3-4 days in the park on every visit but that is not always possible. A day trip to Joshua Tree can be a perfect way to enjoy the area. Make the most of the time you have.
RELATED – 10 Things Not to Miss on Your First Visit to Joshua Tree National Park
Best time of year to visit Joshua Tree National Park
While Joshua Tree National Park can be visited at any time of the year, the temperatures are the most comfortable from October to April. The park is busiest between February and April and from October until December.
Spring brings mild days and cool nights. Depending on the rains storm, Joshua Tree offers stunning wildflowers. Spring is also the most popular climbing season in the park.
Fall offers the best light for photography. The temperatures are comfortable and the crowds as slightly smaller than the springs.
Joshua Tree is a desert park which means there is very little shade on the hiking trails and during the summer 100 F isn't uncommon.
Where to Stay in Joshua Tree National Park
Joshua Tree has eight campgrounds; Black Rock, Cottonwood, Indian Cove, Jumbo Rocks, Ryan, Belle, Hidden Valley and White Tank. Reservations are required during their busy season from September-May. If you're planning to visit during spring or fall be sure to book early through Recreation.gov. The rest of the year sites are available first come first serve.
Learn more about camping in Joshua Tree National Park.
There are a range of hotel options depending on budget and which town you would like to stay in.
Twentynine Palms (near the Oasis Visitor Center)
Campbell House: A cute Philadelphia-style colonial house. Highest Rated on TripAdvisor. Book Now.
Sunnyvale Garden Suites Hotel: A western-themed hotel with private patios and BBQ facilities. Read the TripAdvisor Reviews or Book Now.
Holiday Inn Express & Suites Twentynine Palms: A standard hotel option close to the visitor center. Read the TripAdvisor Reviews or Book Now.
Joshua Tree and Yucca Valley (near Joshua Tree Visitor Center and West Entrance)
Nomad's Pad: Rugged & Unplugged: Enjoy camping with a bit of luxury. Book Now.
Hicksville Trailer Palace: Enjoy a stay in a vintage themed Airstream trailer park. Book Now.
Americas Best Value Inn and Suites -Yucca Valley: A budget-friendly hotel close to Yucca Valley dining. Read the TripAdvisor Reviews or Book Now.
Palm Springs (easy access to the West Entrance)
Desert Riviera Hotel: A vintage resort to take you back in old Palm Springs. This property is adult ONLY. Highest Rated on TripAdvisor. Book Now.
Andreas Hotel & Spa: A 1930's Spanish Revival and Craftsman hotel. Each room fits this theme. Read the TripAdvisor Reviews or Book Now.
Delos Reyes Palm Springs: A budget-friendly hotel with a range of amenities. Read the TripAdvisor Reviews or Book Now.
What to pack for a day in Joshua Tree National Park?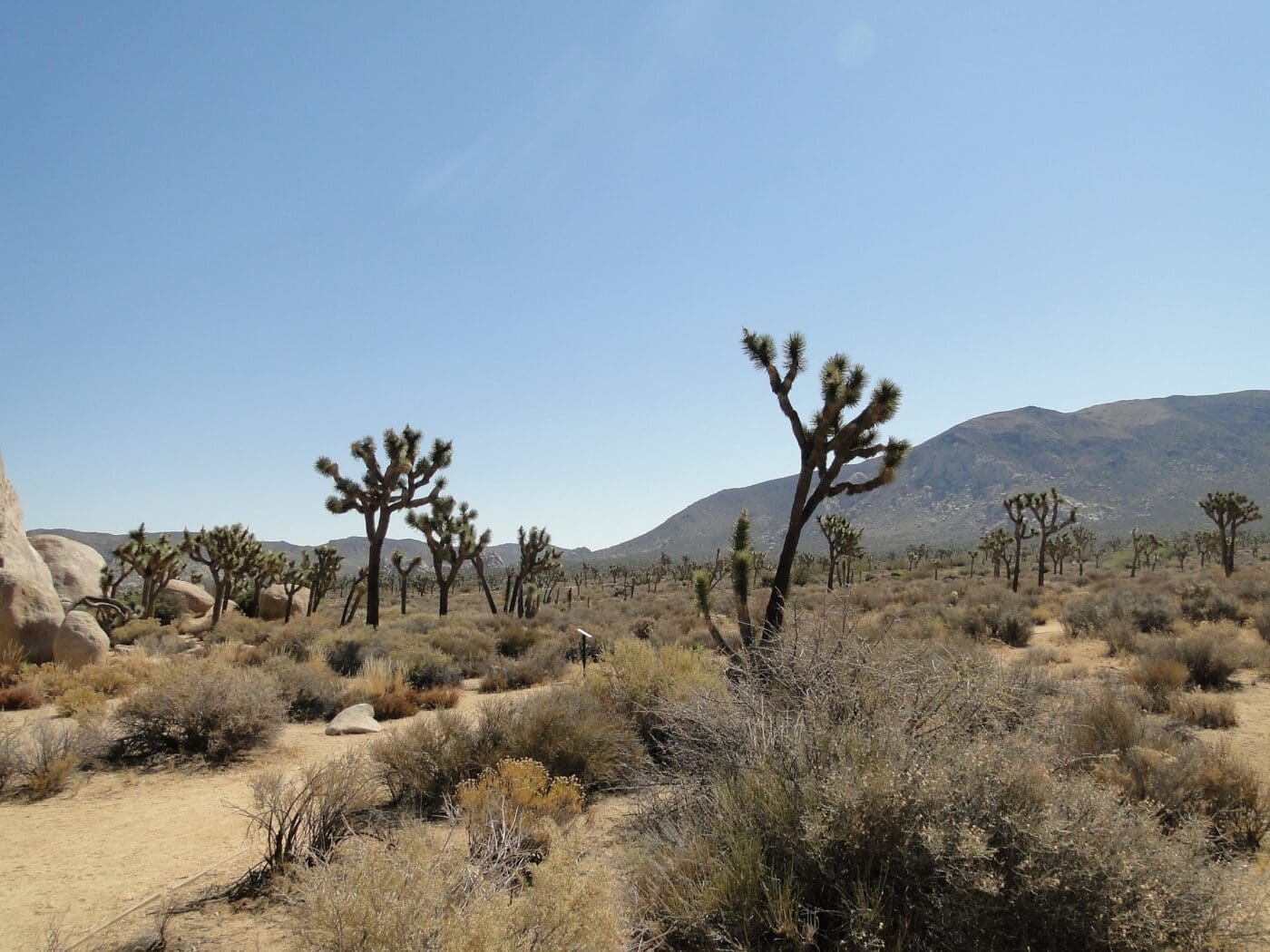 A Day in Joshua Tree National Park
This 24 hour Joshua Tree guide starts at the West entrance and ends at the North entrance of Joshua National Park. All told this route is just over 100 miles so start early and make sure you've packed a lunch, plenty of water, and some snacks. Several of the stops include short hikes to help you stretch your legs and enjoy the beautiful desert surroundings.
Tips for visiting Joshua Tree National Park
Be prepared for traffic during the fall and springs. The park can get very busy and parking can be limited at trailheads.
Once you leave the visitor centers, there is NO water available in the park.
There is very LIMITED cell service in the park. Do NOT rely on your cell phone.
Keep an eye on the roadways. If you see a Desert Tortoise on the road, please stop and help him/her to the other side.
There is no gas in the park. Please fill up before entering the park.
Joshua Tree Must See
Hidden Valley
Keys View
Skull Rock
Cholla Cactus Garden
Cottonwood Spring
Ocotillo Patch
Sky's the Limit
Start early to take advantage of the cool early morning desert temperatures. Enter Joshua Tree from the West entrance. You can stop and check out the visitor's center or head straight for Hidden Valley. Once you've arrived, park your car and explore the 1-mile loop trail. This small enclosed valley was once used as a hiding spot by cattle rustlers. Today you can enjoy a gentle hike that's good for most ages and skill levels. Along the trail, you will find exhibits explaining local plant and wildlife.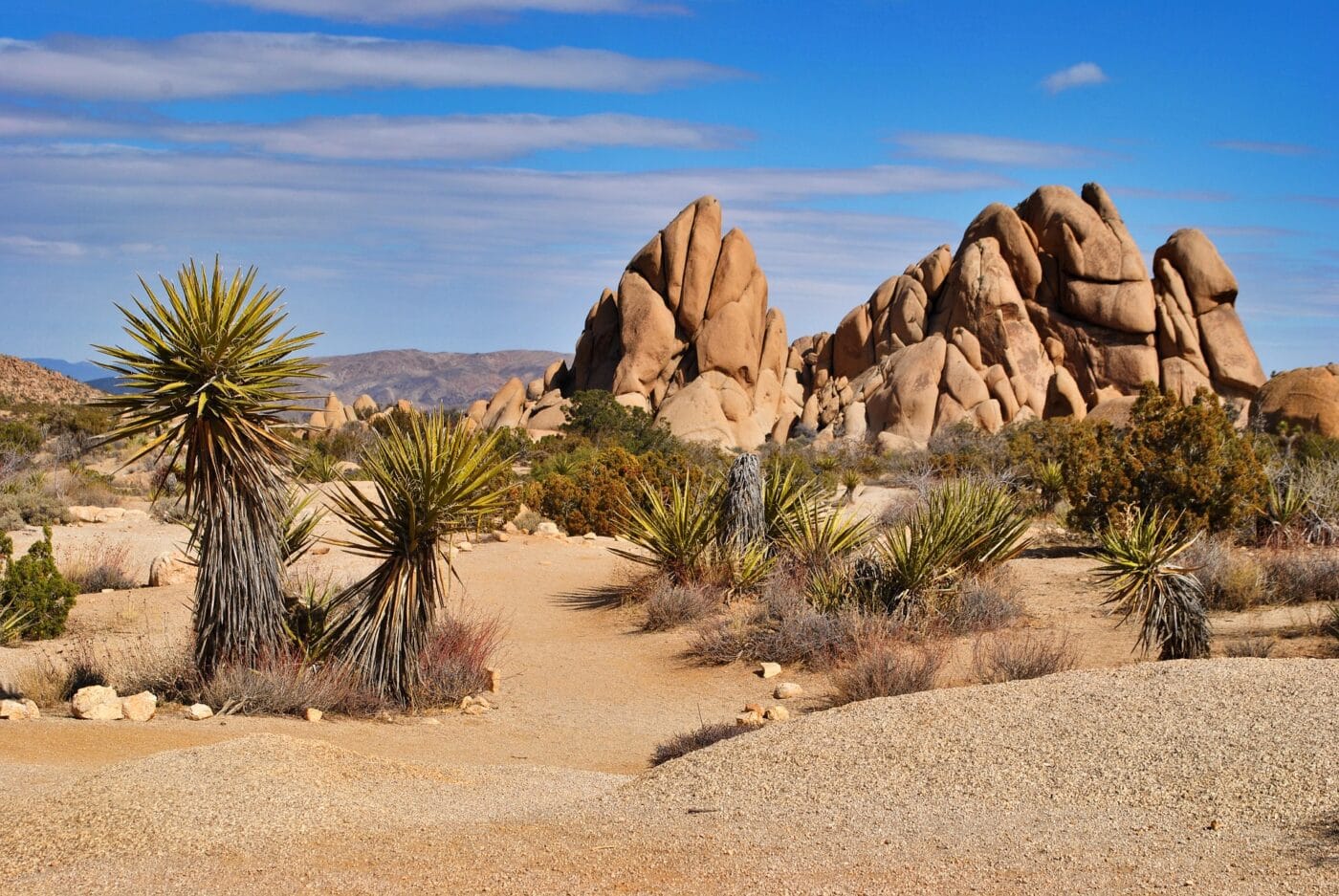 Next, hop back in your car and head South towards Keys View. From this vista, you can see the Salton Sea which lies 230 feet below sea level, the Santa Rosa Mountains behind Palm Springs as well as a portion of the San Andreas Fault. This stop has a wheelchair accessible trail that's 0.2 miles long, or you can hike up to a nearby ridge for more views. This is a perfect spot for a morning snack or an early lunch break.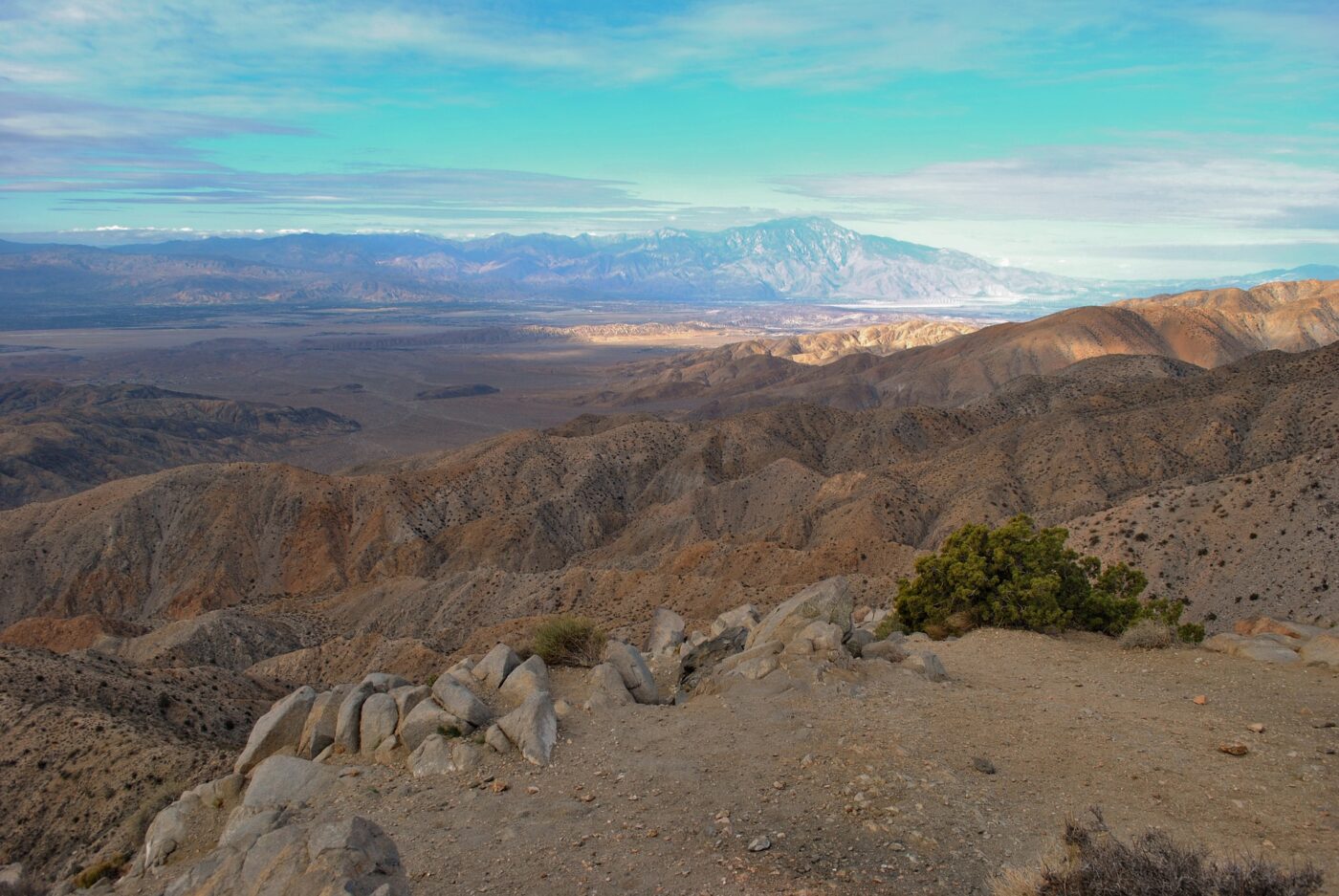 The next stop is Skull Rock. As its name suggests, this is a weather-worn piece of granite that resembles a human skull. Feel free to park your car and take in the giant monolith or enjoy the 1.7-mile Skull Rock Trail. This loop trail will take you past boulder piles, desert washes and of course Skull Rock.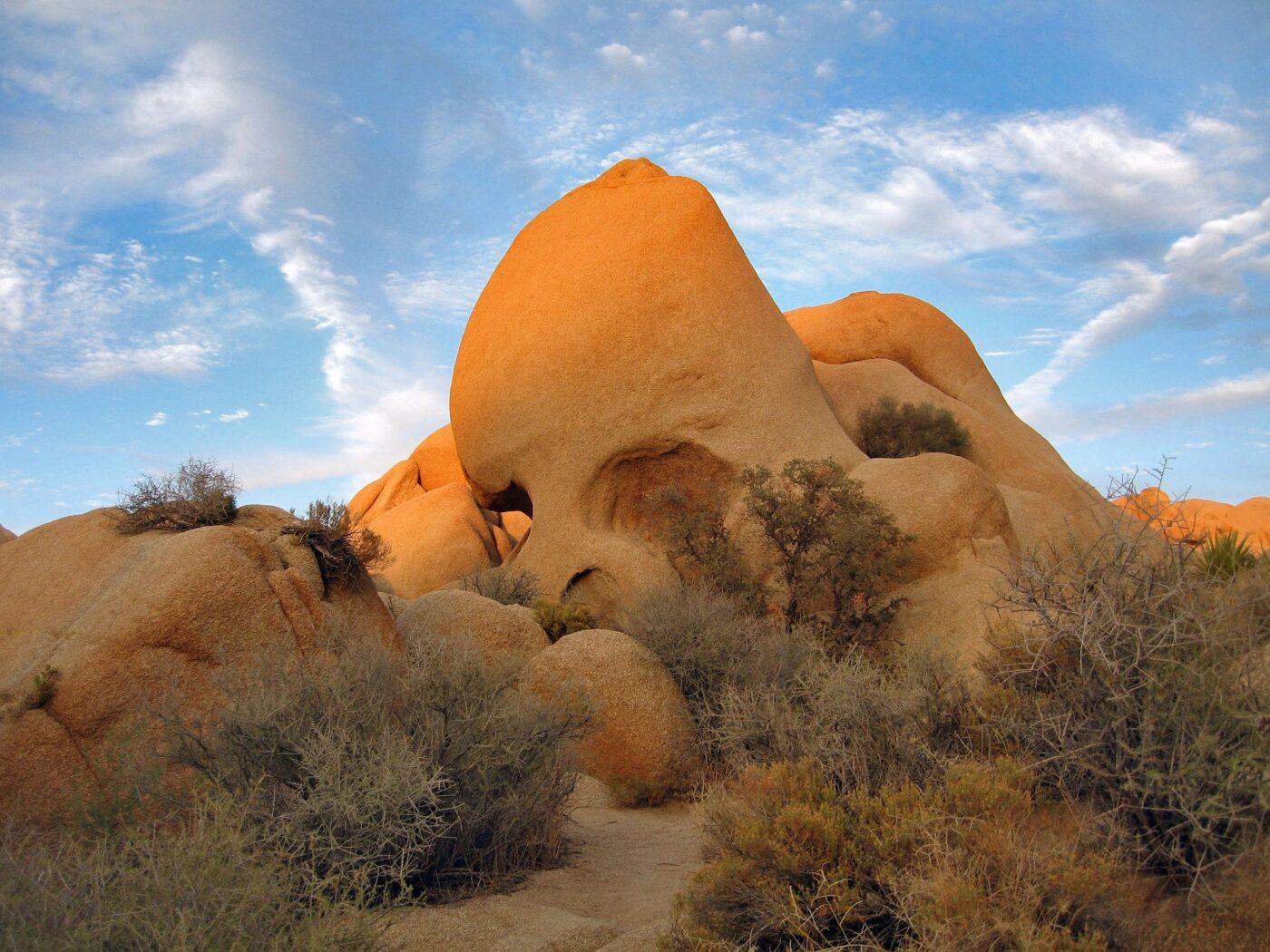 As you drive towards the next stop take note of your desert surroundings, you are about to leave the Mojave Desert and enter the Colorado Desert. Take notice of changes in rock formations and vegetation. Just inside the Colorado Desert, you will stop at the Cholla Cactus Garden. Here you can enjoy the desert blooms and walk along the raised pathway through the teddybear chollas. While their name might seem friendly, be warned, they are very spiky but beautiful. The Cholla Cactus Garden is an amazing place to watch the sunset.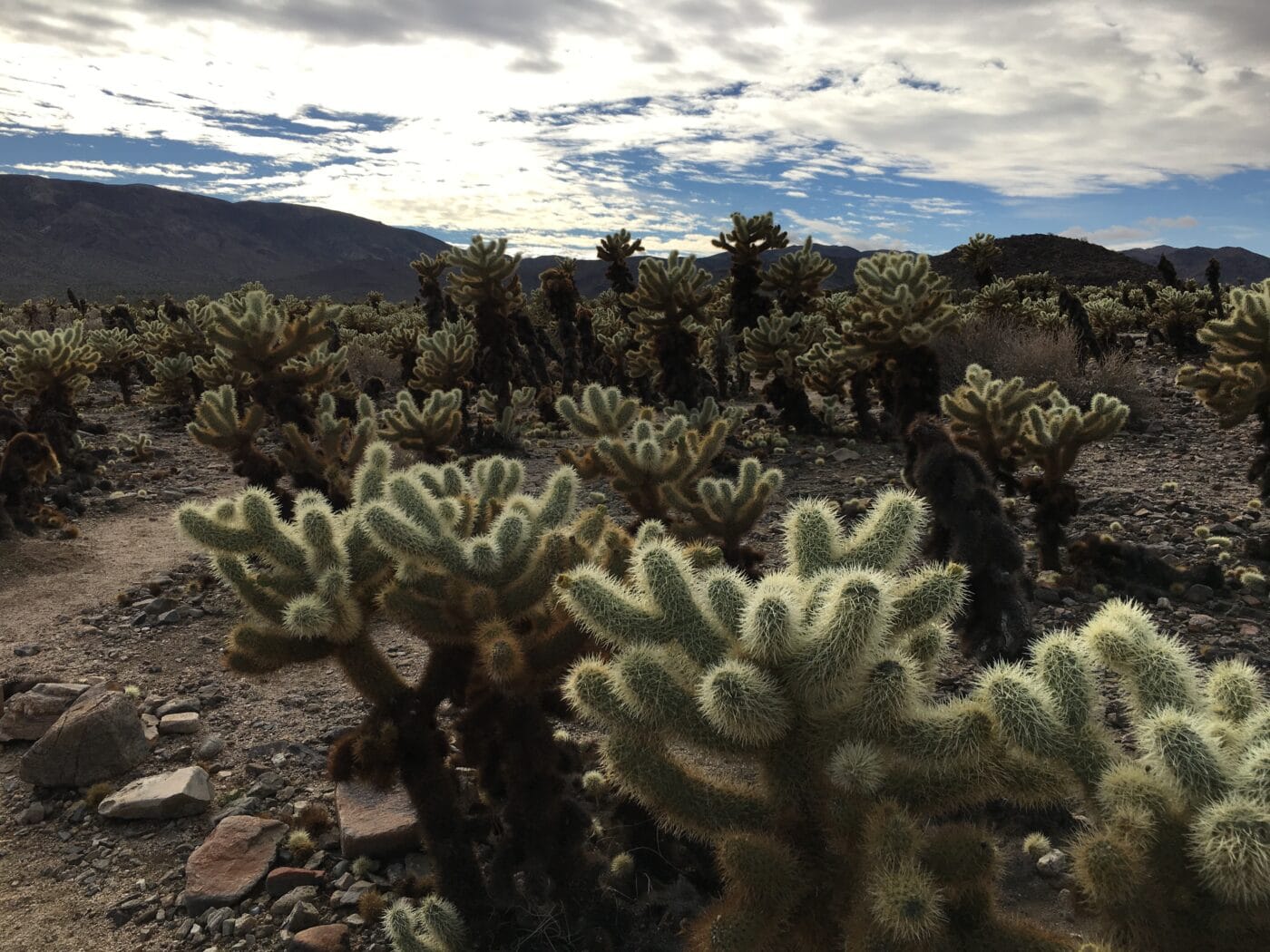 Next head further south to Cottonwood Spring. This area of the park was once dominated by gold and silver mines. Both gold and silver mining require water, a commodity that was once present in this area. For exhibits about the people who once inhabited this area take a short walk on the Cottonwood Spring trail. This 1-mile walk offers a glimpse into history under the shade of palms and cottonwood trees. If you're lucky you might see a big horned sheep roaming around this part of the park so keep your eyes peeled.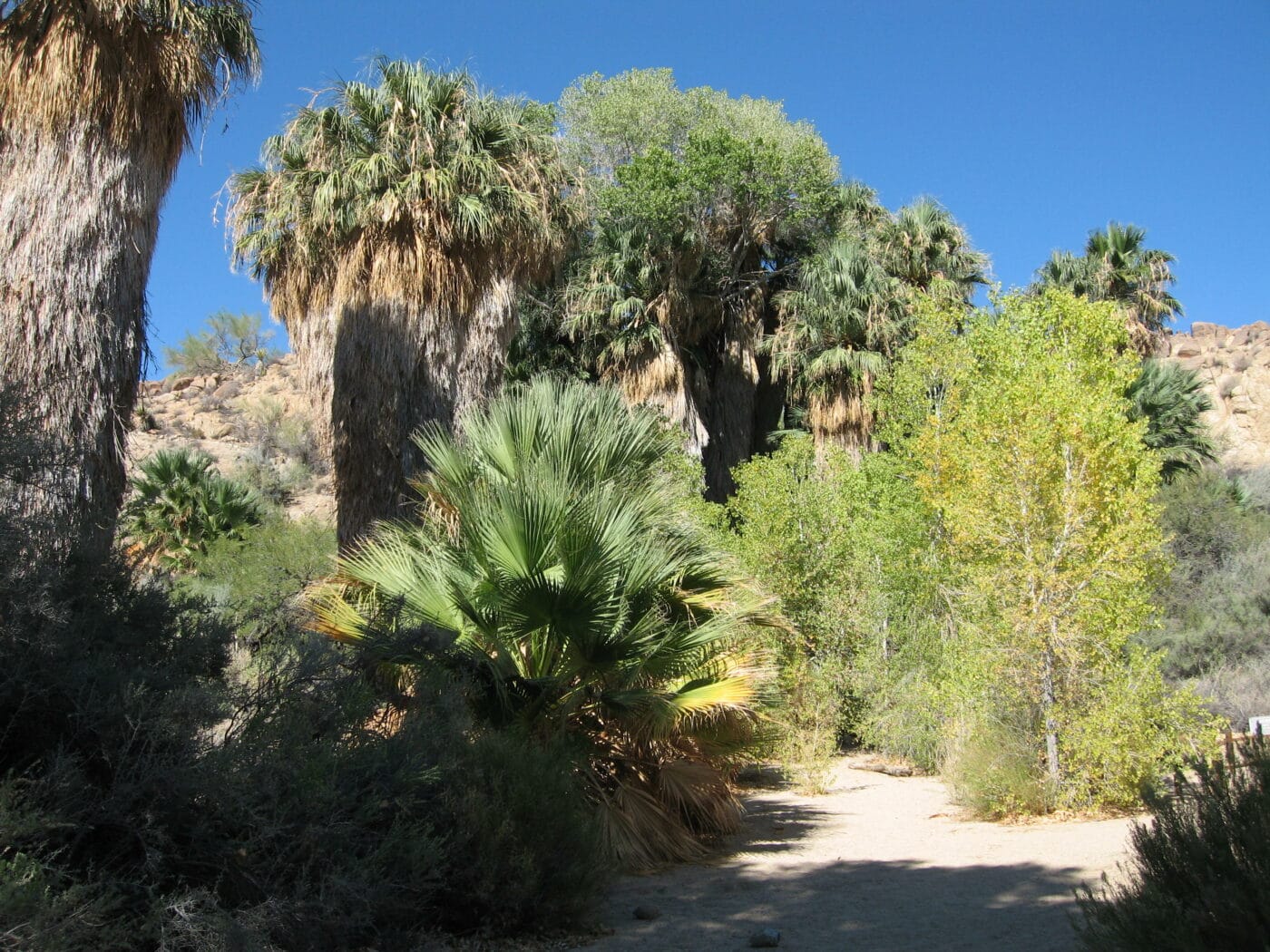 Now that you've made it to the south end of the park it's time to turn around and head back north towards your last two stops. First up pull over at the Ocotillo Patch. This spidery desert coral is a must see, especially if it's just rained in the region. They're worth checking out even if their vivid crimson flowers aren't in bloom.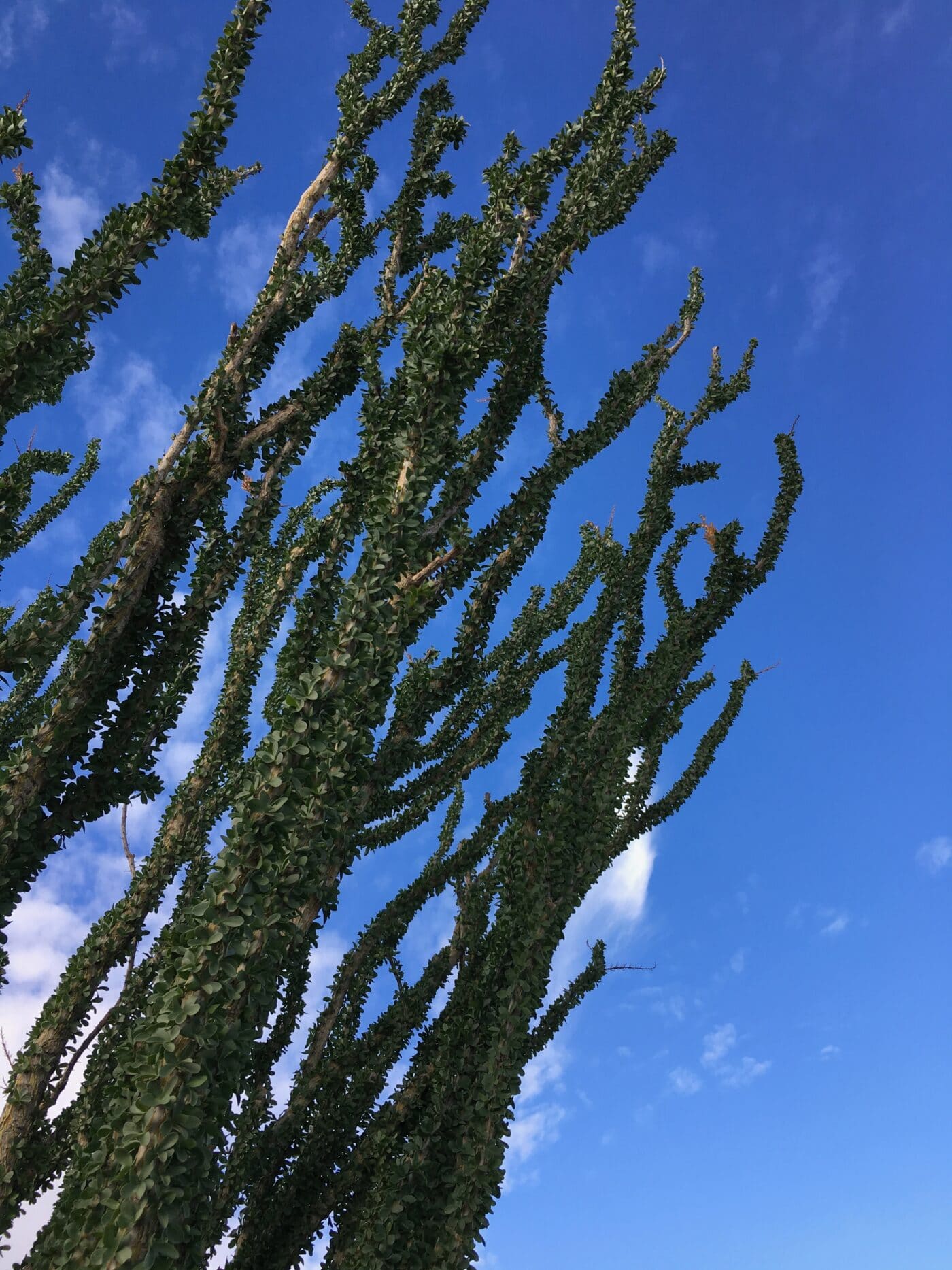 Finally, if there's still some energy in your tank you can round off your day in Joshua Tree stargazing. As you head towards the North entrance you'll see the turnout for Sky's the Limit Observatory and Nature Center. With some of the darkest nights in Southern California, Joshua Tree is the perfect place to sit, relax and watch the stars come out. Be sure to read the signs as you drive into the parking lot, even though it's night time they encourage you to turn your headlights off to allow visitors to enjoy the night sky. No white lights or flashlights are allowed here, only red lights. If you're lucky the big telescope will be open for use. Check the park's calendar for details and events.


More Information for your trip to California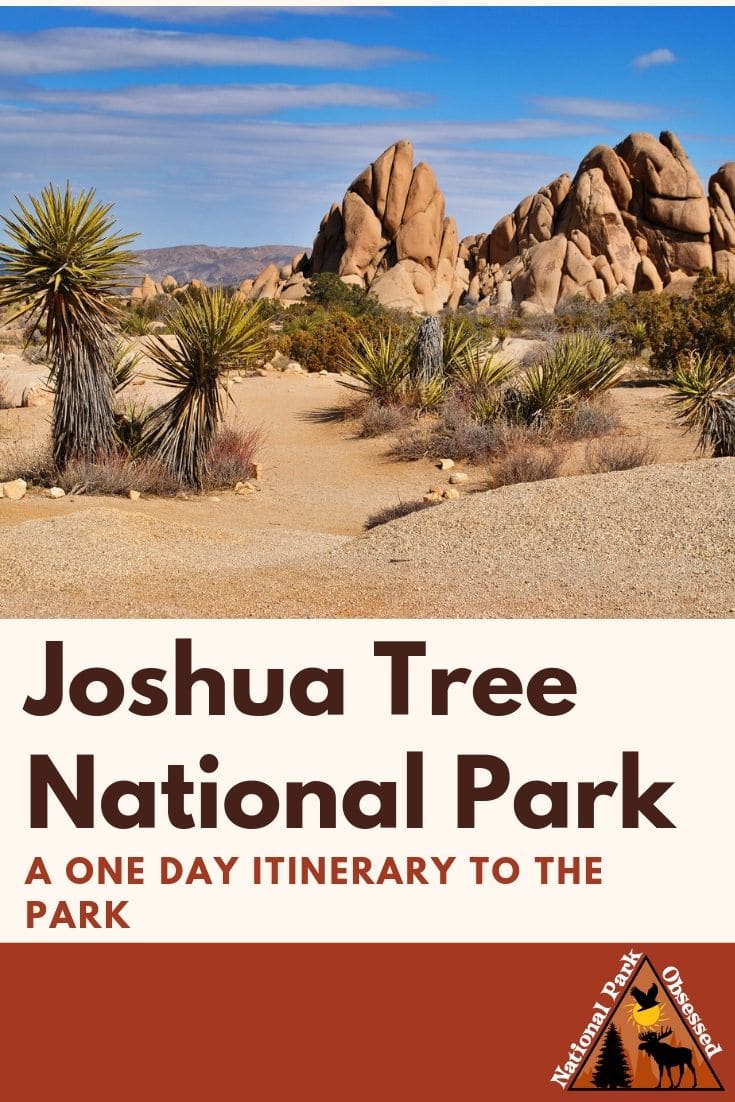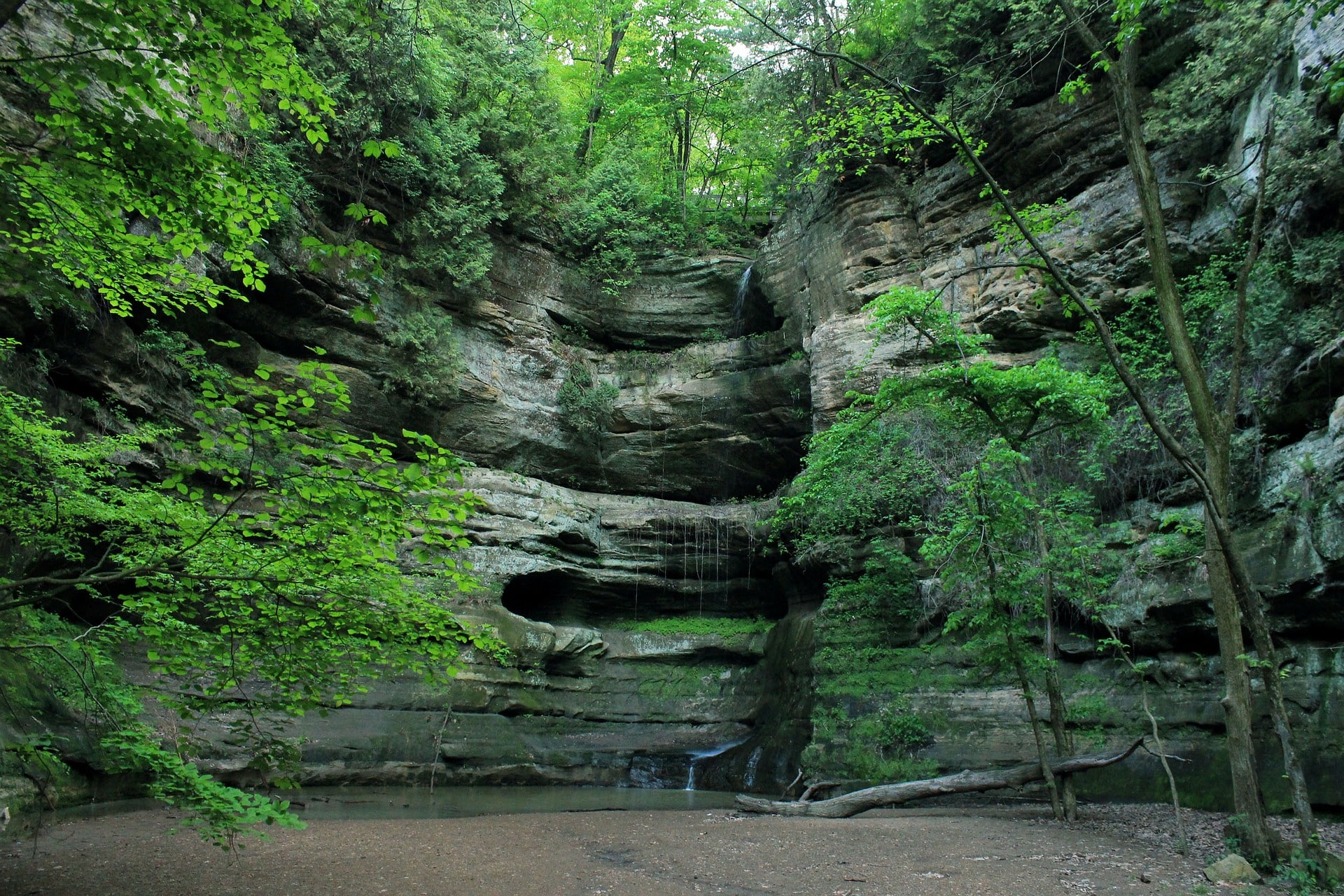 On this site, we promote travel to the United States and beyond that are the traditional lands of  Indigenous and First Nations peoples.
With respect, I make a formal land acknowledgment, extending my appreciation and respect to these lands' past and present people.
To learn more about the people who call these lands home, I invite you to explore Native Land.
National Park Obsessed assumes no responsibility or liability for any errors or omissions in the content of this site (NationalParkObsessed.com). The information contained in this site is provided with no guarantees of completeness, accuracy, usefulness or timeliness. You are encouraged to conduct your own due diligence before acting on the information provided on this site and should not rely on the opinions expressed here.
There is an inherent risk in all outdoor recreation activities, the reader assumes all responsibility for their own personal safety.
We are a participant in the Amazon Services LLC Associates Program, an affiliate program designed to provide a means for us to earn fees by linking to Amazon.com and affiliated sites.
Get a FREE 63 National Park Checklist