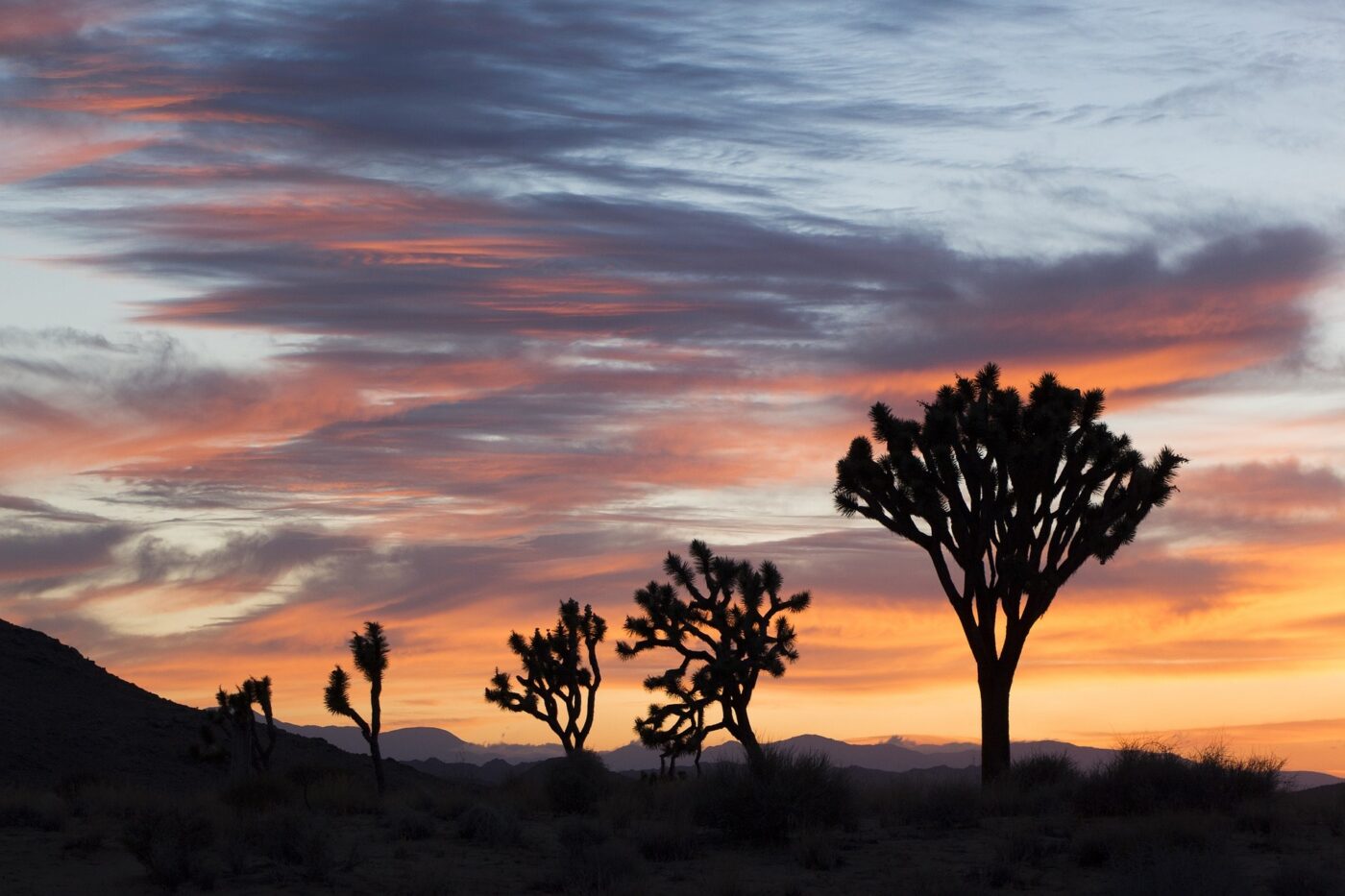 10 Things Not to Miss on Your First Visit to Joshua Tree National Park
---
Planning a memorable trip to Joshua Tree? Looking for exciting things to do within Joshua Tree National Park? The park is famous for its whimsical Joshua trees (technically, tree-sized yucca) and its wonderland of boulder-sized rocks. A perfect blend between the Colorado and Mojave Deserts, "JTree" is a rock climber's paradise. Gorgeous desert vistas, spring wildflowers, and bighorn sheep are enough to please visitors of all walks of life. The magical landscapes and life forms were the inspiration of U2's 1987 album, Joshua Tree, and continue to inspire hikers and sightseers daily. With a gallon of water, hat, and sunscreen in hand, here are my top 10 Things Not to Miss on Your First Visit to Joshua Tree National Park.
Help support this site by purchasing one of our National Park Shirts, Poster, and other gear. Every purchase includes a donation to the national parks and helps keep National Park Obsessed's website free to use and producing more national park guides.
Looking for more help planning your next adventure? Join the National Park Obsessed Facebook Group here to connect other national park lovers, trade advice, or see inspiring photos of the National Parks?
Best of Joshua Tree National Park in a Nutshell

CAN'T MISS: Things You Can't Miss in the Joshua Tree

ONE DAY: One Day in the Joshua Tree

LODGING: Joshua Tree Glamping

CAMPING: Camping in Joshua Tree

NEARBY PARKS: Death Valley, Channel Islands, Grand Canyon, Yosemite, Sequoia, Kings Canyon
This post may contain affiliate links, meaning if you book or buy something through one of these links, I may earn a small commission at no extra cost to you! Read the full disclosure policy here


Things to Know before you go to Joshua Tree National Park
Plan on carrying extra on drinking water. Access in the park is limited. If hiking, keep an extra gallon or two of water in your car while exploring the park.
The best times to visit are between October – May. Temperatures in the park can scale up to 125 degrees Fahrenheit in the summertime. Even during October to May, temperatures can be high – so do all your hiking early.
Visit one of the Joshua Tree National Park Visitors Centers for the latest park information.
Be prepared for traffic during the fall and springs. The park can get very busy and parking can be limited at trailheads.
Once you leave the visitor centers, there is NO water or food available in the park. The only food and gas available are in the nearby towns of Joshua Tree, Indio or Twentynine Palms.
There is very LIMITED cell service in the park. Do NOT rely on your cell phone.
Keep an eye on the roadways. If you see a Desert Tortoise on the road, please stop and help him/her to the other side.
There is NO gas in Joshua Tree National Park. Please fill up before entering the park.
RELATED – One Day in Joshua Tree National Park
Getting to Joshua Tree National Park
The closest airport to Joshua Tree is Palm Springs International Airport (PSP), located just under an hour away from any park entrance. The next closest airport is Los Angeles International Airport (LAX) which is 140 miles west of Joshua Tree. Additional airport options include San Diego (SAN), Las Vegas (LAS) and Phoenix (PHX), although if you're coming from that far away you should stay in the park for at least three days to make the most of your visit.
Estimated Drive time to Joshua Tree National Park
San Deigo, California – 3 hours
Los Angeles, California – 3 hours
Phoenix, Arizona – 3 hours
Las Vegas, Nevada – 3.25 hours
Joshua Tree can be reached by public transportation but options are limited.
Currently, there is no public transportation within Joshua Tree National Park. As of May 2019, Joshua Tree finished a two year trial period for a shuttle bus system in the park. As June 2019, no update has been provided on if this service will become a permeant fixture in Joshua Tree National Park.
Best Guided Day Tours in Joshua Tree National Park
If you want to make your trip to Joshua Tree as easy and simple as possible, check out these amazing Joshua Tree Day Trips:
Best time of year to visit Joshua Tree National Park
While Joshua Tree National Park can be visited at any time of the year, the temperatures are the most comfortable from October to April. The park is busiest between February and April and from October until December.
Spring brings mild days and cool nights. Depending on the rains storm, Joshua Tree offers stunning wildflowers. Spring is also the most popular climbing season in the park.
Fall offers the best light for photography. The temperatures are comfortable and the crowds as slightly smaller than the springs.
Joshua Tree is a desert park which means there is very little shade on the hiking trails and during the summer 100 F isn't uncommon.
Where to Stay in Joshua Tree National Park
Joshua Tree has eight campgrounds; Black Rock, Cottonwood, Indian Cove, Jumbo Rocks, Ryan, Belle, Hidden Valley, and White Tank. Reservations are required during their busy season from September-May. If you're planning to visit during spring or fall be sure to book early through Recreation.gov. The rest of the year's sites are available first come first serve.
There are a range of hotel options depending on budget and which town you would like to stay in.
Twentynine Palms (near the Oasis Visitor Center)
Campbell House: A cute Philadelphia-style colonial house. Highest Rated on TripAdvisor. Book Now.
Sunnyvale Garden Suites Hotel: A western-themed hotel with private patios and BBQ facilities. Read the TripAdvisor Reviews or Book Now.
Holiday Inn Express & Suites Twentynine Palms: A standard hotel option close to the visitor center. Read the TripAdvisor Reviews or Book Now.
Joshua Tree and Yucca Valley (near Joshua Tree Visitor Center and West Entrance)
Nomad's Pad: Rugged & Unplugged: Enjoy camping with a bit of luxury. Book Now.
Hicksville Trailer Palace: Enjoy a stay in a vintage themed Airstream trailer park. Book Now.
Americas Best Value Inn and Suites -Yucca Valley: A budget-friendly hotel close to Yucca Valley dining. Read the TripAdvisor Reviews or Book Now.
Palm Springs (easy access to the West Entrance)
Desert Riviera Hotel: A vintage resort to take you back in old Palm Springs. This property is adult ONLY. Highest Rated on TripAdvisor. Book Now.
Andreas Hotel & Spa: A 1930's Spanish Revival and Craftsman hotel. Each room fits this theme. Read the TripAdvisor Reviews or Book Now.
Delos Reyes Palm Springs: A budget-friendly hotel with a range of amenities. Read the TripAdvisor Reviews or Book Now.
What to pack for a day in Joshua Tree National Park?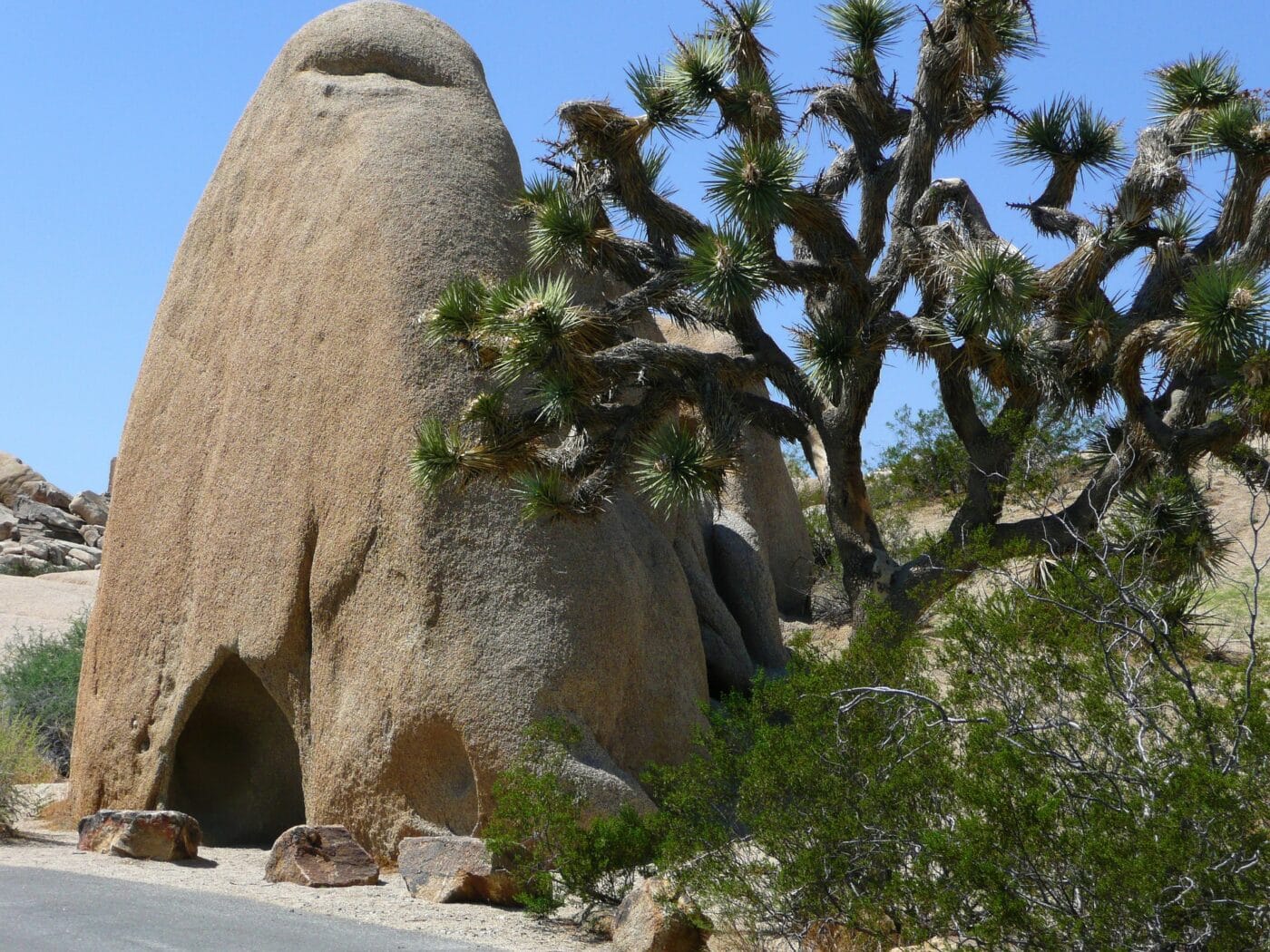 10 Things to do in Joshua Tree National Park
Start your day off right at The Natural Sisters Café
Right outside of the West Entrance into the park, The Natural Sisters Café is the perfect spot for your morning fuel. The interior is snug and inviting, offering a nutritious, all-organic fare of fresh smoothies and wraps. Although vegetarian options draw in crowds, menu items such as their black bean burger, killer bee smoothie, and vegan carrot cake are suitable for anyone who's hungry!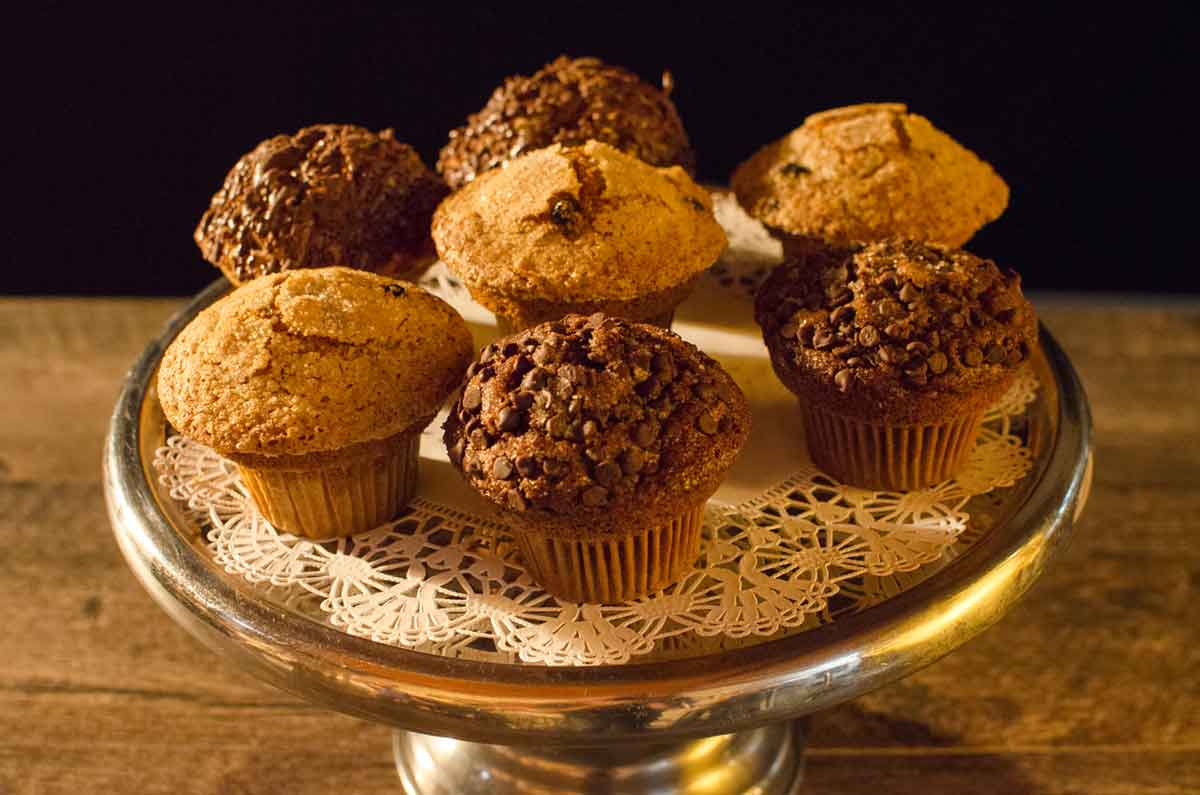 Climb around the Wonderland of Rocks
From beginner and advanced climbing to bouldering, high lining, and slacklining, Joshua Tree National Park is the perfect place for adrenaline junkies of all skill levels. Climbers come from around the world to climb in Joshua Tree. Hundreds of climbers can be found in the park each weekend between October and May.
Please practice Leave No Trace Principles and good climbing practices. Be sure to obtain any necessary permits before climbing, and consider hiring a National Park Service permitted climbing guide.
Afraid of heights? Take a seat on a welcoming boulder and soak in all of the sites.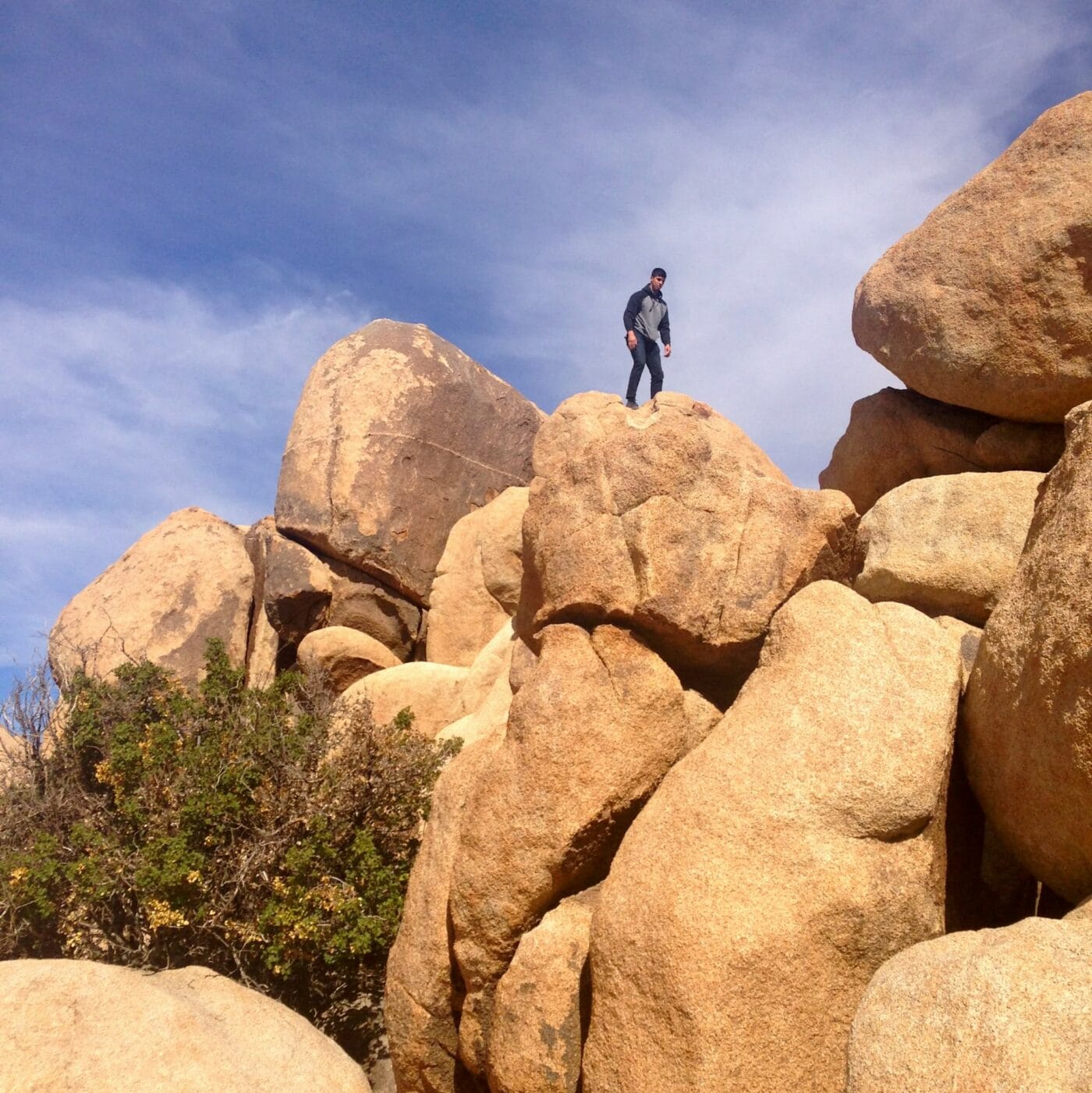 Hike to Baker Dam Historic Reservoir
Hidden in the Wonderland of Rocks is a short 1.5-mile loop that leads to Baker Dam historic reservoir. The trail leads through the tall boulders, and at its finish emerges at a small pond teeming with wildlife. The dam was constructed by early cattlemen in 1900 and continues to serve as a hub for wild birds and bighorn sheep.
Along the loop, Native American petroglyphs can be seen on several spur trails. Hike this trail early in the morning for a shot at seeing wildlife and to marvel at the site of water in a desert!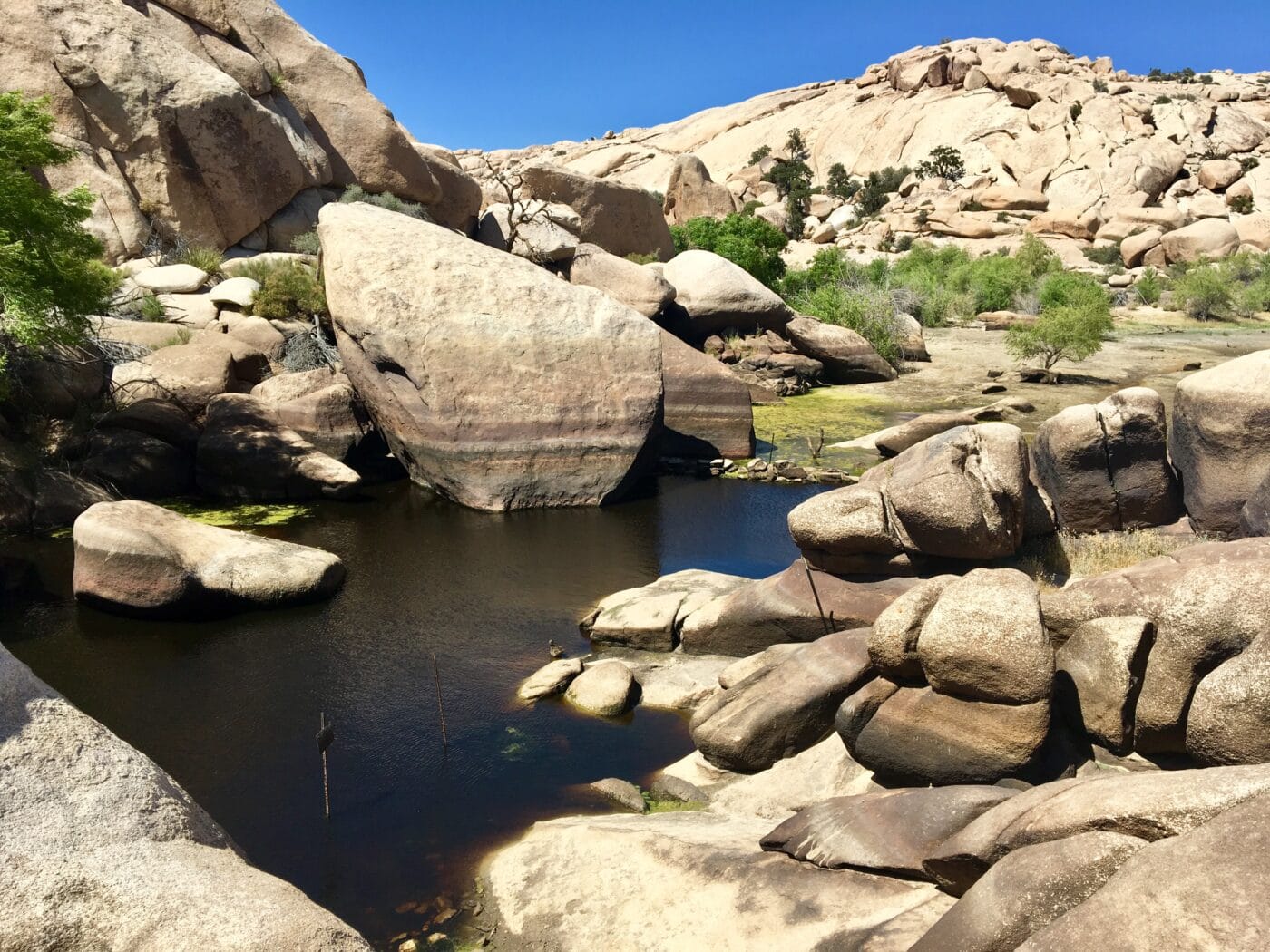 Hidden Valley Trail is a simple 1-mile loop trail is a great way to sample the heart of Joshua Tree National Park. The trail's intricate rock formations and towering Joshua trees will feel like a time warp back to the Paleolithic period. This trail is level and short, making it accessible to nearly all visitors.
It is rumored that the area was once used by cattle rustlers as a hideout. The trail has signs to help visitors to learn to identify the plants of Joshua Tree and a bit of the geological history that created these unique rock formations.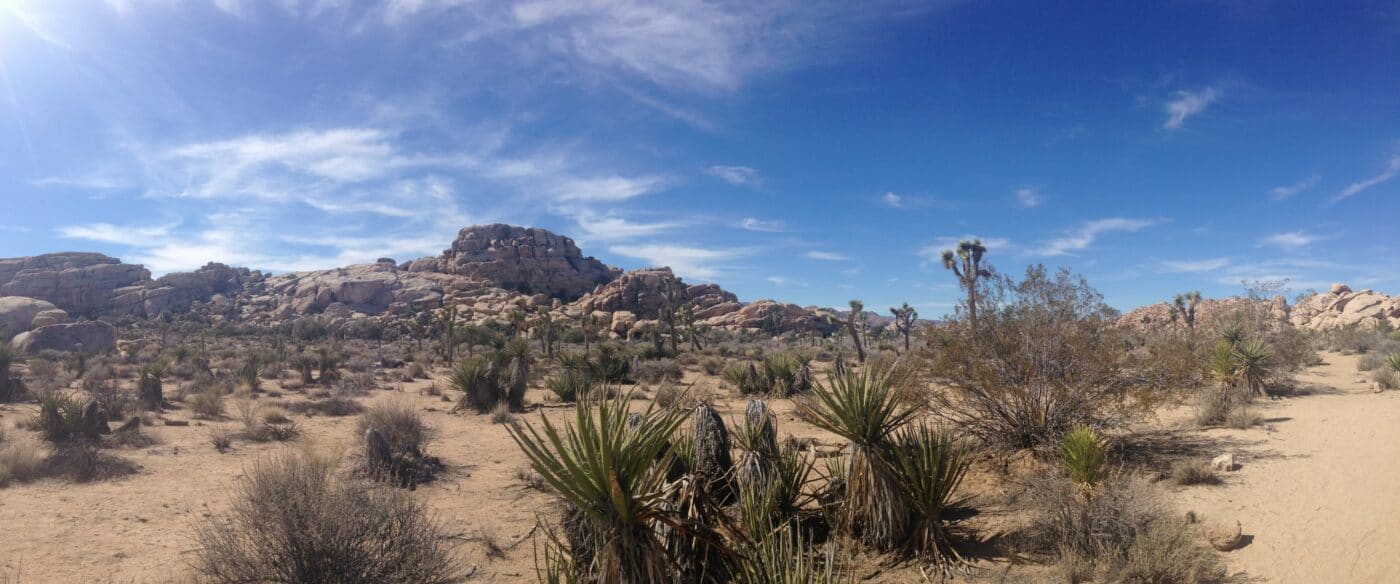 Visit Skull Rock.
A quick visit to this historic landmark will give display to a desert rock phenomenon – A cranial shaped granite rock with 2 eye sockets, which have been formed by erosion.
You can opt to follow the 1.7-mile Skull Rock Nature Trail nearby, although I personally tend to get lost while taking it. The hike is not required to the Skull Rock. The Skull is seen from the road.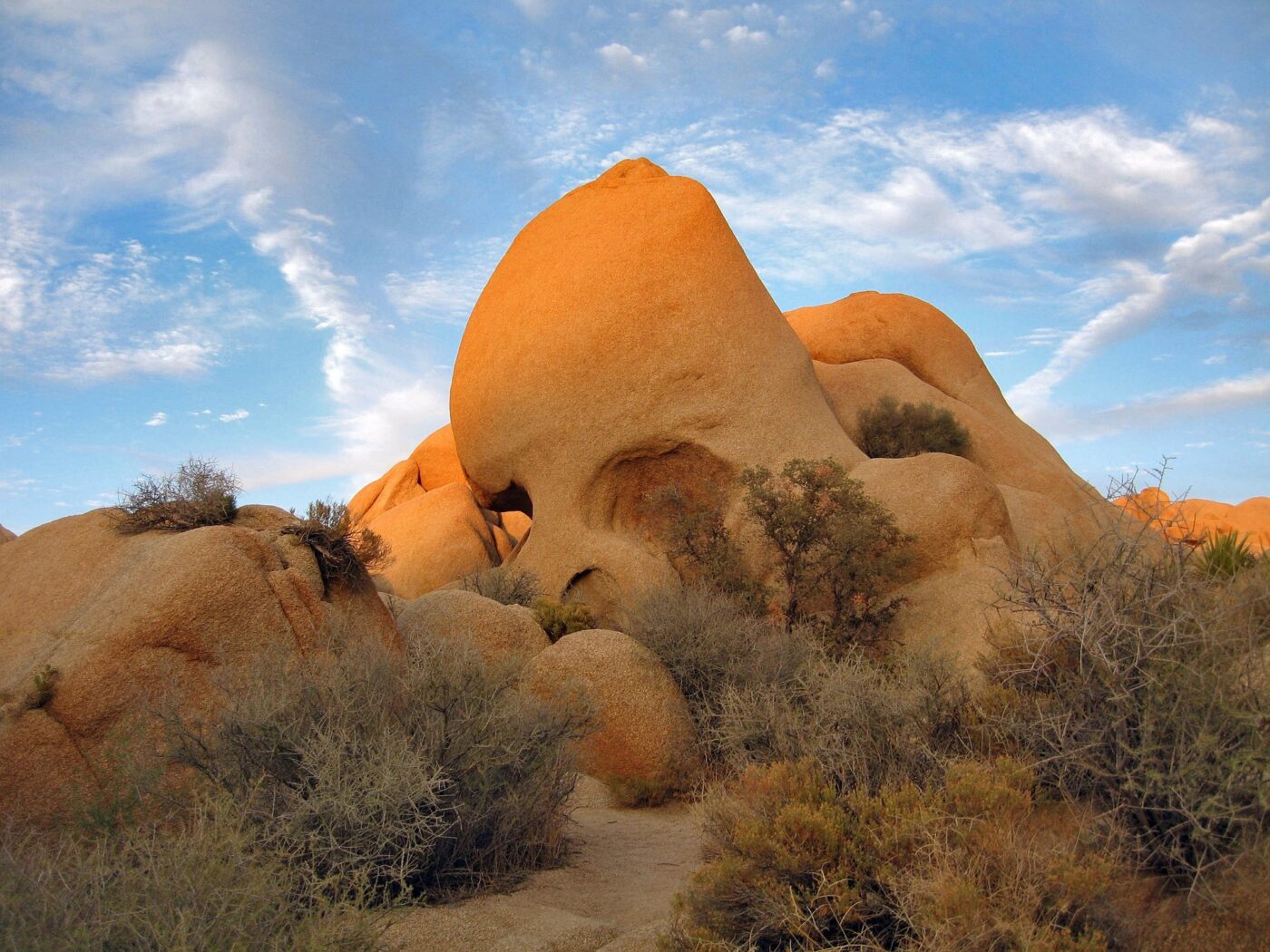 Hike out to the massive Arch Rock.
Take the Arch Rock Nature Trail. This nature trail scopes out the 30-ft granite Arch Rock, along with a medley of other rock formations and potential wildflowers in the springtime. The hike may be a brief half-mile, but the views here are some of the best in the park.
Have a blast climbing around the famed Arch Rock, which rivals the arches of nearby Utah. You are welcome to climb (boulder) up to the base of the arch. The views of the surrounding areas are exceptional.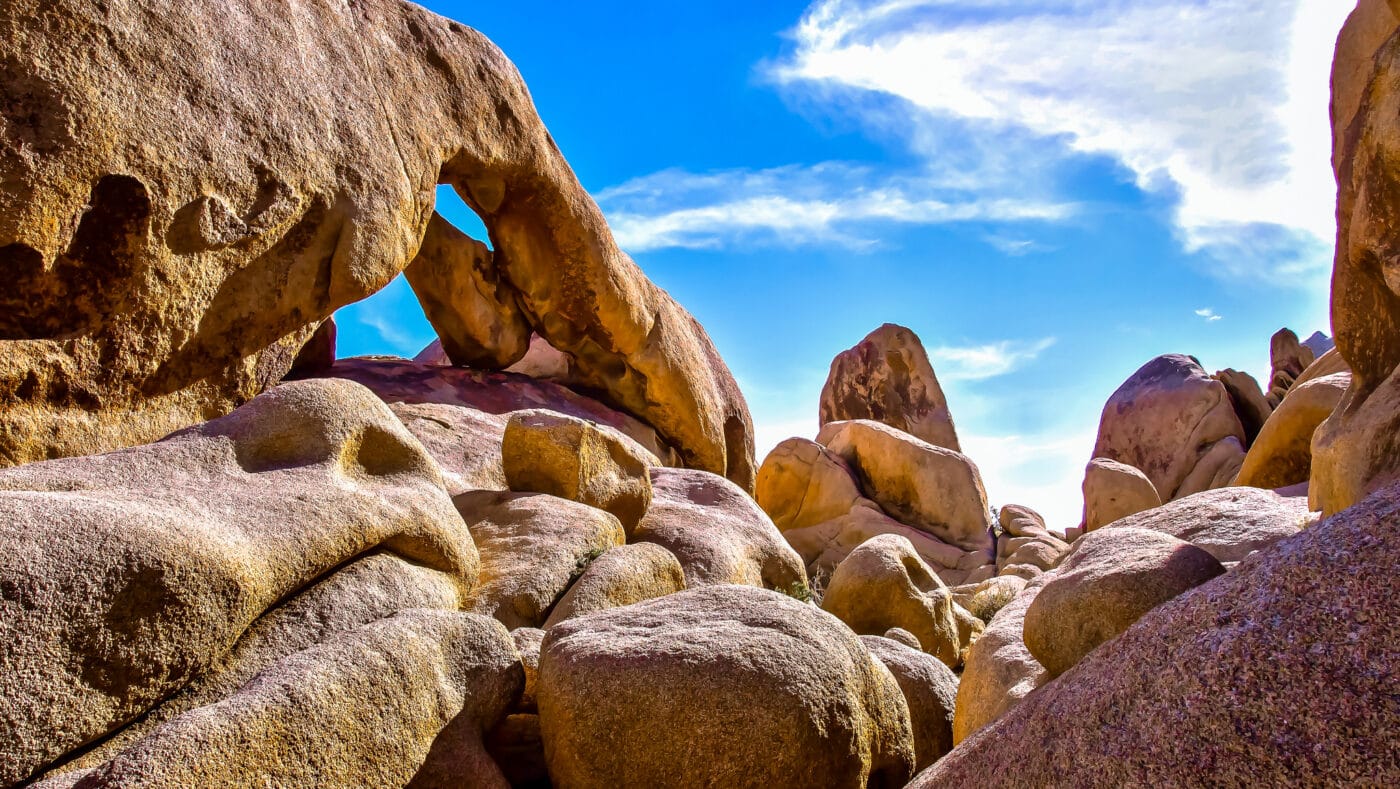 Photo credit: Ian D. Keating
Experience both the Colorado Desert and the Mojave Desert.
Take a drive across the entire park to truly experience its vast diversity. The higher and cooler Mojave Desert is home to the numerous Joshua trees that give the park its name, along with the Wonderland of Rocks and other interesting geologic formations.
The Colorado Desert begins at the park's midsection where the Joshua trees end and provide a more sparse and forbidding landscape. The smaller Yucca plant and the Cholla Cactus live here.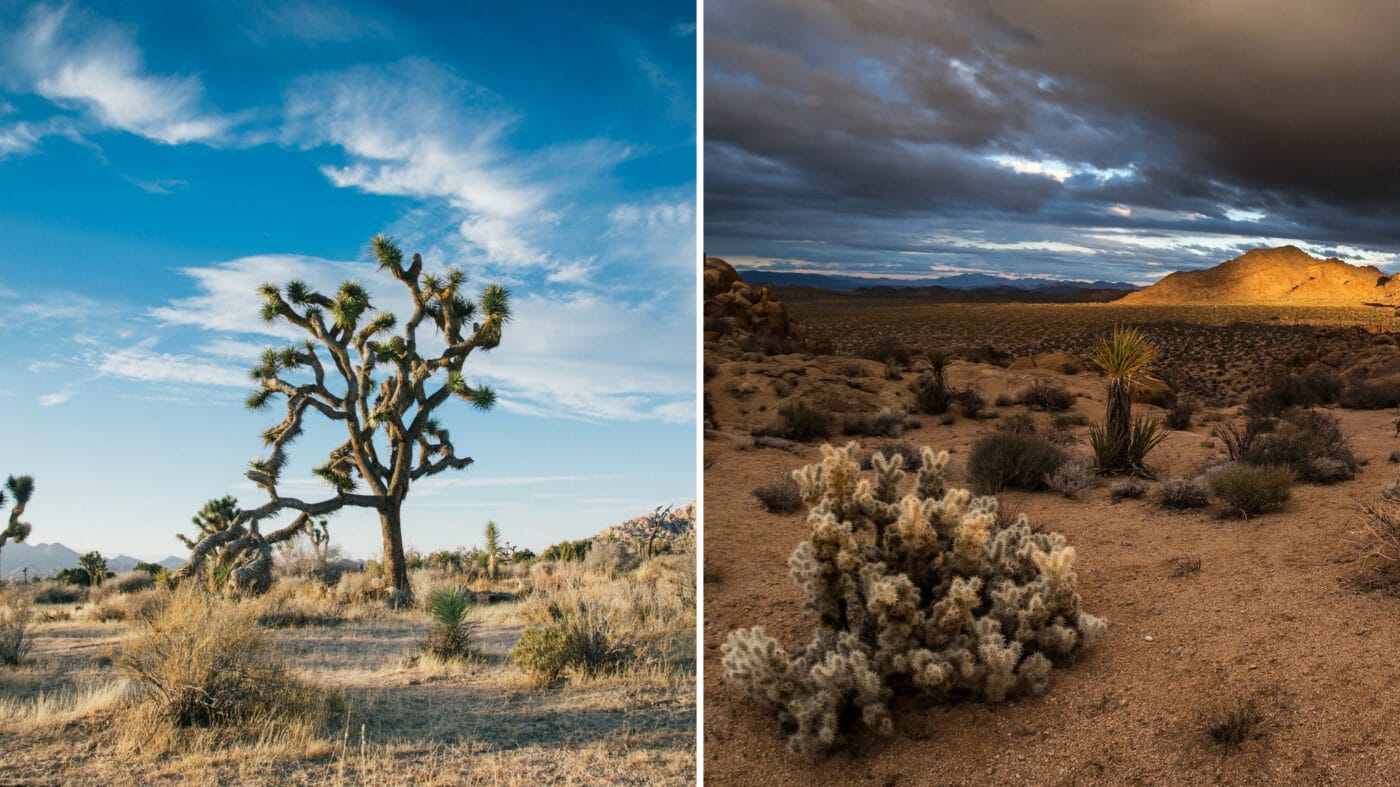 Walk through the Cholla Cactus Garden
I consider this to be a hidden gem of Joshua Tree National Park. The cactus grove is the perfect setting for photographs, and for observing the unique cholla cactus plants. These small, "teddy-bear" cholla cactus appear soft and fuzzy from their outside appearance, but of course, hosts sharp spines. Don't give in to the cuteness and hug one. Seriously, be very cautious to only observe these little guys, and not touch them! The cholla cacti have an infinite number of very sharp cactus needles which are extremely painful to get stuck by (and then removed).
This nature trail is a 0.25-mile loop that has no elevation gain. Do not let your children run around here.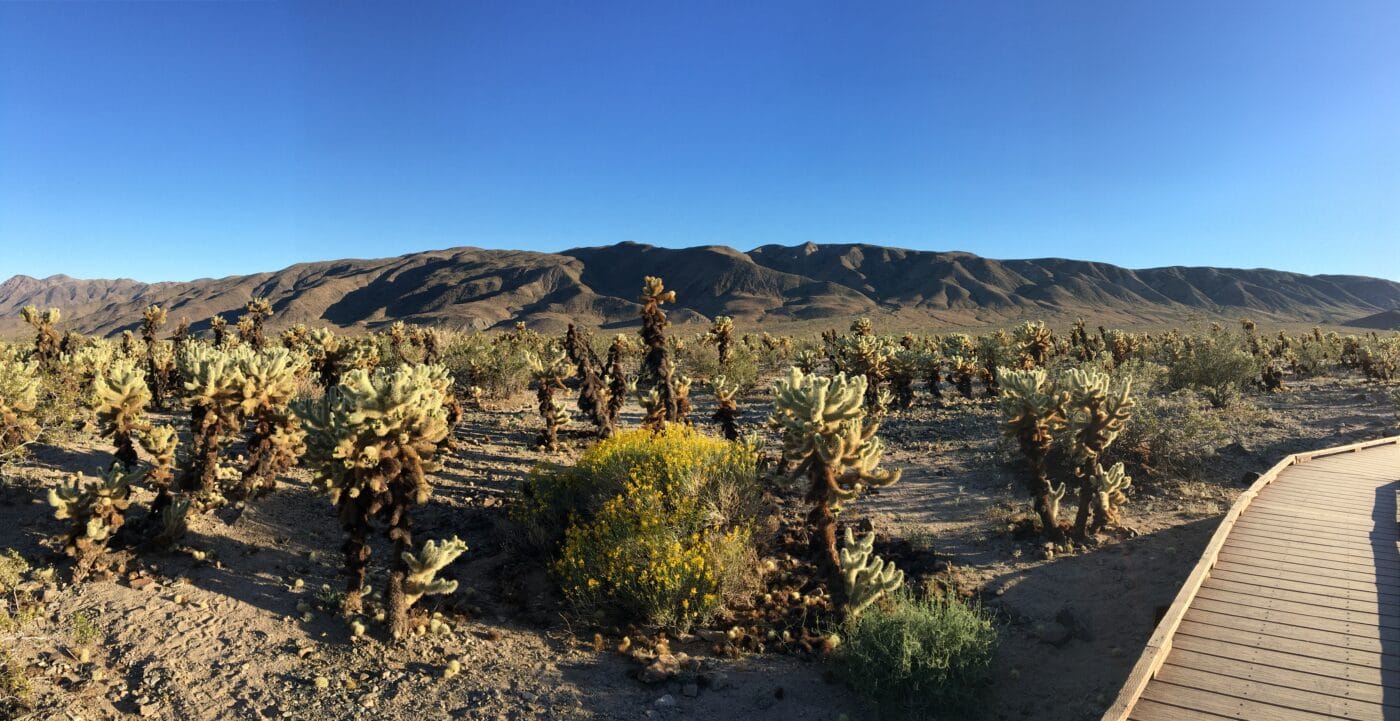 Take in a sunset at Keys View.
Joshua Tree's highest viewpoint and my favorite destination within the park is Keys View. From the top, visitors can enjoy panoramic views of the Coachella Valley, the San Andreas Fault, and even Mexico. Be sure to arrive at least 30 minutes before sunset (preferably with a packed picnic in hand) to wind down and watch the sun hideaway beyond the mountains.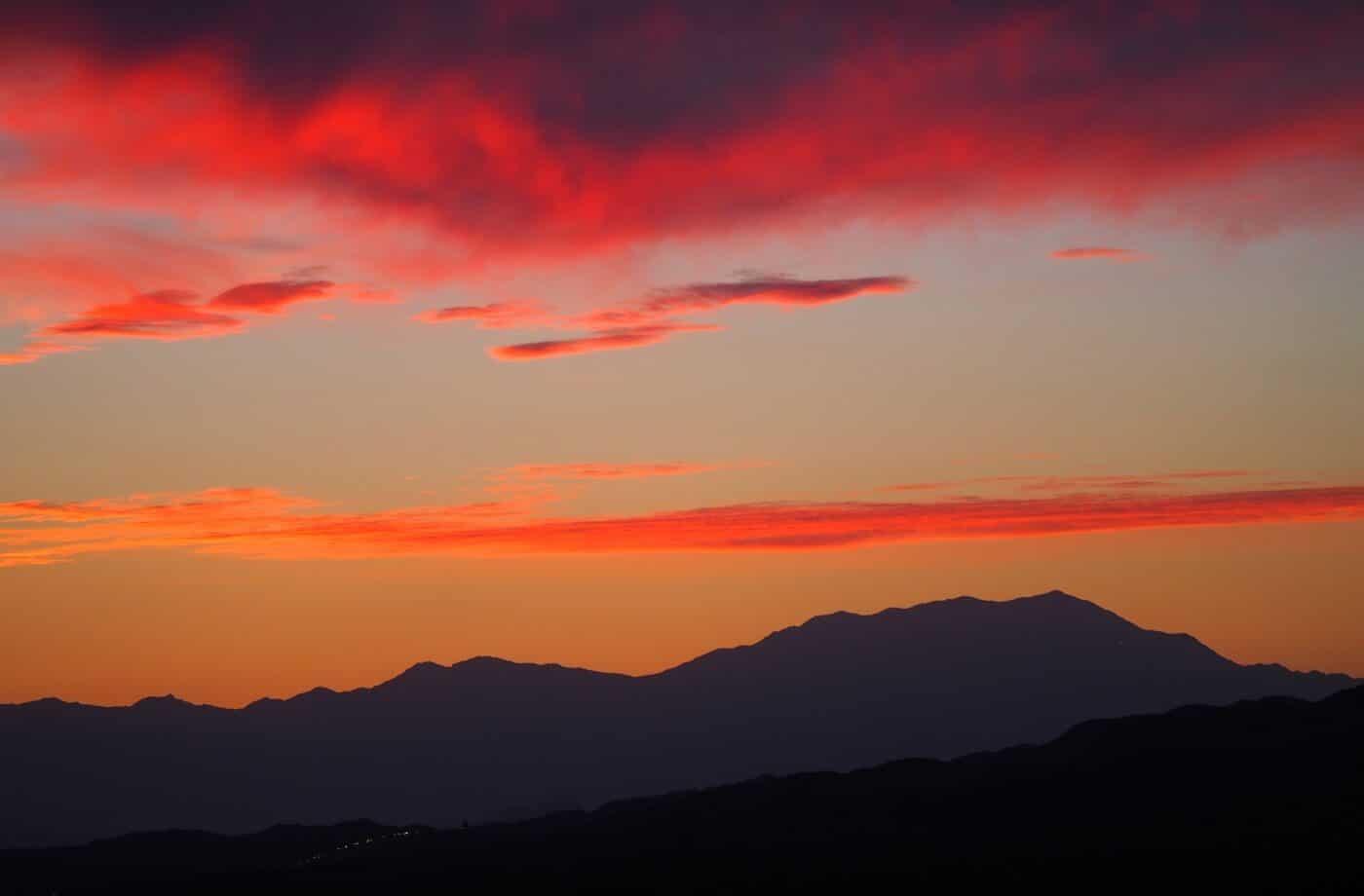 Book a campground and watch the stars at night!
After an exciting day of hiking and rock-climbing, there's nothing more relaxing than pitching a tent and sharing laughs and roasted marshmallows with friends. The best part? Joshua Tree National Park hosts some of the darkest nights in Southern California, making it perfect for stargazing and viewing The Milky Way. Regarding campsites, I think that camping at Jumbo Rocks Campground (it's massive and fun) or Cottonwood Springs Campground (it has actual flushing toilets) are good bets! Wherever you decide to go, be sure to book your campground early, bring your best camera, and check out the park's Night Sky Program.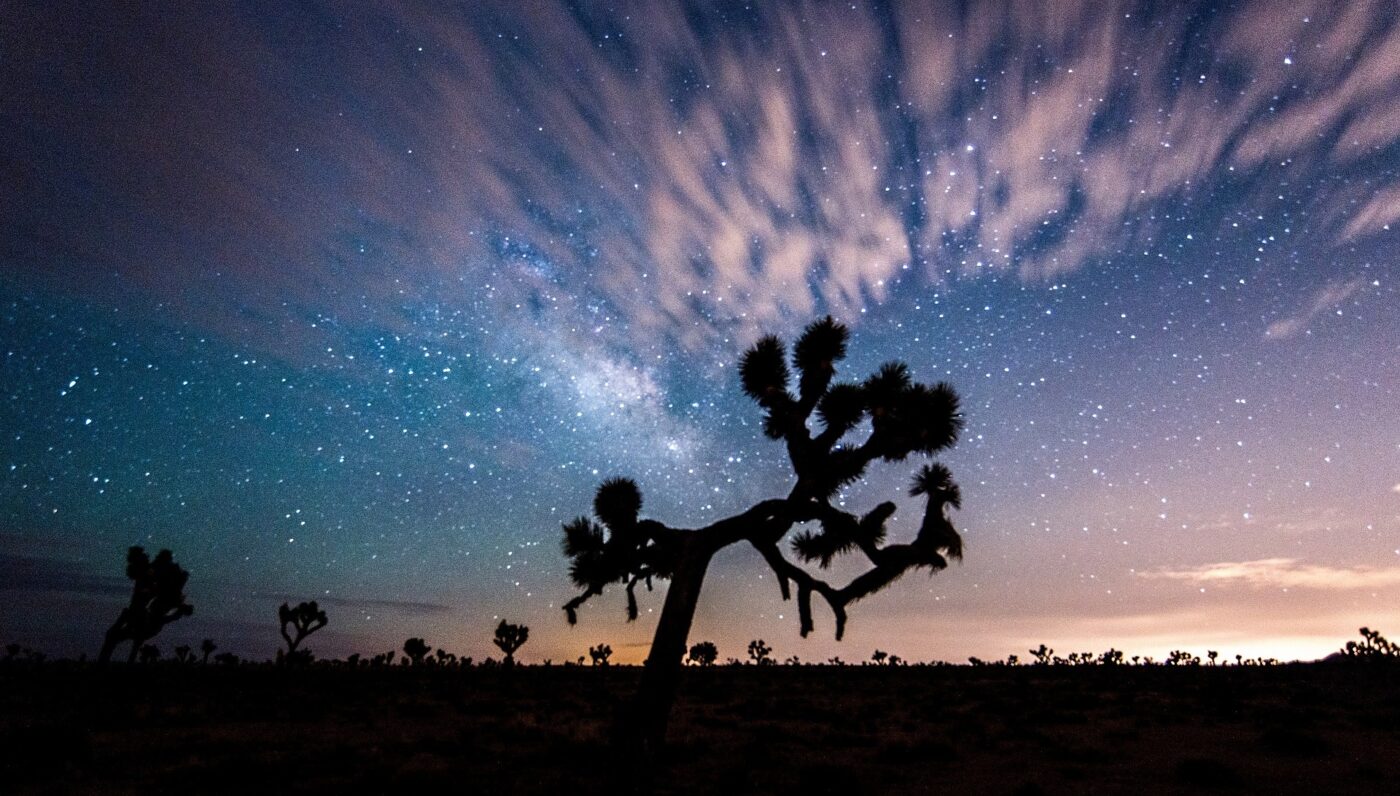 Honorable Mentions:
The Lost Horse Mine produced over 10,000 ounces of gold and 16,000 ounces of silver. The mine's history involves cattle rustlers, horse thieves, and a gun-slinging cowboy. It is a four-mile round-trip hike to visit one of the most successful mines in California.
Wall Street Mill and Wonderland Ranch is three miles out and back hike to a well preserved gold mill site. This site was an important local business before Joshua Tree became a National Park.
Keys Desert Queen Ranch is a historic ranch in the area. The ranch can only be visited as part of a ranger lead tour. Reservations are recommended.
Ryan Mountain is a tough 3-mile hike. The first 1.5 miles is all uphill until you reach the second highest peak in Joshua Tree. Ryan Mountain is a great sunset hike.
Cottonwood Spring Nature Trail is a 1-mile hike near the Cottonwood Visitor Center. The trail leads to the Cottonwood Spring Oasis. This small spring showcases a range of trees that have grown due to the steady supply of water in the area.


What do you want to do in Joshua Tree? Did I miss anything that should be on the Things Not to Miss on Your First Visit to Joshua Tree National Park list?
Get help planning your trip to Joshua Tree National Park

Check out some of our favorite Joshua Tree National Park and National Park Obsessed Products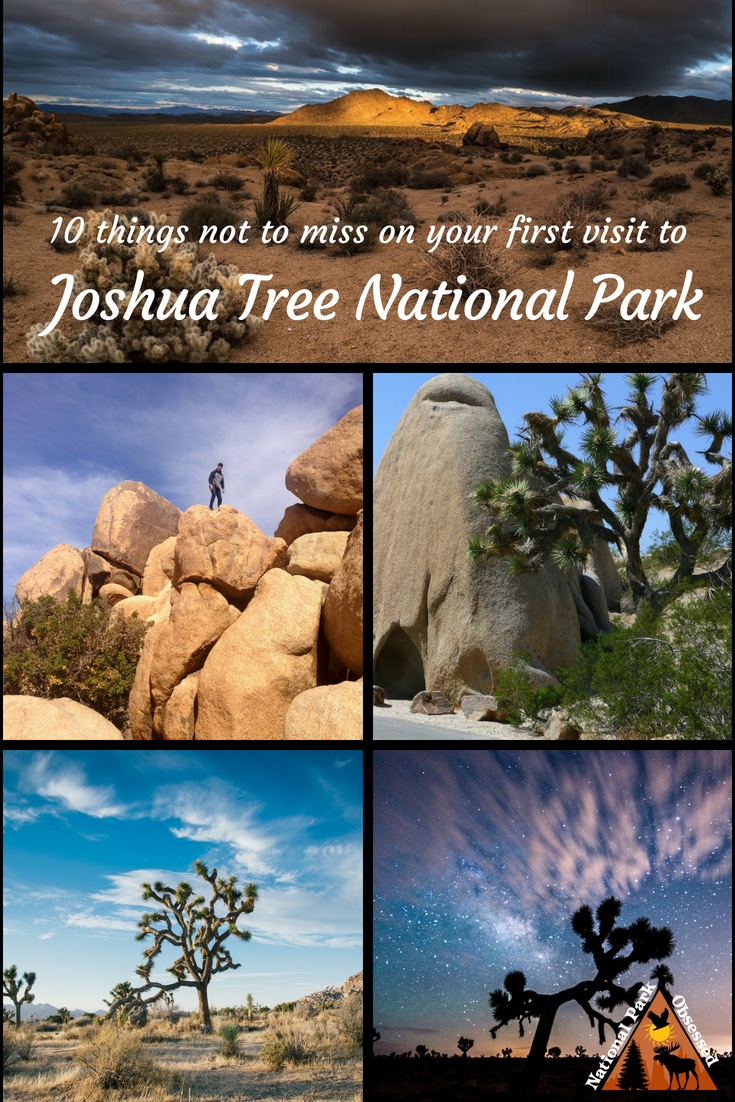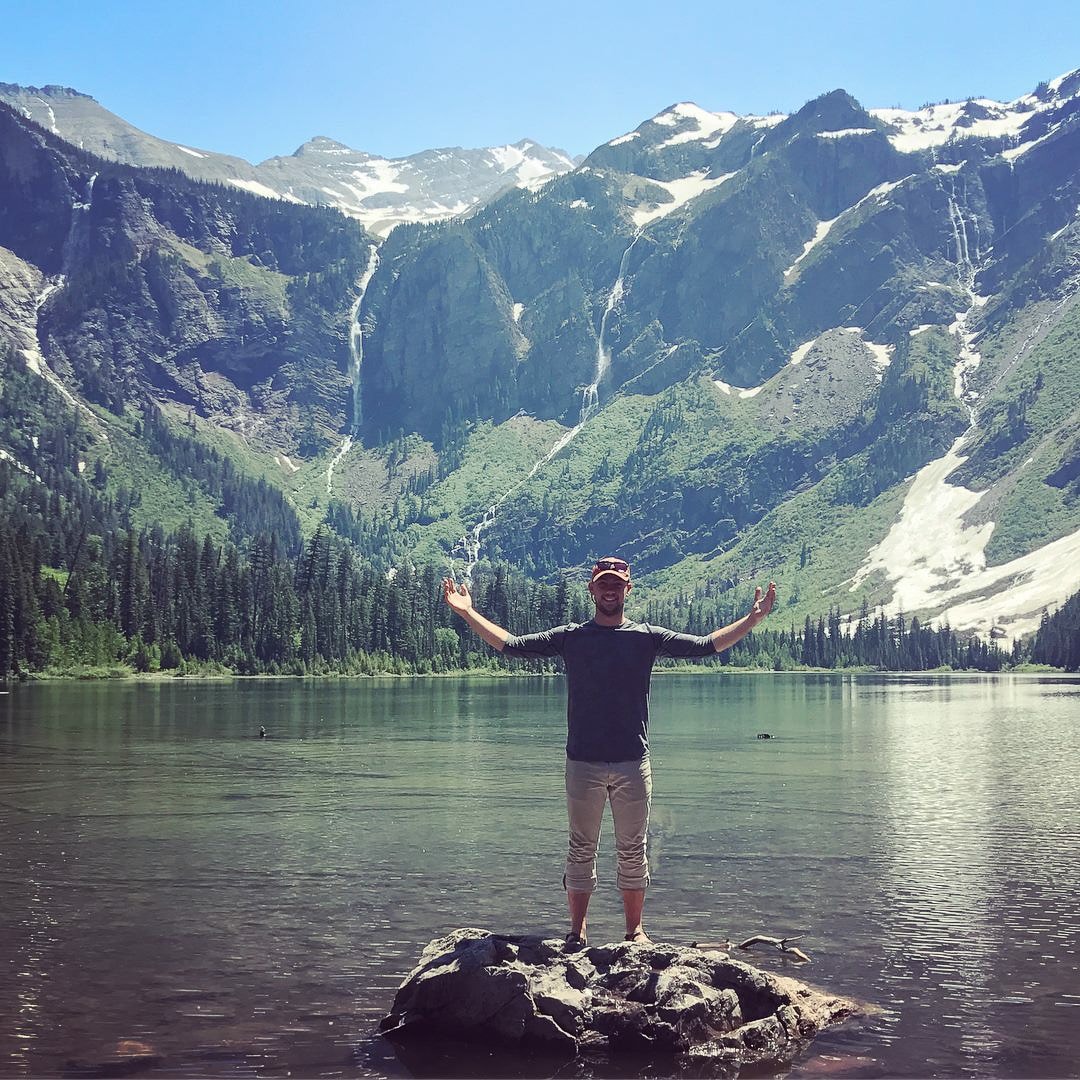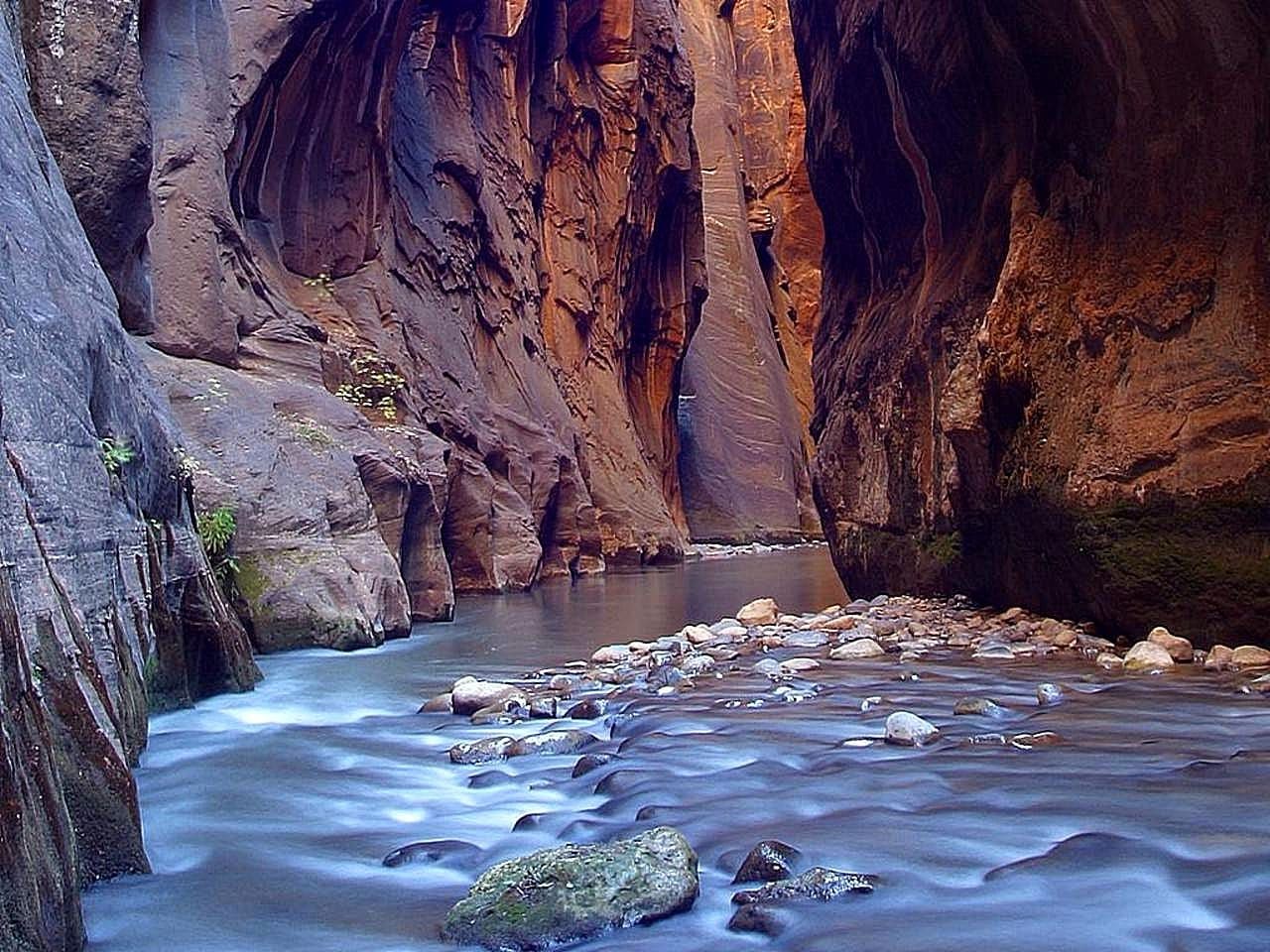 On this site, we promote travel to the United States and beyond that are the traditional lands of  Indigenous and First Nations peoples.
With respect, I make a formal land acknowledgment, extending my appreciation and respect to these lands' past and present people.
To learn more about the people who call these lands home, I invite you to explore Native Land.
National Park Obsessed assumes no responsibility or liability for any errors or omissions in the content of this site (NationalParkObsessed.com). The information contained in this site is provided with no guarantees of completeness, accuracy, usefulness or timeliness. You are encouraged to conduct your own due diligence before acting on the information provided on this site and should not rely on the opinions expressed here.
There is an inherent risk in all outdoor recreation activities, the reader assumes all responsibility for their own personal safety.
We are a participant in the Amazon Services LLC Associates Program, an affiliate program designed to provide a means for us to earn fees by linking to Amazon.com and affiliated sites.
Get a FREE 63 National Park Checklist