This post may contain affiliate links, meaning if you book or buy something through one of these links, I may earn a small commission at no extra cost to you! Read the full disclosure policy here
---
Perhaps the most underrated of Utah's "Mighty Five" national parks, Capitol Reef is a true hidden gem. The park is often overlooked due to it's more famous siblings and their amazing features. Unlike Utah's other national parks, Capitol Reef doesn't have one stand out a feature like the arches of Arches or the Zion canyon of Zion. But Capitol Reef is a magnificent mixture of the best features of Arches, Bryce, Canyonlands, and Zion. This park has it all and the best part is that it is the least visited National Park in Utah. Here's what you should see if you've only got one day in Capitol Reef National Park!
Help support this site by purchasing one of our National Park Shirts, Poster, and other gear. Every purchase includes a donation to the national parks and helps keep National Park Obsessed's website free to use and producing more national park guides.
Looking for more help planning your next adventure? Join the National Park Obsessed Facebook Group here to connect other national park lovers, trade advice, or see inspiring photos of the National Parks?
This post was originally published on July 18, 2018. It was updated on January 10, 2020.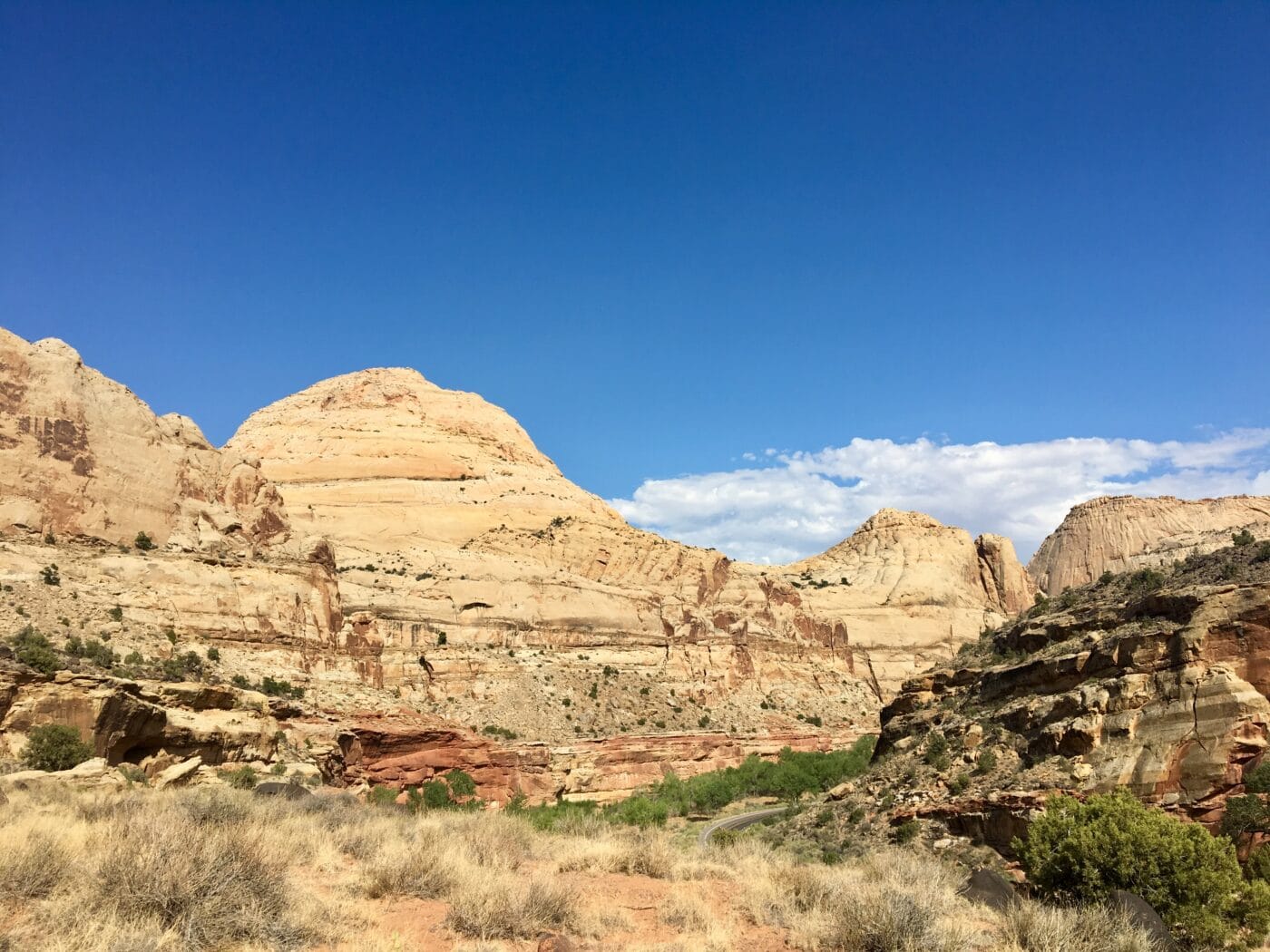 About Capitol Reef National Park
Capitol Reef National Park was named after two distinct landforms found within its diverse terrain. The park's first showpiece is its Waterpocket Fold, a 100-mile long buckle in the earth's crust, which historically blocked westward explorers as reef blocks a ship from the continuing passage. The park is secondly named for its gargantuan domes, with one, in particular, echoing Washington, DC's Capitol Dome. Visitors flock to Capitol Reef for its superb hiking trails, 4WD roads, petroglyph panels, and the orchards and Gifford House found in the village of Fruita (pronounced "Froo-tuh").
If visiting the park for just one day, utilize the town of Torrey neighboring to the west of Capitol Reef as a home base. Here, you'll be able to access food, gas, and other amenities and services prior to and after your park visit.
Starting from Torrey, you'll be able to follow Highway 24 into the Fruita Rural Historic District, a remarkable Mormon settlement that commenced in the 1870's as a site for religious refuge. You'll also have easy access to the Scenic Drive which ventures south of the visitor's center. Between these two roads, you'll have plenty to see and enjoy during your one-day trip to Capitol Reef National Park!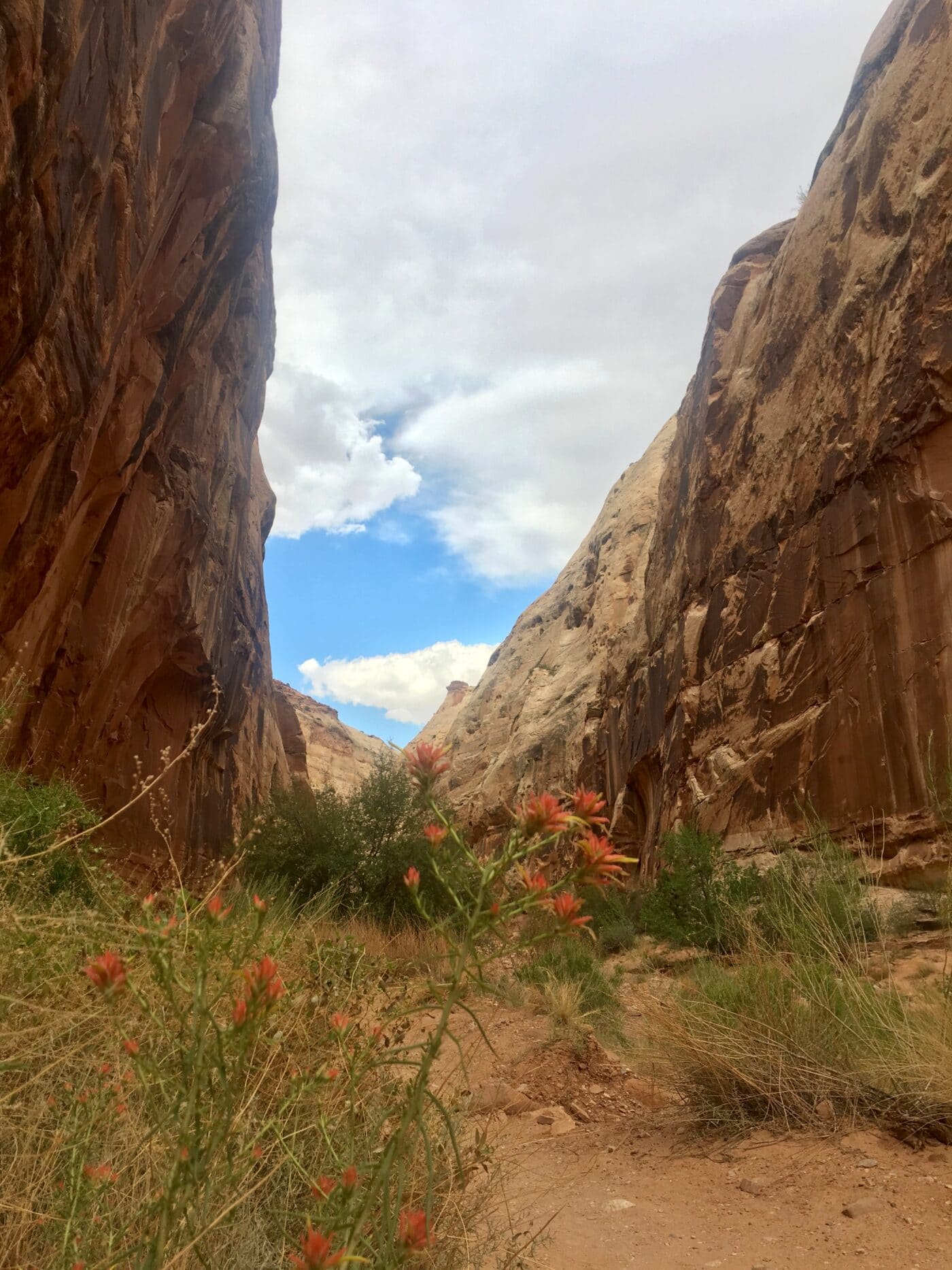 Getting to Capitol Reef National Park
The closest airport to Capitol Reef is Salt Lake City International Airport (SLC), located just over three and a half hours away from the park entrance. If you are road tripping thru several of the nearby Utah, Colorado, Nevada or Arizona National Parks, airport options include Las Vegas (LAS), Denver (DIA) and Phoenix (PHX). The park only has one visitor center, located at the intersection of UT-24 and the Scenic Drive. The park is accessible via the I-70 and the I-15.
Estimated Drive time to Capitol Reef National Park from major cities
Salt Lake City, Utah – 3.5 hours
Las Vegas, Nevada – 5.25 hours
Denver, Colorado – 7 hours
Phoenix, Arizona – 8.25 hours
Estimated Drive time to Capitol Reef National Park from nearby National Parks
Capitol Reef can be reached by public transportation but options are limited.
Currently, there is no public transportation within Capitol Reef National Park.
Best Guided Day Tours in Capitol Reef National Park
If you want to make your trip to Capitol Reef as easy and simple as possible, check out these amazing Capitol Reef Day Trips: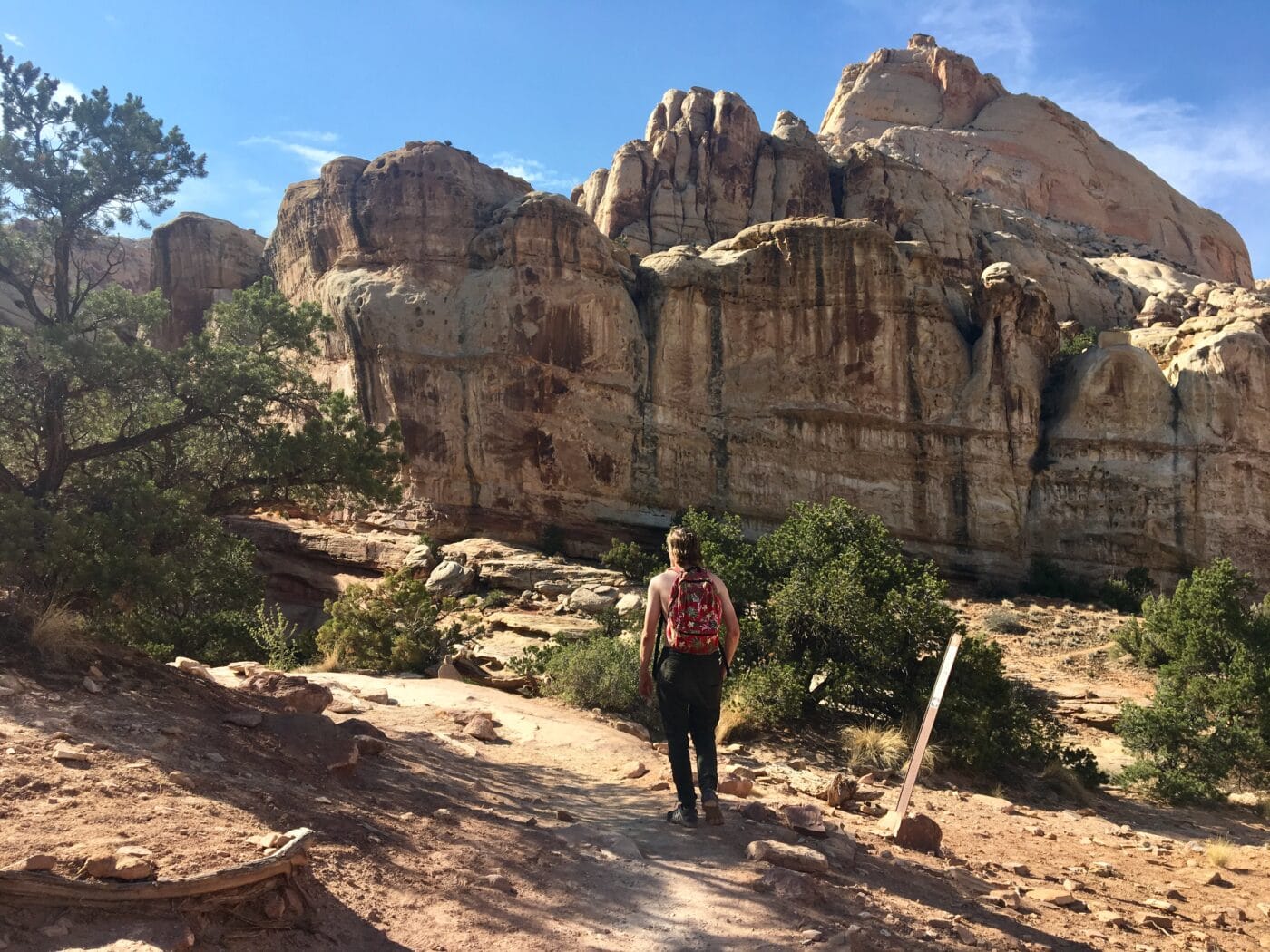 How many days in Capitol Reef National Park
How long do you have? Honestly, there is no right answer to this question. Capitol Reef is a hiker's paradise. As it is the overlooked national park of Utah's Mighty Five, it has the smallest crowds and has the best chances to get into the backcountry and hike without having to see lots of other people. If it's your first visit or that all you have time for, one day is plenty of time to get a highlights tour and do some scouting for your next trip to the park.
Don't let anyone tell you that you HAVE to spend a specific amount of time in Capitol Reef. Ideally, I would spend at least 3-4 days in the park on every visit but that is not always possible. A day trip to Capitol Reef can be a perfect way to enjoy the area. Make the most of the time you have.
Best time of year to visit Capitol Reef National Park
While Capitol Reef National Park can be visited at any time of the year, the temperatures are the most comfortable from April to May and September to October. The park is busiest during the summer but that being said. Busy is relative. Capitol Reef sees about a quarter of the visitors of Zion National Park.
Summer: Summer brings in the heat with average temperatures in the 80 and '90s. The fruit tree will bloom in early summer and the fruit will start to ripen in late summer.
Fall: The fall temperatures are cool and crisp. This is perfect hiking weather and the crowds of summer are gone. Some of the fruit is still in season.
Winter: The average winter temperatures range from 20 to 40 degrees. The crowds are at their lowest.
Spring: The temperatures start to warm and the days are crisp. Spring start bringing in the crowds and the orchards start to bloom.
Where to stay in Capitol Reef National Park
Capitol Reef has three campgrounds. One is developed and two are primitive campgrounds. There are limited camping options beyond the park.
Torrey is the primary outpost for visiting Capitol Reef National Park. Though sparsely populated, Torrey has several inns and resorts to offer accommodations fit for anyone's needs.
Torrey Hotels
Red Sands Hotel: Red Sands Hotel is a newly renovated and modern resort. This is a great hideaway Red Sands offers a great view of the Capitol Reef's cliffs.

Check Prices and Availability Now
Capitol Reef Resort: Capitol Reef Resort offers a range of accommodations from guest rooms to cabins to Conestoga wagons to teepees. The report offers activities

Check Prices and Availability Now
The Noor Hotel: The Noor Hotel is a lovely hotel just outside of the park and Torrey. This modern hotel offers a great escape from a busy life and has excellent stargazing opportunities.

Check Prices and Availability Now
Cougar Ridge Lodge: Cougar Ridge Lodge is a luxury ranch resort with a wide range of activities to complement your national park visit.

Check Prices and Availability Now
What to pack for a day in Capitol Reef National Park?
America the Beautiful National Parks Pass: Capitol Reef National Park costs $10 for a 7-day pass. If you intend to visit more than 3 National Park Services sites in a year, the America the Beautiful Pass will more than pay for itself.
National Park Passport – The National Park Passport Book is the cheapest and best souvenir of your national park adventures. This book makes it easy to collect the National Park Cancellation Stamps. The cancellation stamps have the date of your visit and make it easy to track when you visited each national park service unit.
Refillable Water Bottles – Do your part to reduce litter in our parks by bringing a refillable water bottle with you. A reusable and refillable water bottle can save you a lot of money and really help the environment. Here are my favorite water bottles
Hydration Bladder – If you are hiking longer distances, a hydration bladder is the best way to hike with significant quantities of water. It is a rare hike when I don't bring a full bladder with me.
Snacks – There are limited services in the park. So pick up all your snacks before you go. Pack a couple of different options so you are prepared for any craving.

Fruit: Pick hard fruits such as apples or pears. These hold-up in the heat and in packs without getting squished to mush. Another option is freeze-dried fruit. Freeze-dried strawberries are the BOMB. They are crunchy, sweet and the best part is they are lightweight and yummy. These are my new favorite trail snack.
Vegetables: Cucumbers and carrots hold up well during hiking and in a hot car.
Granola Bars: Take your favorite non-coated in chocolate granola bars. Anything coated in chocolate will melt and be a sticky mess. My favorite is a selection of Cliff Bars. They are great even when squished.
Sunscreen – You don't want to get burned on your visit.
Lip balm – Your lips need just as much sun protection as your skin does.
Sunglasses – Similar to sunscreen, you need a good pair of polarized sunglasses to protect your eyes from the glare of the sun.
Hat – Hats are another sun protection device. A hat can keep the sun off your face and neck and help minimize the need for sunscreen while on the trail.
First aid kit – As with any outdoor adventure, accidents happen. It is better to be prepared and have a compact first-aid kit ready to help with any accidents.
Headlamp – Always keep a headlamp handy. You never know when you might want it. It can be used for midnight bathroom runs to sunrise/sunset hikes. A good headlamp makes it easy to operate in the dark.
Shoes – Shoes are probably the most important piece of gear to any hiker. Hiking shoes should be seen as an investment. On the trail, your feet are your transportation and a solid pair of hiking shoes help support your feet and can prevent injury.
Trail Navigation – Always carry a map and compass. They never run out of batteries and you can always figure out where you are. In many national parks, your cellphone is NOT adequate for navigation in the parks. Cell service is spotty and UNRELIABLE in many national parks and they can run out of batteries. A map and compass never have that problem.
Hiking Day Pack – A good day pack is the best way to transport all your gear when hiking. I highly recommend getting a backpack that is designed for outdoor use. These packs come with handy pockets and straps. My 40 L day pack has a pocket for my water bladder and a clip to hold the water line in place.
National Park Obsessed Shirt – Share your love of the National Parks and support National Park Obsessed with a National Park Obsessed T-Shirt.

24 hours in Capitol Reef National Park
Activities
Hike Hickman Bridge Trail
Viewing of Panorama Point and Gooseneck Overlook
Pick Fruit in Fruita Orchard
Eat Pie at Gifford Homestead
Scenic Drive
View the Fremont Petroglyphs
Take a hike on the Hickman Bridge Trail. The Hickman Bridge Trail (my personal favorite) is a 1.7 "moderate" out and back trail located off the UT-24. It features a series of wiggles and structured inclines, beautiful wildflowers, and views of the Capitol Dome, Fremont River, and Pectols Pyramid. The Hickman Natural Bridge is, of course, the highlight, at 133 feet long and 125 feet high. The feature is named after Joseph Hickman, who was a Utah legislator and early advocate for protecting the lands of Capitol Reef. This trail provides little shade, so beware of the hot sun and prepare accordingly!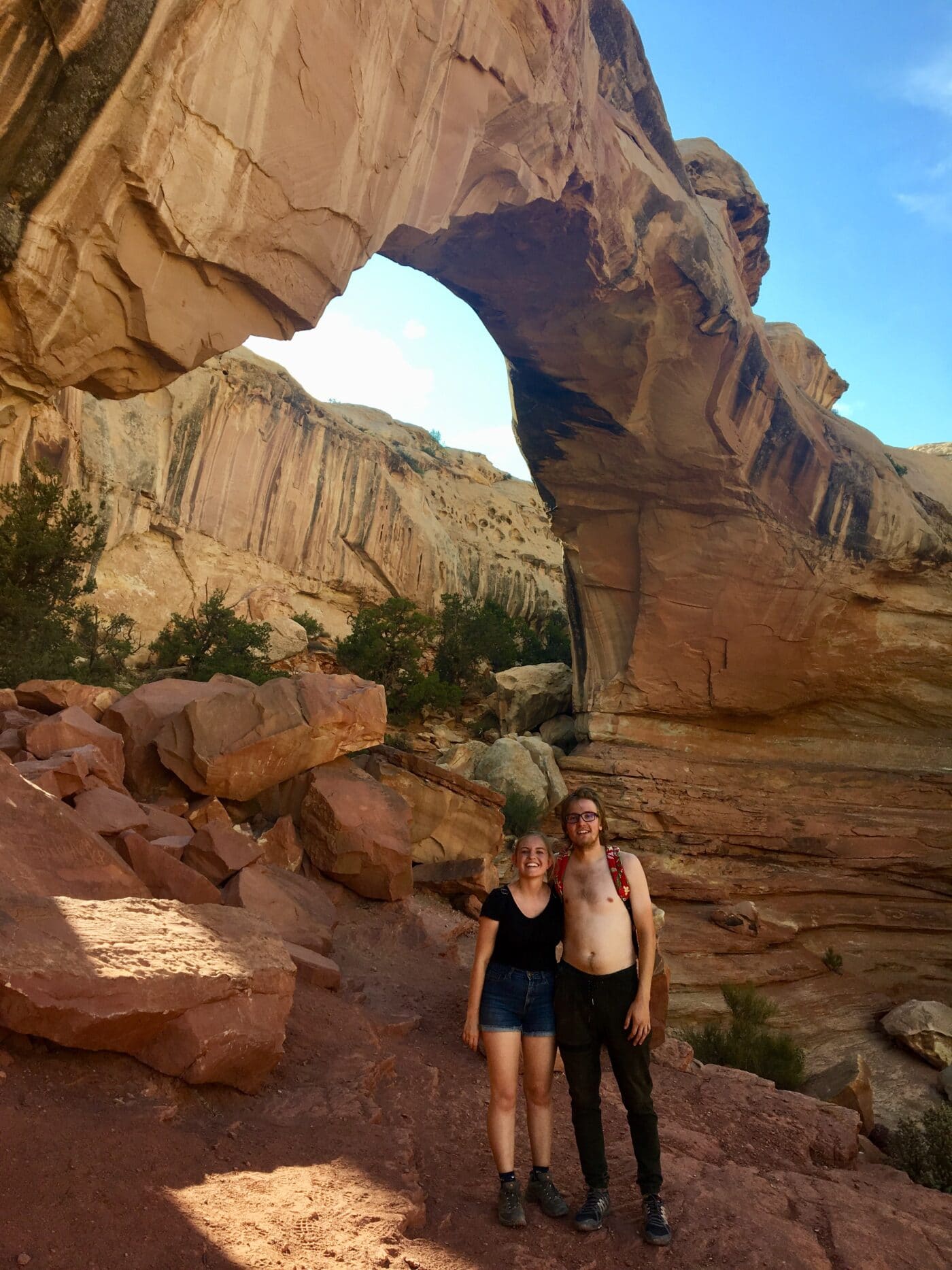 View spectacular vistas from Panorama Point and Gooseneck Overlook. Located two miles west of the visitor's center, these overlooks are quick and rewarding stops. In geological terms, a "gooseneck" refers to sinuous canyons and valleys resembling the S-shape of a goose's neck. Here, the dried Sulphur Creek curves dramatically along the canyons, and exposed rock layers by erosion.
Pick fresh fruit straight from the orchards of Fruita. This park is highly unique as it hosts 2700 cherry, apricot, apple, peach, and pear trees! If visiting between the months of June and October, travelers may eat whatever fruit they pick inside any unlocked orchards. Baskets can also be brought away from the orchards for $1 per pound.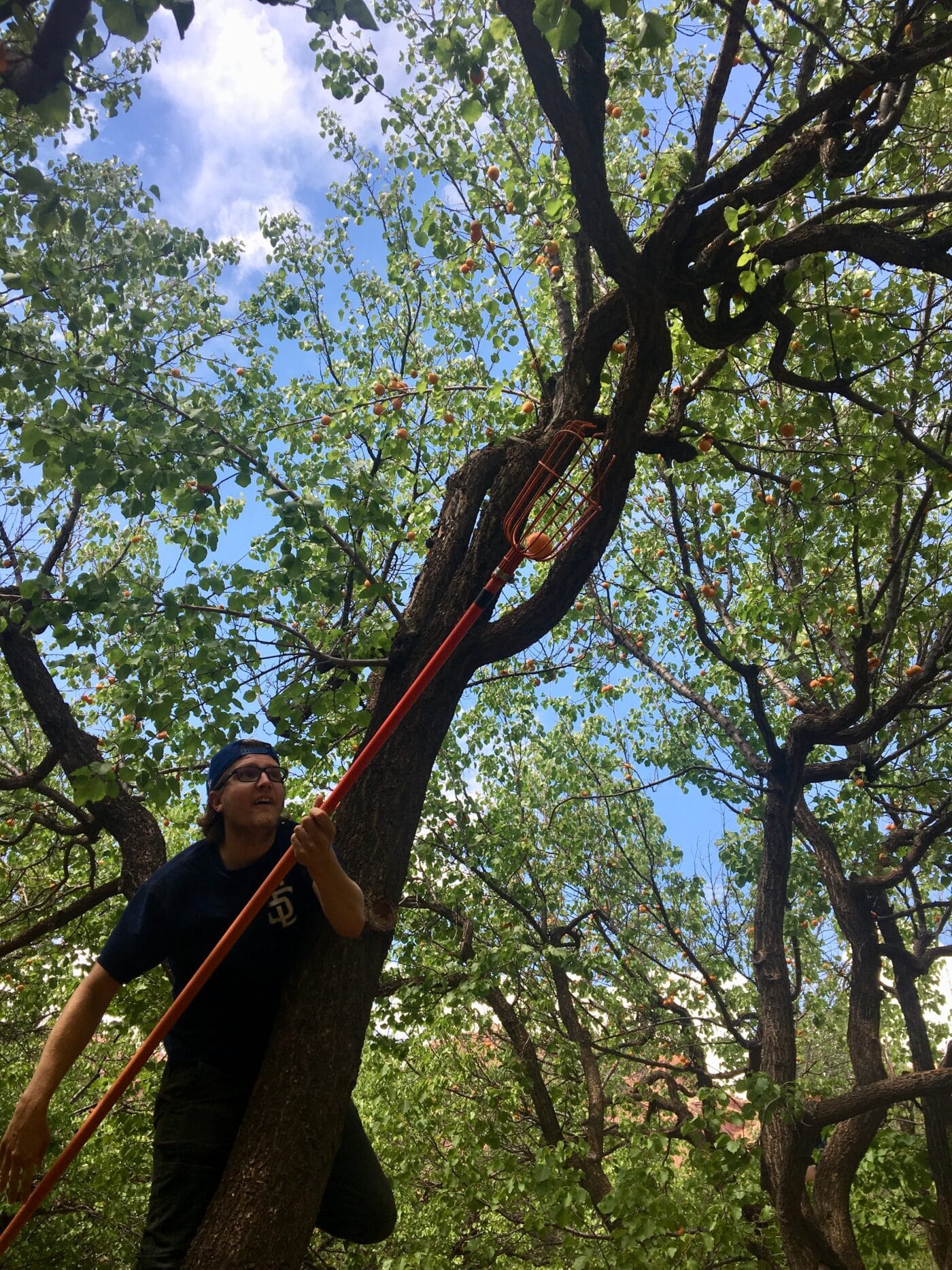 Have a picnic! The easiest spots for a picnic area near the visitor center or next to the Gifford Homestead. The picnic area near the visitor center provides tables, fire grills, restrooms, and water access.
Snack on some pie at the historic Gifford Homestead. Famous for its fresh fruit pies, this homestead museum also sells ice cream, artisan jams and bread, coffee, and other treats. I personally would recommend their strawberry rhubarb pie topped with vanilla ice cream! It's best eaten right outside at the picnic table area.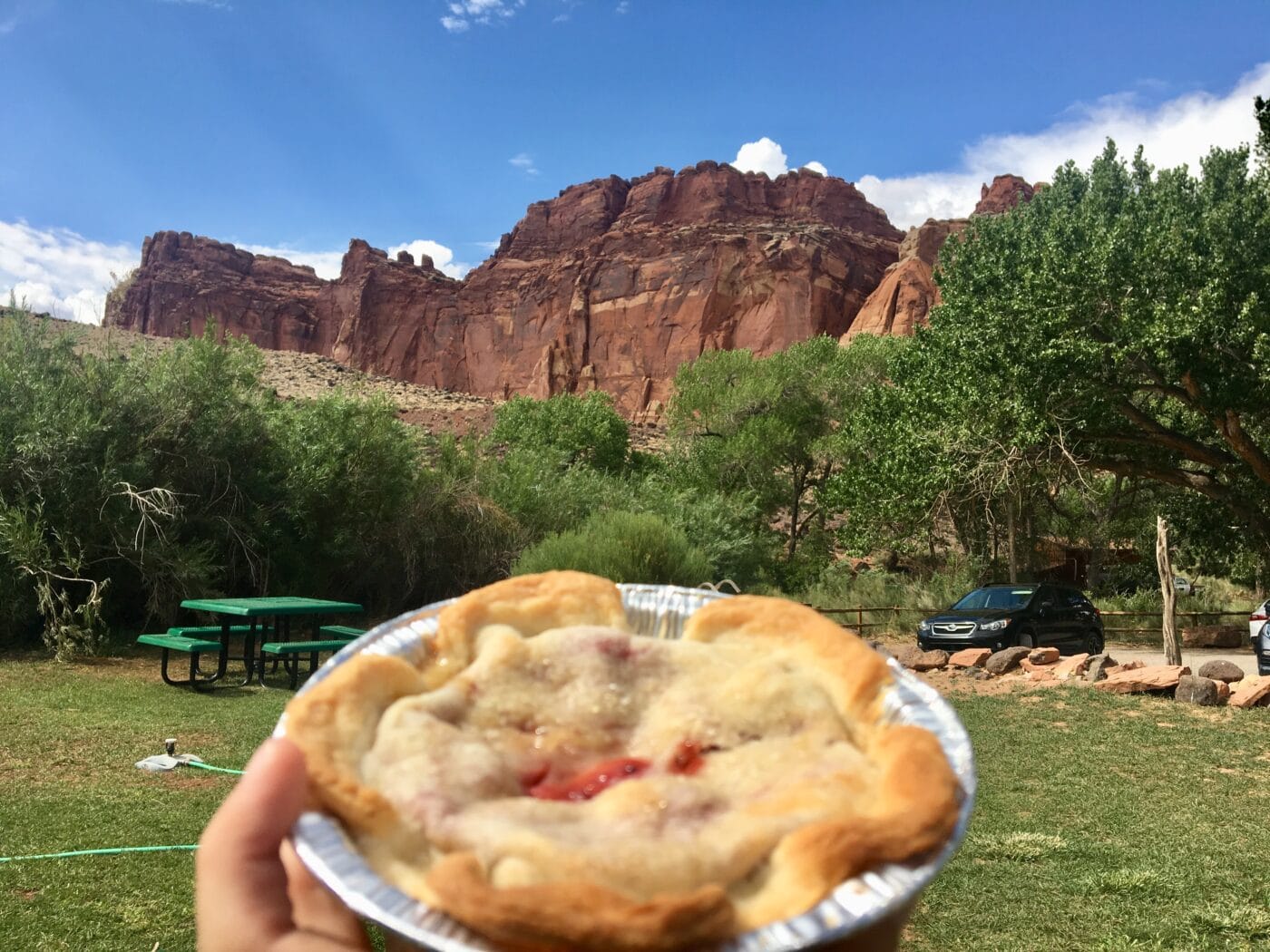 Take the Scenic Drive. Spend about 90 minutes taking in the spectacular views found on Capitol Reef National Park's Scenic Drive. Beginning at the visitor's center, it's a 7.9-mile paved road that includes dirt spur loop roads into the Grand Wash and Capitol Gorge areas.
Marvel at the ancient stories told by the Fremont Petroglyphs. A quick stop off the UT-24, the petroglyphs left by the "Fremont people" (ancestors of the Hopi tribe) are worth a gander. Following a boardwalk toward the base of a high cliff leads visitors to see petroglyphs.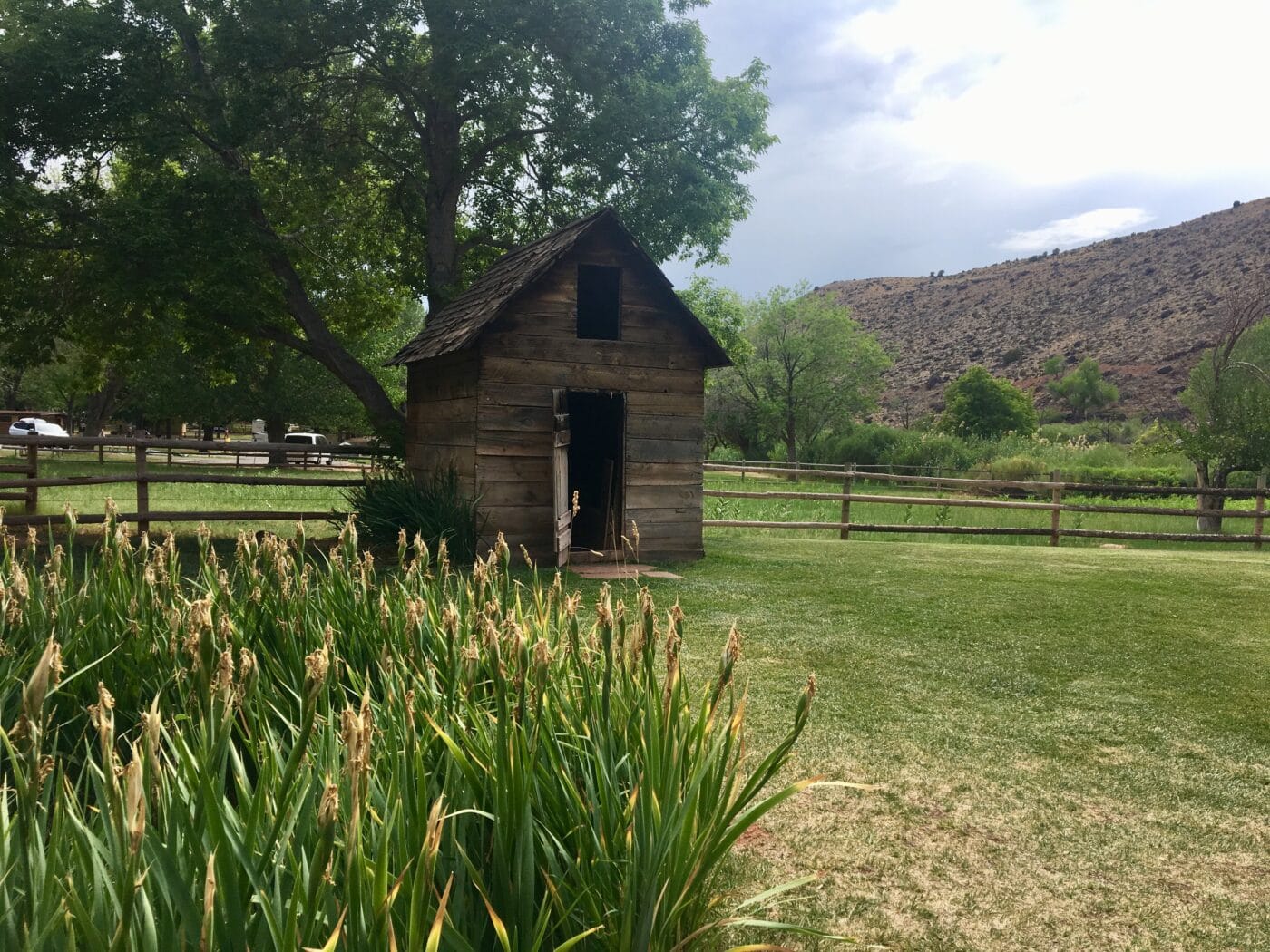 Add on Activities
Take a jeep tour or horseback riding tour through Utah's backcountry: This could be a fun and convenient way to view Cathedral Valley (which otherwise requires 4WD and involves crossing a river), or the more intricate parts of the park that are not accessible by car. Hondoo Rivers and Trails (located in Torrey) have several different trips and time-length options available.
Give canyoneering a shot. Cassidy Arch, one of the park's most popular hikes, involves canyoneering that may not be recommended to beginners. If you're new to the daredevil lifestyle, go out on a day tour with Redrock Adventure Guides (located in Torrey). The guides employed here will help you feel secure and confortable while canyoneering through slot canyons.
How do you plan on spending your one day in Capitol Reef National Park?