Planning a trip to the floodplains of the South? Congaree National Park is the wild heart of South Carolina, home to towering trees and winding waterways. With some of the county's largest Chestnut Oaks and Loblolly Pines located within the park, it is breathtaking to stand beneath the towering giants. Each year the springtime rains bring flooding conditions to the park, giving new life to the floodplain ecosystem. Congaree National Park is one of the smaller national parks, but there is no shortage of activities. Here are my top 7 things you can't miss on your first visit to Congaree National Park.
This post may contain affiliate links, meaning if you book or buy something through one of these links, I may earn a small commission at no extra cost to you! Read the full disclosure policy here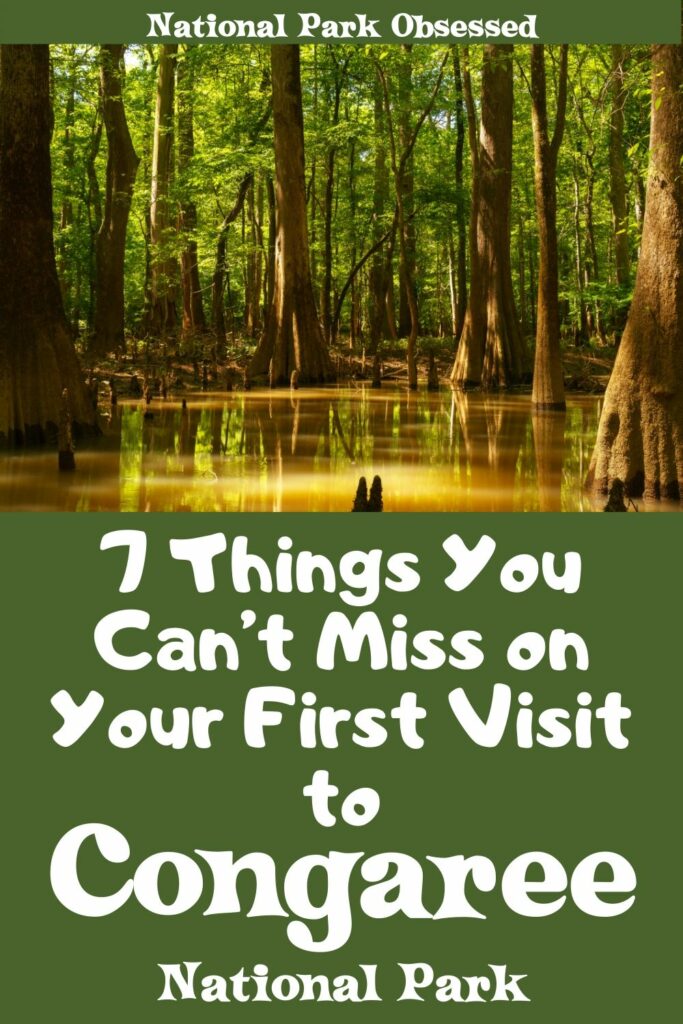 Things to Know before you go to Congaree National Park
Bring bug spray, during the warmer months the mosquitos can become quite bad. The Harry Hampton Visitor Center has a gauge on the wall showing the current mosquito activity, it ranges from "All Clear" to "War Zone".
There is only one visitor center, located inside the main entrance. All of the trails except the Kingsnake Trail are accessed from the visitors center.
Drinking water is ONLY available at the visitors center. Plan accordingly and make sure you carry water on your hikes. It can get hotter than expected in the central portion of South Carolina in the summer months.
There are no gas stations within Congaree National Park, so plan accordingly. There is only one gas station in close proximity to Congaree National Park in Gadsden, SC.
Camping in Congaree is Tents ONLY. There are only two campground within the park. Both the Bluff and Longleaf Campgrounds require hiking from your vehicle to the tent spot. Bluff Campground is about 100 yards from the parking area while Longleaf is about 1-mile. Reservations must be made ahead of time online here.
Backcountry camping is available with a free permit. Backcounty camping MUST take place 100 yards beyond the edge of Cedar Creek. Backcounty is considered the land opposite of the Harry Hampton Visitor Center, across Cedar Creek. Backcountry camping can take place either by foot or paddle.
If planning to kayak or canoe through Congaree National Park make sure to check the creek's water gauge before heading out. During the spring months and after heavy rains the creek can flood causing fast currents and covering some navigation signs. Visitors can check with Harry Hampton Visitor Center for current conditions or online here.
Getting to Congaree National Park
The closest airport to Congaree National Park is Columbia Metropolitan Airport (CAE), located about 0.5 hours from the park. There are other major airports within a few hours drive from the park; Charleston International Airport (CHS) is the next closest at 1.5 hours, followed by Savannah Hilton Head International Airport (SAV) at 2 hours, finally, Hartsfield-Jackson Atlanta International Airport (ATL) is 3.5 hours away.
Congaree National Park is located about 20 miles southeast of Columbia, South Carolina along SC48 (Bluff Road) followed by Old Bluff Road.
There is no public transportation within Congaree National Park and cell phone reception is spotty to call for public transportation services. While there is no transportation to the park, there are public transport options to the nearby city of Columbia. One popular option is to take the bus from NYC to Columbia, then rent a car.
Estimated drive time to Congaree National Park from major cities
Columbia, South Carolina – 0.5 hours
Augusta, Georgia – 1.5 hours
Charleston, South Carolina – 2 hours
Charlotte, North Carolina – 2 hours
Greenville, South Carolina – 2 hours
Savannah, Georgia – 2.5 hours
Atlanta, Georgia – 3.5 hours
Jacksonville, Florida – 4 hours
Richmond, Virginia – 5.5 hours
Nashville, Tennessee – 7 hours
Louisville, Kentucky – 8 hours
Estimated drive time to Congaree National Park from nearby National Parks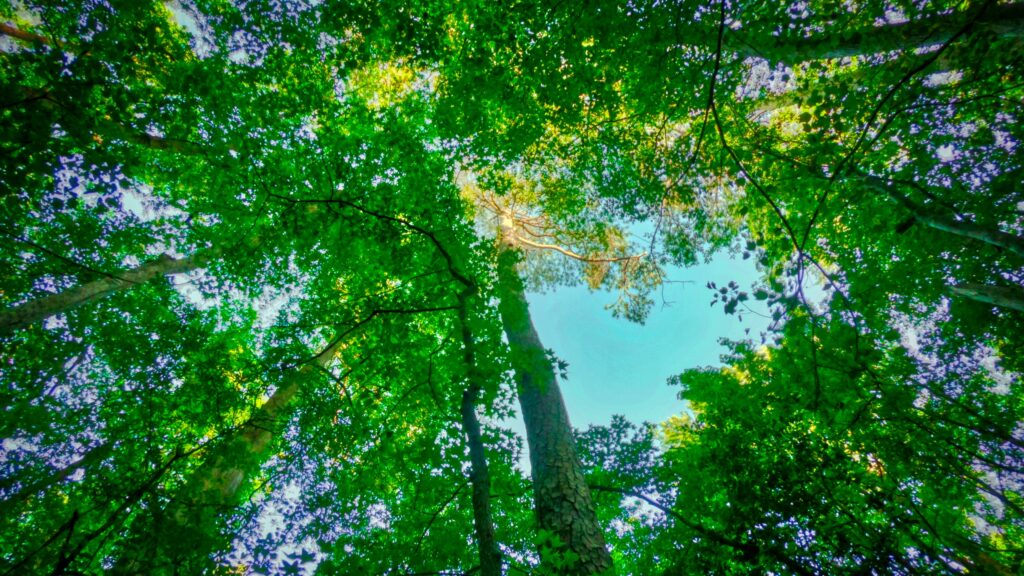 Where to Stay in Congaree National Park?
Hyatt Place Columbia / Downtown / The Vista: Hyatt Place is a spacious modern hotel. This hotel offers city and river views along with a indoor saltwater pool.
Country Inn & Suites by Radisson, Orangeburg, SC: The Country Inn & Suites is a modern hotel located near Congaree. This hotel offers free WiFi along with free parking.
TownePlace Suites Columbia Southeast/Fort Jackson: TownePlace Suites offers suites rooms that come with small kitchens.
What to pack for a visit to Congaree National Park?
National Park Passport – The National Park Passport Book is the cheapest and best souvenir of your national park adventures. This book makes it easy to collect the National Park Cancellation Stamps. The cancellation stamps have the date of your visit and make it easy to track when you visited each national park service unit.
Refillable Water Bottles – Do your part to reduce litter in our parks by bringing a refillable water bottle with you. A reusable and refillable water bottle can save you a lot of money and really help the environment. Here are my favorite water bottles
Hydration Bladder – If you are hiking longer distances, a hydration bladder is the best way to hike with significant quantities of water. It is a rare hike when I don't bring a full bladder with me.
Snacks – There are limited services in the park. So pick up all your snacks before you go. Pack a couple of different options so you are prepared for any craving.

Fruit: Pick hard fruits such as apples or pears. These hold-up in the heat and in packs without getting squished to mush. Another option is freeze-dried fruit. Freeze-dried strawberries are the BOMB. They are crunchy, sweet and the best part is they are lightweight and yummy. These are my new favorite trail snack.
Vegetables: Cucumbers and carrots hold up well during hiking and in a hot car.
Granola Bars: Take your favorite non-coated in chocolate granola bars. Anything coated in chocolate will melt and be a sticky mess. My favorite is a selection of Cliff Bars. They are great even when squished.
Sunscreen – You don't want to get burned on your visit.
Lip balm – Your lips need just as much sun protection as your skin does.
Sunglasses – Similar to sunscreen, you need a good pair of polarized sunglasses to protect your eyes from the glare of the sun.
Hat – Hats are another sun protection device. A hat can keep the sun off your face and neck and help minimize the need for sunscreen while on the trail.
First aid kit – As with any outdoor adventure, accidents happen. It is better to be prepared and have a compact first-aid kit ready to help with any accidents.
Headlamp – Always keep a headlamp handy. You never know when you might want it. It can be used for midnight bathroom runs to sunrise/sunset hikes. A good headlamp makes it easy to operate in the dark.
Shoes – Shoes are probably the most important piece of gear to any hiker. Hiking shoes should be seen as an investment. On the trail, your feet are your transportation and a solid pair of hiking shoes help support your feet and can prevent injury.
Hiking Day Pack – A good day pack is the best way to transport all your gear when hiking. I highly recommend getting a backpack that is designed for outdoor use. These packs come with handy pockets and straps. My 40 L day pack has a pocket for my water bladder and a clip to hold the water line in place.
National Park Obsessed Shirt – Share your love of the National Parks and support National Park Obsessed with a National Park Obsessed T-Shirt.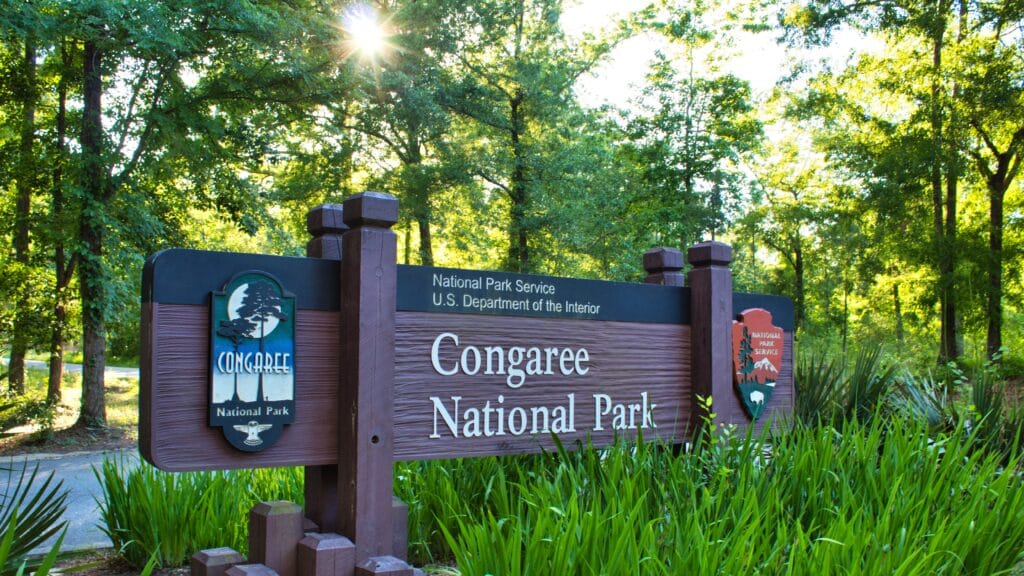 7 Things to do in Congaree National Park
Boardwalk Loop Trail
The Boardwalk Trail is the first trail after passing though the Harry Hampton Visitors Center. The 2.4-mile loop ventures though an old-growth bottomland hard forest. The loop begins as a high boardwalk and later transitions into a low boardwalk before returning back to the visitors center. Before leaving the visitors center make sure to pickup a self-guided tour brochure as there are numbered plaques along the way to explain the ecosystem. The loop will take visitors to some of the largest trees still alive in the area. The boardwalk trail is a perfect location to spot pileated woodpeckers, owls, and other native birds. The boardwalk loop is assessable to both wheelchairs and strollers, there are benches along the way.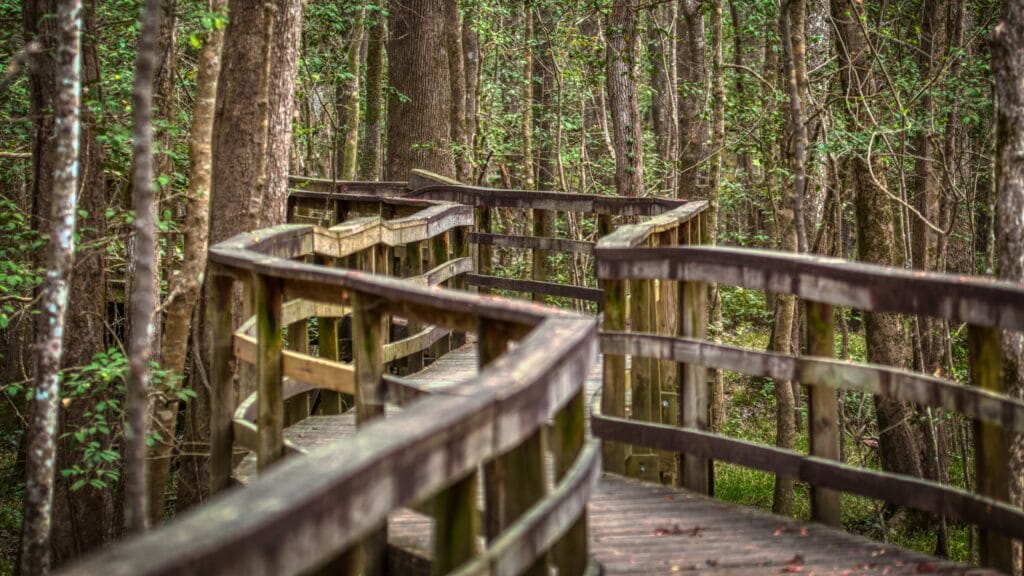 Weston Lake Loop Trail
The Weston Lake Trail is a spur loop located off the Boardwalk Trail. The 4.4-mile loop begins at Weston Lake and continues along Cedar Creek before returning back at the boardwalk. 1.5-miles before reaching the boardwalk, there is a major trail intersection at Wise Lake. From the Wise Lake junction there are other trails leading further into the park or visitors can continue the 1.5-miles back to the Boardwalk Trail. Weston Lake is one the best places in the park to view otters and other wading birds. During the spring and after long rains the trail can be muddy as it travels through the floodplain to Cedar Creek.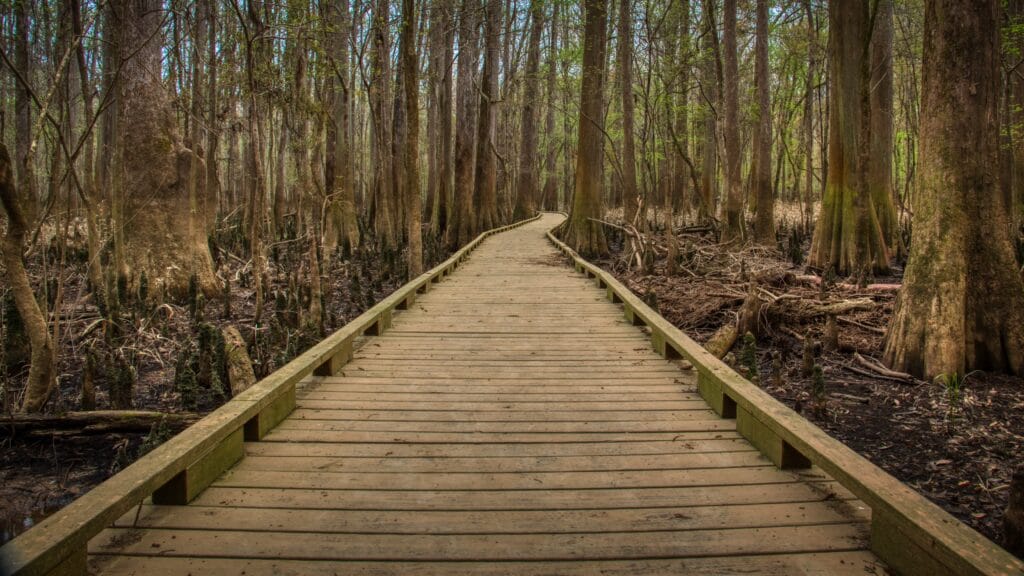 River Trail
The River trail is one of the longest trails in the park and the only trail that goes to the Congaree River. The 10.4-mile round trip trail begins at the Wise Lake junction and gives the full tour of the park through the flood plain. The river trail is secluded as most visitors tend to stick to the boardwalk trail and paddling Cedar Creek. It is common to see many local birds while hiking though the floodplain towards the Congaree River.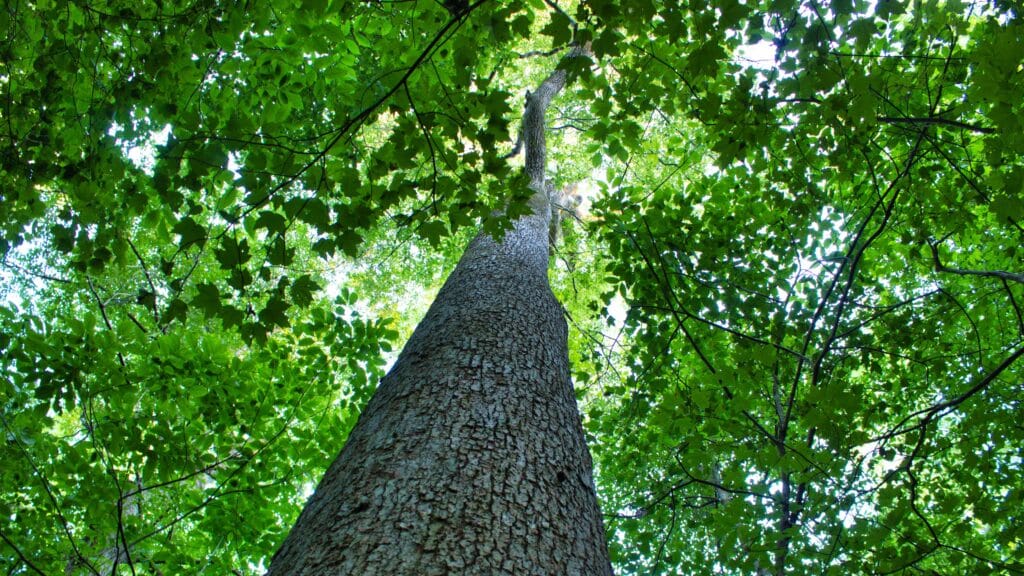 Kingsnake Trail
The Kingsnake trail is the longest trail in the park. The 11.7-mile round trip trail begins at South Cedar Creek Landing and follows Cedar Creek. The trailhead is located beyond the visitors center and other main park trails. Visitors with more than one vehicle can leave one at the Harry Hampton Visitors Center and South Cedar Creek Landing and make longer trip though the park instead of backtracking. The trail ends at along the Weston Lake Trail and visitors can either continue further in to the park or backtrack to the parking area at South Cedar Creek. The Kingsnake trail is popular among birdwatchers and wildlife photographers due to the proximity of the trail to Cedar Creek.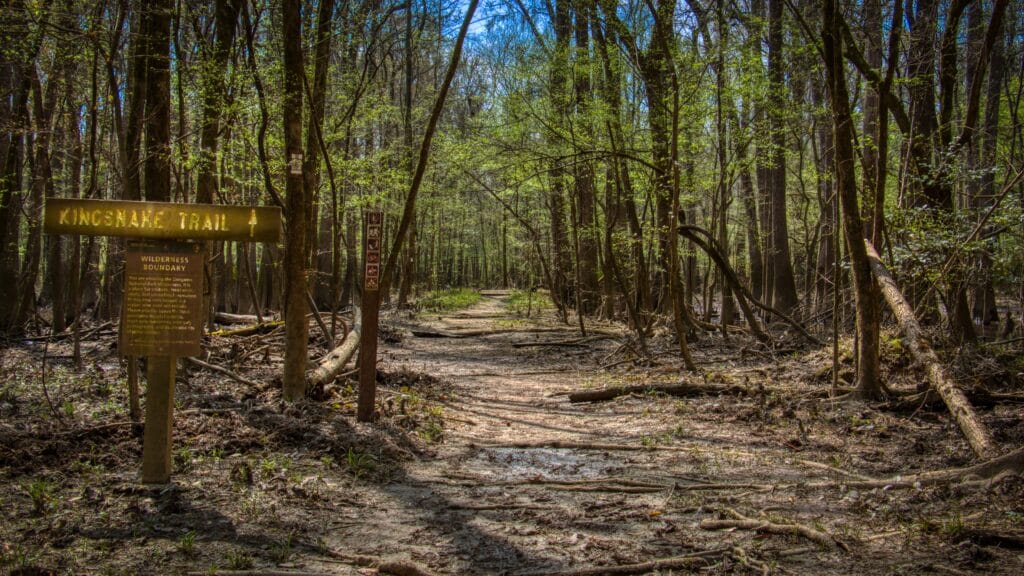 South Cedar Creek Landing Paddle
Paddling around South Cedar Creek Landing is the perfect float trip for visitors with access to only one vehicle. Visitors can either paddle up or downstream exploring the ecosystems beneath the large bald cypress canopy. Visitors who venture downstream are treated with Dawson Lake; a popular place to fish, view local birds, and the occasional river otter. Paddling distance and time vary with each visitor's destination and time frame. Before planning a float trip make sure to check the river level, after long rains or during the spring season the creek will flood. During flooding conditions some river markers are hard to locate and the creek current becomes swift.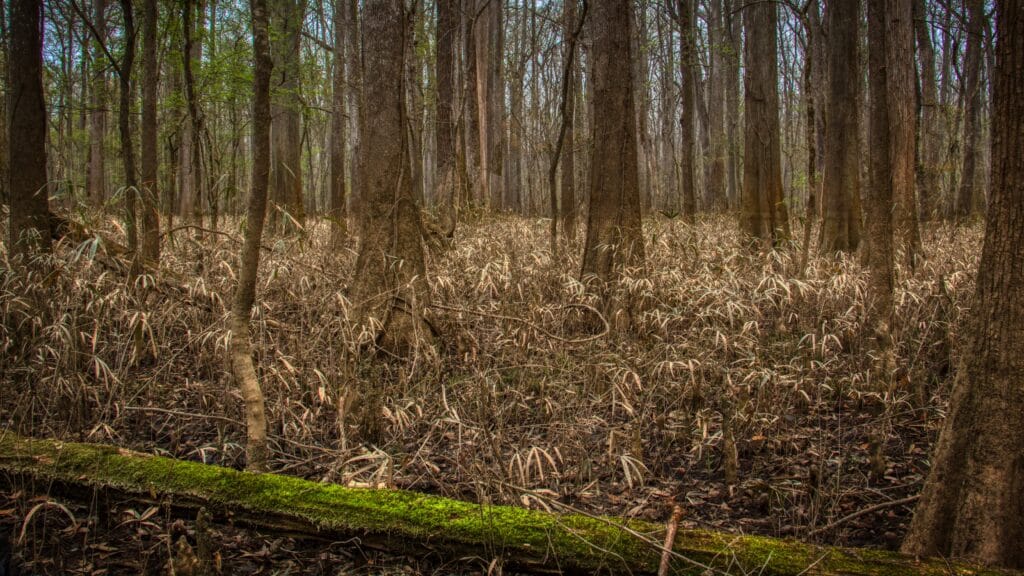 Bannister's Bridge to South Cedar Creek Landing Paddle
Paddling from Bannister's Bridge to South Cedar Creek Landing provides the full waterway tour of Congaree National Park. The trail is about 6.2-miles and the average paddler completes the trip in 4-6 hours. The paddle begins at the top of the park boundary on a very narrow section of the creek and slowly begins to widen as you venture through the park. Along the creek visitors will spot record size Chestnut Oaks and Loblolly Pines. Fallen logs along the creek banks are perfect locations to spot turtles and snakes basking in the sun. Before planning a float trip make sure to check the river level, after long rains or during the spring season the creek will flood. During flooding conditions some river markers are hard to locate and the creek current becomes swift.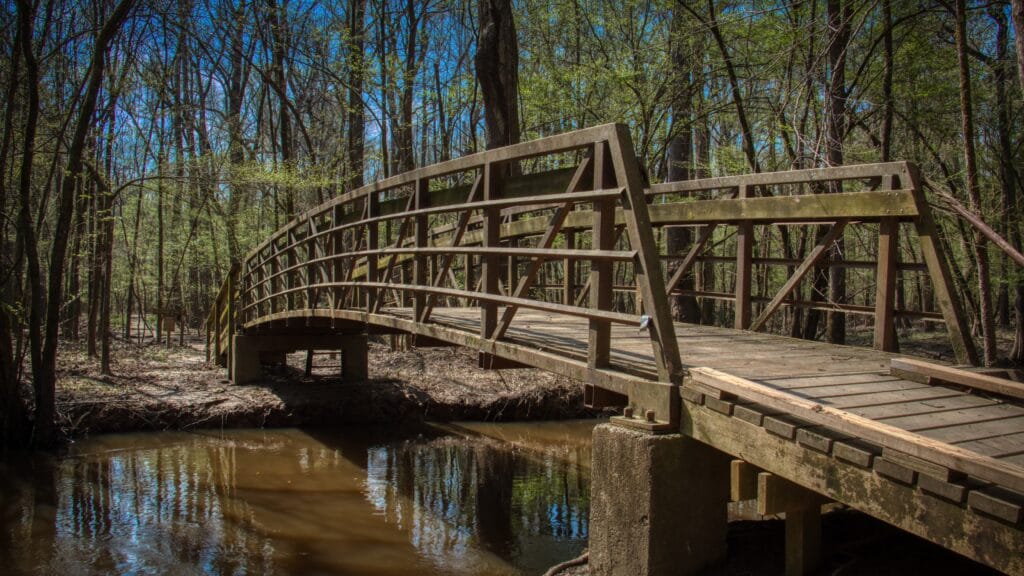 See the Synchronous Fireflies
Congaree National Park is the only location except Great Smoky Mountains National Park where visitors can watch the Synchronous Fireflies. The fireflies put on their show from late May to early June each year and park visitation spikes during this event. Due to demand the park limits the number of visitors each night, ticket information is typically release on the park website in early April. The flashing of the fireflies does not occur all at once, but rather in waves through the floodplain. The synchronization only occurs during mating season for the fireflies. No one is quite sure why the fireflies flash in unison, but it's a once in a life time event to experience.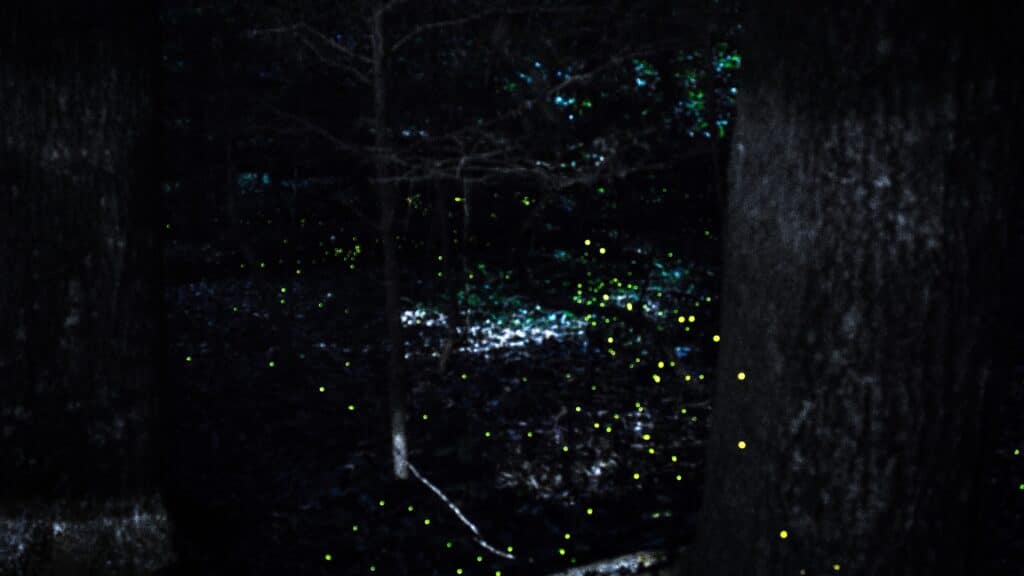 Get help planning your trip to Congaree National Park