I don't know about you., but I'm missing the national parks. I miss the hiking, the scenic drive, the sounds, and the smells. I am going stir crazy at home and looking for creative ways to get my National Park fix without leaving the house. I was talking with a good friend and she misses heading out to the local bars and trying new cocktails. Then it hit me, cocktails inspired by plants that grow in the national parks. I found a collection of amazing cocktails with ingredients native to our National Parks. Here are 11 National Park Inspired Cocktails to help get you through this trying time.
Help support this site by purchasing one of our National Park Shirts, Poster, and other gear. Every purchase includes a donation to the national parks and helps keep National Park Obsessed's website free to use and producing more national park guides.
Looking for more help planning your next adventure? Join the National Park Obsessed Facebook Group here to connect other national park lovers, trade advice, or see inspiring photos of the National Parks?
This post may contain affiliate links, meaning if you book or buy something through one of these links, I may earn a small commission at no extra cost to you! Read the full disclosure policy here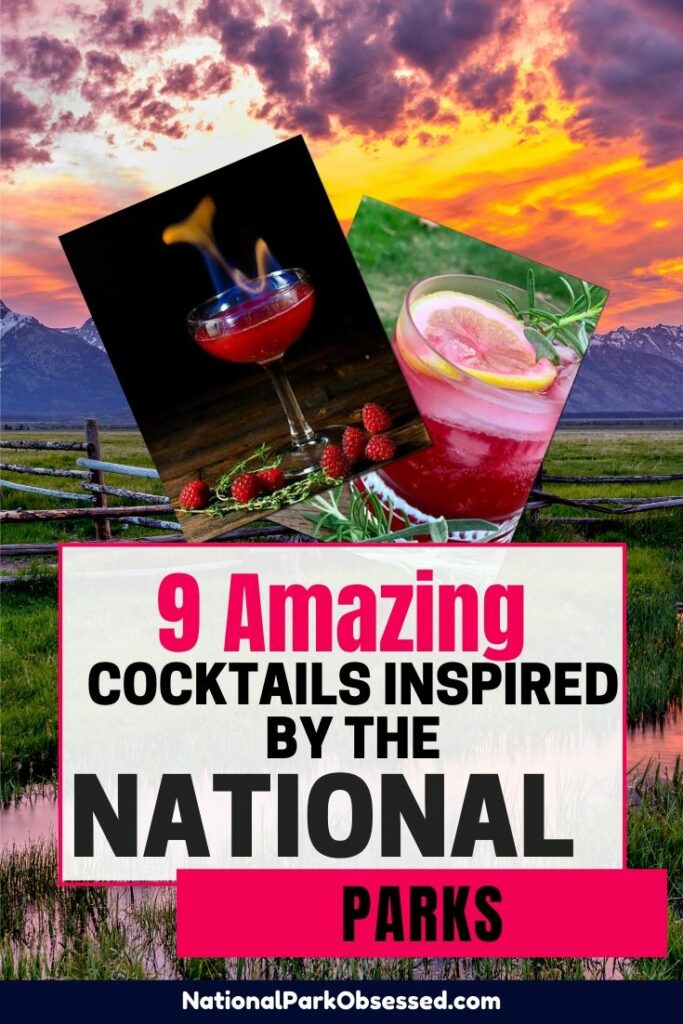 Blackberry – Great Smoky Mountains National Park
Blackberries are my absolute favorite berry. There is nothing better than a late summer blackberry picked from my favorite blackberry patch. (I'd share the location but it's not in the Smokies, it's at the National Park Obsessed Office aka my house).
Blackberries can be found in several national parks including Great Smoky Mountains, Shenandoah, and Olympic National Parks.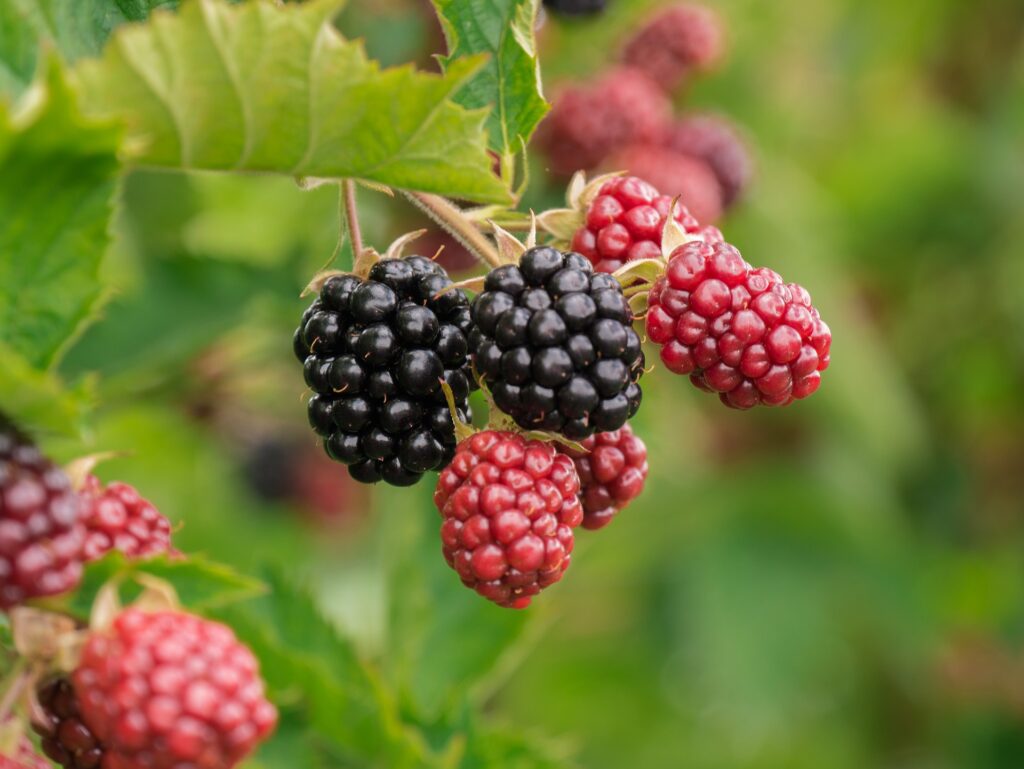 Blackberry Caipiroska
The Blackberry Caiprioska is a twist on the Brizillian Caipirinha cocktail. This cocktail is sort of a cross between the Caipirnah and Bramble but is made with vodka. This refreshing summer drink has muddled limes and blackberry mixed with sugar and vodka.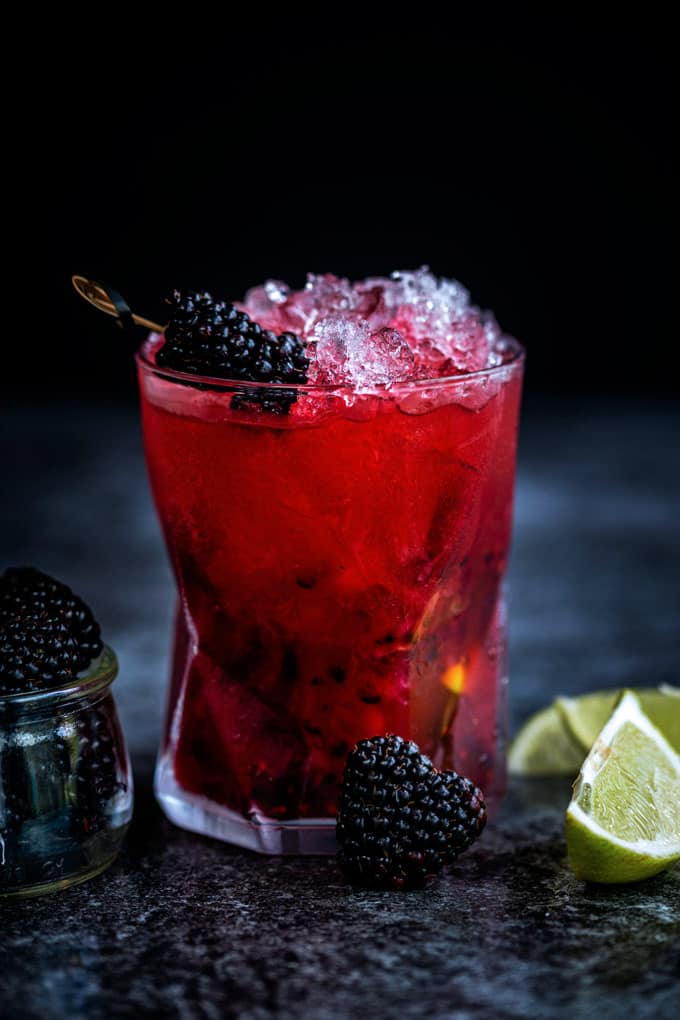 Blueberry – Acadia National Park
Blueberries are found in many national parks from Acadia to the Smokies to Denali. I have picked blueberries in many a park. They are my second favorite trailside berry snack. These blue/purple berries are just the right mix of sweet and acidic.
Acadia National Park is the best park for blueberries because they are commonly found in the park and while black bears can be found in the park they aren't common so you can pick berries with minimal worry that you are sharing your berry patch with a bear.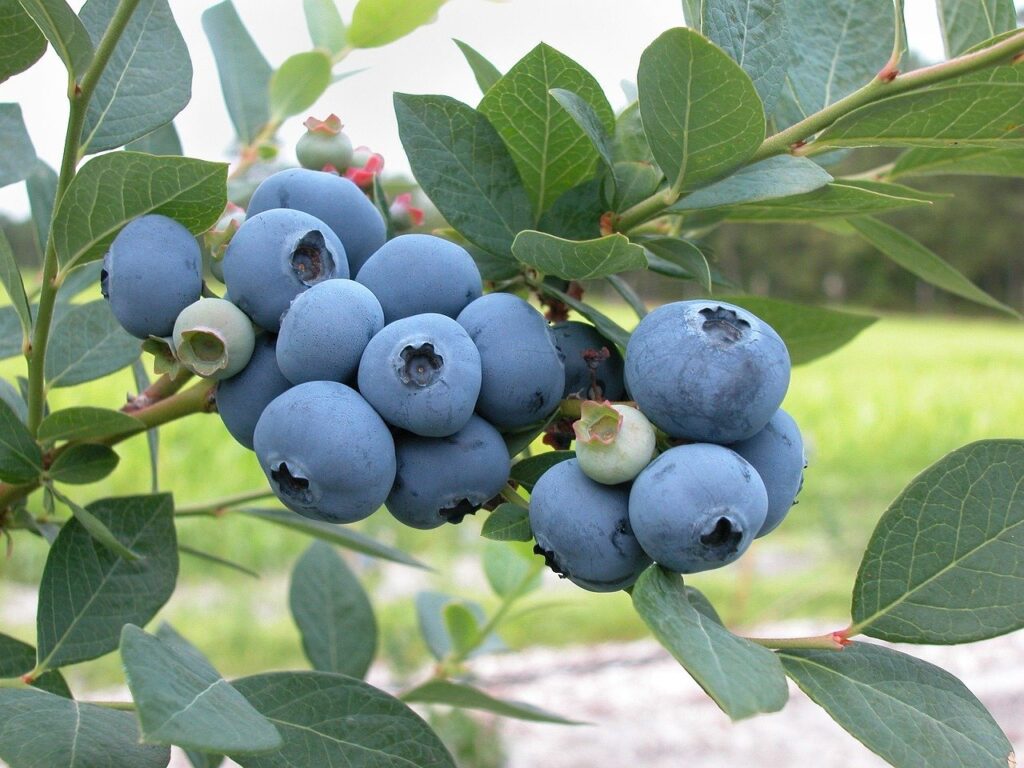 Bourbon Blueberry Tonic Cocktail
Blueberries and a mint are an amazing combo adding bourbon to the mix makes it even better. This cocktail recipe comes from Valerie of Mamma Likes to Cook. It has muddled blueberries and mint leaves with a splash of lime and tonic water mixed with your favorite craft bourbon.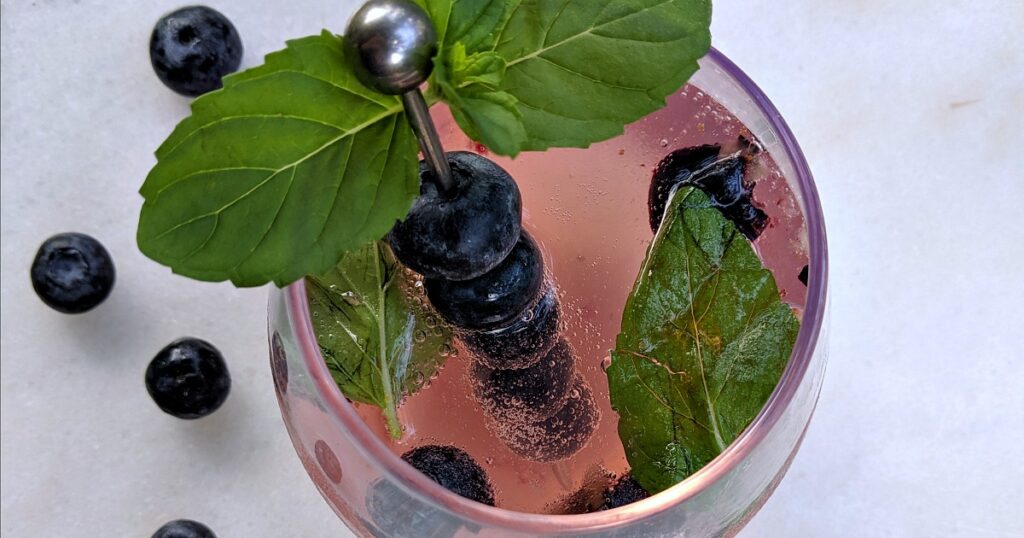 Get help planning your trip to Acadia National Park:
Currants – Rocky Mountain National Park
During the late summer and early fall, an aromatic and spicy scent envelopes many different trails in Rocky Mountain National Park. This spicy scent is the Wax Currant (sometimes called the Squaw Currant). These small red berries are sweet and juicy.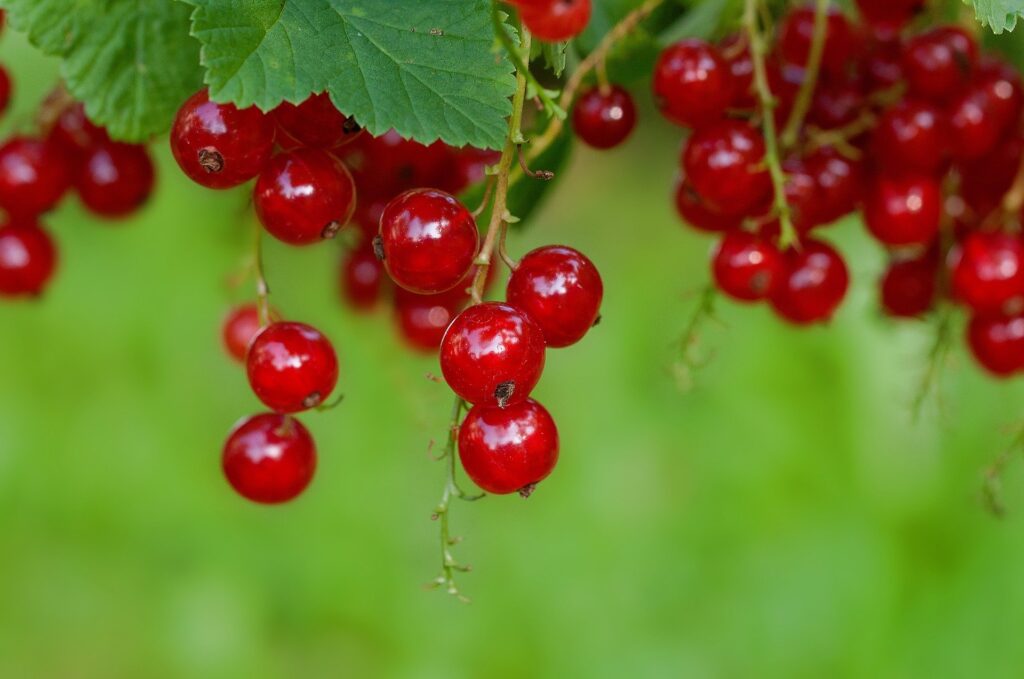 Red Currant Mojito
The Red Currant Mojito takes the traditional mojito and adds a nice tart zing of red currants to make my favorite mint cocktail to the next level. Plus this cocktail has a gorgeous red color.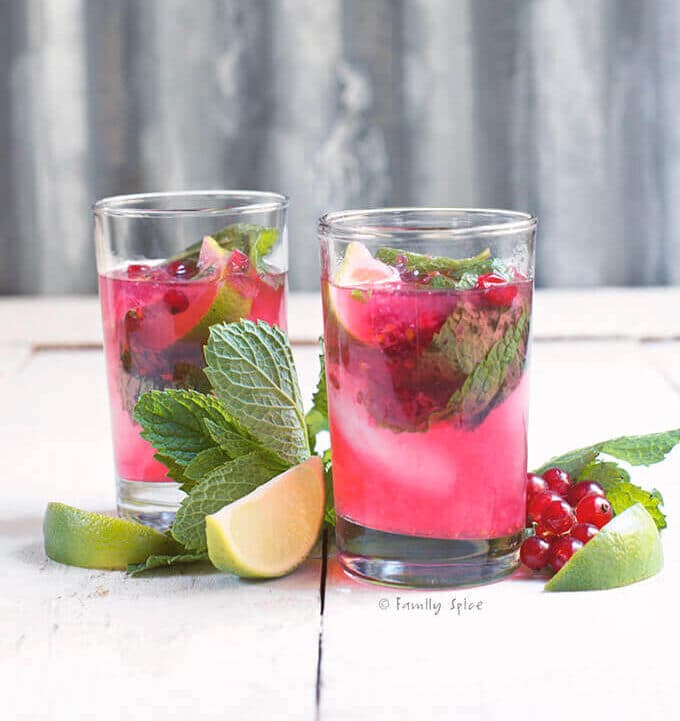 Get help planning your trip to Rocky Mountain National Park
Elderberry – Yosemite National Park
Elderberries are found at the lower elevations of Yosemite Valley. From May to June the plant's white flower speckle the valley. In the late summer, the birds and other wildlife feasts on the elderberries. The elderberries look like a peppercorn and are bursting with juice. Native Americans made great use of the elder plant. They used the berries for food and other parts of the plant were used in traditional medical remedies.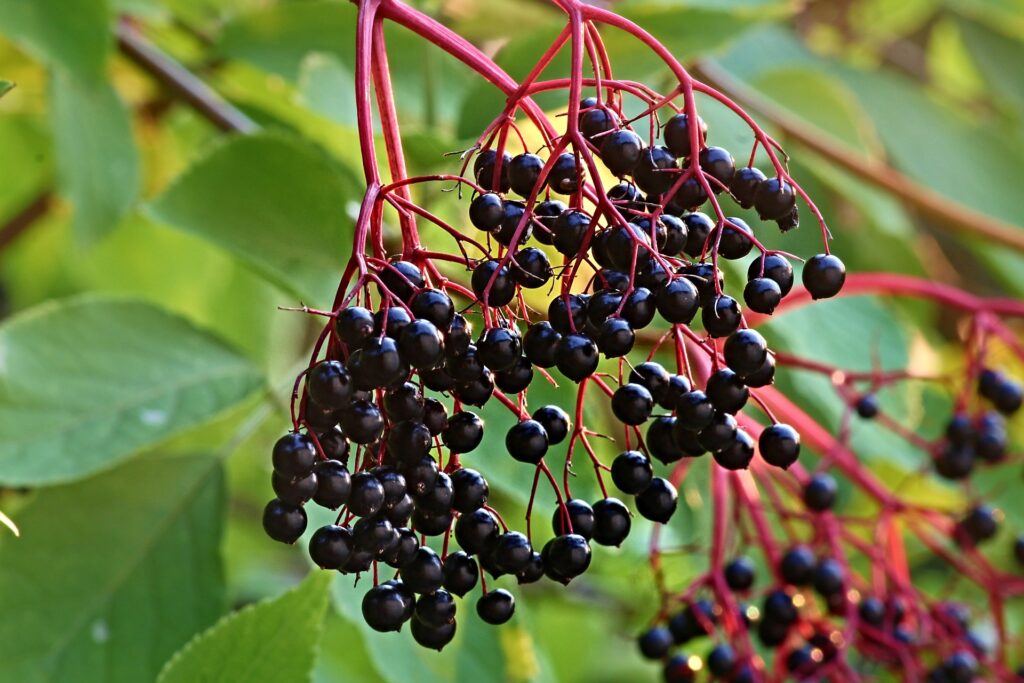 Elderberry Cocktail
The Elderberry Cocktail is a simple but invigorating cocktail that one can drink without guilt. Elderberries are considered by many to be an immune-boosting food**. Plus this drink has a fun reddish-pink color.
** There is limited medical research into the effectiveness as immune booster. Please consult your doctor before consuming large quantities of elderberries.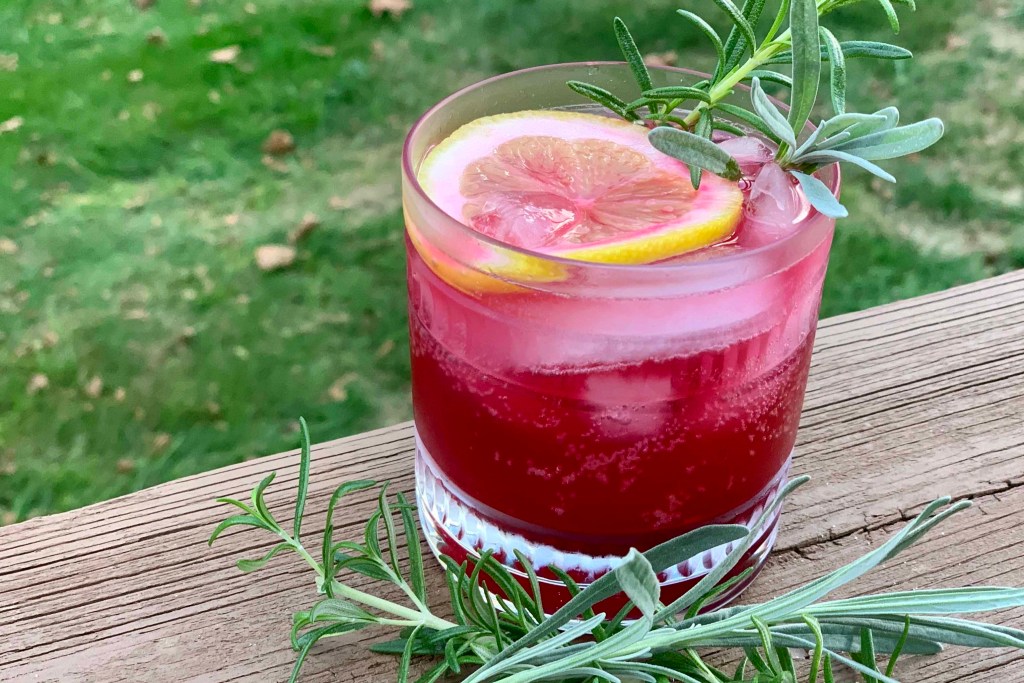 Get help planning your trip to Yosemite National Park
Huckleberry – Glacier National Park
Huckleberries are like the food of the god in the Western United States. I might be more than a little obsessed with huckleberries. I try to stock up on Huckleberry syrup when I can so I always have huckleberry syrup.
Huckleberry is used to refer to several different plants from the Ericaceae family that produce a small berry that ranges in color from red to blue to black. The plants can be found all across the US but the best huckleberries come from the Mountain and Cascade huckleberries that grow in the mid-alpine regions of many national parks such as Glacier, Mount Rainier and North Cascades.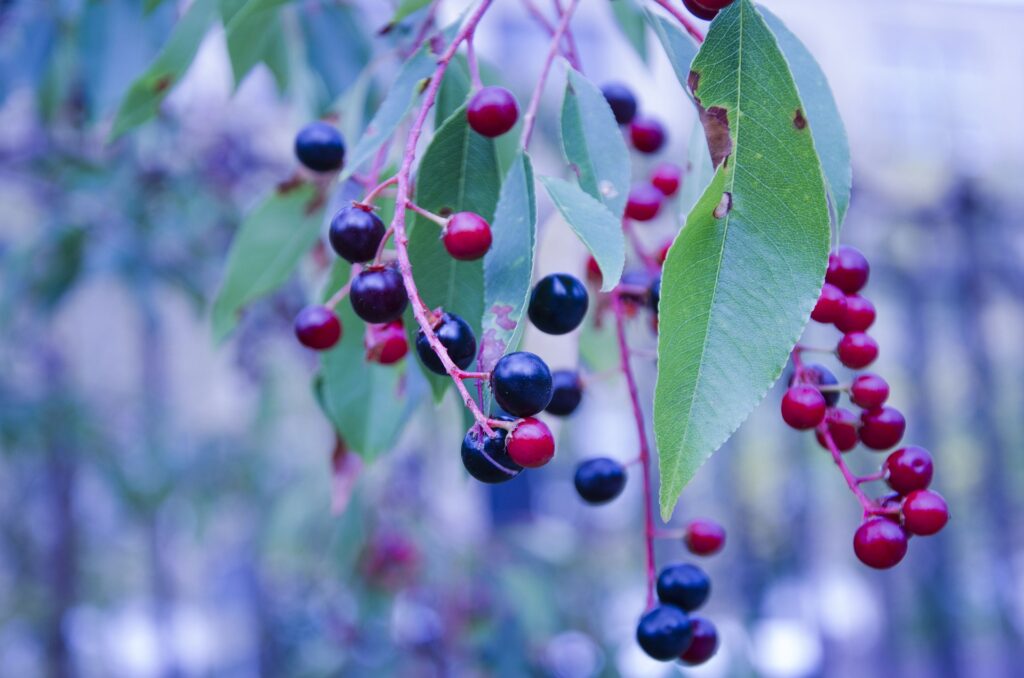 Huckleberry Lemonade Cocktail
This lemonade based cocktail is full of huckleberry flavors is made with huckleberry lemonade and huckleberry jam and add in some western flair with a Idaho potato vodka (or when I tired this out a nice Icelandic vodka).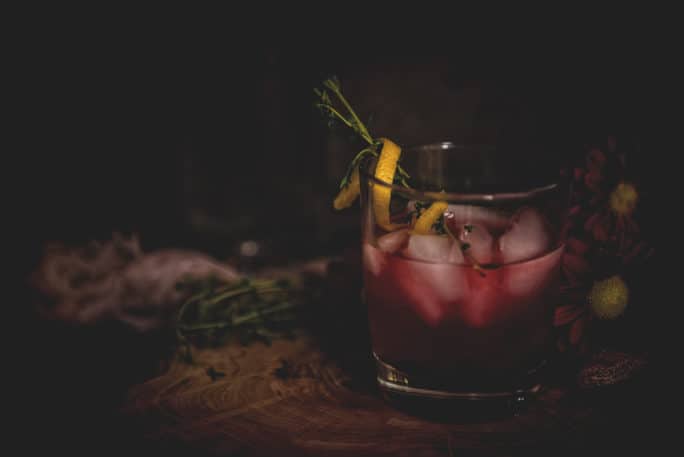 Get help planning your trip to Glacier National Park
Lingonberry – Denali National Park
Lingonberries are the berry of the boreal forest and Arctic tundra. This berry grows on a short evergreen shrub and is found in most of the Alaska National Parks including Denali. The berries are best during the fall and grow sweeter as winter progresses.
The berries are similar to cranberries and can be used as a nice tart addition to many dishes. Lingonberries can be used in both sweet and savory dishes.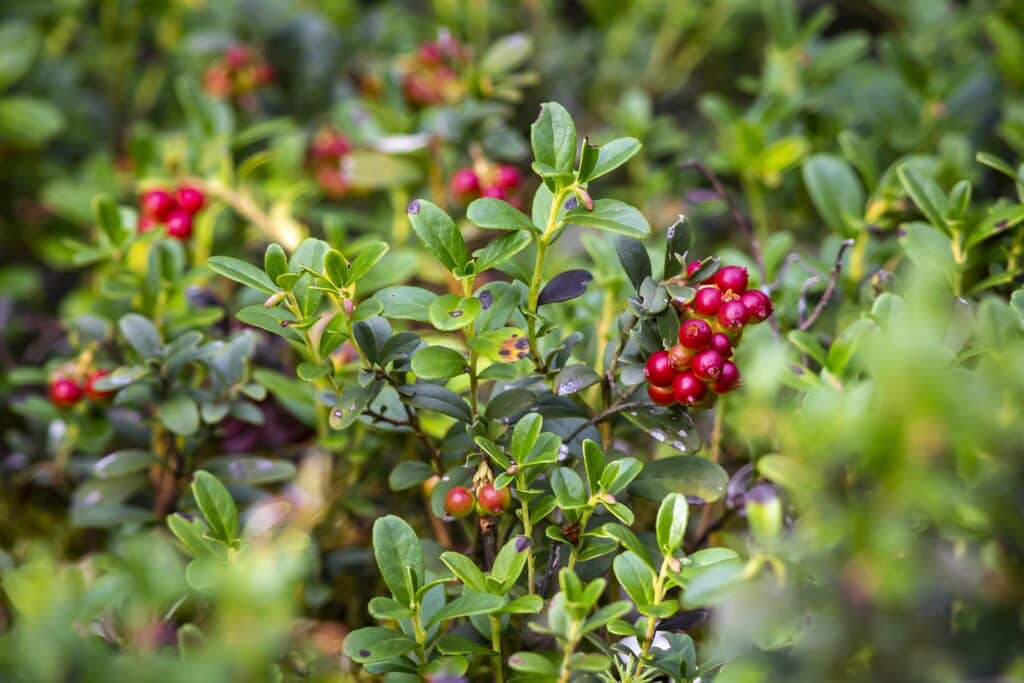 Lingonberry Aperol Spritz
Lingonberry Aperol Spritz is a twist on the classic Aperol Spritz. It makes use of Lingonberry syrup with a orange bitter and prosecco.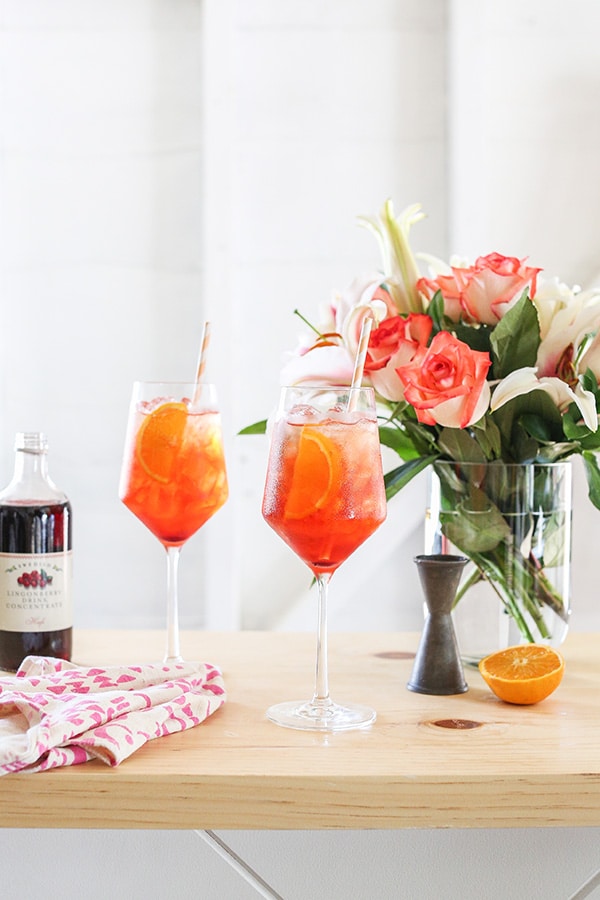 Get help planning your trip to Denali National Park
Ponderosa Pine – Bryce Canyon National Park
The Ponderosa Pine is one of my favorite trees. It isn't uncommon to see new park visitors standing by these trees and sniffing the bark. They are checking out for themselves that the tree smells like butterscotch with a hint of vanilla. Visitors are surprised to learn that it is true and not a joke designed to make people smell tree bark.
This large coniferous pine is found across the western United States and in many western parks such as Grand Canyon, Bryce, Rocky Mountain, Crater Lake and many more.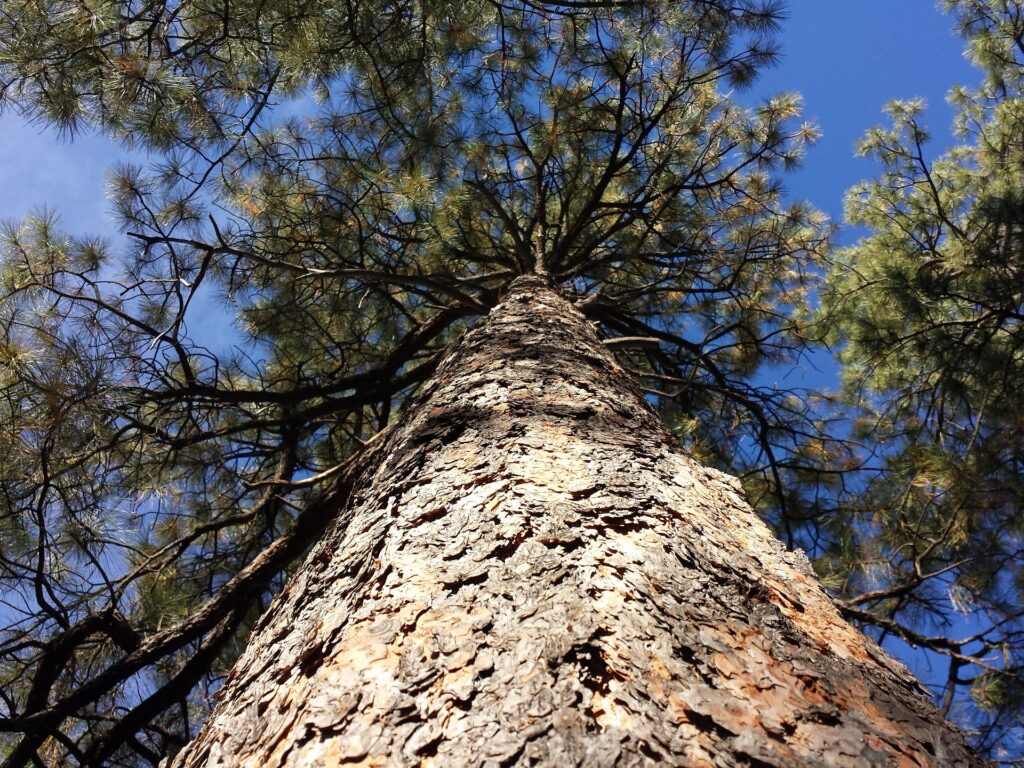 Butterscotch Martini
The Butterscotch Martini is as fun to drink as a Pondorasa Pine smells. This drink is the perfect mix of vanilla and butterscotch in one delightful cocktail.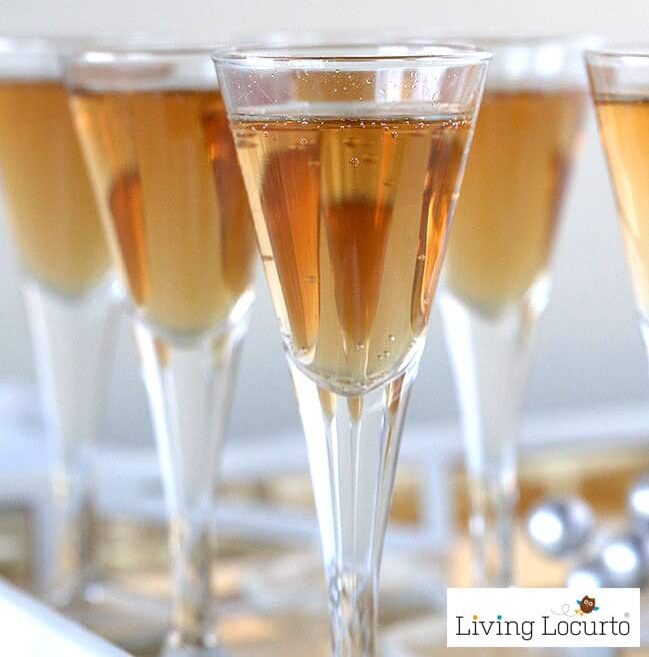 Get help planning your trip to Bryce Canyon National Park.
Prickly Pear – Saguaro Mountains National Park
Prickly Pear cactus is an edible cactus found in the Southwest. The cactus is trunk-forming segmented cactus. It has rounded flat cladodes with large, smooth, fixed spines and small, hairlike prickles. The plant produces a bright pink fruit.
The prickly pear cactus is a common cactus that is found throughout the National Park Service units of the Southwest including Saguaro, Big Bend and Grand Canyon National Park.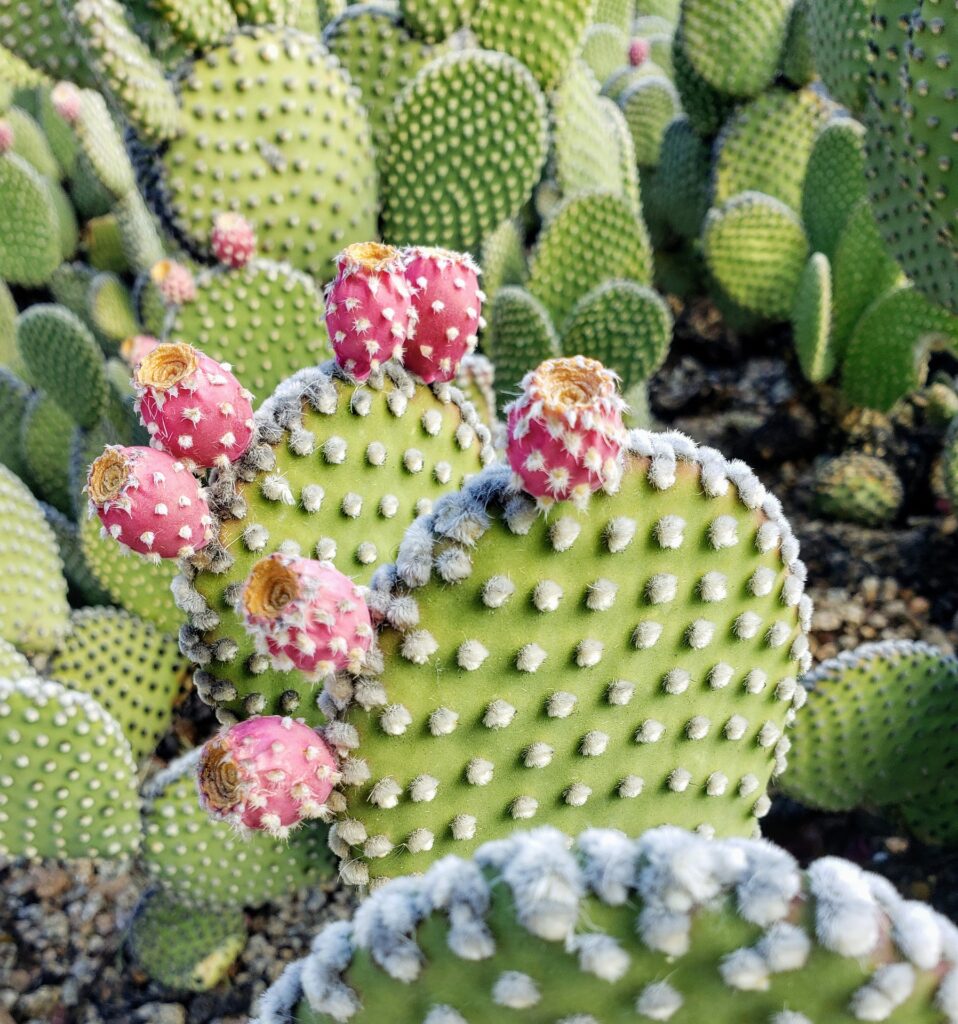 Prickly Pear Margarita
The Prickly Pear Margarita is an amazingly pink cocktail. This cocktail is a twist the tradition margarita and uses a bright pink prickly pear syrup to give this cocktail and subtle watermelon/ bubble gum flavor.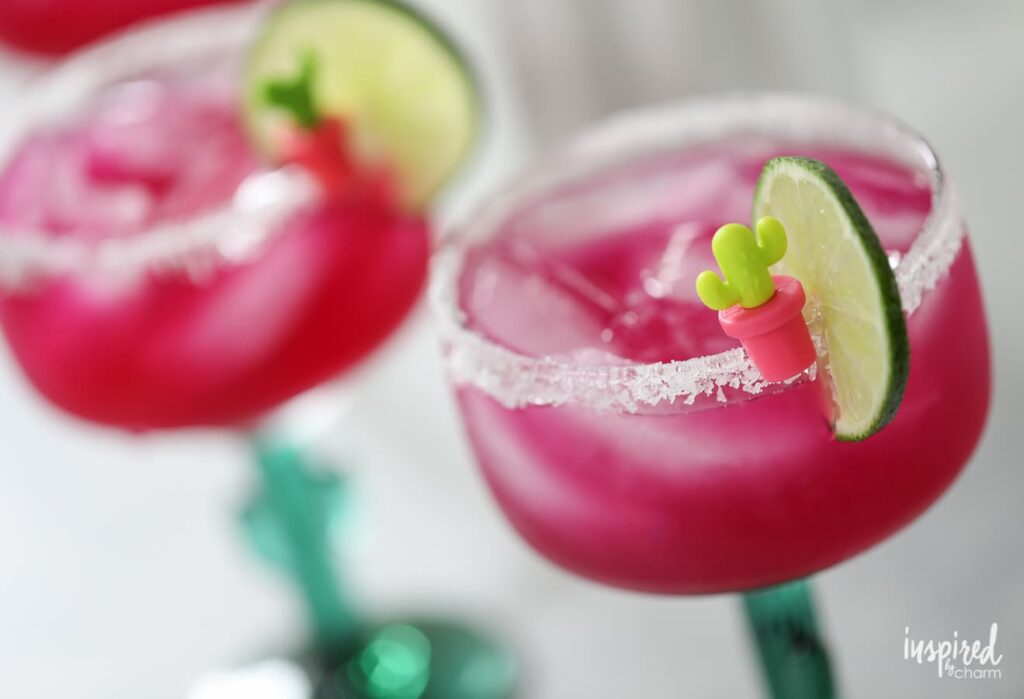 Get help planning your trip to Saguaro National Park
Thimbleberry (Raspberry) – Isle Royale National Park
Thimbleberry is a unique raspberry-like berry that grows in the Rocky Mountains and Great Lake Region. I have only seen them in Isle Royale National Park. They are a sweet but tart berry that is very similar to raspberries. When you pick the berry it is hollow inside and easily falls apart. Due to their soft nature, Thimbleberries are not commercially produced but raspberries are.
Raspberries can be found in national parks across the United States and in parks such as Great Smoky Mountains and Denali.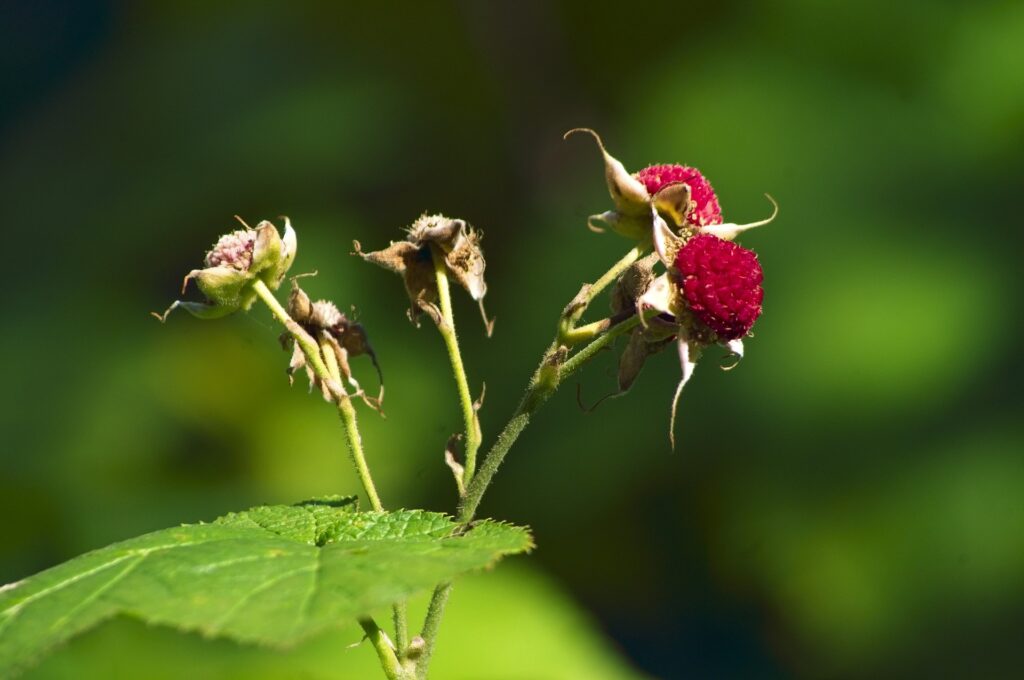 Thyme and Raspberry Daiquiri Cocktail
The Thyme and Raspberry Daiquiri Cocktail makes interesting use of the tart flavor of raspberries with subtle earthy flavor of thyme. It then adds a a bit of flame for fun.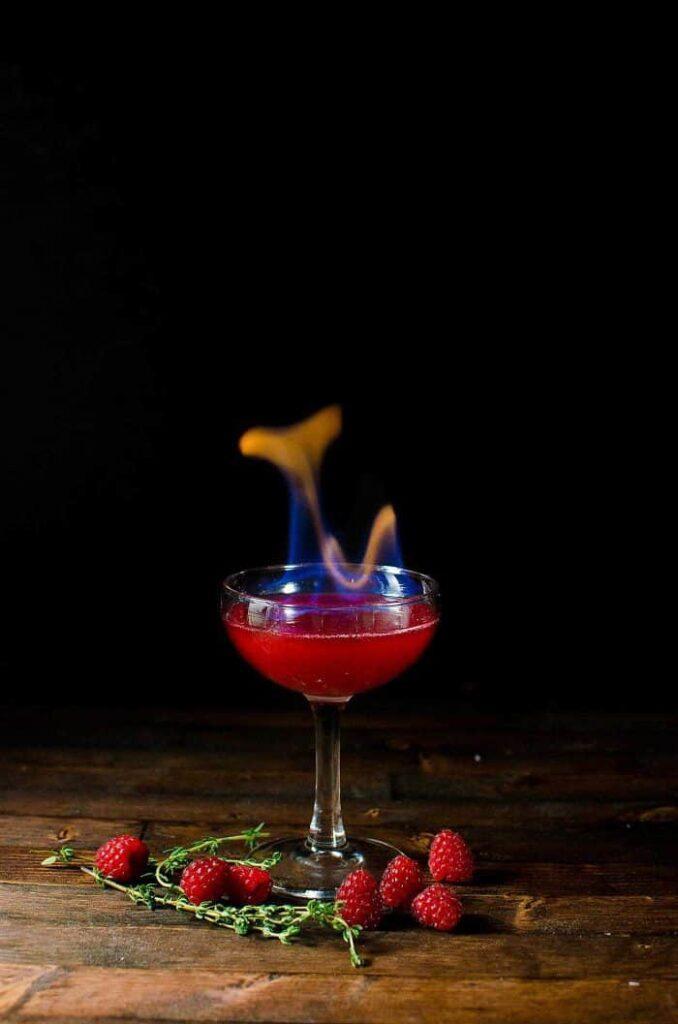 Get help planning your trip to Isle Royale National Park: