Post Summary: Things to Do in Channel Islands
Planning a trip to Channel Islands National Park can be a daunting task since it's not as easy as getting in your car and start driving then figuring out as you go. This park encompasses five remarkable islands – Anacapa, Santa Cruz, Santa Rosa, San Miguel, and Santa Barbara islands. The park protects their ocean environment, preserving and protecting a wealth of natural and cultural resources. Here are 14 things not to miss on your first visit to Channel Islands National Park.
This post may contain affiliate links, meaning if you book or buy something through one of these links, I may earn a small commission at no extra cost to you! Read the full disclosure policy here
Getting to Channel Islands National Park
Channel Islands National Park can only be reached by boat.** The ferries are provided by Island Packers. They offer departures from the Oxnard harbor and the Ventura harbors. Ventura and Oxnard harbors are about 20 mins. apart. The boat rides ranged from 1 hour to 5 hours depending on the island destination.
There is NO transportation directly between islands unless you have your own boat.
** The islands of Santa Rosa and San Miguel can be reached by charter flight.
The closest major airport to Oxnard and Ventura harbors is the Los Angeles International Airport (LAX). It is located about an hour away from the harbor in Oxnard.
Estimated Drive time to Oxnard Harbor
Estimated Drive time to Oxnard Harbor to nearby National Parks
Things to Know before you go Channel Islands, National Park
The Visitor Center for Channel Islands National Park is located in Ventura, California by the harbor.
There are five islands that makeup Channel Island National Park. The only way to access the islands is via ferry. The islands of Santa Rosa and San Miguel can be reached via Channel Island Aviation charter flights. There are no public piers in the park. Ferry service is provided by Island Packers. The two most popular islands are Anacapa and Santa Cruz. Ferries leave from Ventura harbor and Oxnard harbor.

Anacapa Island – Ferries offered daily – Year-round
Santa Cruz Islands – Ferries offered daily – Year-round
Santa Rosa Island – Limited ferries offerings – March to November

Santa Barabra Island – Currently not offered due to damage to the pier.

San Miguel Island – Limited Friday and Monday ferries – July to September

Channel Island day trips are only feasible for Anacapa and Santa Cruz. The ferry ride is between 1-1.5 hours long. The other islands can take upwards of 2 to 3 hours.
During the winter and whale watching season, Anacapa Island ferry landings are limited and it may be a cliff landing rather than a beach landing.
Another season to consider is the bird season in Anacapa Island. Seabirds are probably the most conspicuous wildlife here. Thousands of birds use Anacapa as a nesting area because of the relative lack of predators on the island. Western gulls begin their nesting efforts at the end of April, sometimes making their shallow nests just inches from island trails. Fluffy chicks hatch in May and June and fly away from the nest in July. Yes, it does get really loud out there during this peak bird season!
Camping on the Channel Islands is limited to the designated campgrounds. If camping on the island, make your ferry reservations FIRST then book your campsite. Campsites must be reserved before your arrival. There is NO first-come-first-serve camping.
There are no services on the islands. Please pack accordingly. Bring all food, snacks, sunscreen, and water with you. Save the park money and protect the wildlife by packing out all trash.
The Channel Islands are a closed ecosystem. Please be sure you are not packing any pests such as plant seeds with you. Pack out any biological trash.
Day Trip to Channel Islands or Camping in Channel Islands?
There is no easy answer to this question. It really depends on what you want to do, how much time you have, which island you want to visit and what you can get reservations for.
If you have the time and desire to camp, there are campsites on all five islands. Each island has its own set of challenges. If you are new to camping in the Channel Islands, we suggest camping at Scorpion Ranch on Santa Cruz Island. Scorpion Ranch has fresh water, a protected campground, and daily visits by the ferry so you can stay any length of time. Anacapa is another good choice for first-time campers but this small island doesn't have a lot of activities and doesn't have any shade or wind protection. All the other islands have limited ferry service so you need to plan on spending at least 3-5 days if visiting the other islands.
Of the five islands, day trips are only really recommended for Anacapa and Santa Cruz Islands. Day trips to Santa Rosa, Santa Barbara, and San Miguel but due to the increased travel time to these islands exploration time on the islands is limited. There is a new tour that hits
Where to Stay in Channel Islands National Park
There are NO hotels located in Channel Islands National Park. The only available accommodations on the islands are campgrounds. Each of the Channel Islands has a campground. Reservations are required to camp in these sites.
Hotels near Oxnard Harbor
Hampton Inn Channel Islands Harbor: The closest hotel to a Pinnacles National Park Entrance. Small standard motel. Read the reviews on TripAdvisor or Book Now
Hotels near Ventura Harbor
Four Points by Sheraton Ventura Harbor Resort: The luxury hotel offers a great level of comfort while being close to the harbor. Small standard motel. Read the reviews on TripAdvisor or Book Now
Wyndham Garden The Pierpont Inn: A cute inn with sea views. Read the reviews on TripAdvisor or Book Now
What to pack for a visit to Channel Islands National Park?
14 Things to do in Channel Islands National Park
7 Things Not to Miss at Anacapa Island
The iconic Anacapa Arch Rock
This picturesquely eroded, 40-foot high arch is so distinctive it's become a symbol for all of Channel Islands National Park. Arch Rock has been created over millions of years by the wind and the sea. Your first viewing of the arch will come as the ferry approaches the landing platform. Often the boat will make a trip around it on your way back to the harbor. If you would like to get a closer view of the Arch Rock, kayak tours are offered by a park concessioner.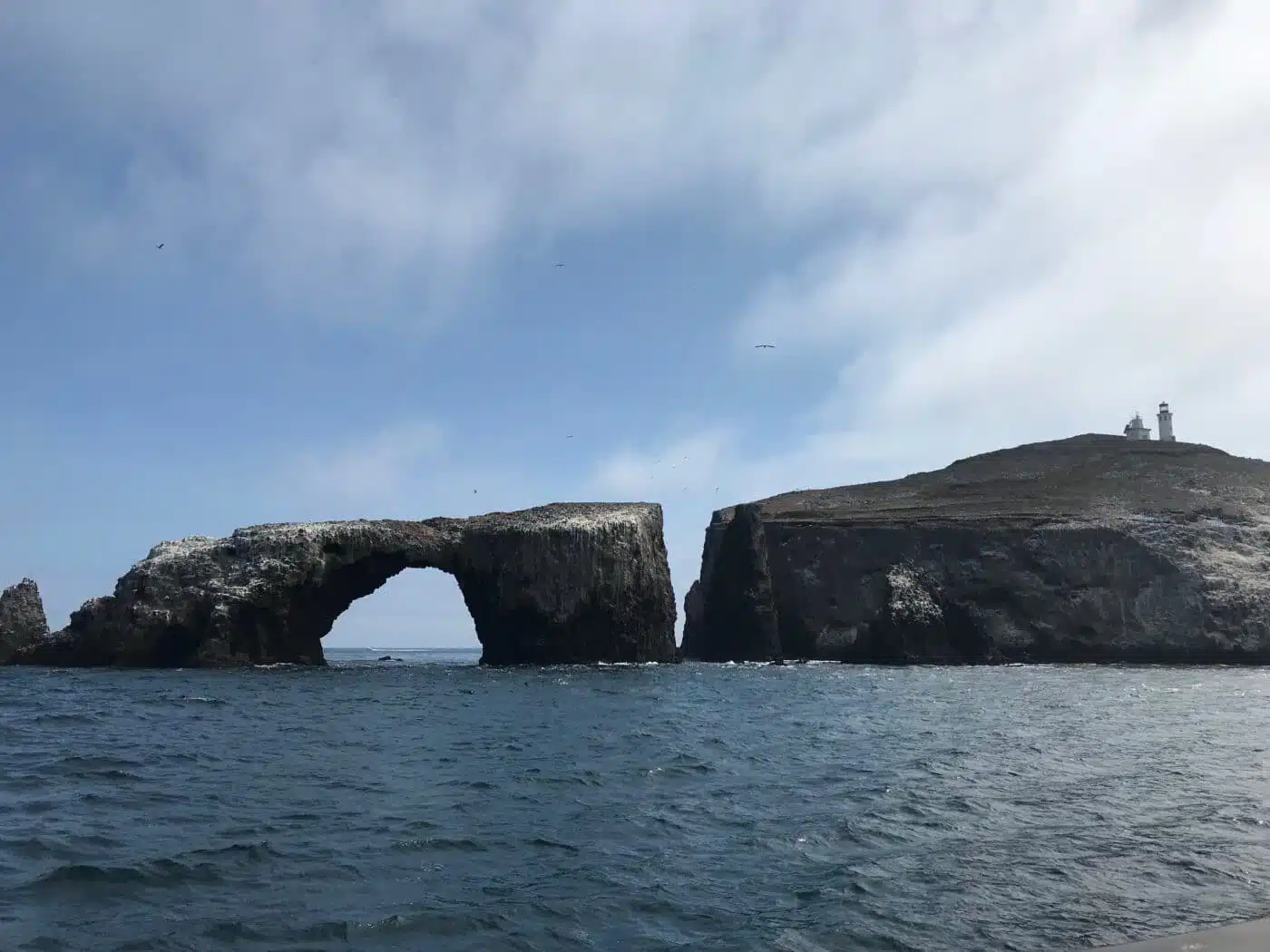 Scanning for bird nests along the cliff
Once you landed at the platform and start climbing the steep stairs to get to the top of the island, take some time to scan along the cliff section opposite the platform for some California brown pelican nests as well as the beautiful kelp forest underwater. You never know what you will see. Plus, it's a good excuse to take a breather from those stairs too!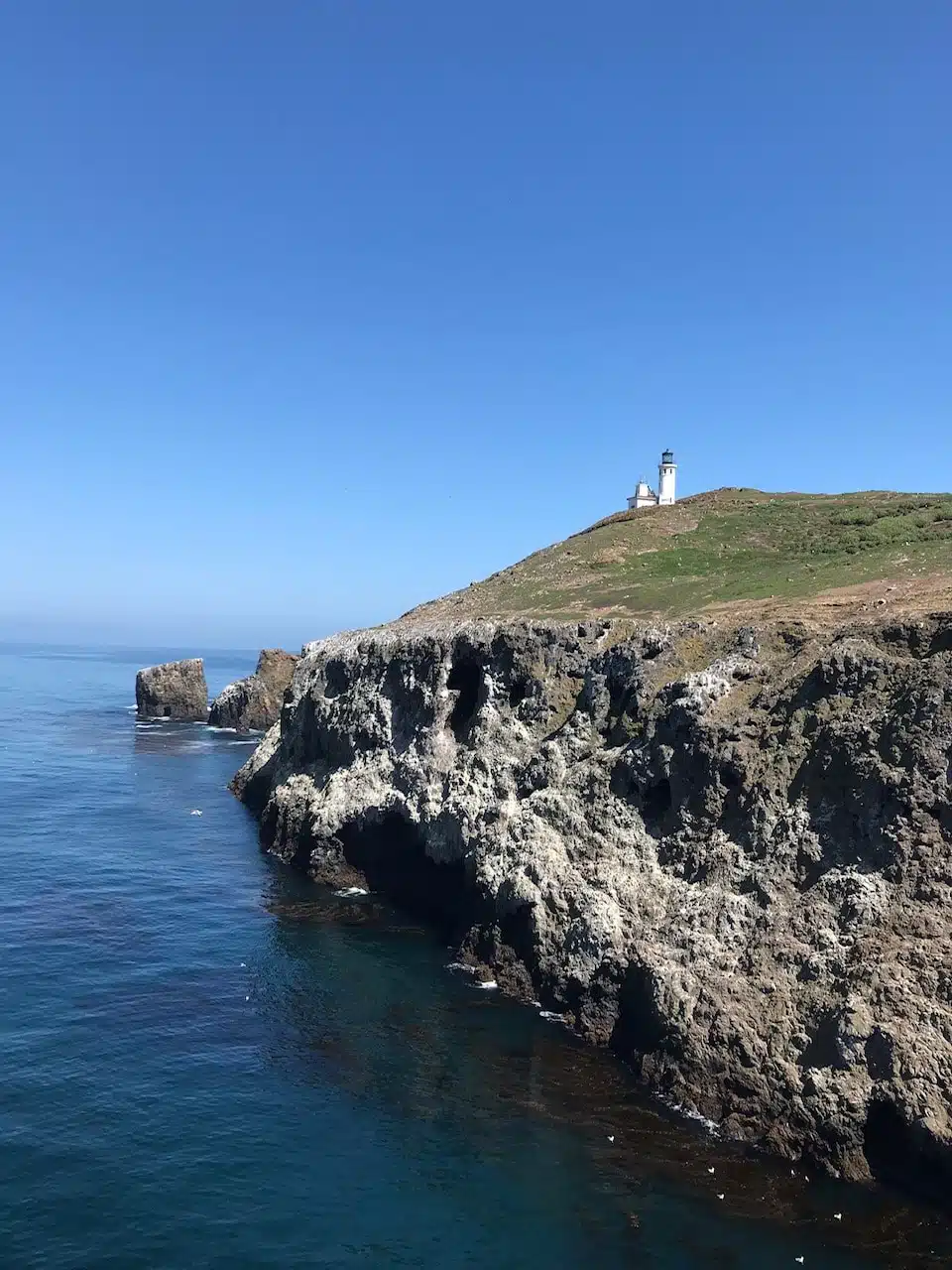 Anacapa Island Visitor Center
The Visitor Center on this island is often unmanned. Inside, there's an exhibition on the island history of the Chumash people, Anacapa lighthouse history and the original lead-crystal Fresnel lens, which served as a beacon to ships until an automated light replaced. If you're a national park passport stamp collector, don't forget to bring your passport along for the stamp.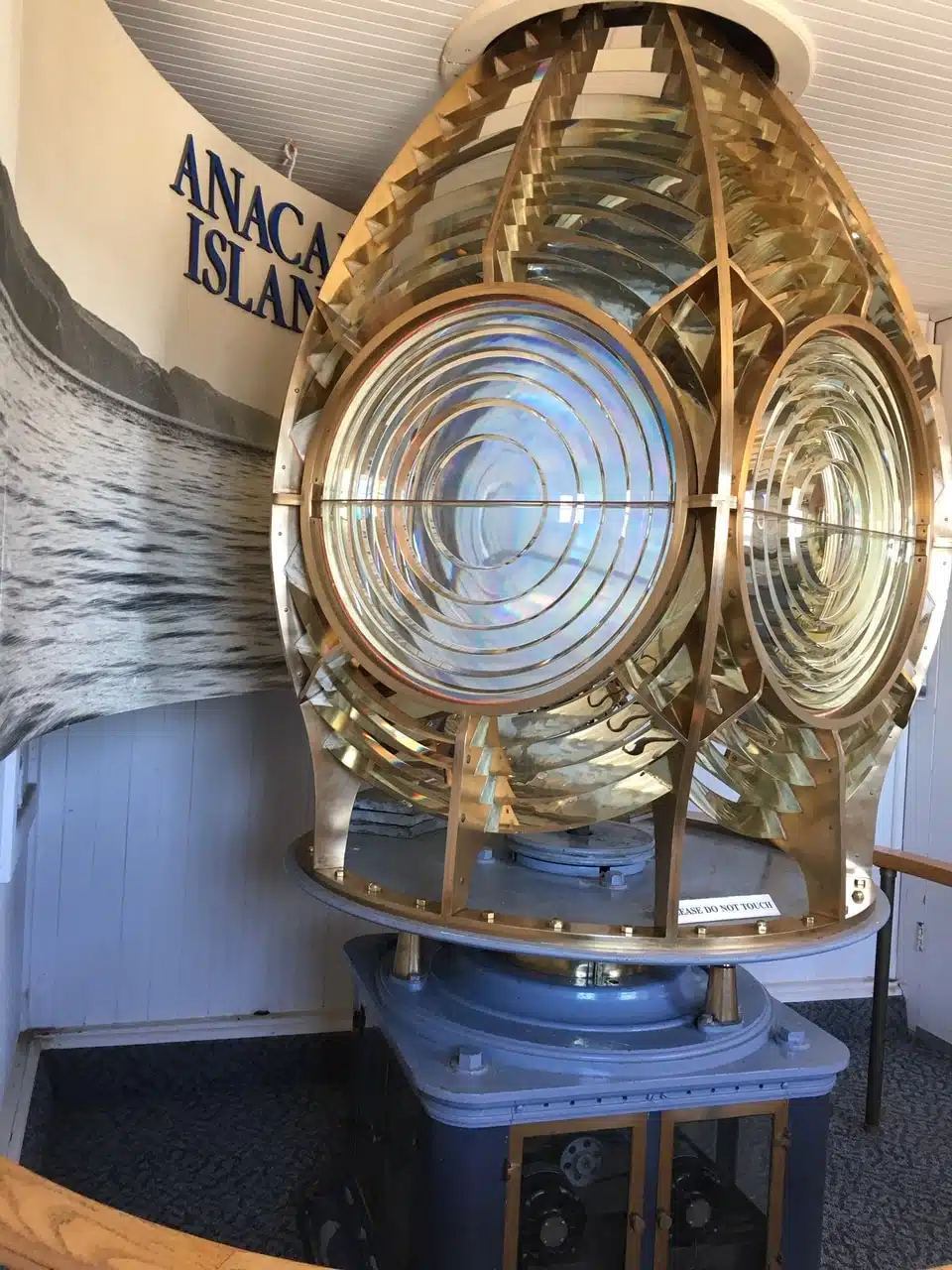 Anacapa Lighthouse
Constructed in 1912, it was the last major light station built on the west coast. Now fully automated and unmanned, the lighthouse still operates. As you make your trek towards the lighthouse, take some time to observe and admire the native plants that grow along the trail. The California Institute Environmental Studies organization along with volunteers from National Park Service have been working on restoration projects to bring back native plants to the island while actively removing non-native species from the area.
The Anacapa Lighthouse is a 0.5-mile round trip hike from the visitor center.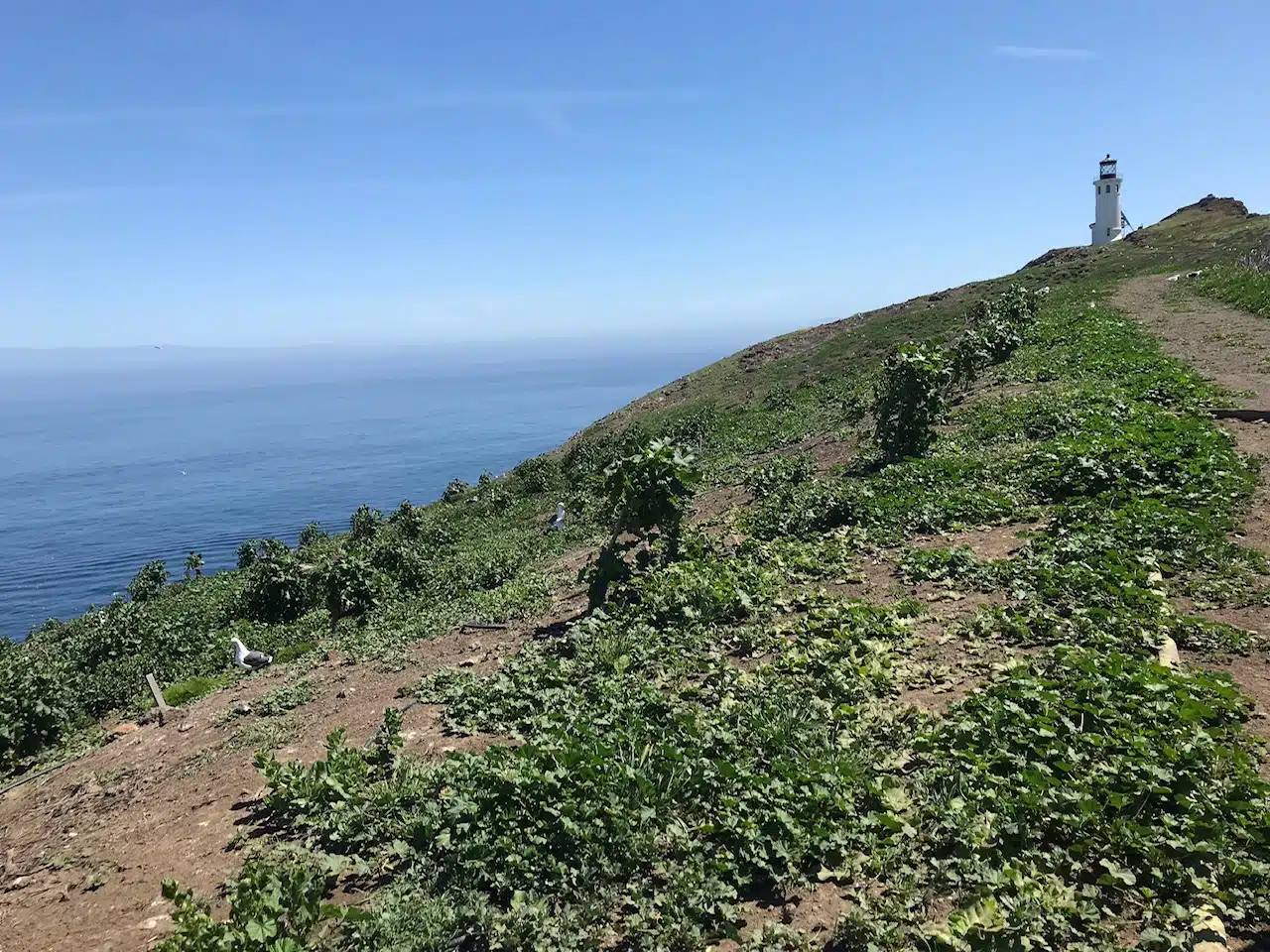 Western Gulls
April through July is a busy time on the island in terms of birds traffic. Over 15,000 Western Gulls are found on the Channel Islands. They are the most common seabird in the park. The gulls are more aggressive during the nesting season as they protect their eggs in the nests as well as once the chicks are hatched throughout early summer. Bring earplugs just in case!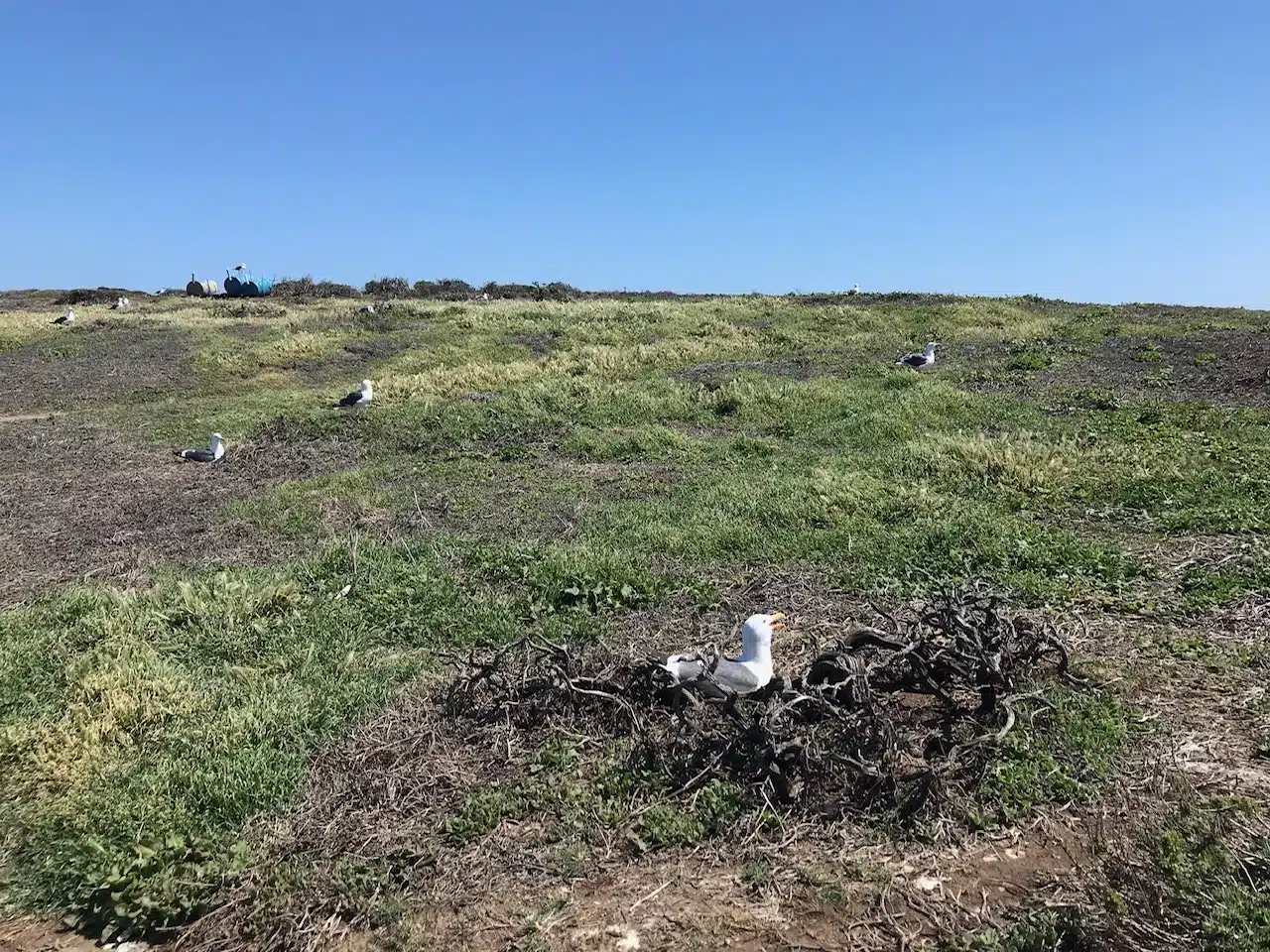 Go Hiking
Only the eastern side of Anacapa is open to visitors, the hiking trails on the island are rather short. The main hiking trail is Inspiration Point. The trail is a 1.5-mile round trip hike from the visitor center. The view along the trail makes the hike a very rewarding experience. The trail system is shaped in figure 8 as you loop around the island. You can include stops at Pinniped Point and Cathedral Cove as well. These stops add 0.5 miles to the hike.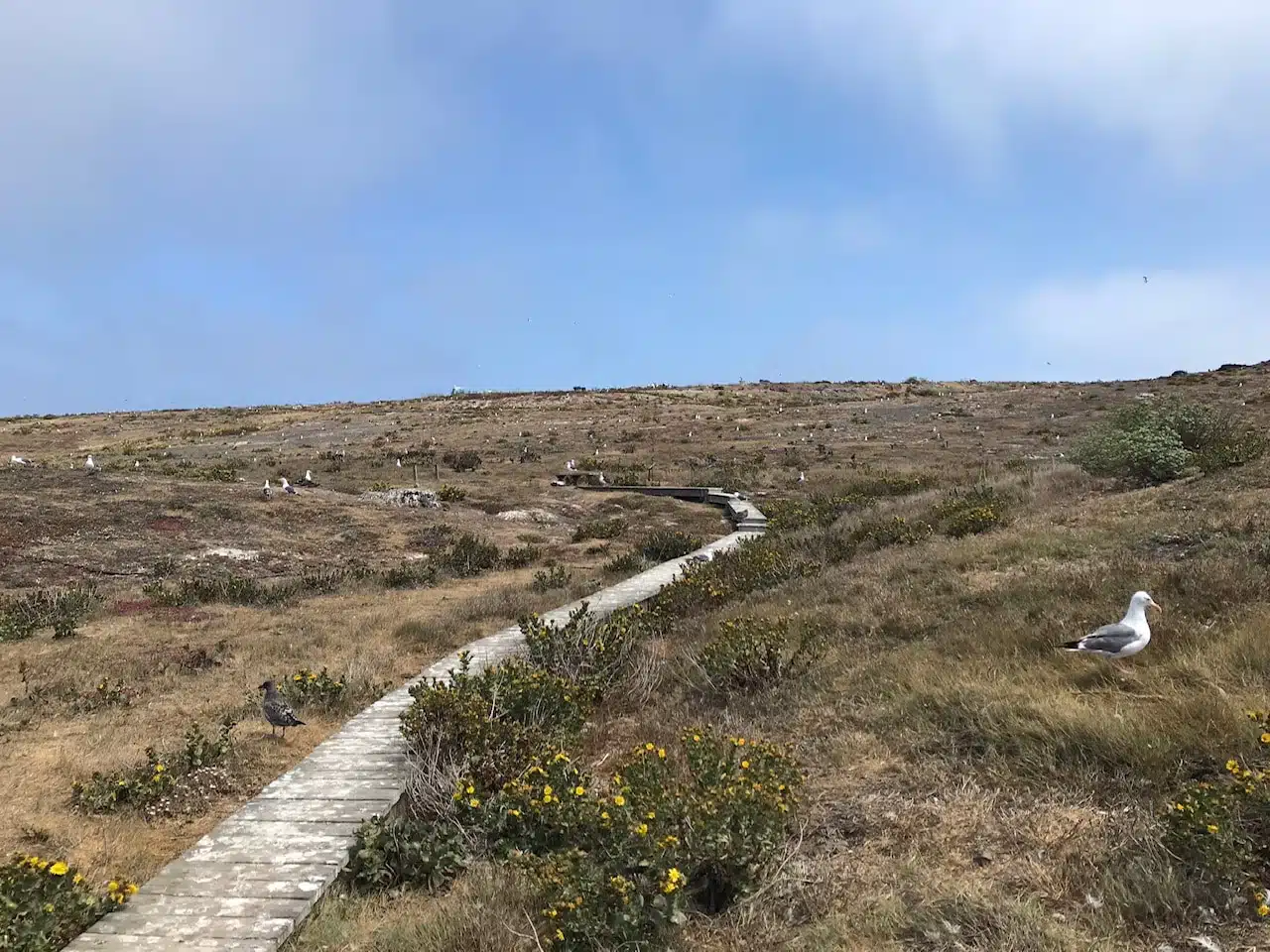 Have Lunch at Inspiration Point
Skip the picnic table by the visitor center and head over to the best spot on the island for a lunch with a view. From this point, you can see the view of the rest of Anacapa and the neighboring island, Santa Cruz. Remember to practice Leave No Trace and pack up your lunch leftovers out of the island.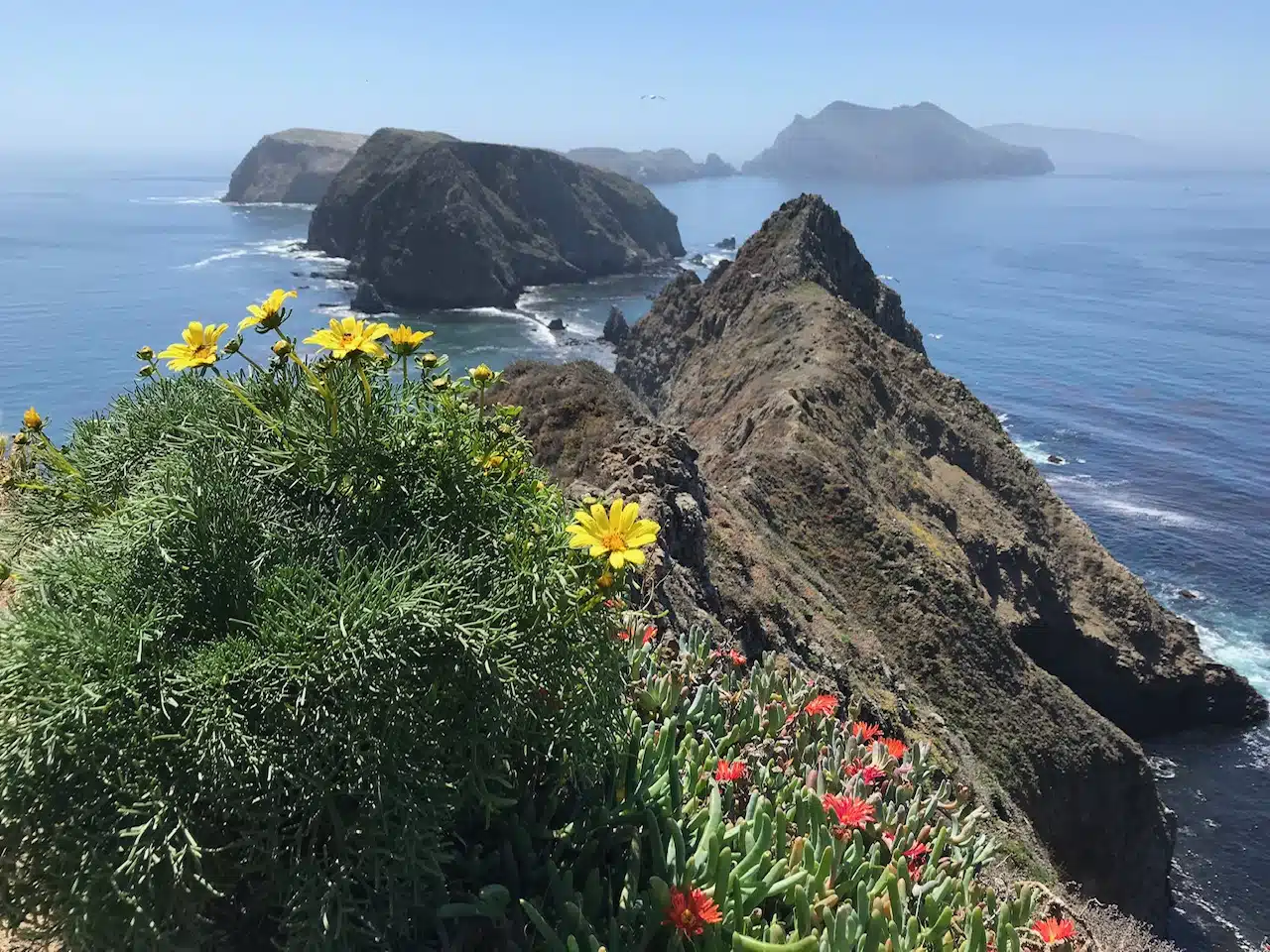 7 Things Not to Miss at Santa Cruz Island
Scorpion Beach
Assuming you purchased your boat ticket to land at Scorpion Ranch (versus Prisoners Harbor), you'll be welcomed by the view of slightly sandy and rocky beach. This is a great spot to take in the scenery, and a perfect place to hangout at while you wait for your return trip with Island Packers later in the day.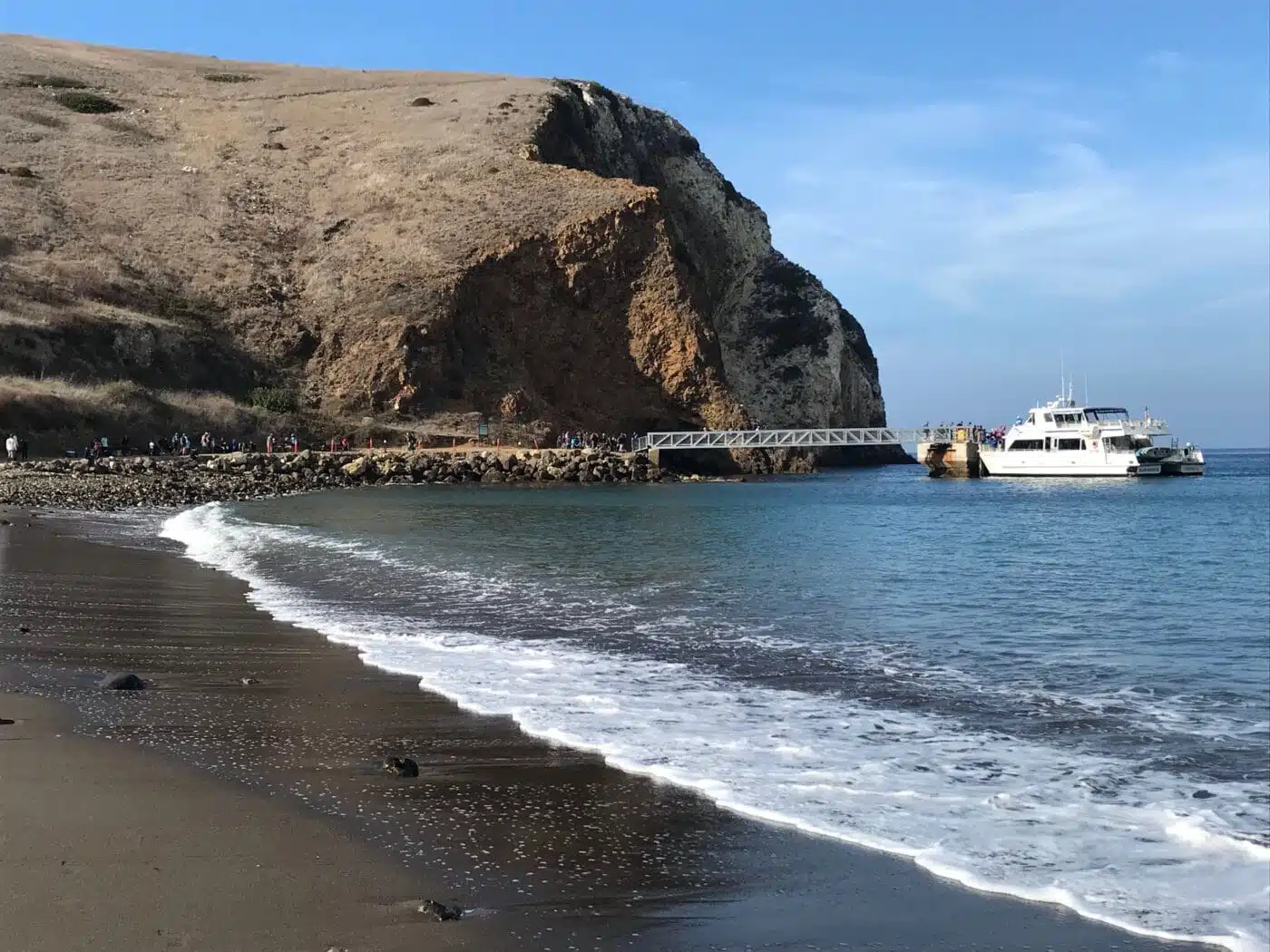 Kayaking
Channel Islands is more than just five islands. The park includes the waters surrounding the islands. Kayaking is also one of the favorite activities while visiting this island. The waters off Santa Cruz Islands are perfect for kayakers of all skill levels.
Channel Island Adventure Compay has a variation of trip options including guided kayaking to sea caves, painted caves (in the summer) as well as snorkeling rentals.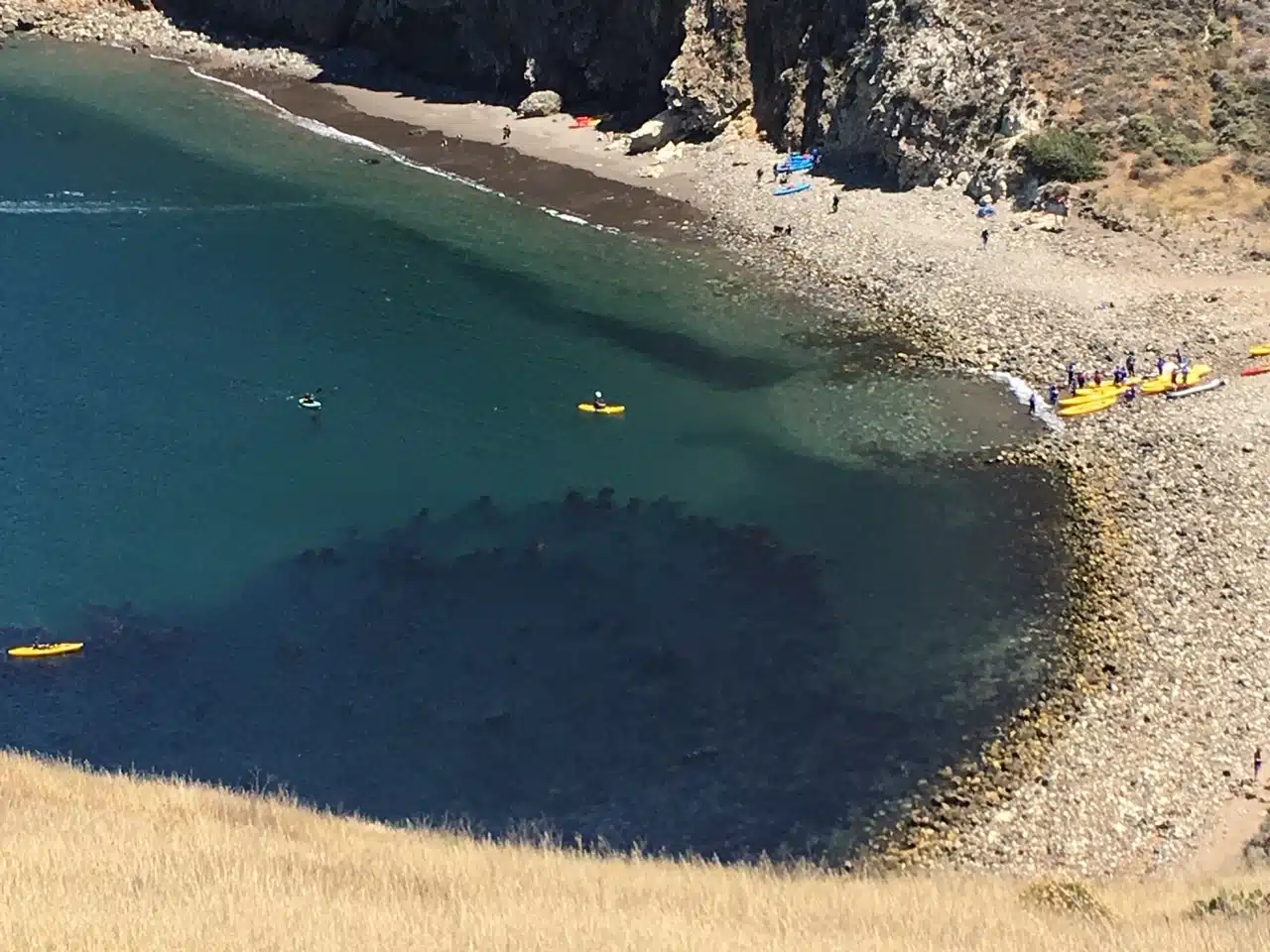 Scorpion Ranch Complex and Visitor Center
Inside the Visitor Center, there is an exhibition on the ranching activities that took place back in the days and some history on the island natives prior to that. The complex also has exhibitions of ranching equipment outside the Visitor Center to take you back in time and appreciate how much we have progressed since the early days. Similar to Anacapa Island, the Visitor Center also has a passport stamp for your collection.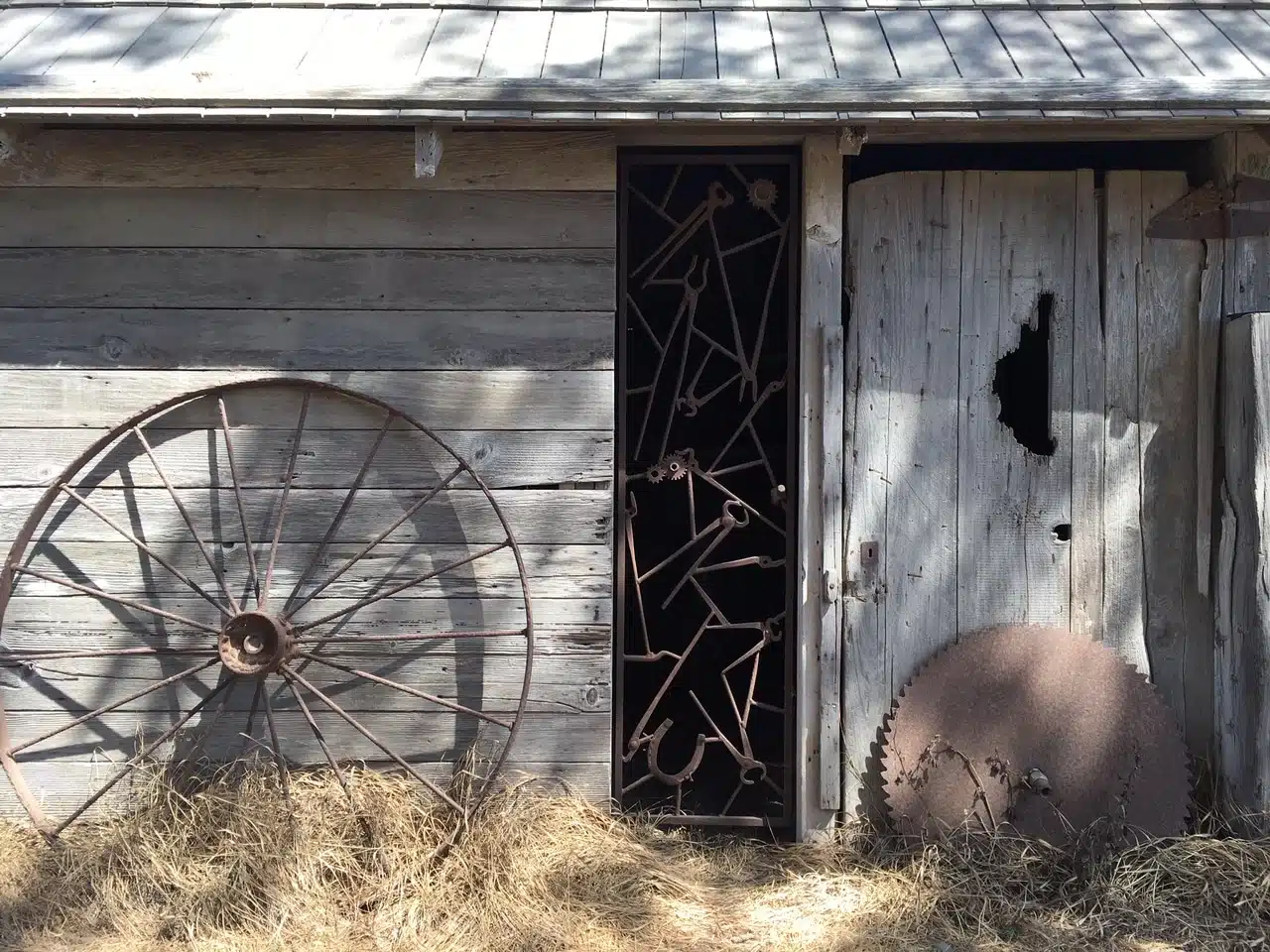 See a Channel Island Fox
This will increase your likeliness for some island fox encounters. The island fox only lives on some of the Channel Islands, they are found nowhere else on Earth. Although foxes have always existed at low population sizes, four island fox subspecies underwent catastrophic declines in the 1990s. The decline was attributed to predation by golden eagles. In 1999, Channel Islands National Park began an island fox recovery program that included captive breeding and reintroduction of foxes, removal of resident golden eagles, re-establishment of bald eagles, and removal of non-native ungulates. Today, the population has recovered within the park.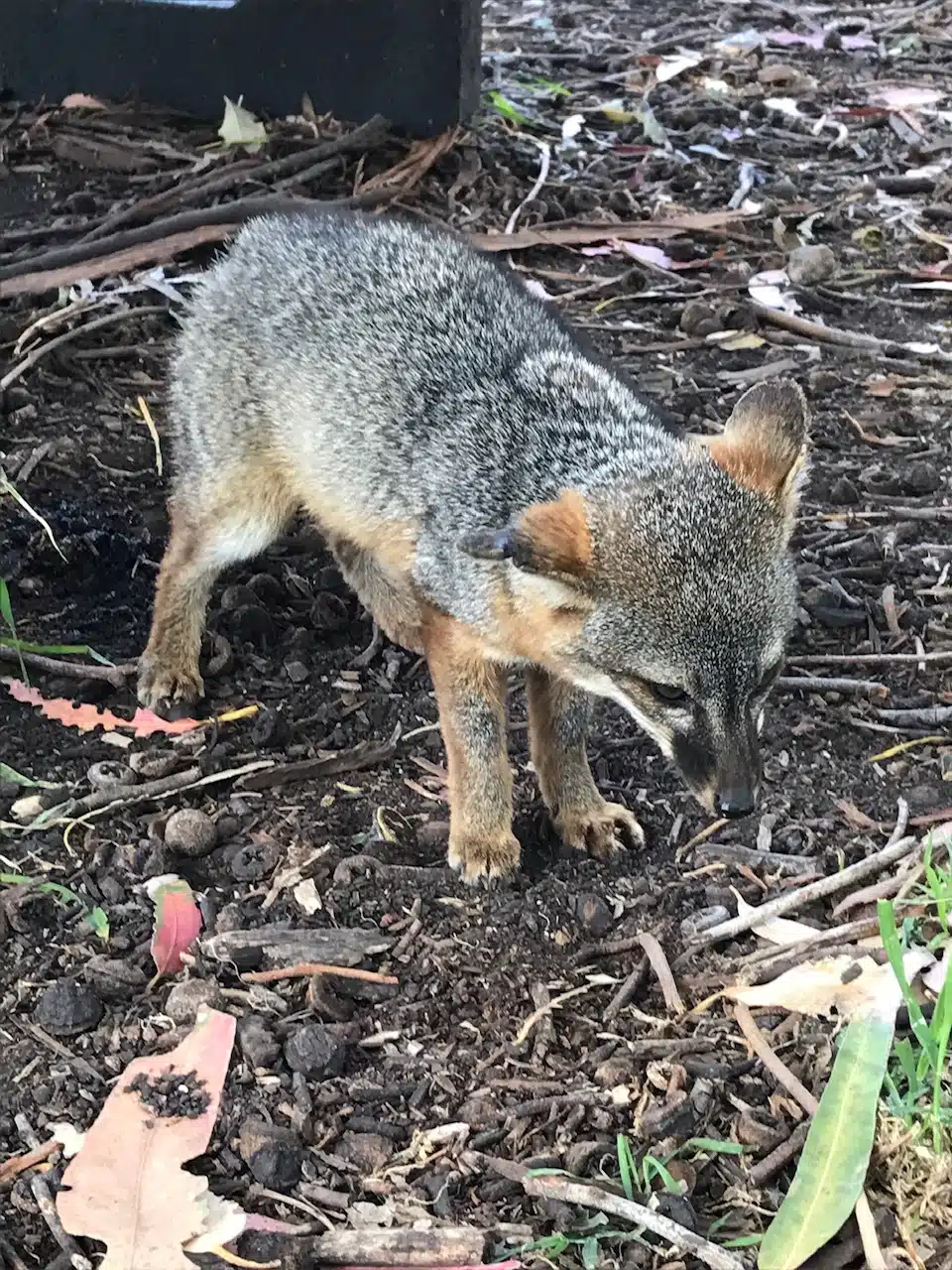 Hike Potato Harbor
From the upper campground, there's a trail ascending a small hill to hike up along the Scorpion Canyon towards Potato Harbor. The slope is gradual and gives you an opportunity to shelter from the wind as you're partially hiking inland. Depending on the season and inches of rain received, the scenery could be very green along the trail. At Potato Harbor, you will be treated with a spectacular coastal view.
Potato Harbor is a moderately difficult trail and is 5 miles round trip.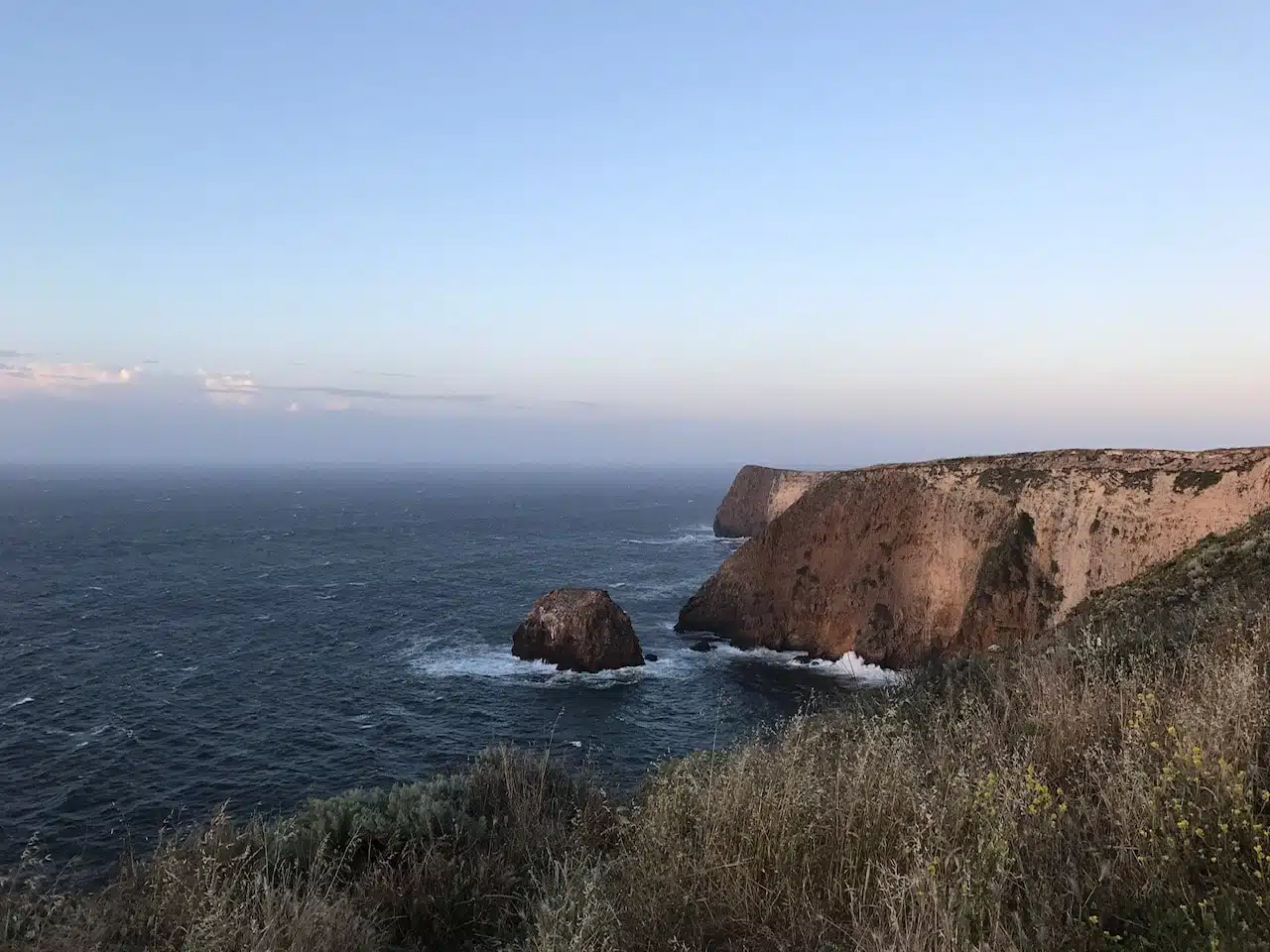 Cavern Point from Potato Harbor
There are several viewpoints along the trail as you loop your way back towards the Visitor Center, but Cavern Point is a great stop to take in the scenery as you break for lunch. The ever-present western gulls and graceful pelicans often can be sighted soaring along the steep, rugged volcanic cliffs.
Cavern Point is about 2 miles from Scorpion Beach. The trail is moderately difficult with a steep climb if hiking counterclockwise.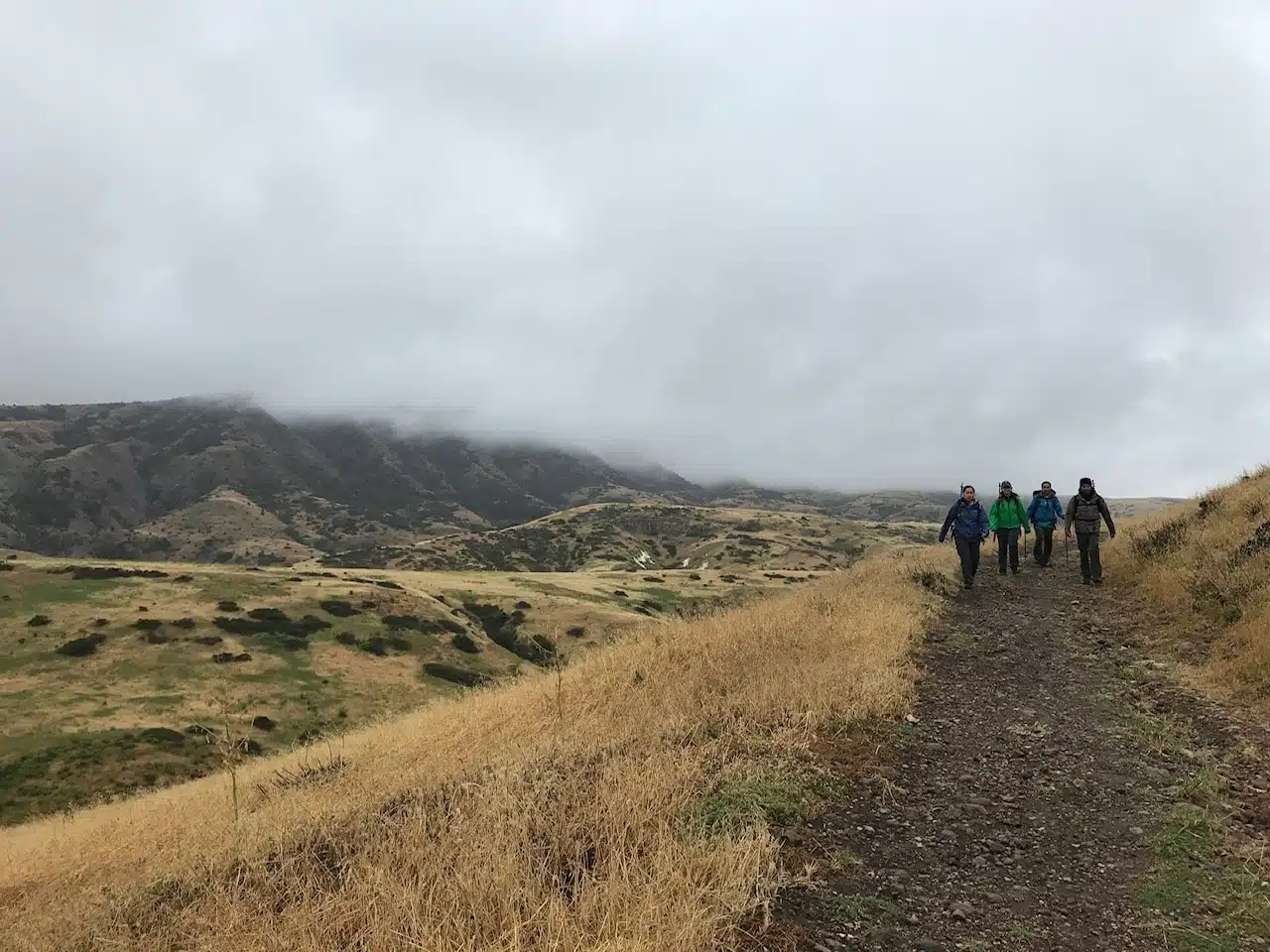 Birds eye view of Scorpion Beach from the trail
Before descending back to platform level, stop and take in the view of Scorpion Beach from a higher level and try to see if you can view Anacapa Island from this point. You may also spy the kayakers and the kelp forest near the beach area. If you spy the Island Packers boat approaching the landing platform, be sure to hike down so you don't miss your ride home!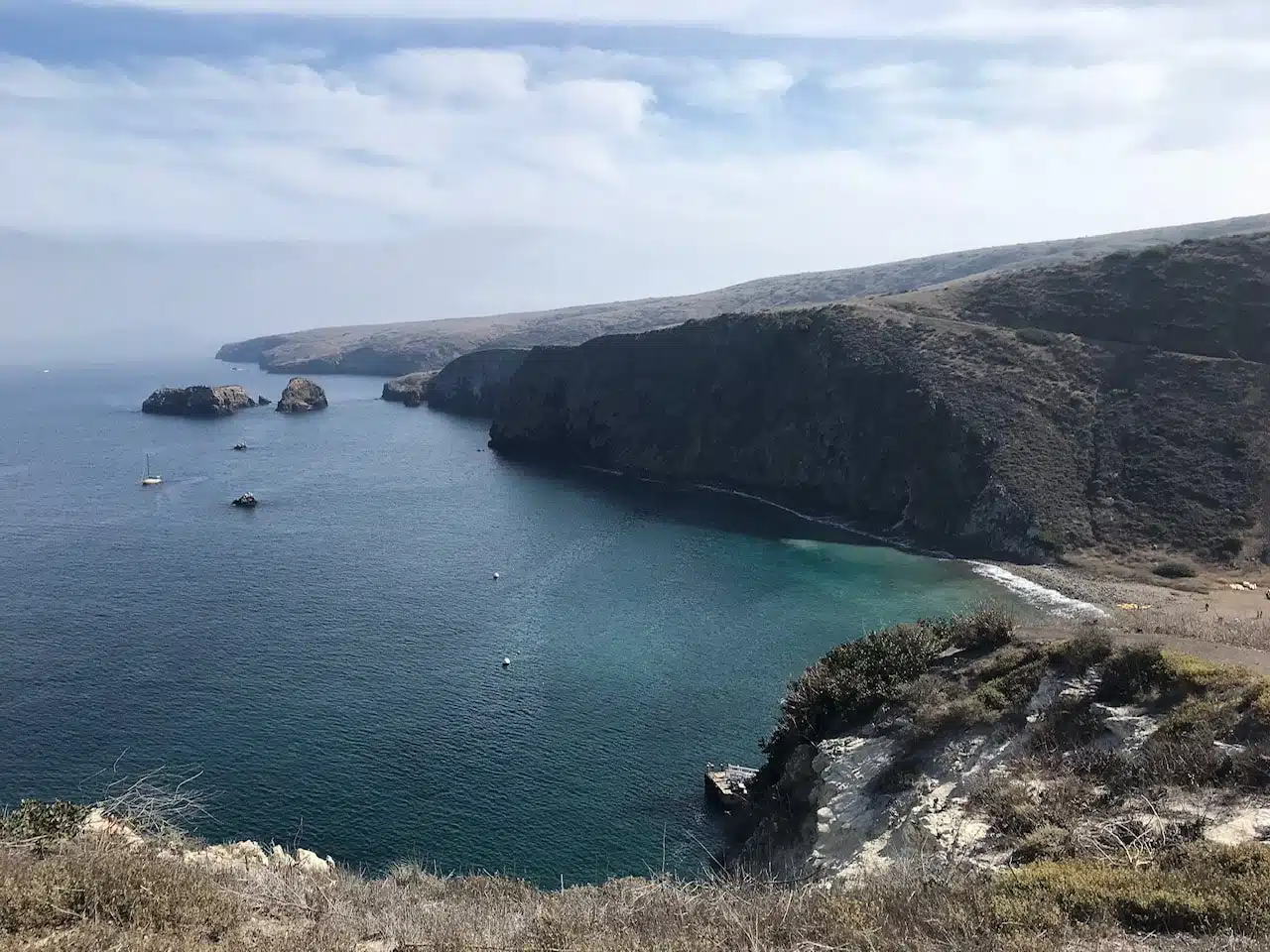 Final Thoughts on Channel Islands National Park First Visit Must See
I hope this guide helps you decided what to do while in the Channel Islands. If you need any gear advice check out our gear guides below.
If you are looking for advice on other types of outdoor gear specific guides:
Here are some other National Park gear you might like:
Pin for Later: 14 things not to miss on your first visit to Channel Islands National Park