With rock arches galore, few places have more arches than Arches National Park. There are more than 2,000 arches to explore in this small national park. Due to its size, Arches has extremely limited park and is prone to entrance closure when the park traffic backs up onto the main road. One of the best ways to avoid this traffic back-up is to camp in Archers. Camping in Arches National Park allows you to wake up and already be in the park.
No driving is needed, no waiting in line at the entrance station, and no delays on the adventure. Arches National Park has one campground.
Camping will allow you to see the after hours show in the park. Star-gazing in the Arches can be spectacular from the campground or at one of the many Arches. You can easily attend the evening ranger programs at the campground's amphitheater.
All prices are accurate as of March 3, 2021.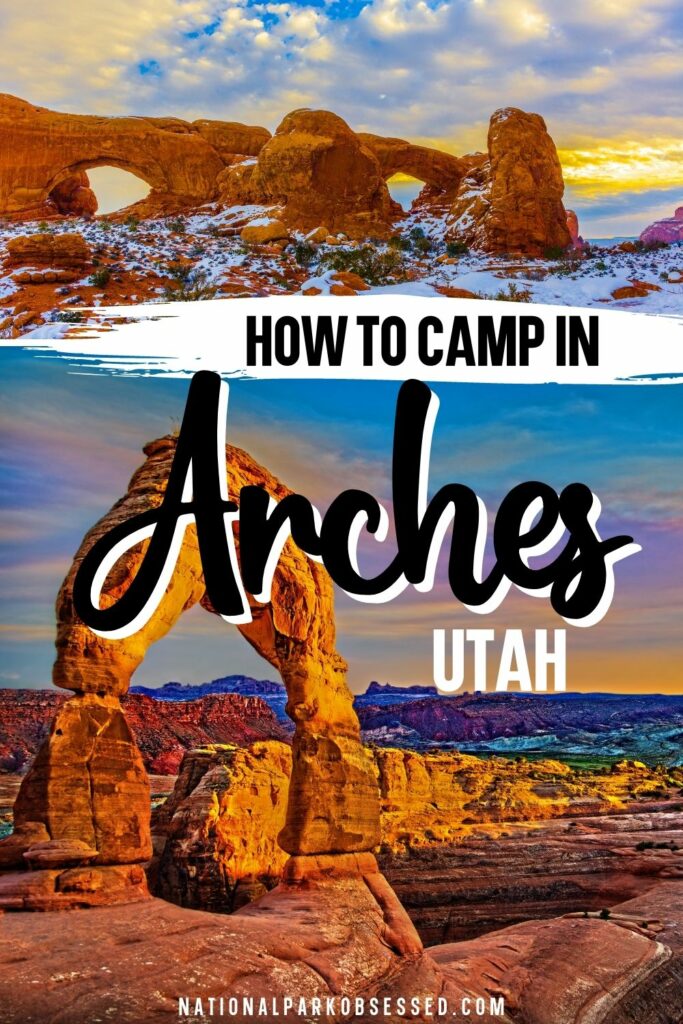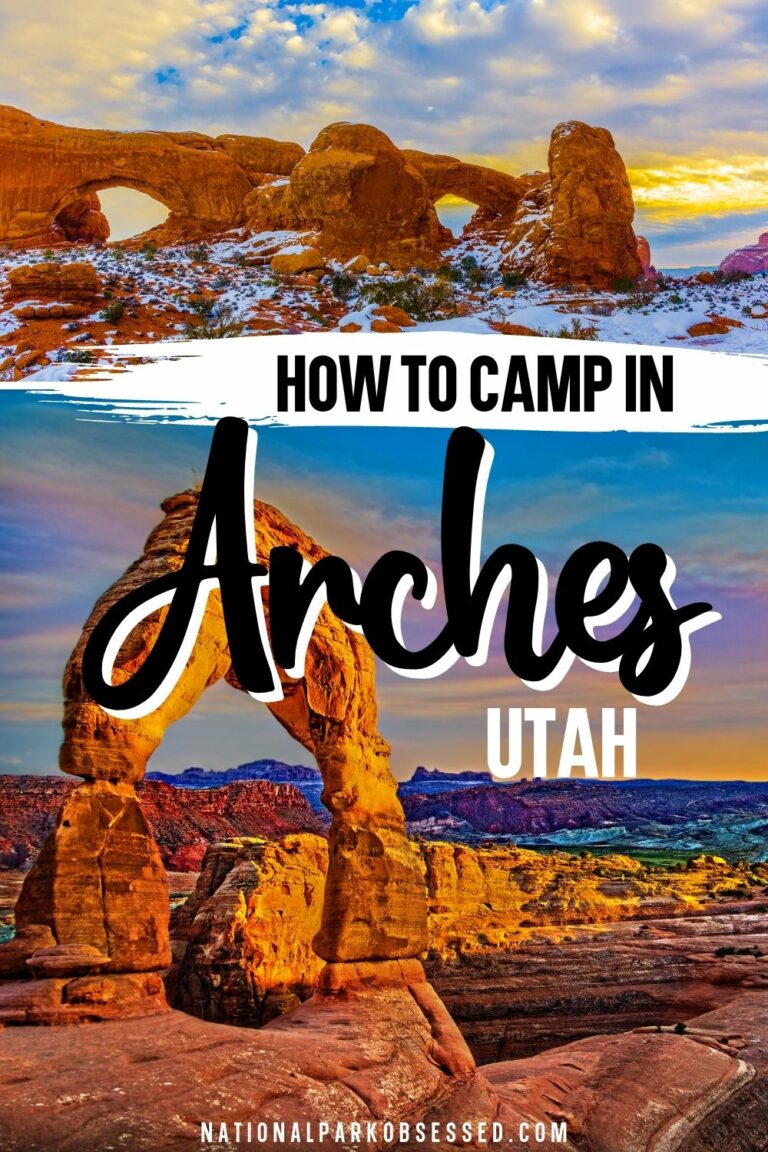 This post may contain affiliate links, meaning if you book or buy something through one of these links, I may earn a small commission at no extra cost to you! Read the full disclosure policy here
Arches Campgrounds at a Glance
| | | | | | | | |
| --- | --- | --- | --- | --- | --- | --- | --- |
| Campground | Region | Reservations | Season | Sites | Fees | ADA Sites | Amenities |
| Devil's Garden | Devil's Garden | March – October | Year-Round | 51 | $25 | Yes | F, FP, G, W |
Amenities Key
D – Dump Station
F – Flush Toilets
FP – Fire Pit
G – Generator
H – Full Hookups
P – Pit Toliet
PA – Accessible Pit Toliet
L – Laundry
S – Shower
W – Water
Getting to Arches National Park
The closest airport to Arches National Park is Grand Junction Regional Airport (GJT). This small airport is located about 1.5 hours from the park. The closest major airport is Salt Lake City International Airport (SLC), located just over three and a half hours away from the park entrance. If you are road tripping through several of the nearby Utah, Colorado, Nevada or Arizona National Parks, airport options include Las Vegas (LAS), Denver (DIA) and Phoenix (PHX).
Arches National Park is located about 5 miles north of Moab, Utah along US-191
There are several shuttle operators who run daily shuttles from Grand Junction or Salt Lake City to Moab, Utah. Currently, there is no public transportation within Arches National Park.
Estimated Drive time to Arches National Park from major cities
Grand Junction, Colorado – 1.5 hours
Salt Lake City, Utah – 3.5 hours
Las Vegas, Nevada – 5.25 hours
Denver, Colorado – 5.25 hours
Phoenix, Arizona – 7.5 hours
Estimated Drive time to Arches National Park from nearby National Parks
Things to Know about Arches Camping
Arches National Parks had 1 campground located at the end of the park road. Camping is only permitted in this campground and in designed backcountry areas.
The Campground is open year-round.
Reservations are available for from March to October.
Reservations can be made up to six months in advance. Reservations are limited and if you want a reserved site you need to be ready to book exactly six months in advance of the first day of your trip.
There are two ADA specific sites. One site is reservable from March to October and the other site is first-come-first-serve.
Generator use is permitted in select campground and select sites during the following hours: 8:00 – 10:00 am and 4:00 pm – 8:00 pm
The larger the RV the fewer campsites are available. The RV and travel trailers are limited to 40 ft in length.
Hookups and Dump Stations are NOT available in Arches National Park.
Standard campsites can have up to 10 people. You are allowed a maximum of two vehicles and two tents. Large groups should reserve the Canyon Wren or Juniper Group Site.
Camping in Arches is limited to 7 nights per 30-day period and 14 nights per year.
Checkout time for all campgrounds is 10:00 a.m.
All wood and charcoal fires are allowed unless fire danger prompts special restrictions. All fires must be contained in park-provided fire pits. Please do not transport firewood. Burn it where you buy it. Firewood can be purchased at the visitor center. The collection of vegetation for fires is prohibited.

Please ensure that your fire out full out before leaving it unattended.
Store all food items in your car. Please do NOT leave any food, utensils out, or any scented items. This includes toothpaste, toothbrush, chapstick. Please put everything else in your car or bear box. Scavengers animals are drawn to campgrounds in search of food items. If the animals find food, they will continue to hang around and start to become an issue. Please help keep the wildlife wild by not feeding them.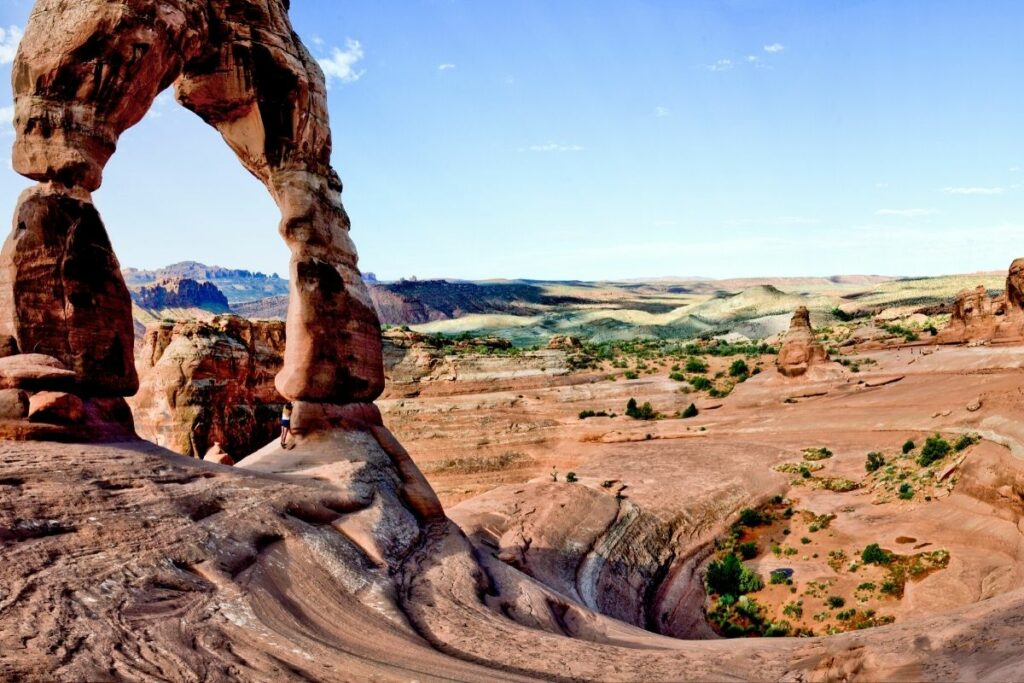 What to pack for camping in Arches National Park?
Printed Campsite Reservation: Just in case anyone asks for it.
America the Beautiful National Parks Pass: Arches National Park costs $30 for a 7-day pass. If you intend to visit more than 3 National Park Services sites in a year, the America the Beautiful Pass will more than pay for itself.
National Park Passport: The National Park Passport Book is the cheapest and best souvenir of your national park adventures. This book makes it easy to collect the National Park Cancellation Stamps. The cancellation stamps have the date of your visit and make it easy to track when you visited each national park service unit.
Tent: This is one of the heaviest and most important pieces of camping gear. It is your shelter from the elements at night.
Sleeping Pad: A sleeping pad is a small, packable inflatable mattress. Here is my favorite closed cell sleeping pad.
Sleeping Bag: Your sleeping bag is important for a good night's sleep and preventing you from getting to cold.
Pillow: An inflatable pillow is a lightweight comfort item that can make getting a good night's sleep much easier.
Camp Stove: This portable mini backpacking stove makes car camping cooking much easier. I'd rather cook on this over a campfire any day.
Fuel for the camp stove: I generally by my camping fuel at Walmart or REI on my way to the park. You can't fly with it so it's just easier to get on site.
Cooler: One great thing about car camping is that you can keep a cooler in your car and it can keep fresh meat cold and provide cold drinks.
Kitchen Set: It doesn't take much to make an impressive camp meal but having the right tools can make you seem like a gourmet chef.
Cooking Pot: Since I use a camping stove, I have this great set of folding pots that I do most of my camp cooking with.
Spork: The Spork is the essential eating utensil of the campsite.
Food: If I bring a cooler, I love planning easy to cook camp meals with fresh ingredients otherwise, I use a mix of dry backpacking foods.
Snacks – There are limited services in the park. So pick up all your snacks before you go. Pack a couple of different options so you are prepared for any craving.

Fruit: Pick hard fruits such as apples or pears. These hold-up in the heat and in packs without getting squished to mush. Another option is freeze-dried fruit. Freeze-dried strawberries are the BOMB. They are crunchy, sweet and the best part is they are lightweight and yummy. These are my new favorite trail snack.
Vegetables: Cucumbers and carrots hold up well during hiking and in a hot car.
Granola Bars: Take your favorite non-coated in chocolate granola bars. Anything coated in chocolate will melt and be a sticky mess. My favorite is a selection of Cliff Bars. They are great even when squished.
Refillable Water Bottles – Do your part to reduce litter in our parks by bringing a refillable water bottle with you. A reusable and refillable water bottle can save you a lot of money and really help the environment. Here are my favorite water bottles
Hydration Bladder – If you are hiking longer distances, a hydration bladder is the best way to hike with significant quantities of water. It is a rare hike when I don't bring a full bladder with me.
Sunscreen – You don't want to get burned on your visit.
Lip balm – Your lips need just as much sun protection as your skin does.
Sunglasses – Similar to sunscreen, you need a good pair of polarized sunglasses to protect your eyes from the glare of the sun.
Hat – Hats are another sun protection device. A hat can keep the sun off your face and neck and help minimize the need for sunscreen while on the trail.
First aid kit – As with any outdoor adventure, accidents happen. It is better to be prepared and have a compact first-aid kit ready to help with any accidents.
Headlamp – Always keep a headlamp handy. You never know when you might want it. It can be used for midnight bathroom runs to sunrise/sunset hikes. A good headlamp makes it easy to operate in the dark.
Shoes – Shoes are probably the most important piece of gear to any hiker. Hiking shoes should be seen as an investment. On the trail, your feet are your transportation and a solid pair of hiking shoes help support your feet and can prevent injury.
Hiking Day Pack – A good day pack is the best way to transport all your gear when hiking. I highly recommend getting a backpack that is designed for outdoor use. These packs come with handy pockets and straps. My 40 L day pack has a pocket for my water bladder and a clip to hold the water line in place.
National Park Obsessed Shirt – Share your love of the National Parks and support National Park Obsessed with a National Park Obsessed T-Shirt.
Where to camp in Arches National Park
Arches Campground Map
Campgrounds in Arches National Park
Devil's Garden Campground
Campgrounds in Dead Horse State Park
Kayenta Campground
Wingate Campground
Campgrounds in Canyonlands National Park
Willow Flat Campground
The Needles Campground
USFS and BLM Campgrounds near Moab
Goose Island Campground
Grandstaff Campground
Drinks Canyon Campground
Hal Canyon Campground
Oak Grove Campground
Big Bend Campground
Upper Big Bend Campground
Upper Onion Creek Campground
Lower Onion Creek Campground
Fisher Towers Campground
Hittle Bottom Campground
Dewey Bridge Campground
Jaycee Park Campground
Williams Bottom Campground'
Gold Bar Campground
Horsethief Campground
Cowboy Campground
Kings Bottom Campground
Moonflower Canyon Campground
Hunter Canyon Campground
The Ledge Campground
Ken's Lake Campground
Courthouse Rock Campground
Sand Flats Recreation Area
Hamburger Rock Campground
Oowah Campground
Warner Lake Campground
Mason Draw Campground
Private Campgrounds near Moab
Act Campground
Down Flats RV Park & Campground
Moab KOA
Moab Rim Camppark
Moab Valley RV Resort & Campground
Pack Creek Campground
Portal RV Resort Campground
Slickrock Campground
Up Creek Campground
Archview RV Resort & Campground
Canyonlands RV Resort & Campground
OK RV Park
Spanish Trail RV Park
Desert Moon Mobile RV
Ballard RV Park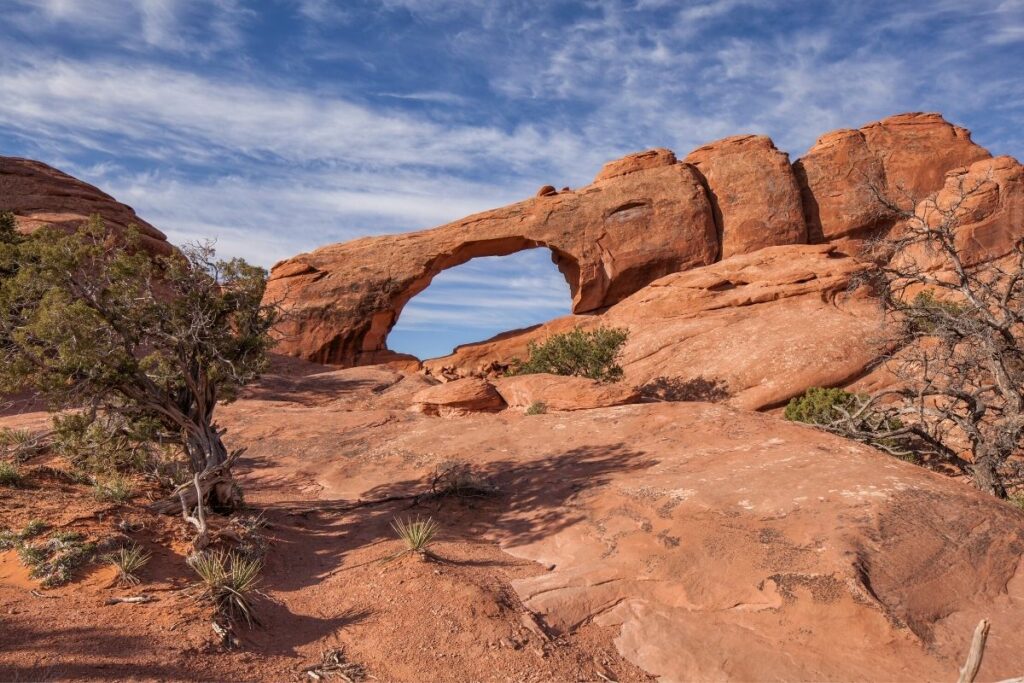 Getting a Arches National Park Campsite
Arches Camping Reservations
Devil's Garden is reservation only from March 1 – October 31. Campground reservations can be made online at Receation.gov. Reservations are can be made up to six months in advance (i.e. Reservations for September 2 open on March 2). Reservations open at 10 a.m (EST). open.
It is highly recommended to make your reservation as early as possible this is especially true if wanting to make a July or August reservation. I'd create your account on Receation.gov and be ready at 10 am exactly six months before the trip.
Group site reservations can be made up to 12 months in advance.
Arches First-Come-First-Serve Campsites
First-come, first-serve camping is available from November 1 to April 30. Fill times is unpredictable but the earlier in the morning you arrive the better your chances of getting spaces. The campground does fill especially on the weekends and around holidays.
RV Camping in Arches National Park
There are no RV hookups in Arches National Park. The longer your RV is the more limited your camping option. Not every campsite in a campground can accommodate the maximum length trailer. Devil's Garden campground can fit RV's up to 40 feet.
Arches National Park Campgrounds
Devil's Garden Campground
Devil's Garden Campground is located on heart of Arches National Park at the end of the park road. What this desert campground lacks in shade it makes up for amazing rock formations. The campground is nestled in a selection of sandstone arches and fins among a stand of juniper and pinyon pines. There is a campground host during the busy season and flush toliets
Sites: 49 individual sites, 2 group sites
Cost: $25 per night
Reservations Accepted?: Yes for stays between March 1 and October 31. First-come, first-served the rest of the year.
ADA specific sites: Yes, there are 2 designated campsites. Site 7 is reservable from March to October. Site 4H is first-come-first-serve for people with disabilities year round.
RVs?: Yes, 12 sites can handle RV's up to 40 ft.
Pets: Yes, but please review the Arches National Park Pet Policy
Facilities: Potable water, fire pit, flush toilets, picnic table, sinks
Season: Devil's Garden Campground is open year-round.
Typical Fill Time: Reservation from March to October. Varies the rest of the year
Closest General Store: Moab

Thoughts on Camping in Arches National Park
I hope this guide answers all your questions about camping in Arches National Park. If you still have question let us know in the comments below.
Get help planning your trip to Arches National Park.

Pin to Save for Later: The Ultimate Guide to Camping in Arches National Park