This post may contain affiliate links, meaning if you book or buy something through one of these links, I may earn a small commission at no extra cost to you! Read the full disclosure policy here
It is hard to name a national park that is more famous than Yellowstone. Yellowstone National Park is the world's first national park. The park is famed for its wildlife and its geothermal features. Plus it's a giant volcano that if and when it erupts again, it will truly change human life as we know it. Now here is the best way to spend one day in Yellowstone National Park and see just the highlights.
This post was originally published on 19 June 2018. It was updated on 06 February 2020 to account for recent changes.

About Yellowstone National Park
Yellowstone National Park is a massive 2.2 million acres. This makes it the 8th largest national park. The park was created on March 1, 1872, by Congress and President Ulysses S. Grant. Early explorers realized that the Yellowstone Basin was a treasure and need to be protected. These men fought for the area's protection. The park has a rather colorful history. Looking back a conservationist cringes but Yellowstone paved the way for the amazing park system we have today.
The entire park sits on North America's largest supervolcano. The park spans lakes, canyons, rivers, mountain ranges, and geothermal basins. The parks is well-known for its bison, elk, grizzly bears, black bears, and wolves (re-introduced in 1995). The park provides homes for hundreds of different plants, animals of all shapes and sizes.
As one of the predominate, largest, and oldest parks, it is well developed. The park has several hotels and campgrounds spread out around the park. Some of these data back to the early days of the park. The park's road makes much of the park's wonders reachable to the average visitor.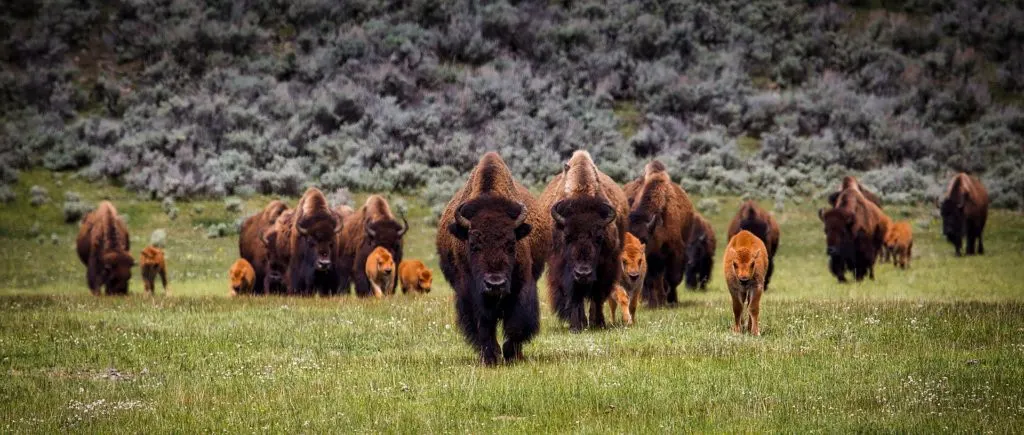 Getting to Yellowstone National Park
Yellowstone National Park has 5 park entrances. They are accessible by making a couple of hour detour off I-15, I-90, and I-80. The park is also a great stop for people traveling from Billings, Montana to Idaho Falls, Idaho. Public transport is limited to the towns outside of the park.
There are 3 airports near the park. The closest airport to the park is Yellowstone Regional Airport (COD) in Cody, Wyoming. COD is about 30 minutes from the parks eastern entrance. The other airport is in BozIf you are going to fly, the best airport is the Jackson Hole Airport (JAC) in Jackson, Wyoming. JAC is one of the most scenic airports in the world and is a 1.5-hour drive from the park's south entrance. If you are going to fly, spend at least 3 days to a month in Yellowstone National Park. There is currently no public transportation in the park.
Estimated drive time to Yellowstone National Park from major cities
Bozeman, Montana – 1.5 hours
Jackson, Wyoming – 2.5 hours
Billings, Montana – 2.75 hours
Salt Lake City, Utah – 4.75 hours
Boise, Idaho – 5.75 hours
Denver Colorado – 8.25 hours
Estimated drive time to Yellowstone National Park from nearby National Parks
Best Guided Day Tours in Yellowstone National Park
If you want to make your trip to Yellowstone as easy and simple as possible, check out these amazing Yellowstone Day Trips:
How many days in Yellowstone National Park?
How long do you have? Yellowstone is a massive park with a lot of epic things to do. There is no right answer to how long to spend. If you have one day and want to see as many of the highlights as possible, this guide is for you. If you have 5 days, this a great guide to starting planning for when you explore Yellowstone National Park.
Don't let anyone tell you that you HAVE to spend a specific amount of time in Yellowstone. Ideally, I would spend at least 3-4 days in the park on every visit but that is not always possible. A day trip to Yellowstone can be a perfect way to get a quick overview of the park Make the most of the time you have.
Best time of year to visit Yellowstone National Park
While Yellowstone National Park can be visited at any time of the year, the temperatures are the most comfortable from May to September. The park is the busiest between June to August.
Summer: Summer provides the warmest weather and most (if not all) of the park will be open to exploring.
Fall: The temperatures are comfortable and the crowds as slightly smaller than the springs.
Winter: During winter the most of the park roads and hotels are closed. Car access is limited to Mammoth Hot Springs. Other parks of the park may be accessible via snowmobile or snow coach.
Spring: Spring offers some of the best wildlife viewings. The bears are waking up from their hibernation and are plowing through food to replenish their bodies. Other species are starting to have their young. Depending on the snow pack, select roads and park entrances may be closed.
Where to stay in Yellowstone National Park
Unless visiting in winter, make a reservation (or arrive really early in the day) if planning to stay in or around the park. The campgrounds and hotels fill every night from early May until October. This 24-hour guide is designed to start in West Yellowstone but you are welcome to say in any of the park's campgrounds, park lodges, hotels outside of the park.
There are 12 campgrounds in the park. You can make reservations for 5 of them and the rest are first come-first. Check the NPS website for the open status and rough guide for which campgrounds are full (this updated every hour or so, so it is possible the campground will already be full).
Learn more about Yellowstone's 12 campgrounds here.
Depending on your park entrance, the hotel options vary.
West Yellowstone, Idaho (near the Yellowstone's West Entrance)
Hotels in Yellowstone
What to pack for a day in Yellowstone National Park?
America the Beautiful National Parks Pass: Yellowstone National Park costs $25 for a 7-day pass. If you intend to visit more than 3 National Park Services sites in a year, the America the Beautiful Pass will more than pay for itself.
National Park Passport – The National Park Passport Book is the cheapest and best souvenir of your national park adventures. This book makes it easy to collect the National Park Cancellation Stamps. The cancellation stamps have the date of your visit and make it easy to track when you visited each national park service unit.
Refillable Water Bottles – Do your part to reduce litter in our parks by bringing a refillable water bottle with you. A reusable and refillable water bottle can save you a lot of money and really help the environment. Here are my favorite water bottles
Hydration Bladder – If you are hiking longer distances, a hydration bladder is the best way to hike with significant quantities of water. It is a rare hike when I don't bring a full bladder with me.
Snacks – There are limited services in the park. So pick up all your snacks before you go. Pack a couple of different options so you are prepared for any craving.

Fruit: Pick hard fruits such as apples or pears. These hold-up in the heat and in packs without getting squished to mush. Another option is freeze-dried fruit. Freeze-dried strawberries are the BOMB. They are crunchy, sweet and the best part is they are lightweight and yummy. These are my new favorite trail snack.
Vegetables: Cucumbers and carrots hold up well during hiking and in a hot car.
Granola Bars: Take your favorite non-coated in chocolate granola bars. Anything coated in chocolate will melt and be a sticky mess. My favorite is a selection of Cliff Bars. They are great even when squished.
Sunscreen – You don't want to get burned on your visit.
Lip balm – Your lips need just as much sun protection as your skin does.
Sunglasses – Similar to sunscreen, you need a good pair of polarized sunglasses to protect your eyes from the glare of the sun.
Hat – Hats are another sun protection device. A hat can keep the sun off your face and neck and help minimize the need for sunscreen while on the trail.
First aid kit – As with any outdoor adventure, accidents happen. It is better to be prepared and have a compact first-aid kit ready to help with any accidents.
Headlamp – Always keep a headlamp handy. You never know when you might want it. It can be used for midnight bathroom runs to sunrise/sunset hikes. A good headlamp makes it easy to operate in the dark.
Shoes – Shoes are probably the most important piece of gear to any hiker. Hiking shoes should be seen as an investment. On the trail, your feet are your transportation and a solid pair of hiking shoes help support your feet and can prevent injury.
Trail Navigation – Always carry a map and compass. They never run out of batteries and you can always figure out where you are. In many national parks, your cellphone is NOT adequate for navigation in the parks. Cell service is spotty and UNRELIABLE in many national parks and they can run out of batteries. A map and compass never have that problem.
Hiking Day Pack – A good day pack is the best way to transport all your gear when hiking. I highly recommend getting a backpack that is designed for outdoor use. These packs come with handy pockets and straps. My 40 L day pack has a pocket for my water bladder and a clip to hold the water line in place.
National Park Obsessed Shirt – Share your love of the National Parks and support National Park Obsessed with a National Park Obsessed T-Shirt.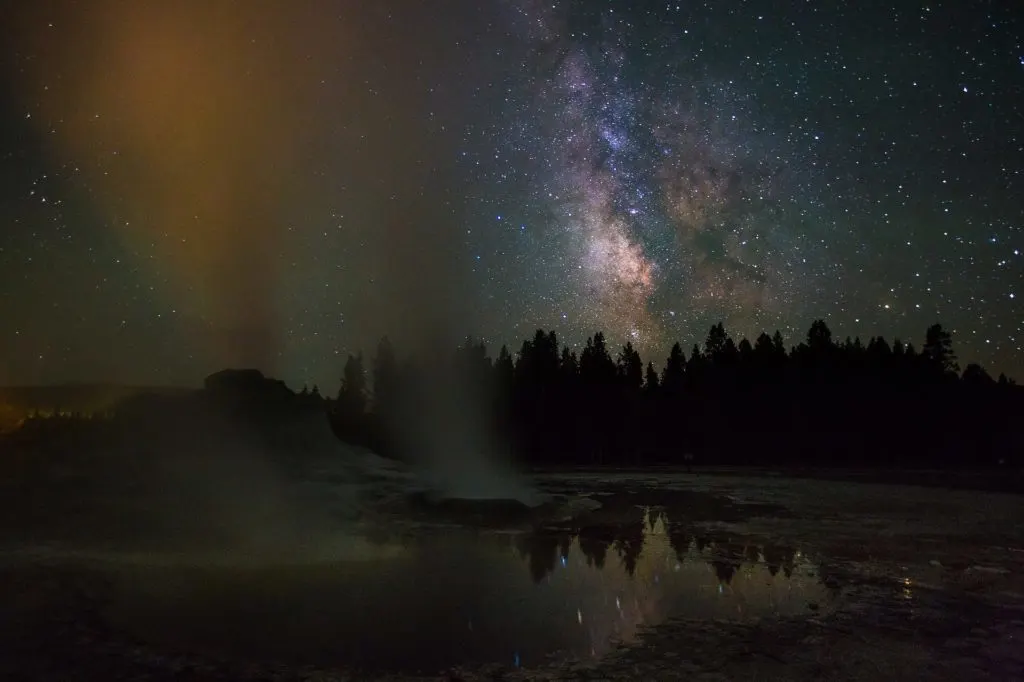 Yellowstone in A Day
This one day in Yellowstone guide is designed to start from the West Entrance. It can be modified to start at any entrance. This is designed to hit the highlights of Yellowstone. Do keep in mind that this is a really full day. This route is called the Yellowstone Grand Loop. It is 142 miles of road. The maximum speed limit is 45 miles per hour. Please keep to the speed limit. Every year animals such as bears, moose, and elk are hit and killed by cars. Speed kills.
One Day in Yellowstone Itinerary of Activities
Grand Prismatic Spring
Old Faithful Eruption and Geyser Basin
Yellowstone Lake
West Thumb Geyser Basin
Mud Volcano
Yellowstone River
Petrified Tree
Mammoth Hot Springs
Roaring Mountain
Norris Geyser Basin
Artists Paint pots
Start early. Grab a quick cup of coffee and breakfast. It is an hour drive from West Yellowstone to Old Faithful. Along the drive, there are several sites to stop and see. Check out the half-mile boardwalk thru a small thermal area called Fountain Paint Pots. Many of the geysers on this trail erupt frequently. This trail takes about 30 mins.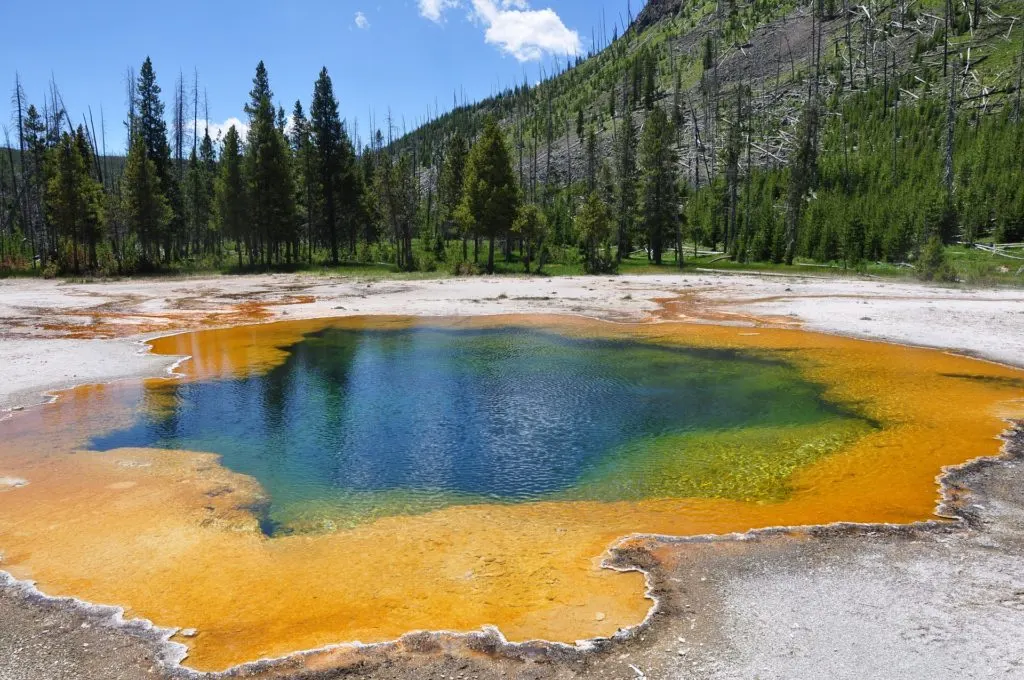 The first major stop is Midway Geyser Basin and the famed Grand Prismatic Spring. Midway Geyser Basin has two of the world's largest hot spring, Grand Prismatic, and Excelsior Geyser. The Midway Geyser boardwalk is a 0.8-mile loop. The loop takes about 3o minutes to walk. You will pass the Turquoise Pool, Opal Pool, Grand Prismatic Spring and, Excelsior Geyser. Excelsior Geyser is dormant but when it was seen erupting in the 1800s its spray reaches up to 300 ft in height. Grand Prismatic Spring is one of the most photographed sits in the park. The color of Grand Prismatic due to heat-loving bacteria. The bacteria changes color with the heat. The orange color is the coolest section of water and the green is the hottest. The bright blue is due to the depth of the spring. It is 121 feet deep and 370 ft wide.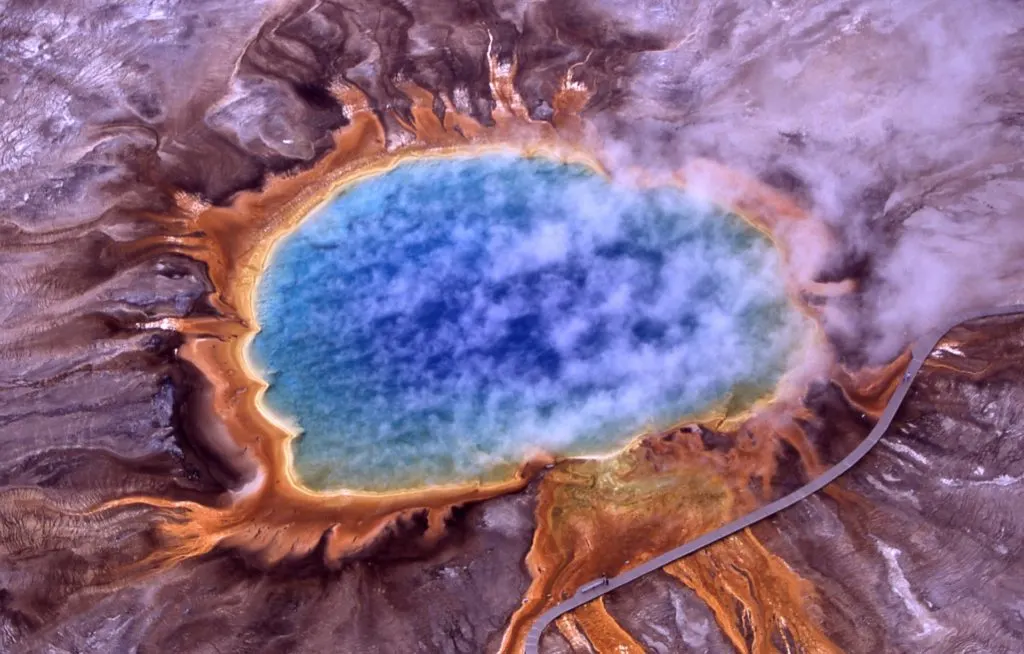 The next stop is the world-famous geyser – Old Faithful. The cone geyser is part of the Upper Geyser Basin. In total 60% of the world's geysers are located in this one square mile in size. Over 150 geyser are active in the area. The most famous is Old Faithful. She erupts every 44-125 minutes with a 100-130 foot column of water. There is a very nice clock in the Old Faithful Inn that will tell you how long until the next eruption. While in the Inn, check the expected eruption times as well. Several of the other geysers are predictable. If possible enjoy a roughly 3 mile trip around the upper basin and visit Morning Glory pool, Castle Geyser, Riverside Geyser, and Grand Geyser. Plan on spending at least two hours here.
Fun Fact – Old Faithful has erupted over a million times since Yellowstone became a national park.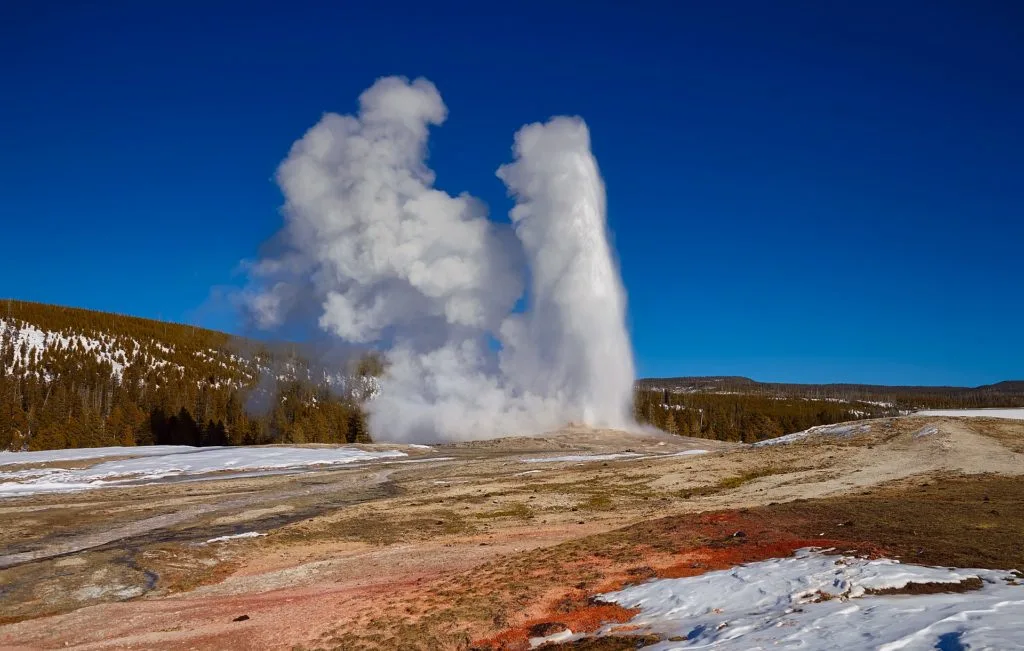 The next stop will be West Thumb Geyser Basin on the shores of Yellowstone Lake. Yellowstone Lake is a massive freshwater lake. The water from West Thumb drains into the lake. Even with all that warm water entering the lake, the lake is only about 45F during the summer. West Thumb is the smallest of the geyser basins. It does has Abyss Pool and Fishing Cone. The boardwalk is about a mile round trip. Plan on spending about 3o minutes.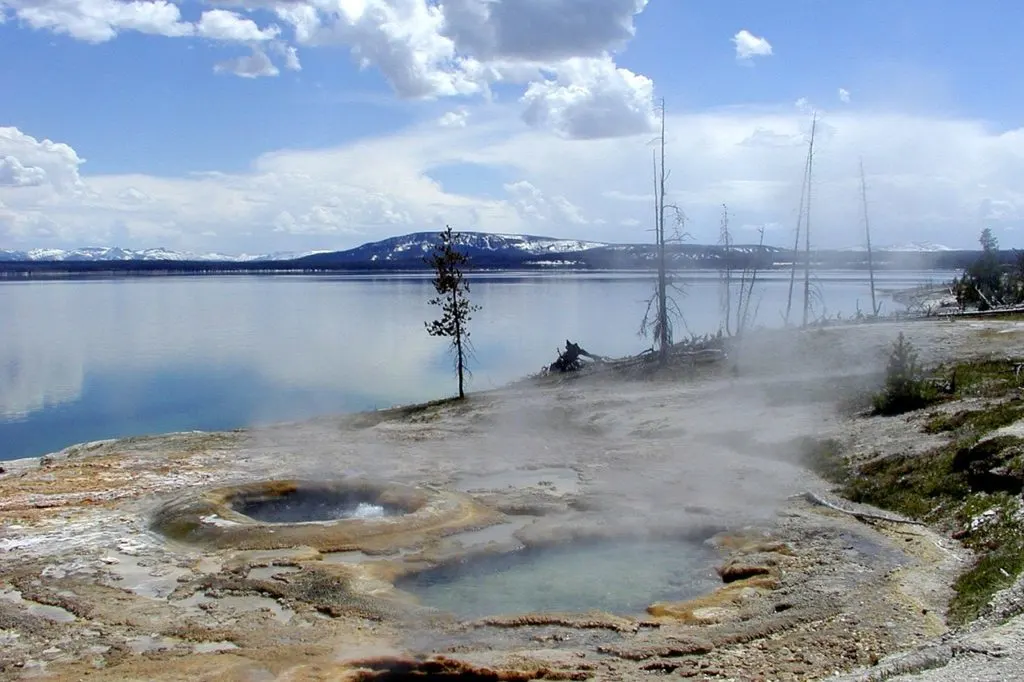 Work your way along Yellowstone Lake. If you brought your own lunch, stop at any of the picnic areas along the lake. If not, stop by the Lake Hotel for lunch at this historic inn.
After lunch head to the Mud Volcano. This area is very active. The Mud Volcano is no longer very active, but it does have a history of spraying mud everywhere. One can also visit the raging Dragon's Mouth. This small feature is always emitting steam and the sloughing of water can be heard. Black Dragon's Calderon is an active mud pot with boiling mud. Plan on spending less than 20 minutes.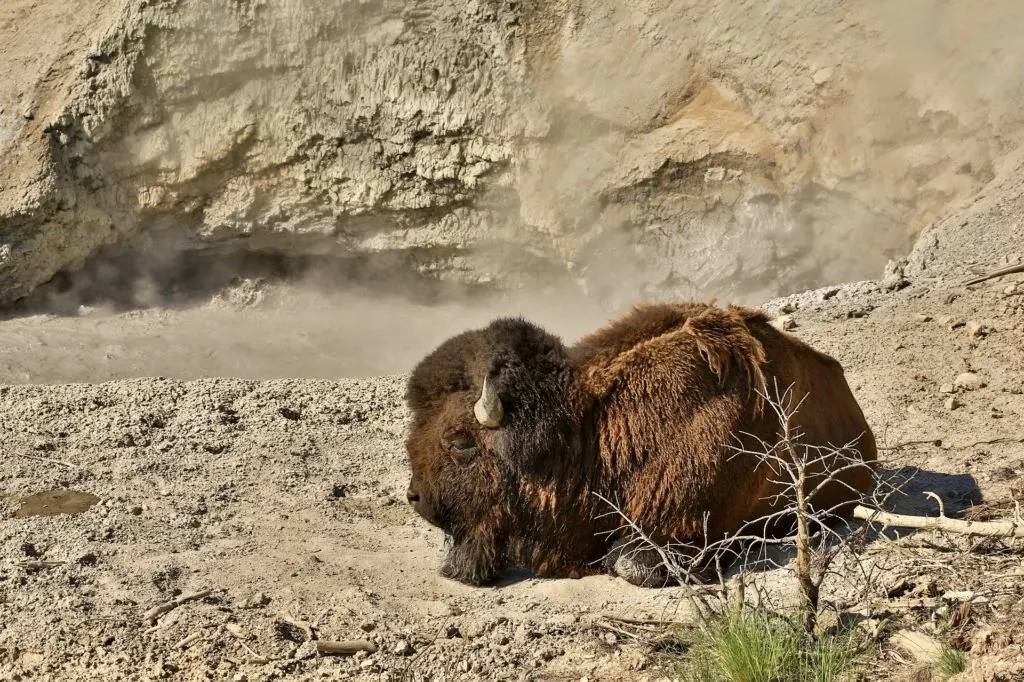 Keep driving towards the Yellowstone River. The drive will take about an hour from the Mud Volcano. At the Yellowstone River, take time to explore both the south and north sides of the Grand Canyon. Start with the South Rim, Take the short hike out Uncle Tom's Trail for views of the lower falls and to see Red Rock Point. Head of to Artist Point for more views of the canyon.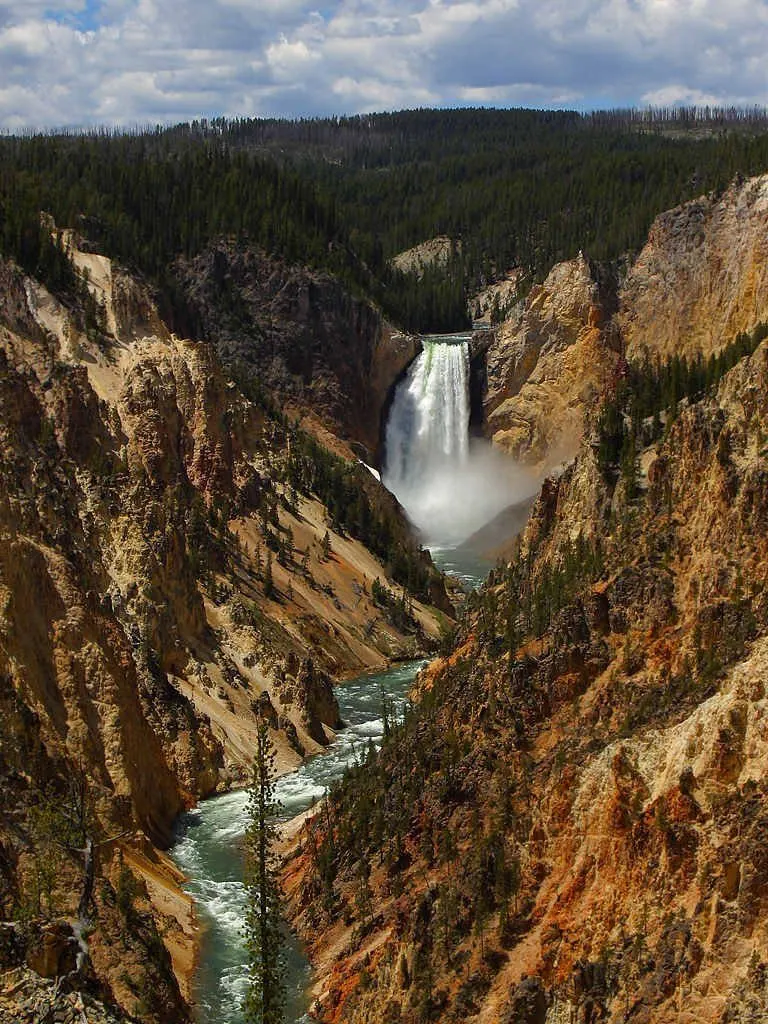 Head over to the North Rim. Stop at the Upper Falls and another view of the lower falls. Then head over to Inspiration Point. All the stops include a little bit of hiking into the canyon. Plan on about two hours to explore the area and to do some hiking.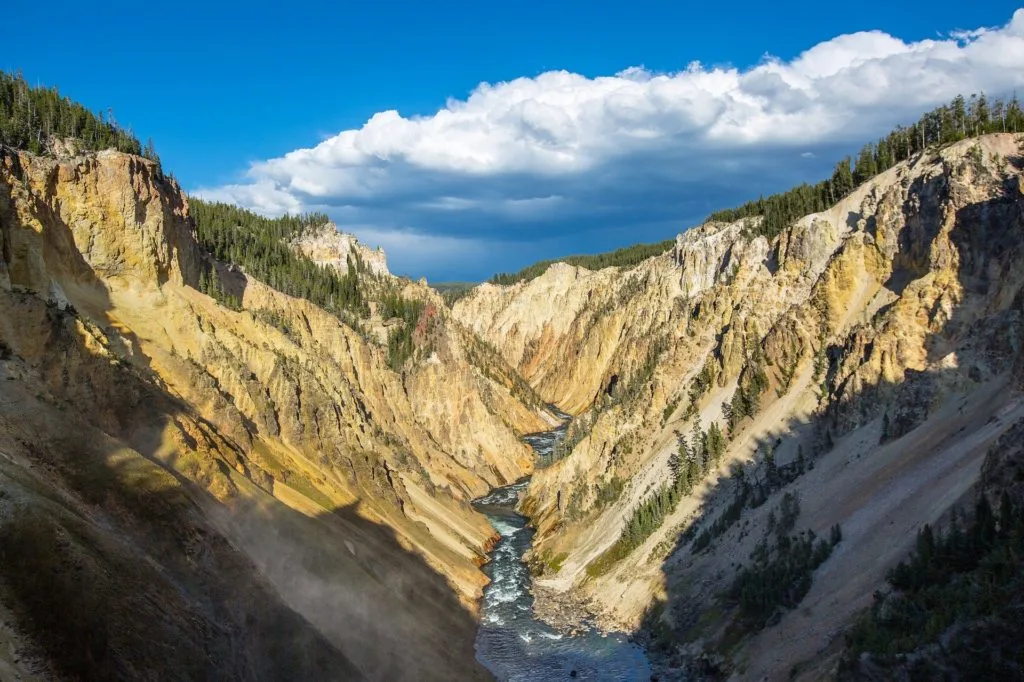 Take a quick side tour on your way to Mammoth Hot Spring to visit the Petrified Tree. This tree makes the history of life, death, and volcanoes in Yellowstone. The area has been thru a cycle of growth to only be killed off by the volcanoes of Yellowstone for almost 50 million years. The Petrified Tree is a reminder of those ancient forests. This is a quick visit.
Mammoth Hot Springs is a historical area built at the base of Mammoth Hot Springs Terraces. Take a quick stroll around town to see buildings dating back to 1890s. After checking the town, head over the Terraces. There is about 1.75 miles of boardwalk to walk and 150 hot springs to see. The Terraces are made from limestone deposits and rise about 300 feet. The hot water is the underground drainage of the Norris Geyser Basin. Check out the colors and the calcium carbonate formations in the area. Plan on 1.5 hours to explore the Terraces and town.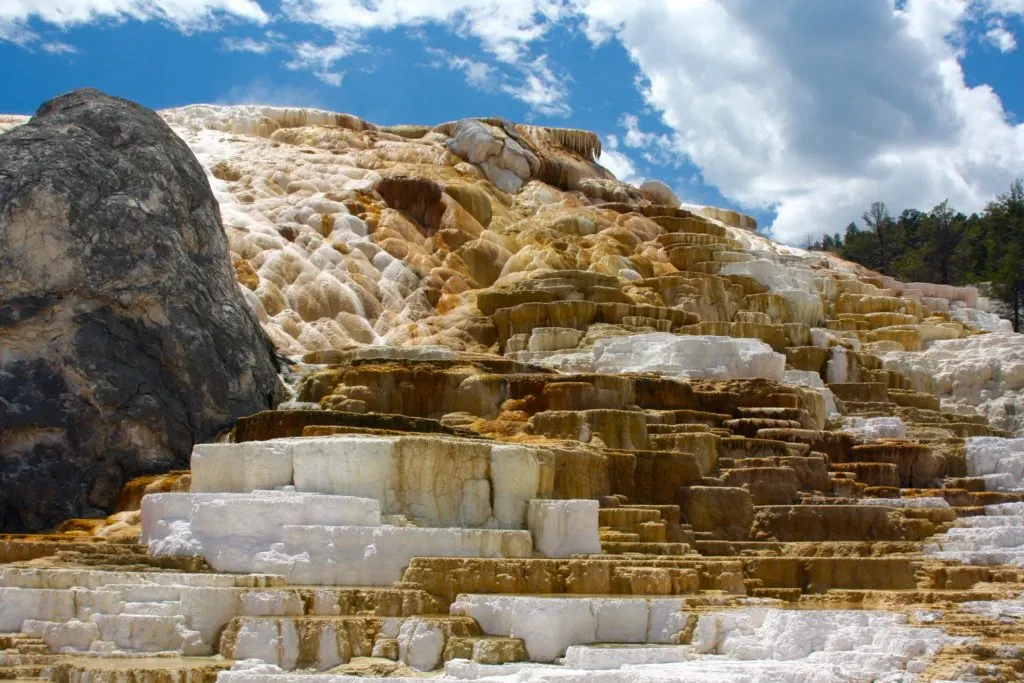 Next stop is a quick visit to check out the Roaring Mountain. This hillside of steam vents sounds like a dragon ready to emerge from the mountain. Spend a few minutes listing to the sounds and learning about this mountain.
The last major stop is Norris Geyser Basin. Norris is a hottest of the basins. The average water temperature is higher here than anywhere else in the park. Norris is home to the largest geyser in the park. Steamboat Geyser is an erratic geyser in terms of major eruptions. As of June 18, 2018, it had 10 major eruptions since March 15, 2018. The March 15 eruption was the first major eruption since September 3, 2014. The major eruptions can be up to 300 feet in height. There are frequent minor eruptions to 10 to 50 feet.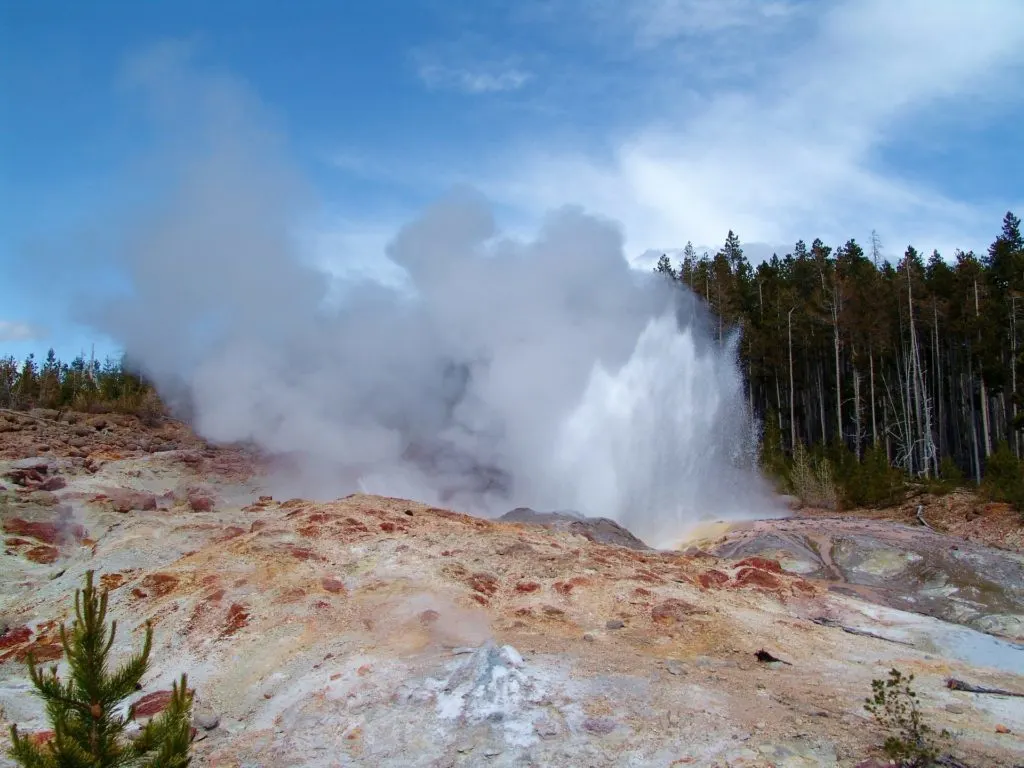 As you head back to West Yellowstone, stop by and visit the small artist paint pots. These small paint pots. These can be skipped if you are hungry and ready for dinner in West Yellowstone.

Get your National Park Obsessed Gear and Help Support the Parks
[go_pricing id="end_of_post"]