Devils Tower National Monument is a special place. The tower stands 1,267 feet from the surrounding area. Devils Tower has been a human gathering place from the start of human occupation of the area. The Native Americans consider the site sacred. Their offerings are often seen in the trees around the Monument. Climbers will test their skill by climbing to the summit of Devils Tower. Flim enthusiasts come to the site of the alien landing in Close Encounters of the Third Kind.
Devils Tower Camping
Things to Know about Devils Tower
Camping is available from May to October. Opening and Closing Dates can vary from year to year. These dates are weather dependent. Check the NPS website for the latest on campground opening and closing dates.

June is the parks busiest month. Devils Tower is a sacred site to several Native American tribes and they come to the park to perform religious rituals during this month.

There is limited camping. Get the campground as early as possible and have a back plan.
Each tent campsite can have up to 8 people. There is space for two tents and two vehicles at the campsite. The campsite has a picnic table. Many of the campsites have a fire pit. Please double check the fire regulations and ensure your fire is completely out before going to bed.
Store all food items in your car. Please do NOT leave any food, utensils out, or any scented items. This includes toothpaste, toothbrush, chapstick. Pretty much put everything but what you are going to sleep in your car. Devils Tower is in bear country but they are rarely seen in the are. Even so, properly secure all items so no wildlife can get it.
Getting to Devils Tower National Monument
Devils Tower is a great weekend trip from Denver or a stop on the way road trip to Yellowstone or Glacier National Park. Devils Tower is also a short drive from the Black Hills of South Dakota.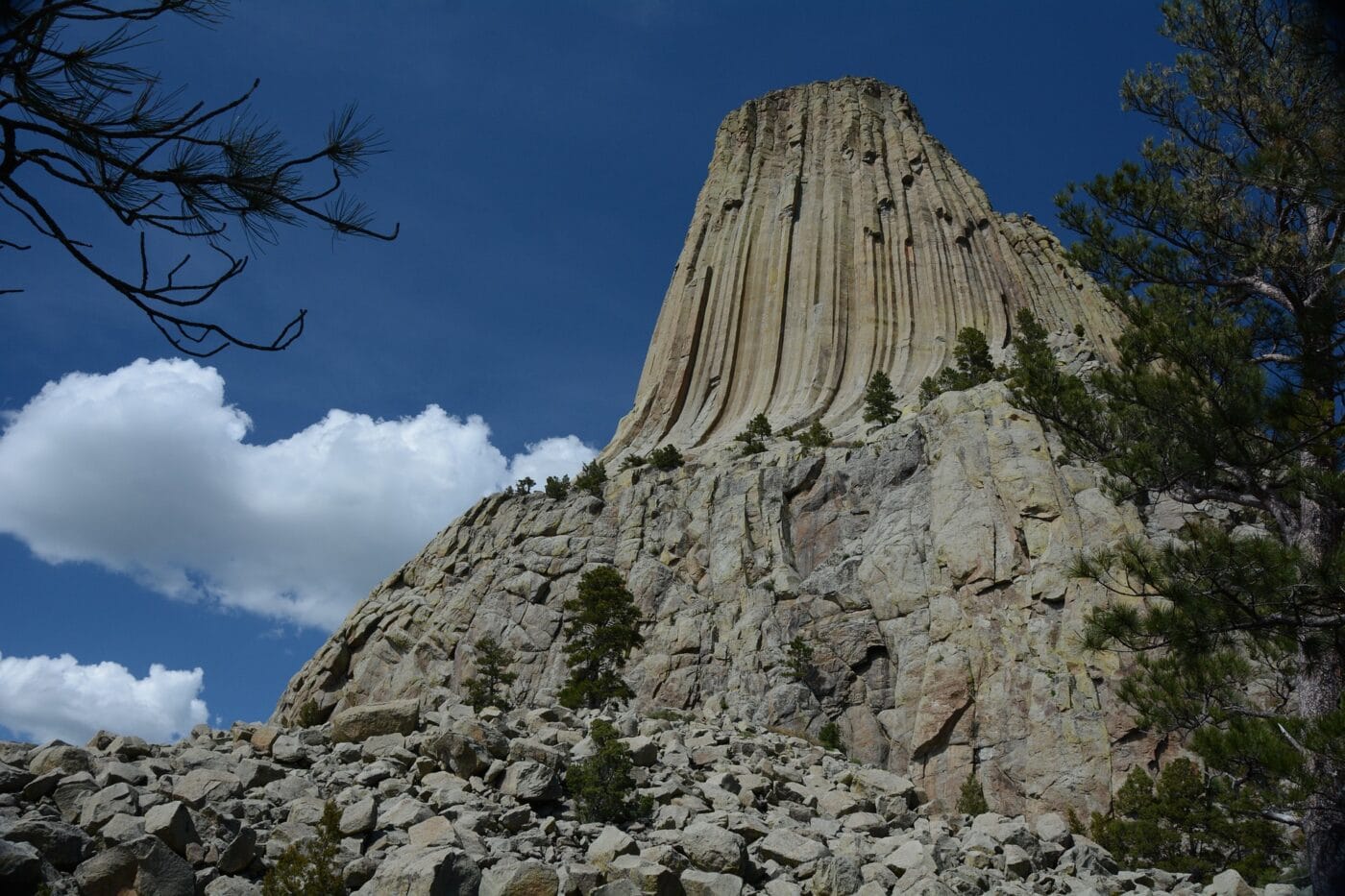 ** All Campground prices are valid as of 29 July 2018.
Devils Tower Campgrounds
Belle Fourche River Campground
Belle Fourche River Campground is the only government campground within a 45-minute drive of Devils Tower National Monument. Belle Fourche has two loops. The campground is spread out among the trees but there isn't really any privacy of the campsites. The best part of the campground is that you can get a campsite with a view of the Tower.
Pin this post: