Post Summary: Devils Tower Camping
Have you ever seen the film Close Encounters of the Third Kind? If you have, then you will recognize Devils Tower. While the film is fiction, camping at Devils Tower is one way to ensure that if the aliens visit, you have a front role seat.
All alien jokes aside, Devils Tower is a special place. The Tower rises an impressive 867 ft above the surrounding landscape. It stands out against the rolling hills and nearby forests.
Given its prominence, the Tower has attracted always humans. It is a sacred site to most of the nearby Native American tribes. They have their own names and legends for the tower.
Here is everything you need to know about camping in Devils Tower National Monument.
This post may contain affiliate links, meaning if you book or buy something through one of these links, I may earn a small commission at no extra cost to you! Read the full disclosure policy here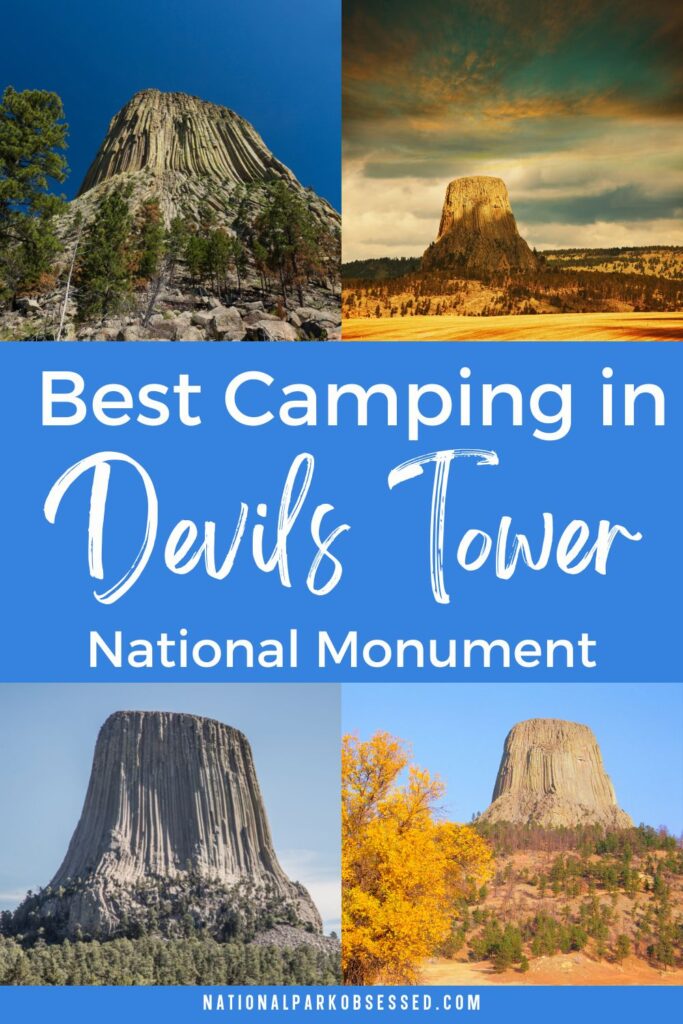 Devils Tower Campgrounds at a Glance
| | | | | | | |
| --- | --- | --- | --- | --- | --- | --- |
| Campground | Reservations | Season | Sites | Fees | ADA Sites | Amenities |
| Belle Fourche River | No | Mid-May to Mid October | 46 | $20 | Yes | F, FP, G, W |
Amenities Key
D – Dump Station
F – Flush Toilets
FP – Fire Pit
G – Generator
H – Full Hookups
HA – Hammocks
P – Pit Toliet
PA – Accessible Pit Toliet
L – Laundry
S – Shower
W – Water
A Note about the Name of Devils Tower
Devil's Tower has a rich and interesting history. The name Devil's Tower comes from a misinterpretation of one of the native names. In 1875, Colonel Richard Irving Dodge was told that the native name for the Tower translated to "Bad God's Tower." As such, the Tower was named Devils Tower by US surveyors. It is speculated that the name Dodge was provided actually translated to "Bear Lodge." But the mistake has stuck around.
Over 24 Indigenous tribes have ancestral connections to the Tower. These include:
Arapaho
Crow
Cheyenne
Shoshone
Lakota
There are many Indigenous names for the tower. A few of the possible English translations include: "Bear's Lodge," "Bear's Tipi," "Home of the Bear," "Bear's Lair," "Home of Bears," "Aloft on a Rock," "Tree Rock," "Great Gray Horn," and "Brown Buffalo Horn."
Many of the Indigenous names include a reference to a bear, this is likely due to the fact that many of the legends around the tower focus on a bear chasing a group of kids and the Tower being created to protect them from a bear.
No matter the story, the Tower is a sacred place and is used for traditional ceremonies.
You may notice prayer cloths and bundles in trees around the monument. These are ceremonial religious items. Please do not touch, disturb, or photograph these items.
Many Indigenous people find the name Devils Tower offensive, and many traditionally associated tribes prefer that a traditional name be restored. There have been petitions filed to change the name back to Bear Lodge.
But current congressional wrangling had prevented NPS and US Board on Geographic Names from considering the name change. This is similar to the challenges faced by Alaskans in officially changing the highest mountain in North America from Mt. McKinley to Denali.
As the monument is still officially named Devils Tower, we will refer to it as such in this article to avoid confusion. National Park Obsessed supports returning the Tower to its traditional name.
Getting to Devils Tower National Monument
Devils Tower National Monument is located off Wyoming Hwy 24, south of Hulett, MT. The most common route is to take Interstate 90 to exit 153 (Moorcroft, WY) or exit 185 (Sundance, WY) to US Hwy 14 to WY 24 Hwy.
Devils Tower is a great weekend trip from Denver or a stop on the way road trip to Yellowstone or Glacier National Park. Devils Tower is also a short drive from the Black Hills of South Dakota.
Estimated Drive time to Devils Tower National Monument from major cities
Rapid City, SD – 2.25 hours
Billings, MT – 4.25 hours
Denver, CO – 6 hours
Estimated Drive time to Devils Tower National Monument from nearby National Parks
Things to Know about Devils Tower Camping
Belle Fourche River Campground is Devils Tower National Monument's only campground.
The campground is only first-come-first-serve. No reservations are accepted.
Camping is only available from mid-May to mid-October.
June is the park's busiest month. Devils Tower is a sacred site to several Native American tribes and they come to the park to perform religious rituals during this month.
Each tent campsite can have up to 8 people. There is space for two tents and two vehicles at the campsite. The campsite has a picnic table. Many of the campsites have a fire pit. Please double-check the fire regulations and ensure your fire is completely out before going to bed.
Devils Tower is in bear country, but they are rarely seen in the area. Even so, properly secure all items so no wildlife can get it.
Where to camp in Devils Tower National Monument?
Devils Tower Campground Map
Campgrounds in Devils Tower National Monument
Belle Fourche River Campground
Campgrounds near Devils Tower National Monument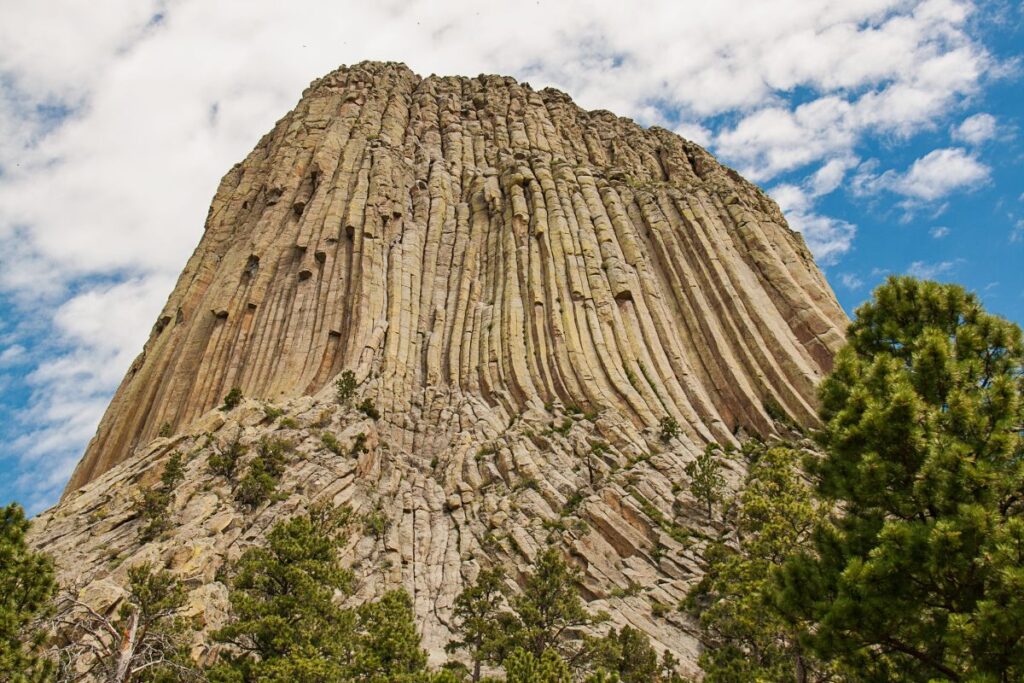 Getting a Devils Tower Campsite
Devils Tower Camping Reservations
Devils Tower National Monument does not offer camping reservations.
Devils Tower First-come, first-serve Campsites
All camping at Devils Tower National Monument is first-come, first-serve camping. The campground doesn't typically fill. It is most likely to fill on weekends between June and September.
When you arrive at the campground, grab a registration envelope and drive into the campground. Find an open campsite. Before setting up, check the signpost and ensure there isn't a paper stub. If there is a paper stub on the signpost, the campsite is still occupied.
RV Camping in Devils Tower National Monument
There is RV camping in Devils Tower National Monument. The campground does not offer hookups or a dump station. The longer your RV is the more limited your camping option. Not every campsite in a campground can accommodate the maximum length trailer.
If you'd like a hookup or want amenities such as mini-golf, the Devils Tower / Black Hills KOA is located just outside the monument entrance.
The following Devils Tower campgrounds can accommodate RVs or travel trailers:
Belle Fourche River Campground – Max length is 35 ft
>>> Click here for 13 tips and tricks for National Park RV Camping.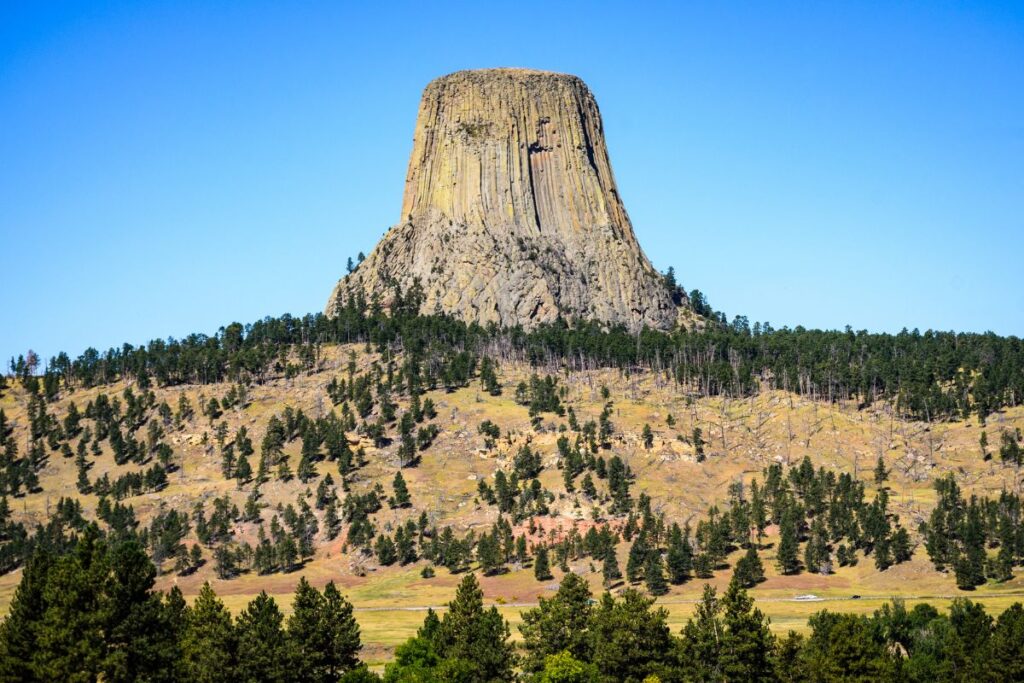 Camping at the Devils Tower
Belle Fourche River Campground
Belle Fourche River Campground is the only government campground within a 45-minute drive of Devils Tower National Monument. Belle Fourche has two loops. The campground is spread out among the trees, but there isn't really any privacy in the campsites. The best part of the campground is that you can get a campsite with a view of the Tower.
Sites: 46 sites, 3 group sites
Cost: $20-30 per night
Reservations Accepted? No for individual sites, year fro the group sites.
ADA specific sites: There are 4 ADA specific sites.
RVs?: Up to 35 ft in length.
Pets: Yes, but please review the Devils Tower National Monument Pet Policy
Facilities: Potable water, fire pit, flush toilets, picnic table, sinks,
Season: Mid-May to Mid-October
Typical Fill Time: Early evening if it fills.
Closest General Store: There are several camp stores at the park entrance.
Campground Map: Click Here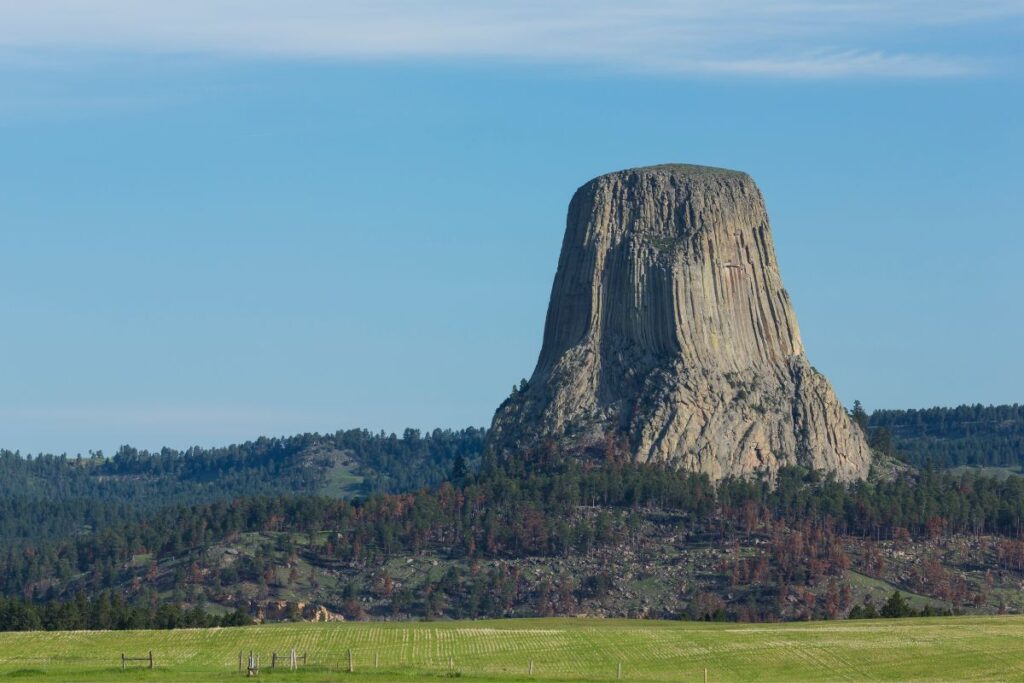 Frequently Asked Questions About Camping At Devils Tower
Can you camp on top of Devils Tower?
No. Climbers are not allowed to spend the night on or on top of Devils Tower. Climbing the tower typically takes 4 to 6 hours.
Can you boondock at Devils Tower?
No, there is no boondocking at Devils Tower. There is free dispersed camping in Black Hills National Forest off State Highway 24.
Can you camp anywhere in the Black Hills National Forest?
Sort of. There is dispersed camping in Black Hills National Forest as long as you are 1/2 mile away from developed recreation sites, including campgrounds and picnic areas as well as 100 ft from creeks and streams.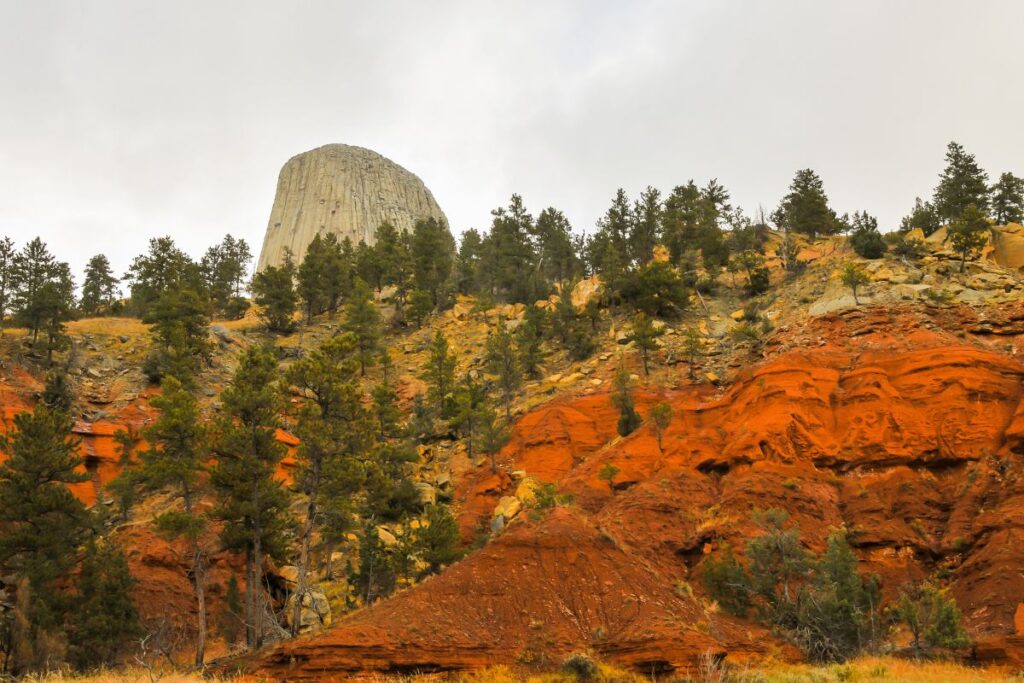 Are there bears at Devils Tower?
Sort of. It is possible to see a black bear in the area of Devils Tower, but it isn't likely. They are native to the region, but the area surrounding the Tower isn't their favorite habitat. Please report all sightings to NPS. They like to track these things.
Is there RV parking at Devils Tower?
Yes, RV parking along the outbound lane of the visitor center.
Is Devils Tower worth the trip?
Yes, it is worth the trip. It is an 800-ft tall rock tower in the middle of nowhere. It is worth it if you are in the area.
Thoughts on Camping In Devils Tower National Monument
I hope this guide answers all your questions about camping in Devils Tower National Monument. If you still have questions, let us know in the comments below.
Let us know in the comments below how your Devils Tower camping trip went. If you need more National Park trip planning help, join us in talking about all things National Parks in our National Park Trip Planning Community.
More Information for your trip to Wyoming
Pin to Save for Later: Devils Tower Camping: How to Camp at Devils Tower National Monument