Post Summary: Things to Know Before Visiting Yellowstone
Thinking about visiting Yellowstone National Park and wondering where to start? Well, you are in the right place. Here are 25 things you should know before visiting Yellowstone National Park.
There is a lot to love about Yellowstone from the iconic North American wildlife to amazing hikes to epic geothermal features. All those cool features make Yellowstone one of the most popular National Parks. This popularity makes planning a trip to this National Park a bit of a challenge between trying to avoid the crowds and knowing what one should do to ensure they have a successful trip.
I have numerous Yellowstone trips under my belt. I have explored the many geyser basins and have learned the best spots to see the amazing wildlife. Here is everything I think you should know before visiting Yellowstone National Park in 2022.
This post was originally published in October 2019. It was updated in July 2020 and August 2021.
Best of Yellowstone National Park in a Nutshell

THINGS TO KNOW: 25 Things to Know Before Visiting Yellowstone National Park

BOOKS TO READ: 11 Books to Read Before Visiting Yellowstone National Park

GETTING THERE: How to Get to Yellowstone National Park

TOURS: Best Yellowstone Tour

ONE DAY: One Day in Yellowstone National Park

CAMPING: Camping in Yellowstone National Park

NEARBY PARKS: Badlands, Glacier, Grand Teton, Wind Cave
This post may contain affiliate links, meaning if you book or buy something through one of these links, I may earn a small commission at no extra cost to you! Read the full disclosure policy here

Things to Know Before Visiting Yellowstone National Park
1. Yellowstone is open year-round
The VAST majority of visitors of Yellowstone National Park's four million visitors come between late May and early September. The weather is reasonably warm and snow isn't likely. But did you know that the park is open the other 7 months of the year? For obvious reasons, visitation is the lowest during the winter. p
The best time to visit Yellowstone is between April and May and September and October. The weather is mild and the crowds are moderate. The wildlife tends to be more active during these times. Spring is when the babies are born and many animals are breaking their winter fast. Fall is when many animals are mating and the winter food rush is on.
If you can avoid visiting in June, July, or August. These are the busiest months in the park and the crowds are MASSIVE. Expect to share the popular features with a hundred plus new friends. If you are looking for a wilderness experience during these months, head into the backcountry. For the most part, once you are five miles from a trailhead, the crowds will thin and it will be a much more pleasant experience.
2. Yellowstone is MASSIVE!
Yellowstone National Park is MASSIVE and I mean massive. It is the second-largest National Park in the Lower 48. If that still doesn't seem big, consider that it is larger than the Delaware and Rhode Island COMBINED. And at 3,468.42 sq. miles, the park is about the size of Puerto Rico. It's a huge park and even without traffic, it can take upwards of an hour to get from one section of the park to the other. See the table below for the distances between the 5 different park entrances.
The maximum speed limit is 45 miles per hour. Take for example, Yellowstone's Grand Loop. The loop is 142 miles long and will take a minimum of three hours to drive assuming absolutely no traffic, wildlife on the road, or stops. Realistically, the Grand Loop will take 4 to 7 hours accounting for all the potential delays. Don't plan on getting anywhere in Yellowstone quick. It should be a leisurely drive where you stop and take in the scenery and are prepared to sit in the buffalo and bear jams.
This is a park that you should ideally spend 3-5 days exploring but if you only have one day in Yellowstone, make the most of it.
Distance between the Entrance Stations
| | | | | | |
| --- | --- | --- | --- | --- | --- |
| Entrance | North | Northeast | West | East | South |
| North | | 51 miles | 52.6 miles | 78.6 miles | 93.8 miles |
| Northeast | 51 miles | | 94 miles | 88 miles | 135 miles |
| West | 52.6 miles | 94 miles | | 79.6 miles | 68.2 miles |
| East | 78.6 miles | 88 miles | 79.6 miles | | 67.7 miles |
| South | 93.8 miles | 135 miles | 68.2 miles | 67.7 miles | |
3. Book as soon as you can.
This is one of the most helpful things to know before visiting Yellowstone National Park is that you should book as soon as you can. Yellowstone National Park is typically a top 10 most visited National Park. In recent years, the park has been getting about 4 million-plus visitors a year. 95% of park visitors come between May and October and 63.88% in just June, July, and August.
If you are planning to visit Yellowstone, the earlier you book your lodging and rental car, the better. Ideally, you should make your reservations 6-12 months in advance. In-park hotels reservations open in May of the preceding year. So if you want to book for 2023, reservations open in May 2022. The reservable campgrounds start taking reservations six months in advance.
4. Stay inside the Park If Possible
Yellowstone National Park is first in class for in-park lodging. There are 9 lodges and hotels as well as several sets of rental cabins spread out around the park. The park also has 12 frontcountry campgrounds. Between the 2,000 hotel rooms and 2,150 campsites, there is space for 4,150 groups to stay inside the park. While that seems like a lot, it really isn't when you consider that on average Yellowstone sees an average of almost 28,000 people between June and August.
Staying inside the park can easily save you anywhere from 30 minutes to several hours depending on which entrance you are staying at and the section of the park. Depending on how many nights you have in the park, you should plan to move lodging every 2-3 nights as you explore move sections of the park.
The in-park hotels start taking reservations in May of the preceding year. So for example the 2023 reservations will open in May 2022.
Of the 12 campgrounds, 8 campgrounds take reservations. These reservations open six months in advance. The remaining 5 are first-come-first-serve campgrounds. Spaces in these campgrounds go FAST. I was in Yellowstone in late September and managed to snag a spot at Norris Campground early afternoon. I was EXTREMELY LUCKY. I couldn't believe my luck. The following morning I headed out of the campground to start my day. It was 6:30 am and there were 15 people already in line to see get a campsite for that night. If you have limited time in the park, I would avoid planning to stay in the first-come-first-serve campgrounds.
5. Pay your Entrance Fee in Advance
NPS has made things a little be confusing in terms of what you need to enter the park. As of August 18, 2021, You do NOT need to get a Yellowstone National Park Entrance Pass to enter the park. No entry reservations are required and there is no cap on the number of people who can enter the park.
To enter the park, you will have to pay an ENTRANCE FEE. The fee for a private vehicle is $35 for a 7-day pass. Motorcycles are $30 and individuals are $20. You have several options for paying this fee.
Option 1 – Pay at the park entrance.
Option 2 – Pre-pay your Yellowstone Entrance fee online before you arrive. At Recreation.gov, you can purchase your pass.
Option 3 (Recommended) – Buy an America the Beautiful Pass. The America the Beautiful Pass is an $80 pass that provides free entry to all fee-charging NPS Units and more than 3,000 other federal sites for 12 months. If you are planning to visit Grand Tetons, you will be spending $70 on entrance fees just to visit those parks so get the 12-month pass.
Seriously, if you are planning to visit more than 2 National Parks in a year, the America the Beautiful Pass is worth getting.
6. Plan to Enter the Yellowstone Before 8 am.
Most day visitors to Yellowstone arrive between about 8 am and 2 pm. So naturally, the longest lines at the entrance stations form then. The West Entrance is the busiest entrance and it isn't uncommon to hear of people waiting an hour or more to get into the park.
Another reason this is an important thing to know before visiting Yellowstone is that entering the before the main crowds is that you will have a chance to do one of the more popular hikes without the HUGE mass of crowds or having to fight for parking for your first stop.
7. Use the PrePaid Line, even if it looks the longest
Since you have pre-paid your entrance fee, USE the prepaid line. Even if the line is longer than the regular entrance lines, the prepaid line is faster. In the prepaid line, all the ranger is doing is verifying the receipt or pass is valid and checking that the ID. The ID check is just verification that the name on the receipt or pass matches the ID. It is a quick check and then you are in and exploring the park.
This line will move much faster than the one where everyone has to stop and pay their entrance fee.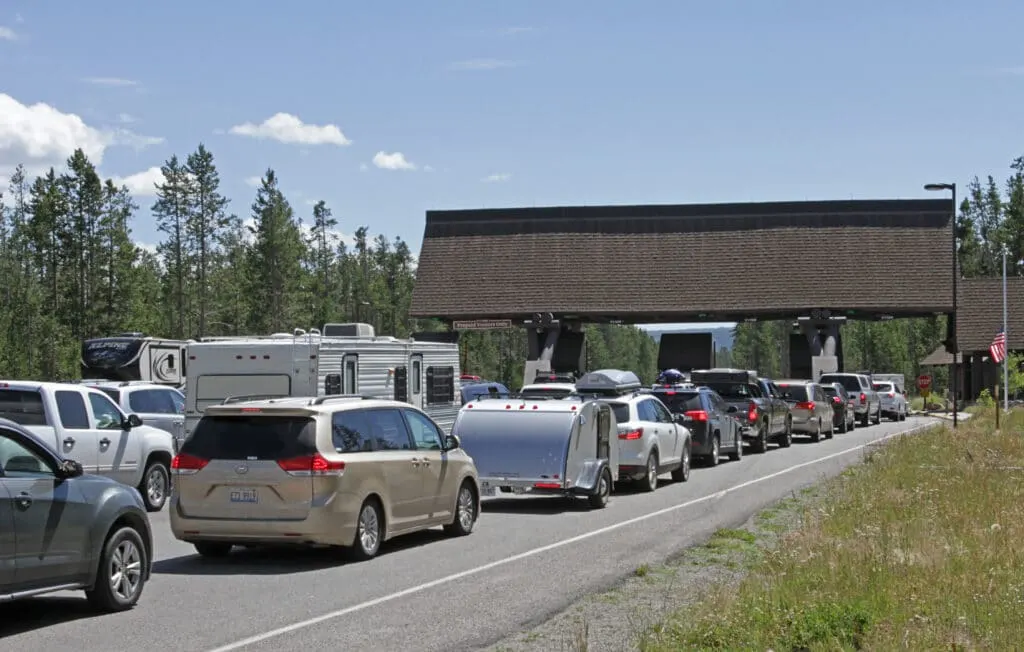 8. There is VERY limited cell service and wifi in the park
It might come as a shock to some people, but Yellowstone National Park has EXTREMELY limited cell service. There are a handful of cell towers located near the park's developed areas. mostly it's one tower per area of cell service so for example. Everyone in the Old Faithful area is using the same tower. During the summer, the demand for cell service often overwhelms the system and renders the system mostly unusable. It is just best to plan on being disconnected and if you do need to contact someone use texting. It is the most effective means of communication.
Generally speaking, Verizon has the best cell coverage then T-Mobile/Union Telecom then At&T. I have T-mobile, and last time I was in Yellowstone I was able to check my email and do a bit of texting in both the Canyon Village area and Mammoth Hot Springs.
As limited as cell service is, wifi is worse. There is paid limited bandwidth at Mammoth Hot Springs Hotel, Canyon Lodge, Grant Village, Lake Lodge, and Old Faithful Snow Lodge. Lake Yellowstone Hotel has wired ethernet. Free wifi can be found at Albright Visitor Center in Mammoth Hot Springs. All of these systems are limited bandwidth and you really should only plan on checking your email and using Whatsapp.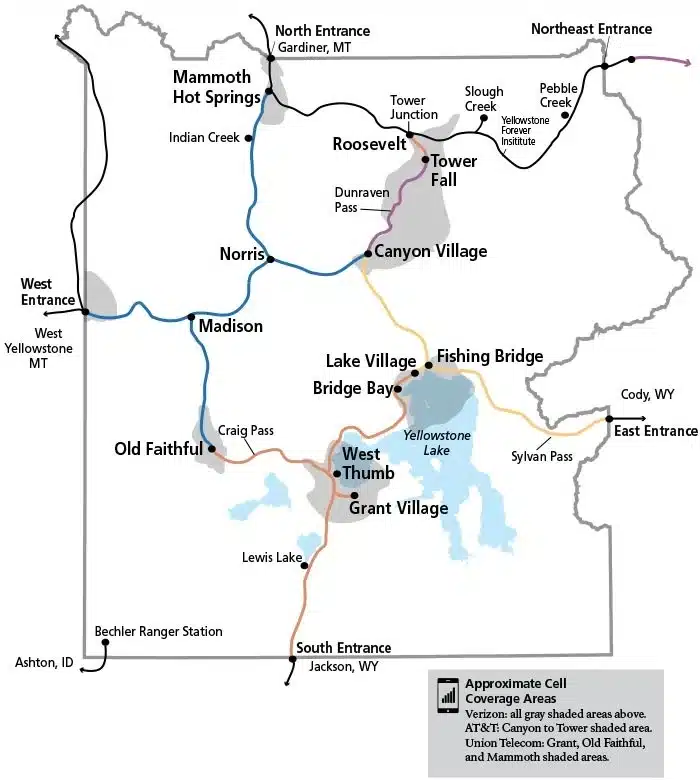 9. Download the maps and check for road closures
As I shared above, Yellowstone has limited cell service so you can't rely on any internet-based map software to provide real-time directions. So if you are planning to use Google Maps to navigate, download the off-line maps before you get to the park. I also recommend carrying one of the NPS brochures so you have a paper copy of the maps just in case Google Maps has an issue in offline mode.
It is important that you check the road closures before visiting Yellowstone. Yellowstone has about 310 miles of paved road and NPS is always doing maintenance, improvements, or repairs. Due to the nature of road repairs, all this work can only be done during the summer during the highest visitation. It's just the nature of the beast so you need to check the closures.
For example. the Grand Loop Rd closed from Tower Falls to Canyon Village is closed for 2021.
>> Get the latest on the Yellowstone Road Closures.
10. There is gas in the park.
A trip to Yellowstone can involve a lot of driving. I highly recommend always filling your tank up before you enter the park. Gas will always be cheaper outside of the park. Once you are in the park there are gas stations can be found at Old Faithful, Grant Village, Fishing Bridge, Canyon, Tower/Roosevelt Junction, and Mammoth Hot Springs. Gas will always be more expensive in the park but if you are staying in the park, pay the premium so you don't have to spend hours driving outside of the park to get gas.
I recommend keeping a close eye on your gas levels and filling up when you get to a half tank.
11. Check the Geyser Eruption Times
One of the few MUST-DO things in Yellowstone is to see a geyser erupt and when I say geyser erupt, I really mean see Old Faithful. Old Faithful is the easiest of the large geyser eruptions to see. It also erupts fairly frequently and it is fairly predictable. Old Faithful erupts every 68 or 94 minutes plus or minus 10 minutes.
Old Faithful's eruptions interval depends on the length of the preceding eruption. If Old Faithful erupts for less than 3 minutes the next interval will be 68 minutes plus or minus 10 minutes. If it is over 3 minutes, it is 94 minutes plus or minus 10 minutes. If you are planning on watching the eruption, you should get over to the geyser at least 15 minutes before the next predicted eruption to find a spot to watch.
There are about 1,300 geysers in Yellowstone. Most of Yellowstone's geysers are small with an eruption of 1-2 ft. They may erupt roughly every 5 minutes or whenever they feel like it. While that makes up most of the geysers there is a handful that has big eruptions similar to match what people think about when you say geyser eruptions.
Of the large geyser eruptions, only about 5 can be predicted an eruption window of fewer than two hours. These are
Old Faithful – 94 or 68 min (+/- 10 minutes)
Grand – 6 hours 30 minutes (+/- 60 minutes)
Daisy – 2 hours 45 minutes (+/- 30 minutes)
Castle – 13 hours 30 minutes (+/- 45 minutes)
Riverside – 6 hours 30 min (+/- 30 min)
There are two sites to find predictions for the next geyser eruption. The first is the National Park Service webpage. This site provides predictions for all 5 of these geysers from April to October and January to February.
My preferred geyser prediction site is Geyser Times. They provide year-round predictions based on user reports as well as access to NPS predictions on a nice visual chart. Their chart shows the current time as well as the previous eruptions along with the next predicted eruption window. Their calculations have the eruption windows to be a little bit different than NPS but not by much. They don't provide predictions of Castle Geyser.
The main benefit of Geyser Tims is that you can look up pretty much any geyser in the park and see what data has been recorded about it. Most of this data comes from citizen observers who will watch geysers and report their findings. I like being able to see the latest data on eruptions and see the minimum and maximum eruption intervals and well as the average interval.
12. Useful items to bring to Yellowstone: Basic Yellowstone Packing List
Here are a few items that I think I REALLY important to have on your Yellowstone Packing List
Car Charger with outlets – Get a car charger with outlets. You will love being able to charge things like camera batteries on the go. >> Get my car outlet charger.
Binoculars – If you are planning to do some wildlife viewing while in Yellowstone, you NEED a pair of binoculars.
Water Cube – Yellowstone is a huge park and places to refill water can be few and fair between. I like carrying a water cube in my car. I can fill it up and have water for all my adventures. Best of all they fold flat so they are easy to pack. >> Buy your water cube here.
Rain Jacket – There are several reason to bring a rain jacket with you. One is if it rains. The second thing is that it can be misty in the geyser basins and a rain jacket can keep you dry. >> Buy your water cube here.
Toilet Paper – I always keep a roll of toilet paper in my car. With the increased crowds in the National Parks, I have found that it isn't uncommon for the bathrooms to be out of supplies in the late afternoon.
Hand Sanitizer – The same thing as the toilet paper, I keep hand sanitizer for when the vault toliets are out of supplies or I'm stopping for lunch where there isn't access to a sink. >> Get my favorite refillable hand sanitizer
13. What to Wear in Yellowstone: Bring Layers
One really important thing to know before visiting Yellowstone National Park is that Yellowstone has an average elevation of about 8,000 ft. The park's elevation ranges from 5,282 ft to 11,358 ft. Given the range of elevations, the temperatures can vary wildly within the park.
During the summer temperatures can range from the high 20s to the low 80s. I always recommend packing light to midweight jacket, warm hat, and pair of gloves when visiting Yellowstone. I also keep a few base layers in my car on road trips so I have a few options depending on the weather and temperature. I often start my day in a base layer and jacket and will change gear as the weather warms up. I also like having extra layers as the nights cool off.
14. Bring your own food or eat at odd hours
Yellowstone has a number of formal dining options as well as deli and cafeterias. For 2021, the options are very limited but even when all the dining is operating at full capacity, Yellowstone dining options are super busy. If you can avoid it, I'd plan on eating breakfast and lunch on your own. This will allow you to explore the park and not worry about where you are at mealtimes.
My favorite grab and go meals and snacks include:
Apples
Protein Bars (I love Cliff Bars and have recently become a fan of Pro Meal Bar)
Peanut Butter and Jelly Sandwich supplies
Nuts
Dried or Freeze-Dried Fruits
Chips
Trail Mix
Drink Powder
If you are planning to eat at the park dining facilities, you should make a reservation when possible. If you don't have a reservation, try to eat towards the end of a traditional mealtime. It isn't uncommon to see 40+ people standing in line waiting for places to open for dinner. If you are eating at a normal meal time pick the grab-and-go places or the cafeteria places.
15. Yellowstone has 15 National Park Passport Stamps
There are 15 unique national park passport stamps to collect in Yellowstone. They can be found in visitor centers around the park. Here are passport stamps in the park are:
Bechler Ranger Station
Canyon Visitor Center
Fishing Bridge Visitor Center
Grant Visitor Center
Lamar Valley
Madison
Mammoth Visitor Center
Norris Geyser Basin
North Entrance
Old Faithful Visitor Center
Ranger Museum
Snake River Ranger Station
Tower Falls District
West Thumb
West Yellowstone Visitor Center
>>> Click here to learn about the National Park Passport.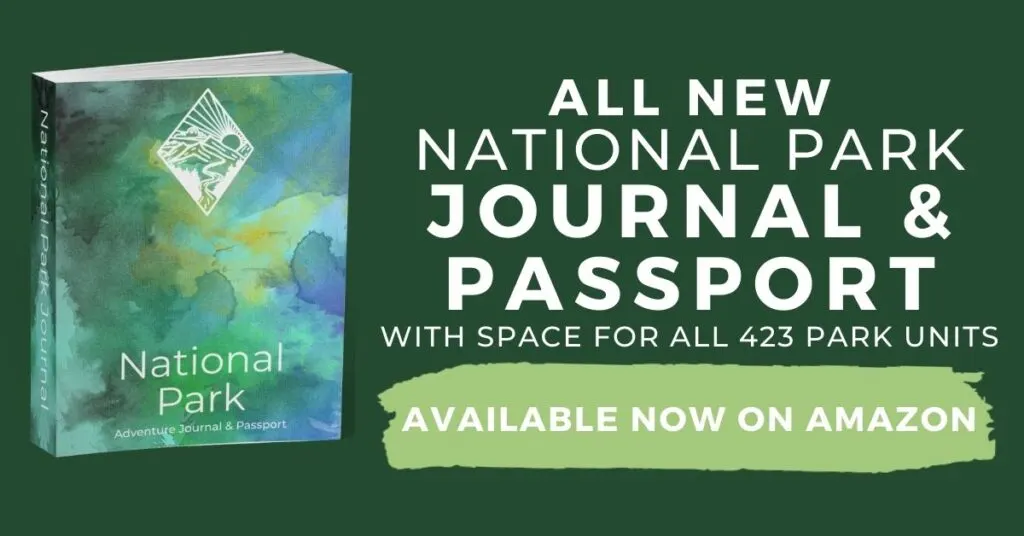 16. Stay on the boardwalks and trails.
Kirwan took two steps into the pool then dove head first into the boiling water . . . Ratliff pulled Kirwin from the spring . . . Kirwan's entire body was badly burned . . . Another man ran up, began to remove one of Kirwan's shoes, and the men watched horrified as the skin game off with it . . . Near the springs, rangers found two large pieces of skin shaped like human hands . . . In the men's turck, rangers found the park's waring literature and pamplets

Death in YELLOWSTONE: Accidents and FOOLHARDINESS in the First National Park, by Lee H. Whittlesey
In Yellowstone National Park, staying on the trails and boardwalks isn't just about protecting the landscape. In this park, it's about safety. These hydrothermal areas are areas where water and molten rock met. The water is heated by the molten rock and rises to the surface. The water comes to the surface via seeps in the Earth's surface forming a range of geothermal features. These seeps are basically an underground plumbing system that can change as water find or develops new pathways to the surface.
This underground plumbing system makes walking around in the hydrothermal areas like traversing a landmine field. No one knows what is underneath that crust: it could be solid rock or it could be a hole full of boiling water. While the bison and other wildlife can walk through this area, they have a better sense of smell, hearing, and feeling so they can more easily detect the thinner layers of crust.
At least 22 people have been boiled to death by falling into Yellowstone geothermal features. (For comparison, only 8 people have been killed by bears.)
17. Use the pull-offs.
Every day thousands of people drive through Yellowstone on the TWO lane roads. Traffic is a huge issue in general. There are a lot of reasons Yellowstone's traffic is horrible. General road maintenance can shut down parking areas or lanes. The bison can decide to cross the road and create a bison jam. A bear or a wolf is sighted and hundreds of people line the road to get a glimpse.
The park pullouts and the graveled sides of the road are there for a reason. If you want to stop and look at something, pull over and then look at it. All four tires need to be outside the white lines.
Do NOT STOP YOUR CAR IN THE MIDDLE OF THE ROAD.
Stopping your car in the middle of the road is both rude and disrespectful for other park visitors. It causes traffic to back-up and NPS has started scaring off wildlife when irresponsible people don't pull over and keep the traffic flowing.
Bison Jams where the animals are standing in the middle of the road are the exception to stopping in the middle of the road. These animals are big and they know it. They have been known to stand in the middle of the road and make cars go around them. I do not recommend playing chicken with the bison to try and encourage them out of the road. Just wait them out. They will eventually move.
18. Follow Leave No Trace
Leave No Trace is a concept where the goal is to visit a place and minimize OUR IMPACT said location. The 7 Principles of Leave No Trace are:
Plan Ahead & Prepare
Travel and Camp on Durable Surfaces
Dispose of Waste Properly
Leave What You Find
Minimie Campfire Impacts
Respect Wildlife
Be Considerate of Other Visitors.
This means that you shouldn't be taking anything out of the park that you didn't bring into the park (except things you get at visitor centers or gift shops). You shouldn't be picking plants, rocks, or wildflowers. These plants, flowers, and rocks are all important parts of the Yellowstone ecosystem. One rock or flower might not seem like a lot but if 10% of the visitors take one that is 400,000 fewer rocks and flowers in the park. It adds up and can have an impact.
Pack out ALL YOUR TRASH or dispose of it in the proper container. This includes organic trash such as sunflower seed shells, banana peels, apple cores, and anything else of that nature. None of these are native to the environment and they are still litter. If you see little on the trail, do your part and pick it up. Every little bit helps.
Do not let feed the small wildlife such as birds, chipmunks, and any other animal in the park. I love Park Services' new slogan "A Fed Bear is a Dead Bear." Once an animal learns that humans equal food, it's behavior is forever changed. There is no going back, and relocating the animal doesn't work. Park Service has tried this. The bears usually bet the rangers back to the campground. Additionally, many wildlife can carry diseases such as plague (black death), hantavirus, and/or rabies.
Also, the levels of sodium found in most human food is really unhealthy for the small furry rodents
19. Where to see the wildlife of Yellowstone
Yellowstone National Park is the BEST National Park for wildlife viewing. It could be said that Yellowstone is North America's Serengeti. Yellowstone has over 379 species of mammals, birds, reptiles, fish, and amphibians. Of those 379, most park visitors come to Yellowstone hoping to see 6 larger mammals:
Bison can be found throughout the park. You can pretty much stop at any open area and odds are good you will see a bison in the field
Black Bears are one of two species of bear found in the park. These bears range in color from light brown to dark black. I have had the best luck seeing black bears in the forest in the Tower-Roosevelt Area. They can also be found in Larmar Valley and Hayden Valley.
Elk are primarily found in the north half of the park in areas such as Lamar Valley, Hayden Valley, or Madison Valley. They are also found in the Mammoth Hot Springs area.
Grizzly Bears are the other species of bear found in the park. These bears range in color from light brown to dark black. Grizzly bears have a pronounced shoulder hump. I have had the best luck seeing from Mammoth to Old Faithful. They can also be found in Larmar Valley and Hayden Valley.
Moose are primarily found in Grand Teton National Park. The 1988 Yellowstone fire destroyed most of the moose habit in Yellowstone and the population of moose is very low. Moose are mostly found in marsh areas near lakes and streams. I have really only seen moose near the Soda Butte Creek in Lamar Valley. I have heard that sighting are up along Yellowstone Lake and Fishing Bridge area.
Wolves are both the hardest and easy to see in Yellowstone. Yellowstone has about 100 wolves. While they can be see anywhere in the park, most of the paks have territory in the northern half of Yellowstone with a concentration in Larmar and Hayden Valley. The best way to see the wolves is to head into Lamar Valley and look for the people with cars and spotting scopes. If the wolves can be seen from the road, odds are a wolf watcher is sitting there watching them.
Of that list, I can pretty much guarantee that you WILL SEE bison and elk. These two animals are found in large numbers and widespread throughout the park. The best time to go look for wildlife is in the early morning or late afternoon / early evening.
20. Staying Safe Around Yellowstone's Wildlife
Yellowstone National Park is NOT A ZOO. Yellowstone's wildlife are WILD animals living in their natural environment. I repeat these are wild animals. They might seem cute and cuddly but they are not.
Keep a safe distance from all wildlife. This is for YOUR safety and the safety of the wildlife. Sadly, I'm not joking about this. Every year a few park visitors learn the hard way that the wildlife is not tame and can be incredibly dangerous. They are not to be touched or fed. It is detrimental to wildlife for them to interact with you. Many times, NPS has to put down animals that are involved in an incident where a human is hurt or has learned bad habits from humans.
Most of these incidents can be avoided by staying a safe distance from the wildlife. Never approach or feed the wildlife. The animals in Yellowstone are wild and unpredictable, no matter how calm they appear to be. The safest (and often best) view of wildlife is from inside a car. If an animal approaches you, back up or get inside a vehicle or building.
If an animal changes its behavior because of you, YOU ARE TOO CLOSE.
Per NPS regulations you must stay at least 100 yards (91 m) away from bears and wolves, and at least 25 yards (23 m) away from all other animals, including bison and elk.
Animals such as bison and elk might look big and slow but they can MOVE when they want to. Bison can run up to 40 miles an hour and elk can run up to 45 miles per hour. By comparison, the fastest human speed EVER recorded was 27.78 mph. That means that in his prime, 100 m world record holder Usain Bolt couldn't outrun a bison.
In addition to being able to outrun you, they can accelerate at the drop of a hat and are faster than you. On average, bison gore five people a year in the park. All of these incidents involved Yellowstone visitors who are less than 25 yards from the wildlife.
There is no reason to be within 25 yards of any animal in the park. If the animal approaches you back up.
I can clearly remember the first time I watched someone injured by an animal. Although, I may just remember it because it was the first time I said the word "shit" and my mother has told the story often. I was 8. We watched a woman walk up to an elk to take a picture with it. My mother leaned over to my father and whispered: "that woman is about to get the shit knocked out of her." This was not meant for my little ears. A few moments later, the woman put her arm around the elk. He turned around and kicked her. Eight-year-old me turned around and said: "that woman sure got the shit knocked out of her." The woman walked away but she was bruised. She got lucky. The elk could have attacked her with his antlers and done serious damage.
Bear Spray
If you are doing any hiking outside of the main boardwalk areas, carry bear spray. Bear Spray is the best defense if you end up in a situation with a bear.
21. Let nature happen.
The park is a nature preserve. This means that nature should happen with limited human interface. It can suck, but it's the circle of life. Let things run their course as nature intends them to.
Do not interfere. Do not offer food, comfort or warmth. Do not touch. If you see an animal hit by a car, please report this to the rangers.
If you are concerned about the welfare of an animal, let it be and alert a park ranger to its location. Their job is to protect the park and the animals within it. They will know how to handle the situation if there is anything that can or needs to be done. Don't put the animal in your car. You are not helping it. If the animal goes in the car, odds are that National Park Service will be putting the animal down unless they can find a facility that is ready to take that animal in TODAY. For most animal facilities, acquiring a new animal isn't a quick decision. They have to ensure they have space and the money to provide for the long-term well-being of that animal and most facilities can't just take a new large animal on a whim.
In particular, if you see an injured wolf, grizzly bear, black-footed ferret, or Canada Lynx, wolverines. Please let park service know. All of these animals are either endangered and extremely rare and park service should be notified of sightings.
I have found two very similar stories about a young bison calf being found by themselves at the side of the road. Both calves were cold, wet, and abandoned after their mothers swam across a river. I know my heart would be breaking to see the cute brown bundle that is a baby bison shivering all alone. But they live in a world where it is survival of the fittest. This sounds harsh but not every baby animal makes it to adulthood.
On May 16, 2016, a father and son found a young bison calf in just this situation. They ignored the warning of several individuals around them and loaded the calf into their car to take it to the park rangers for help.
When they delivered the bison to the rangers, they discovered that National Park Service does not manage individuals animals; they manage the ecosystems as a whole. NPS attempted to reunite the bison calf with its mother but they were unsuccessful. No rescue centers or zoos were in the position to take the calf so it was euthanized.
In May 2019, Ron Stervenz came across an abandoned bison calf while filming in Yellowstone. He left the bison calf alone and after 30 mins, the mother returned and found her lost calf. He made this amazing video about it. Watch it to the end to see how happy everyone is when they are reunited.
22. Yellowstone is a supervolcano but you don't need to worry.
Much of Yellowstone National Park lies inside the Yellowstone Caldera. This caldera is the top of a supervolcano. A supervolcano is a volcano that has a Volcanic Explosivity Index (VEI) of 9. For comparison, the May 1980 eruption of Mount St. Helens in Washington had a VEI of 5, and the December 2019 eruption of New Zeland's Whakaari / White Island had a VEI of 2.
A potential Yellowstone supereruption sounds really scary and every couple of months there is a new news article about the supervolcano and hints of an eruption. If you do a quick google search for news on a Yellowstone supervolcano eruption, you are sure to find a reasonably recent article about a potential eruption.
The Yellowstone supervolcano is highly monitored and until the United States Geological Survey's Yellowstone Volcano Observatory issues an actual warning about an eruption, I'm not worrying bout Yellowstone's supervolcano status. Plus Yellowstone doesn't even make the top 18 for most dangerous volcanoes in the United States.
23. Yellowstone has a lot of earthquakes.
Yellowstone averages between 700 and 3,000 measurable earthquakes every year. Most of these earthquakes have a magnitude of 3 or less. These minor earthquakes are rarely felt and when they are it is barely noticeable. As mentioned above, Yellowstone is well monitored and the earthquakes are just part of the game when dealing with Yellowstone.
On a semi-frequent basis, Yellowstone experiences what is known as an earthquake swarm. Like the one headlined above. An earthquake swamp is when several earthquakes are detected in a short period of time. While earthquake swarms are not fully understood, they are typically caused by fluid movement or by slips along pre-existing faults.
In Yellowstone, the USGS monitoring hasn't seen any signs of magma moving and their research has shown that the swarms are caused by water or superheated gas movement or by slips along Yellowstone's pre-existing fault lines.
24. Yellowstone has more than 10,000 hydrothermal features.
About half of the world's hydrothermal features are found in Yellowstone. These hydrothermal features come in many forms from mud volcanoes to geysers to fumaroles to hot springs. Yellowstone has it all. These features are spread out across the park. Some like Roaring Mountain which is a small patch of fumaroles to the vast Upper Geyser Basin.
Yellowstone National Park is home to half of the world's geysers. A 2011 study found 1,283 geysers in the park. While most visitors think of geysers as having a massive eruption and send water 20 to 400 feet in the air, in reality, most of Yellowstone's geysers have eruptions of 1-2 feet.
Yellowstone does have an impressive collection of geysers including the famed Old Faithful Geyser and the world's tallest geyser Steamboat.
25. There is an entire book dedicated to the ways people have died in Yellowstone
I'm not joking about this. There is a 292-page book on the strange and scary ways people have found to die in Yellowstone. Earlier in this article, I shared a small excerpt from this book when talking about staying on the boardwalk. Not to be cavalier about death but Yellowstone visitors have found some novel ways to die from hot springs to bears to bison to poisonous gas.
Lee Whittlesey has spent years researching the ways people have died in Yellowstone National Park. His book Death in Yellowstone: Accidents and Foolhardiness in the First National Park is his compilation of this research along with excellent storytelling.
Some are accidents, some are deliberate, and some are downright terrifying. The book covers deaths from the first US occupation of the park to modern events. It details various ways people have managed to get themselves killed in Yellowstone National park. People have jumped into hot springs and been boiled alive. Twenty-two people have died that way in the park (that we know of). People have died eating a poisonous cousin of the parsnip. They are gored by bison. People drown in the rivers and fall off cliffs.
I am not trying to scare you away from visiting the park but make you aware of the dangers in the park. The book makes an interesting read about strange and dark ways people manage to kill themselves.
26. Yellowstone is not Disney World.
At the end of the day, Yellowstone National Park is NOT Disney World. It is not a controlled environment designed for you to have fun. The animals are not animatronics. The plants aren't grown specifically for your enjoyment.
The park makes for a great vacation but remembers that it is a wilderness area. It is possible to have an amazing time and see the wildlife while still respecting the park and not causing any damage to the park and its wildlife.

Final Thoughts on Things to Know about Yellowstone National Park
I hope you find these things to know before going to Yellowstone National Park in 2021 helpful. If you need any gear advice check out these articles below.

More Information for your trip to Wyoming
More Information for your trip to Montana
Pin for Later: 25 Things to Know Before Visiting Yellowstone National Park