Post Summary: Denali Facts
Standing proudly in interior Alaska, one mountain stands above the rest. To locals, the mountain has always been known by her Athabaskan name "Denali." To those living outside of Alaska, the mountain used to be called Mount McKinley. Denali means "The High One" and she is certainly a high mountain and seeing the mountain is on many people's Alaskan bucket list.
If you are looking to learn more about Denali and Denali National Park, you are in the right spot. I have compiled some of my favorite Denali facts and statistics to help you prepare for your Denali trip.
This post may contain affiliate links, meaning if you book or buy something through one of these links, I may earn a small commission at no extra cost to you! Read the full disclosure policy here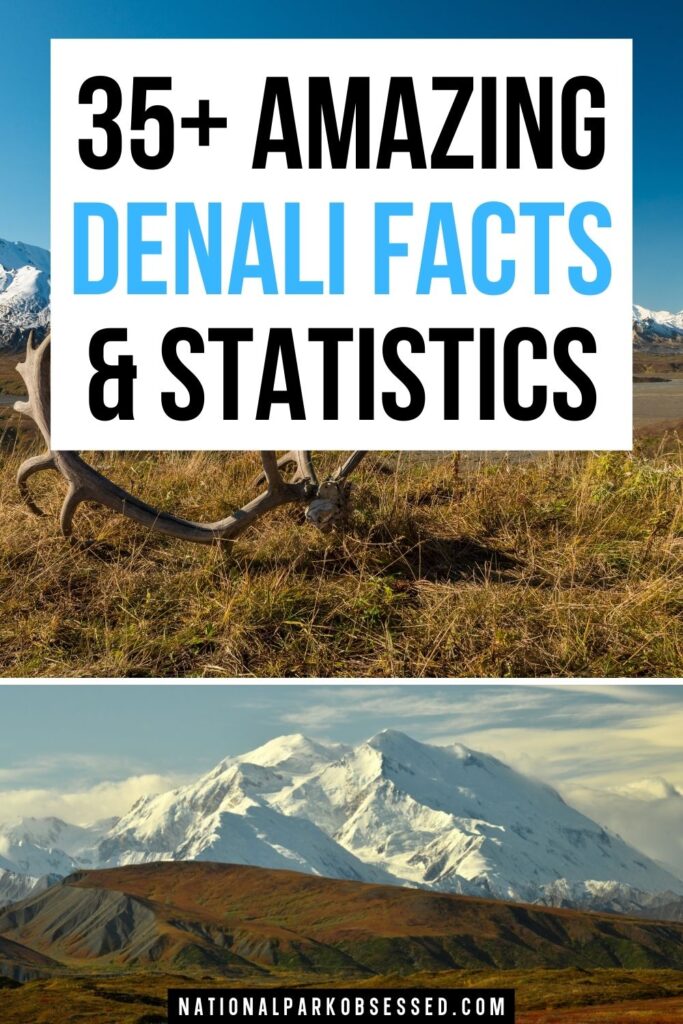 Feeling overwhelmed with planning your Alaska National Park trip? Our expertly designed Alaska Park itinearies will show you how to make the most of your time and make booking your trip easy.
Denali Geography Facts
There are some really interesting Denali statistics and records that make Denali a unique mountain.
Denali is the highest mountain in North America (and the United States)
Denali is 20,310 ft (6,190 m) above sea level. This new measusemnt was made in 2015 using GPS data. This is 10 ft. shorter than the 1953 height of 20,320 ft as cacuated by Bradford Washburn, an American explorer, mountaineer, photographer, and cartographer.
Denali is still growing. The mountain grows somewhere between 0.02 – 0.04 in. (0.5 – 1 mm) a year due to the Pacific Plate being forces underneath the North American Plate.
Denali is the third-tallest mountain of the "Seven Summits" (the highest mountain on each contient) after Asia's Mount Everest and South America's Mount Aconcagua.
Denali is the tallest moutain on land. Denali is 18,000 ft (5,500 m) from base to summit rise. Mount Everest is situtuatied on the Tibetan Plateau and has a base to summit rise of 13,650 ft (4,160 m). (Mauna Kea of the Big Island of Hawaii is the largest moutain meansued from ocean floor to summit. It rises 33,476 ft (10,204 m).)
Denali has two summits. The South Summit is 1,270 ft (387 m) higher than the north summit.
Denali has a topographical prominence of 20,194 ft (6,155 m). Topographical prominence is the vertical distance between the summit and the lowest point on the highest ridge connecting the mountain to another mountain.
Denali has a topographic isolation of 4,621 miles (7,437 km). Topographic isolation is the distance between the peak and a point of equal elevation. Denali's closed point of equal elevation is Yanamax in Xinjiang, China.
With it's massive prominence, Denali is visitable for almost 200 miles and can be seen from Anchorage (130 miles) and Fairbanks (150 miles).
The first recorded sighting of Denali by a European was on George Vancouver on May 6, 1794.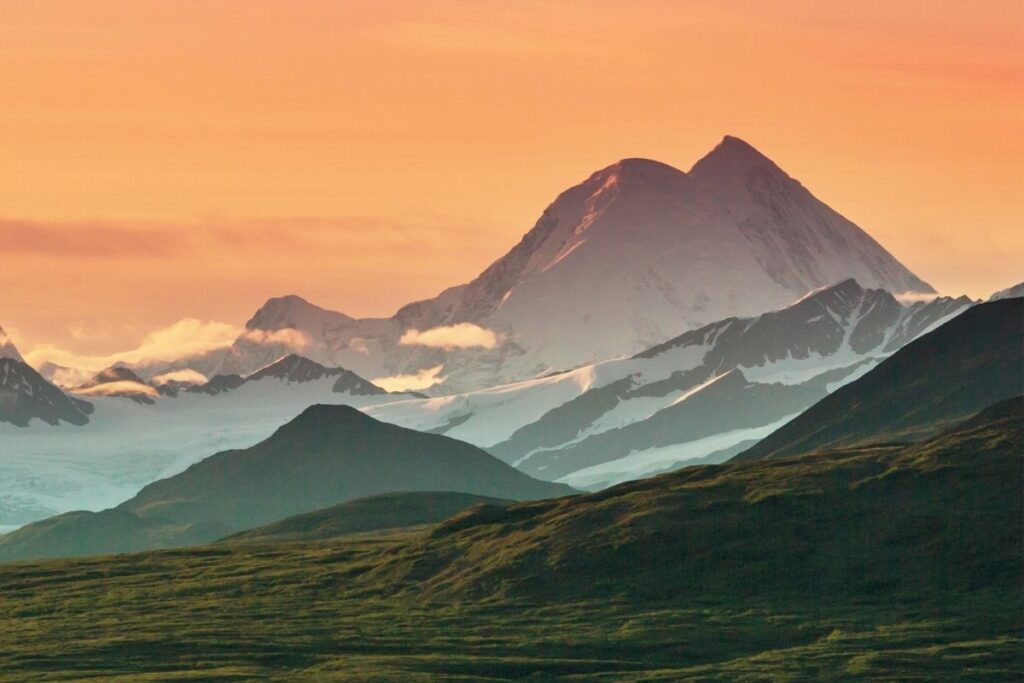 Denali Climbing Facts
Like moths to a flame, tall mountains draw people to them. There is something about standing at the summit that attracts people and Denali is no exception. Man has been documented attempting to climb Denali for over 110 years. Here are some really interesting facts about climbing Denali.
Please note that the Upper Kuskokwim, Koyukon, Dënéndeh, Dena'ina Ełnena, Ahtna Nenn', and Tanana people lived (and still live in the region) in the flanks and valleys of Denali. It is possible that these local people attempted to climb or successfully climbed the mountain prior to Russian / American exploration of the region. To my knowledge and research, there are no written records or oral history of indigenous people attempting to summit the mountain. If you have knowledge otherwise, please leave me a comment below.
The first Denali summit attempt was in 1903. Judge James Wickersham and four other attempted to climb the mountain via Peters Glacier and the North Face. They made it tp 10,000 ft in elevation before a vertical wall. This wall is known as "Wickersham Wall" and due to the avalance dangers wasn't successfully climbed until 1963 (and has only been climbed a handful of times since 1963).
In 1906, Dr. Frederick Cook and Ed Barrill claimed to have summited Denali after a failed attempt in 1903. They produced a photograph of Cook on the summit. There were some doubts about their summit but nothing but small talk until 1909. Barrill was paid by another explore who was looking to discredit Cook to say their 1906 summit was fake. In 1956, Bradford Washburn and Walter Gonnason followed Cook route. The identified the locations of Cook's photos as well as incosistancies in the account as well as a rocky outcrop near Ruth Glacier that looked a lot like the summit photo. In 1998, historican Rovert Bryce found an un-cropped verson which definitvely confirmed Washburn and Gonnason's findings.
The first verifiable Denali summit was on June 7, 1913 by Hudson Stuck, Harry Karstens, Walter Harper, and Robert Tatum. They approached the peak via Muldrow Glacier and McGonagall pass.
From 1903-2019, 46,665 people have attempted to summit Denali. Only half (52%) successfully reached the summit.
Since 2000, about 1,200 people attempt to summit annually. The success rate has varied yearly from 36% to 68%. But the average sits around 54%.
In 2019, 1,224 climbers attempted to summit Denali with a 64% success rate on summiting. 60% of climbers were from the United States. These climbers were from 43 states plus plus D.C and US Virgin Islands. Climbers from 50 different nations attempted to climb including Canada, Poland, and Japan. 16% of climbers were women and they had a 52% sucess rate.
The most popular month to summit is June and the average climb takes 15-18 days.
>> Read more about Denali's Climbing history with Jonathan Waterman's In the Shadow of Denali: Life And Death On Alaska's Mt. Mckinley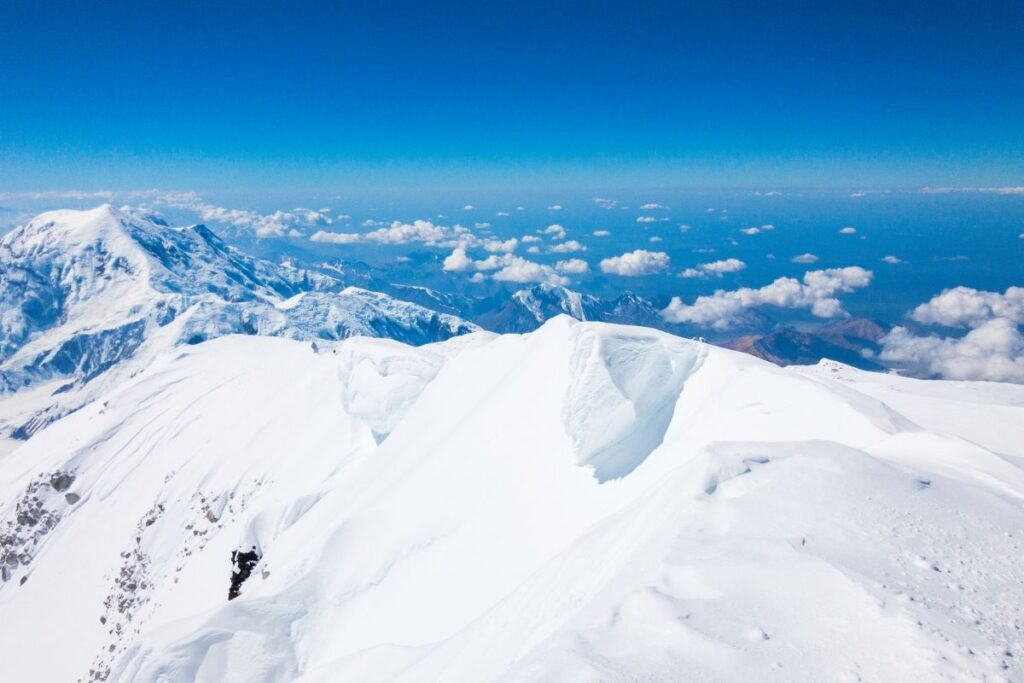 Facts about Denali's Name
Denali's name has a tangled and strange history. To locals, the mountain has only ever had one name. It took way longer than it should have to get the name changed back to its historic name.
Denali's name comes from Koyukon Athabascan. The Koyukon called the mountian "Deenaalee." The English transalation varies from "The Great One," "Big Mountain" or the "The High One." No matter the transalation, the various native name for Denali all pay reverance to this special mountain.
Other native language names for Denali include

Lower Tanana language – Deenadheet, Deenadhee
Middle Tanana language – Diineezi
Upper Kuskokwim language – Denaze
Deg Xinag language – Dengadh, Dengadhi
Holikachuk language – Denadhe
Ahtna language – Dghelaay Ce'e, Deghilaay Ce'e
Upper Inlet Dena'ina language – Dghelay Ka'a
Lower Inlet Dena'ina language – Dghili Ka'a
>> Learn more about the oral history of the Alaskan Indigenous People in their own words with Shem Pete's Alaska: The Territory of the Upper Cook Inlet Dena'ina
Who needs poltical yards signs to put up poltical yard signs, when you can name a moutnain after your favorite presidental candidate. Gold prospector William Dickey did that.. The 1896 Presidential Election was really improtant to Dickey. Former Ohio govermor William McKinley supported the gold standard and his opponent did not. As a gold miner, Dickey's income was tied to the gold standard. So he decided to show his support for McKinley by calling the mountain Mount McKinley and writing newspaper articles calling the mountain that. After McKinley was assasignated, the mountain was "offically" named Mount McKinley.
As Mount McKinley, the mountain was named after an Ohio-born President who had never been to Alaska and didn't sign any sigfnifcant legislation about Alaska while President.
In the mid-1970s, Alaska started trying to change the mountain's offical name back to Denali. They were blocked by Ohio Congressman Ralph Regula. Regula's congressional district included McKinley's hometown. Regula used procedural maneuvers to prevent the United States Board on Geographic Names from renaming the moutnain.
In 2015, United States Secretary of the Interior Sally Jewell changed the offical name back to Denali. Ohio Representative objected and signed a letter of compaint stating that "William McKinley's legacy has been tarnished by a political stunt." They seriouslly wrote that about returing the moutnain to her historic name.
There's a lot of things in Ohio that are already named after McKinley. This is no affront to our former president; this is all about ensuring that respect for the land and respect for the native people of the region is afforded.

Alaskan Senator Lisa Murkowski's response to the Ohio whinny letter of complaint about changing the back to Denali.
You may still see signs and maps referring to the mountain as Mount McKinley. It is a slow process to re-do everything and in a few more years everything should be switched over.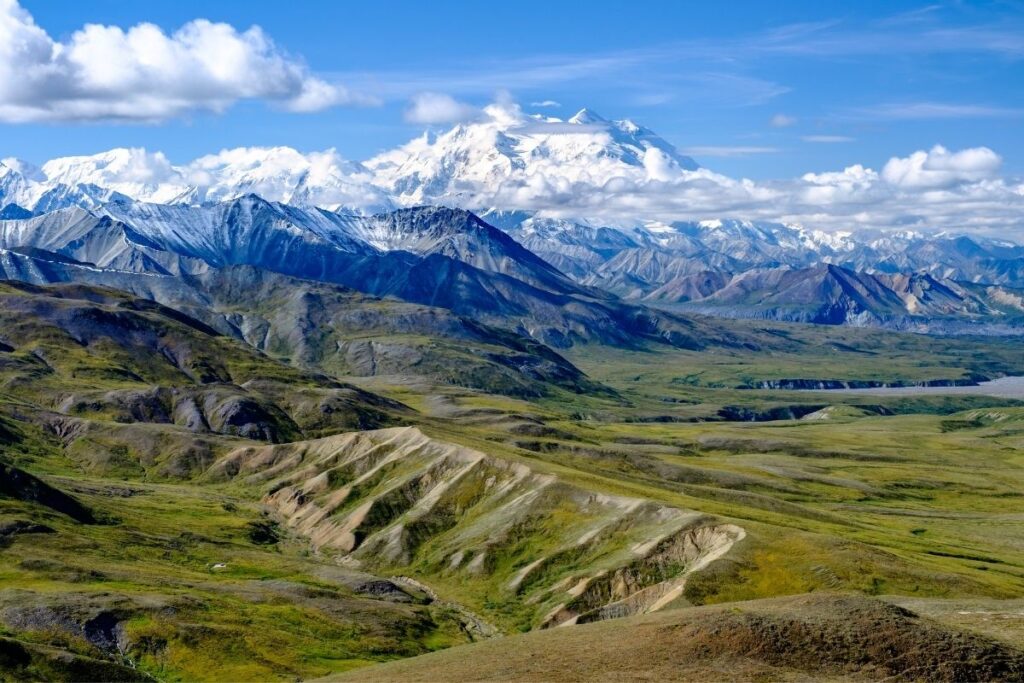 Denali National Park Facts
Denali National Park has a fascinating history and there are a lot of fun things to know about Denali National Park.
Denali National Park was the first National Park in Alaska.
It was estableshed as Mount McKinley National Park on Febuary 26, 1917.
Mount McKinley National Park was originally established to protect the Dall Sheep.
In 1976, the park was designated an International Biosphere Reserve.
The Alaska Native Interests Land Conservation Act in 1980 established Denali National Park and Preserve and expanded tripled the size of the park and added the National Preserve as a unit of the National Park Service.
Denali National Park and Preserve is actually two National Park Service units that are managed as a single unit.
Denali National Park and Preserve is 6,045,153 acres or 9,446 sq miles (24,464 sq km). The National Park unit is 4.74 million acres. The National Preserve is 1.3 million acres.
Over 600,000 people visited Denali National Park in 2019.
There are 92 miles of road in Denali. That is 65,708 acres per mile of road in the park.
The lowest point in Denali National Park is the Yentna River which is 240 ft (73 m) above sea level.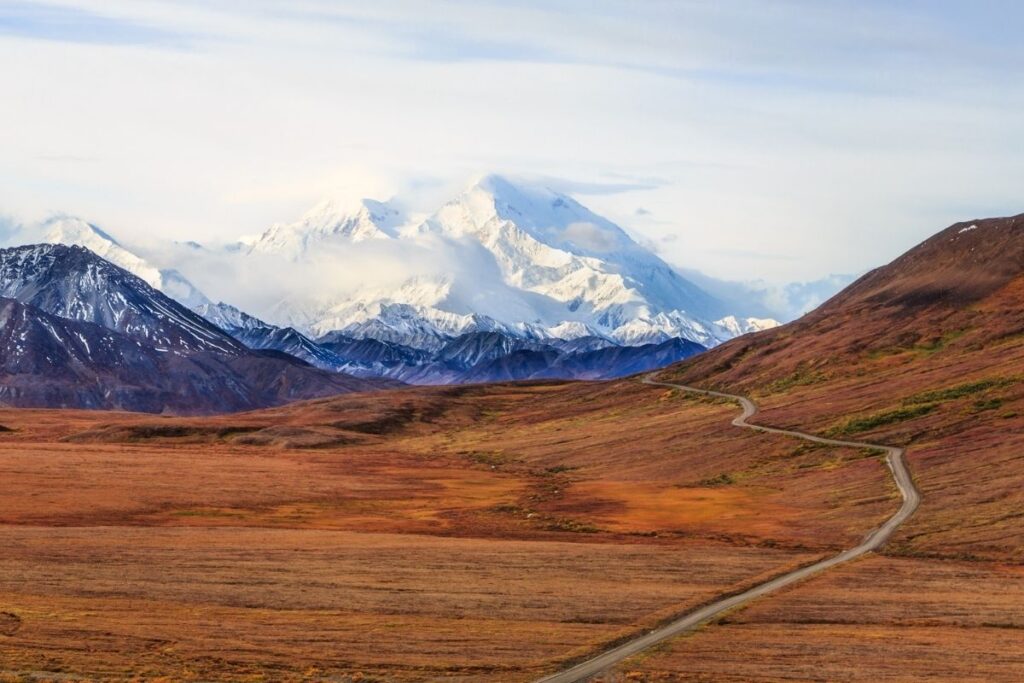 Denali Wildlife Facts
Denali National Park has 39 species of mammals including Moose, Caribou, Dall Sheep, Wolves, and Grizzly Bears.
There are 169 species of birds including a range migratory species such as the Acrtic Tern. The Acrtic Tern makes an 12,000 mile (19,000 km) mirgation from its windering grounds on northern Antarctic to Alaska for the breeding season.
In Denali, there are 14 specis of fish, 758 species of plants, 600+ species of moss and lichen, and 8 species of trees.
There is one species of amphibian in the park. The wood frog is one of the coolest animal in the world. During the winter, the frog goes into a cryogenic state when freezes almost solid and its body complelty shuts down. In the spring, the frog thaws out and hops away.
In 2016, paleontologists found the first dinasour bones during an expedition in Denali National Park and Preserve. Previous expedition had since the discovery of Dinoaur tracks in the Cantwell Formation near Igloo Creek.
While Woolly Mammoth remains have been found around Alaskan there was no evidence of the animals in Denlai until a visitor found a tooth in the 1960's. There was no further evidence until 2018 when the first Woolly Mammoth tusk was found inside the park.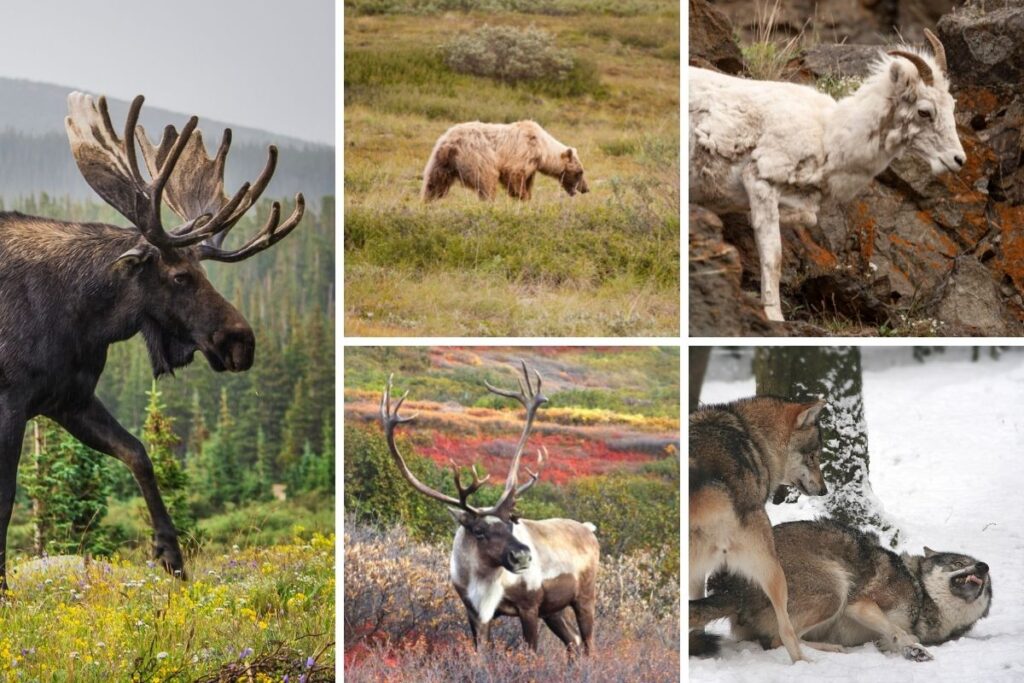 Final Thoughts on these Facts about Denali National Park and Denali?
I hope you have learned something from these Denali facts and statistics. You should be ready to clean house at national park trivia night.
Do you have any questions about Denali Denali Park or need help planning your National Park trips. Let me know in the comments or join me in my National Park Trip Planning Community!
Feeling overwhelmed with planning your Alaska National Park trip? Our expertly designed Alaska Park itinearies will show you how to make the most of your time and make booking your trip easy.
Pin for Later: 35+ Extraordinary Denali Facts & Statistics