Post Summary: Best Hotel In Denali National Park
Denali National Park is the third-largest national park in the United States covering over 6 million acres. It's home to the tallest peak in North America – the famous Denali Mountain which is an impressive 20,310 feet (6,190 m) above sea level. With its breathtaking scenery, awesome hiking trails, and variety of wildlife, Denali National Park is a must for any bucket list.
This article is going to go through the different towns and villages that surround Denali which will give you easy access to the park. These places include McKinley Park, Healy, Cantwell, and Talkeetna. Deciding where to stay in Denali National Park can be a difficult decision, especially if you've never been there before as it's so isolated.
This post is going to go through each area including where it is, the attractions that can be found there, and the dining options. This will hopefully, give you a good idea of where you'd like to stay. To make your trip to this beautiful park even more straightforward, we've also come up with a list of the best hotels in Denali. This will save you some time, and you can get down to planning the most important things – the best places to visit and the best trails to hike.
So, let's get into finding you the BEST place to stay in Denali.
Best of Denali National Park and Preserve in a Nutshell

THINGS TO KNOW: 11 Things to Know Before Visiting Denali National Park and Preserve

FACTS: 35+ Extraordinary Denali Facts & Statistics

BOOKS TO READ: 8 Books to Read Before visiting Denali National Park

GETTING THERE: How to Get to Denali National Park

HIKES: Best Hikes in Denali

TOURS: Best Tours in Denali

SPECIAL EVENTS: Denali Road Lottery

CAMPING: Camping in Denali

LODGING: Best Denali Hotels

NEARBY PARKS: Gates of the Arctic, Kenai Fjords, Kobuk Valley, Wrangell – St. Elias
This post may contain affiliate links, meaning if you book or buy something through one of these links, I may earn a small commission at no extra cost to you! Read the full disclosure policy here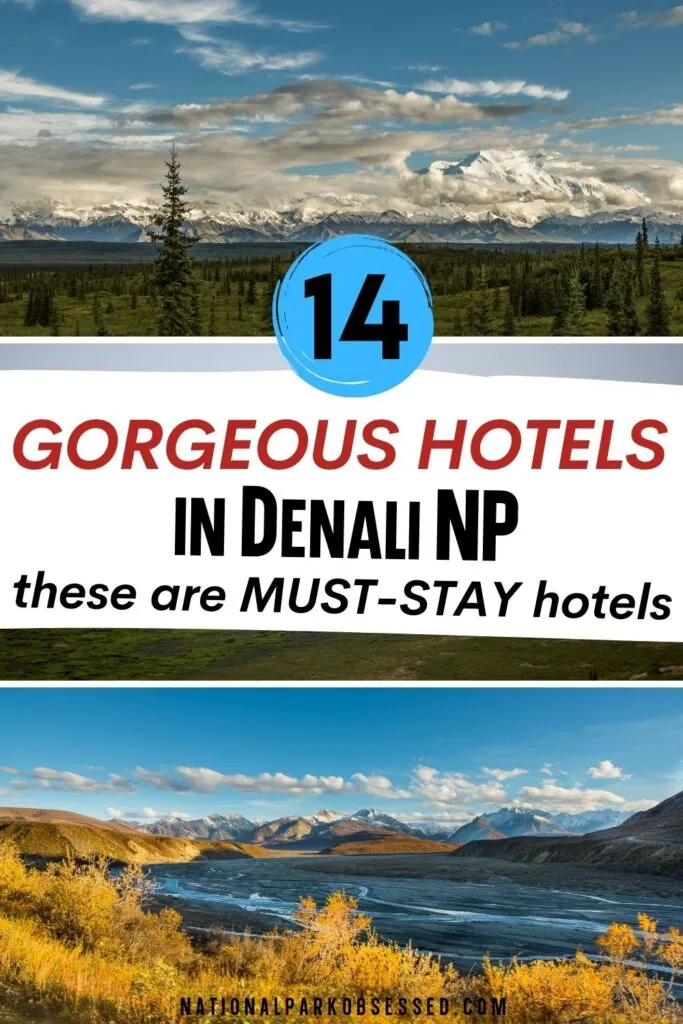 Quick Guide to Denali National Park Hotels
The SPLURGE OF SPLURGE Denali Hotel: Sheldon Chalet
Best Luxury Hotel in Denali: Denali Bluff Hotel
Best Budget Denali Hotel: Aurora Denali Lodge
Most Unique Denali Hotel: Carlo Creek Cabins
Best Hotel near Denali for families: Denali Tri-Valley Cabins
Feeling overwhelmed with planning your Alaska National Park trip? Our expertly designed Alaska Park itinearies will show you how to make the most of your time and make booking your trip easy.
Where to Stay in Denali National Park?
McKinley Park
McKinley Park is located in the Nenana River Valley, 8 miles south of the entrance to Denali National Park. With a scenic backdrop and its famous nightlife, McKinley Park is a great place to stay whilst visiting the park.
There are a handful of pubs and bars within this area to keep you entertained in the evening after a long day of exploring. McKinley Park also has a couple of dinner theatre options including the Denali Dinner Theatre and the Alaska Cabin Night Dinner Theatre. You can hike the renowned Mt Healy Overlook Trail from here too!
When it comes to dining, there are a variety of options within McKinley Park aside from the dinner theatres. Some of the most popular restaurants within this area include Moose-AKa's, the Denali Doghouse, and the Prospectors Pizzeria and Alehouse. However, the most famous is the legendary Denali Park Salmon Bake, where there are over 30 beers on tap.
Best McKinley Park Hotel – Denali Bluff Hotel
Healy
Healy is the largest town in the region and is located around 12 miles (19km) from the park's entrance. Set along the Nenana River with plenty of amenities, Healy is a great area for first-time visitors to the park.
Some of the most popular things to do in the area include visiting Wonder Lake, hiking some of the nearby trails, and going on a guided tour to see some of Alaska's wildlife. Healy also has plenty of adventurous activities on offer including white-water rafting, flightseeing, mountain biking, and sled dog demonstrations.
When it comes to restaurants, you won't run out of choice whilst staying in Healy. Some of the more favored restaurants include Rose's Cafe, 49th State Brewing, Dixon's Fixins, and Healy Thai Food. The Trading Post Bar is another popular spot and is a great place to grab a beer.
Best Healy Hotel – Denali Tri-Valley Cabins
Cantwell
Cantwell is located 28 miles from the entrance to Denali National Park and has a variety of activities and lodging options on offer. These include lodges, inns, and an RV park! It sits on the north end of Broad Pass which is one of the most beautiful spots along the park's highway.
Hiking and mountain biking are both extremely popular in Cantwell. Even though there aren't defined trails, exploring the Alaskan wilderness by foot or bicycle is a great way to take in the breathtaking scenery. Sightseeing tours are another great activity in Cantwell, and it's also possible to take a flightseeing tour of Mount Denali during your time here.
Cantwell is smaller than many of the other towns in Denali so there are fewer options when it comes to restaurants. The main choices here are the Parks Hwy BBQ and Jam Jam's Spot. If you prefer more choice, you're better off staying in another town on this list.
Best Cantwell Hotel – Backwoods Lodge
Talkeetna
If you're heading to Denali National Park on a budget, then Talkeetna is the place to stay. It's the furthest town away from Denali on this list and is located about 152 miles (244km) away from the park entrance. However, the drive only takes around 2.5 hours and it's worth it if you're needing to cut costs. This is because there are a variety of campgrounds and cabins located here, as well as the only hostel in Denali.
Talkeetna is located at the confluence of three different rivers so it's no surprise that water activities are popular here. Whilst staying here you can try your hand at canoeing, fishing, or taking a jet boat along the river. You always have a great chance to spot some of the local wildlife this way too! There are also plenty of great hikes in the surrounding area.
There are plenty of restaurants serving delicious food in Talkeetna. Some of the most popular choices include Shirley's Burger Barn, Mountain High Pizza Pie, the West Rib Pub & Grill, and Talkeetna Roadhouse. There are also plenty of great places to quench your thirst including Denali Brewpub, Fairview Inn, and Latitude 62.
Map of Denali National Park Lodging
Best Places to Stay in Denali National Park
Best Places to Stay INSIDE Denali National Park
Sheldon Chalet
Sheldon Chalet is one of the most remote hotels in the world and the most expensive place to stay in Denali by far. It's situated in the middle of the Don Sheldon Amphitheater at an impressive elevation of nearly 6,000 feet (1,829m). If you're after a bit of luxury whilst visiting the Alaskan wilderness, then the Sheldon Chalet may be for you!
The most unique part of Sheldon Chalet is how you get there. This all-inclusive hotel includes a flightseeing tour from either Talkeetna or Anchorage. It's not optional either, as this is physically the only way to reach the chalet as it's so remote. During your stay here your meals will be prepared by a world-class chef, and the cost also includes guided tours of the surrounding glaciers. The Sheldon Chalet is also the perfect place to observe Denali's night skies and see the aurora borealis.
You have to call to make your reservation and the nightly prices aren't listed on the website. This is a "win the lottery" splurge hotel.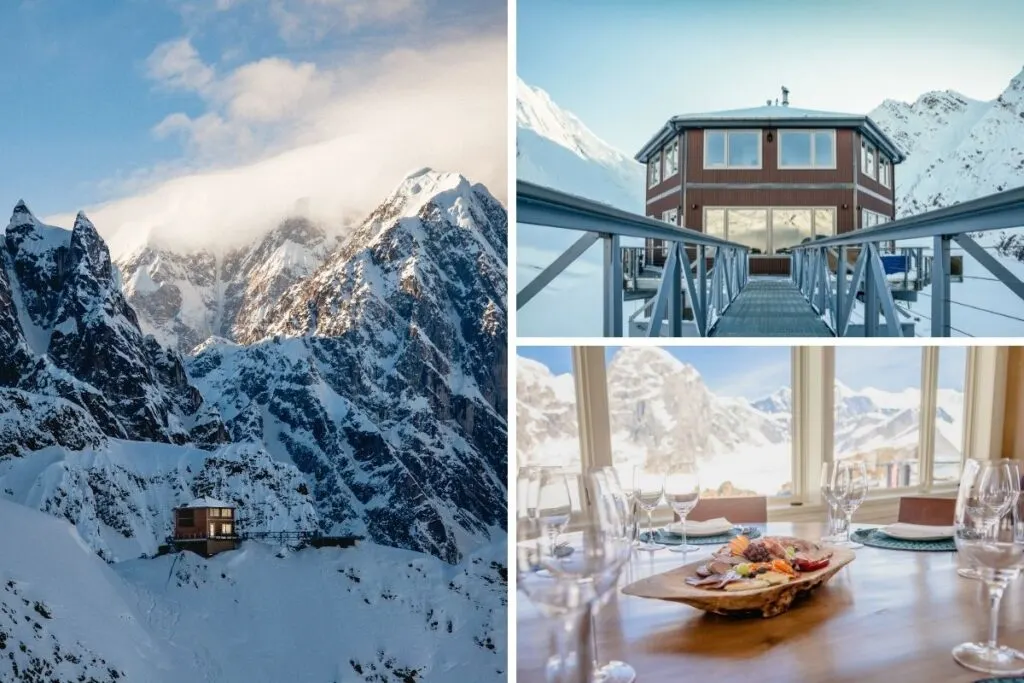 Skyline Lodge
Skyline is one of the most intimate lodging experiences within Denali, as there are only 5 guest rooms inside. Each room offers beautiful views of the Kantishna Valley and is located only 20 miles away (32 km) from Mount Denali.
One of the highlights of Skyline Lodge is the number of hiking trails located just outside your front door. Some of the hikes are pretty casual whilst others take you up onto the ridge and offer spectacular views of Wonder Lake, the Alaskan Range, and Denali Mountain if you're lucky! Fine dining is also available at Skyline Lodge with local and organic ingredients, as well as the use of several common areas including a wood-fired sauna.
Denali Backcountry Lodge
If you're looking to stay in the true Alaskan wilderness, then Denali Backcountry Lodge is a perfect choice. The lodge is located in one of the world's wildest landscapes with breathtaking scenery all around, and the chance to see some of Alaska's incredible wildlife. It's situated in the perfect place to explore Denali, and still offers a variety of home comforts for when you return to your cabin.
The Denali Backcountry Lodge offers an all-inclusive Alaskan adventure with plenty of exciting activities and amenities The cost of your stay here includes an exclusive helicopter sightseeing tour, guided hikes, and activities, any equipment needed, and a complimentary shuttle bus to Wonder Lake. There is also a spa and wellness center located on-site, as well as a game room, fire pit, and lounge area.
Kantishna Roadhouse
Kantishna Roadhouse is located 90 miles into Denali National Park and offers the Alaskan experience of a lifetime. You have to take a bus through Denali to access this accommodation so make sure you have your camera on hand. Your bus driver will stop whenever an animal is sighted too, so binoculars are always handy!
Your stay at Kantishna Roadhouse includes private transportation into the heart of the park, a variety of activities, plenty of hiking opportunities, and naturalist programs. Its location also gives you the chance to observe some of Alaska's wildlife and take in the spectacular scenery. Some of the activities included with your stay are gold panning, mountain biking, fly fishing, and cultural presentations. There is also a restaurant located on-site, and all meals are included during your stay.
Camp Denali
Camp Denali has 19 authentic guest cabins, and each one offers stunning views of Denali. They focus on luxury accommodation, but not at the expense of the surrounding habitat. This accommodation goes above and beyond with its goal being to teach guests about the environment, its history, and the current changing landscape due to climate change.
You'll begin your Alaskan adventure by flying into Camp Denali and getting to see glaciers, mountains, and the surrounding tundra by air. During your stay, there are plenty of guided outings available which are split into easy, moderate, and strenuous. They cater to everyone and are the perfect way to explore and understand the local environment. If you'd prefer something more independent then why not have a go at canoeing, fishing, biking, or simply having a wander around to enjoy the beautiful scenery of this area.
Best Hotels NEAR Denali National Park
Denali Bluffs Hotel
Denali Bluffs Hotel is nestled on the slopes of Sugarloaf Mountain and provides spectacular views of the Alaskan Range and Nenana River Canyon. Each room has a private balcony so you can enjoy this incredible scenery in peace.
There is the main lodge at the hotel that offers scenic views, as well as a viewing deck that is adjacent to the Mountaineer Grill & Bar. It's the perfect place to take in the Alaskan scenery before indulging in some delicious BBQ food, and either some local ales or hand-crafted cocktails. The staff on the front desk can also help book local activities and excursions so you can head into Denali National Park and explore. This includes bus tours of the national park, ATV tours, flight-seeing tours, and adventurous activities like ziplining and white water rafting.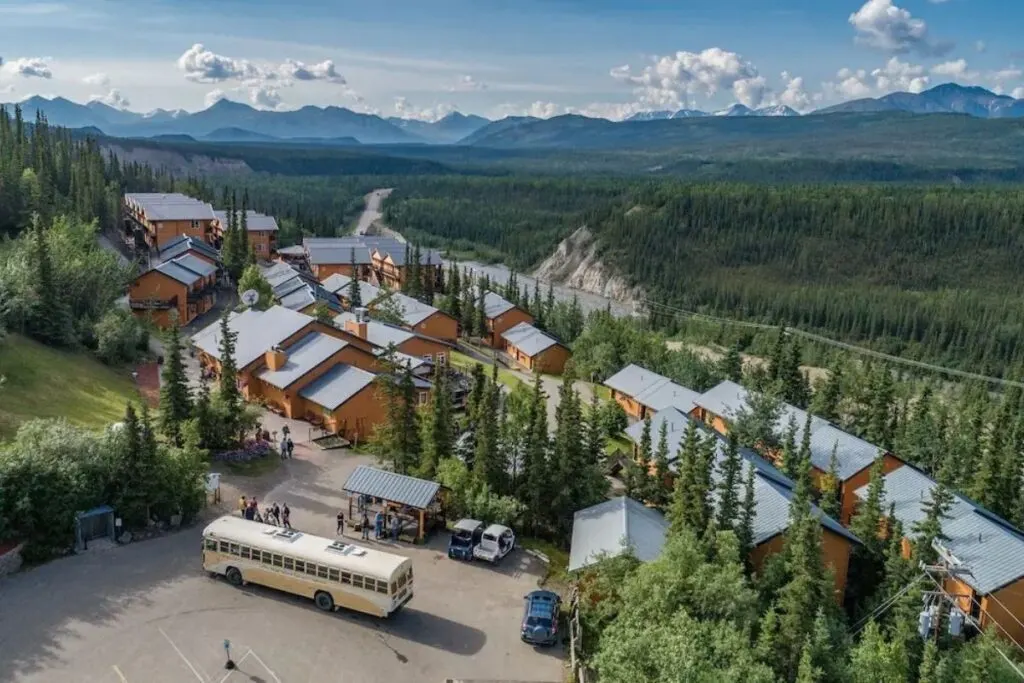 Denali Grizzly Bear Resort
Denali Grizzly Bear Resort overlooks the Nenana River and has a variety of lodging options including the Cedar Hotel, cabins, campgrounds, RV sites, and tent sites. It's only 6 miles (9.6km) away from the Denali Park Visitor Access Center and shuttle bus service so is the perfect location to explore the park.
Aside from the magnificent scenery, one of the highlights is the food truck court which has local food trucks – these are Denali Thai and Mariachi Moose. A variety of specialties are available from these food trucks, and with the stunning backdrop, it's the perfect place to dig in. There is also a general store located on-site that sells snacks, liquor, camping supplies, clothing, and souvenirs. You can also book a safari tour of Denali National Park through the Grizzly Bear Resort.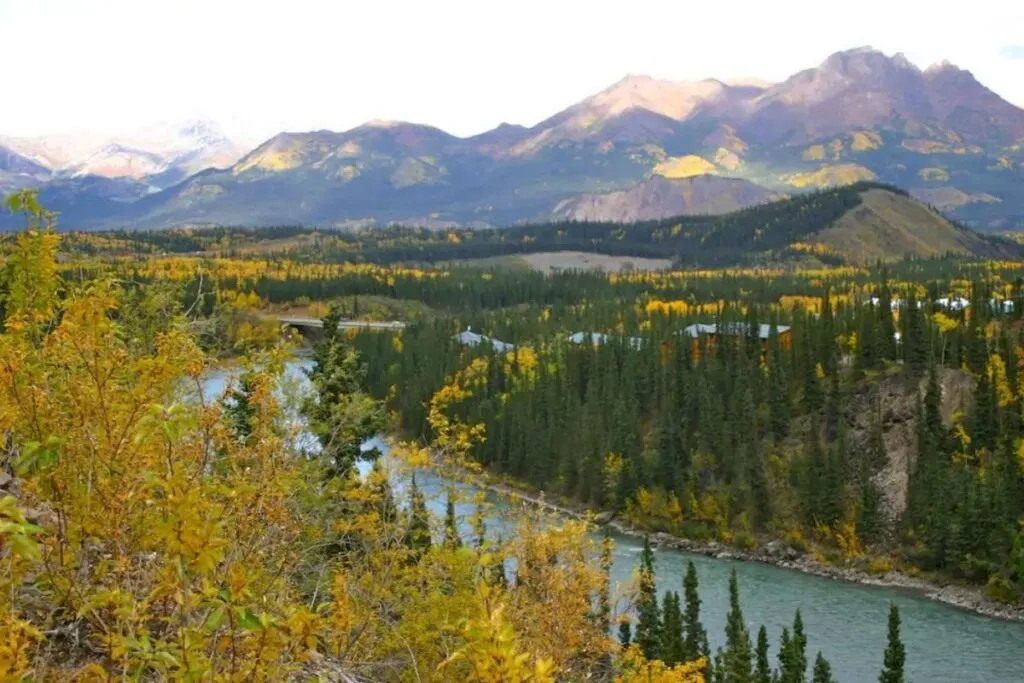 McKinley Creekside Cabins
McKinley Creekside Cabins is located just a 15-minute drive from Denali National Park. It's situated on Carlo Creek with a beautiful mountain backdrop. You can choose to stay in one of their signature Creekside Cabins, family-friendly rooms, or they also have three house rentals on their property.
There is also a creekside cafe and bakery located on-site where you get to taste local, quality food. Whether you're after a hearty lunch, mouth-watering pastries, or some local bears, it has everything you need. The cafe also does pack lunches to go, meaning you can take their delicious lunches out with you whilst you go and explore the park. Another highlight of McKinley Creekside Cabins is that they have resident tour experts who can help you make the most out of your trip to Alaska.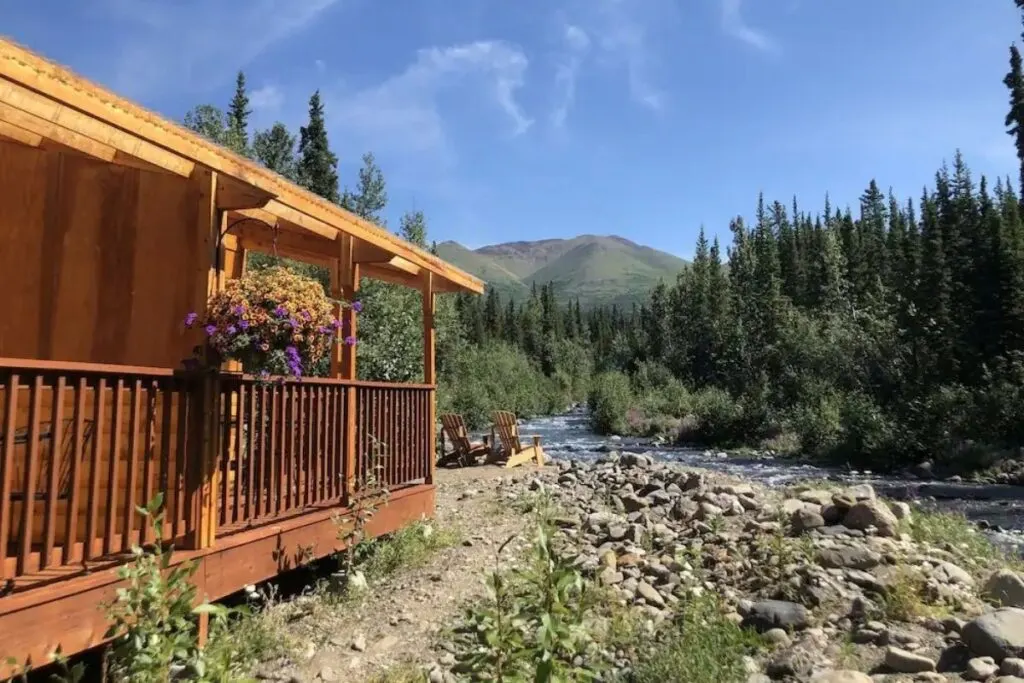 Denali Lakeview Inn
Denali Lakeview Inn is situated by the side of Otto Lake and is 10 miles north of Denali National Park. Located just outside the busy commercial areas, it's the perfect place to relax and enjoy the tranquility of Alaska. Aside from its stunning location, Denali Lakeview Inn is also closeby to many amenities including a restaurant, 9-hole golf course, and a general store.
Each suite within the Inn is lake facing which means you'll get beautiful views of the lake, Mount Healy and Mount Dora. If you're lucky you might even be treated to the Aurora Borealis dancing across the sky on a clear night. If you're feeling adventurous you can also bring your cross-country skis, snowshoes, or ice skates to explore the lake whilst it's frozen.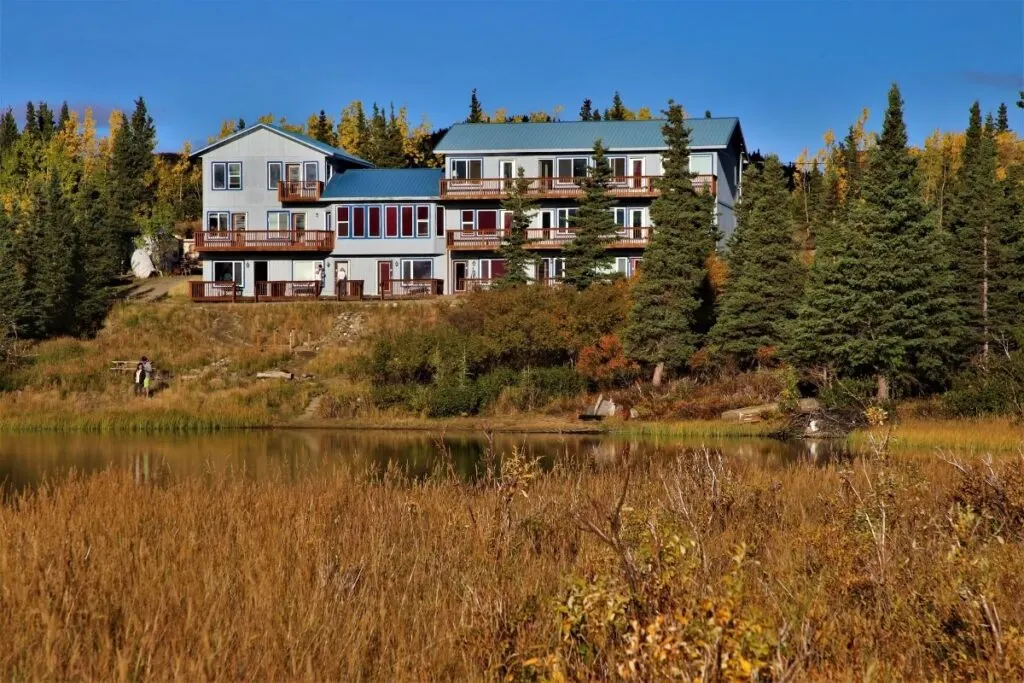 Grand Denali Lodge
Grand Denali Lodge is situated on Sugar Loaf Mountain and is designed with your comfort in mind. You can stay in one of the guest rooms within the lodge or you can choose to stay in one of the lodge's private cabins. Each cabin is very secluded and has a wilderness viewing deck just for you!
There is a wide variety of outdoor activities on your doorstep, and the front desk is available to help you book these excursions. Whether it be a tour into Denali National Park, the Alaska Railroad, or river rafting, they can give you the best information and help you make the most out of your trip. There is also a shuttle available to assist you with shopping and sightseeing. During your stay, you can enjoy food and beverages from the Alpenglow restaurant, Peak Spirits lounge, and the Peak Expresso café that are located on-site.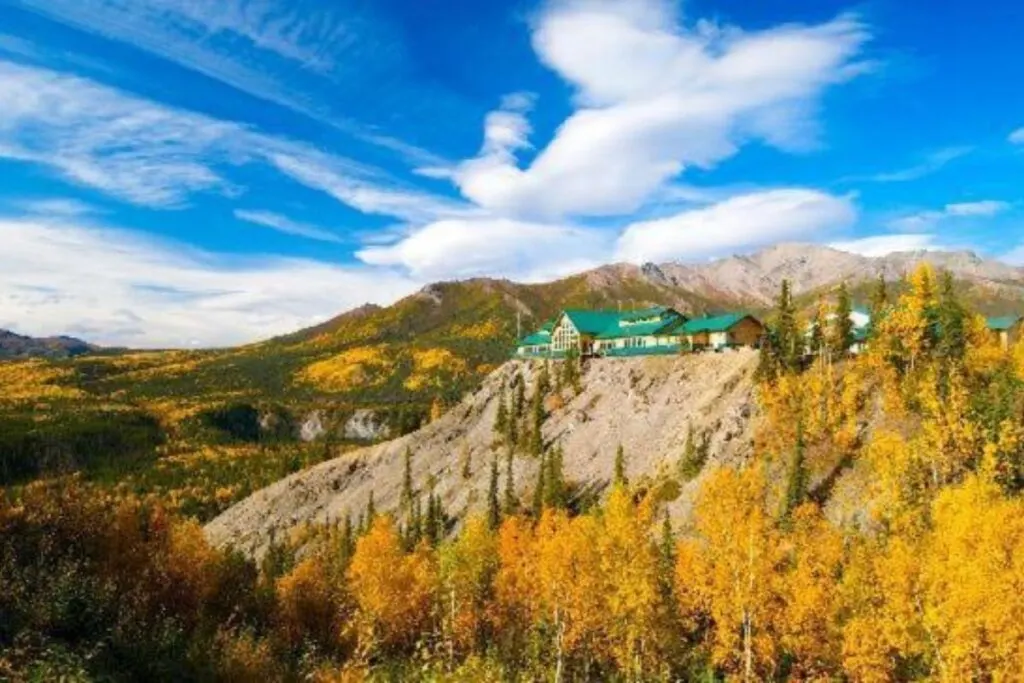 Backwoods Lodge
Backwoods Lodge is located 27 miles south of Denali National Park in the small community of Cantwell. It's located in a quiet wooded area which gives guests the chance to enjoy the surrounding landscape in peace. Wildlife is abundant in the area – especially moose, so you'll truly feel like you're living on the wild side.
If you're staying at Backwoods Lodge during the solstice, you will have around 22 hours of daylight to explore and admire the beauty of this area. With so many activities located nearby too, it's in the perfect location for the ultimate Alaska trip.
>>> Click Here to book at Booking.com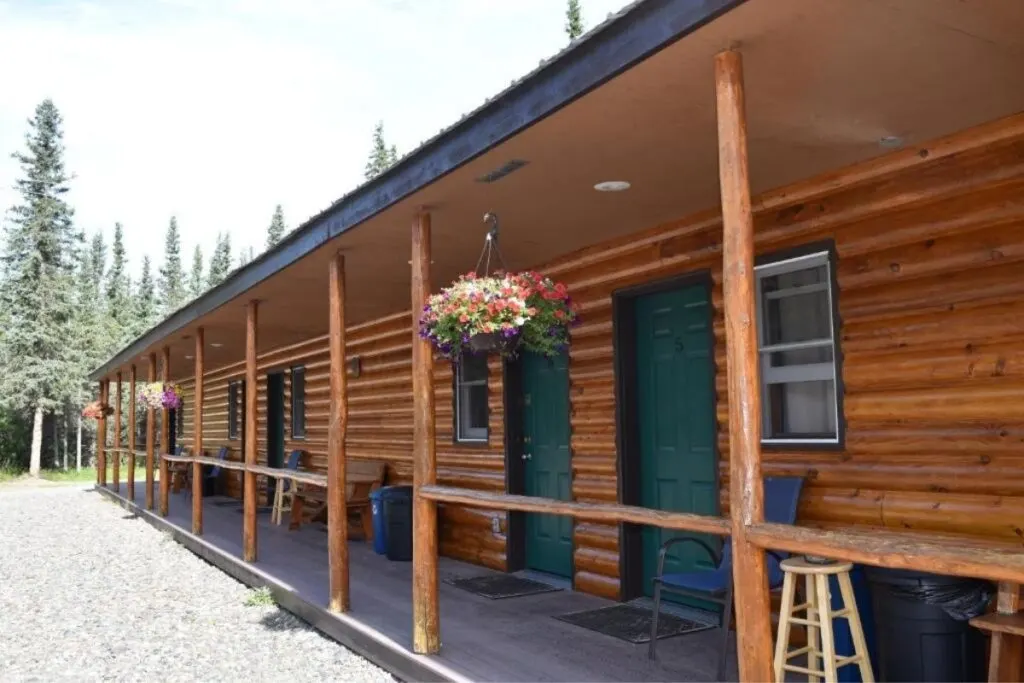 Denali Tri-Valley Cabins
Denali Tri-Valley Cabins are set in a quiet wooded area in Healy, 10 miles north of Denali National Park. They have a cozy 3-bedroom house on-site as well as 10 unique Alaskan cabins to choose from. Each one is beautifully decorated and has its own theme.
The cabins are set back 500 yards off the park highway, and from there it's only a short walk to the town center. Here you will have your choice of restaurants, as well as the Trading Post Bar which is a must-visit. There are also multiple hiking trails in the area, and regular sightings of moose as well as other wildlife.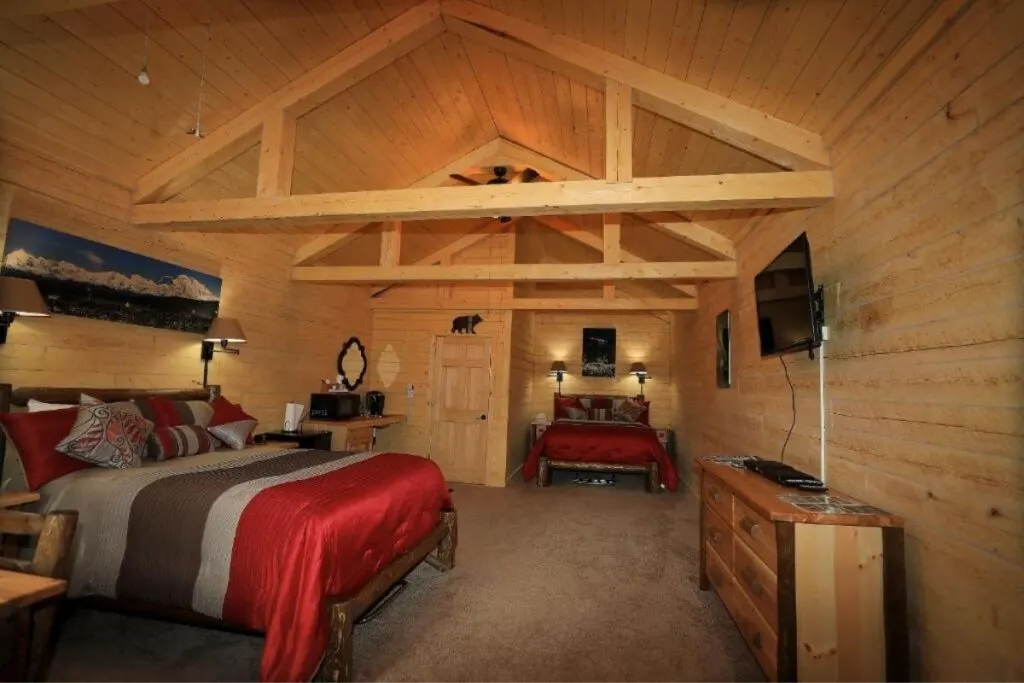 Carlo Creek Cabins
Carlo Creek Cabins are located 13 miles south of the Denali National Park entrance. Their lodging options here include cabins with private bathrooms, budget-friendly cabins, and private lodge rooms which are perfect for couples. Each cabin is nestled in the woods offering a quiet and private Alaskan experience.
Aside from its peaceful location, Carlo Creek Cabins also have the Moose's Brew coffee company located on-site. You can walk up or drive-through and get delicious breakfast burritos, mini donuts, and pack lunches if you're planning to do the famous bus trip through Denali. There are also three restaurants located just across the road if you want a bit more choice.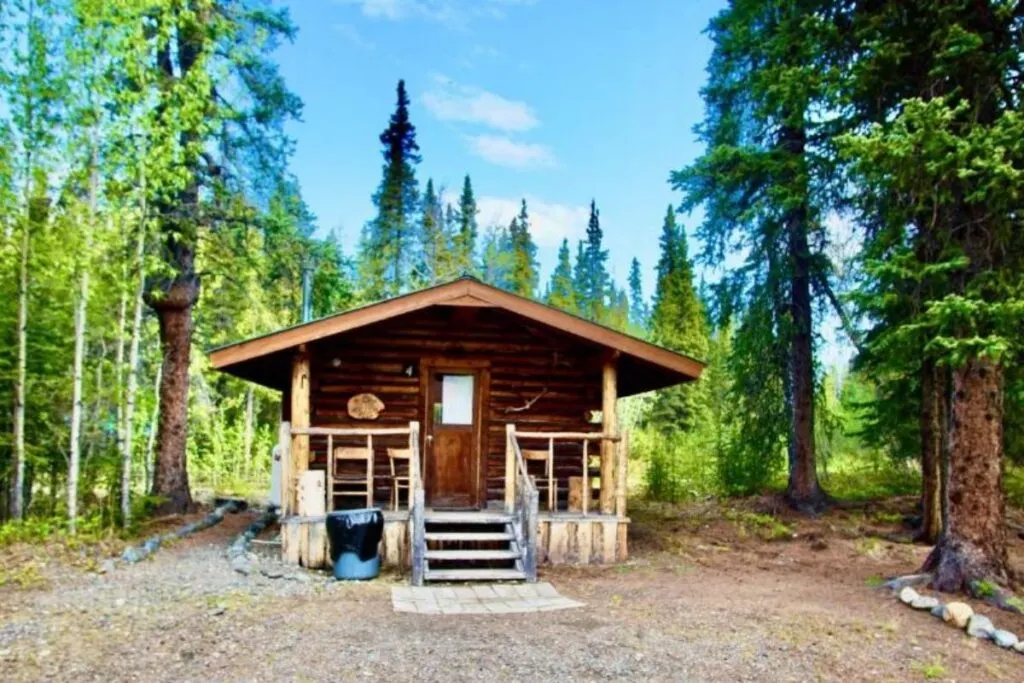 Aurora Denali Lodge
Aurora Denali Lodge is located in Healy, about 13 miles from the entrance to Denali National Park. It's situated in the perfect location for exploring Denali National Park, with plenty of amenities located close by in the town center.
One of the highlights of this lodge is that there are lots of wildlife sightings around the property of lynx, moose, owls, and snowshoe hares. If you're wanting to get up close to nature then Aurora Denali Lodge is the perfect place to stay! They also offer complimentary continental breakfast so you can eat your fill before heading out to explore.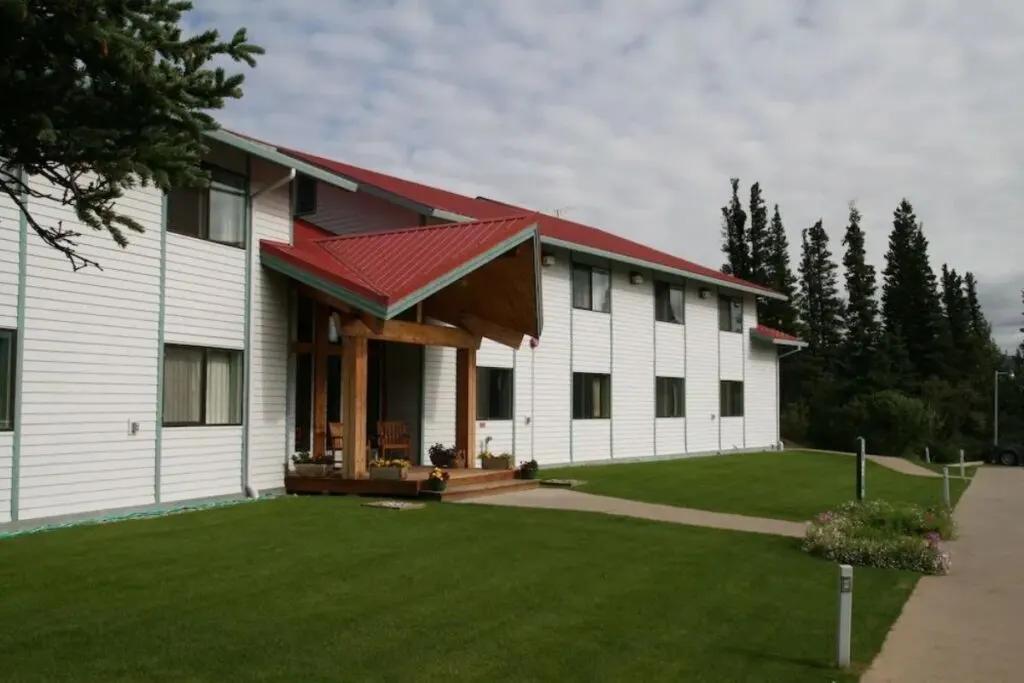 Final Thoughts on where to stay in Denali National Park
When it comes to staying either in or surrounding Denali, you have a wide variety of options to choose from. As well as the five places to stay within the national park, you also have some great areas nearby. It all depends on how close you want to be to the park entrance, and what kind of amenities you require. Some of the towns in this article have more facilities than others, but all of them are great places to stay when visiting Denali National Park.
Where did you stay in Denali? Why not share it in the comments below and let us know about your experience. If you need more National Park trip planning help, join us in talking about all things National Parks in our National Park Trip Planning Community.
More Information for your trip to Alaska
More National Park Product Guides
Pin for Later: Where to Stay in Denali National Park? 14 Best Denali Hotels for 2022